Harry Arthur Maki R220059
June 4, 1925 - April 25, 1944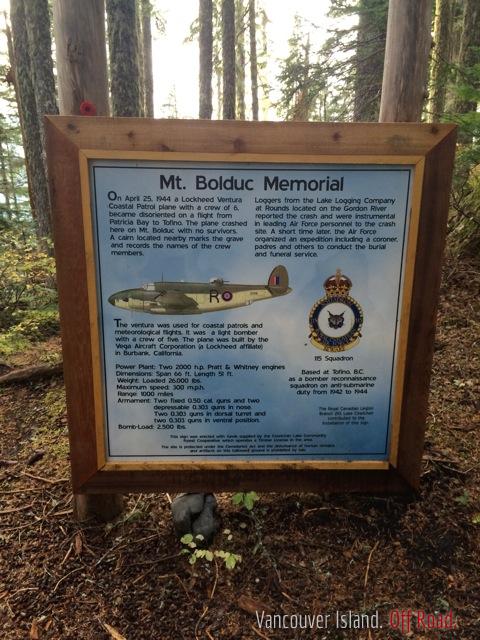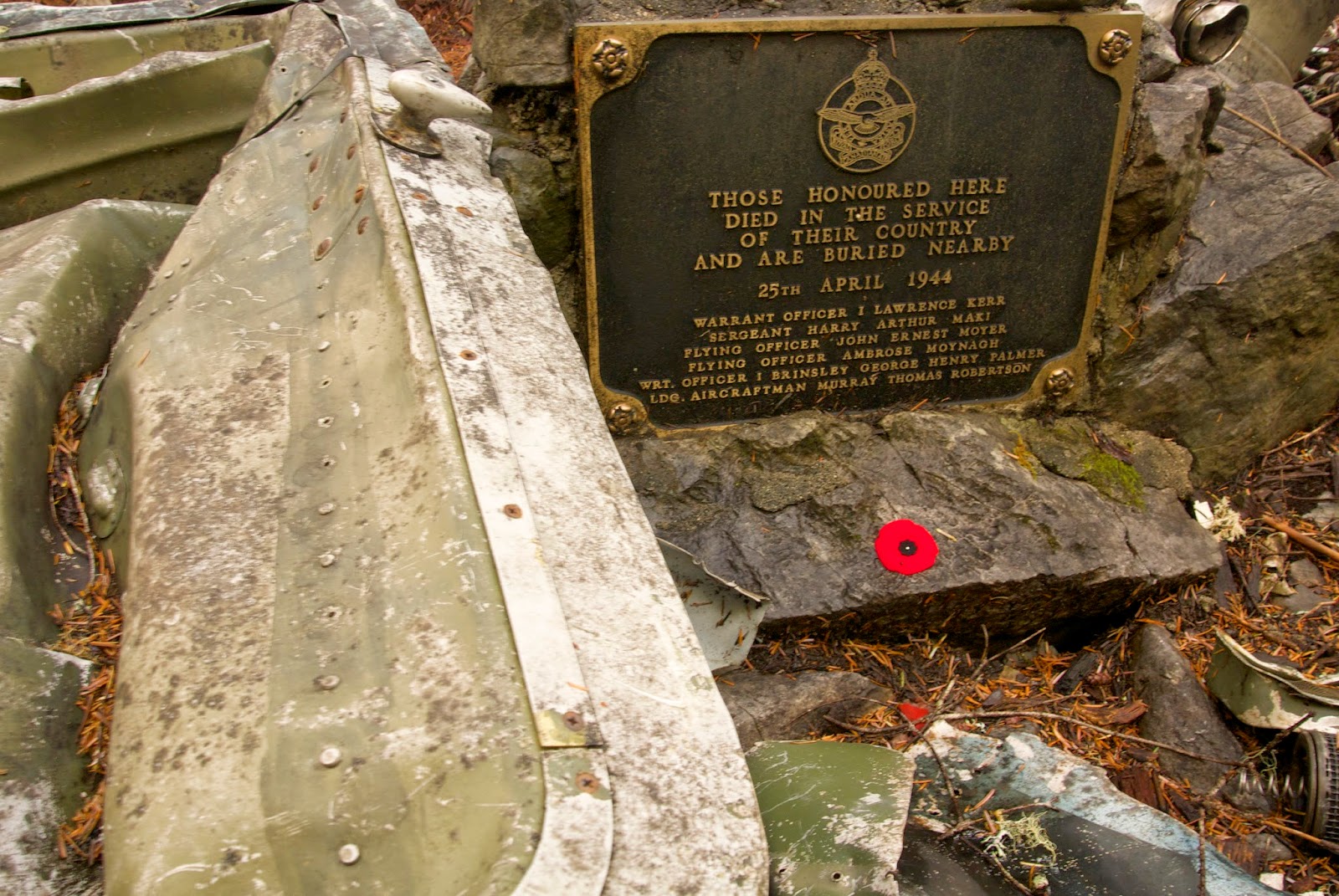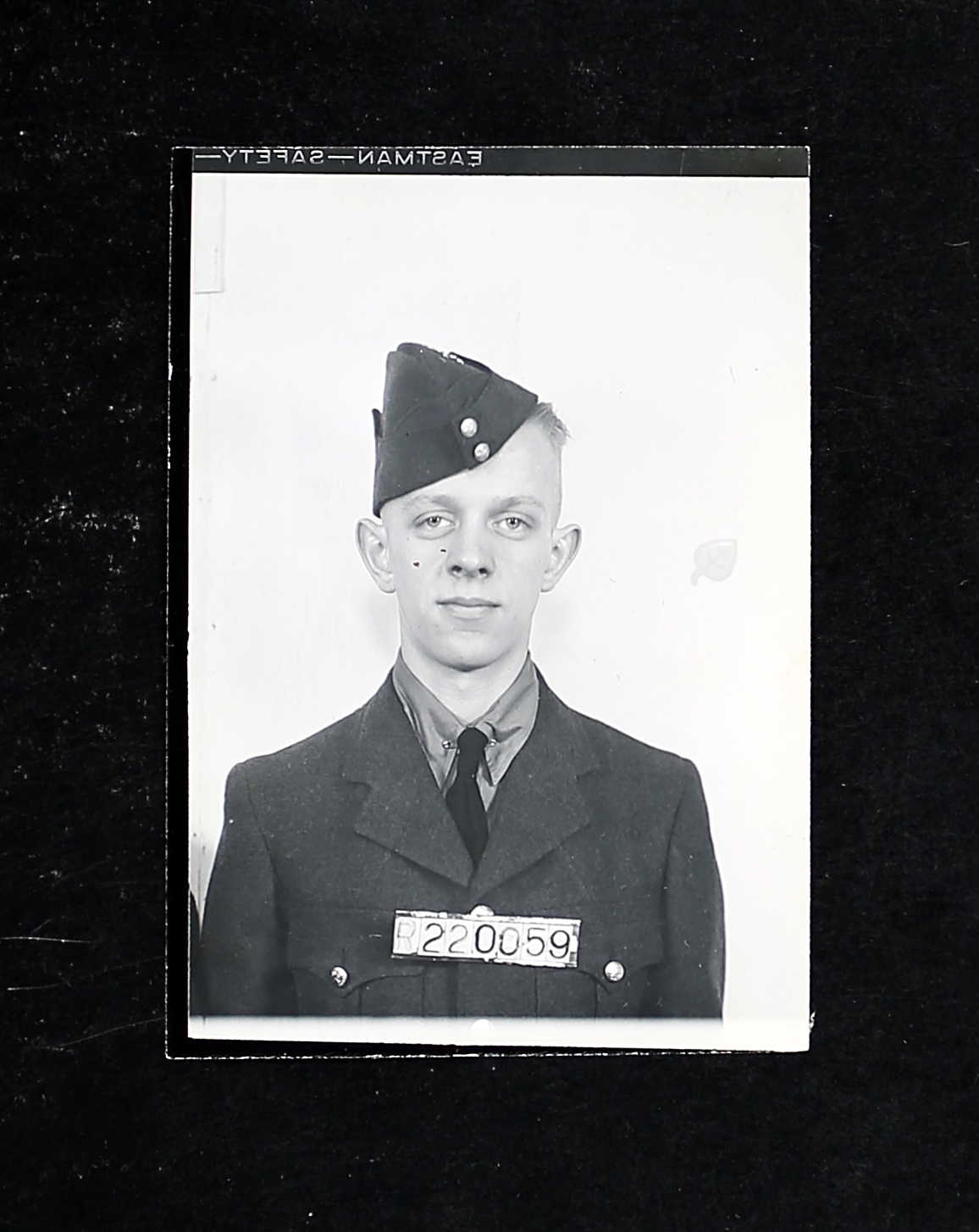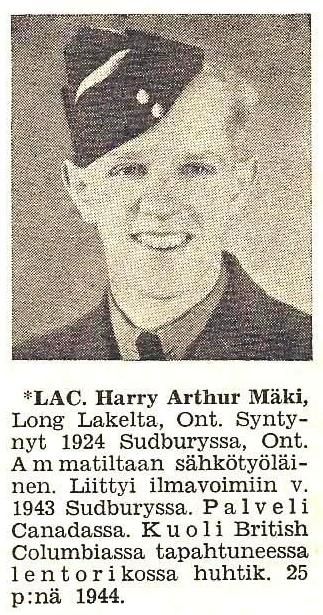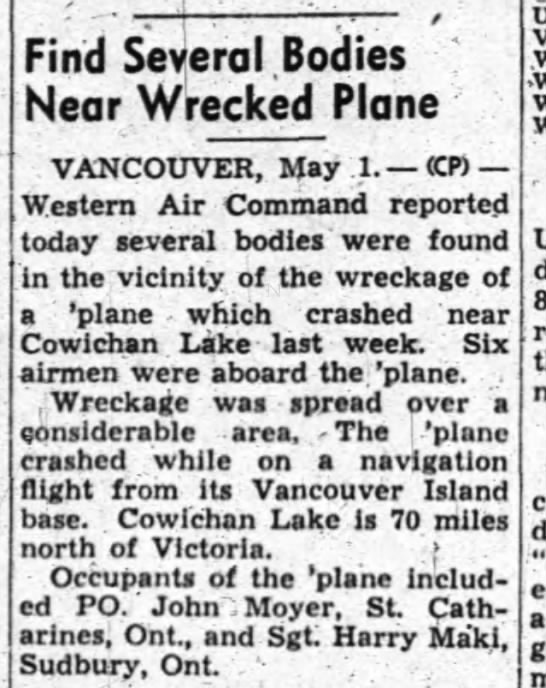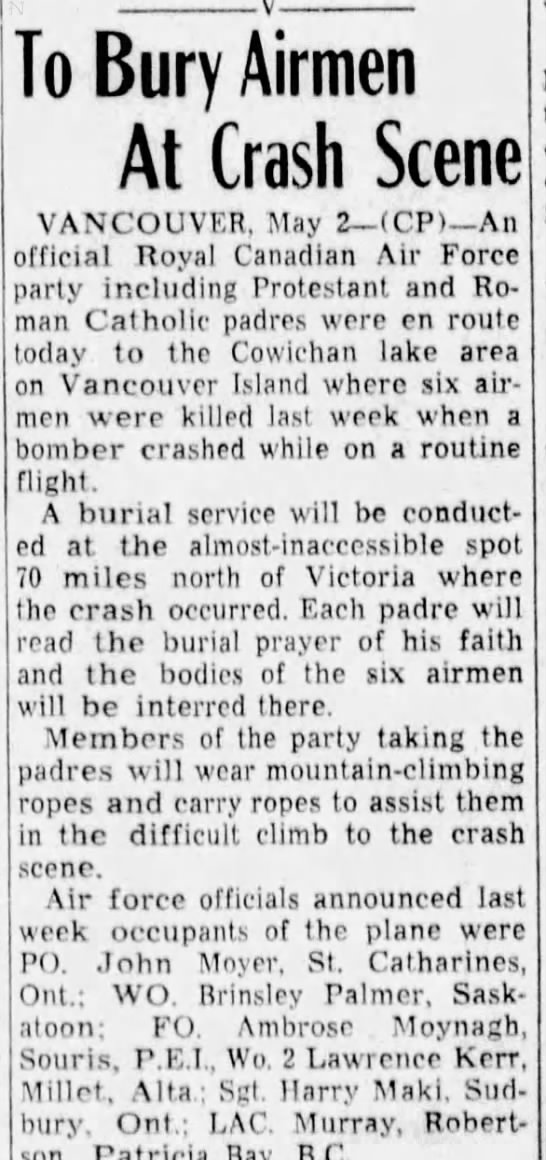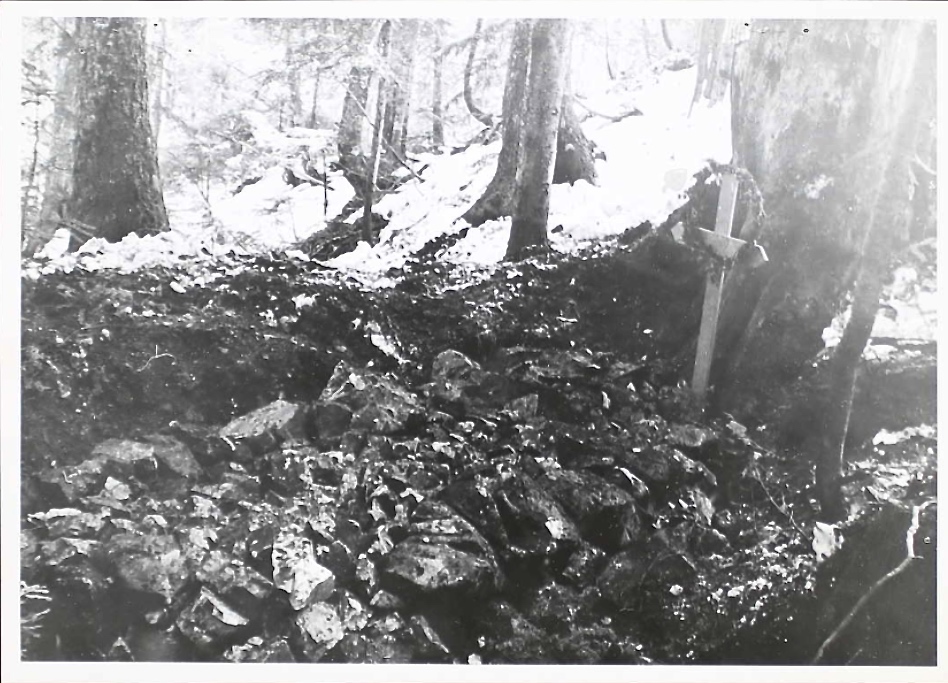 Apprentice electrician, 17 years old, with 'plenty of guts' enlisted in RCAF as a WAG. Aboard Ventura 2218, on a navigational flight from Pat Bay to Tofino, was lost. All crew buried in common grave on mountain.
Harry Arthur Maki was the son of Karl (aka Charles) Maki, farmer and carpenter, and Laura Maria (nee Autio) Maki (1894-1942) of Lockerby, Ontario, later of Gatchell, Ontario, Sudbury area. He had four brothers, Billy, Bobby, Eric, who was overseas, and Carl, and two sisters, Laila Seppala and Valma Pontinen. The family was Lutheran and of Finnish heritage.
He worked as an electrician apprentice for two months at International Nickel Co., leaving school at the age of 16. He spoke Finnish and Engish. After the war, he wanted to return to his trade. His hobby was building model aircraft and he liked to ski, do track and field, plus play football and basketball. He stood 6'2" tall, was wiry and weighed 150 pounds. He had blue eyes and light brown hair, plus had small irregular birthmarks in the lumbo sacral region. "Tho this lad's cardiovascular system is not so good, he is keen, alert. Lots of guts."
Harry applied to the RCAF in October 1942, but was too young. He applied again in February 1923 and was accepted before his 18th birthday.
"Three years technical. Good in maths. Health record good. Very enthusiastic to fly. Had urge for sometime. Has built model planes. Not worrying type. Can ddrive a car. No motion sickness. Not interested in ground. Understands aircrew selection. Willing to come in on that basis. Prefers WCAG. Has an ear for music. Believes end justifies means. Quite youthful. No inhibitions. Kids seems to have plenty of guts and a burning desire to serve."
He was sent to No. 3 Manning Depot, Edmonton, Alberta on February 19, 1943 until April 29, 1943. He was then sent to No. 5 B&G School, Dafoe, Saskatchewan until April 15, 1943. From there he was sent to No. 3 Wireless School, Winnipeg, Manitoba.
No. 7 B&G School was his next stop in his journey in the BCATP. He was there until January 27, 1944. "Average. Keen to get on."
He earned his WAG badge on January 17, 1944.
He found himself in Vancouver, then with No. 115 Squadron, Pat Bay, BC, then was with the squadron at Tofino, BC, March 17 1944.
On April 25, 1944, the result of a flying accident during a navigation flight between Patricia Bay and Tofino, Ventura 2218 was lost. On board were P/O John E. Moyer, Sgt. Harry Arthur Maki, LAC Murray Thomas Robertson, F/O Ambrose Moynagh, WO1 Brinsley George Henry Palmer, and WO2 Lawrence Kerr.
The wreckage was later found as it crashed into Mount Bolduc, south of Cowichan Lake, BC, but due to the difficulty of the terrain, the bodies were buried at the site. In The Cowichan Leader, dated May 1, 1944: "Six RCAF flyers were given a last resting place at the top of rugged peaks in the mountains near Cowichan Lake where their plane crashed killing them all last Wednesday. They were on a navigational flight from a Vancouver Island base. On Tuesday, while two RCAF padres read the burial service, comrades of the dead reverently erected a cairn of stones over the bodes and left them to their last sleep…wreckage of the plane was still hot and smouldering. Bodies of two of the crew were found 30 feet in front of the demolished fuselage. Another body was found at one side and two more were discovered in the wreckage. Later, a sixth body was found to one side, 50 feet distant. All must have died instantly." [See the Cowichan Chamber of Commerce link below for more.]
REPORTED LOCATIONS OF GRAVE: "This grave is located on the summit of Mount Bolduc, which is some 3500 feet above sea level. Owing to the almost inaccessibility of the wreckage, it was decided that the burial should take place at the scene of the crash. Consequently, Protestant and Roman Catholic chaplains were flown into a base at camp #3 of the Lake Logging Company, some 8 miles West and South of Cowichan Lake Village. A period of 3 1/2 hours was required to reach the bodies. A single grave containing the six deceased personnel was blasted out of solid rock after removing some two feet of stone. The grave was lined with six inches of Evergreen boughs on which the bodies were placed and were then covered with another layer of spruce boughs. There being no earth available, it was necessary to complete the grave with rock. A cairn was erected, surmounted on the grave which was inscribed the names and rank of each deceased personnel. The funeral service of the Protestant and Roman Catholic churches was conducted at the graveside by Flight Lieutenant McDonald representing the Protestant Church and Flight Lieutenant Gerard, representing the Roman Catholic Church. An Air Force Ensign was flown during the ceremony. The burial party was composed of 10 RCAF personnel, Constable Jack Henry of the BC provincial police, and Doctor JB Carson. He was a civilian doctor from the village of Youbou, British Columbia. Photographs were taken and will be submitted in due course. Letters are being sent by the respective chaplains to the next of kin as well as photographs. With these grave ledger sheets, the letter to the next of kin and the photographs to same, will complete this operation. An added item of interest is the fact that Mrs. Florence Kelly, resident at the base camp, made an 8 foot wreath of spruce, wild flowers, and three daffodils, which was all that could be found in the camp. This wreath was carried to the summit and placed on their grave as a memento from the folk in the camp."
The six men are commemorated on a plaque and a sign at the site of the crash, as well as their names appear on the Ottawa Memorial, as their grave was considered inaccessible. On an old growth forest tree stump, dozens of poppies have been placed at the crash site. [See photos in the links below.]
For the full Court of Inquiry, please contact me.
LINKS: