Harry Haig Frost J24373
March 31, 1918 - September 19, 1943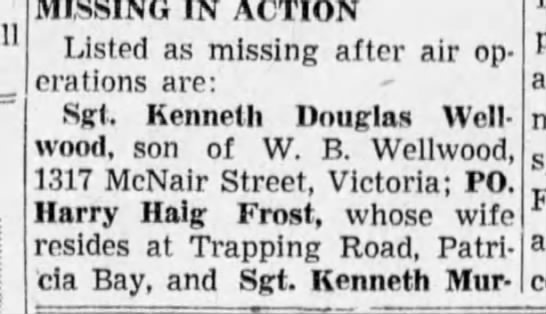 Early enlistee (1937) from New Westminster, BC, started out in Motor Transport remustered in July 1941 for flying duties. During navigation exercise over the Juan de Fuca, Hampden AJ993 dove into the sea during bad weather. All four men lost.
On the morning of September 19, 1943, Hampden Mark 1 AJ993 from No. 32 O.T.U., Patricia Bay, BC had set out on a navigation exercise over the Juan de Fuca at a height of 500 feet. Bad weather rolled in and the aircraft was seen to dive into the sea from a turn at approximately 400 feet at 0813 hours.
A dinghy and one wheel were recovered by an American patrol boat, but no sign of the men was found.
All are remembered on the Ottawa Memorial.
For details of the crash and more about the crew aboard Hampden AJ993, please visit the links below courtesy of the British Columbia Aviation Museum:
LINKS: