Harry Cameron Beattie R108299
April 30, 1920 - November 1, 1942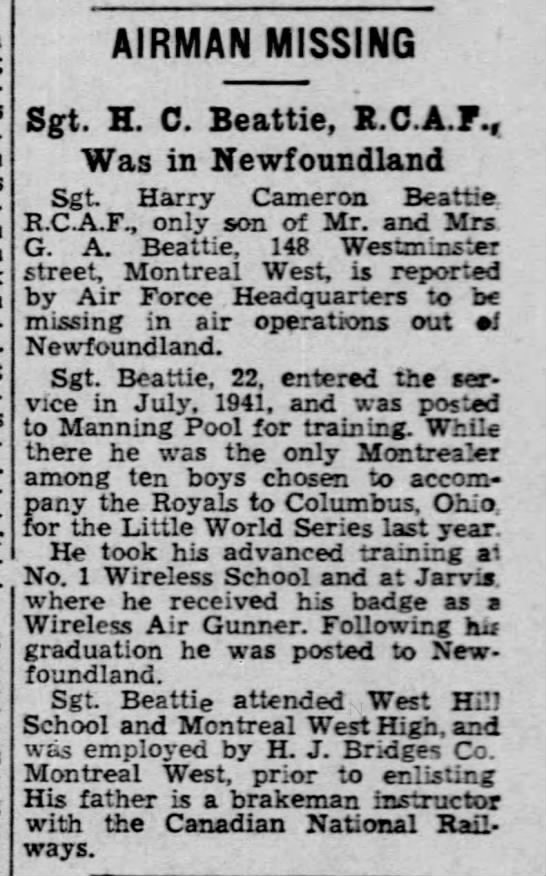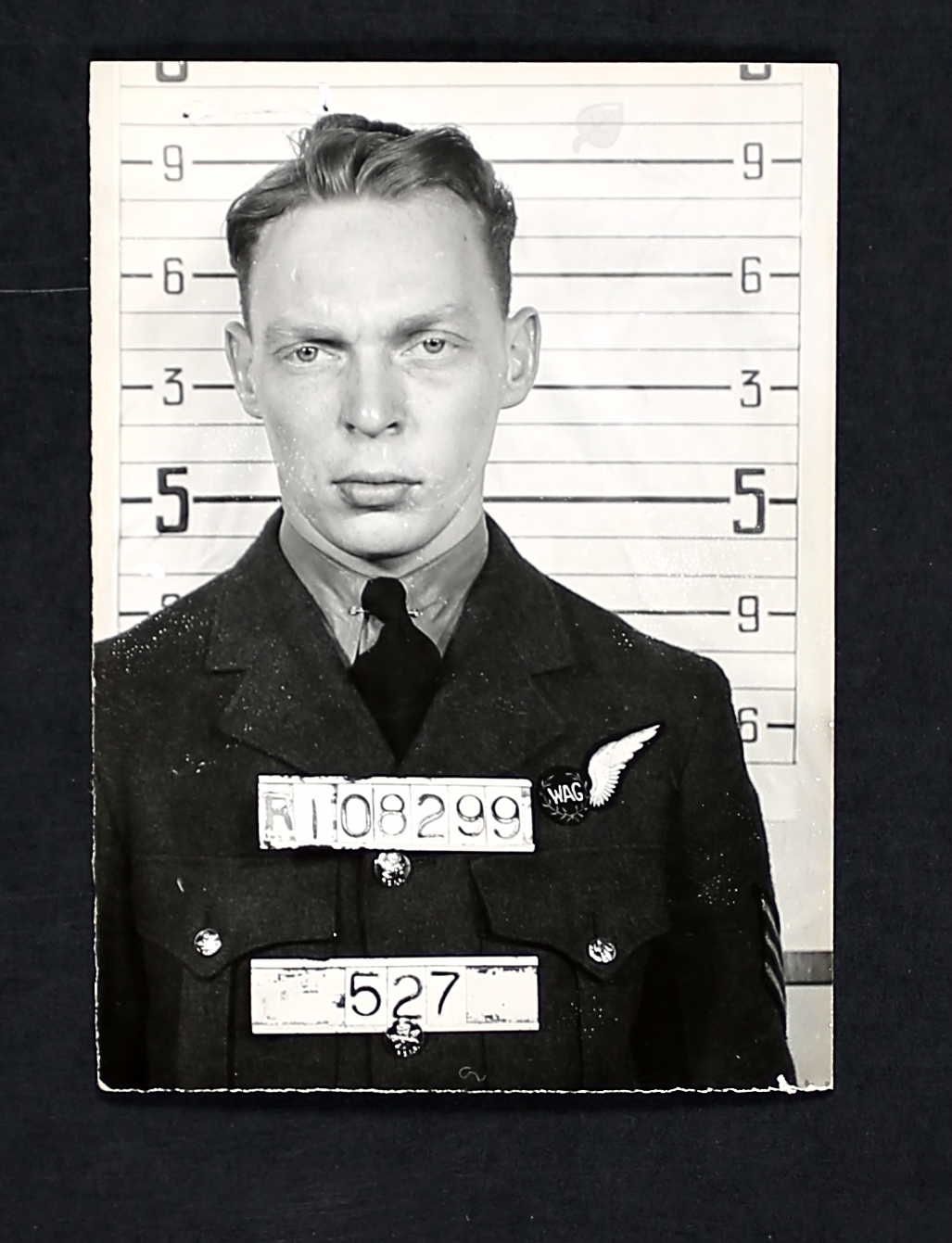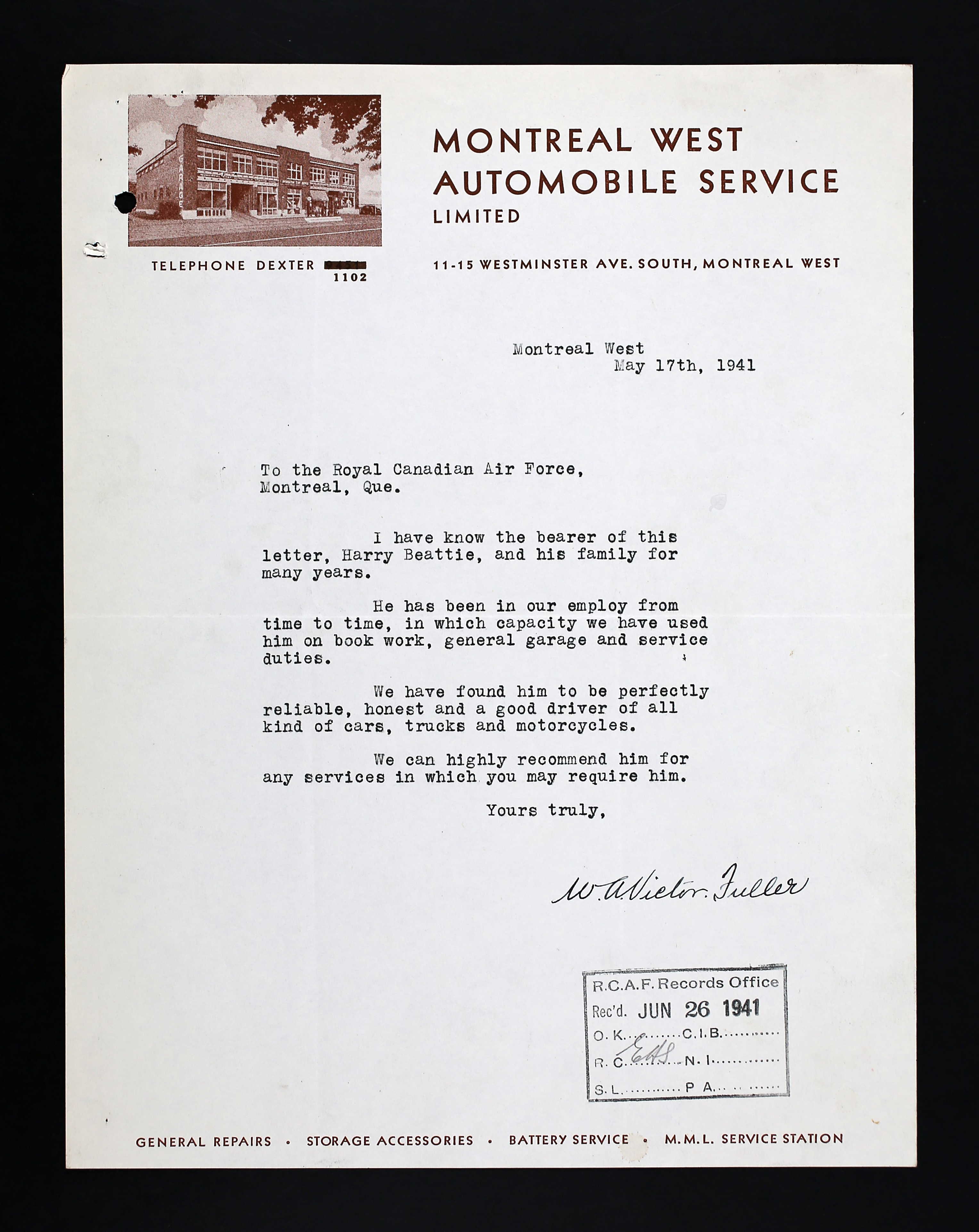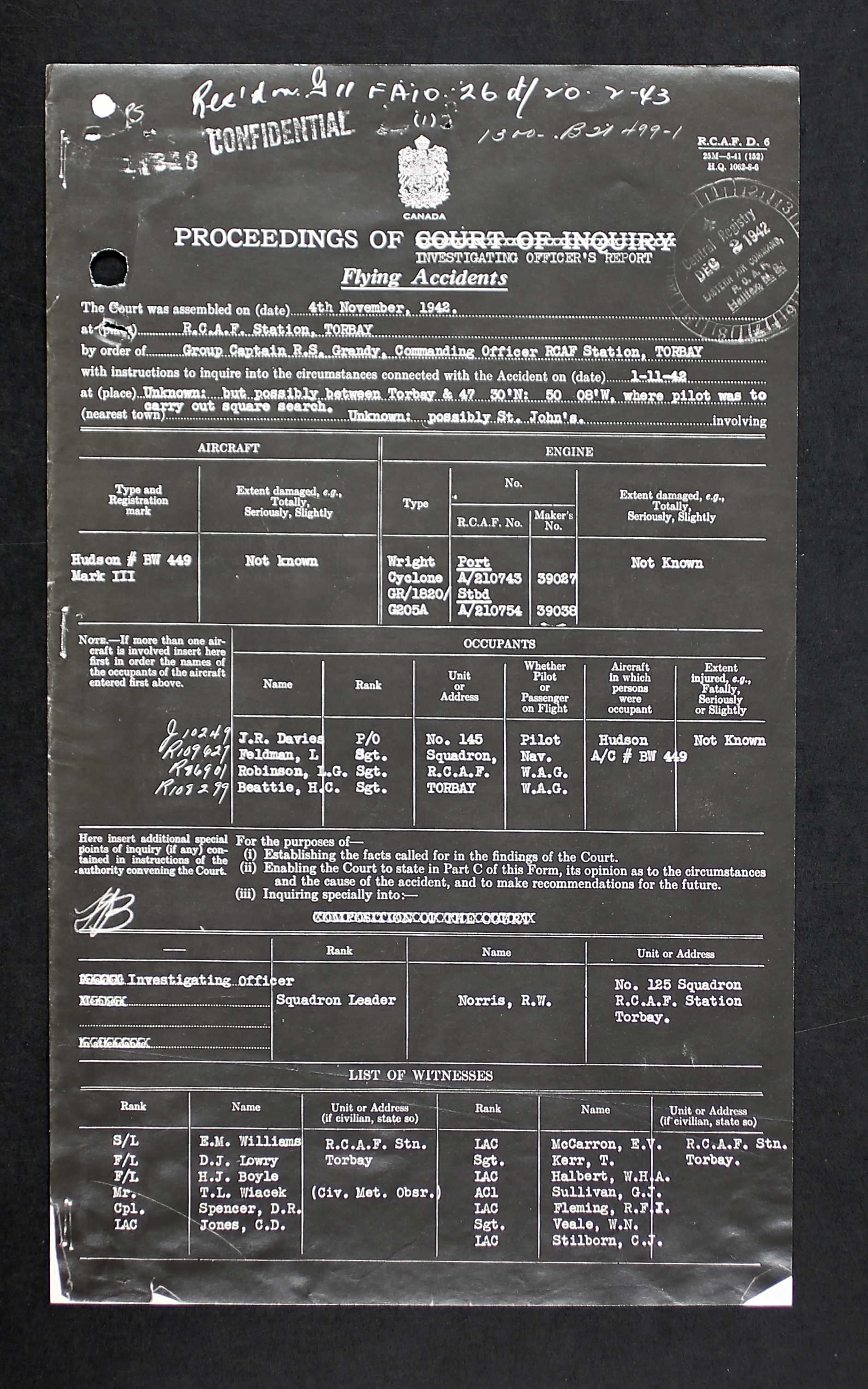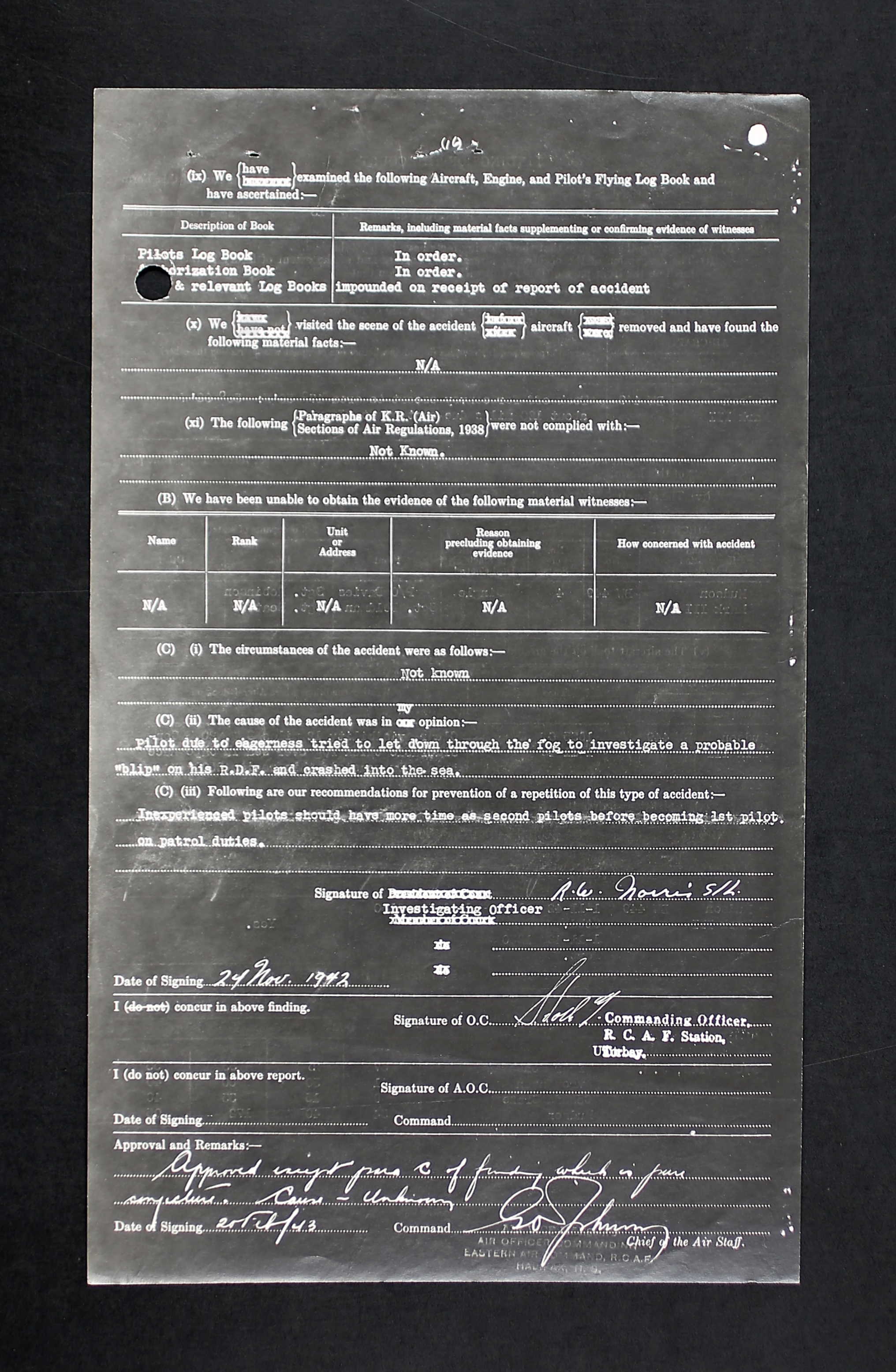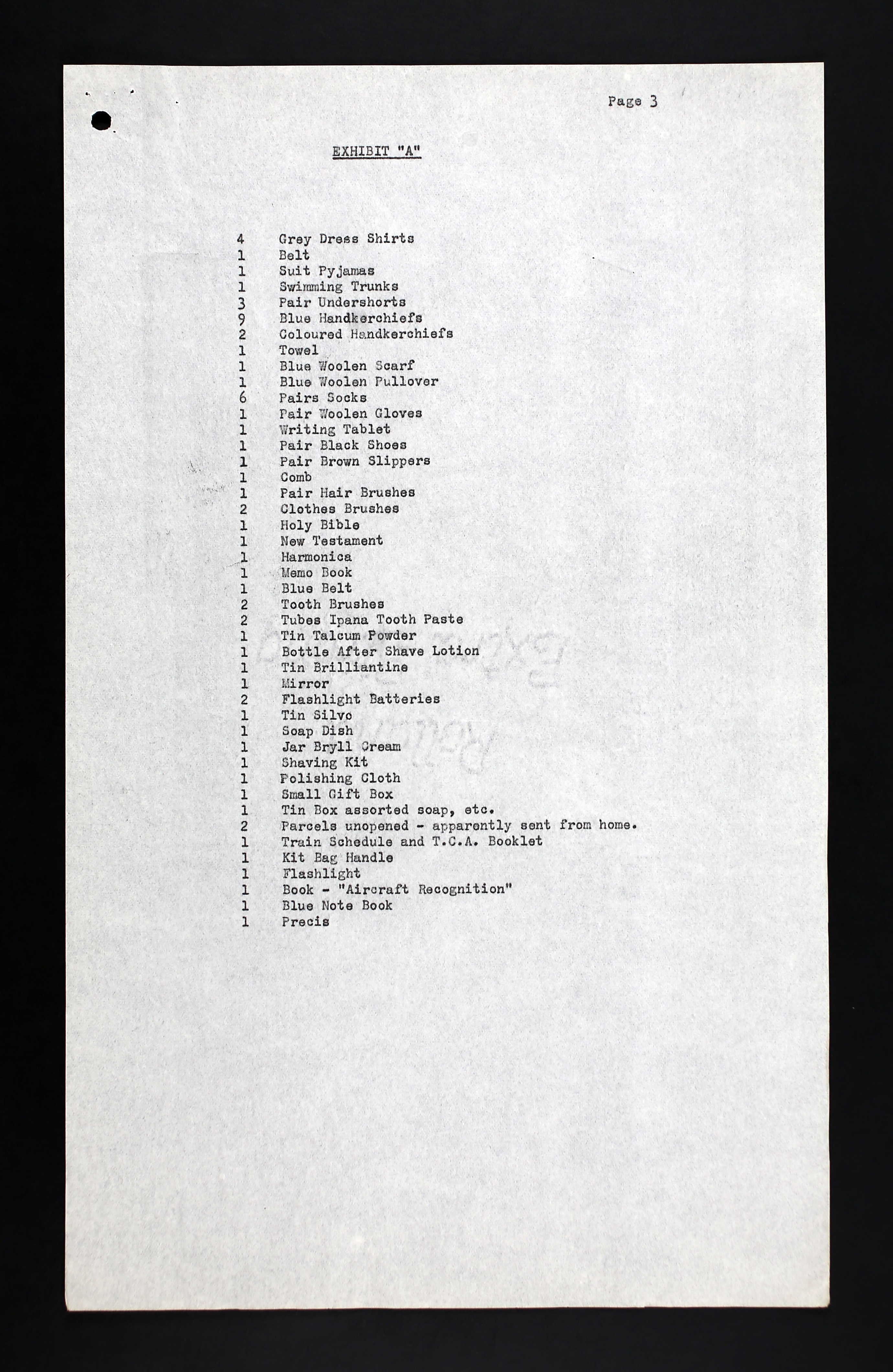 A clerk from Montreal became a Wireless Air Gunner. He was aboard Hudson BW449 when it went missing between Torbay and St. John's, Newfoundland in November 1942.
Henry 'Harry' Cameron Beattie was the only child of George Alexander Beattie (d. 1982), trainman for the CNR, and Lois Ruth (nee Cameron) Beattie (1898-1968) of Montreal, Quebec. The family was Presbyterian.
Harry left school during Grade 10 in 1938.
He was a clerk with H. J. Brydges Limited when he enlisted with the RCAF in May 1941, changing his name to Harry at that time. He spoke English, understanding some French. Harry had previous military experience with the Victoria Rifles and the RCAMC between 1936 and 1939. "Can drive any kind of car, truck or motorcycle. I am acquainted with motorcycle mechanics." Sports listed included motorcycling, skiing, baseball, and hockey.
Harry stood 5'8", weighed 145 pounds, had blue eyes and blond hair. He had a fair complexion. "Teeth have been badly filled. Some cavities." At the age of 6, he was hit by a car, knocked out for 15 minutes, but had no aftereffects. He smoked 15 cigarettes daily and occasionally drank alcohol. "Except for rather unsatisfactory teeth, a good candidate." Additional comments: "Keen, intelligent, likeable, good sense of humour, but respectful."
Harry held almost $800 in life insurance policies, plus had a bank account in Newfoundland.
Harry began his journey through the BCATP at No. 1 Manning Depot, Montreal on July 21, 1941. He was then sent to No. 1 Wireless School, Montreal from October 12, 1941 to June 20, 1942. "15th out of 57 in class. 80.8%." He was authorized to wear a Wireless Operator's Badge on June 20. 1942.
Harry was in the hospital from April 18 to May 1, 1942. He also had been at a station's sick quarters from December 15-20, 1941.
He was then sent to No. 1 B&G School, Jarvis, Ontario June 21, 1942. "3rd in class of 32 in Gunnery. Capable but not industrious student. Has not always shown appreciation of duty to the Service. Only fair sense of responsibility. Needs checking." He was ninth in Air Training out of 32.
He was then was sent to No. 10 AOS in Chatham, then to No. 34 OTU Pennfield Ridge, New Brunswick. He became a WAG, receiving it on July 20, 1942.
He was sent to No. 1 Y Depot, Halifax August 4, 1942, then sent to Torbay, Newfoundland, 145 Squadron.
SUMMARY: 145 Squadron Hudson Mk. III, s/n BW449 departed R.C.A.F. Station Torbay at 16:35 hours GMT on an anti-submarine patrol and convoy escort duty. The aircraft failed to return. The pilot was inexperienced and should have had more time as a Second Pilot before becoming First Pilot on patrol duties. It is felt that the pilot let down through the fog and crashed into the sea. All occupants were considered dead after the Accident Investigation Board findings.
CREW: Sergeant Harry Cameron Beattie, R108299, WAG Pilot Officer John Robert Davies, J10249, Second Pilot F/S Leonard Feldman, R109627, Navigator F/S Lewis Gerald Robinson, R86901, WAG
The Court of Inquiry called thirteen witnesses on November 4, 1942, held at Torbay. The place of the accident that took place on November 1, 1942 was unknown but possibly between Torbay and St. John's. The pilot was to have carried out a square search. The cause of the accident was "Pilot due to eagerness tried to let down through the fog to investigate a probably 'blip' on his RDF and crashed into the sea." Recommendations: "Inexperienced pilots should have more time as second pilots before becoming first pilot on patrol duties." The Chief of the Air Staff signed the document with the remarks, "Approved, but finding is pure conjecture. Cause: unknown."
A letter dated June 11, 1943, written by Mr. Beattie stated, "Received your letter dated June 9, 1943 in connection with the disappearance of our son, Sgt. Harry Cameron Beattie. We have not received any evidence or news of him since we got the telegram that he was missing. The last letter received by us was on November 4, 1942 and was dated October 31, 1942 from Newfoundland. Thanking you for your kind and earnest sympathy."
LINKS: