Harold Brand Whitlock J28562
January 18, 1924 - May 29, 1944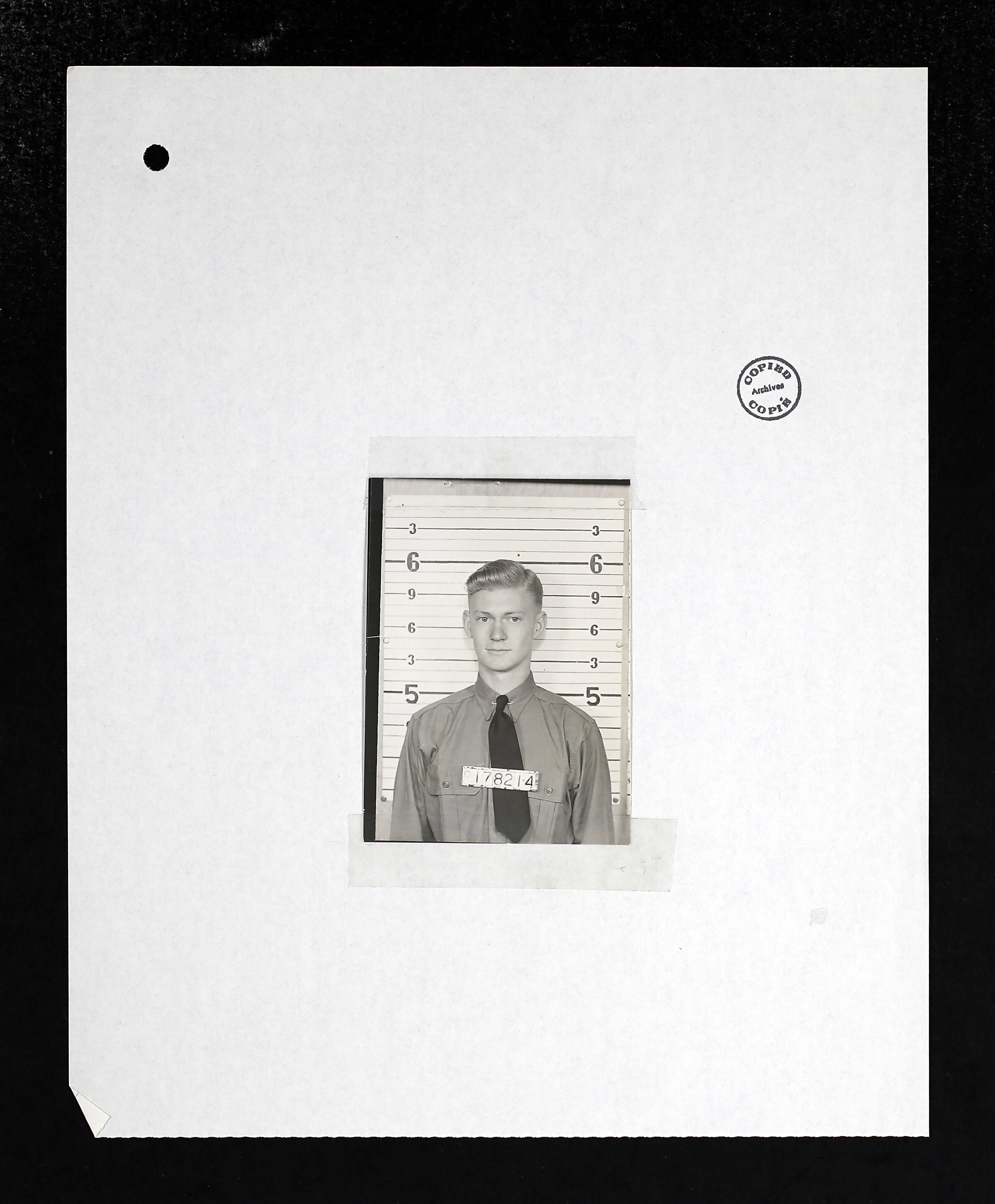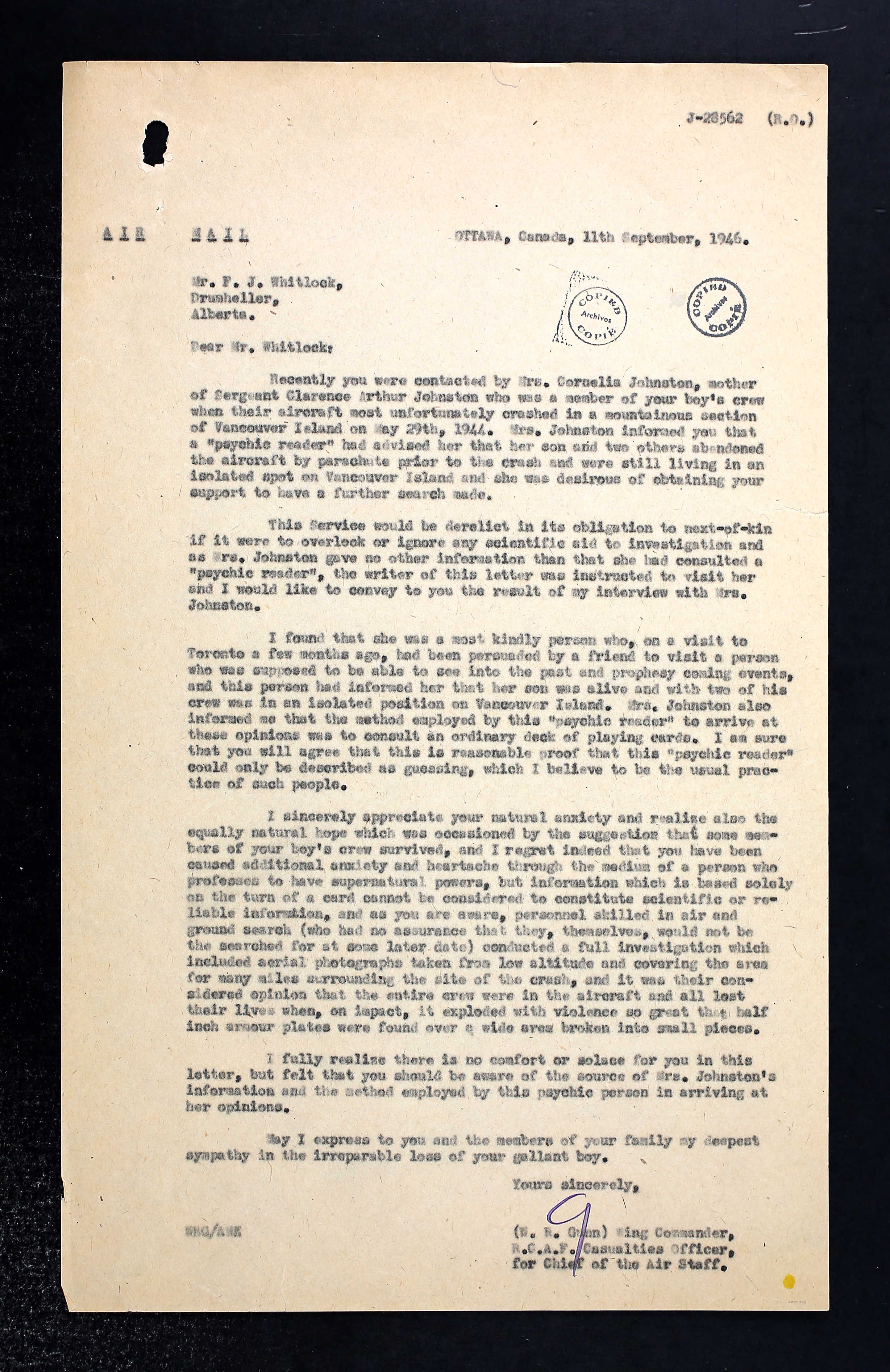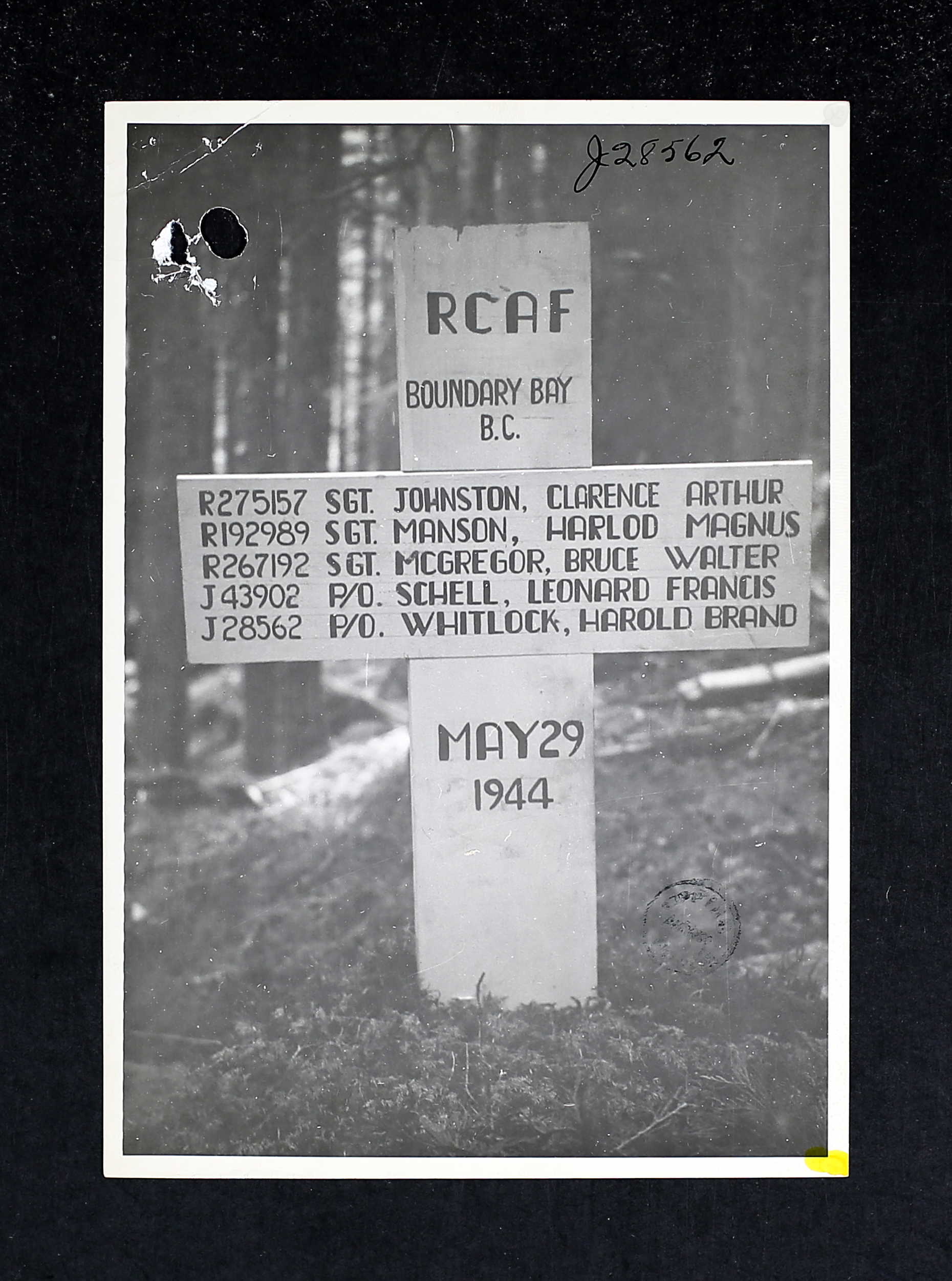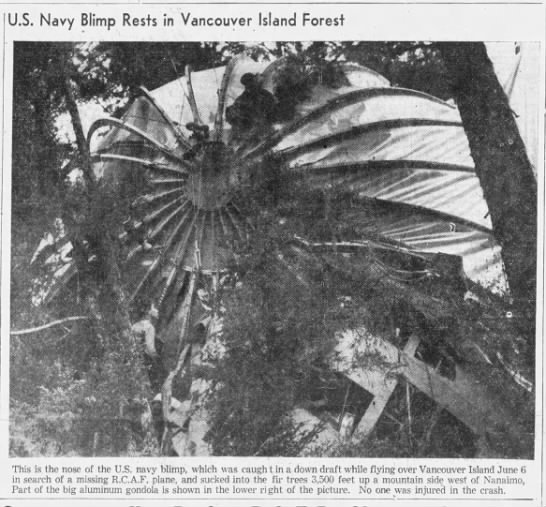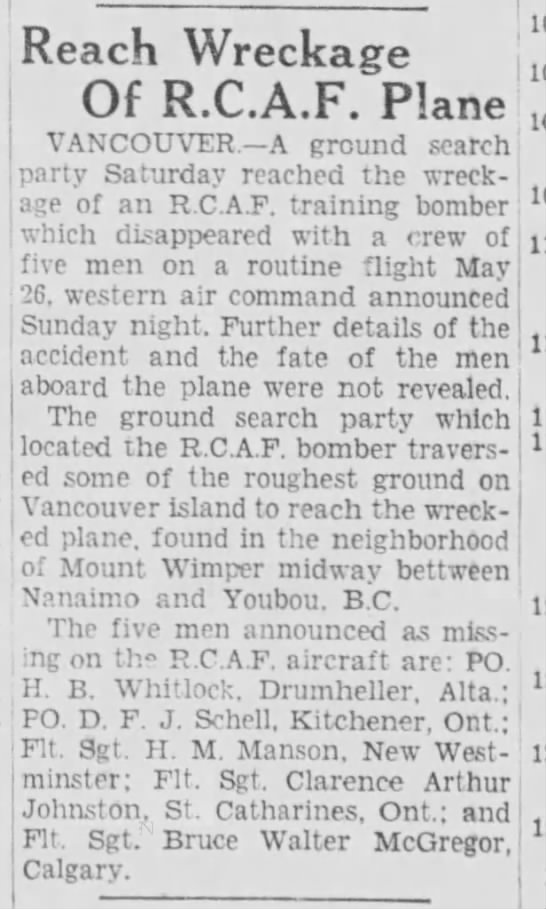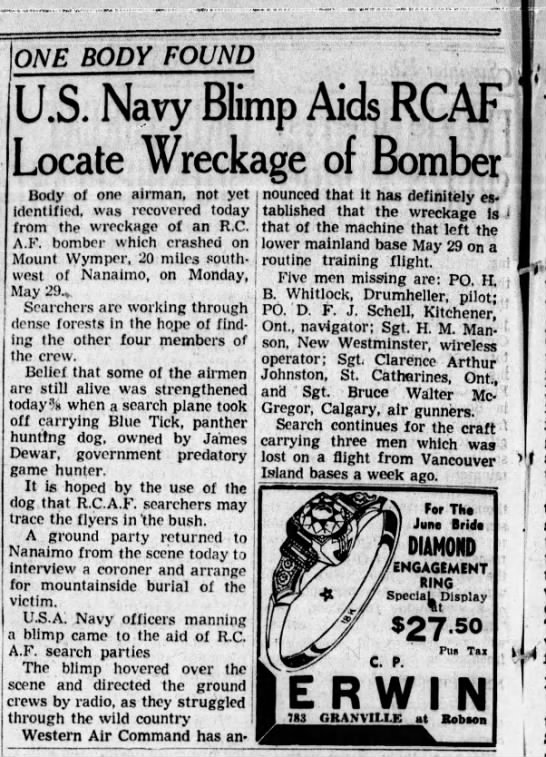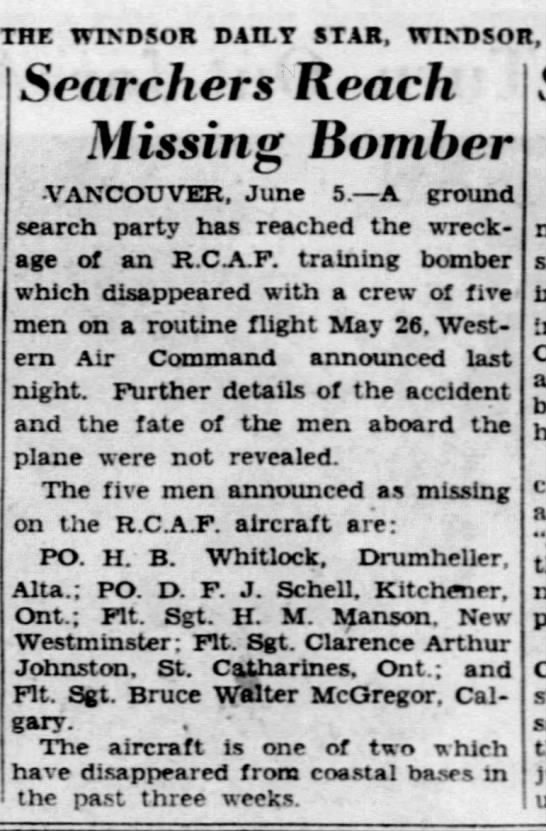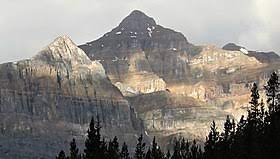 Student joined RCAF and became pilot. He and crew, during a navigational exercise, hit a mountain side on Vancouver Island, the plane exploded. A US Navy blimp participated in the search, crashing. The remains the crew of Mitchell HD345 were buried on site. Two years later, a psychic claimed three men survived, dismissed by RCAF.
Harold Brand Whitlock was the son of Frederick John Whitlock (1885-1980), secretary treasurer/accountant, and Lydia (nee Brand) Whitlock of Drumheller, Alberta. He had three brothers, Ralph F. Whitlock (1912-1918), who died during an operation, George A. Whitlock, and Sgt. A. E. Whitlock, posted with the RCAF overseas, and two sisters, Mrs. Muriel E. Beach and Mrs. Estelle I. Hackett. They attended the United Church.
Harold was a student when he enlisted with the RCAF in July 1942. "Heads his classes at school. Ideal student candidate." He had completed Grade XII at Drumheller High School. He participated in and enjoyed all sports. He had a small scar below his chin and on above his right elbow. He had hazel eyes and light brown hair. He stood 5' 10 ½" tall and weighed 136 pounds. "Physically fit, suitable material. He has a peculiar eye condition. We had him checked by an eye specialist. No abnormalities. Normal vision with glasses." He was diagnosed with anisometropia, where the refractive error differs between the two eyes. Untreated, the brain can decide to select the eye that presents the clearer image, then ignore the other eye, leading to the dependence on the stronger eye. Other comments: "Wiry. Alert. Has had attacks of hay fever for 6-7 years usually caused by grain flowers such as sweet peas. Has attacks for over a year. Had an attack five years ago of wheezing and difficulty with breathing. Relieved by HYPO, that is the only time ever wheezed. No trouble lately." It was suggested that Harold "would be better as navigator than pilot" because of his eye condition. "Good type. Well-motivated. Keen, aggressive, and very keen to fly. Seems bright. Has Grade XII education. Wants to be a fighter pilot. Thinks he wouldn't get enough action as a navigator. Appears to be a good pilot material."
Harold began is journey through the BCATP at No. 7 ITS, Saskatoon, Course. 65 from October 26 to December 30, 1942. He was 4th out of 117 in his class with 94.48%. "Fine, clean-cut airman with lots of ambition. Courteous, pleasant, and decisive. This is an outstanding airman."
He was then at No. 19 EFTS, Virden, Manitoba. Course 74, February 7 to April 2, 1943. He was 2nd out of 34 in his class with 94.57%. He was seen as average. "A keen, intelligent, well-mannered student. General flying is a high average. Has natural ability but needs practice on precision flying. Aerobatics are very good. Instrument flying is satisfactory, has a tendency to fly with right wing low. Exceptionally able student in Ground School and gave promise by his classroom work of being unbeatable but finished second in his course."
Harold was then at No. 17 SFTS, Souris, Manitoba, Course 78, April 5 to July 23, 1943. He was first in his class of 48 with 83.5%. "An average flyer with no outstanding faults."
He was sent to No. 31 G.R.S., Charlottetown, PEI July 31 until October 23, 1943. Western Air Command, Vancouver was his next destination, posted to No. 149 Squadron, Annette Island, Alaska, by October 25, 1943. He was also at No. 149 Squadron, Terrace, BC November 16, 1943 and RCAF Station, Prince Rupert, BC by March 15, 1944. He was then sent to No. 5 O.T.U. Boundary Bay, BC April 1944.
Mitchell HD345 [Court of Inquiry: C-5938 Image 206]. CREW: F/O Harold Brand Whitlock, J28562, P/O Leonard Francis Schell, J43902, Sgt. Harald Magnus Manson, R192989, Sgt. Bruce Walter McGregor, R267192, and Sgt. Clarence Arthur Johnston, R275157. On May 29, 1944, they had been involved in a cross-country exercise. All five men were buried at the crash site "in a heavily wooded area" on a mountainside near Mount Whymper in the Cowichan Valley, on Vancouver Island.
A US Navy blimp was involved in the search. It crashed. The balance outstanding for accounts rendered but unpaid amounted to $1,004,804.61 according to a letter sent to the Canadian Government from the US Navy.
On the Estates form, filled out by Mr. Whitlock, dated August 1944: "We have a letter dated July 19, 1944 from D. A. R. Bradshaw, CO RCAF Boundary Bay: 'In reply to your letter of the 17th July, regarding your son's rank. He was promoted to Temporary Flying Officer on the 23rd January 1944. You will note that on the picture of the grave, your son's rank is shown as Pilot Officer, in error. In shall do my best to have this corrected and if possible, a new photograph taken.' Harold wrote us he had back pay coming as a result of this promotion. We would be glad to have a copy of Harold's will."
A letter from W/C W. R. Gunn, RCAF Casualties Officer, wrote a letter to Mr. Whitlock dated September 11, 1946, in regard to a letter that Mrs. Cornelia Johnston, mother of another crew member aboard Mitchell HD 345, Clarence Arthur Johnston, wrote. "Recently you were contacted by Mrs. Cordelia Johnston, mother of Sergeant Clarence Arthur Johnston who was a member of your boy's crew when their aircraft most unfortunately crashed in a mountainous section of Vancouver Island on May 29th 1944. Mrs. Johnston informed you that a psychic reader had advised her that her son and two others abandon the aircraft by parachute prior to the crash and were still living in an isolated spot on Vancouver Island and she was desirous of obtaining your support to have a further search made. this service would be derelict in its obligation to next of kin if it were to overlook or ignore any scientific aid to investigation and as Mrs. Johnston gave no other information than that she had consulted a psychic reader, the writer of this letter was instructed to visit her and I would like to convey to you the result of my interview with Mrs. Johnston. I found that she was a most kindly person who, on a visit to Toronto a few months ago, had been persuaded by a friend to visit a person who was supposed to be able to see into the past and prophecy coming events, and this person had informed her that her son was alive and with two of his crew and in an isolated position on Vancouver Island. Mrs. Johnston also informed me that the method employed by this psychic reader to arrive at these opinions was to consult an ordinary deck of playing cards. I am sure that you will agree that this is reasonable proof that this psychic reader could only be described as guessing, which I believe to be the usual practice of such people. I sincerely appreciate your natural anxiety an realize also the equally natural hope which was occasioned by the suggestion that some members of your boys crew survived, and I regret indeed that you have been caused additional anxiety and heartache through the medium of a person who professes to have supernatural powers, but information which is based solely on the turn of a card cannot be considered to constitute scientific or reliable information, and as you are aware, personnel skilled in air and ground search who had no assurance that they, themselves, would not be the searched for at some later date) conducted a full investigation which included aerial photographs taken from low altitude and covering the area for many miles surrounding the site of the crash, and it was their considered opinion that the entire crew were in the aircraft in all lost their lives when, on impact, it exploded with violence so great that half inch armor plates were found over a wide area broken into small pieces. I fully realize that there is no comfort or solace for you in this letter, but felt that you should be aware of the source of Mrs. Johnston's information and the method employed by this psychic person in arriving at her opinions. May I express to you and the members of your family my deepest sympathy in their irreparable loss of your gallant son."
Mr. Whitlock received a letter from W/C Gunn in late October 1955 informing him that since Harold had no known grave, his name would appear on the Ottawa Memorial.
For more documents, information, and photos, please visit the other crew members' pages.