Harold Charles Beresford Reynolds J16971
January 5, 1909 - December 6, 1944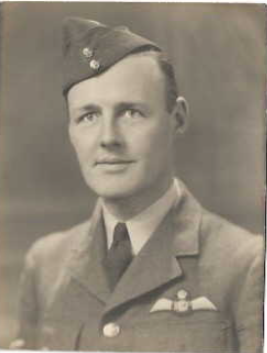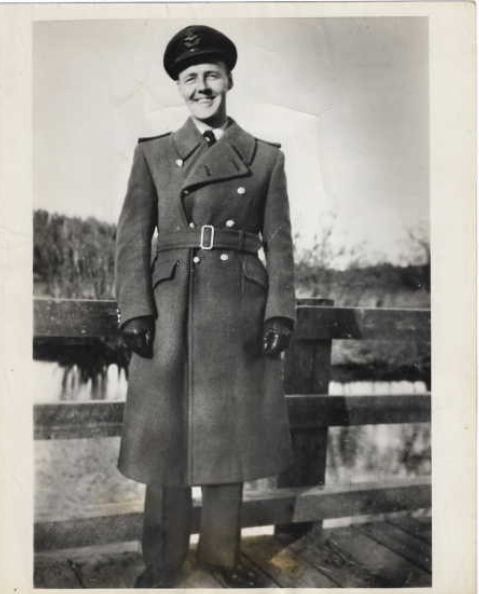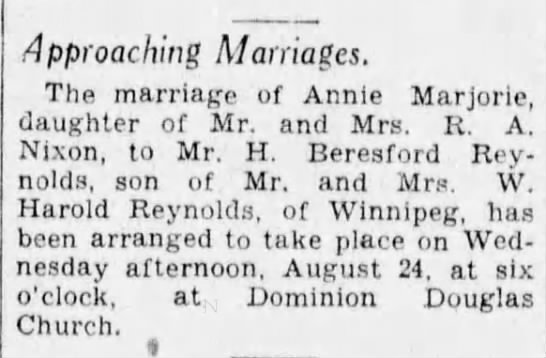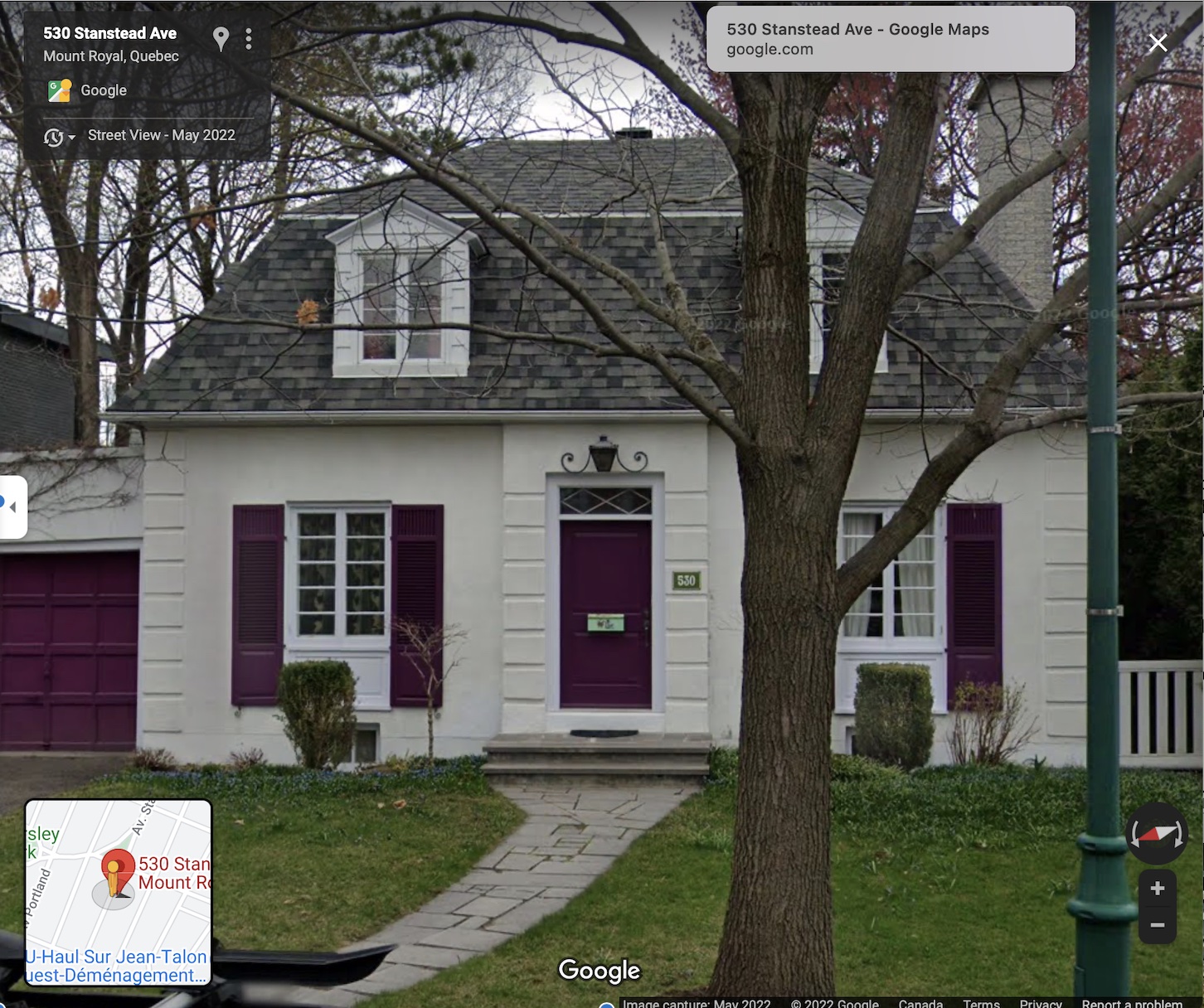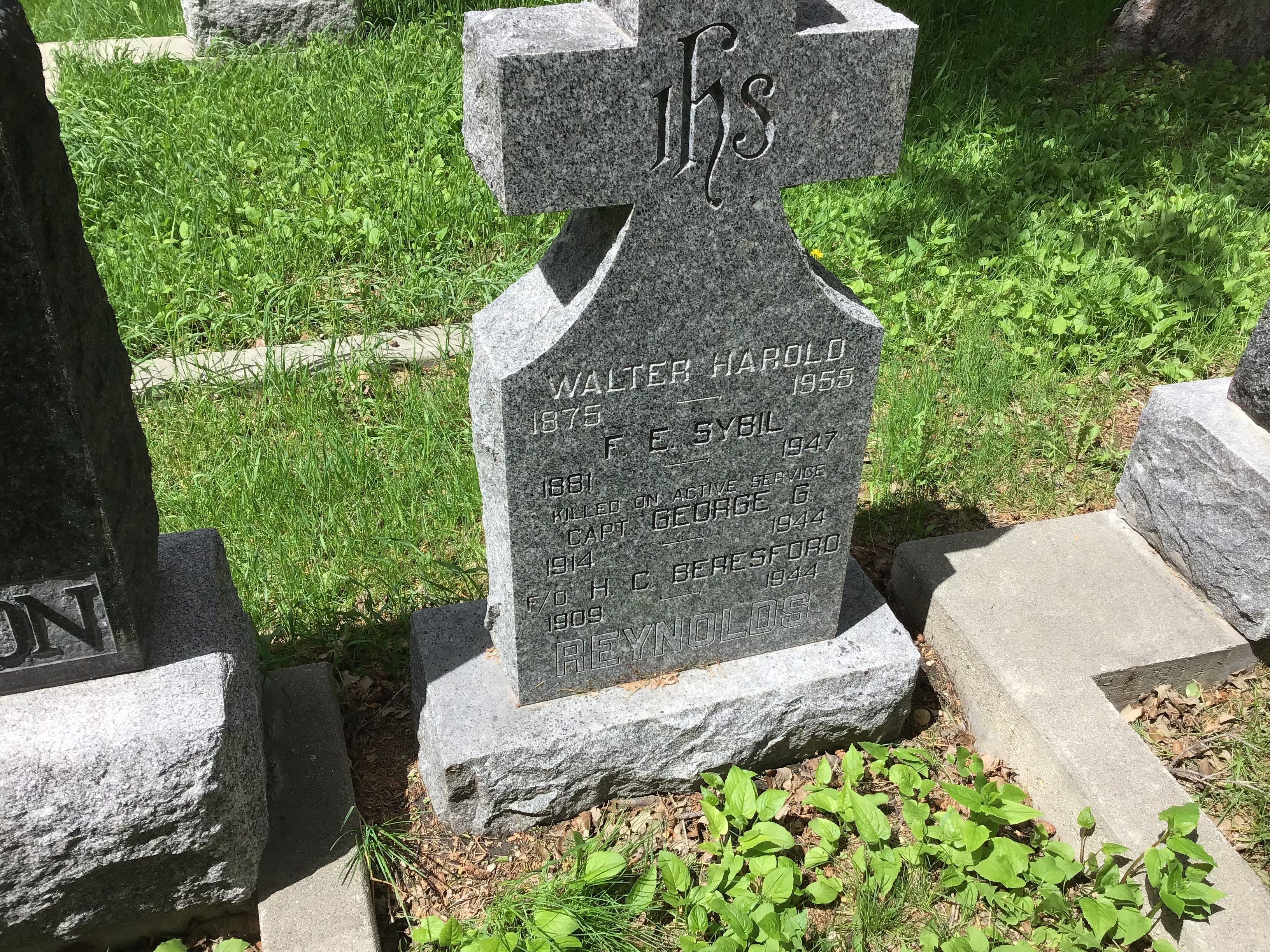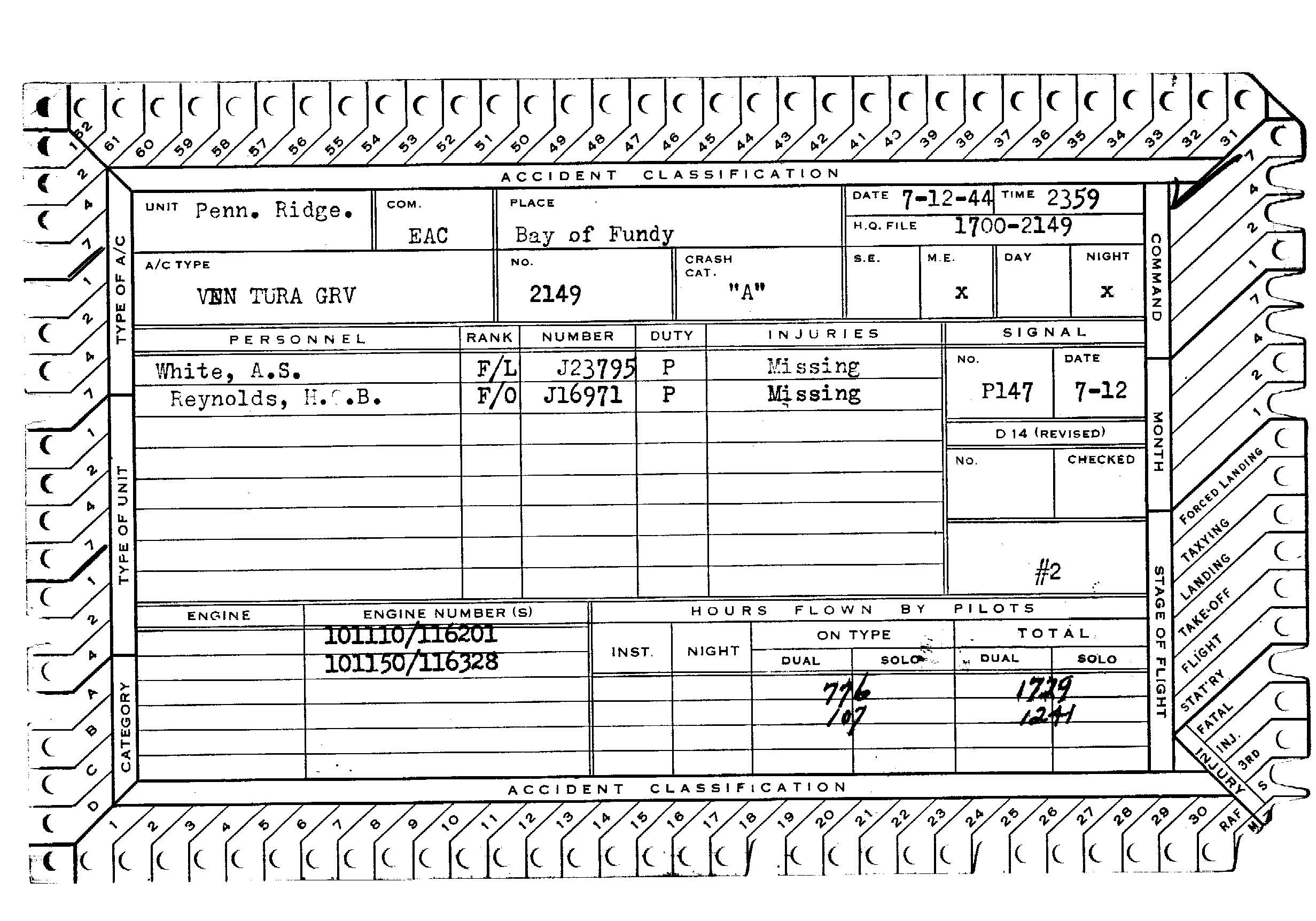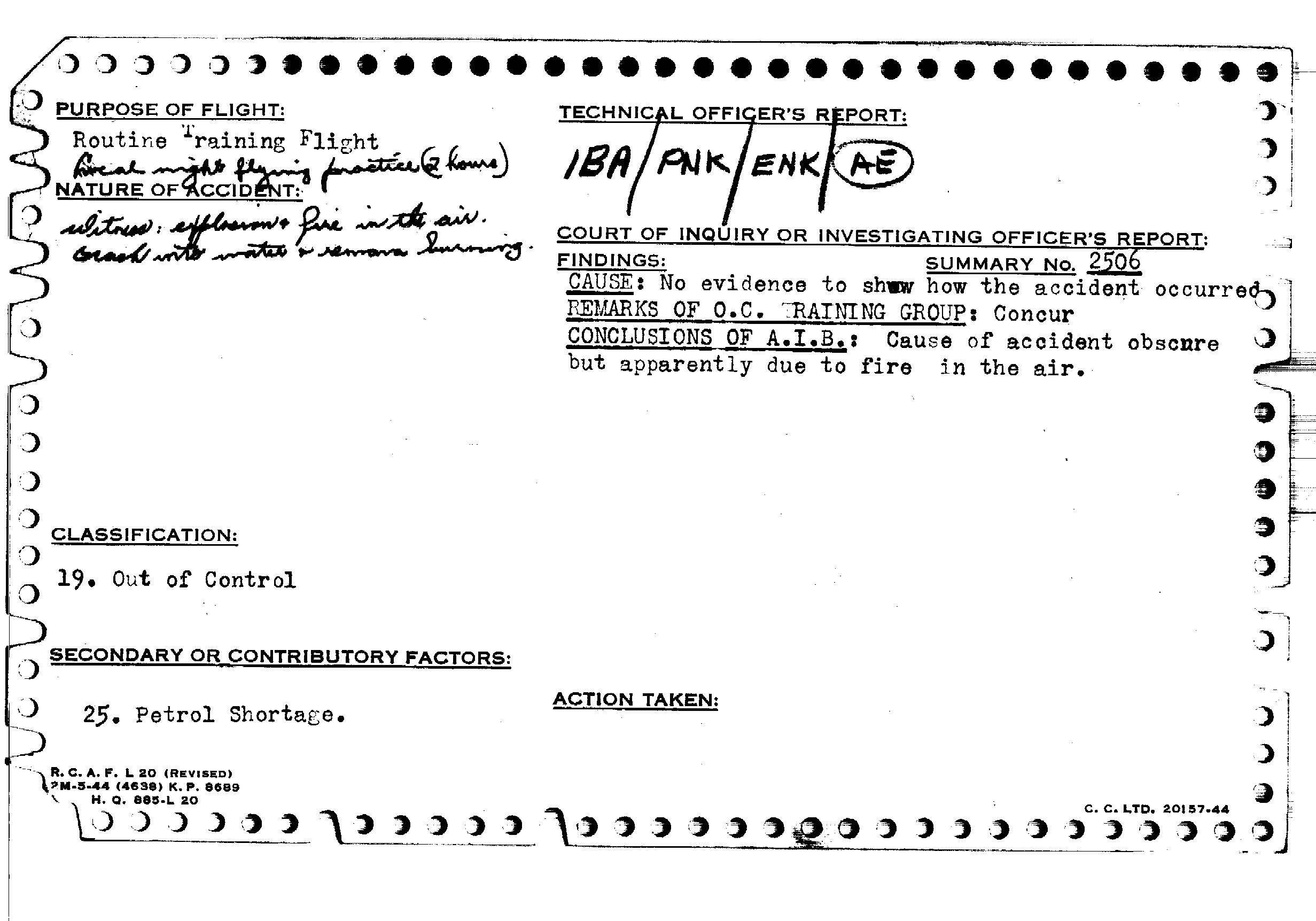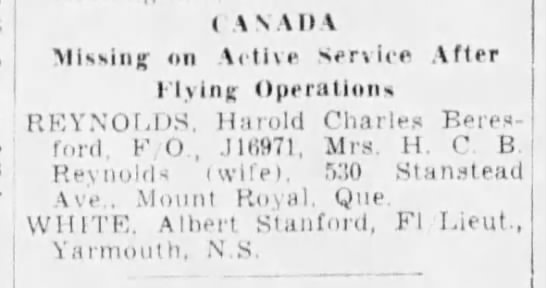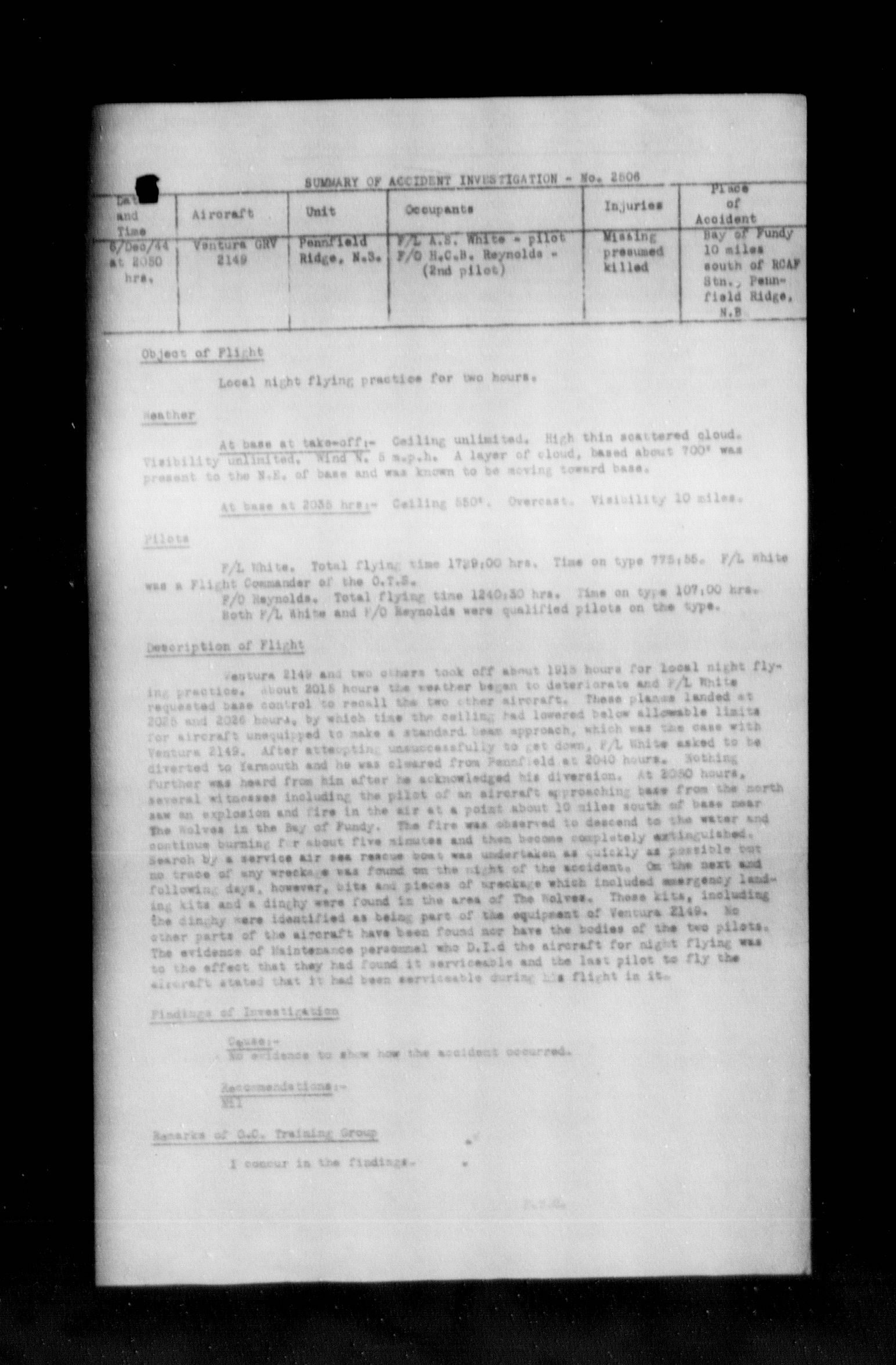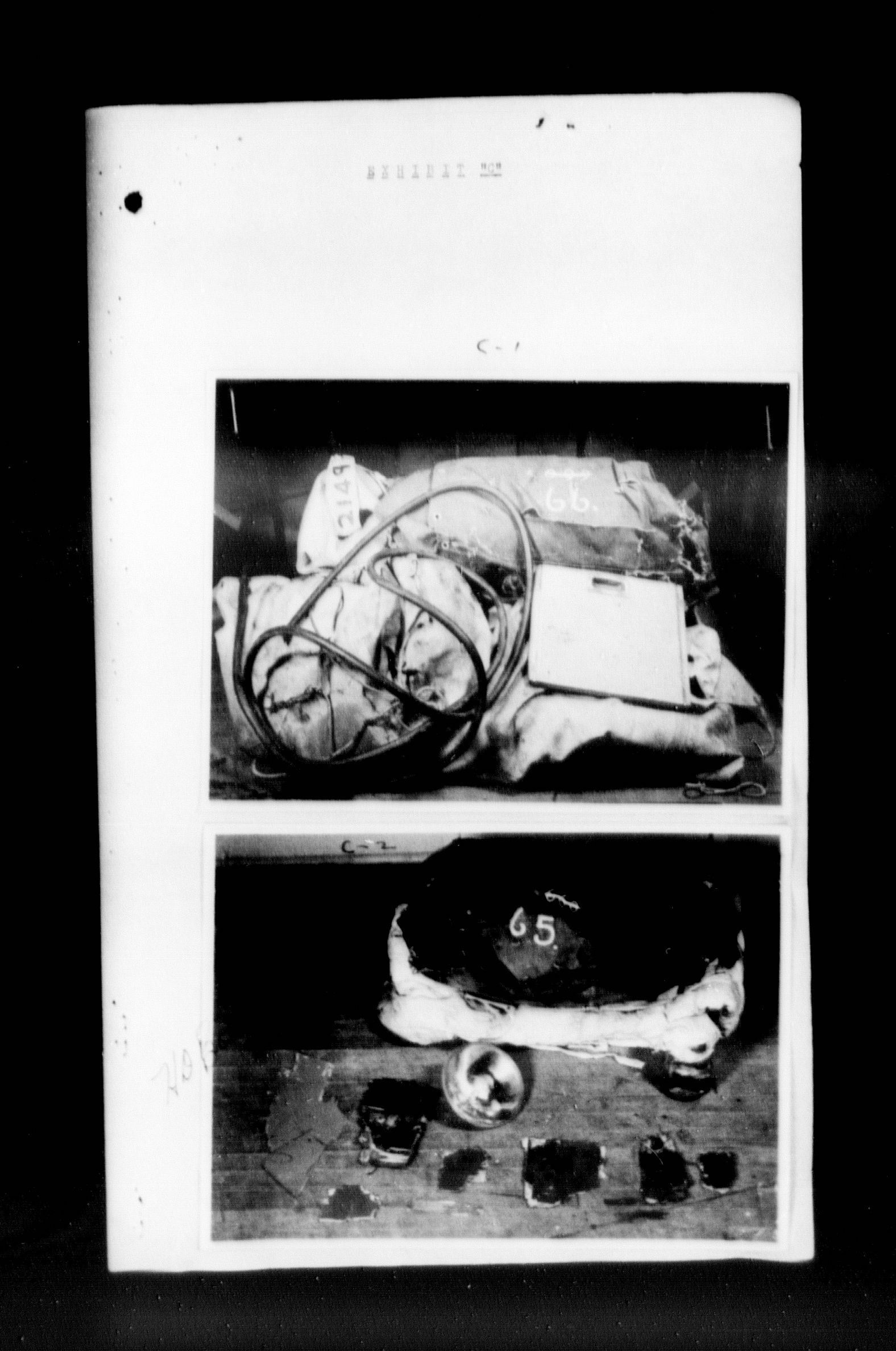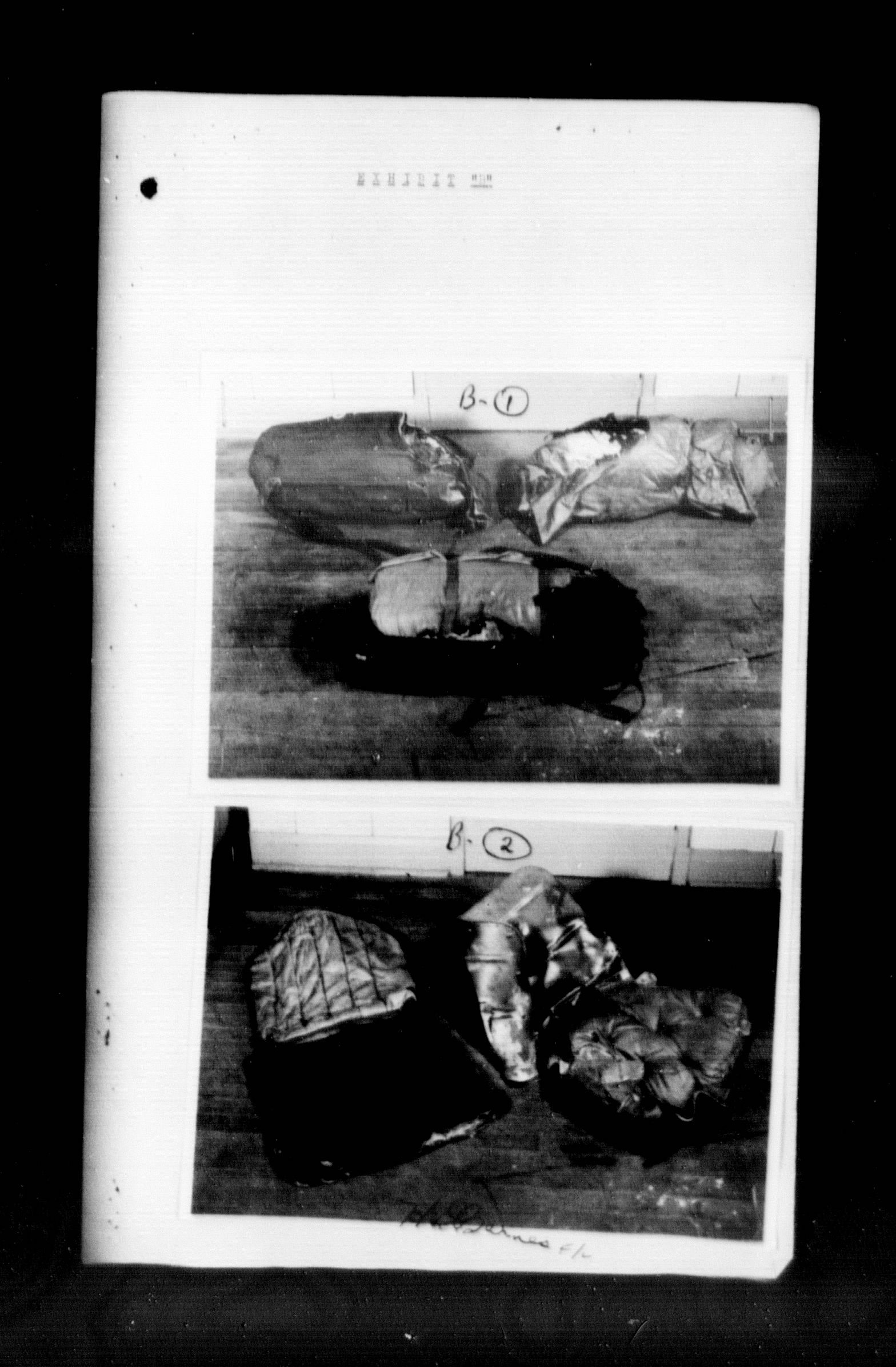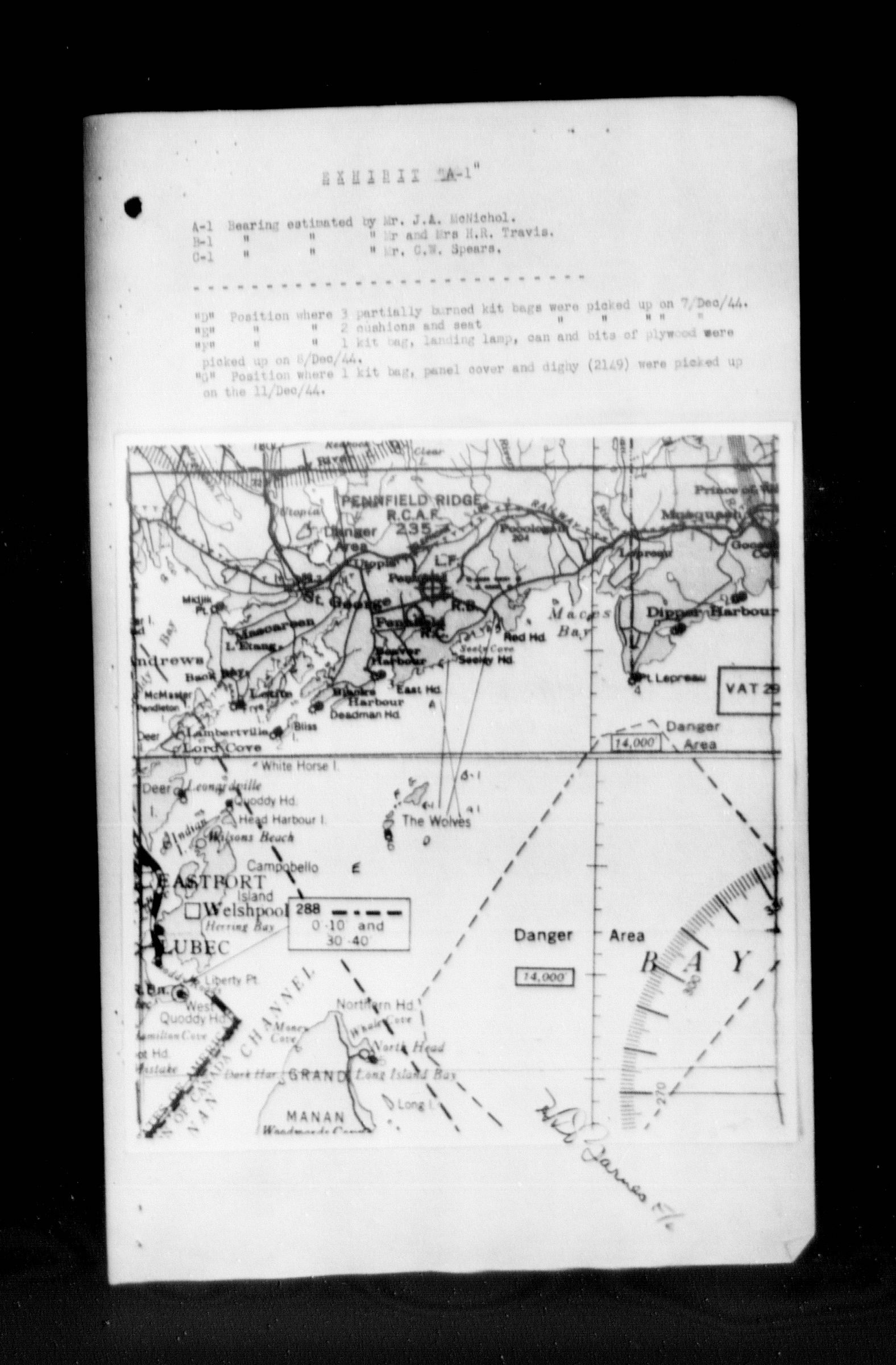 Older salesman joined RCAF and became pilot overseas. Returned to Canada and was attached to No. 34 O.T.U., Pennfield Ridge, NB. He and another pilot were lost in Ventura 2149 in the Bay of Fundy when the weather began to deteriorate.
Harold Charles Beresford Reynolds, born in Westmount, Quebec, was the son of Walter Harold Reynolds (1875-1955), manager of Canadian Telephone Supplies Co., and Frances Sybil (nee Stetham) Reynolds (1881-1947) of Winnipeg, Manitoba. He had a brother, George Gilbert Reynolds, serving as a captain, RCE. The family was Anglican.
Harold, living in Montreal since 1930, married Annie 'Marjorie' Nixon (d. 1998) on August 24, 1932, in Montreal. They had two children: Sybil 'Sally' Ann, born October 10, 1936, and Robert Beresford, born April 15, 1939. They resided in the Montreal area, owning their own home at 530 Stanstead Avenue, Town of Mount Royal, Quebec.
Harold was a refinery clerk and salesman for ten years at McColl-Frontenac Oil Company Limited, prior to enlisting with the RCAF in April 1941. He also had been selling bonds before that, plus worked as an electrical apprentice for a year. "Above average type. Neat appearance. Very anxious to serve. Keen, alert. Recommended." He spoke English, plus had 'fair' French. He liked gardening, plus many sports, smoking ten cigarettes a day and drinking the occasional beer. Harold stood 5'9" tall and weighed 149 pounds. He had blue eyes and fair hair. At the age of 8, he had a head injury, fracturing his frontal bone. "Compete 2 years high school at age 17. Was bond salesman for 1 ½ years. Was a concrete inspector in construction company for 1 ½ years. Was salesman for McColl-Frontenac Oil for ten years. Left to join up. Choice: Pilot, Observer, Gunner. Married, has two children, older than most of these lads. Mature chap, deliberative, and therefore slower in responding. Appears well adjusted. Emotional stability and self-confidence average. Mild in manner."
Harold began his journey through the BCATP at No. 1 Manning Depot, Toronto, April 18, 1941. He was then taken on strength at No. 21 B&G School, Picton, Ontario May 16 until June 20, 1941. He was then sent to No. 3 ITS, Victoriaville, Quebec from June 21 to July 27, 1941. "Mature, serious, dependable, responsible, keen and alert. Pleasant personality. Good solid type. Good appearance." He was 47th out of 145 in his class, earning 78%. From there, he was sent to No. 11 EFTS, Cap de la Madeleine, Quebec from July 27 to September 13, 1941. At No. 13 SFTS, St. Hubert, Quebec from September 26 to December 20, 1941, he received his wings. "Has done very well and is above on instruments and clear hood flying. Particularly good on blind take-offs. No outstanding faults. Should make a good instructor." Ground: "Pleasant, reliable, intelligent, good worker, above average." He was 18th out of a class of 56 and rated above average, recommended for Operational Squadron. "Has a very good appearance and a pleasant personality. Good commission material."
Harold traveled to Halifax and 1 Y Depot December 21, 1942, and was at the RAF Trainee's Pool, January 7, 1942, taken on strength at No. 3 PRC January 21, 1942. He was then at No. 3 (P) Advanced Flying Unit, April 29 to June 22, 1942, then at No. 1 O.T.U. August 1942 until he was taken on strength with 48 Squadron October 18, 1942.
Harold was repatriated to Rockcliffe, Ontario November 14, 1943. By January 4, 1944, he was taken on strength with Eastern Air Command, posted to No. 31 O.T.U., Debert, Nova Scotia. He was at Trenton from June 17 to August 11, 1944 before being sent to Pennfield Ridge, NB.
On December 6, 1944, aboard Ventura 2149, based out of RCAF Station, Pennfield Ridge, New Brunswick, he and F/L Albert Stanford White, J23795, DFC, were killed in the Bay of Fundy. "Cause of accident obscure, but apparently due to fire in the air." They were on a local night flying practice (two hours) when the weather started to deteriorate.
Ventura 2149 Investigation
RCMP Report, St. George Detachment, 6-12-44, Fredericton, NB, Inspector J. P. Blakensy [sp?] "At 8:00 PM this date a telephone call was received from Charles SPEAR, one of our civilian contacts of Seely's Cove, New Brunswick, who stated that he had heard an explosion about 10 miles offshore in the Bay of Fundy, and had seen a large fire after the explosion; the fire he stated has lasted for about five minutes. He stated he thought it was a fishing boat which had blown up, and then caught fire. I immediately contacted the control tower at the RCAF station at Pennfield, New Brunswick to ascertain if any planes were in the air, and when informed that two or three planes were in the air, advised the tower of the telephone call received from Charles Spear and they advised that a check would be made immediately, and we would be advised of the results. In approximately 5 minutes, a call was received from the control tower requesting us to proceed to Black's Harbor immediately, to direct the RCAF crash boat which would be ready, to the scene of the explosion and fire, therefore accompanied by Constable J. W. Geurly [sp?] in police transport vehicle number 3612; we immediately proceeded to Black's Harbor where we found the crash boat ready with the motors running, and we immediately proceeded to the scene of the fire and patrol the area until 3:00 AM, but found no trace of any wreckage etc. or survivors. I might state that it was very dark as no stars were shining, and the sea was very rough. During the course of the patrol, the crash boat kept in constant touch with the control tower by a wireless, and it was learned that it had been definitely established that an aircraft, a Ventura, had not returned to its base at Pennfield from a short patrol. The crash boat and several planes were detailed to patrol the area, where the plane was supposed to have crashed and exploded; an emergency kit, which was identified as one from the plane which was missing from the Pennfield station was found floating a short distance from the scene of the crash, but no trace of any other wreckage was located during the search and it is thought that the plane and its two occupants were blown to bits by the explosion. The RCAF officers in charge of the investigation into the crash, advise that the plane, which was a twin motor Ventura, had left the Pennfield airport at 7:40 PM on the evening of 6-12-44, the occupants of same being Flight Lieutenant White and Flying Officer Reynolds, both of whom were good pilots having recently returned from overseas; it is not known which of the officers were at the controls. But shortly after they had taken off from the Pennfield airport on a short flight just over the station, they radioed the tower, stating that it would be difficult to make a landing again owing to a fog which had drifted in over the station. They were therefore advised to proceed to Yarmouth, NS and make a landing there, and exactly 6 minutes from the time of the radio conversation with these officers, the telephone call was received from this office regarding the explosion and fire. It is therefore presumed that the plane was en route to Yarmouth NS and crashed shortly after the occupants had been in touch with the control tower.
8-12-44. On the AM of this date, one James McNichol who is the captain of one of the Connors Brothers fishing boats [based at Black's Harbour], advised the writer that on the evening of 6-12-44 he had been anchored just off the Wolves with the boat, having been in that vicinity picking up fish from the weirs in that district, and he saw the plane coming straight down into the sea, he stated that the plane was in flames for the distance of what appeared to be about 300 yards before striking the water, when it exploded and burned for a few moments. He stated that the plane appeared to be about 10 miles from his boat, and he did not proceed to the scene as he noticed the crash boat patrolling the vicinity a short time after the crash. This information was handed over to the RCAF officials, who stated they would interview McNicol immediately. As it would appear that both the plane and the occupants were blown to bits, and it is very doubtful any parts of the plane will ever be recovered, and as no further assistance is connected with this matter, has been requested by the RCAF, I would respectively request that this case be concluded. Miles 25, no other expenses incurred. Case concluded handed over to department concerned."
SUMMARY OF Court of Inquiry, where twelve witnesses were called: "Occupants: F/L White: pilot; F/O Reynolds, 2nd pilot. Location of Accident: Bay of Fundy, 10 miles south of RCAF Station, Pennfield Ridge, NB. Date and Time: December 6, 1944, at 2050 hours. OBJECT OF FLIGHT: local night flying practice for two hours. WEATHER: At base at takeoff: ceiling unlimited. High thin scattered cloud. Visibility unlimited. Wind W 5 mph. A layer of cloud. Base at about 700 feet was present to the northeast of base and was known to be moving toward base. At base at 2035 hours: Ceiling 550 feet. Overcast. Visibility 10 miles. DESCRIPTION OF FLIGHT: Ventura 2149 and two others took off at about 1918 hours for local night flying practice. About 2015 hours the weather began to deteriorate, and F/L White requested based control to recall the other two aircraft. These planes landed at 2026 in 2025 hours, by which time the ceiling had lowered below allowable limits for aircraft unequipped to make a standard beam approach, which was the same with Ventura 2149. After attempting unsuccessfully to get down, F/L White asked to be diverted to Yarmouth and he was cleared from Pennfield at 2040 hours. Nothing further was heard from him after he acknowledged his diversion. At 2050 hours, several witnesses including the pilot of an aircraft approaching base from the north saw an explosion and fire in the air at a point about 10 miles south of base near The Wolves in the Bay of Fundy. The fire was observed to descend to the water and continue burning for about 5 minutes and then become completely extinguished. Search by a service air sea rescue boat was undertaken as quickly as possible but no trace of any wreckage was found on the night of the accident. On the next and following days, however, bits and pieces of wreckage which included emergency landing kits and a dinghy were found in the area of The Wolves. These kits, including the dinghy were identified as being part of the equipment to Ventura 2149. No other parts of the aircraft have been found nor have the bodies of the two pilots. The evidence of maintenance personnel who D.I.'d the aircraft for night flying was to the effect that they had found its serviceable and the last pilot to fly the aircraft stated that it had been serviceable during his flight in it. PILOTS: F/L White: Total flying time 1729 hours. Time on type: 775.55 hours. F/L White was a Flight Commander of the O.T.S. F/O Reynolds: Total flying time: 1240.30 hours. Time on type: 107 hours. Both F/L White and F/O Reynolds were qualified pilots on the type. FINDINGS OF THE INVESTIGATION: No evidence to show how the accident occurred." Conclusions of Accident Investigations Branch: "Cause of accident obscure but apparently due to fire in the air."
The full Court of Inquiry can be found on microfiche T-12342, image 4515.
Harold is remembered on the Ottawa Memorial as well as on a tombstone in the Saint John's Anglican Cathedral Cemetery, Winnipeg, Manitoba. His younger brother, George, was also killed July 23, 1944 on active service. Marjorie never remarried.
LINKS: