Harold Wilson Oldham C2397
July 17, 1907 - September 27, 1941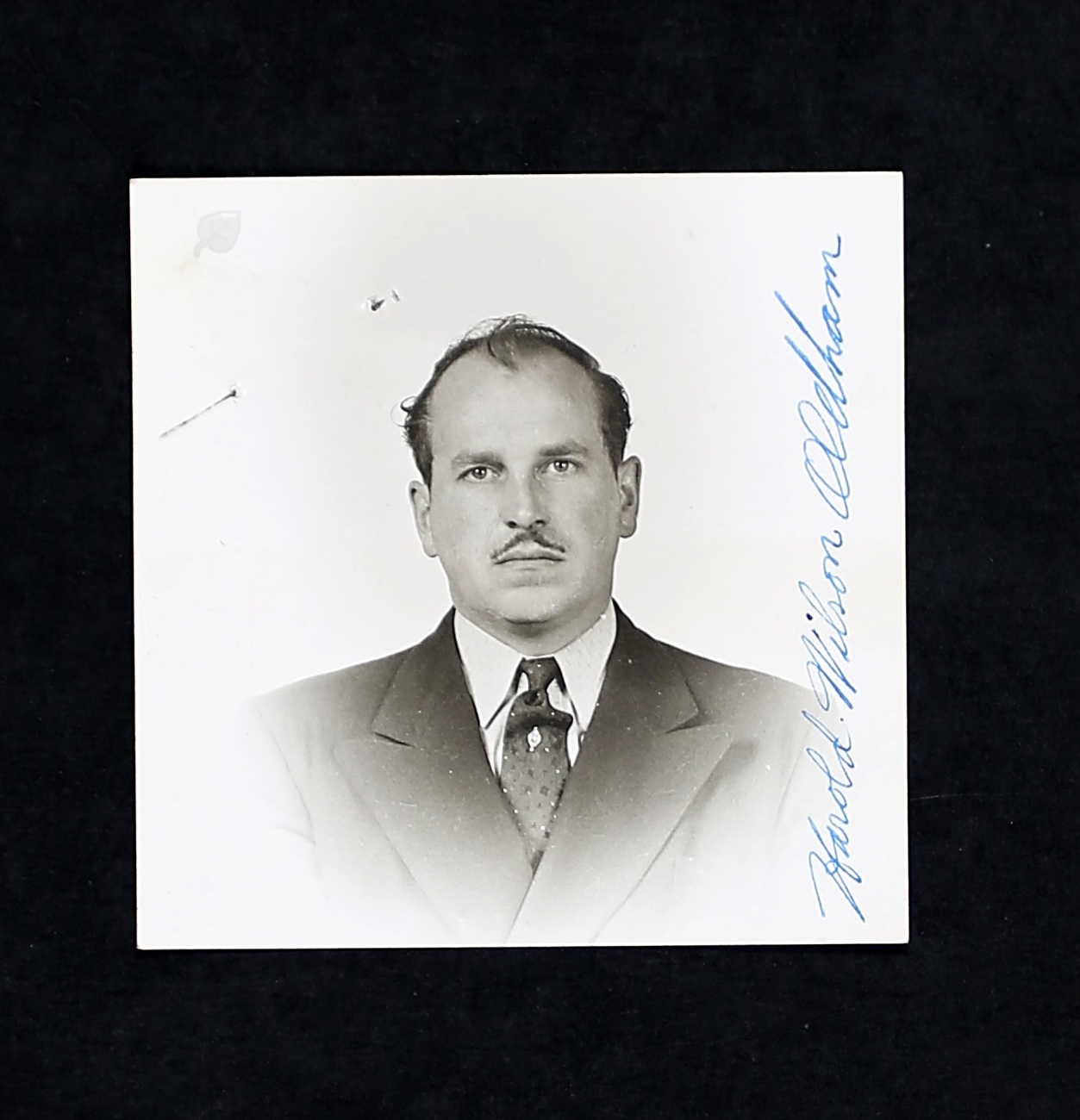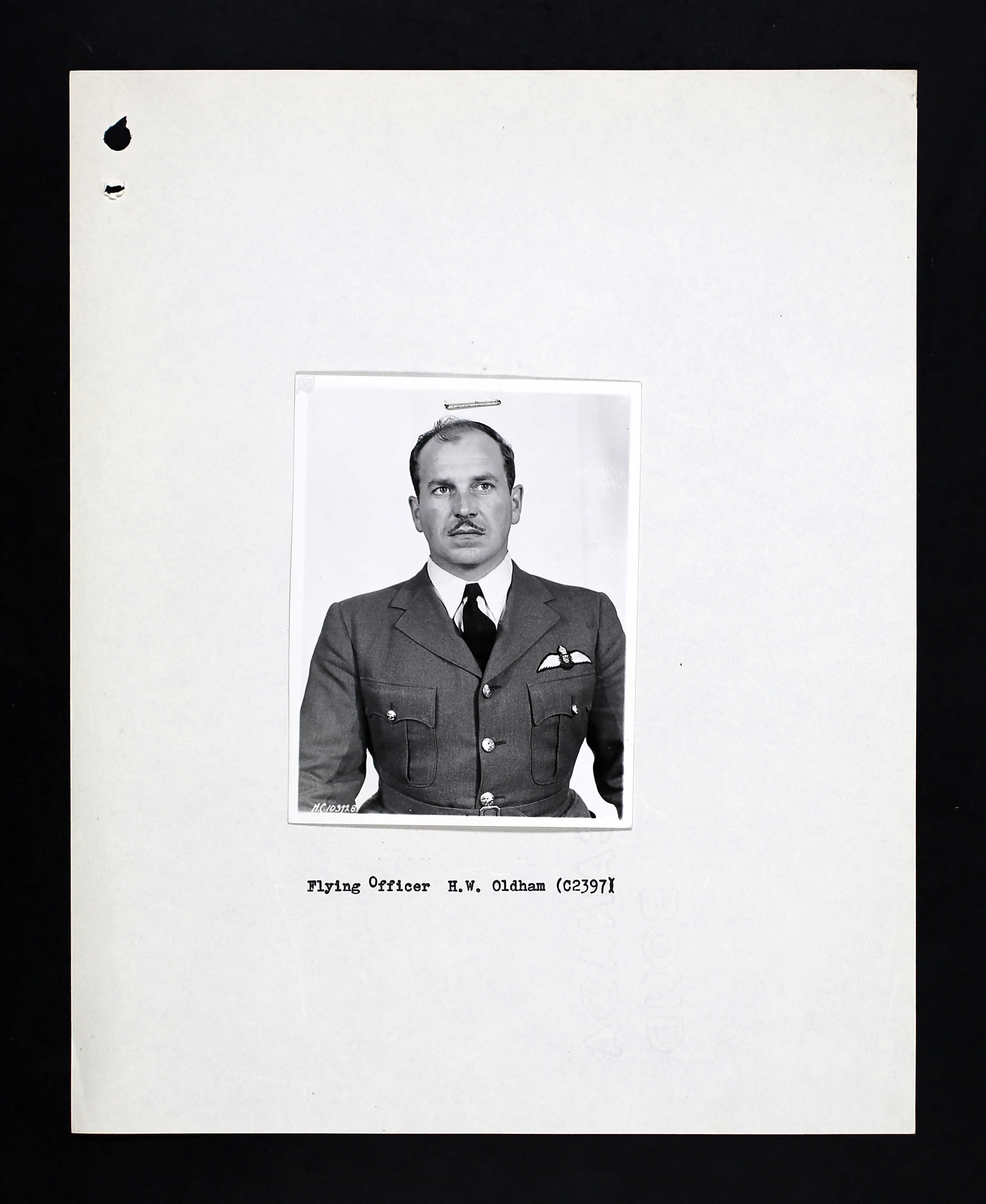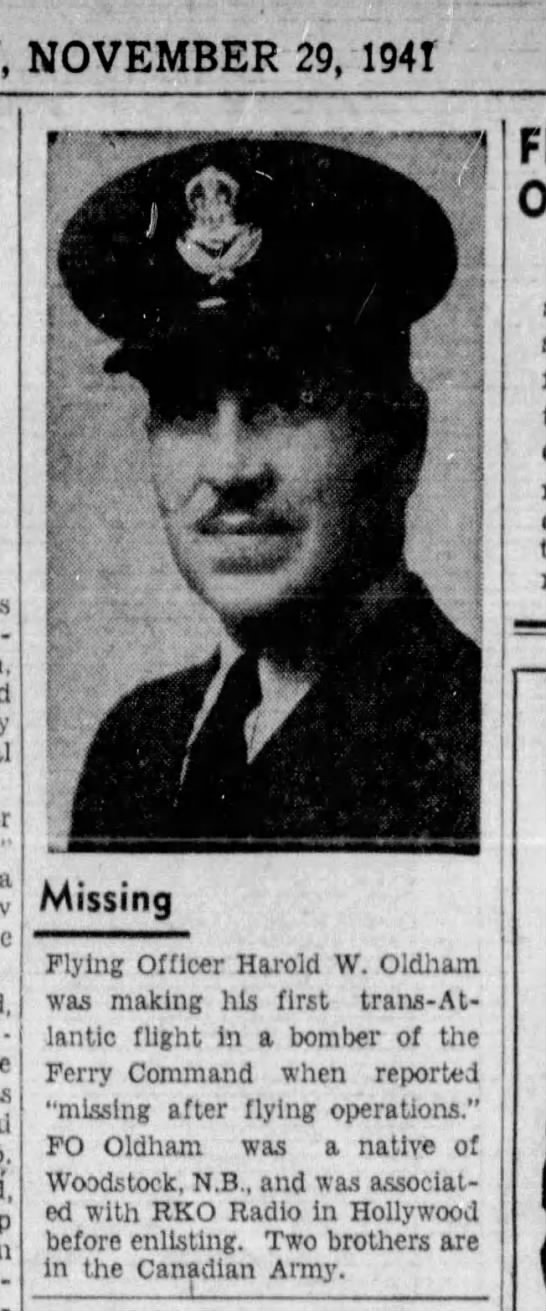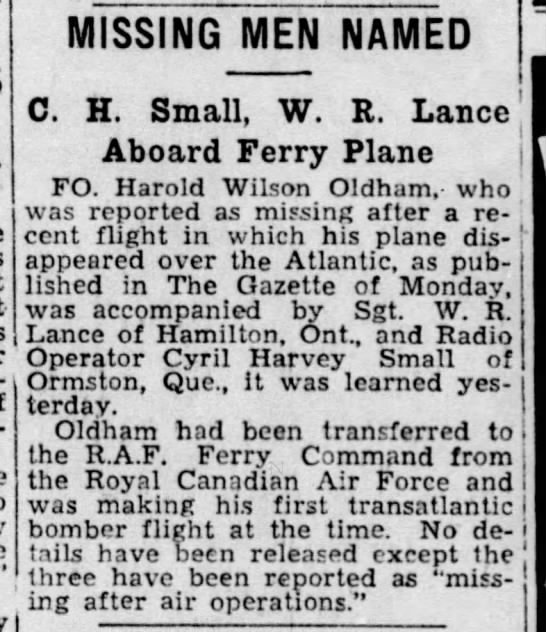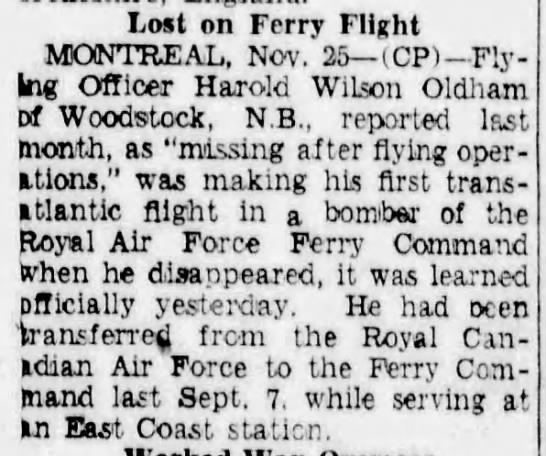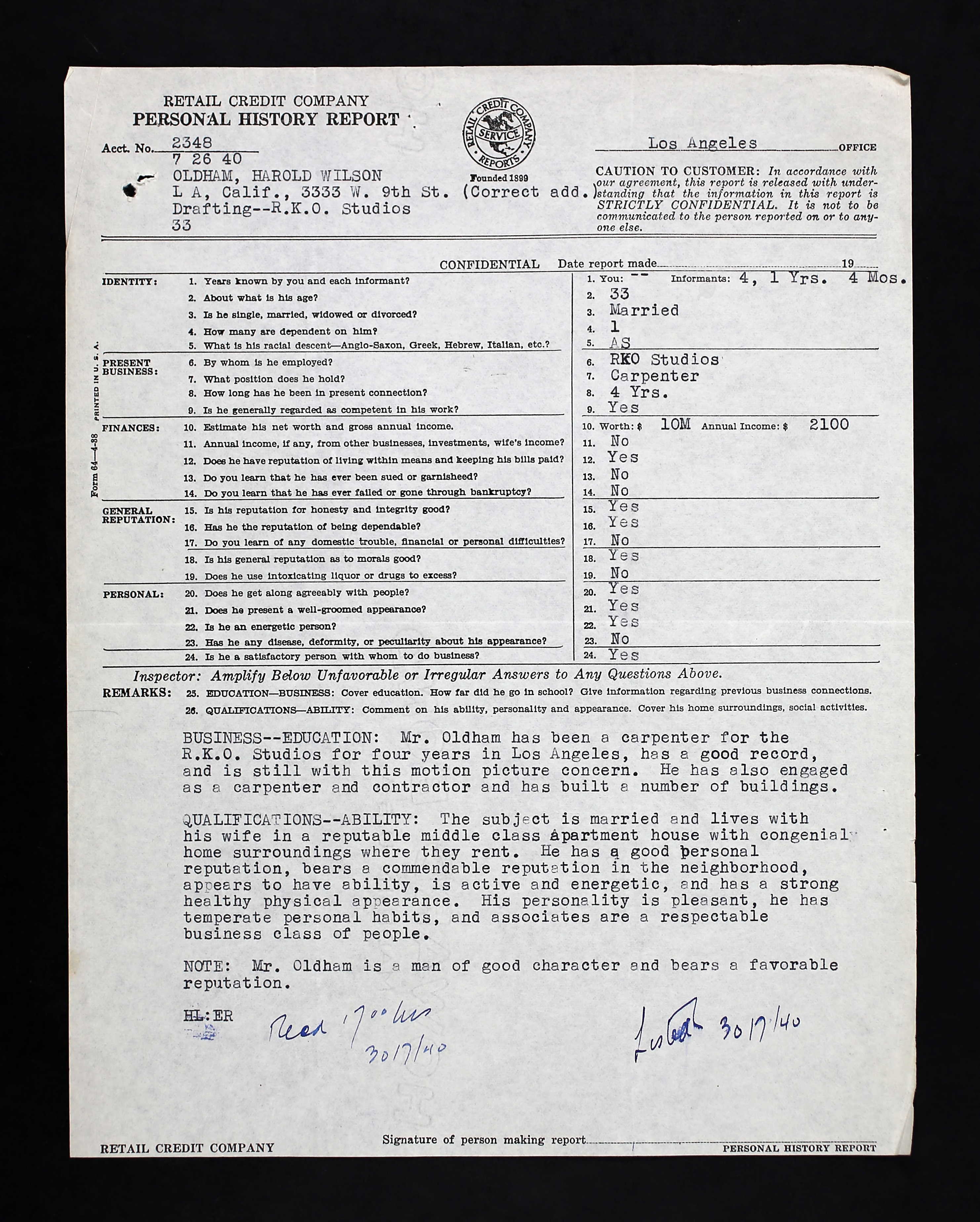 Canadian carpenter/contractor with private pilot's license joined RCAF after living and working in Los Angeles and area and became pilot. Aboard Hudson AM940, he and two others were lost during a transatlantic ferry flight from Gander to Prestwick.
Harold Wilson Oldham was the son of Jessie Henrietta (nee Wilson) Steele (1884-1979), who had remarried after Harold's father, William Kaye Oldham (1872-1919), passed away from phlebitis influenza. He had two brothers, Earl Ganong Oldham (1908-1959), Adrian (1913-1953), plus one sister, Marguerite Bertha Oldham (1906-2006). The family was Church of England.
He had been in the 89th Bty, Royal Canadian Army for three years (1923-1926) and two years with the Sussex Reg't (1921-1923).
Harold was the head of his mother's marble and granite business as a construction manager from 1929-1931, then owned his own business as a contractor and builder from 1931-1936. His hobbies included flying, with 1296 hours solo, his sports: boxing, wrestling, and swimming. He had two years business college after his junior matriculation. "Have been flying for past twelve years, have owned my own plane and have flown all over Canada and United States North, same. Thoroughly familiar with internal combustion engines, construction of aircraft, mechanics and electricity. Although I have never instructed commercially, I have given dual instructions to many students." He was familiar with construction of fuselage, wings, tail assemblies and line and radio motors. "Have completely recovered two Travelairs, which passed inspections. Have rebuilt line and radio motors." Harold had impressive references including the Honorable Fred Squires, MP. One letter, dated February 6, 1940, to S/L F. F. McCullough, Vancouver, BC: "I am writing you at the request of Mr. Harold Oldham, who at present is living in Hollywood, California. Mr. Oldham has been very anxious since the outbreak of war to join the Canadian Air Force. I gather from his letter that he has had some correspondence with you, and that you have asked him for two personal references as to character and ability. I have known Mr. Oldham all his life. He was at one time in the 89th Battery, which I commanded for some years after the war. For some years, he has been very much interested in aviation and has done considerable flying. Mr. Oldham is a man of good character, well educated, and of excellent physique. I have no hesitation in saying that I believe he would be a very valuable man to have in the RCAF and I strongly recommend that some place be found to utilize his services."
See document above for Harold's RESUME OF CIVIL EMPLOYMENT AND FLYING ACTIVITES, dated January 25, 1940, as well as the Personal History Report. He married Grace Mabel Monteith on September 20, 1930 in Perth, New Brunswick. They did not have any children. Mabel followed Harold to California and traveled to all of his postings.
When Harold applied to the RCAF, he was living in Burbank/Glendale/Los Angeles, California and had come back to Canada, residing at the Chateau Laurier, Ottawa by July 31, 1940. While he lived in Burbank, California, he was involved in aircraft construction and motors, also meteorology and navigation for eight months at Burbank High School. He had also worked for RKO Studios in drafting and construction from 1937-1940 in California.
Harold smoked fifteen cigarettes per day and drank the occasional beer. His physique was considered to be heavy. He stood 5'8 ½" tall and weighed 196 pounds. "Blood pressure readings on the high side. Otherwise satisfactory." Other comments: "Keen and fully of energy. Should make good officer after training. Canadian born. Will need a little grooming on flying." Harold was recommended to a commission on August 5, 1940 for employment on full time duty as a General List Officer with the rank of Pilot Officer (Temporary Flying Officer) effective July 28, 1940. "He is considered suitable, both from educational qualifications and other qualities necessary for such a commission. A covering draft gazette is attached for approval." Hudson AM940 with crewmembers Sgt. William Ronald Lance, RCAF, Flying Officer, Harold Wilson Oldham, RCAF, and Radio Officer Cyril Harvey Small, RAF, were reported missing en route from Gander, Newfoundland to RAF Prestwick on a transatlantic ferry flight. "An "XXX" signal from Small indicated that the crew had encountered a situation of urgency, but the aircraft was not heard from again and vanished over the North Atlantic." See link below for more information. Lance was from Hamilton, Ontario, Oldham was from Woodstock, New Brunswick. Small was from Ormstown, Quebec, born in St. John's, Newfoundland. Lance and Oldham's names are on the Ottawa Memorial and Small's name appears in the United Kingdom Book of Remembrance.
Grace remarried by 1945 and was Mrs. Milton, living in Montreal, Quebec. Harold's medals were undelivered and returned to stock. Grace was advised by letter in late October 1955 that since Harold had no known grave, his name would appear on the Ottawa Memorial. It is unknown if she received the letter.
LINKS: