Harold Frederick Oakenfold R186866
May 20, 1922 - July 4, 1943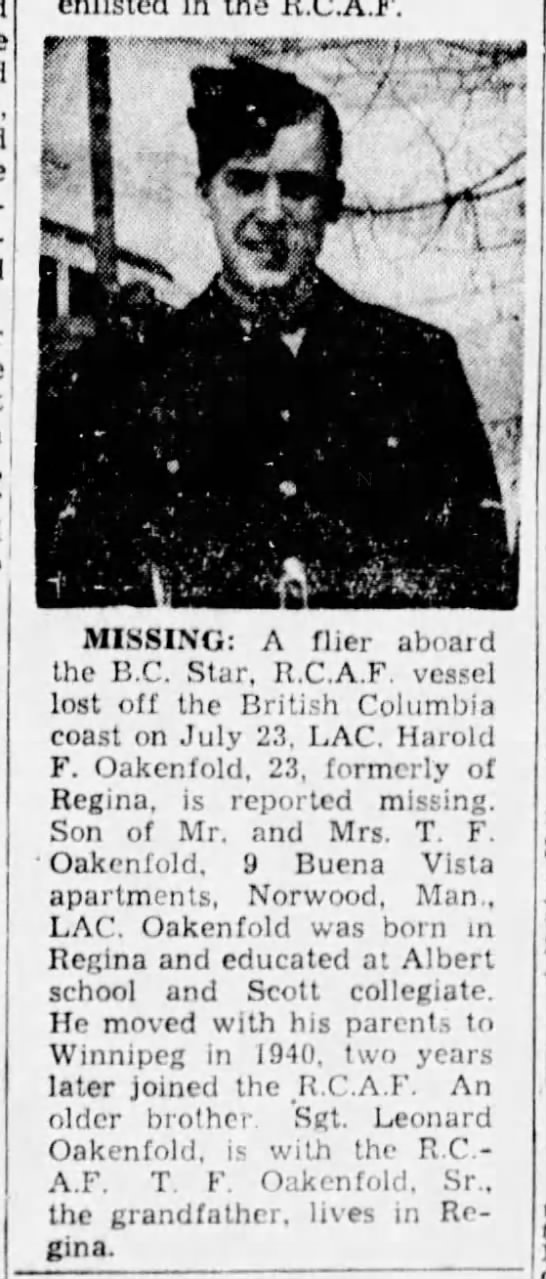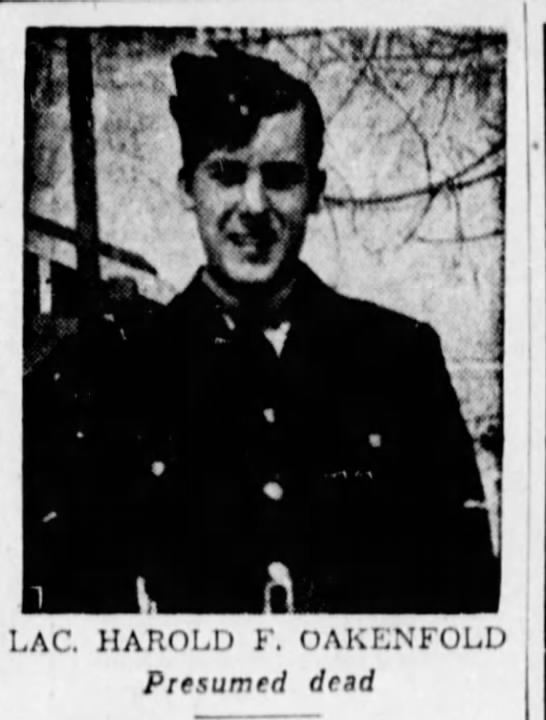 Mail order clerk at T. Eaton Co. wanted to be aero engine mechanic. The RCAF took him on as a construction hand Marine Section.
Harold Frederick Oakenfold, born in Regina, Saskatchewan, was the son of Thomas Frederick Oakenfold (1897-1960), salesman, and Violet (nee Lemon) Oakenfold. He had one brother, Leonard. The family attended the United Church.
Harold enlisted with the RCAF at No. 6 Recruiting Depot, Winnipeg, Manitoba in August 1942, hoping to be an aero engine mechanic. On his interview report: "Education: Grade X Saskatchewan. CT is too low. Needs maths. Studied maths and passed." He was then sent to No. 2 Manning Depot, Brandon, Manitoba until October when he was sent to Victoria, BC to No. 1 W.C.U. by October 4th, standard general duties. He was then up at Prince Rupert, Rose Harbour, and Bella Bella by the spring of 1943, then Vancouver at No. 9 C.M.U. He was aboard the BC Star as a construction hand.
He liked to bowl, play baseball and participate in hockey. Harold had been a passenger in an airplane for two hours, listed as his flying experience. Prior to enlistment, he had worked for T. Eaton Co. in the mail order department (sealer and stamps) starting in 1941. He indicated that he wanted to be a mechanic after the war.
Harold had two scars on the right side of his forehead and one on his middle finger. Part of his left ring finger was missing. He stood 6'2" tall and weighed 156 ½ pounds. He had brown eyes and brown hair, with a medium complexion.
Harold had $600 in group insurance through T. Eaton Co. and $500 through Metropolitan Life, his mother sole beneficiary.
On July 24, 1943, the BC Star sunk. Theories as to the cause of the sinking of the BC Star included the ship was overloaded, it was torpedoed by a Japanese submarine, or it hit a mine. Please see links below for more information.
In September 1945, Mrs. Oakenfold's brother, Harry Thomas Lemon (1906-1945), 40, died of a heart attack at her home in Calgary. He had served 4 ½ years with the Canadian Army, attached to the No. 1 Motor Ambulance Convoy, and had only been home one week.
LINKS: