Harold Seymour Thomas Fraser R76056
May 24, 1917 - October 30, 1943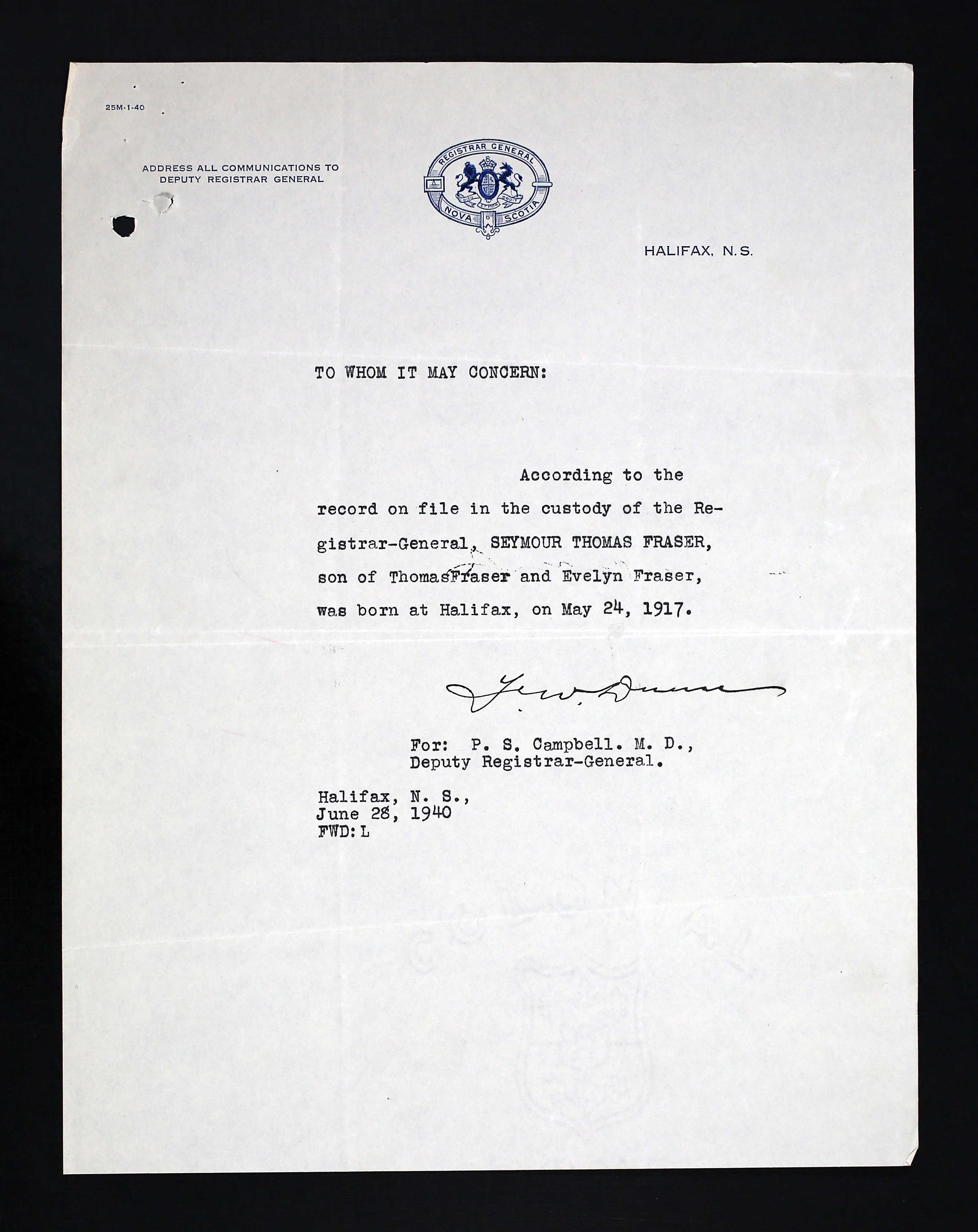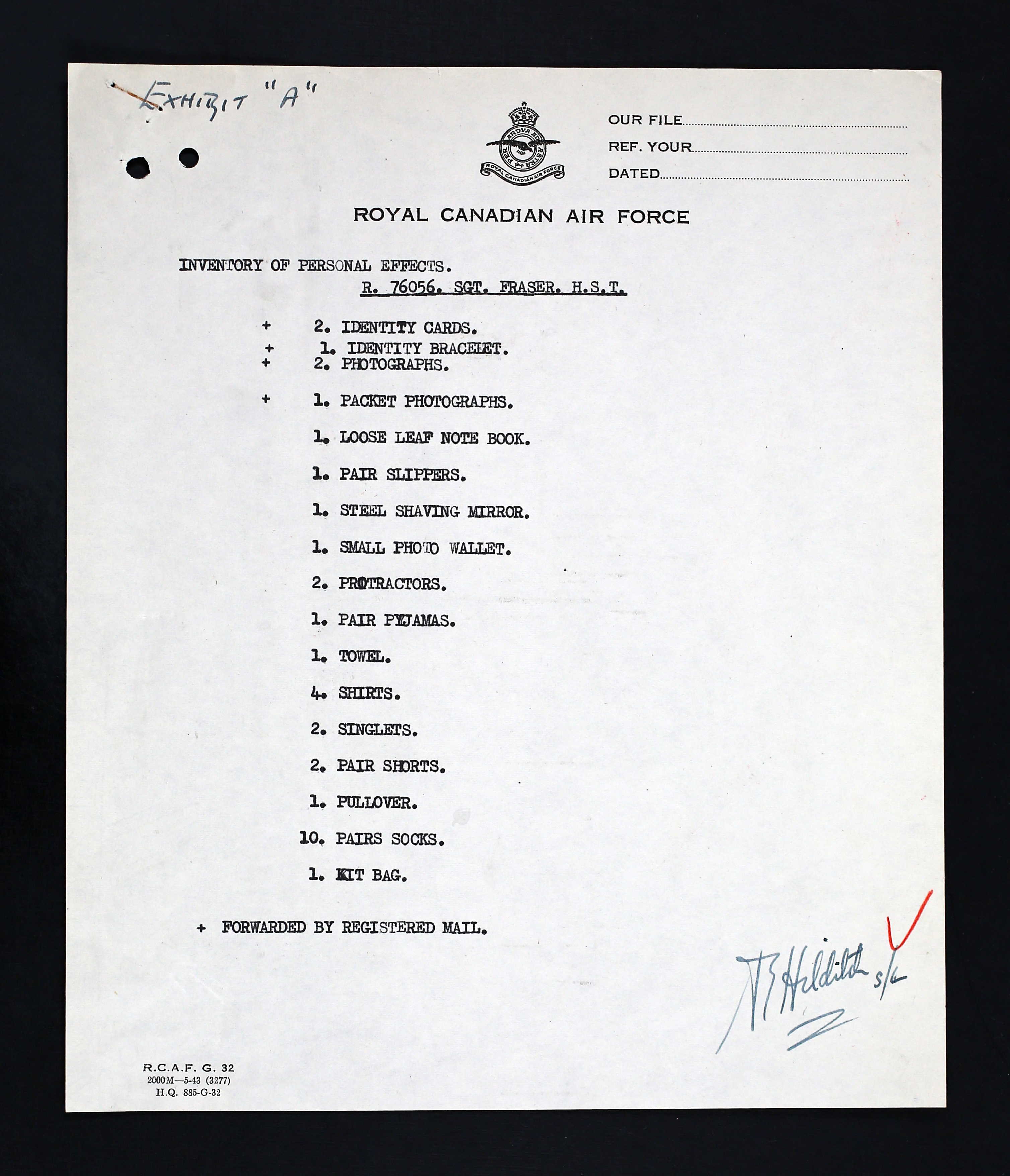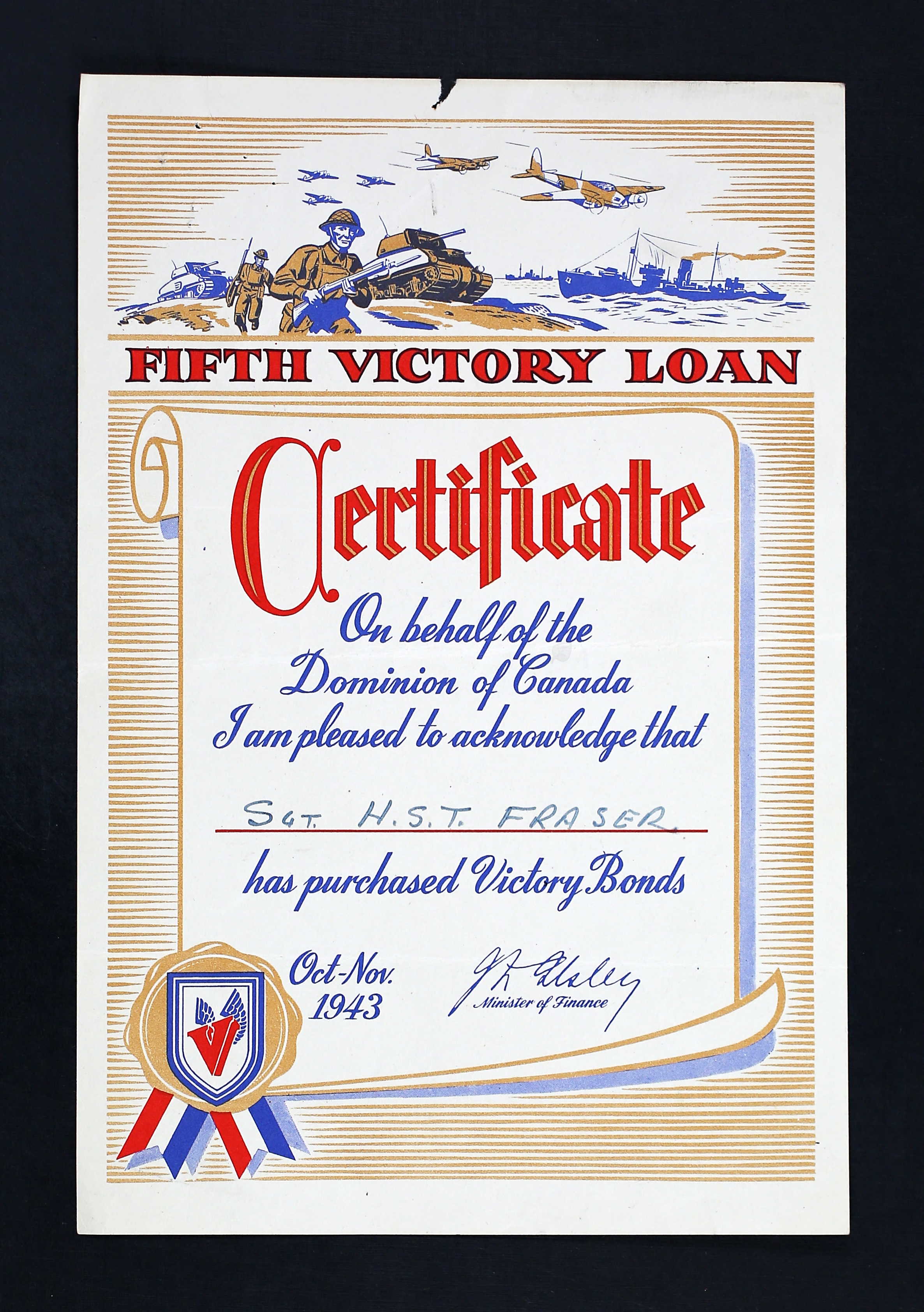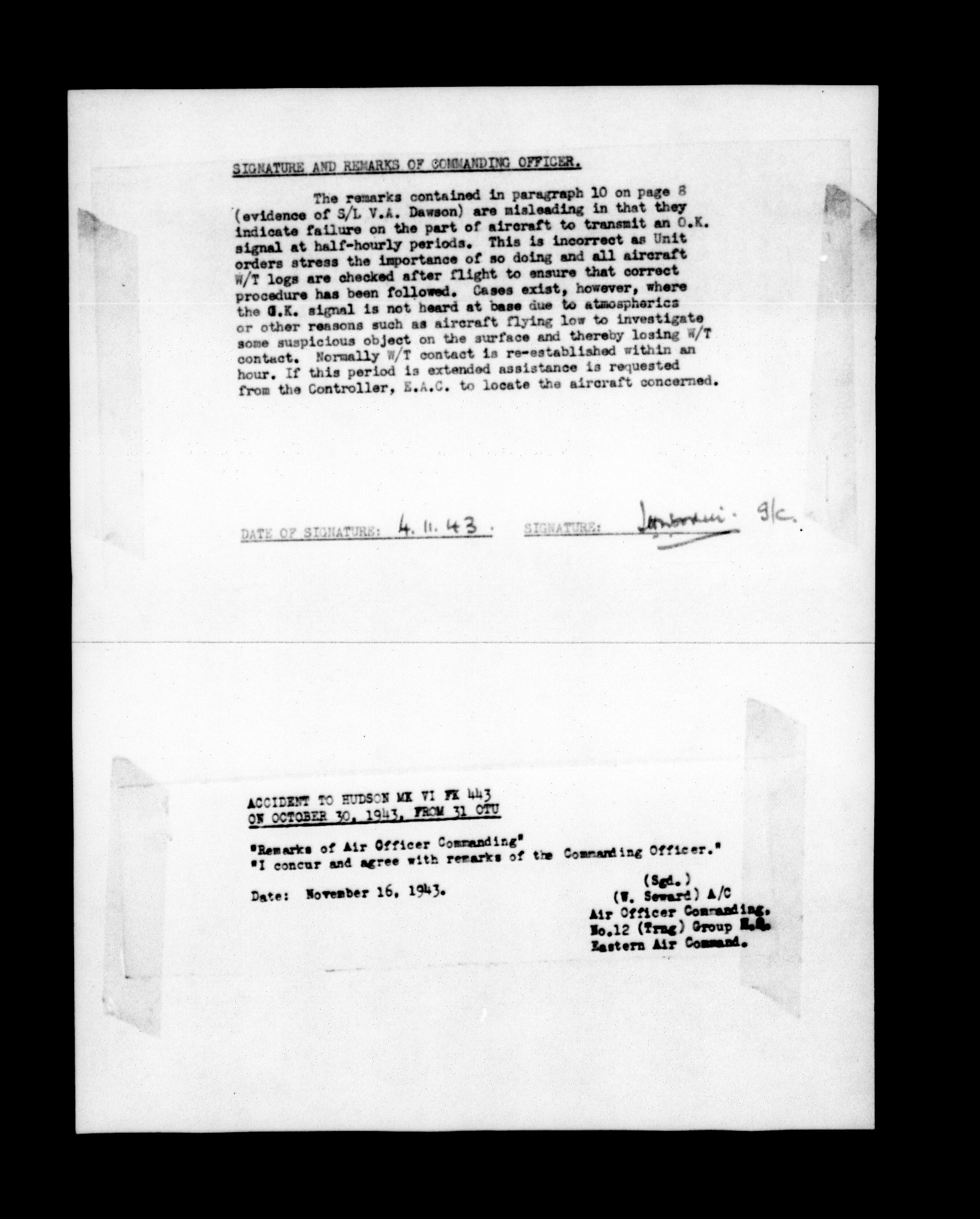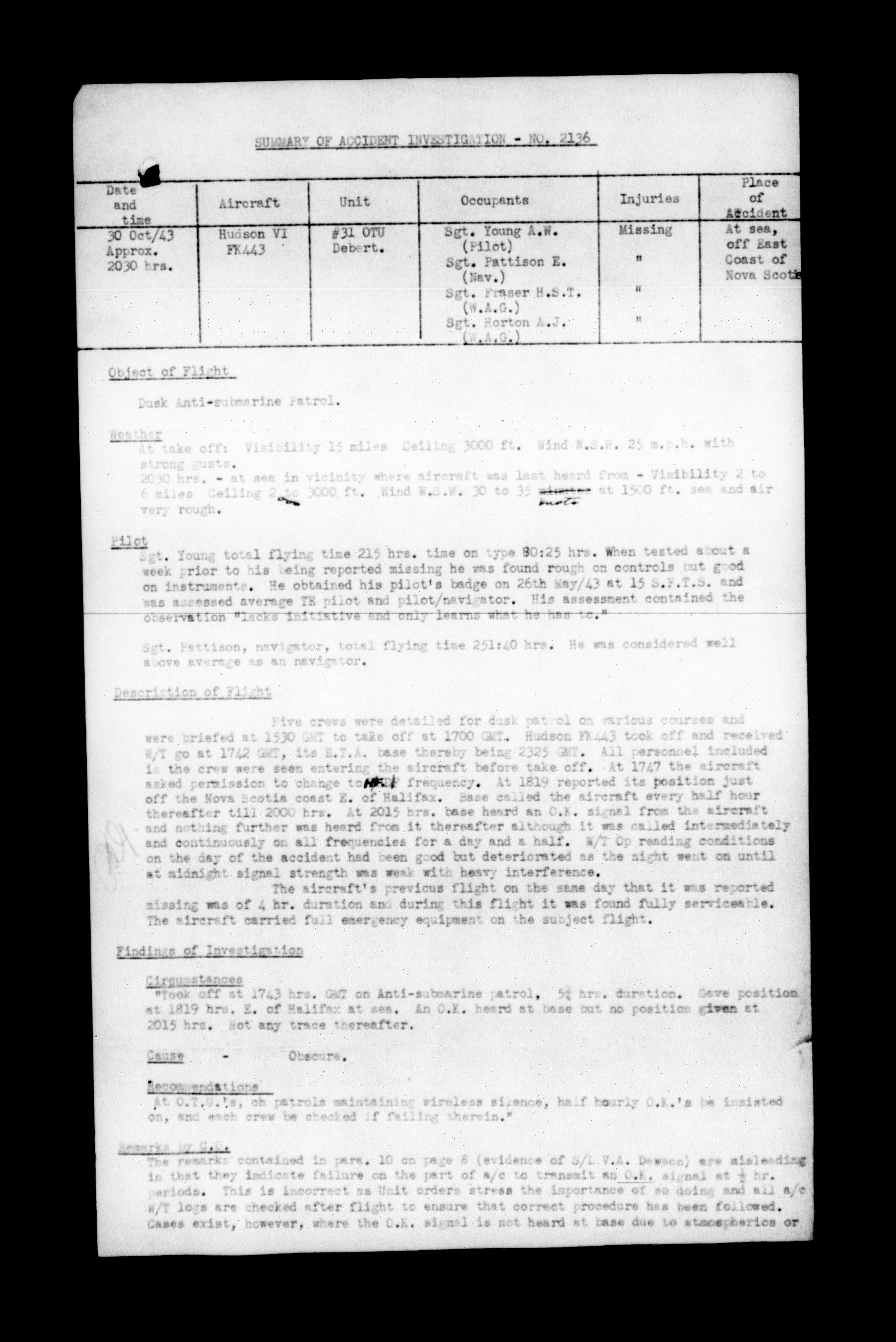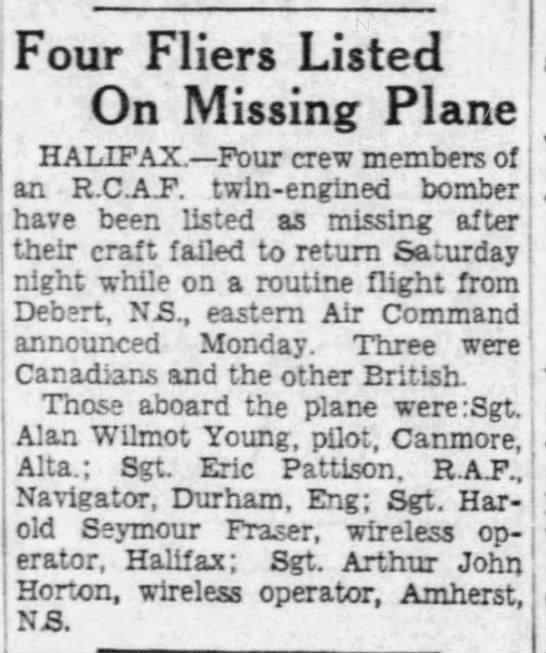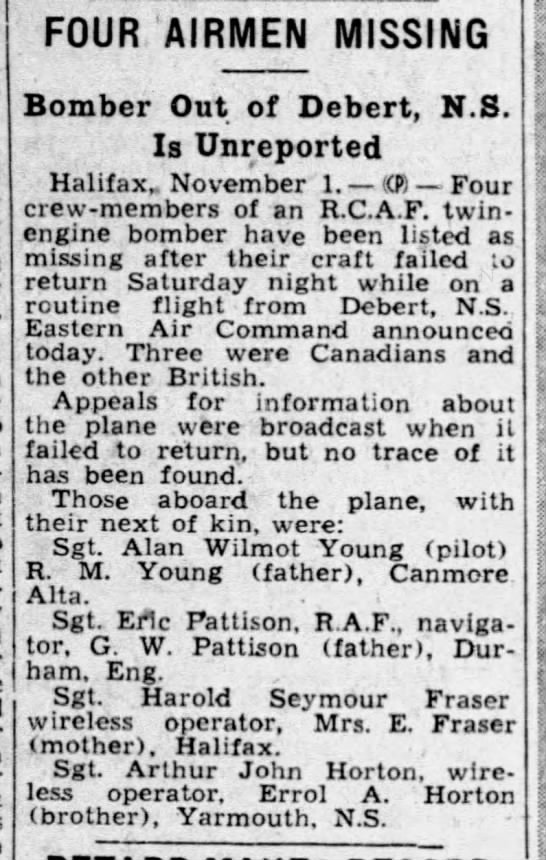 Working for a general store, he enlisted with the RCAF in October 1940 as General Duties Standard. He remustered in June 1942 as a WOAG, and posted to No. 31 O.T.U. Aboard Hudson FK443 with three others, they were lost during an anti-submarine patrol.
Harold Seymour Thomas Fraser was the son of Thomas Maher Fraser and Evelyn Viola (nee Smith) Fraser. His father died at the age of 45, 'burned to death' on April 19, 1924, noted on the attestation forms. He had four brothers, Douglas, Roland, St. Clair, and Foster, with two other brothers who died at birth. The family was Church of England.
He had Typhoid Fever as a child. He smoked ten cigarettes a day and drank two pints of ale a week. He liked badminton and swimming, photography and the radio. He stood 5' 6 ¼" tall and weighed 124 pounds, with blue eyes and medium brown hair. He had a mole on his right cheek and a ½" scar at the base of his right index finger. He was considered to have an athletic physique and an alert mentality. Harold noted that he had naval training as a cadet.
He enlisted with the RCAF in Halifax, Nova Scotia on October 12, 1940 first performing General Duties Standard. He had been working in a retail store as a chauffeur and doing general duties for E. A. Cornelius. He hoped to become a radio technician after the war was over. "This NCO is a good, steady, reliable worker, of good appearance." He worked at No. 6 SFTS, Dunnville, Ontario from November 21, 1940 to August 28, 1942.
Harold wanted to do more and hoped to be remustered. On an interview form dated June 25, 1942: "Grade X equivalent. Alertness very good. Education satisfactory. Code test poor. An excellent type of airman. Good physical condition, limited technical education in radio, good type for Wireless Operator Air Gunner." He attended No. 4 Wireless School, Guelph, Ontario August 29, 1942. He was there until March 19, 1943. "78.4%. 30th out of 80 in class."
He was then sent to No. 6 B&G School Mountain View, Ontario until May 10, 1943. "8th out of 21 in class. This airman's air firing results were below class average. This airman is an outdoor type of man. He has had considerable experience in the handling of men and shows excellent qualities of leadership. He should make an excellent NCO."
He was at a station hospital April 27 - 30, 1942, then again September 18 - 22, 1942, then one more time, December 30, 1942 to January 6, 1943. Harold forfeited pay as he was AWL June 23, 1942 for about fifteen hours.
Harold sent his mother $15 a month to help with her support. Two of his brothers were working, otherwise, he would have sent her more. He purchased Victory Loan Bonds in October/November 1943.
Harold was then taken on strength at No. 31 O.T.U. Debert, Nova Scotia, August 7, 1943.
On October 30, 1943, the crew aboard Hudson VI FK443 out of Unit 31 O.T.U.: *Sgt. Harold Seymour Thomas Fraser, R76056, WAG, Halifax, NS* Sergeant Arthur John Horton, R124761, WAG, Amherst, NS, *Sergeant Eric Pattison, 1558917 (RAF), navigator, Durham, UK, and *Sergeant Alan Wilmot Young, R159283, pilot, Canmore, AB.
The summary of the court of inquiry can be found on microfiche C-5937, starting at image 3938. Nine witnesses were called.
OBJECT OF FLIGHT: Dusk anti-submarine patrol. WEATHER: At take off, visibility 15 miles. Ceiling 3000 feet, wind WSE 25 mph with strong gusts. 2030 hours: At sea in vicinity where aircraft was last heard from -- visibility 2 - 6 miles; ceiling 2 to 3000 feet. Wind WSW 30-35 knots at 1500 feet, sea and air very rough. [The eighth witness stated that he was on an anti-submarine patrol that same day. "The weather at 2030 hours was very poor, with visibility about four miles, ceiling round about a 1000 feet and with heavy winds. We were flying at 1500 feet altitude. The sea was very rough. Also, the air was very rough."]
PILOT: Sgt. Young total flying time 215 hours time on type 80.25 hours. When teste about a week prior to his being reported missing, he was found rough on controls but good on instruments. He obtained his pilot's badge on 26 May 1943 at 15 SFTS and was assessed average TE pilot and pilot/navigator. His assessment contained the observation, "lacks initiative and only learns what he has to." [The ninth witness, FO Arnett, stated, "Sgt. Young has been on this station about two months and I went up on a test flight with him (A/S Patrol) about a week prior to the missing. I flew the aircraft out. On turning it over to Sgt. Young, I noticed that he was rough on the controls. Coming back, we ran through showers and Sgt. Young flew through these on his instruments very well. On this trip, I explained to hi how to use his tanks, telling him that there was never any need to let a tank run dry."]
Sgt. Pattison, navigator, total flying time 251.40 hours. He was considered well above average as a navigator. [The seventh witness, WOI Beacham, stated that he had known Pattison for eight weeks and he was "well above average as a navigator. It is very unlikely to get lost on this flight as he was a very reliable navigator."]
DESCRIPTION OF FLIGHT: Five crews were detailed for dusk patrol on various courses and at 1530 GMT to take off at 1700 GMT. Hudson FK433 took off and received W/T go at 1742 GMT, its ETA base thereby being 2325 GMT. All personnel included in the crew were seen entering the aircraft before take-off. At 1747, the aircraft asked permission to change to ____ frequency. At 1819, reported its position just thereafter till 2000 hours. At 2015 hours, base heard an OK signal from the aircraft and nothing further was heard from it thereafter although it was called intermittently and continuously on all frequencies for a day and a half. W/T Op reading conditions on the day of the accident had been good but deteriorated as the night went on at midnight signal strength was weak with heavy interference. The aircraft's previous flight on the same day that it went missing was of a four-hour duration and during this flight, it was found fully serviceable. The aircraft carried full emergency equipment on the subject flight.
FINDINGS OF INVESTIGATION: Took off at 1743 hours GMT on anti-submarine patrol. 5 ¾ hours duration. Gave position at 1819 hours east of Halifax at sea. An OK was heard at base but no position given at 2015 hours. Not any trace thereafter.
CAUSE: Obscure. [The usual overdue action was taken at the appropriate time. No trace of any kind was found of this aircraft.]
RECOMMENDATIONS: At O.T.U.'s on patrols maintaining wireless silence, half hourly OKs be insisted on and each crew be checked if failing herein.