Gunnlaugur Marino Maxon J24241
March 12, 1913 - February 11, 1945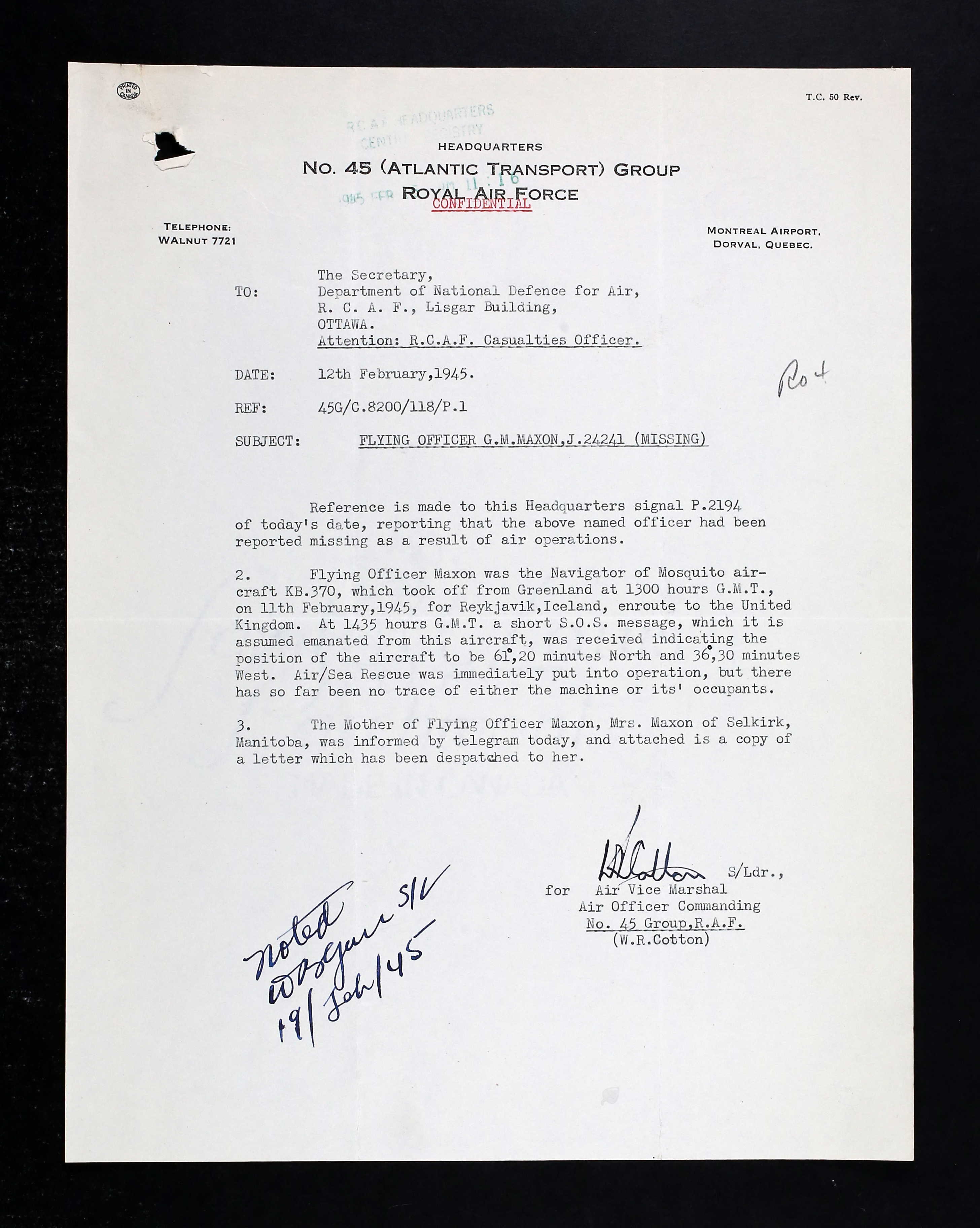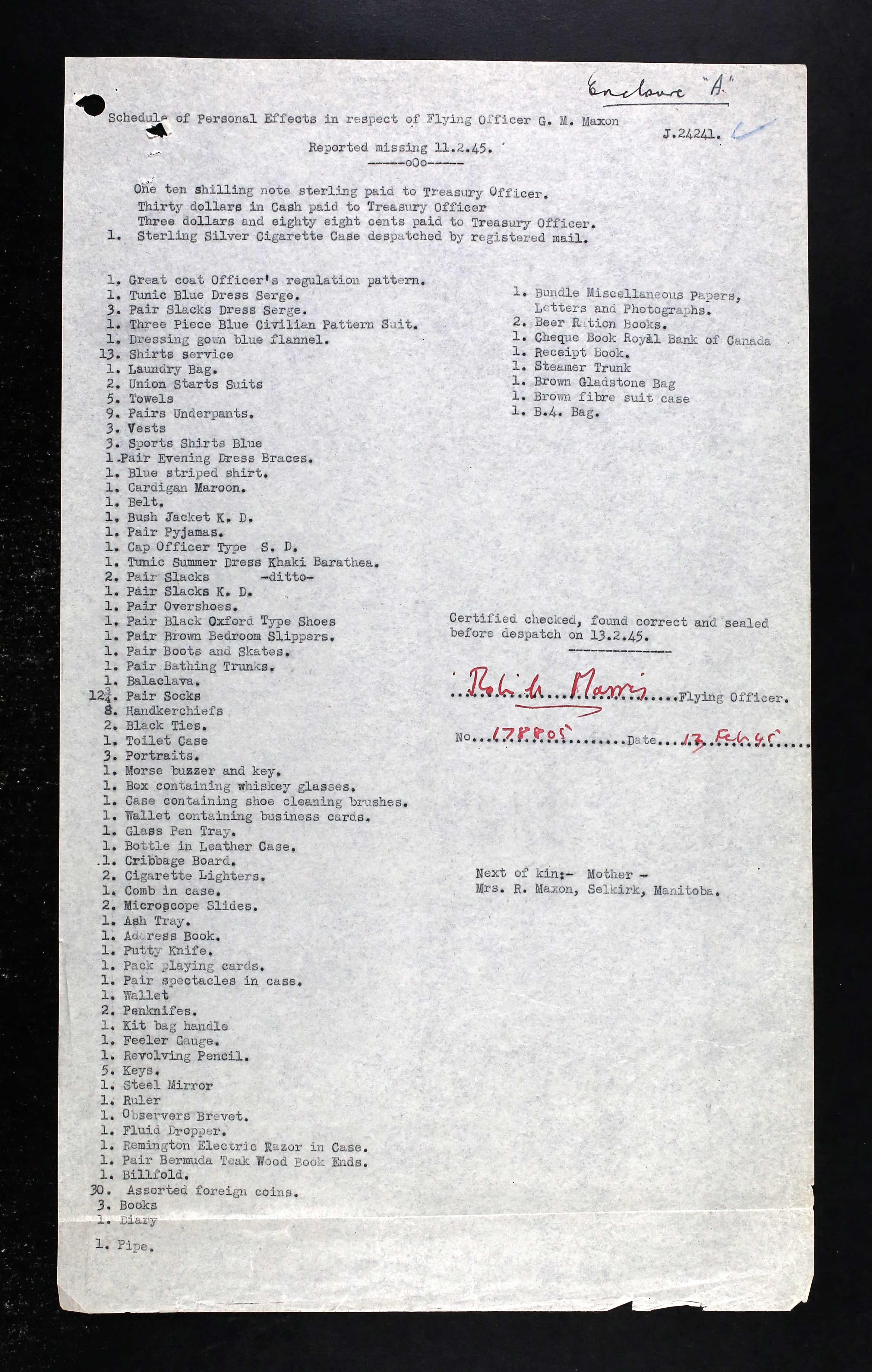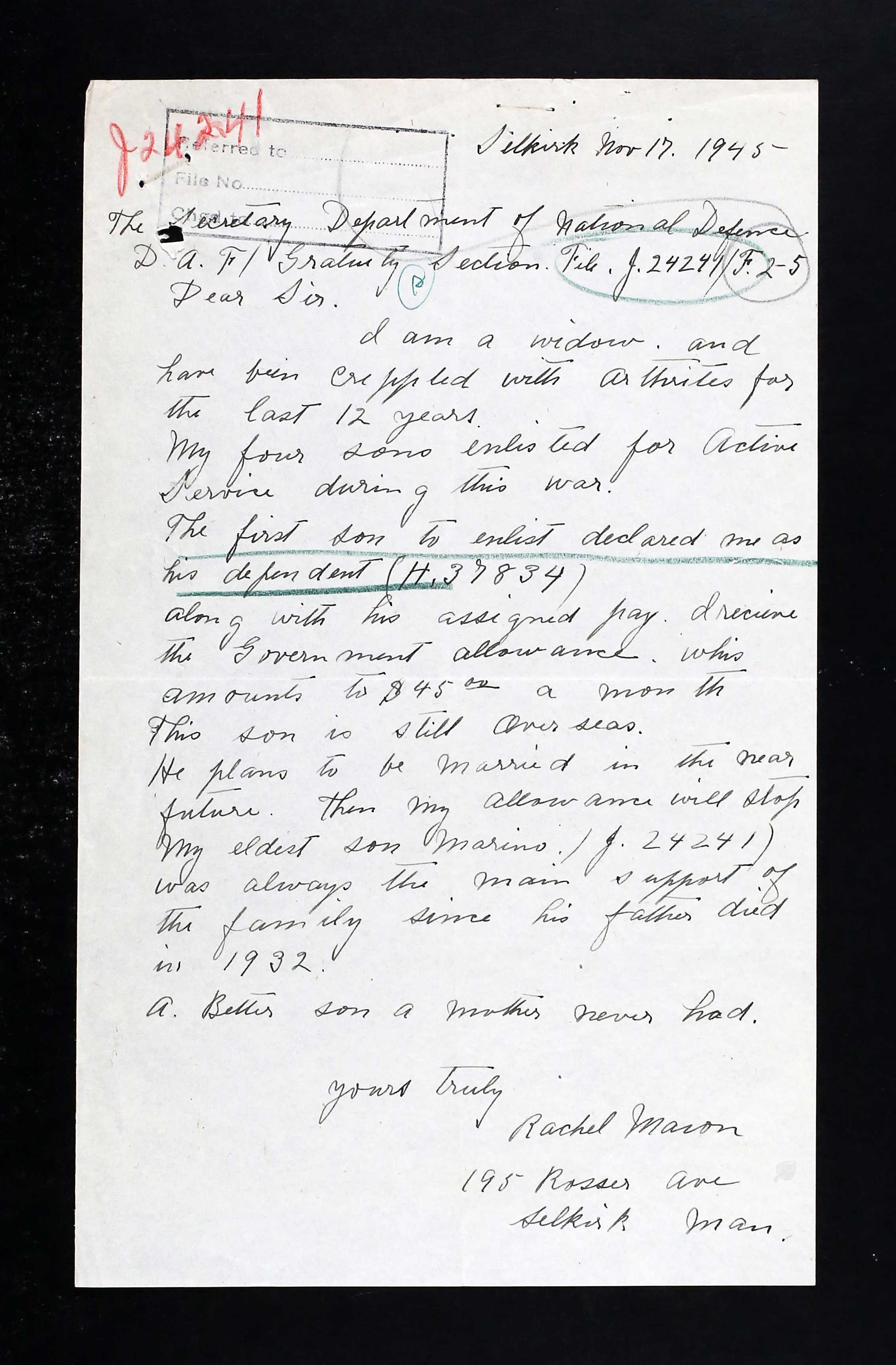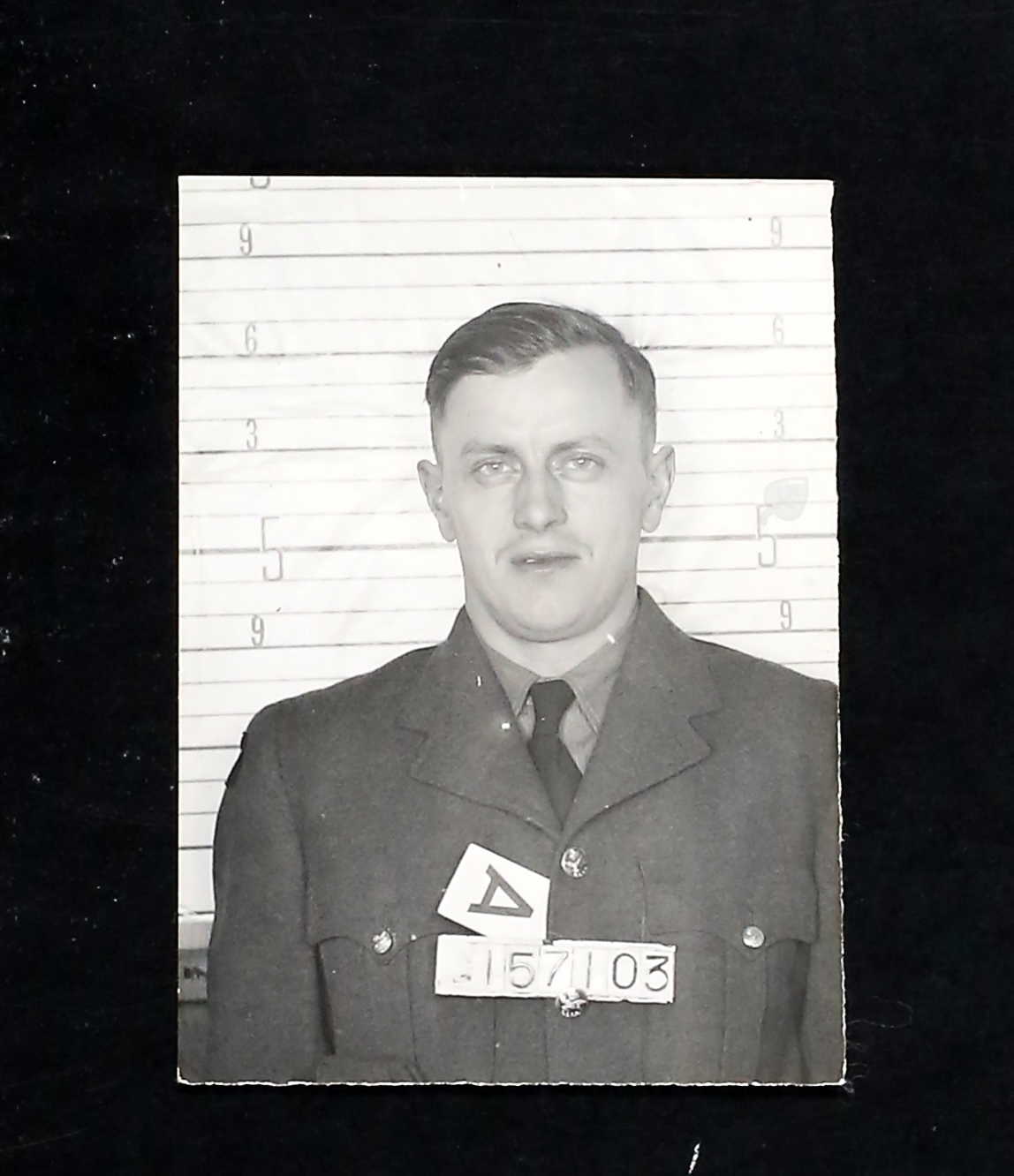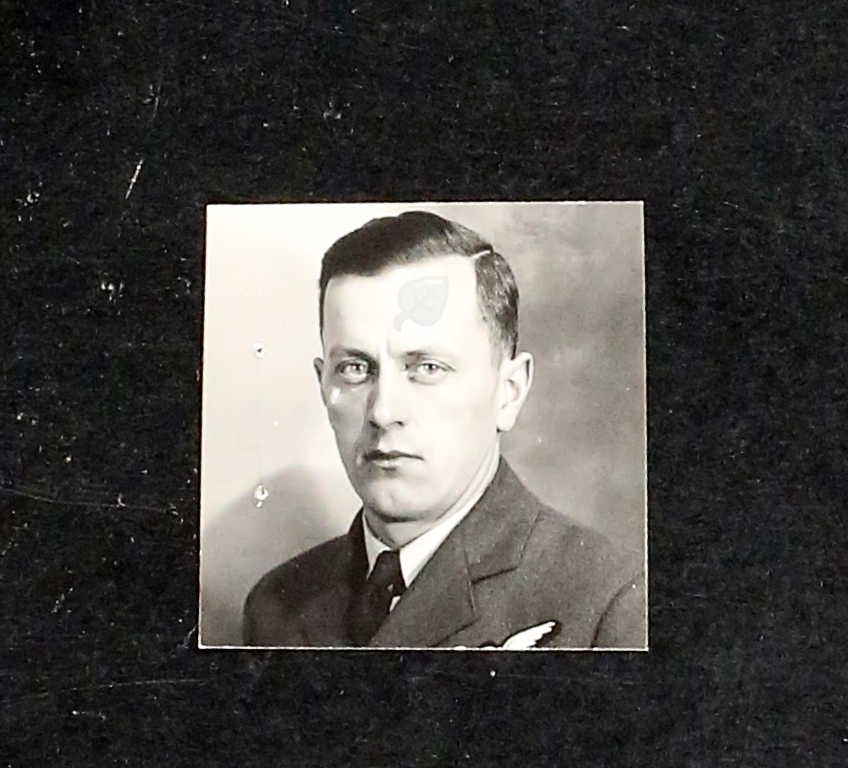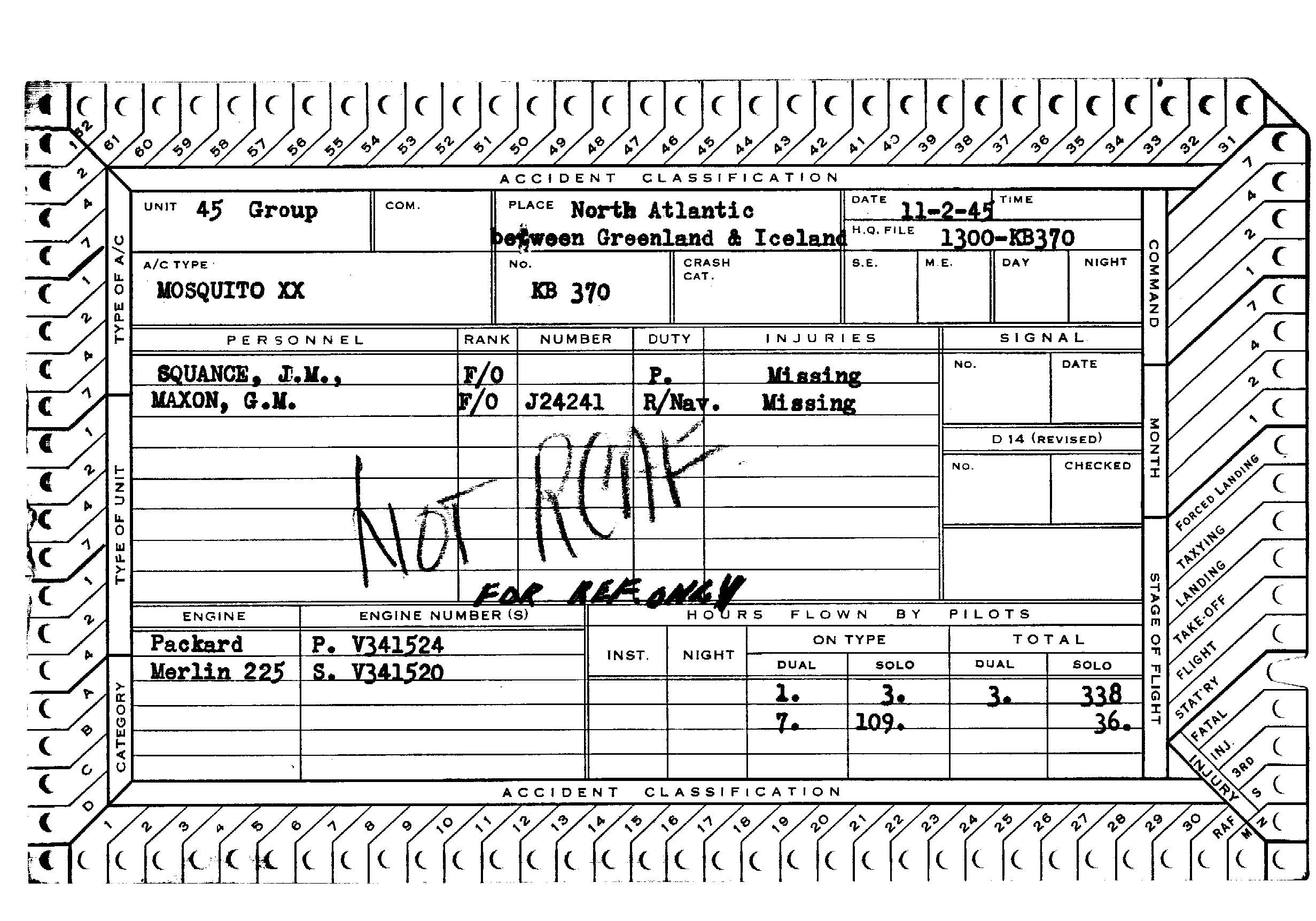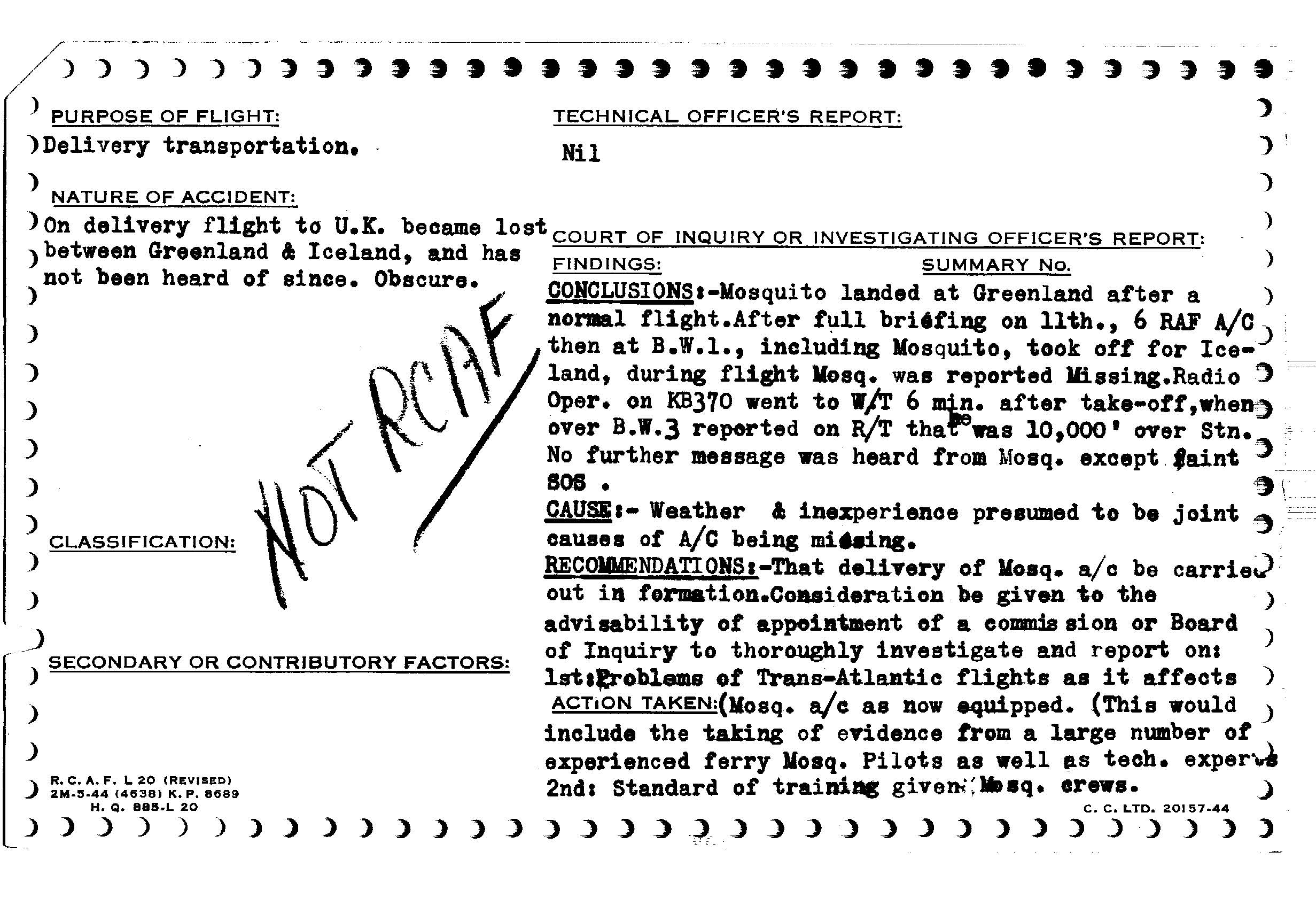 Mill operator joined RCAF and became above average navigator. Aboard Mosquito KB370, he and pilot were lost during a ferry flight between Greenland and Iceland in February 1945.
Gunnlaugur 'Marino' Maxon, born in Saskatchewan, was the son of Rakel (known as Rachel) Maxon (1883-1954) and Saemundur Maxon (1874-1932), labourer, Selkirk, Manitoba. He had three brothers, two in the Canadian Army and one with the RCAF, and three sisters. Two brothers died, one in 1939 and one in 1926. The family was Lutheran.
The family moved to Manitoba when Marino was two years old, living there for 23 years. He resided in Geraldton, Ontario, for three and a half years, working for Magnet Consolidated Mines (a gold mine) as a floatation operator for two years prior to enlisting with the RCAF on February 26, 1942. [He had first applied to the RCAF in January 1942 in Winnipeg.] After the war, he wanted to return to his position. Marino had a Grade XI education. He liked to skate and swim, smoking ten cigarettes per day and drinking socially. He was assessed as having an athletic physique and standard mentality. He stood 5'6" tall and weighed 145 pounds in February 1942. He dropped his weight to 138 pounds and grew 1 ½" by August 25, 1942. He had hazel eyes and brown hair. "Average education and intelligence. Physical: urethritis in Brandon. No bugs in several tests after bit. Stability: Fair. Tremour plus. Motivation: fair. Temperament: mature. Has some sense of responsibility in a limited way. Moderately keen, agreeable to any part of aircrew. Choice: Pilot." He spoke English and Icelandic. Marino owed $440 on a house and was paying for the same at the rate of $20 per month.
On his interview sheet: "Average aircrew material. Appears to be average type, nice appearance. Should make satisfactory aircrew with training."
He was at No. 2 Manning Depot, Brandon, Manitoba finding himself at the station hospital from May 6 to 21, 1942. "Good student. Rather reserved."
No. 2 ITS, Course 60, from August 17 to October 10, 1942: "43rd out of 132 in class. This airman is willing but not very quick. He rewrote his navigation and made a satisfactory mark." At No. 3 AOS, Course 63 from November 9, 1942, to March 5, 1943: "A very efficient navigator who follows closely approved methods. Plenty of initiative and very keen in his work. Progressive type." Marino was 4th in his class of 23, with 73.1%. "Above average. Serious minded young man with a keen and subtle sense of humour. Generous with his talents for acquiring knowledge and was very helpful to his classmates. Did not wish to be an instructor." He was awarded his Air Navigator's Badge on March 5, 1943, and was recommended for commission. Marino was taken on strength with RAF Ferry Command March 24, 1943. November 11, 1943: "Has completed four transatlantic delivery flights satisfactorily.: December 15, 1944: "Average navigator. Slow, steady, and reliable. Average officer."
Mosquito KB370 departed Greenland (USAAF Bluie West One) for RAF Reykjavik, in Iceland during a ferry flight. The plane crashed between the southwest coasts of Greenland and Reykjavik. [See CONFIDENTIAL letter above.]
Crew: 45 Atlantic Ferry Grp, TC RAF F/O John Martyn SQUANCE (pilot) RAFVR – killed, SON OF THE REVD. ARTHUR HENRY PLANTAGENET SQUANCE, M.A., AND MARY BEATRICE SQUANCE, OF SAMPFORD COURTENAY RECTORY, DEVON. F/O Gunnlauger Marino MAXON (nav.) RCAF – killed
More information about this flight can be found in Ocean Bridge by Carl A. Christie.
Mrs. Maxon wrote on October 4, 1945, "My son stayed with the people at the address given below and as far as I know, he kept his personal belongings there." The address was 3599 Marlowe Avenue, Montreal, c/o W. Wong. She wrote again in November 1945. "My eldest son, Marino, was always the main support of the family since his father died in 1932. A better son a mother never had."
In late October 1955, a letter arrived addressed to Mrs. Maxon, who had died in March 1954, informing her that since her son had no known grave, his name would appear on the Ottawa Memorial.
LINKS: