Gordon Wellsley Schafer C6035
March 19, 1913 - April 9, 1943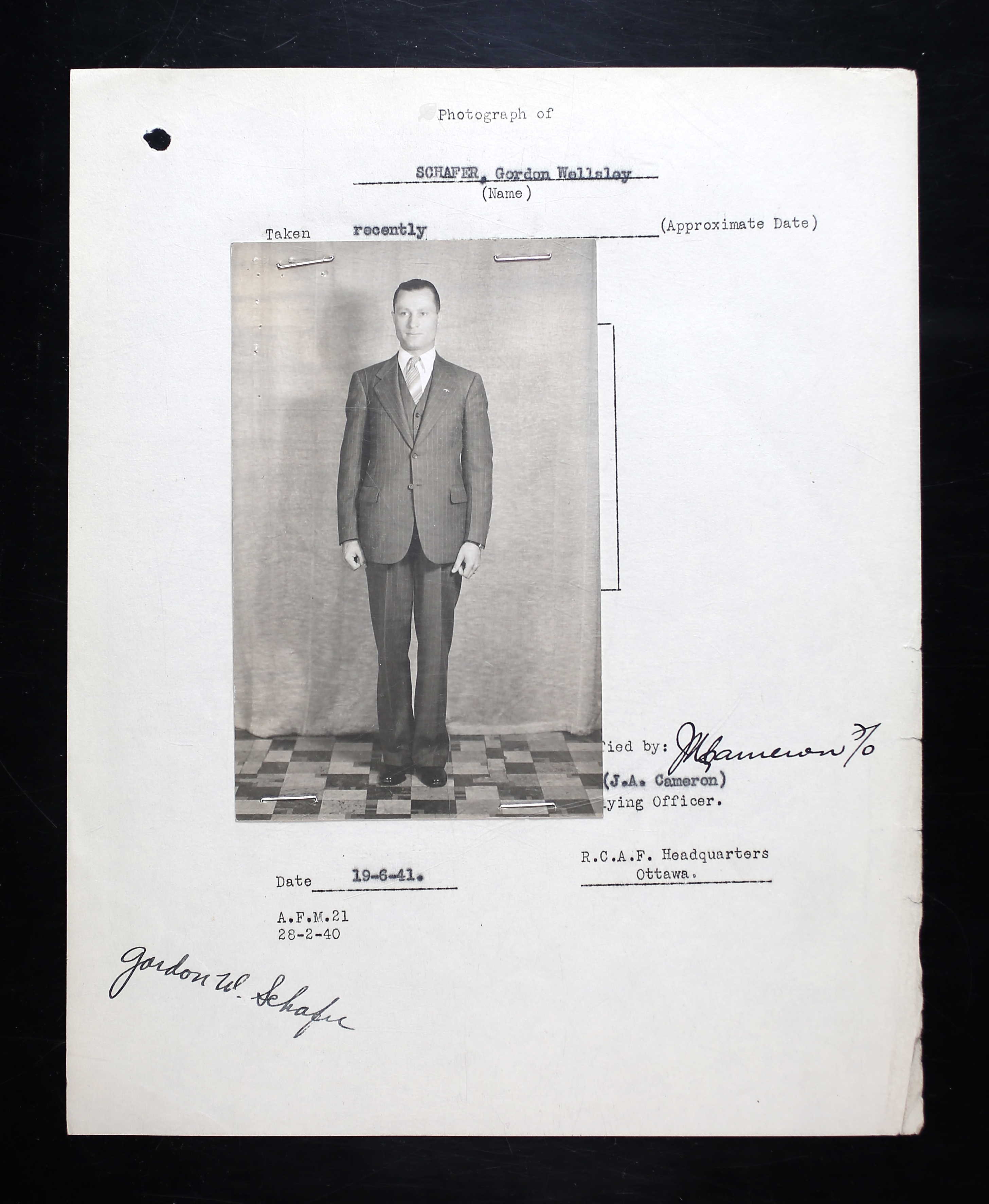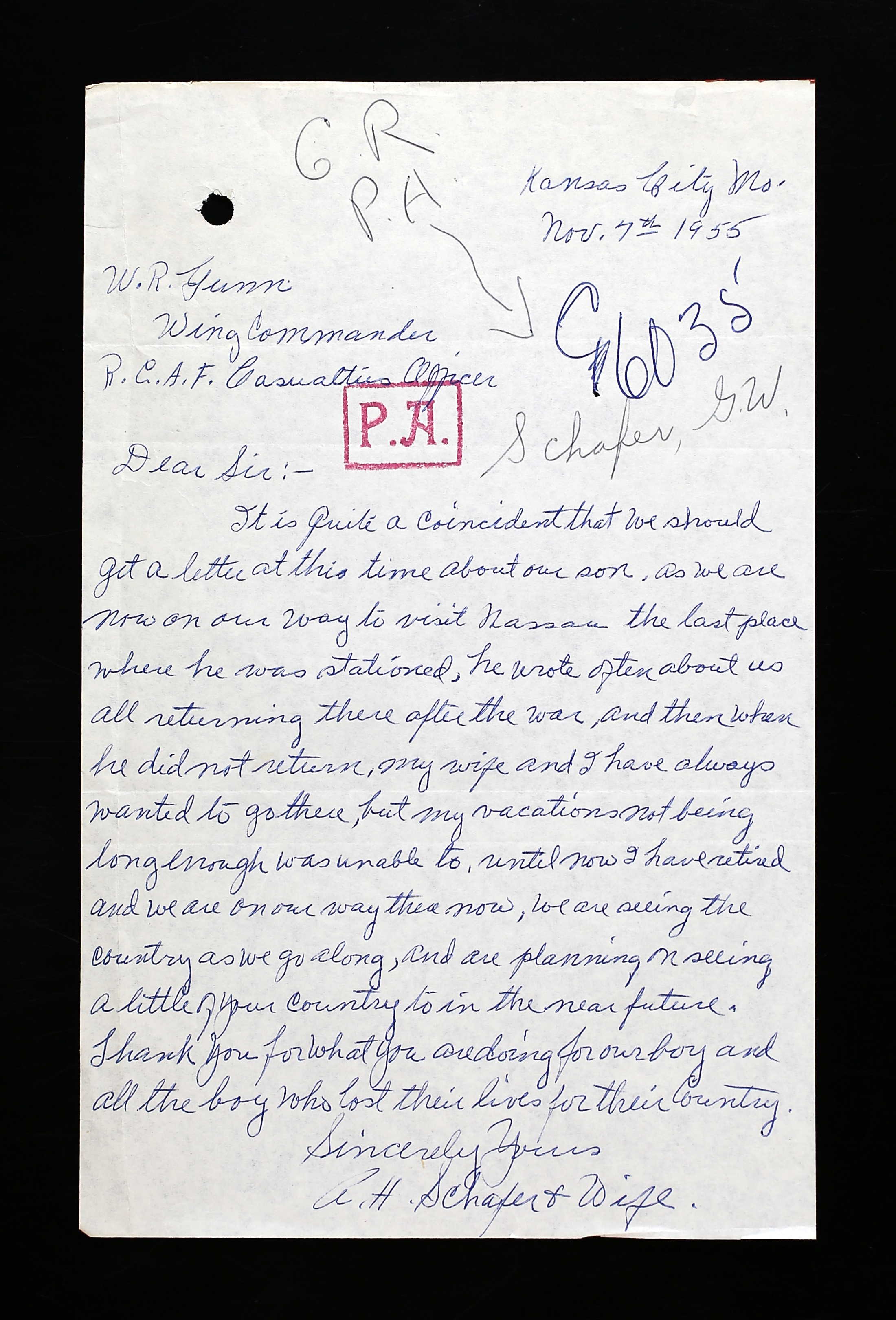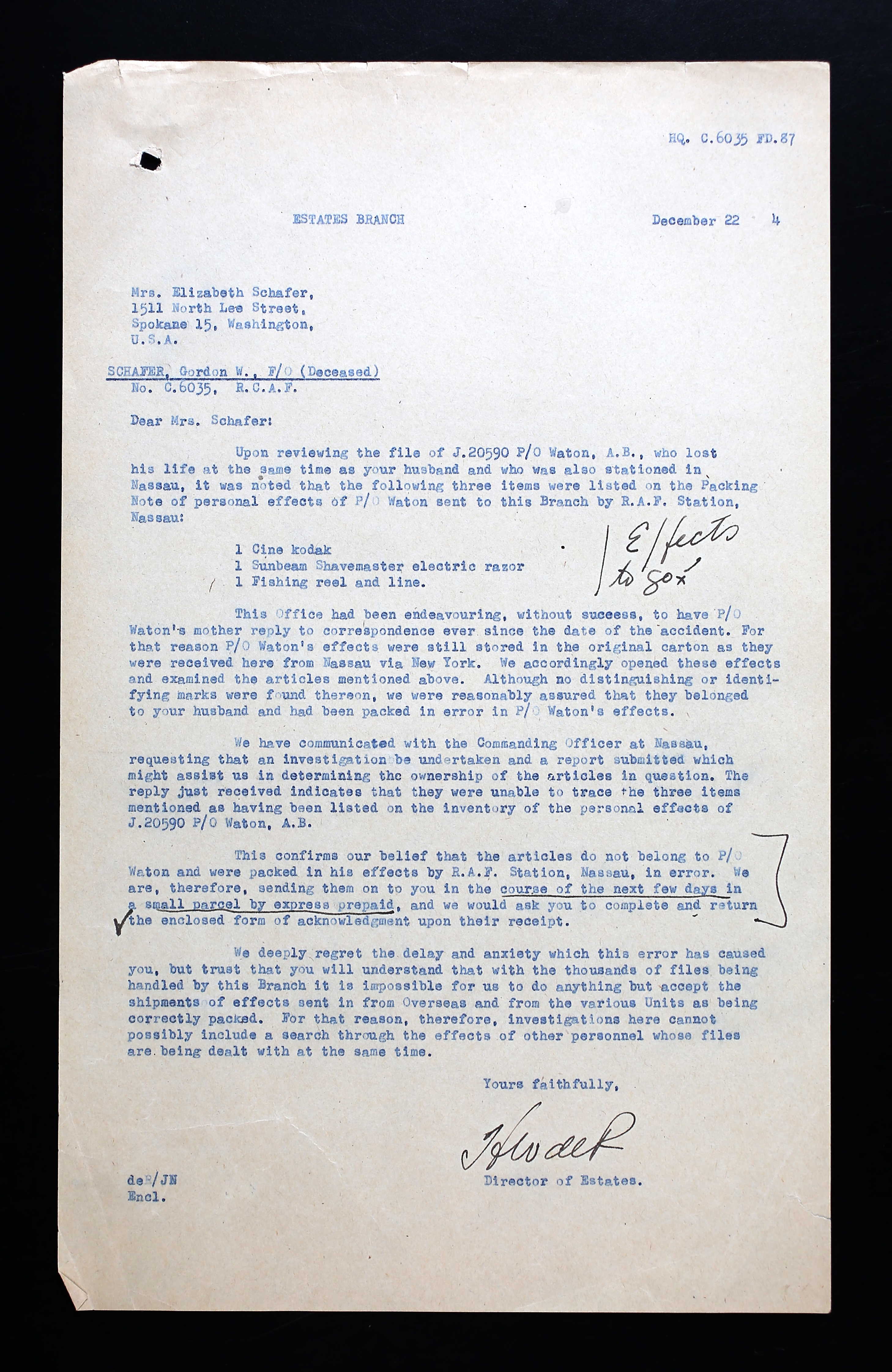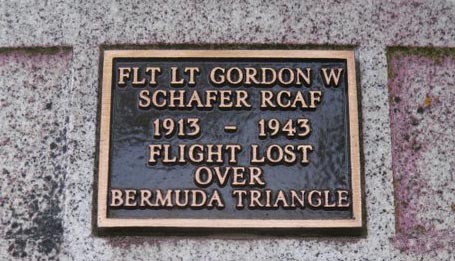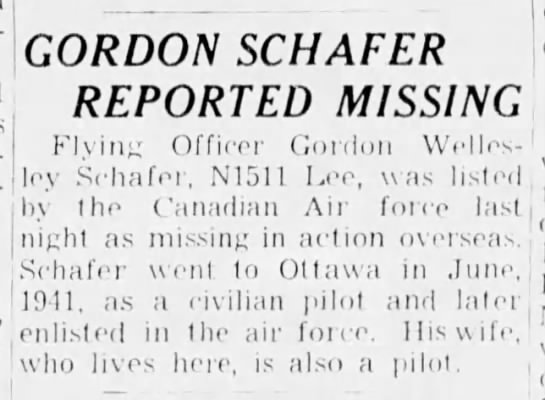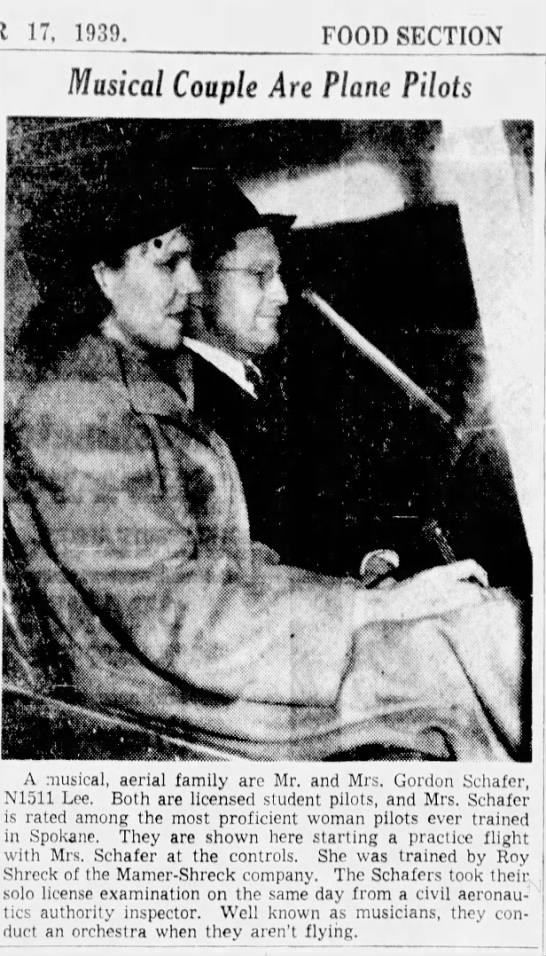 Accordion-playing accountant from US earned pilot's license in 1940 in Spokane with his wife. Enlisting with RCAF, he became a B&G pilot, then was posted to Bahamas. Having issues with his eyesight, he requested a posting to Canada from Nassau. Two weeks later, he requested to be transferred to the US Army Air Force to fight for the USA if posted overseas. Five days later, aboard Mitchell FR379, his plane and crew were lost during their second air to sea firing exercise.
Gordon Wellesley Schafer was the son of Albert Henry Schafer (1891-1961), hydraulic engineer, and Ethel Melvina (nee Alban) Schafer (1981-1983) of Spokane, Washington. He had one brother, Stanley Albert Schafer (1919-2008), who was in the US Army.
Gordon married Elizabeth 'Betty' Rose Nelson (1910-1995) on September 29, 1930, in Coeur d'Alene, Idaho. They had one daughter, JoAnn Carroll, born December 23, 1932. Betty married again in 1950. Richard Louis Lederer (1919-1971), retired US Army colonel, was her second husband.
He earned his flying license (Private 79074 Class 1 & 2S) at Filts Field, Spokane April 24, 1940 and required to wear correcting lenses while operating aircraft. His wife, Betty, also earned her pilot's license at the same time. He was a member of the National Guard for three years. "Qualified for expert rifleman 30 calibre, sharpshooter 45 calibe, auto in 1931-32." He had $1000 in life insurance with the Ohio National Life Insurance Co., Betty the beneficiary.
In a Fidelity Bond Report [CONFIDENTIAL] dated May 6, 1941: "Standing: GORDON WELLSLEY SCHAFER, 28 years of age, married and has one small child. Resides with wife and child among favourable surroundings at N1511 Lee Street, Spokane, Washington. Well regarded locally and social standing is good. Associates among a desirable class of people. Not known to gamble nor speculate and not known to use intoxicants. Considered a good citizen and has no sympathies with any other form of Government. Considered honest and reliable. FINANCES: Subject has estimated worth of $2000 consisting of auto, personal property, and equity in home. Annual income estimated at $2100. No financial trouble known and credit is good. EMPLOYMENT: Applicant is employed as an accountant by the Federal Intermediate Credit Bank, branch of the Federal Land Bank. Has good business record and has been steadily employed in present position for over three years. Well regarded by business associates."
He enlisted with the RCAF on June 20, 1941. "A good type of experienced American; quiet and alert. Fit pilot." Gordon liked golf, baseball, running, bowling, and basketball. He hunted, fished, and enjoyed music, playing the accordion in a band with Betty. He was an accountant at the Federal Land Bank in Spokane. Gordon wore glasses for reading. He stood 5'8 ½" tall and weighed 143 pounds. "Wiry. Scar on right knee." He had blue eyes and brown hair with a medium complexion.
Gordon completed musketry and revolver training in July 1941.
While at Picton, July 17 to September 9, 1941: "91.4%. Satisfactory Ground school. Average pilot, good airmanship. Needs CC experience. Has shown good progress and deportment. B&G high level bombing. Should be satisfactory pilot at B&G School." He earned his wings on September 9, 1941.
He was at Service Flying Training School, Dunnville, Ontario from August 31 to November 6, 1942. He was 4th in his class. Gordon requested to live off base, as Betty and JoAnn were living in Port Maitland, Ontario to be near him.
Gordon was at No. 7 B&G School, Lethbridge, Alberta for six months, his conduct "has been entirely satisfactory and befitting that of an Officer. He has shown initiative, co-operation, and willingness to work and has proven to be a good pilot.
From November 23, 1942, to January 29, 1943, Gordon was at GRS. "A bit slow, but a steady worker. Worked hard, improved steadily throughout course. Weak in ship recognition theory. A quiet but steady and reliable man, suitable for long range work." He earned 66% and was 12th in his class.
Betty and JoAnn accompanied Gordon as far as Miami, Florida when he was posted to the Bahamas.
On March 20, 1943, Gordon requested for a transfer to Canada, writing to G/C R. H. Waite, OC, No. 111 O.T.U. Nassau. "I request that I be taken off course and returned to Canada at once to serve in whatever capacity is of best interest to the service. I make this request for the following reasons: (1) I consider the conditions of my eyes unfit for duty as a member of an operational aircrew and such condition shows no indication of improving, but becoming steadily worse. (2) I feel that I should obtain special medical attention to correct this condition before I become unable to carry on with flying duties. About four weeks ago, I purchased correcting lenses in Ray-Ban sunglasses from a Miami Optometrist. Upon examination, he found my vision to be barely 20-40 which is maximum allowed, correctible to normal, for RCAF pilots. Upon examination, F/L Wichard also advised me not to fly without wearing glasses and to avoid all reading and close work. This near-sighted condition if further complicated by intermittent black spots and haze appearing in my field of vision which, while not dangerous, will soon become so if allowed to develop at the rate in which they have in the past six month. Needless to say, I am most anxious to continuing flying. Therefore, I respectfully submit this application for your earliest consideration."
On April 4, 1943, he wrote another letter, this time to the Director of Postings and Careers in Ottawa. "I herewith respectfully and urgently request my transfer from the RCAF to the US Army Air Force. I am an American citizen, born in Spokane, Washington. I joined the RCAF as a pilot officer through the Clayton-Knight Committee on June 16th, 1941, effective June 21st, 1941. I am now attached to the RCAF at 111 O.T.U. Nassau in training (No. 3 Course) for operational work overseas. While I know that it is not the policy of the RCAF to consider such applications for transfer, I feel that I am justified in my actions, and I'm entitled to your consideration in the matter. I declined the opportunity to transfer in May 1942 at #8B and G school Lethbridge for the following reasons: (1) I felt that I owed the Canadian government something for the training I had received and for which I had not yet had the opportunity of repayment. (2) In my capacity at the time, I felt that I was doing all I could already for the service. (3) the officer in Ottawa who signed me in and the Clayton-Knight Committee had assured me that I would never be called upon to go overseas. Now, if I must go overseas to fight and possibly give my life, and I am quite willing to do so, I feel that I have every right to go in the uniform in service of my own country. That, Sir, I shall insist upon. I therefore respectfully request my immediate transfer to the US Army Air Force."
On April 9, 1943, Mitchell FR379 took off from Nassau, Bahamas on a training flight that had two exercises, the aircraft and crew completed the first air/sea firing exercise and returned to base for refuel and re-arm. Aircraft took off for the second exercise and went missing, search was conducted, but nothing was found fifteen miles south of New Providence Island, British West Indies. Cause of crash and location is not known, aircraft and crew missing without a trace. A court of inquiry was called with five witnesses. Cause of accident: Obscure. The aircraft had enough fuel for 7 ½ hours of flying. Two days later, aircraft on training mission spotted a dinghy; surface craft recovered it, empty, and damaged.
Crew: *Pilot: F/O G.W. Schafer, C/6035, RCAF, Spokane, Washington *Pilot: P/O A.B. Waton, J/20590, RCAF, St. Louis, Missouri, U.S.A. *Nav: P/O B.B. Goodman, J/21746, RCAF, Winnipeg, Manitoba *Wop/Gnr: Sgt G. Fenton, R/139833, RCAF, Ridgedale, Saskatchewan, Canada *Wop/Gnr: Sgt G.W. Tomkins, R/133613, RCAF, Frankford, Ontario, Canada *Wop/Gnr: Sgt L.R. Burchell, R/124720, RCAF, Glace Bay, Nova Scotia *Wop/Gnr: Sgt R. Farnsworth, 578225, RAFVR, Witton Gilbert, Co. Durham, United Kingdom
On July 14, 1944, Betty wrote to F/L E. W. Evans, Committee of Adjustment, RAF Station, Nassau, Bahamas. "I have just received my husband's personal effects and as F/L Lee gave me your name when he left for England, I am giving you the details I would have given him. When the accordion arrived, it was in really bad shape, having four bass keys taken off completely and some of the reeds out. It doesn't seem possible that this could have been done in transit, but that someone must have deliberately pulled them out because none of the keys were in the case. I wonder if you have any way of checking on this, since that person or persons should really pay the cost of repair. I received a list of my husband's personal effects shortly after the accident, and was asked to check them, and as far as I could determine, it was a fairly accurate list. However when I received the effects yesterday, the most valuable articles were missing an among these was a 16mm Cine Eastman moving picture camera, and electric Sunbeam razor, and a fishing reel and line for ocean fishing… I would appreciate it very much if you would check at your station to determine whether or not everything was in order when it left, so that we can trace the missing articles. The camera is an expensive one, and I do not intend to lose it, Ann felt that sure that everything would be returned to me intact as I had been assured... It has taken a long time for the articles to get here, and I do hope that she will be able to help me locate the missing articles…". Also missing were ten pieces of music and a packet of letters.
The Director of Estates wrote to Betty, July 20, 1944. "We are sorry to learn that some of the effects were not returned. Please be assured in this connection that all of the effects perceived here went forward to you with the exception of a small package of letters which had to be censored in which are being forwarded to you by registered mail within the next few days. The other articles which are missing must, therefore, have been lost either before shipment from Nassau or during their storage in New York City…. You will note that the Cine camera and the Sunbeam electric razor were never shipped from Nassau and you will also note that the fishing real and line, dressing case, and some pieces of music were missing when the effects reached this office… one of the major difficulties confronting us in Ottawa in connection with your husband's estate arises from the fact that at the time of your husbands regretted accident, the station at Nassau was an RAF station administered by RAF personnel and three weeks later, on the 1st of may 1943, the RCAF took over this station. You will appreciate that most of the officers and men who were on the station at the time of your husband's unfortunate accident have now been posted elsewhere and a new step of artsy AF officers is now in charge at Nassau. A further difficulty arises in connection with cameras, which as you probably know, are prohibited on operational stations. It is, therefore, necessary for officers who own cameras to make some arrangements with friends who live off the station to keep their cameras for them. It would be very helpful to us if you could let us know the names of some of your husband's friends or associates with whom we could communicate with a view to ascertaining where the camera was left during his stay in Nassau. We are communicating with the commanding officer at Nassau and requesting that a thorough search and investigation be made into the circumstances surrounding the shipment of your husband's effects. It is hoped that we will be able to locate and forward the missing articles. As soon as we have a had a reply to our letter informing us of the results of the search, we will immediately communicate with you further. Please complete and return the enclosed receipt for the package of letters."
In December 1944, Betty received a letter informing her that the camera, electric razor and fishing reel and line were sent to P/O Waton's mother. The office was unsuccessful to receive a reply from Mrs. Waton. But the original carton was still in storage at New York, so when they opened the box, they found the articles and they would be sent to Betty in the course of the next few days. Betty received the missing articles, with the exception of the sheet music and the shaving kit. Betty, too, had written to Mrs. Waton, who lived in St. Louis, Missouri.
A letter dated November 7, 1955 from Kansas City, Missouri to W/C Gunn from Mr. and Mrs. Schafer: "It is quite a coincidence that we should get a letter at this time about our son as we are now on our way to visit Nassau, the last place where he was stationed. He wrote often about us all returning there after the war and then when he did not return, my wife and I have always wanted to go there but my vacation not being long enough was unable to, until now, I have retired, and we are on our way there now. We are seeing the country as we go along and are planning on seeing a little of your country too in the near future. Thank you for what you were doing for our boy and all the boys who lost their lives for their country." They had received the letter indicating that Gordon's name would appear on the Ottawa Memorial since Gordon had no known grave. They were probably visiting Mrs. Waton at the time.