Gilbert Campbell McFadyen R220720
September 15, 1924 - July 24, 1943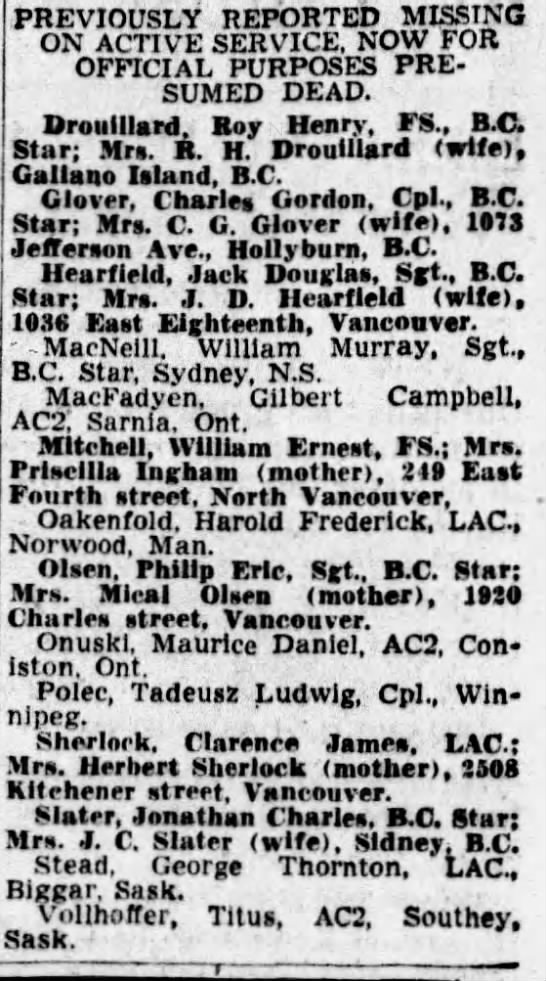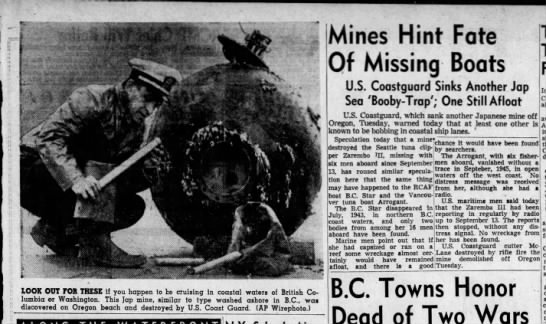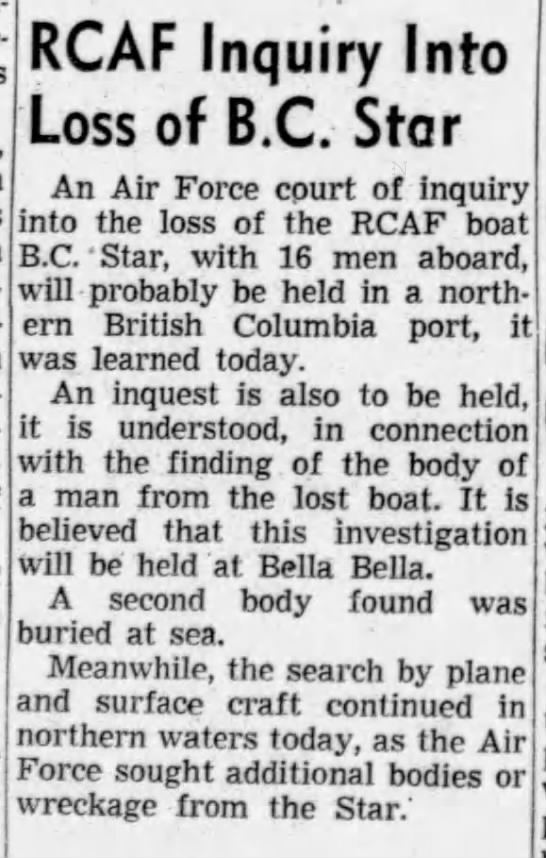 Zellers stockroom clerk joined RCAF Marine Section. Only 86 days on duty.
Gilbert Campbell McFadyen was born in London, Ontario to George Henry McFadyen (1892-1946) and Isabelle May (nee Campbell) McFadyen (1894-1962) of Sarnia, Ontario. He had one brother, John (1926-2013). The family attended the United Church.
Gilbert had scarlet fever at the age of two, wore glasses for two years, had his tonsils out at age 5. He had other childhood diseases: mumps, measles, and chicken pox.
He had a Grade XII education (senior matriculation). He listed music as a hobby and liked to play basketball. He smoked 4-5 cigarettes a day.
In March 1943, he enlisted in Sarnia, Ontario, where he had been working as a stockroom clerk at Zellers, a department store for two years. He was deemed unfit for aircrew due to poor visual acuity but was accepted into the RCAF. "Mannerly lad, somewhat colourless, but well motivated. Fair education. Willing to servhwere where best qualified. Understands General Duties."
Gilbert stood 6' 1 ½" tall, and weighed 145 pounds. He had blue eyes and brown hair, with a medium complexion. A small round scar on his right shoulder tip was noted.
He was sent to No. 2 Manning Depot, Brandon, Manitoba on May 13, 1943 until the beginning of June, when he was sent to No. 3 Repair Depot, Vancouver, British Columbia, Marine Section of the RCAF. On July 15, 1943, Gilbert was aboard the BC Star.
His assets included $104.65 at the Bank of Montreal, Sarnia, $96.00 in War Savings Bonds. $50 in a Bearer Bond, plus had $2500, $500, and $5000 in life insurance.
On July 24, 1943, Gilbert had been in service with the RCAF 86 days when the BC Star was sunk.
In August 1943, F/L H. S. McDonald, Chaplain with the RCAF wrote to Mrs. McFadyen: "your letter addressed to Squadron Leader Campbell has been passed on to me for reply. At present, there is nothing further to report on the loss of the BC star and I can assure you that a diligent search is being pursued daily in an endeavor to find any records or other evidence of the boat. So far no word has been heard from any of the crew. As long as there is the faintest hope of finding any of the crew, the search will be kept up. The BC star operated with Vancouver as a base and journeyed from station to station under the direction of the commanding officer of No. 9 Construction and Maintenance Unit. It was while on one of these routine voyages that the boat was reported missing after leaving a West Coast base. It is the policy of the station chaplains to visit all boats that tie up at their Wharf and I am quite sure that wherever your son's boat was docked and there was a chaplain at the station, they would have had a visit. As a matter of fact, it was the custom for the chaplain to have his morning coffee with the crew in the galley. I recall meeting your son when he passed through No. 3 Repair D let me assure you that in the RCAF, we know these boys, we have many chats in context with themepot in Vancouver at which time I was one of the chaplains on that station. I recall him because he came from Sarnia and I intimated the fact to him that my father had been one of the engineers that constructed the Sarnia tunnel and in that way we had a point of contact. He was not at the station very long before he was posted to duty this made him very happy because like any other boy, he was anxious to get going since that is what he joined up for. He was quite happy and satisfied in his work and I am sure that he did his job well. I can assure you that if he is alive there is no danger of him being a prisoner of war and should any member of the crew be found, I am quite sure that he would want to contact all the next of kin of the remainder of the crew. Let me assure you that in the RCAF we know the boys, we have many chats and contacts with them and through this personal touch are able to help them in many ways. Should anything further develop to change the situation of missing to that of another category, you will be notified immediately. With all good wishes to you and praying for the safety of your son ..."
A letter from Ottawa to his mother dated September 24, 1946 in reply to her letter of the week earlier stated: "I regret there are very few particulars known of the tragedy in which your son lost his life. The British Columbia Star departed from Bella Bella on July 23, 1943 for Rose Harbour giving an estimated time of arrival at the latter part of 10 AM July 24th. The last word received from the ship was a wireless message dispatched at 6:10 PM Pacific War Time July 23rd which read as follows: departed Bella Bella 1720 hours 23-7-43 ETA Rose Harbor 1000 hours 24-7-43. A court of inquiry was convened at Prince Rupert for the purpose of investigating the loss of this vessel and their findings revealed that the vessel was a good ship, in good repair, and suitable for the voyage. That it was well fitted with all necessary and sufficient lifesaving, firefighting, and wireless equipment. It was commanded by an able and experienced master. Its crew are sufficient in number for the safe handling of the vessel and we're able and experienced. There is no evidence of negligence on the part of the master or any of the crew and no blame is attached to any of them. An intensive search for the lost vessel was carried out by air and by sea and it is the opinion of the court that in this connection everything was done that could have been done. The possibility of the vessel getting off course and running aground appears unlikely as the extensive air and sea search would have been almost certain to disclose the whereabouts of the wreck. Lost by fire could not be seriously considered due to the fact that the two life rafts which were recovered showed no evidence of this. Had there been an explosion, wreckage would have been discovered. The possibility of the shifting of the cargo was given consideration by the court but this cause could not be substantiated due to the fact that the hold was loaded almost to capacity and under the direct supervision of the master, thus illuminating the possibility of the cargo shifting in rough seas. Your reference to negligence, therefore, is not understood. Should you, however, here any story to the contrary please advise this HQ full particulars and from whence it came and the matter will fully be investigated. I deeply regret having to convey such distressing news and I only hope you're sad loss will leave you for tified to face the future."
Other theories included the ship was torpedoed by a Japanese submarine or it hit a mine.
In October 1955, Mrs. McFadyen, widowed since 1946, received a letter from W/C Gunn telling her that since Gilbert had no known grave, his name would appear on the Ottawa Memorial.
LINKS: