George Simon Streisel R136401
February 12, 1918 - May 24, 1944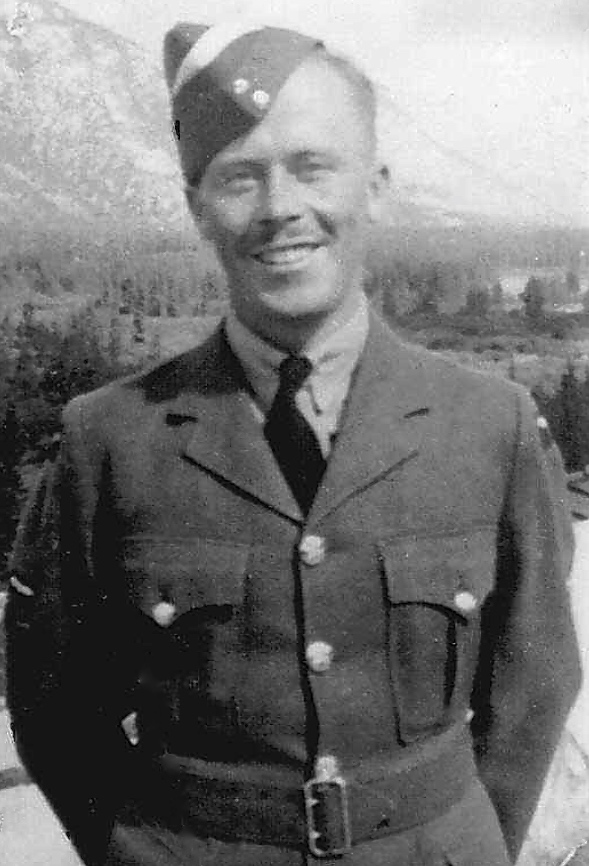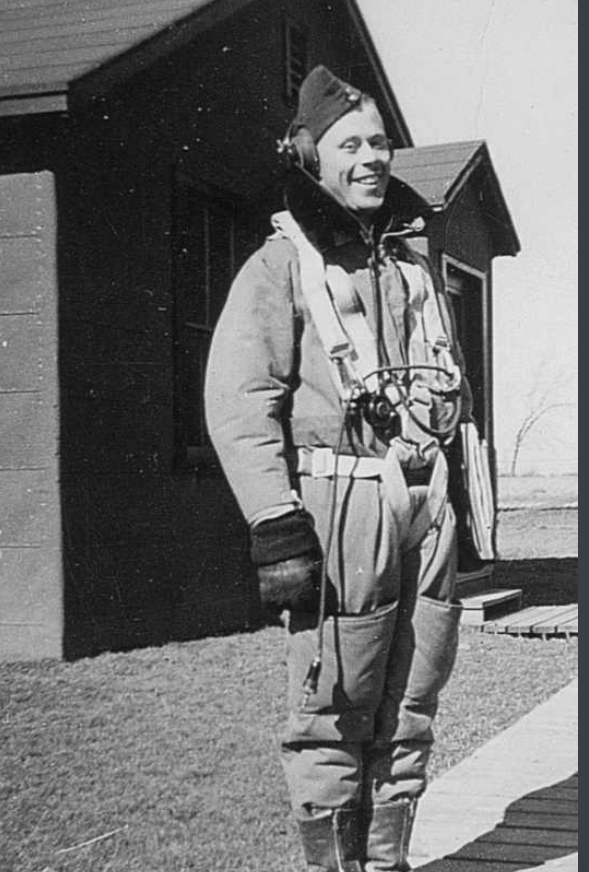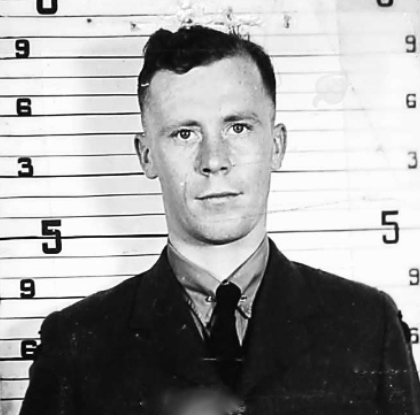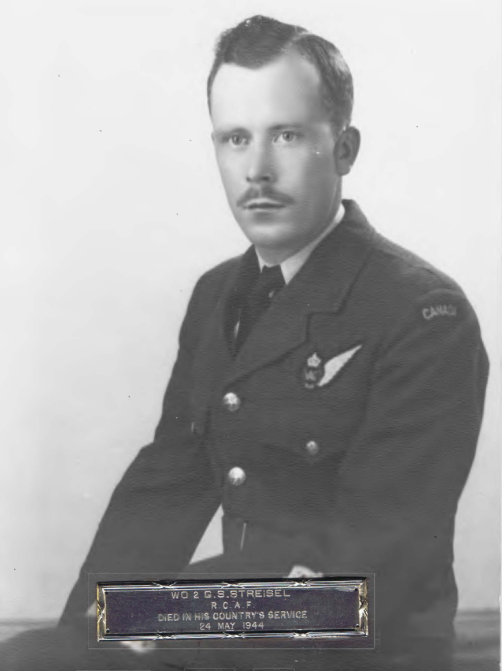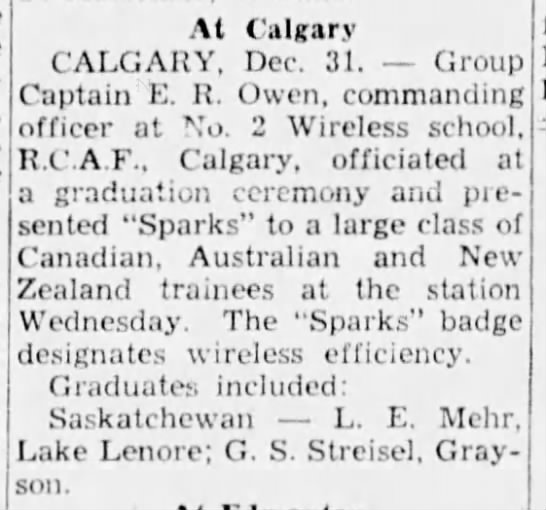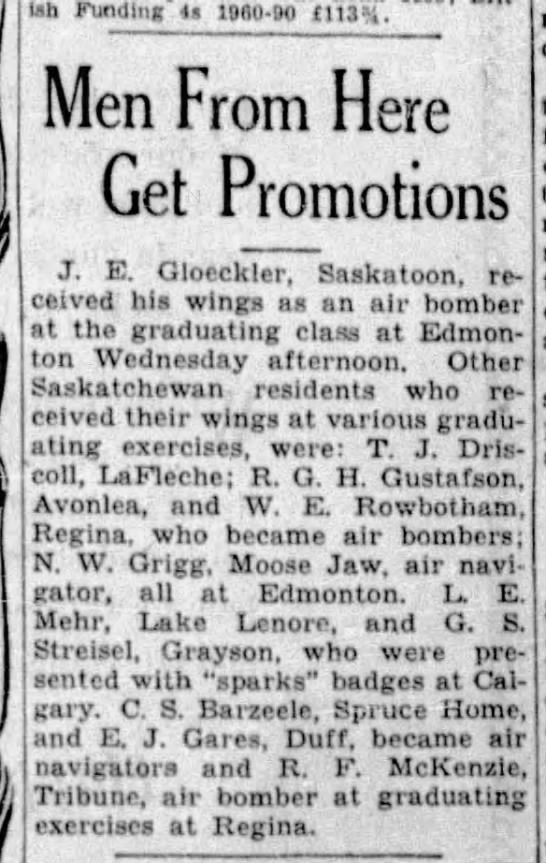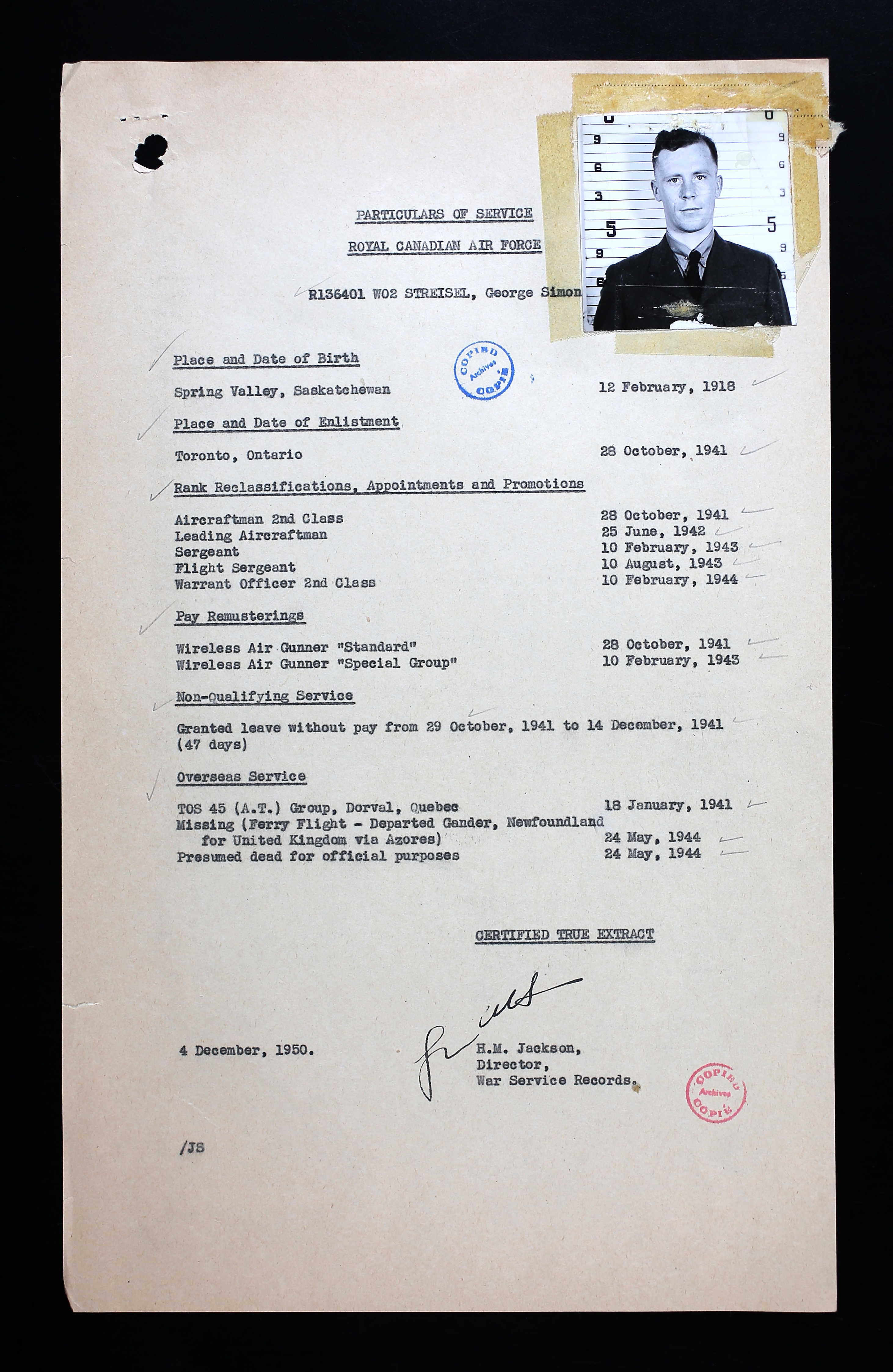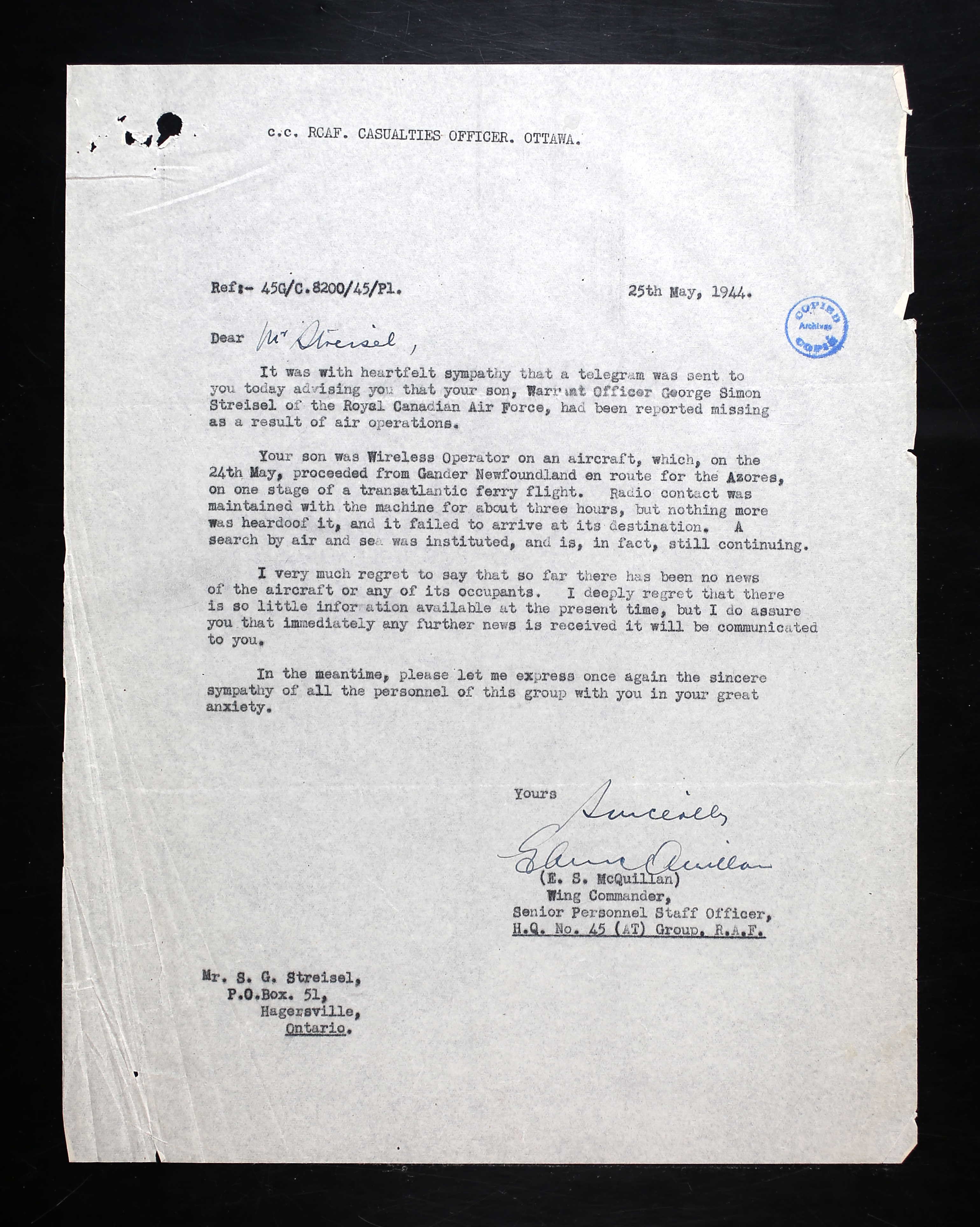 Truck driver joined RCAF as WOAG, attached to No. 45 Group. Aboard Mitchell HD532, he and Polish Air Force crew were lost between Gander, Newfoundland and the Azores in May 1944.
George Simon Streisel, born in Spring Valley, Saskatchewan, was the son of Simon George Streisel (1885-1968), construction carpenter, of Polish heritage, and Elizabeth (nee Rees) Streisel, of Rumanian heritage, residing in Grayson, Saskatchewan, Oshawa, and Hagersville, Ontario. Mrs. Streisel died in 1918 after surgery for goitre. Mr. Streisel married Gertrude Stephan Ruhr, a widow, after her husband passed away in 1920. George's half-sister, Carelyne Streisel was noted as next of kin; George had another half-sister, Margaret C. Streisel, residing in Grayson, Saskatchewan, as well as two half-brothers, John C. Streisel and Edward Frederick George Streisel (1932-2008). John was with the Royal Canadian Navy, posted in Newfoundland. The family was Roman Catholic.
George left school at age 16 and worked as a truck and tractor operator for five years, at Carter Halls, Pickering, Ontario, a construction company. He hoped to get into landscape gardening after the war. In 1934, he fractured his left femur, leaving a 9" scar on the outer side of his left thigh visible. He indicated he did not smoke and drank alcohol occasionally. George liked to play softball. He accepted into the RCAF in October 1941 at Toronto. "Above average type. Born in Saskatchewan. Father came to Canada age 18. Took up land but mother died and left farm before obtaining deed. Father neglected taking Naturalization papers before war. Father served 8 months, 26 Bttn, Brandon, 1913."
He stood 69" tall and weighed 145 pounds, having blue eyes and fair hair. "Sedentary physique and standard mentality. A fine type of applicant, quiet, well-mannered and alert. Should make a good air crew man. Physically fit with good pulse reactions and 40 mm Hg test." George said he could understand some German. George had one month of previous military experience from November to December 1940 at Woodstock, Ontario.
From October 29 to December 14, 1941, George was granted leave without pay. George started his journey through the BCATP at No. 1 Manning Depot, Toronto, December 14, 1941 until he was sent to No. 1 ED, Toronto, January 19, 1942 until May 23, 1942. He was then sent to Calgary and No. 2 Wireless School until January 8, 1943. He was 35th out of 115 in his class with 83.1%. Fingal, Ontario was his next stop and No. 4 B&G School from January 9 to February 11, 1943, where he earned his Wireless Air Gunner's Badge. "A first-class practical man. Was outstanding on armament subjects." Overall, he was 10th out of 12. "Not recommended for commissioned rank." He was then at No. 1 AOS, Malton, Ontario until September 3, 1943. He was at No. 31 O.T.U. Debert, Nova Scotia until December 28, 1943. While at Debert, George was at the station hospital on December 9, 1943. January 18, 1944, George was taken on strength with No. 45 AT Group, Dorval, Quebec.
Mitchell HD532, part of No. 45 Group, RAF Ferry Command, was lost on May 24, 1944 during transit between Gander, Newfoundland to the UK. Crew: WO2 George Simon Streisel, WAG, P/O Piotr Glydziak, PAF (1911-1944), and F/L Jozef Rojek, PAF (1905-1944).
In a letter dated May 25, 1944, Mr. Streisel read: "Your son was Wireless Operator on an aircraft, which, on the 24th of May, proceeded from Gander, Newfoundland, en route for the Azores, on one stage of a transatlantic ferry flight. Radio contact was maintained with the machine for about three hours, but nothing more was heard of it, and it failed to arrive at its destination. A search by air and sea was instituted, and is, in fact, still continuing. I very much regret to say that so far, there has been no news of the aircraft of its occupants."
George is remembered on the Ottawa Memorial as well as on his father's headstone in Melville, Saskatchewan.
Mitchell HD532 is mentioned in the book Ocean Bridge: The History of RAF Ferry Command by Carl Andrew Christie, published in 1995.
LINKS: