George Thornton Stead R173910
September 22, 1916 - July 24, 1943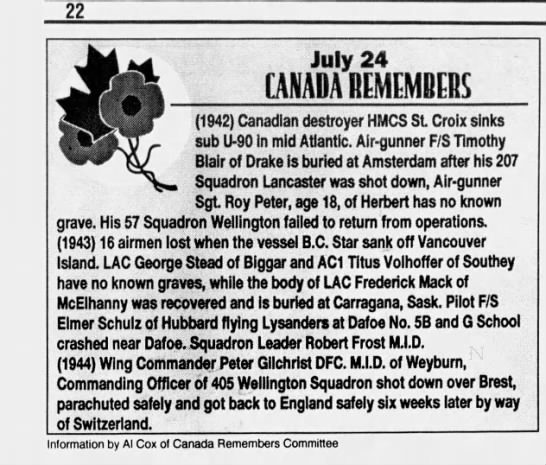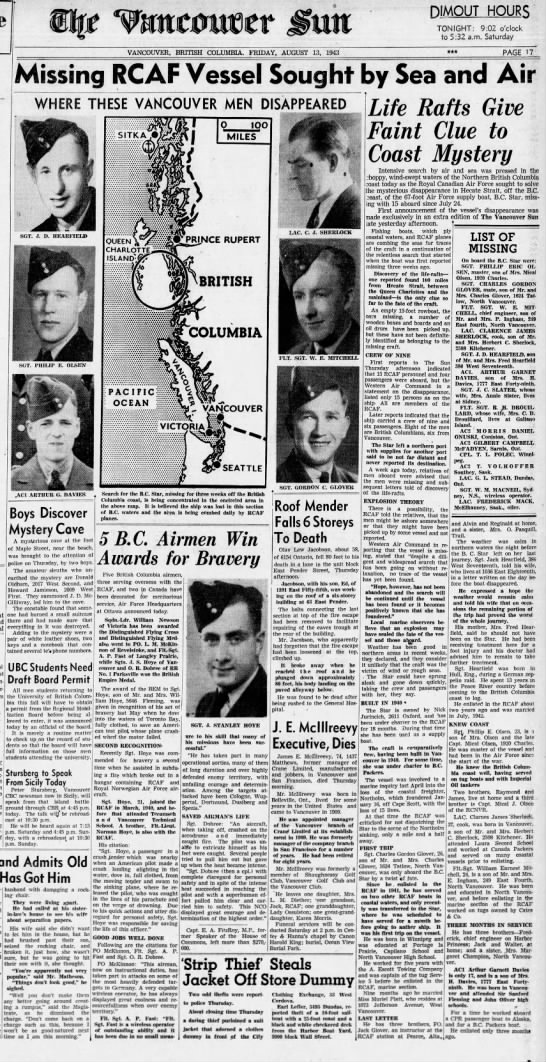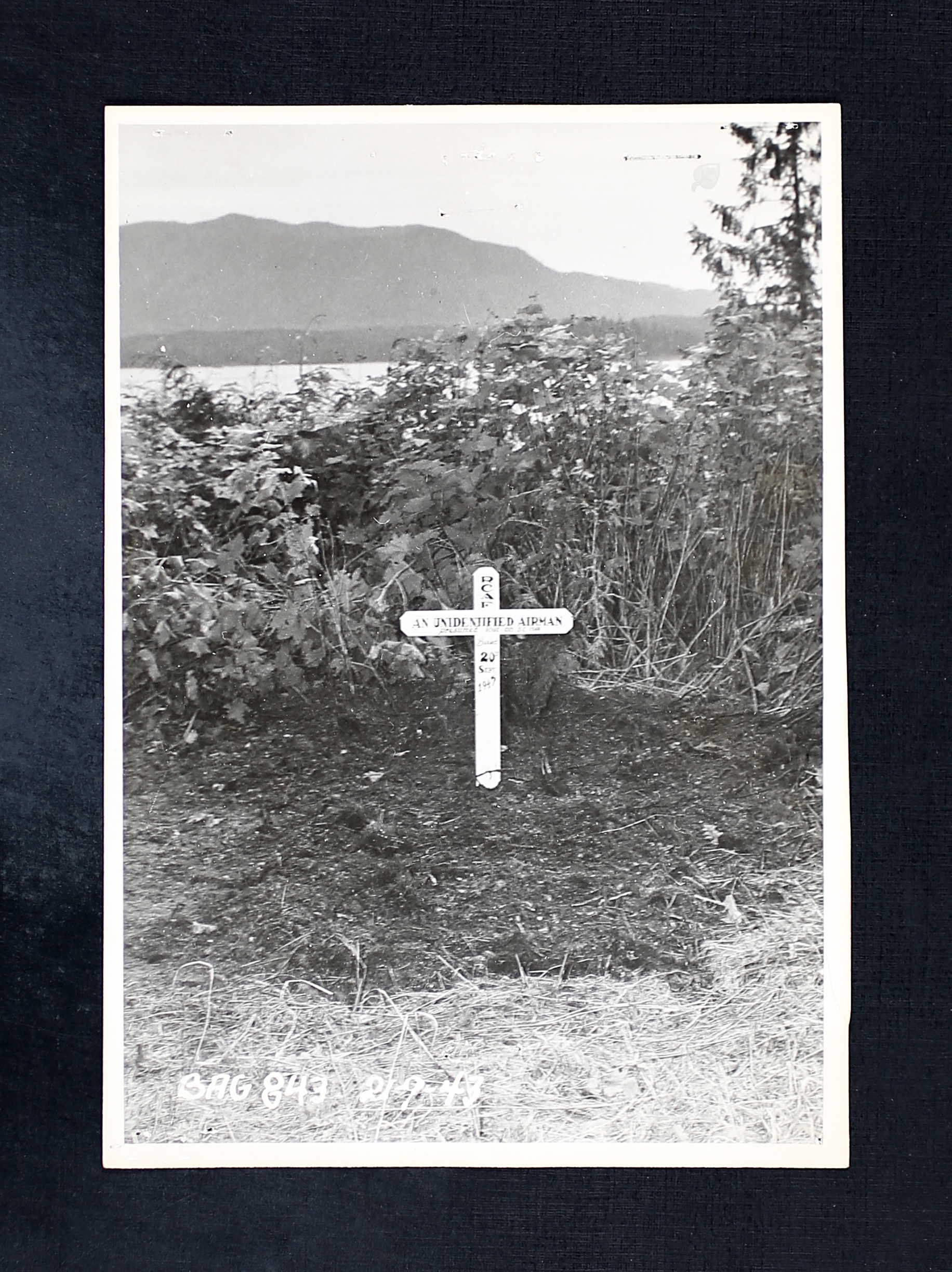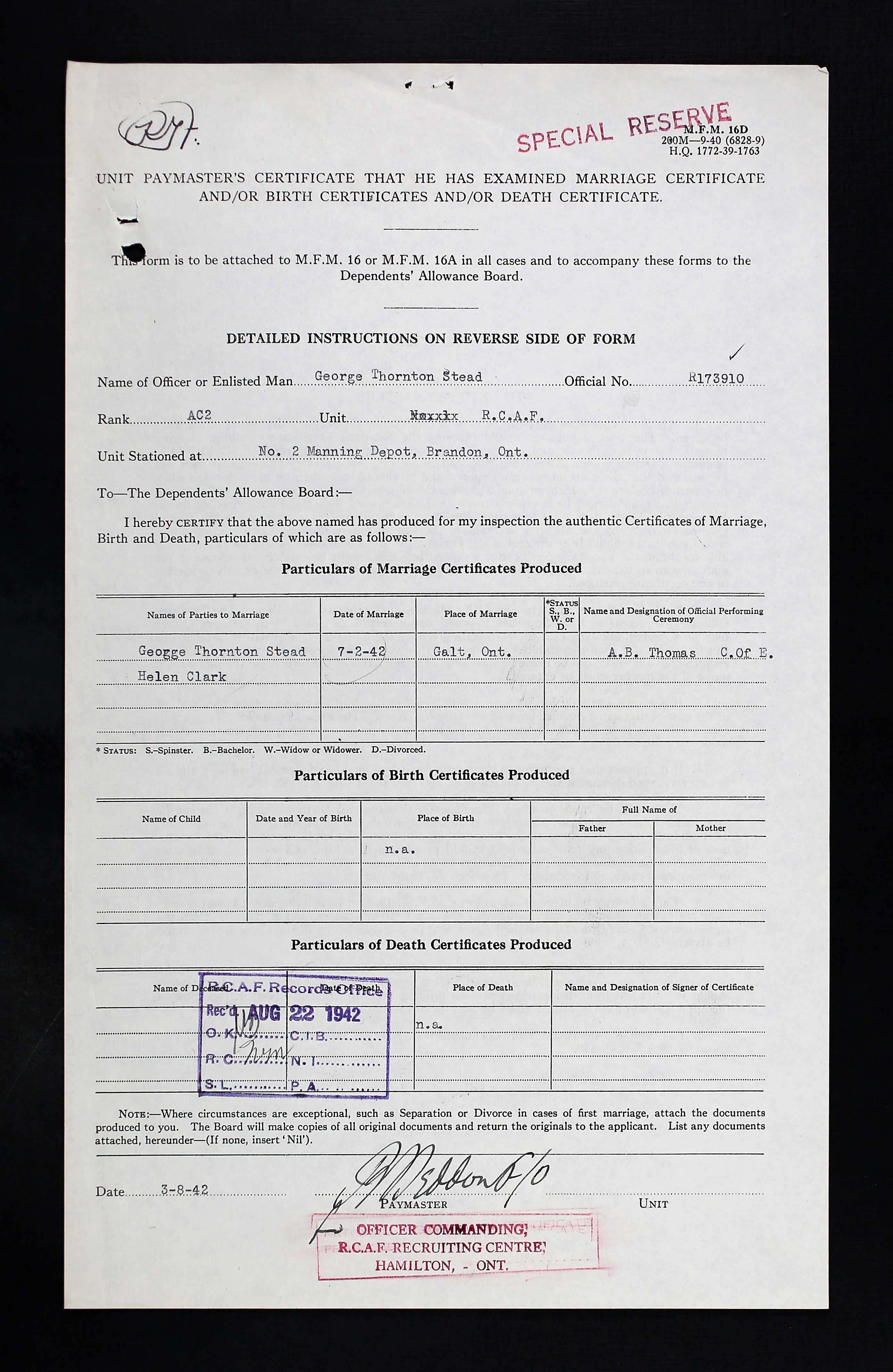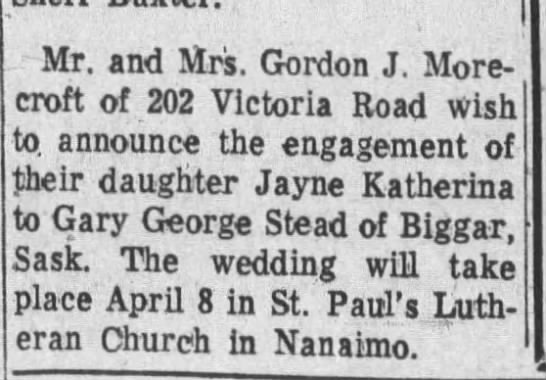 Butcher from Saskatchewan moved to Ontario to work at munitions plant, then enlisted with the RCAF, Standard General Duties.
George Thornton Stead was the son of George Thomas Stead (1881-1 936) and Mary (nee Jira) Stead (1885-1931) of Biggar, Saskatchewan. He had four brothers: Robert (1910-1981), Willie, Raymond, and Johnny. Willie was with the Royal Canadian Navy, Ramond was at No. 8 AOS, and Johnny was at No. 3 AGTS (Advanced Ground Training School), Trois Rivieres, Quebec. George also had two sisters: Josephine Mary (1914-1918) and Jessie (d. 1930). The family was Anglican.
George had a Grade X education from Biggar Public School, 1931. He liked to play hockey and softball occasionally.
George married Helen Clark on February 7, 1942 in Galt, Ontario. They had one son, Gary George Stead, aged 1 in 1944. They lived at the Melbourne Hotel in Dundas. Helen resided in Biggar afterwards.
George enlisted in Hamilton, Ontario on August 3, 1942 for general duties, standard. He had been living in Dundas, Ontario working at Pratt & Whitney as a machinist for one year wanting a better position. He hoped to return to being a butcher after the war as he had worked as a butcher in Biggar before moving to Dundas to work at the munitions factory.
He stood 5'7" tall, weighing 138 ½ pounds. He had gray eyes and brown hair, with a medium complexion. In 1932, he fractures his right tibia.
George was at No. 2 Manning Depot by August 25, 1942, then sent to No. 1 Works Construction Unit, Western Air Command by October 4, 1942. He was up at Bella Bella, BC shortly afterwards, then to Cape St. James in early April 1943. July 12, 1943, he was back at Bella Bella for dental treatment. He was attached to No. 9 CMU, Marine Operations when on July 24, 1943, the BC Star, on which he was aboard, sunk. Life rafts were the only wreckage found. Theories as to the cause of the sinking of the BC Star included the ship was overloaded, it was torpedoed by a Japanese submarine, or it hit a mine. Please see links below for more information.
Dr. D. H. Standwood wrote on September 4, 1943: "The body that the writer was called upon to see on the above-mentioned date at the RCAF station Bella Bella British Columbia was that of an adult white male estimated to be 5 foot 11 inches in length, with a would be weight of 190 pounds. The body generally had absorbed a great deal of water and the tissues were very soft showing dissolution and disintegration more marked in certain areas. The skin except of the back from the waist up was badly discolored and broken in many places. The area referred to above showed less discoloration was a deep reddish pink colour. All the soft structures of the skull including the eyes were missing, making clean exposure of the entire para cranium. The thoracic and abdominal cavities with their contents were essentially intact. However, the sternal end of the left clavicle was found to be disarticulated and exposed. The upper extremity on the right side was essentially intact. The left forearm was missing from the elbow down and the soft tissues of the upper arm from the lower half down were absent exposing the bone. Both lower extremities were present, but the feet were disjointed at the ankle joint retaining their attachment to the body mainly by skin."
A letter found in George's files from the RCAF, dated September 24, 1943: "Unidentified Airman recovered off Price Island…owing to the advanced stated of disintegration, finger prints were not obtainable, and all facial characteristics were obliterated to the point where a photograph could not be taken which would prove to be useful in any way."
A grave was erected for the unknown airman. Who was it?
In March 1944, Helen received a letter from S/L W. R. Gunn informing him that George was now for official purposes, presumed to have died on active service on July 24, 1943.
Helen remarried in 1953 and became Mrs. Tessier Trapp, remaining in BIggar, Saskatchewan.
In October 1955, Helen received a letter from W/C Gunn telling her that since George had no known grave, his name would appear on the Ottawa Memorial.
In April 1967, Gary George Stead was married in Nanaimo.
LINKS: