George McLeod R188456
August 11, 1909 - December 6, 1944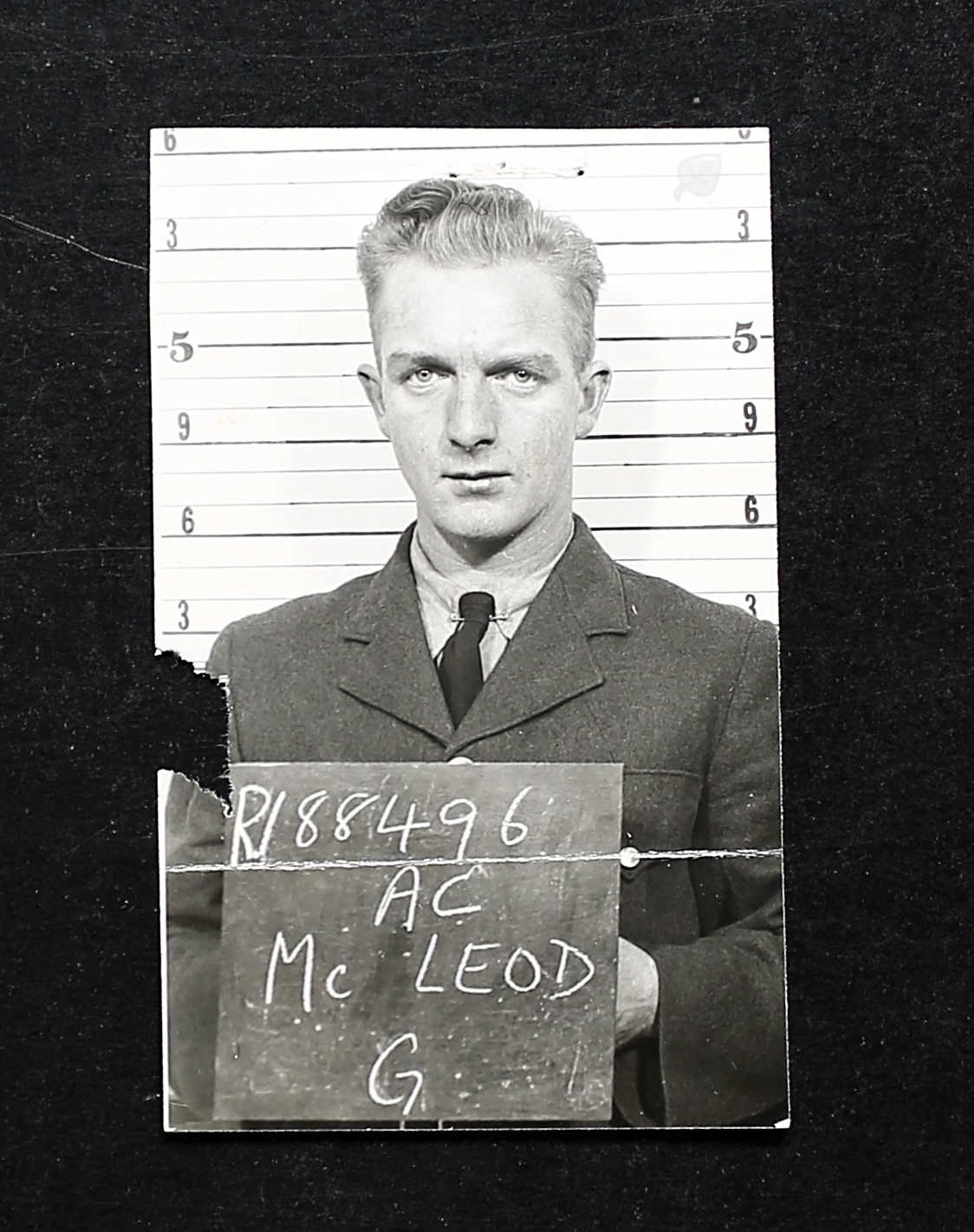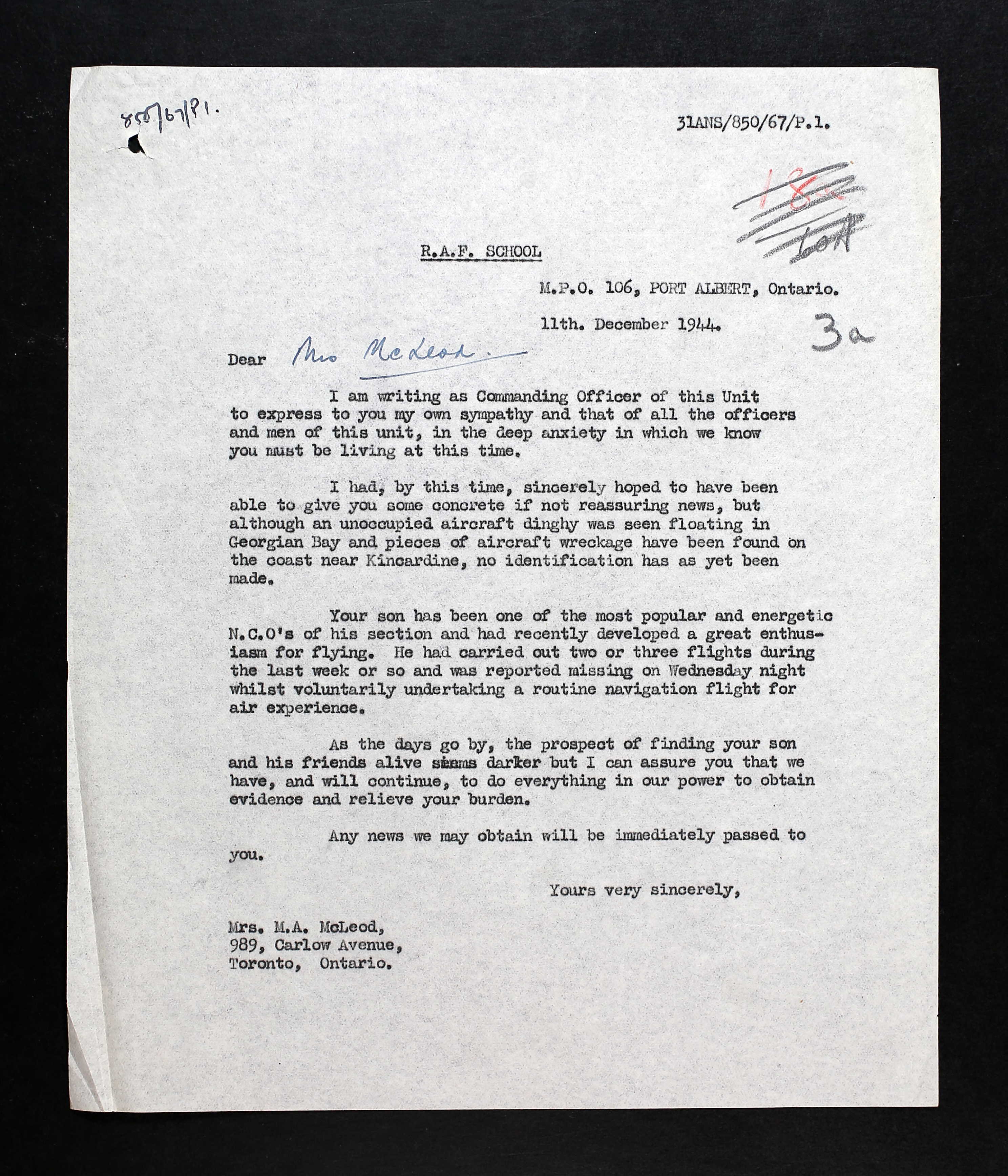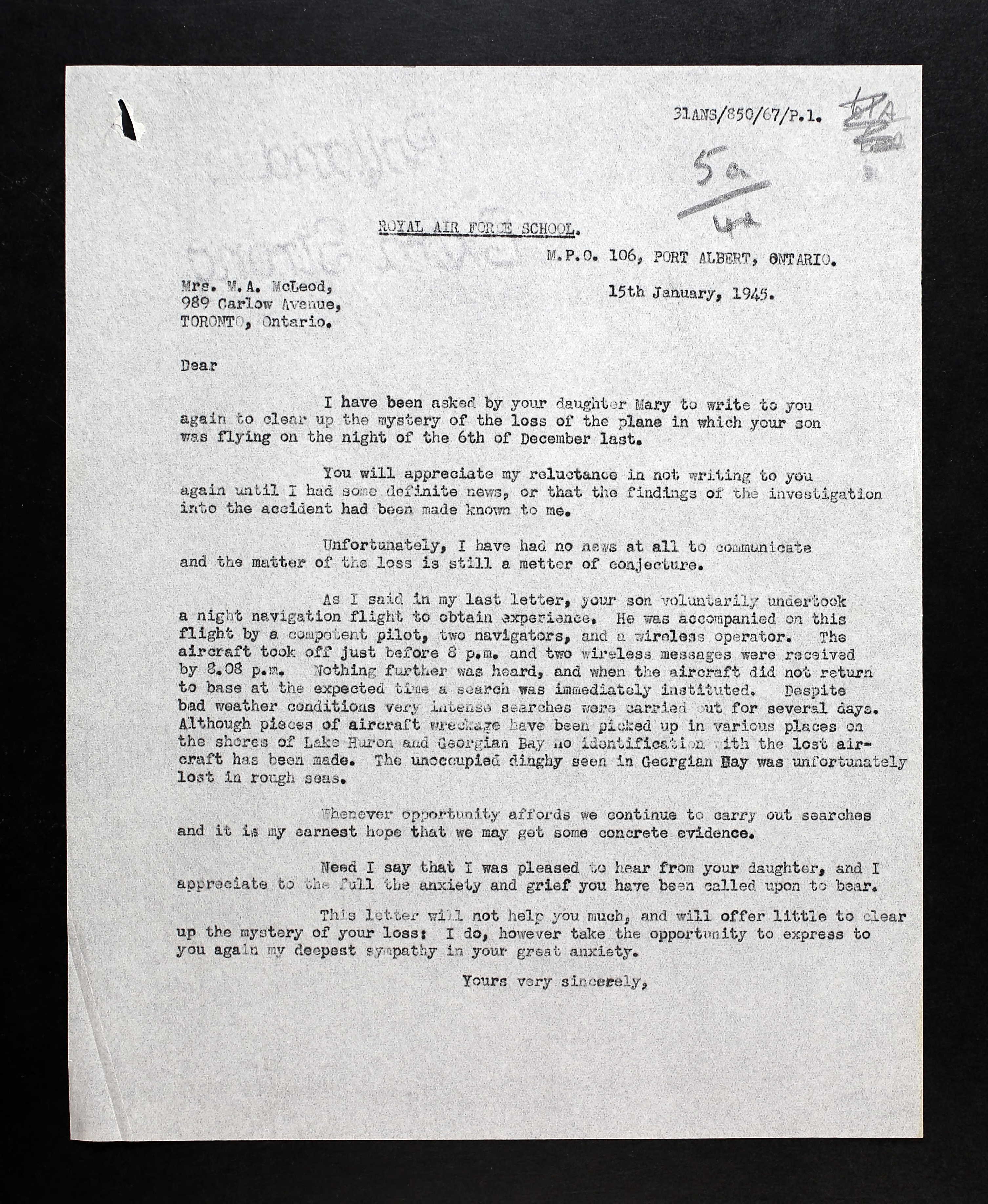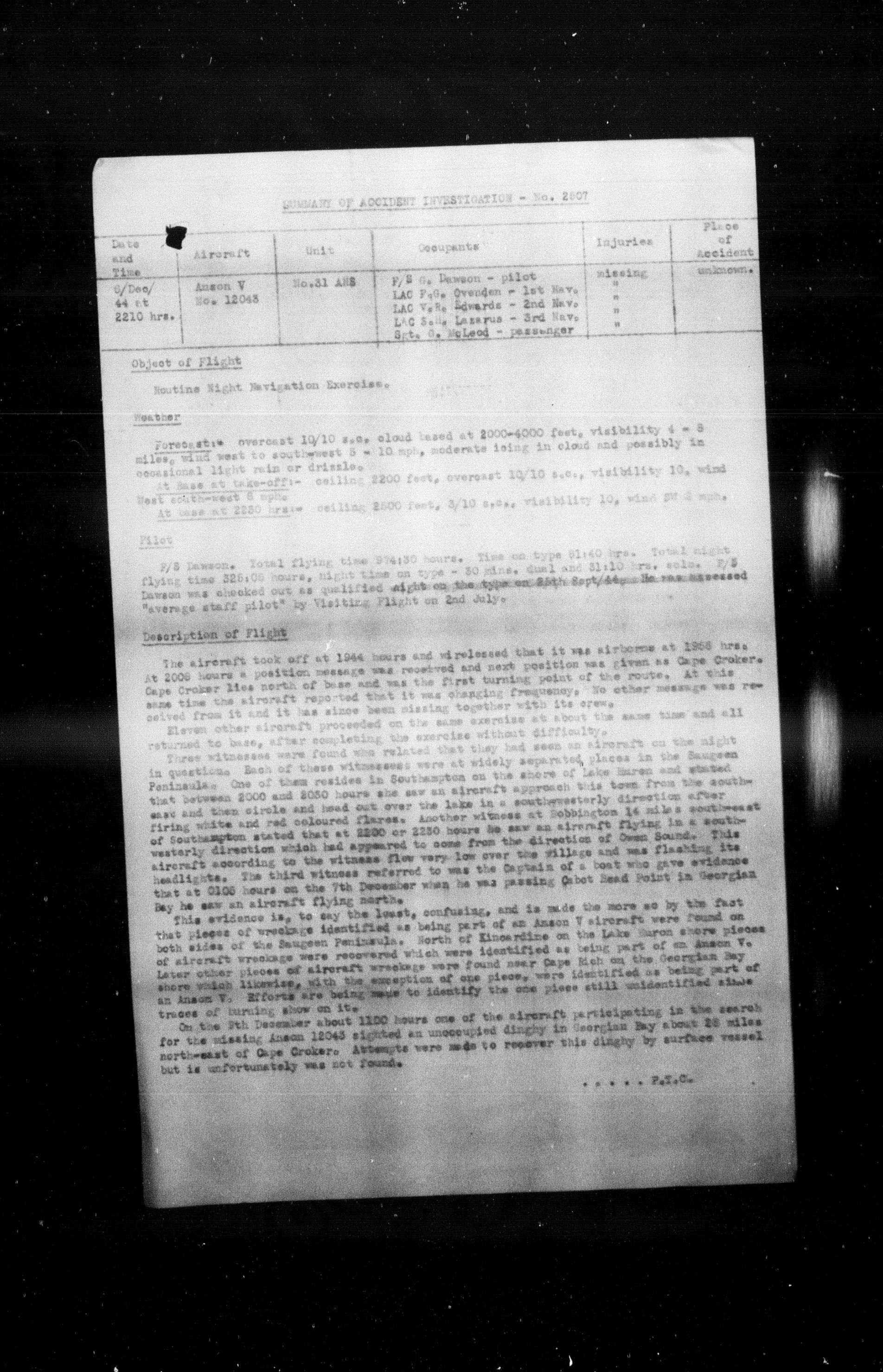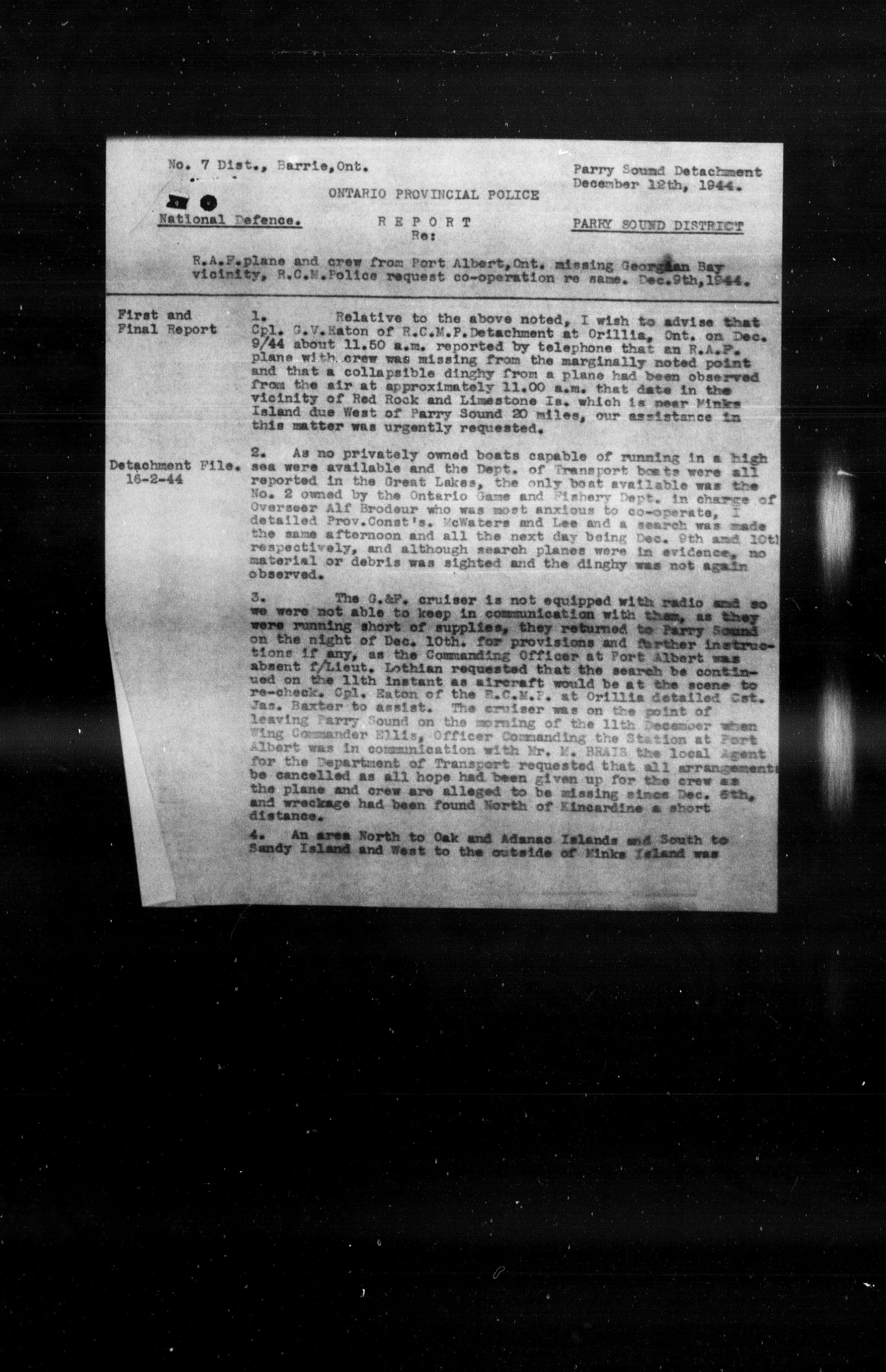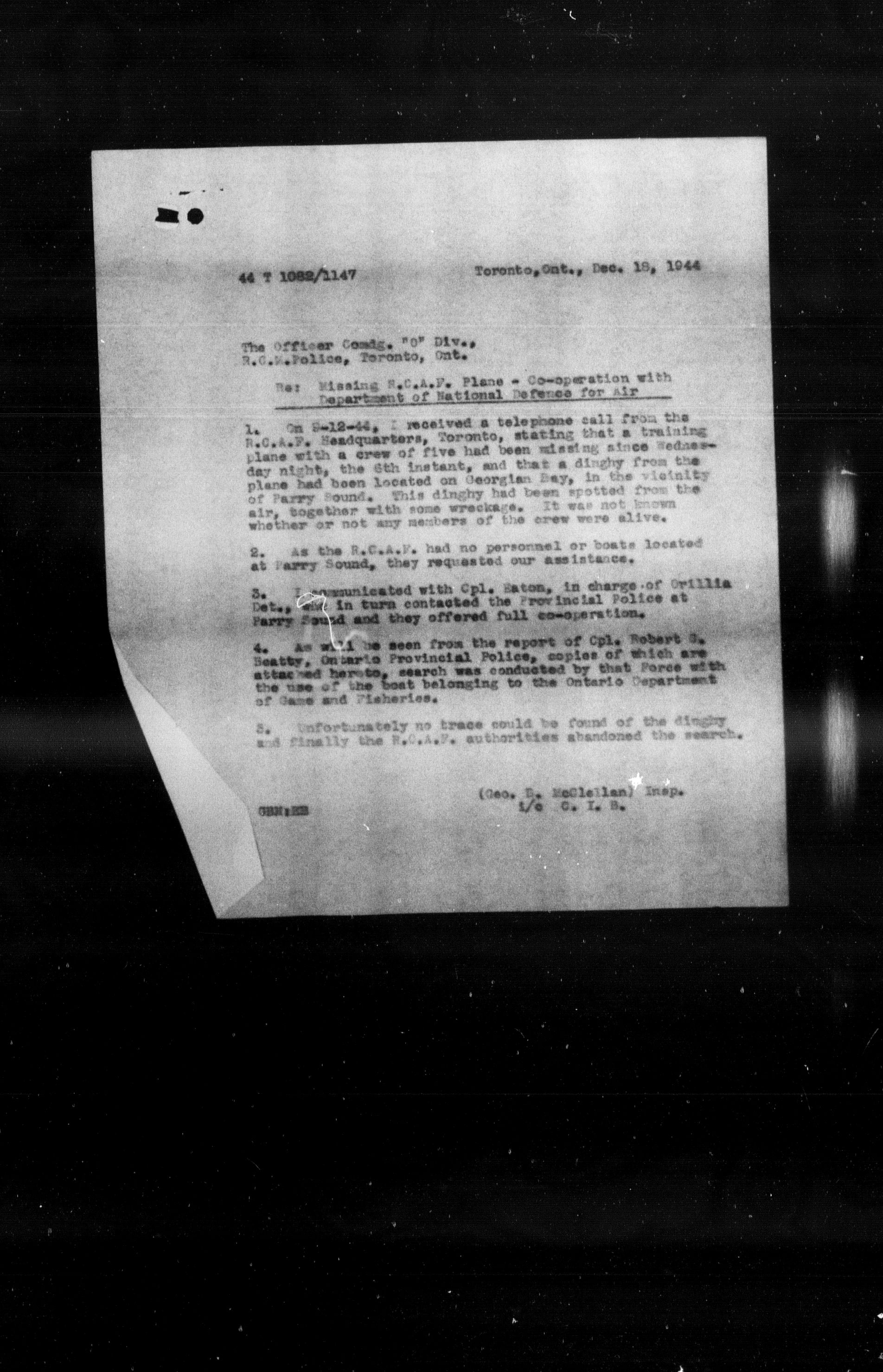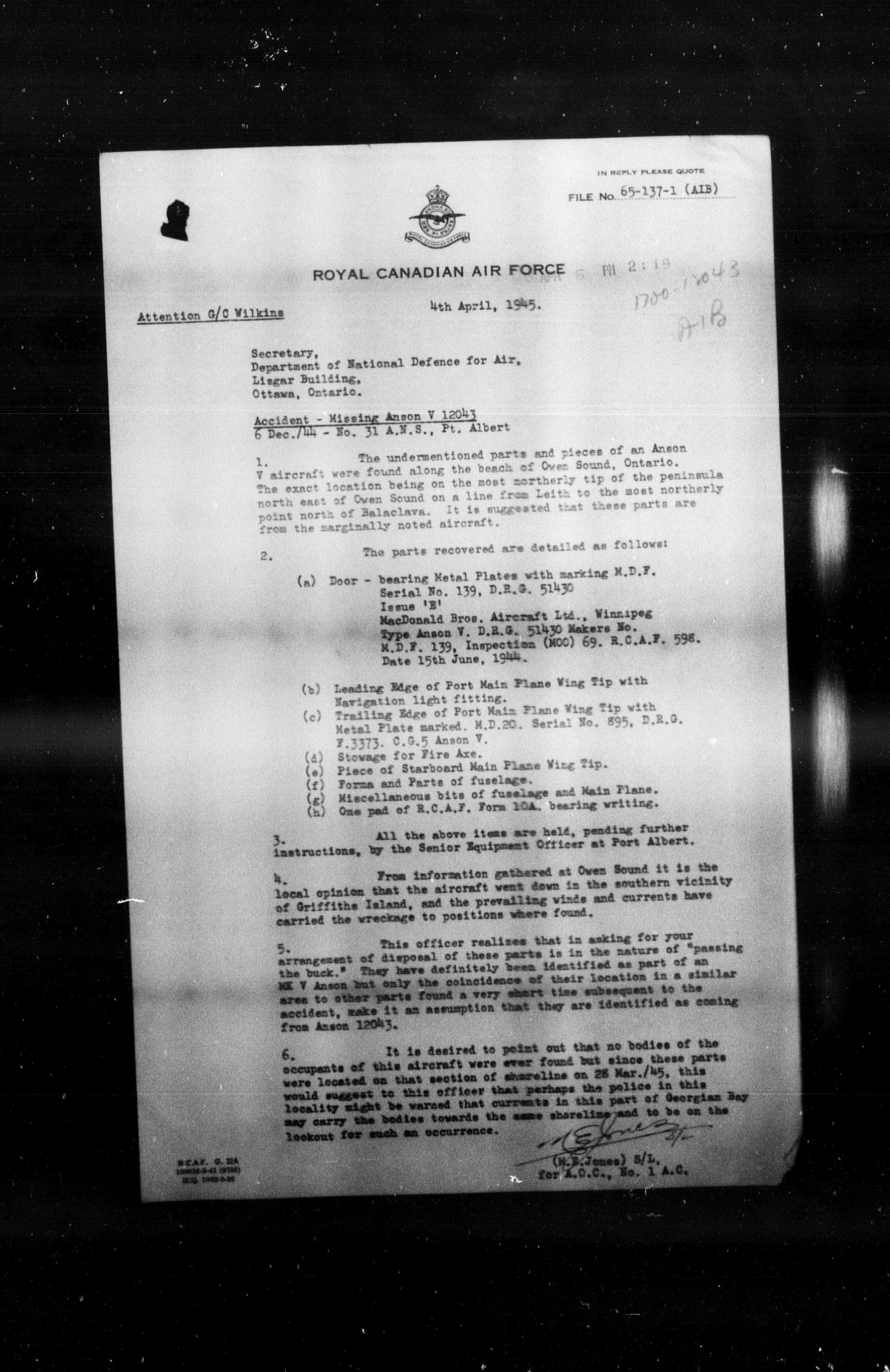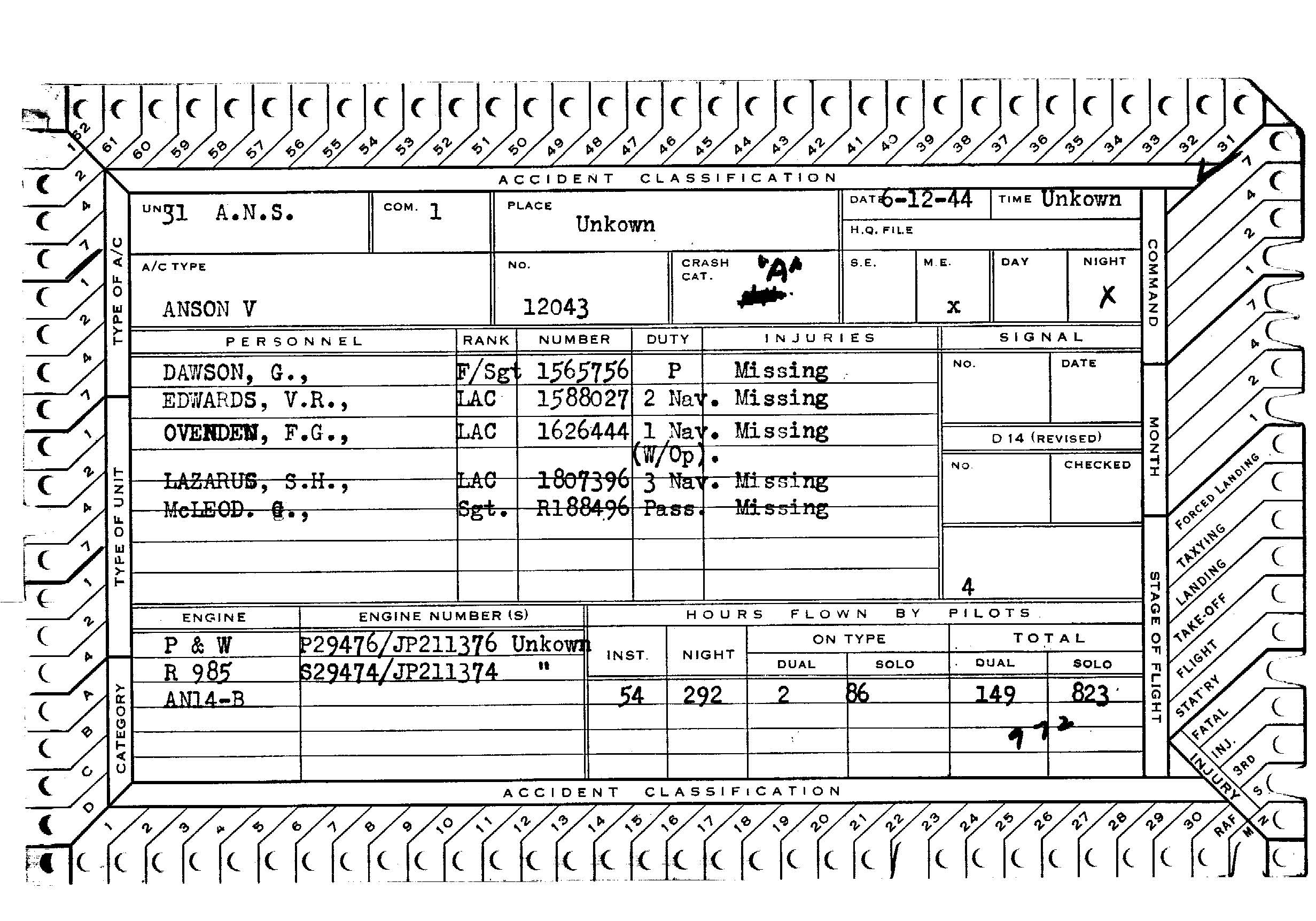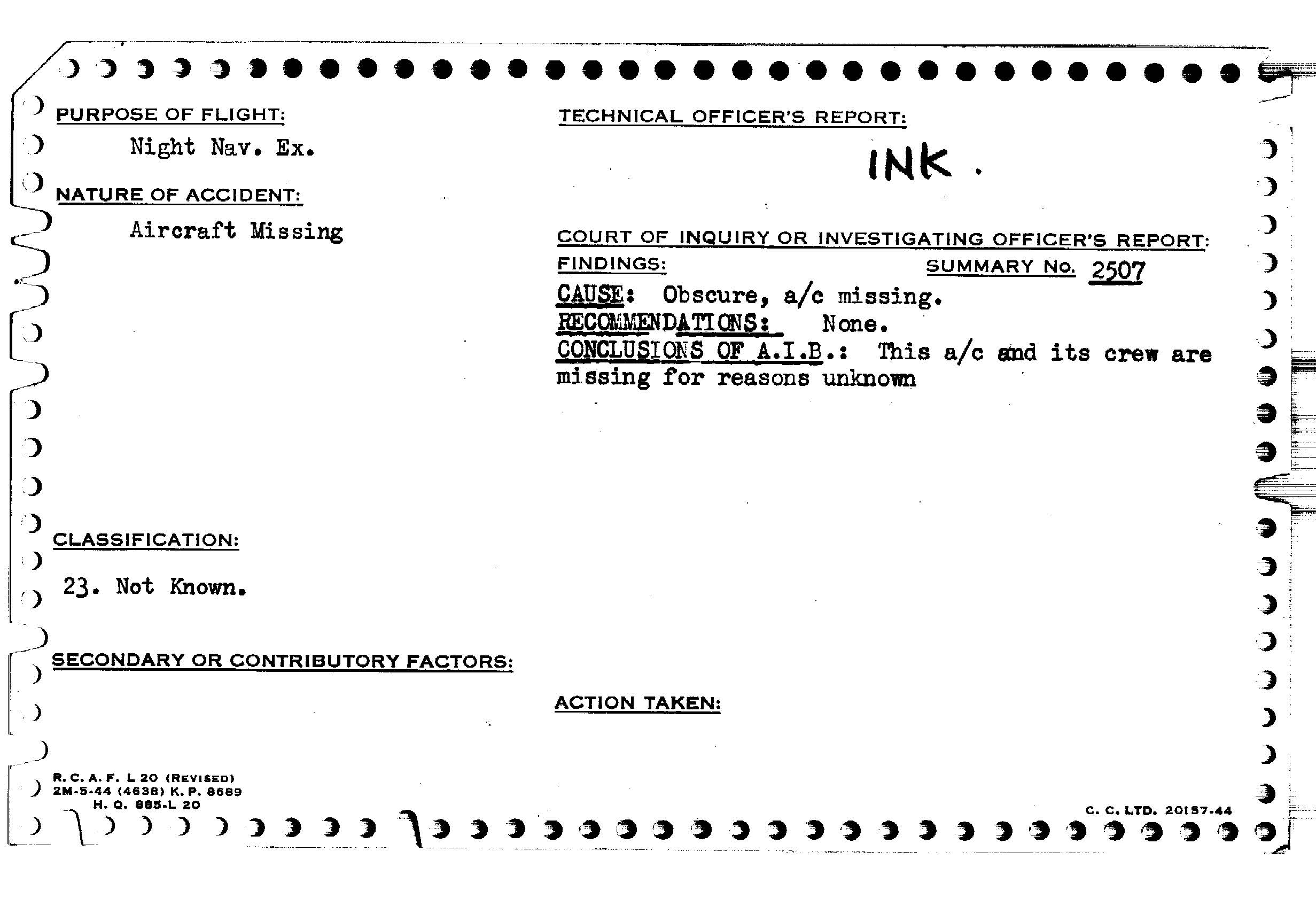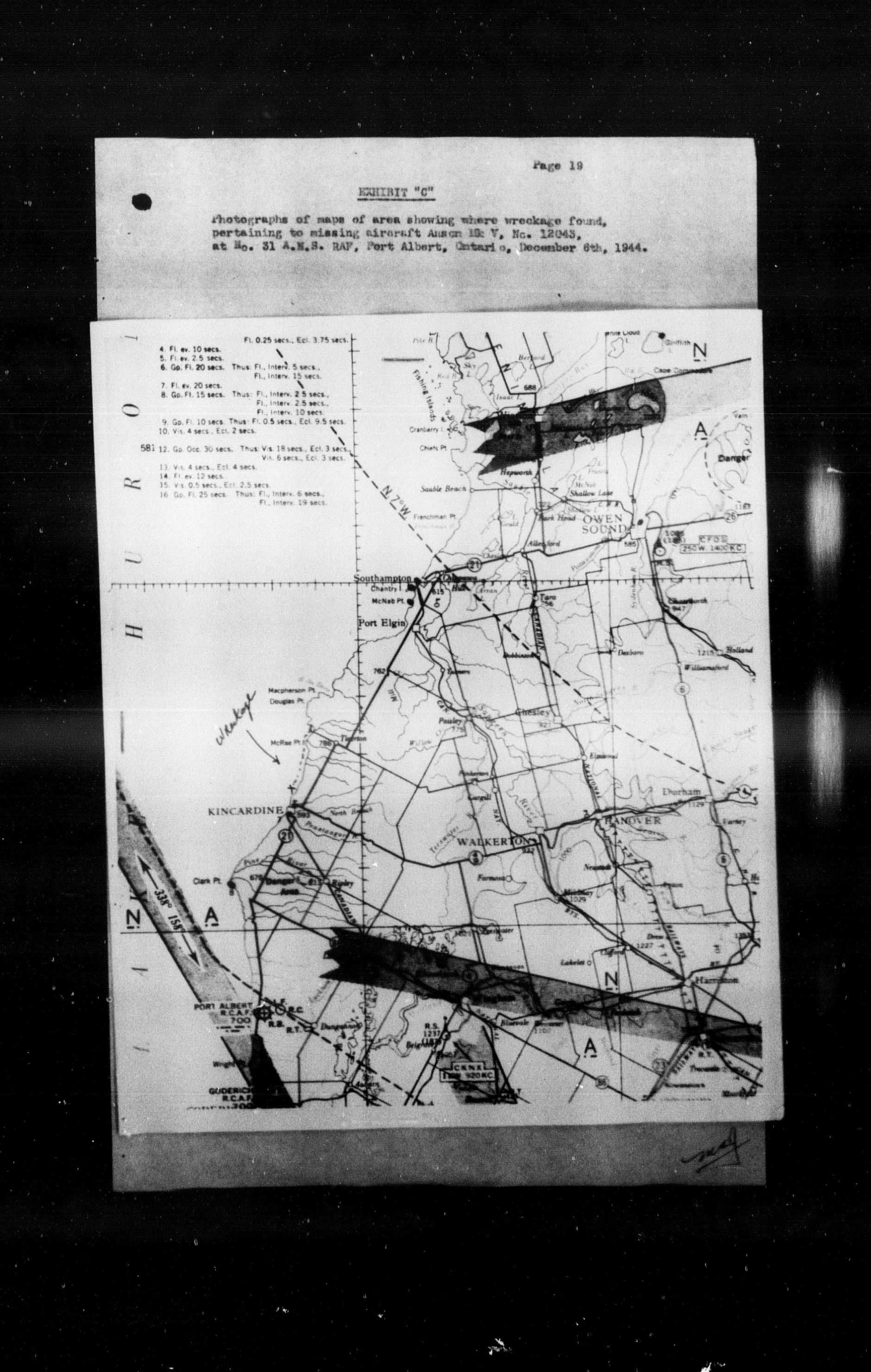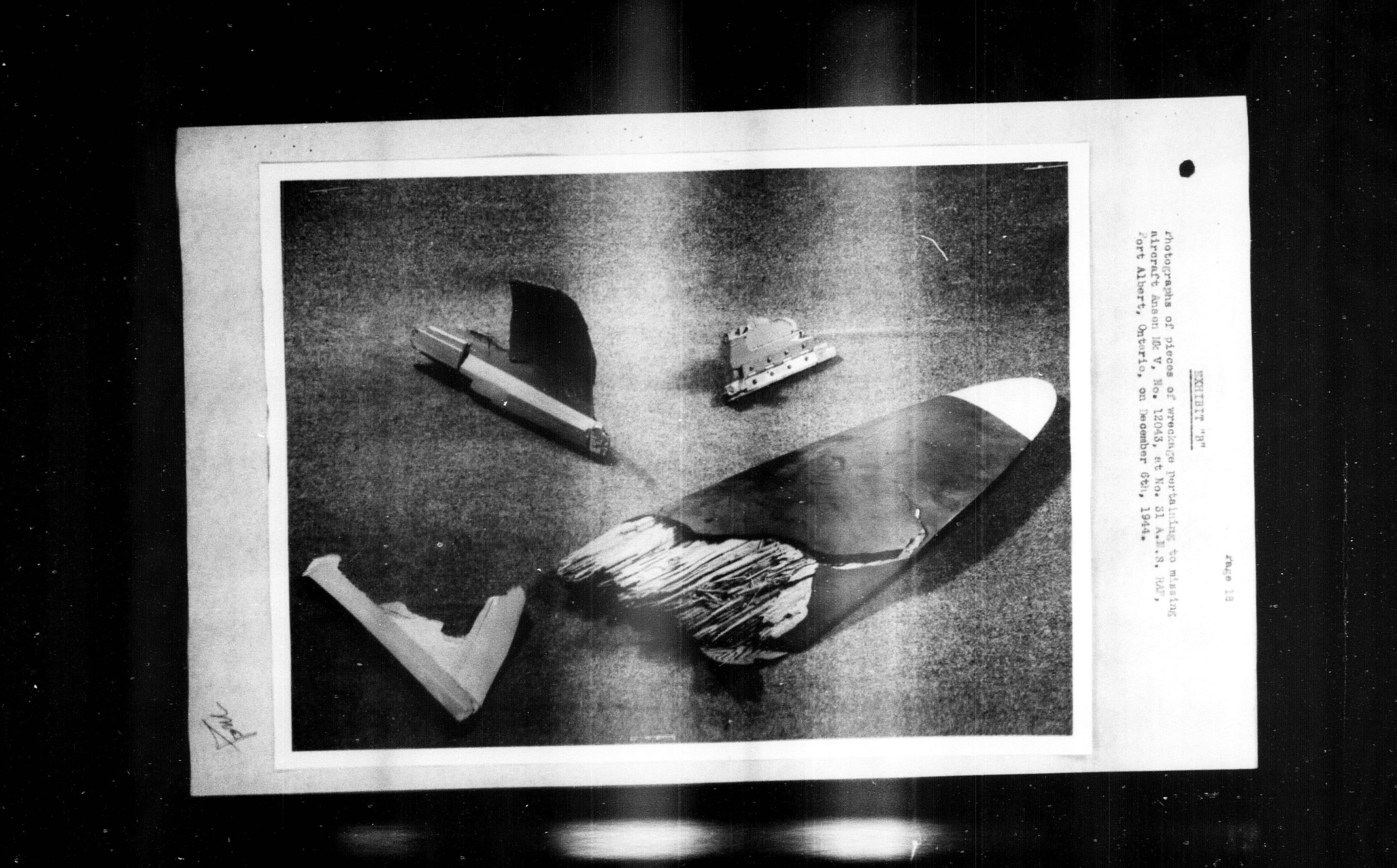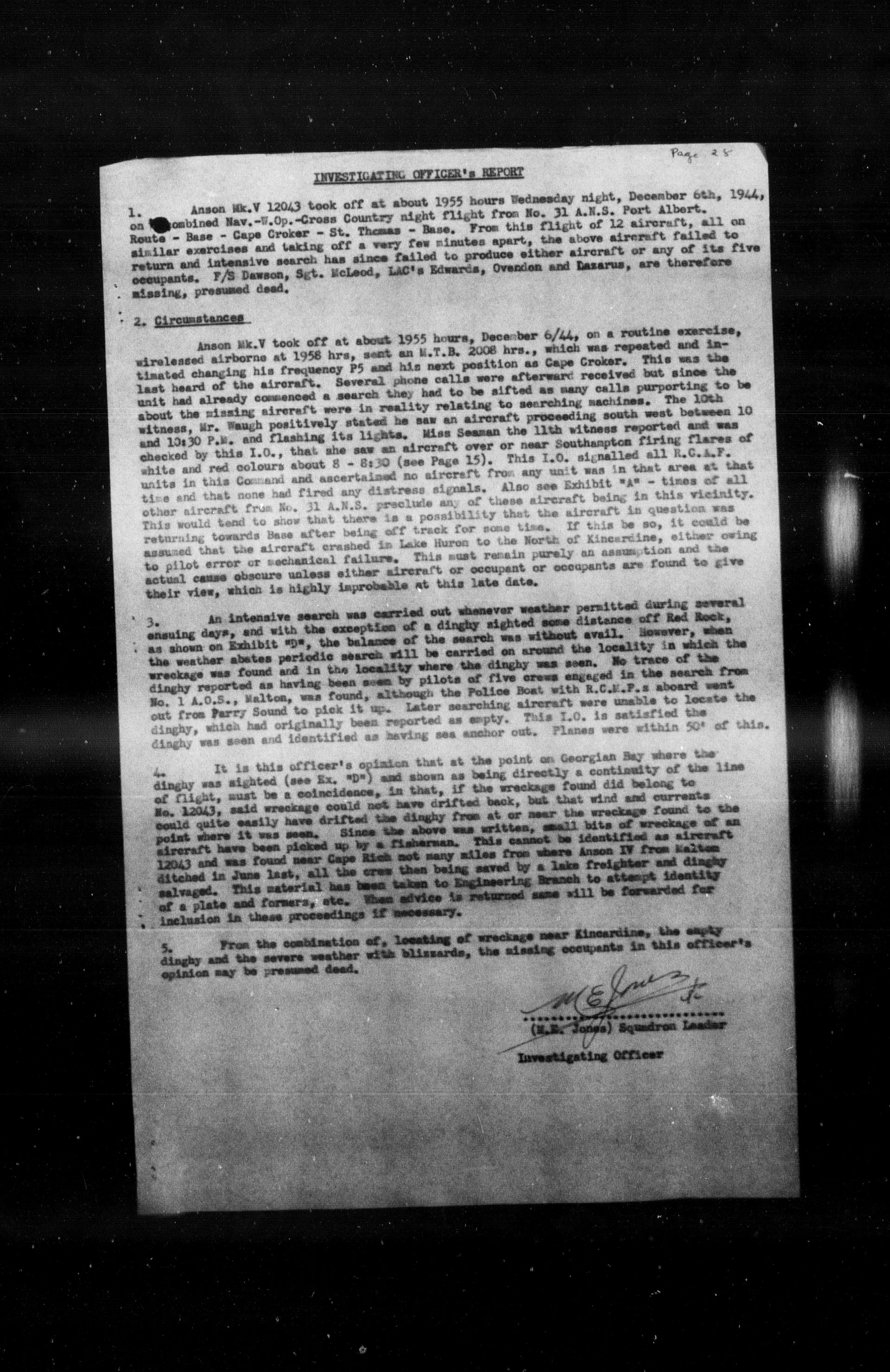 Carpenter enlisted with RCAF and was taken on strength as a carpenter. During a routine night navigation exercise, Anson 10243 was lost over Georgian Bay, Ontario with a crew of five. A dinghy and some wreckage were recovered, but no sign of the crew after an exhaustive search by the RCAF, RCMP, and OPP. McLeod's family was informed that he was interested in flying. However, no mention was made of him being under instruction learning how to fly – he was noted as a passenger only.
George McLeod, born in Aberdeen, Scotland, was the son of George McLeod, crane operator, (d.1950) and Mary Ann (nee Yule) McLeod (d. 1960), of Toronto, Ontario. He had two sisters, Mrs. Eveline Forbes and Mrs. Mary Grant, both of Toronto. The family was Methodist. They had come to Canada in 1927.
He was a truck driver when he enlisted in the NPAM on May 22, 1928. He had a scar on his left kneecap and another on the inner left leg. When he enlisted with the RCAF in June 1942, he was a carpenter, working in this trade for at least five years. On the enlistment form he stood 5'4" tall and weighed 130 pounds. A mole in the upper left chest was noted. He had blue eyes and blonde hair. He wore an upper dental plate.
The RCAF took him on as a carpenter. He spent time at No. 1 Manning Depot, Toronto August to November 1942 and then sent to No. 31 ANS, Port Albert, Ontario by November 10, 1942. "A smart and intelligent man. Should progress fast in the service." July 15, 1943. "Fully qualified in his life trade as carpenter and joiner. Capable and efficient NCO, strongly recommend promotion to acting rank of Sergeant." December 2, 1943.
Anson 12043 was reported missing December 7, 1944 during a navigation exercise from No. 31 Air Navigation School, Port Albert, Ontario. Aboard were Sgt. George McLeod, F/S George Dawson (1565756 RAF), pilot, and LACs Vivian Russell Edwards (1588027 RAF), Stanley Henry Lazarus (1807396 RAF), and Frederick George Ovenden (1656444 RAF), all navigation students. George McLeod was a passenger. The location was noted as Georgian Bay on Lake Huron.
Search for Anson 12043 was conducted from December 6 until December 12, 1944. Court of Inquiry and other documents related to Anson 12043: T12356 Image 292. Twelve witnesses were called. Photographs of the pieces of the wreckage recovered were presented.
The first witness, RAF F/O Dennis H. Wood, Staff Pilot at No. 31 ANS, Port Albert, Ontario stated that he was OC Night Flying on the night of December 6, 1944, and authorized night navigation exercises of combined Navigation and Wireless Operator Exercise – Base, Cape Croker, St. Thomas, returning to Base to be flown at least 2000 feet. "I briefed all 12 crews as to weather, course by navigation instructor, and in my briefing, I gave alternative aerodromes. When cloud cover is under 3000 feet I am not privileged to send off the detail so in this instance got the OK of the OC Flying Squadron Leader Farmer… I have been here two years and have flown the same exercise many times, so would give my opinion perhaps as engine failure as a suspected cause of the accident… a Mk V Anson is supposed to maintain altitude on single engine with five in a crew, but our experience shows it varies with the aircraft and we have learned that ordinarily height cannot be kept and a drop of 200 feet average per minute is normal. Dawson, the pilot is a steady type of chap, no known bad habits, recommended on as a great good pilot on this type of work. Unless something mechanical went wrong, there is no reason at all the pilot should get lost."
The third witness, S/L Frank Parvin, 43150, Engineering Officer stated that the Anson would have 3 ½ hours of flight, but if conservatively flown, "this aircraft should be able to remain airborne about five hours. I am of the opinion of the other pilots and members of staff, their explanation that a southerly wind could carry the dinghy northwards until a change of wind from the West, which had apparently taken place during the next 24 to 36 hours, could possibly drift the dinghy to where it was supposedly seen… I have attempted single engine procedure with five in a crew, to see if the height could be maintained. On one of the Anson Mk V aircraft, I have had flights more than once with full crew and equipment, and for a distance from Clinton, a distance of approximately 20 miles, was able to maintain height, in fact, in one instance, a port motor actually increased our height. There seems to be a prevalent impression that they will not maintain height, but I have satisfied myself to the contrary."
The fourth witness, WO1 James H. Kennedy, 359398, Signals Warrant Officer stated that he had repeatedly attempted to contact the pilot of Anson 12043. "I would like to state that W/T conditions were fairly good. I have heard no report of any other contact being made with the supposed missing aircraft."
The fifth witness, F/O Peter S. Postlethwaite, 153397, Staff Pilot had flown Anson 12043 in the afternoon on December 6, 1944. "I found this aircraft and instrument serviceable in all respects during my flight."
The sixth witness, F/L M. D. W. Lothian, 133072, Staff Pilot stated that he knew the pilot, Dawson. "His reputation was careful and reliable. When he first arrived here, he did one or two stupid things, but overcame these faults. As far as I am aware, he had no bad habits."
The ninth witness, F/O Colin Butt, RAF, 164184, was the pathfinder for "the 12 machines on a cross-country routine night exercise taking off about 1935 hours December 6th, 1944. Our job was to keep in touch with base with meteorological reports every five minutes. This was done and we completed our trip in two hours and 50 minutes. Trip was uneventful, visibility was quite good for the entire trip. Incidentally from Southampton to Wiarton, I flew at 2300 feet in the cloud and experienced no icing. A considerable area of Bruce Peninsula around Cape Croker was quite clear and a little broken cloud. I only saw one aircraft on my trip, it crossing my path below Centralia on my return leg, he turning and flying South. This was about 2200 to 2230 hours. My opinion of what happened to the missing aircraft is that it is unlikely the aircraft would get lost and the alternative likely would be an engineer or mechanical failure. In that event I'd be inclined to ditch close to shore as near base as possible. It was a very dark night and I had difficulty judging crossing water to land or to water again. Shoreline though could be identified but not easily. I might say the pilot was known to myself and others as a reliable and steady pilot and I would hesitate to think his flying ability had any connection with supposed accident to his ship."
The tenth witness, Mr. Waugh, of Dobbington, employed at Dobbington Service Station called by telephone. "On the night of December 6, 1944, at between 2200 and 2230 hours, I saw and heard an aircraft flying in a southwesterly direction, as if coming from Owen Sound, and proceeding over the village of Dobbington. This aircraft was at a very low altitude, and very plainly could be seen flashing its headlights on and off." The investigating officer questioned him making sure that the aircraft was not passing in and out of clouds or was behind trees in his line of vision. He was very emphatic in stating that the aircraft was in the clear and flashing its headlights.
The eleventh witness, Miss Trudy Seaman, wrote a letter to the RCAF December 16, 1944, informing them that Sgt. McLeod was a close friend of hers. "I fail to remember the exact date on which I saw this plane, but I do know that it was on the night in question, as I phoned Port Albert (or rather a pilot there) the very next morning, and he in return informed me of the missing plane." She stated during the Court of Inquiry that she had seen the plane blink a strong white light four times; next it sent out a red flare, then a white, these flares lasted but a few seconds. The height of the aircraft while it was in my vision was approximately 100 feet then it dropped to just above the house tops." This would have been between 8 and 8:30, nearer 8:30 pm, she said. "The motor didn't seem to be turning over right, sort of a catching sound. After blinking its lights, the plane lost altitude rapidly then slowly climbed."
The twelfth witness, Mr. Charles W. Wilson, farmer, stated that on the morning of December 9, 1944 "I found pieces of plywood Ann fabric yellow in colour on the lakeshore to the west of my farmhouse. I called the station at Port Albert, having heard over the radio of a missing aircraft and realized these bits and pieces found where new looking and maybe from a plane. I have seen no more debris."
December 19, 1944, Angus Blue, Engineer aboard the Tug Racey, Georgian Bay stated that "On the 6th of December 1944, we were enroute to Owen Sound, coming from Killarney, and when passing by Cabots Head Point, I noticed a plane overhead. It dropped one flare, which was a yellowish light. The plane appeared to be going to Lonely Island which was due north of the boat. This was about five minutes after one in the morning. I watched the plane for a few minutes, and it disappeared in the darkness. It was a clear night, with just a little ripple on the water. We arrived at Owen Sound the following morning about 10:15 o'clock."
"WEATHER: Overcast 10/10 a.c cloud based at 2000-4000 feet, visibility 4-8 miles, wind west to southwest 5-10 mph, moderate icing in cloud and possibly in occasional light rain or drizzle. PILOT: F/S Dawson. Total flying time 974:30 hours. Time on type: 81:40 hours. Total night flying time: 326 hours, nighttime on type: 30 mines dual and 31:10 hours solo. F/S Dawson was checked out as qualified night on the type on September 25, 1944. He was assessed as 'average staff pilot' by Visiting Flight, July 2, 1944. [Steep turns were good. Made good use of power. Should practice unusual positions and compass turns. Engine landing was average, but too much power was used throughout this sequence. An average staff pilot; average on instruments; a capable pilot, night. Airmanship: average. General knowledge: below average.] DESCRIPTION OF FLIGHT: the aircraft took off at 1944 hours and wired that it was airborne at 1958 hours. At 2008 hours, a position message was received, and next position was given as Cape Croker. Cape Croker lies north of base and was the first turning point of the route. At this same time, the aircraft reported that it was changing frequency. No other message was received from it and it has since been missing together with its crew. 11 other aircraft proceeded on the same exercise at about the same time and all returned to base, after completing the exercise without difficulty. Three witnesses were found who related that they had seen an aircraft on the night in question. Each of these witnesses were at widely separated places in the Saugeen Peninsula. One of them resides in Southampton on the shore of Lake Huron and stated that between 2020 thirty hours she saw an aircraft approach this town from the southeast and then circle and head out over the lake in a southwesterly direction after firing white and red coloured flares. Another witness at Dobbington 14 miles southeast of Southampton stated that at 2200 or 2230 hours, he saw an aircraft flying in a southwesterly direction which had appeared to come from a direction of Owen Sound. This aircraft, according to the witness, flew very low over the village and was flashing its headlights. The third witness referred to was the captain of a boat who gave evidence that all 105 hours on the 7th December, when he was passing Cabot Head Point in Georgian Bay, he saw an aircraft flying north. This evidence is, to say the least, confusing, and is made the more so by the fact that pieces of wreckage identified as being part of an Anson V aircraft were found on both sides of the Saugeen Peninsula. North of Kincardine on the lake here on shore, pieces of aircraft wreckage were recovered which were identified as being part of an Anson V. Later other pieces of aircraft wreckage were found near Cape Rich on the Georgian Bay Shore, which likewise, with the exception of one piece, were identified as being part of an Anson V. Efforts are being made to identify the one piece still unidentified since traces of burning show on it. On the 9th of December about 1100 hours, one of the aircraft participating in the search for the missing Anson 12043 cited an unoccupied dinghy in Georgian Bay about 28 miles northeast of Cape Croker period attempts were made to recover this dinghy by surface vessels but unfortunately was not found. CAUSE: Obscure. Aircraft missing. RECOMMENDATION: None. CONCLUSIONS: This aircraft and its crew are missing for reasons unknown. The only evidence available is thoroughly confusing."
The INVESTIGATING OFFICER's REPORT stated that possible pilot error or mechanical failure could be considered, "but this must remain purely an assumption and the actual cause obscure unless either aircraft or occupant or occupants are found to give their view, which is highly improbable at this late date."
In a letter dated December 11, 1944 to Mrs. McLeod, the Commanding Officer informed George's mother that "although an unoccupied aircraft dinghy was seen floating in Georgian Bay and pieces of aircraft wreckage have been found on the coast near Kincardine, no identification has yet been made. Your son has been one of the most popular and energetic NCOs of his section and had recently developed a great enthusiasm for flying. He had carried out two or three flights during the last week or so and was reported missing on Wednesday night whilst voluntarily undertaking a routine navigation flight for air experience. As the days go by, the prospect of finding your son and his friends alive seems darker, but I can assure you that we have, and will continue, to do everything in our power to obtain evidence and relieve your burden."
December 18, 1944 Memo from Inspector George B. McLellan, RCMP in Toronto: "On 9-12-44 I received a telephone call from the RCAF HQ, Toronto, stating that a training plane with a crew of five had been missing since Wednesday night, the 6th instant, and that a dinghy from the plane had been located on Georgian Bay, in the vicinity of Parry Sound. This dinghy had been spotted from the air, together with some wreckage. It was not known whether or not any members of the crew were alive. As the RCAF had no personnel or boats located at parry sound, they requested our assistance. I communicated with Cpl Eaton, in charge of Orillia Detachment, in turn contacted the Provincial Police at Parry Sound and they offered full cooperation. As will be seen from the report of corporal Robert Beatty, Ontario Provincial Police, search was conducted by that force with the use of a boat belonging to the Ontario Department of Game and Fisheries. Unfortunately no trace could be found of the dinghy finally the RCAF authorities abandoned the search.
December 20, 1944, letter from RAF School: "I, 43140 S/L F. Parvin, employed as Chief Engineer Officer at No. 31 ANS, Port Albert, Ontario, proceeded to the Provincial Police Office, Owen Sound, on 14 December 1944, having received a telephone message from the Provincial Policeman, Mr. J. Brown, to the effect that he had some pieces of aircraft wreckage recovered from the water, near Cape Rich, by a local fisherman, Mr. Austin Frank, …Owen Sound. The wreckage was collected and brought back to this unit. Careful examination reveals it to be from an Anson aircraft, but it cannot definitely said to belong to an Anson V aircraft. However, everything points to these pieces of wreckage as belonging to a new Anson aircraft, which had been in the water for a very short time. This is borne out by the fact that the condition of the ply and dope was excellent. Furthermore, numerous steel brads still in the ply showed little or no signs of rust. The wreckage was identified as belonging to the underside of an Anson Maine plane, one small piece of wing root fairing, and a small piece of the underside of the fuselage structure aft of the belly panel. These pieces have been dispatched to No. 1 T.C. Whilst at Owen Sound, I interviewed Mr Angus blue, employed on a tug, the Racey, who stated that on the 6th of December 1944, he was sailing towards Owen Sound, and at 2200 hours when 3/4 of a mile due east of Cape Cabot, an aircraft passed him at a height in excess of 2000 feet, traveling fast in a northerly direction. It was showing navigation lights and appeared quite normal period however very shortly after passing the tug, the aircraft dropped a parachute flare, and continued on its course. Nothing else unusual was observed. Mr. Blue observed the parachute flare, and wondered if the aircraft was in any trouble. He endeavored to establish radio contact, but with no success. He observed nothing more, and the aircraft disappeared to the north."
December 21, 1944: Letter to G/C Wilkins, CI Accidents, from S/L Jones, No. 1 T.C. "attached please find 3 copies of investigating officers report on the marginally noted aircraft along with the logbooks of the four aircrew, the 5th occupant being only a passenger. Under separate cover it is being forwarded a few bits of an aircraft picked up in Georgian Bay by a fisherman. It was expected that checking up these parts would show that they belonged to a Mk IV aircraft ditched last June, the Malton crew ending up being rescued by a lake freighter, but when this officer removed a piece of dope from the curved section, you will see the number 50709 came to light. This is a Mk V part number and the sizes of the former and blocks coincide with the number of the part and the sizes as itemized in the catalog. Since it is apparent that these parts came from a Mk V aircraft, it places this investigating officer in a dilemma as the other parts found near Kincardine were also identified as Mk V parts. This dilemma is aggravated by the fact that some six weeks previously another Mk V Anson was ditched near Kincardine but the engineering officer at No. 31 ANS intimated that the parts found there could not have come from the aircraft as it was brought to shore more or less intact. Further the parts found there were of such newness that it would appear that they had been in the water only a short space of time, whereas the other wreckage, parts under separate cover, after examining the brass brads through the plywood, and the state of glue etc, seemingly would signify these parts as having been in the water some length of time. Also it is rumored that Mk IV and MK V wings are similar and this officer is unable to say as to whether this 50709 part may have been on a Mk IV ditched in June near Cape Rich, Georgian Bay, such aircraft belonging to No 1 AOS, Malton. In any event, there is no definite identity of either of these portions of wreckage as belonging to the marginally noted aircraft. Although the evidence is not yet to hand and will be forwarded when received, a captain of a tugboat in Georgian Bay has entered in his ships log that he cited an aircraft at 2200 hours, flying north at a low altitude in at that time having dropped parachute flare. He attempted to signal him by his ships Searchlight and by altering his radio frequency to agree with the aircraft, if possible, but the aircraft made known acknowledgement period since no other aircraft was in the sky in this vicinity of the RCAF, it may safely be assumed that the aircraft seen by the three witnesses in different localities at different times must be the missing aircraft, with the one exception that it may have been American. Incidentally on the night in question, the weather was such that this ship's captain could see the lights of Cabot Head and Cape Croker, a distance of approximately 18 and 26 miles respectively, at the same time as he sighted the aircraft."
January 2, 1945, letter to Officer Commanding, No. 1 Training Command, RCAF, Toronto wrote: "The parts of the aircraft forwarded under separate cover were received at this Headquarters and have been examined in order to determine their identity. It was definitely established that these parts came from an Anson V aircraft." other parts including the plate with the locking device, were also identified. A molded portion was not definitely identified but it was believed to be part of the wing and it had a patch over an opening. The fabric showed signs of having been on fire. Further effort was to be made to positively determine the position of this part. "Paragraph three of your above reference letter refers to the possibility of the parts found near Kincardine as belonging to Anson V 12047 from #31 eight. N. S. Which was ditched near there October 3rd, 1944, and also to the denial of the CFO of that station that they could have come from this aircraft. Squadron Leader Dexter was present at the salvaging of this particular aircraft in agrees with statement of the CFO that this aircraft was not badly broken up and that those parts did not come from it." (In October 1944, four RAF airmen were rescued from Lake Huron after their Avro-Anson crashed about six miles off Port Albert, RAF training station. They were brought ashore by the RAF crash boat stationed at the Goderich, Ontario harbour. This must have been Anson V 12047.). The letter continued. "F/L A. N. LeCheminant, AME who assisted in identifying these parts is positive that they came from and Anson V. It also appears at the aircraft may have been on fire either before or immediately after ditching although this fact does not seem logical because it would be reasonable to assume that had the fire occurred before ditching, a radio contact would have been established and an SOS given, or the very act of ditching would eliminate any possibility of the outbreak of fire after the aircraft hit the water. The parts examined were found in Georgia Bay and may be connected with those found by the fisherman, Mr. Austin Frank, near Cape Rich, identified…as parts from an Anson aircraft… there is certainly no connection between the parts found in Georgian Bay an those found at Kincardine unless the current and wind directions were favorable into separating them and then only if the crash occurred near Lucas Channel. This however, is a possibility, because an aircraft was seen near there and to be flying in that direction on December 6 1944 by Mr Angus blue on the tug Racey, and also that a dinghy was seen near that point. From the answer given by Miss Trudy Seaman, 11th witness, it is assumed that she was walking south, looking towards the north of Chantry Island. From the path of the aircraft of described by her, it is assumed again that it approached Southampton from the southeast and departed towards the southwest. This might have been the same aircraft as the one seen by Mr. Blue 30 minutes later at a point some 56 miles north. The aircraft would, however, have turned 180 degrees in order to have flown up to Cape Cabot, and must have done so very soon after passing over Southampton. While the aircraft should have dropped flares near Southampton and then reversed its direction to drop yet another flare 56 miles north is certainly a mystery…. Other than identifying the parts forwarded as belonging to Anson V aircraft, it is regretted that no further light can be thrown upon the disappearance of this aircraft." G/C F. S. Wilkins, CI Accidents. In a memo dated January 3, 1945, "This is rather difficult to conceive of an Anson V being airborne over five hours under these circumstances."
In a letter dated April 4, 1945: "the undermentioned parts and pieces of a Anson V aircraft were found along the beach of Owen sound, Ontario. The exact location being on the most northerly tip of the peninsula, northeast of Owen Sound on a line from Leith to the most northerly point north of Balaclava. it is suggested that these parts are from the marginally noted aircraft Anson V 12043." A door, leading edge of port main plane wing tip with navigation light fitting, trailing edge of port main wing tip, stowage for fire axe, piece of starboard main plane wing tip, forms and parts of fuselage, miscellaneous bits of fuselage and main frame and one pad of RCAF form 1oA, bearing writing were listed. "From information gathered at Owen Sound, it is local opinion that the aircraft went down in a southerly vicinity of Griffiths Island, and the prevailing winds and currents have carried the wreckage to positions where found… they have definitely been identified as part of an Mk V Anson but only the coincidence of their location in a similar area to the other parts found a very short time subsequent to the accident, make it an assumption that they were identified as coming from Anson 12043. It is desired to point out that no bodies of the occupants of this aircraft were ever found but since these parts were located on that section of shoreline on March 28th, 1945, this would suggest to this officer that perhaps the police in this locality might be warned that currents in this part Georgian Bay may carry the bodies towards the same shoreline and to be on the lookout for such an occurrence."
In a memo dated April 7, 1945: "It is considered that the chances of any bodies being recovered at this late date are negligible. Normally a body floats after 8 days and after a short period sinks again, when it has reached a condition where it is unlikely to be washed up on the shore. If the person concerned were wearing a Mae West at the time of drowning, this would of course alter the situation, but even so, it is very doubtful whether any bodies can be recovered."
In a memo dated April 14, 1945, the airplane parts found at Owen Sound "can have no further bearing on the case. The Unit Equipment Officer at Port Albert may, therefore, be instructed to take normal disposal action on these parts with other scrap accumulations." G/C F. S. Wilkins had suggested that "the easiest way to dispose of it is to dump it on the nearest fire and get rid of it."
In a letter dated January 15, 1945, Mrs. McLeod read, "I have been asked by your daughter Mary to write to you again to clear up the mystery of the loss of the plane in which your son was flying on the night of the 6th of December last. You will appreciate my reluctance in not writing to you again until I had some definite news, or that the findings of the investigation into the accident had been made known to me. Additionally, I have had no news at all to communicate and the matter of the loss is still a matter of conjecture. As I said in my last letter, your son voluntarily undertook a night navigation flight to obtain experience. He was accompanied on this flight by a component pilot, two navigators, and a wireless operator. The aircraft took off just before 8:00 PM and two wireless messages were received by 8:08 PM. Nothing further was heard, and when the aircraft did not return to base at the expected time, a search was immediately instituted. Despite bad weather conditions very intense searches were carried out for several days. Although pieces of aircraft wreckage have been picked up in various places on the shores of Lake Huron and Georgian Bay, no identification with the last aircraft has been made. The unoccupied dinghy seen in Georgian Bay was unfortunately lost in rough seas. Whenever opportunity affords, we continue to carry out searches and it is my earnest hope that we may get some concrete evidence. Need I say that I was pleased to hear from your daughter, and I appreciate to the full the anxiety and grief you have been called upon to bear. This letter will not help you much and will offer little to clear up the mystery of your loss. I do, however, take the opportunity to express to you again my deepest sympathy in your great anxiety."
A letter written by James K. Forbes, brother-in-law to George, dated November 12, 1945, on behalf of his mother-in-law: "It is 11 months now since this happened but there has been no word of any of his personal effects as yet, he left home on Sunday December 3rd. He had his haversack with him after a weekend pass. He had other personal effects at the station. His mother is positive he had a bank account at the station, would that be included in his effects if and when they come. I have been executor of his estate and would like to get things straightened out as soon as possible."
George supported his parents as his father had been laid off, contributing $40/month, for a total of $240 for six months. He had $278.79 at the Bank of Nova Scotia and $200 in Victory Loan Bonds.
George Dawson was 29 years old, son of George and Mary Dawson, husband of Dorothy Margaret Dawson of Glasgow, Scotland. Vivian Russell Edwards was 21 years old, the son of Mordecai Edwards and Bernice Edwards, Salisbury, England. Frederick George Ovenden, 26, was the son of George and Lucy Ovenden and the husband of Phyllis Violet Ovenden, Dartford, Ken, England. Stanley Henry Lazarus, 21, was the son of Eleazer and Leah Lily Lazarus, of Cricklewood, Middlesex, England. All their names appear together on the Ottawa Memorial.
LINKS: