George Andrew Flood R142518
December 7, 1921 - January 17, 1944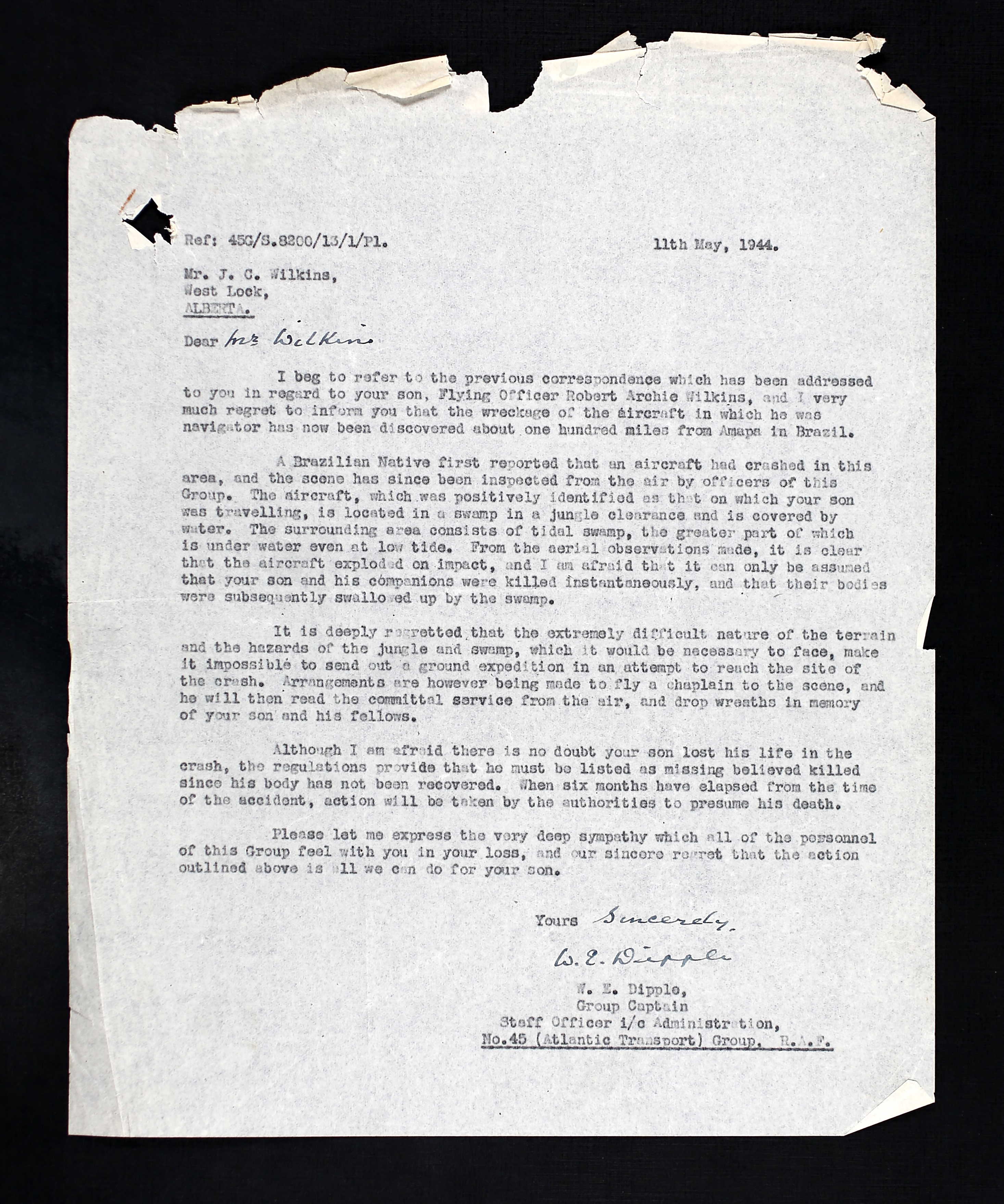 Young man from Grande Prairie, Alberta joined RCAF, supporting his parents financially. Aboard Ventura JT 801, he as a WAG, and two others were lost over Brazil on a ferry flight
George Andrew Flood was the son of Joseph George Flood, electrician, and Louisa (nee Powell) Flood. He had two older brothers: Joseph Henry Flood (1904-1961) and Louis Walter Flood (1911-1976). Their sister died of pneumonia at the age of 19. His father could not work due to asthma. The family was Anglican. The family arrived in Grande Prairie, Alberta, from England in 1914.
With a Grade XI education, he enlisted with the RCAF in Edmonton, Alberta on November 12, 1941, with previous military experience with 2nd Edmonton Reg. (NPAM) from May to November 1940, in Grande Prairie. He was working for MacDonald's Consolidated, a wholesale company, for two years prior, as a clerk -- and as a pool room worker and as a farm hand. On his attestation forms, he noted he was a student. He hoped to join the RCMP after the war. He liked soap carving, and many sports. He smoked a pipe and did not drink alcohol. "Good type for aircrew; performs all tests well. Fatigue probably accounts for eye findings. To return for recheck." George had a broken nose due to injury and was car sick if he was riding in the back of a car. He stood 5'11" tall and weighed 180 pounds, had blue eyes and dark brown hair.
He had a bank account in Grande Prairie with a balance of $396.80. He also had a $50 Victory Loan Bond. He wrote, "I support my father and mother. There will have to be some provision made on this score." George enjoyed singing tenor and was mentioned in The Edmonton Bulletin, March 10, 1941.
George began his journey through the BCATP at No. 3 Manning Depot, Edmonton, Alberta on November 12, 1941, then was taken on strength at No. 3 SFTS, Calgary on December 8, 1941, until he was sent to No. 2 Wireless School, Calgary March 29, 1942. "81.4%; 38 out of 88 in class." He was then sent to Mossbank, SK and No. 2 B&G School from October 11 to November 23, 1942. "8th out of 17 in class. Seems to be very sensible and cooperative. Good tam worker." George than traveled to Halifax, then to Miami, Florida on his way to Nassau, Bahamas in March 1943. In December 1942, he was rated as very good in character and satisfactory in his trade.
On January 17, 1944, aboard Ventura JT 801, 113 North Atlantic Wing, during a delivery flight en route to Belem, Brazil, George and two others were lost sometime between 1246 and 1600 hours. Unsuccessful searches were carried out as of February 29, 1944. "Cause unknown."
Crew: • WO II George Andrew Flood, R142518, Grande Prairie, Alberta, WAG • Captain Preston Krumbhaar Herndon (1903-1944), New Orleans, Louisiana, Civilian pilot • F/O Robert Archie Wilkins, J11648, Westlock, Alberta, navigator
In May 1944, wreckage of the plane was discovered about 100 miles from Ampa, Brazil, located in a swamp in a jungle clearance, covered by water. From a newspaper article, Mrs. Flood was quoted as saying, "From the aerial observations made, it is clear that the aircraft exploded on impact and I am afraid that it can only be assumed that your son and his companions were killed instantaneously…Arrangements are however being made to fly a chaplain to the scene of the crash and he will the read the committal service from the air and drop wreaths in memory of your son and his fellows."
A memorial service was held for George in Grande Prairie, Alberta. George's name appears on the Ottawa Memorial. By the time Mrs. Flood filled out the estates form, Mr. Flood had passed away and Mrs. Flood had moved to Vancouver, BC.