George Fenton R139833
September 4, 1920 - April 9, 1943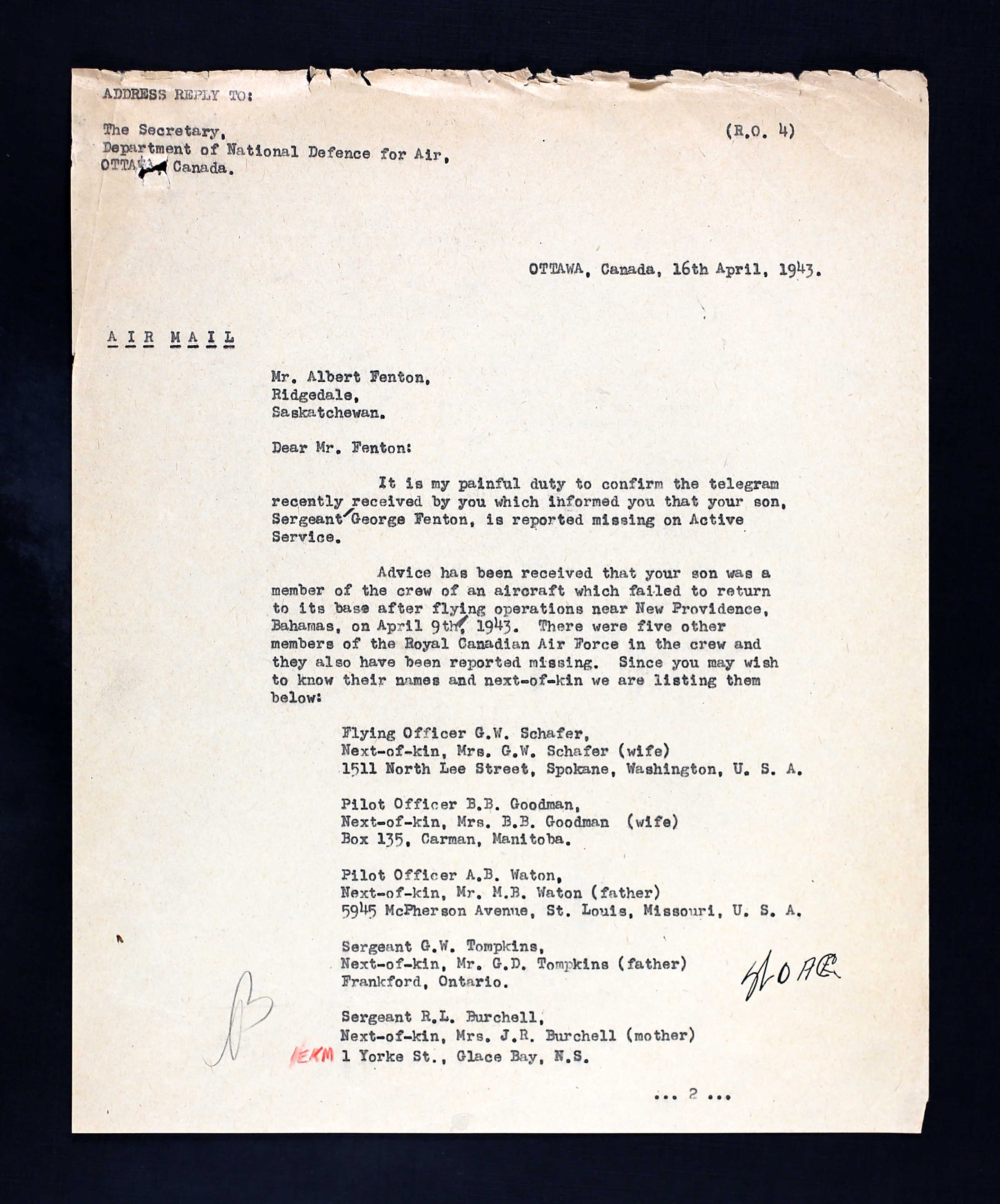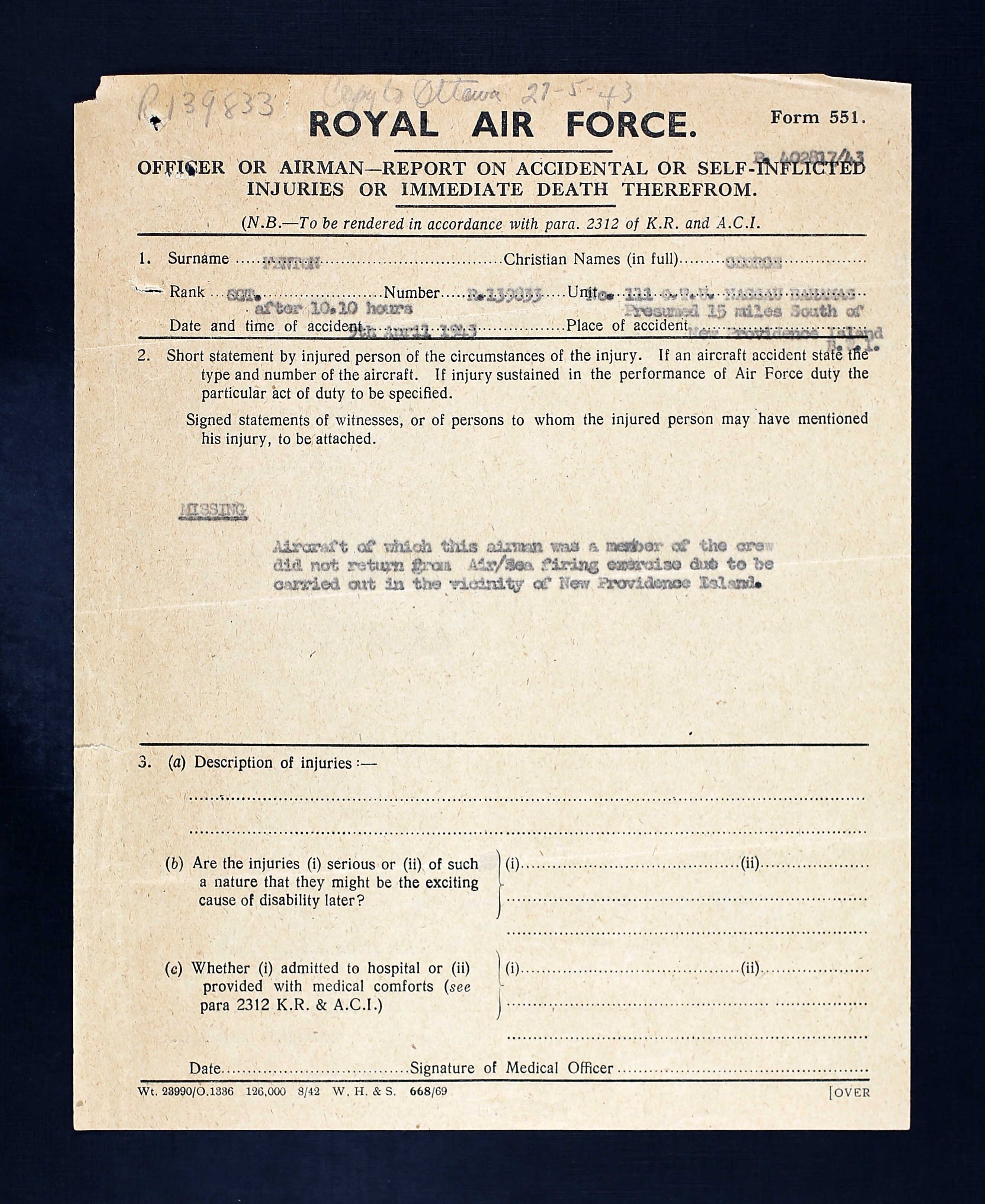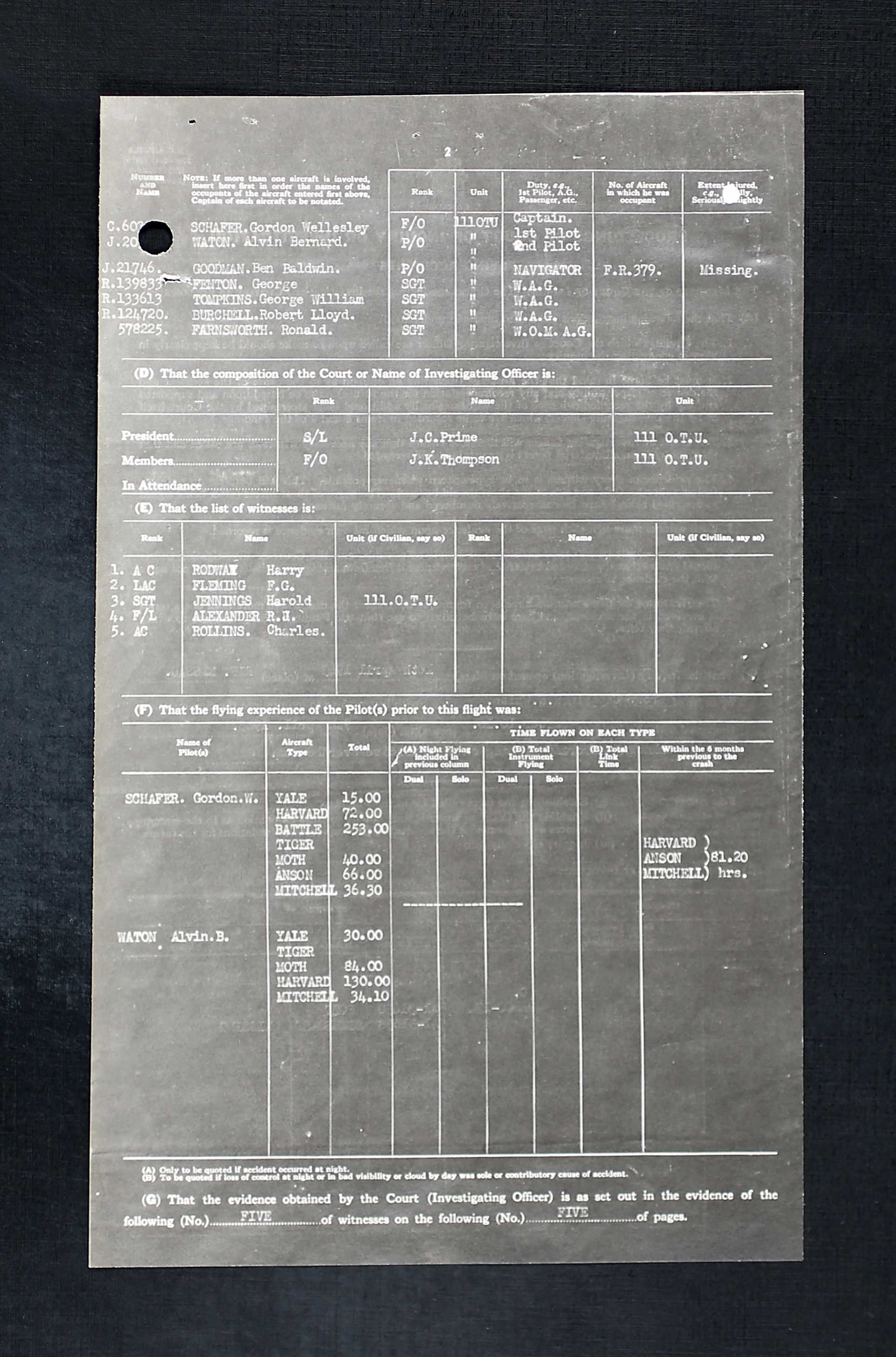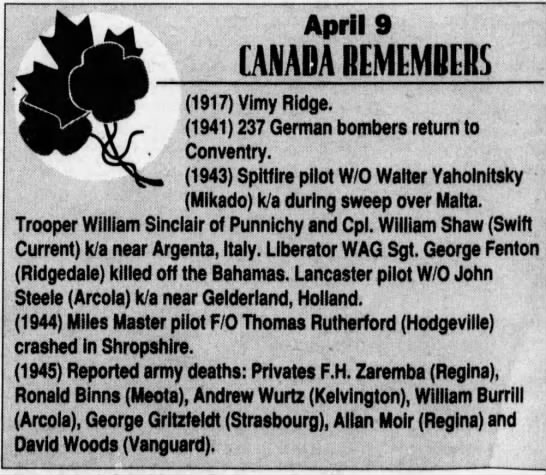 Farmer from Saskatchewan joined RCAF and became a WOAG. Aboard Mitchell FR379, he and crew were lost during their second air/sea exercise near Nassau, Bahamas.
George Fenton, born at Tisdale, Saskatchewan, was the son of Albert 'Bert' Fenton and Isabella (nee Scowcroft) Fenton of Ridgedale, Saskatchewan. He had one brother, Albert Leslie, and a sister, Adelaide Isabella. Another brother died in infancy. His mother died at the age of 59 from heart trouble. The family attended the United Church.
George enlisted in Saskatoon on November 25, 1941, farming at Tisdale for a year. He planned to return to farming after the war. He had a Grade X education. He liked to play hockey, baseball, and box. He smoked since 1936 about ten cigarettes per day. He drank alcohol occasionally. He stood 5'5" tall and weighed 148 pounds. A ½" scar on his left Achilles was noted. He was considered alert and athletic. "Physique rugged and husky. Western Canadian farmer. Wants pilot. Below aircrew educational standard. A mature dependable lad. this should prove a reliable man if he is able to muster the ground subjects. Dermatographias evident. Desirable type of applicant. Cooperative and mannerly. Use to hard work. Good Cardin muscular neuromuscular efficiency. Well built. Fit for aircrew."
George had $533.18 in his Bank of Nova Scotia account in Tisdale. he also had some Victory Loan Bonds and some life insurance. George appointed his brother, Albert, to be his sole executor and beneficiary as of November 23, 1940.
George started his journey through the BCATP at No. 2 Manning Depot, Brandon, Manitbal November 25, 1942. He was then sent to Toronto on March 14, 1942 until April 25, 1942. From there, he was at No. 6 ITS, Toronto April 26 to May 20, 1942. "Educational background insufficient to successful complete ITS course; realizing this, Fenton is unable at the moment to decide what future training appeals. A willing and hard worker. Slow thinking but steady. Recommended as Straight Air Gunner."
He was then sent to KTS, Trenton, Ontario to be remustered before being sent to No. 4 Wireless School, Guelph June 5 until December 2, 1942. "52nd in class of 105."
From there, he was sent to No. 7 B&G School, Paulson, Manitoba. George earned his Air Gunner's Badge on January 25, 1943. "Good student. Will prove good member of an operational crew. 1th out of 25 in class. A very good gunner who should prove his mettle as a crew member."
He was sent to No. 31 P.D., Moncton, NB, then to No. 111 O.T.U. Nassau, Bahamas by February 18, 1943.
On April 9, 1943, Mitchell FR379 took off from Nassau, Bahamas on a training flight that had two exercises, the aircraft and crew completed the first air/sea firing exercise and returned to base for refuel and re-arm. Aircraft took off for the second exercise and went missing, search was conducted, but nothing was found fifteen miles south of New Providence Island British West Indies. Cause of crash and location is not known, aircraft and crew missing without a trace. A court of inquiry was called with five witnesses. Cause of accident: Obscure. The aircraft had enough fuel for 7 ½ hours of flying. Two days later, aircraft on training mission spotted a dinghy; surface craft recovered it, empty, and damaged.
Crew: *Pilot: F/O G.W. Schafer, C/6035, RCAF, Spokane, Washington *Pilot: P/O A.B. Waton, J/20590, RCAF, St. Louis, Missouri, U.S.A. *Nav: P/O B.B. Goodman, J/21746, RCAF, Winnipeg, Manitoba *Wop/Gnr: Sgt G. Fenton, R/139833, RCAF, Ridgedale, Saskatchewan, Canada *Wop/Gnr: Sgt G.W. Tomkins, R/133613, RCAF, Frankford, Ontario, Canada *Wop/Gnr: Sgt L.R. Burchell, R/124720, RCAF, Glace Bay, Nova Scotia *Wop/Gnr: Sgt R. Farnsworth, 578225, RAFVR, Witton Gilbert, Co. Durham, United Kingdom
Mr. Fenton received a letter in late October 1955 informing him that since his son had no known grave, George's name would appear on the Ottawa Memorial. An island in Saskatchwan is also named in George's honour.