George Edwin Charles Butler J13144
June 3, 1918 - November 14, 1944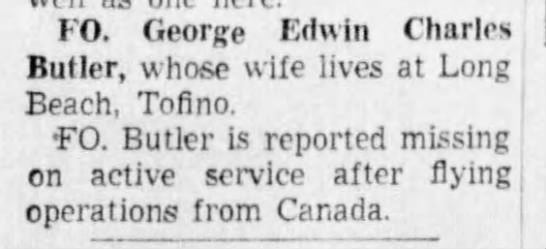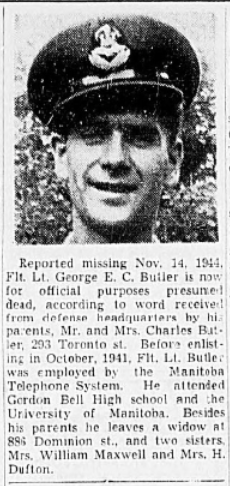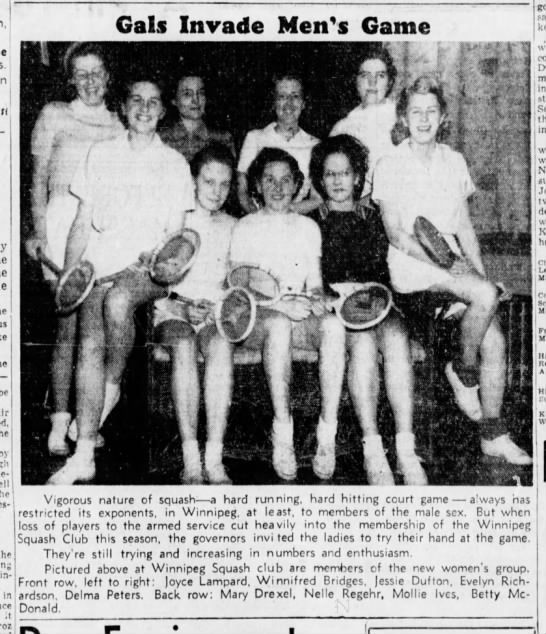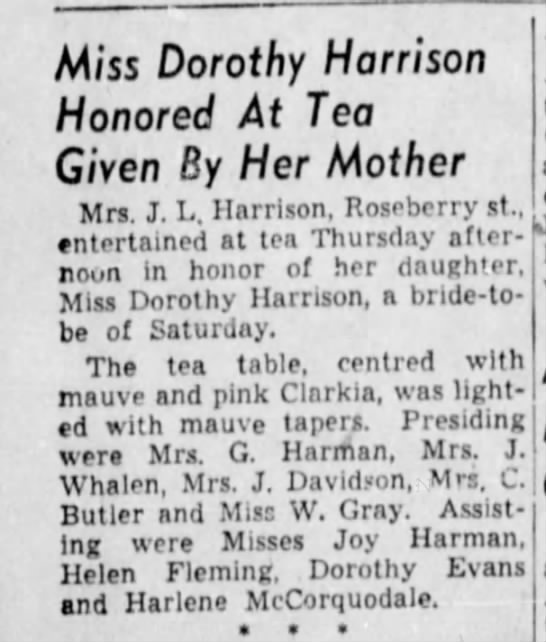 Apprentice with Manitoba Telephone became a pilot. He was an instructor in PEI, then was posted to Vancouver Island. Aboard Canso 11017, he and nine others were lost.
George Edwin Charles Butler, born in Winnipeg, Manitoba, was the son of Reuben 'Charles' Butler (1881-1971) and Vera Ernestina nee Gray) Butler (1892-1970). He had two sisters, Mrs. Jessie F. Dufton (1916-1988) and Mrs. William Maxwell, all of Winnipeg. The family was Anglican.
George had a Grade XI education, plus 1 ½ years studying engineering at the University of Manitoba. At the time of his enlistment with the RCAF, he was an apprentice (automatic switch) with the Manitoba Telephone System. He did not note any hobbies, but enjoyed tennis, badminton, swimming, and skiing. He smoked between 8 and 10 cigarettes per day and indicated he did not consume alcohol. His physique was noted as athletic and he had an alert mentality. He stood 5 11 ½" tall and weighed 165 pounds in August 1941. In December 1941: "Fit, good physique. Composed. No sweating; extremities dry and warm." He had blue eyes, fair hair and a fair complexion. "Clean cut, alert, intelligent, should make excellent aircrew man."
George had previous military training at Brandon, Manitoba for 30 days in late 1940.
He started his journey through the BCATP at No. 3 Manning Depot, Edmonton, Alberta on October 2, 1941. He then was sent to No. 3 SFTS, Calgary, Alberta.
He started his training at No. 4 ITS, Edmonton on December 8, 1941 until January 31, 1942. "76%. 50th out of 74 in class. Visual Link: 47%. Excelled in junior tennis. Mature, alert, average type trainee."
He was then sent to No. 5 EFTS, High River, Alberta from February 1, 1942 to April 11, 1942. "Force landing weak. Ground training: Above average; good student throughout; weak in signals; conscientious, conduct good."
He was then sent to No. 12 SFTS, Brandon, Manitoba on April 12 until August 28, 1942. He earned his Pilot's Wings on July 31, 1942. "An average clear hood and a high average instrument pilot. He has no outstanding faults. Very keen and willing worker. A good type. Recommend for a Commission. Has the qualities of a good fighter pilot. Map reading needs practice." In Ground Training: "Distinguished; clever; determined and capable. Winning personality."
George married Dorothy Theresa Harrison on August 1, 1942 in Winnipeg. They had no children.
Summerside, PEI and No. 1 GRS was his posting to be a flight instructor from August 29, 1942, until September 25, 1943. "This officer has fulfilled his duties satisfactorily, but does not appear to be entirely suited to work of instructing."
George was then sent across the country to No. 3 O.T.U., Patricia Bay, BC until January 1, 1944. He was on course from October 4 until December 24, 1943. "A steady and dependable officer who has quite a good knowledge of his work. Could display more initiative. Average pilot and captain who could show more keenness and ability."
He was posted to No 4 Squadron, Ucluelet, BC, on January 9, 1944. Dorothy joined him on the west coast. May 23, 1944: "A very capable crew captain." July 27, 1944: "This officer is an exceptionally find flying boat captain. Since joining this squadron, he has done very good work and has been an outstanding example both to his own crew and other squadron personnel." Uclulet, BC. George received another glowing evaluation in October 1944, where he was strongly recommended for promotion.
There is a note that he was to be posted to No. 1 Y Depot, Lachine, Quebec, after October 1944, possibly to be sent overseas. However, he went missing on November 14, 1944.
George had a War Savings Certificate valued at $5.00 and $300 worth of Victory Loan Bonds. He also had a life insurance policy, with premiums of $50 paid. Dorothy was the beneficiary.
Dorothy married again. She and her new husband, Mr. Hellofs, resided in Winnipeg by August 1946.
In August 1946, Dorothy received a letter from Wing Commander W. R. Gunn. "Some weeks ago, wreckage consisting of a number of small parts which were thought to be from a RCAF aircraft were recovered by the US Coast Guard at Ketchikan, Alaska, and these parts were forwarded to our Headquarters where it was determined that they were from a Canso aircraft, and on contacting the manufacturers of Canso aircraft, they were identified as parts from Canso A 11017 which was the aircraft that your son was on when it went missing from a sea patrol flight from Tofino, British Columbia, November 14, 1944….there is no indication where the crash may have occurred. Such articles as were recovered could travel far driven by wind and tide."
In late October 1955, Dorothy received a letter indicating that since George had no known grave, his name would appear on the Ottawa Memorial.