George Daniel Boyd J29634
September 15, 1922 - November 12, 1944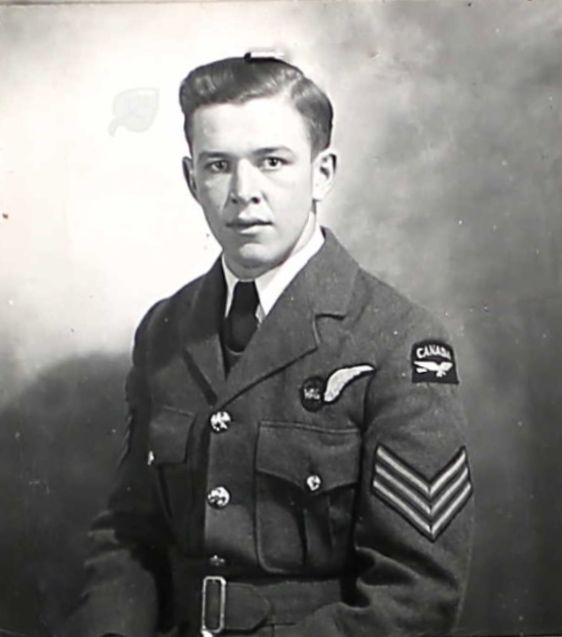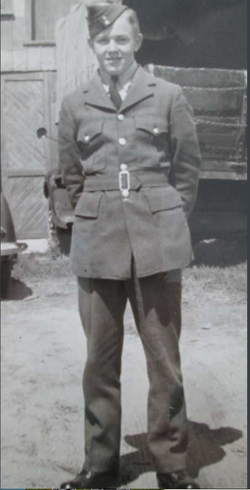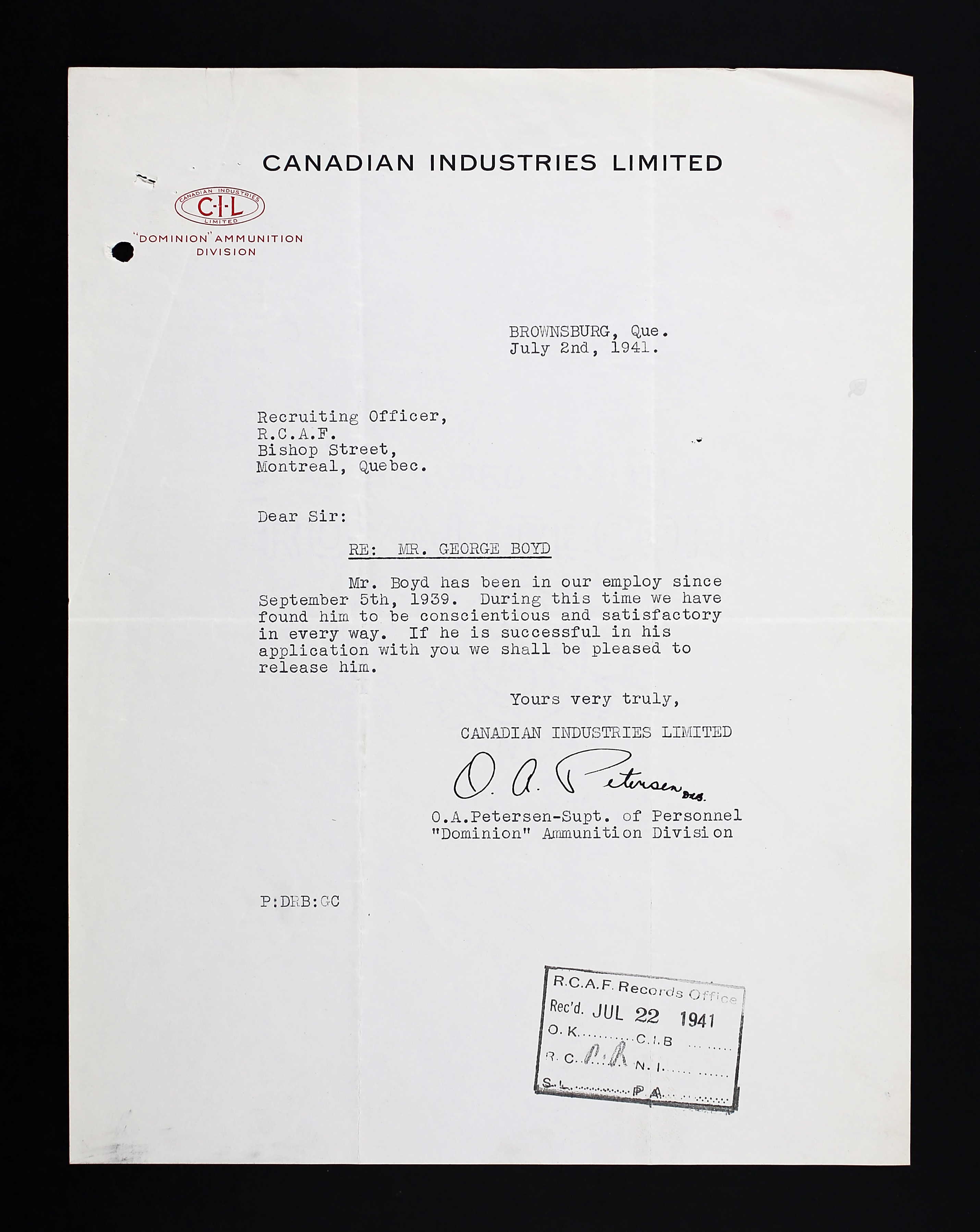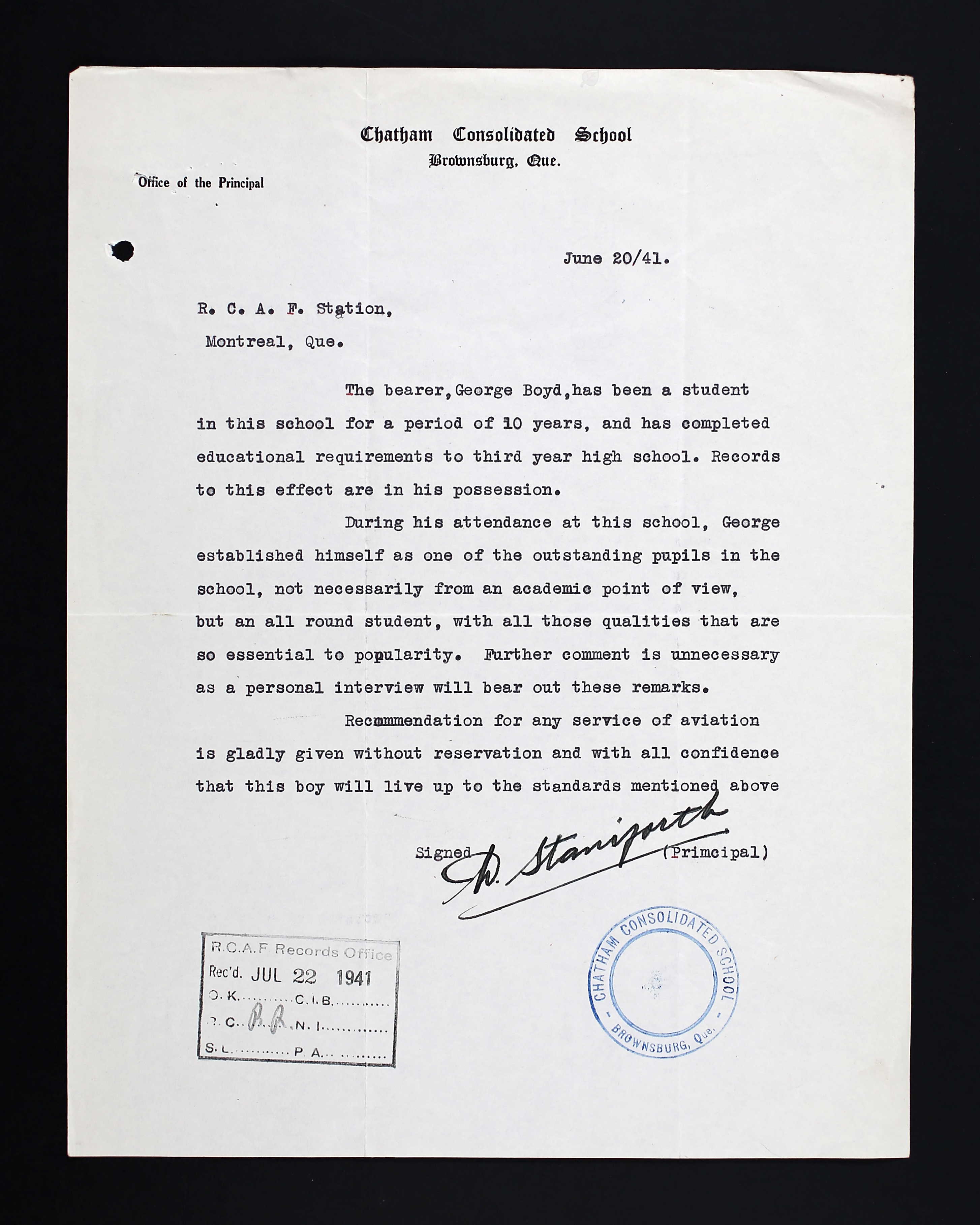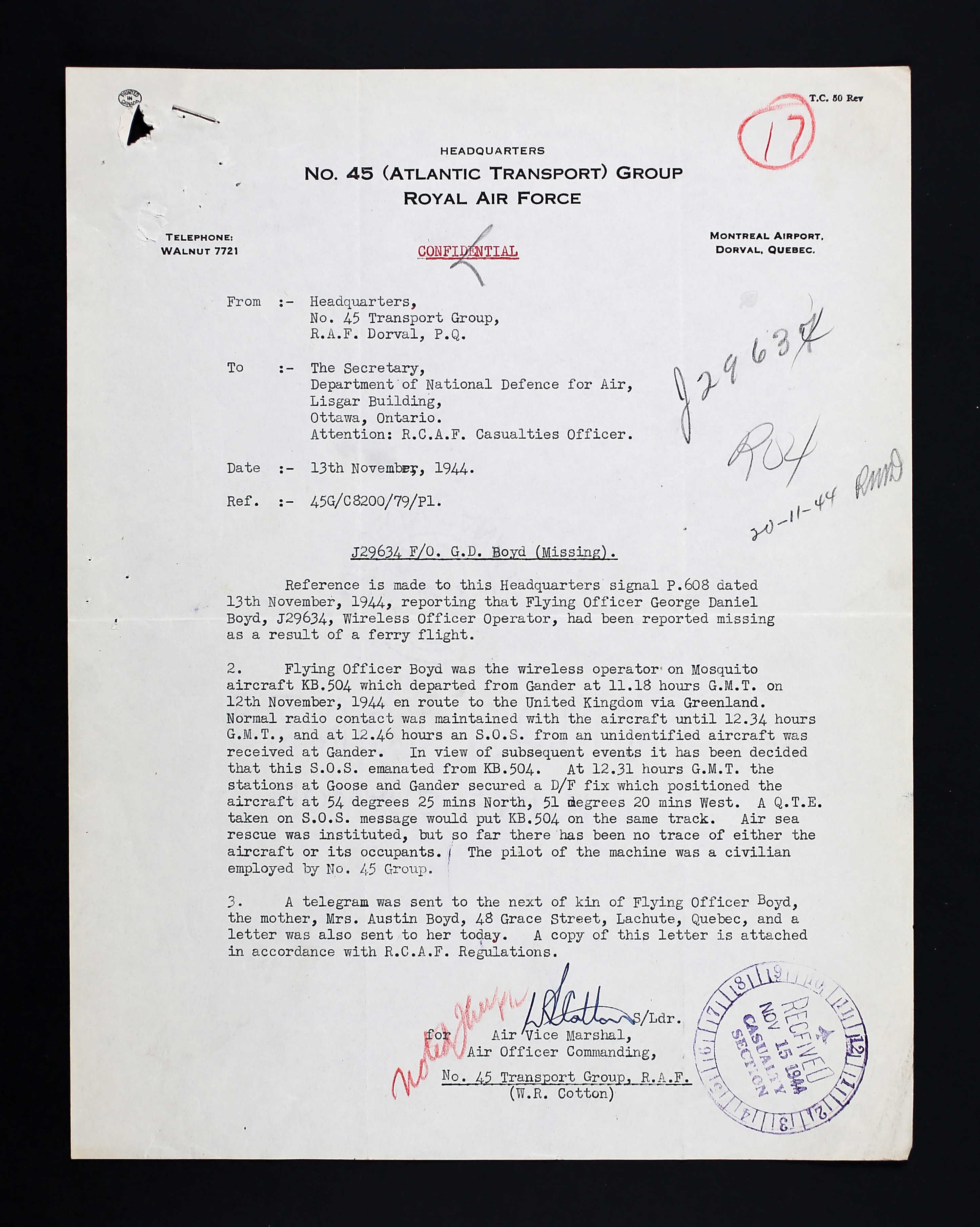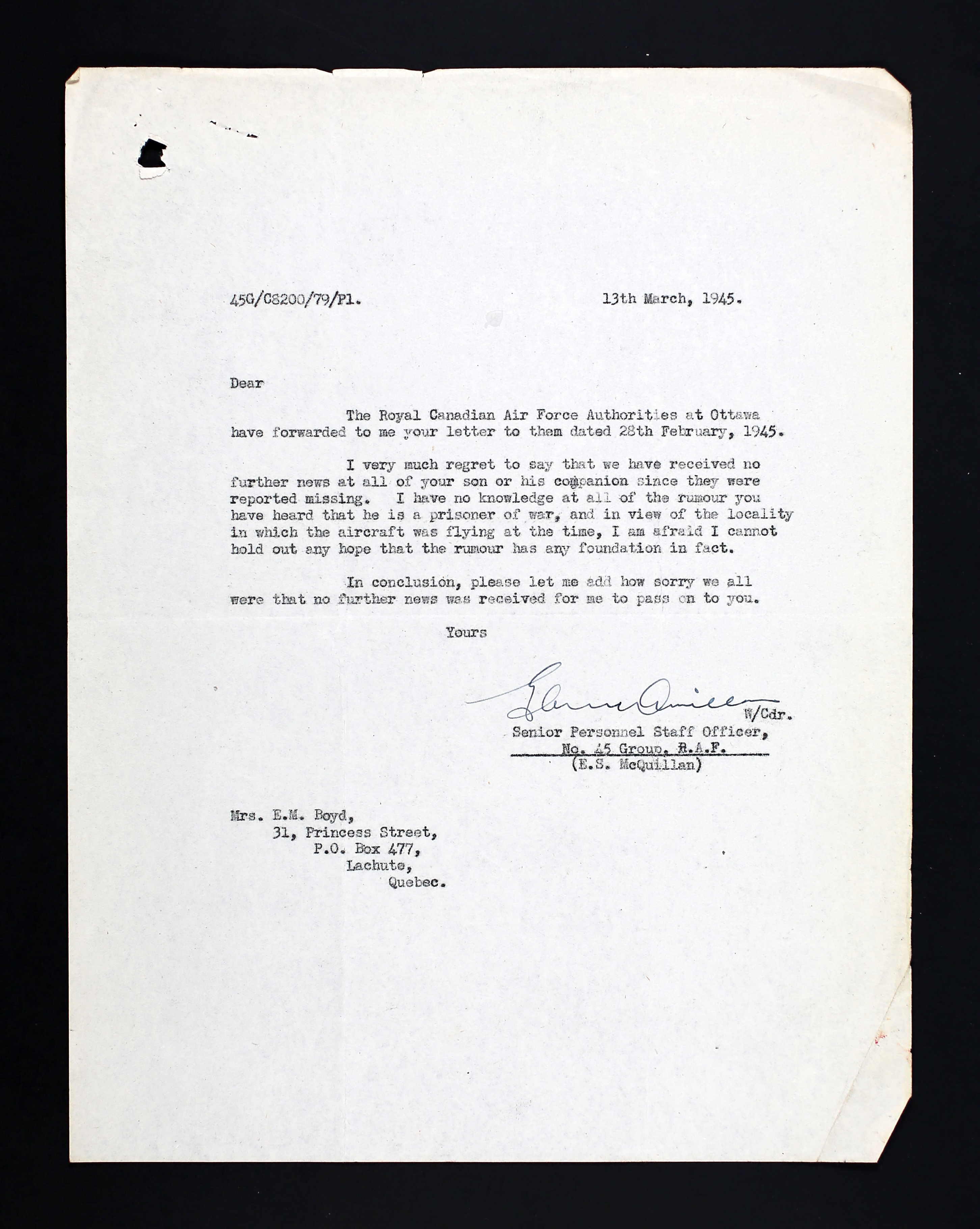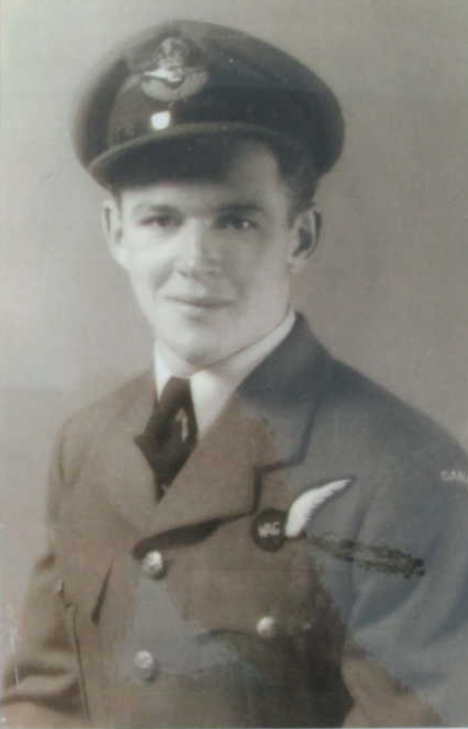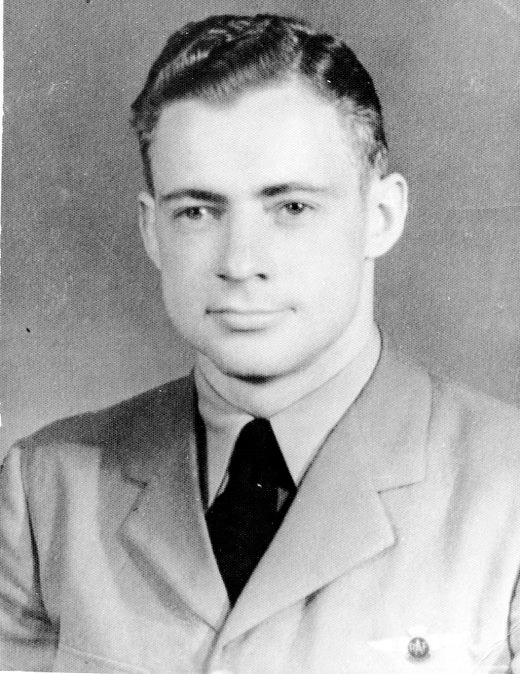 Bilingual apprentice tool maker became WOAG with RCAF. Posted to Ferry Command, aboard Mosquito KB504, he and his pilot went missing between Gander and Greenland on a ferrying trip to the UK.
George Daniel Boyd, born in Dalesville, Quebec, was the son of Austin George Boyd (1890-1967), carpenter, and Evelyn Myrtle (nee Delalanne) Boyd (1894-1987) of Lachute, Quebec. He had three brothers, Douglas James, John Ernest, and Hector who died on September 10, 1944. Both Douglas and John were with the Canadian Army. He also had two sisters Evelyn and Hilda (1924-2012). Two sisters died at birth. The family attended the United Church.
He was residing at Brownsburg, Quebec when he enlisted with the RCAF in July 1941, working at CIL in the tool department as an apprentice toolmaker. Prior he was working grinding and milling tools. Fluently bilingual in English and French, he enjoyed reading, music, and many sports in and out of school. "Average athletic physique and alert mentality. Does tests moderately well. Night visual acuity below average." He was a non-smoker and did not drink alcohol. He stood 5'5" tall and weighed 127 on July 14, 1941. A 2" scar on his right hip was noted. He had brown eyes, fair hair and a fair complexion.
On his interview report: "Grade X education, three years high school. No military training. Nice lad but seems a little unmature. Keen. Should be okay with training for aircrew." He was noted as being nervous, with quick responses, clear speech, sincere and reserved.
George had approximately $1000 in a bank account as well as $100 in a Victory Loan Bond, plus $6000 in life insurance. His mother was the beneficiary.
George started his journey through the BCATP at No. 4A Manning Depot, St. Hubert, Quebec on July 16, 1941 until he was sent to No 8 AOS August 8, 1941. From there he was sent to No. 1 Wireless School in Montreal October 12, 1941. "80.8%. 11th out of 67 in class."
He was then sent to No. 1 B&G School, Jarvis March 29, 1942 until he was sent to No. 31 O.T.U., Debert, Nova Scotia May 1942. At the bomb and gunnery school: "13th out of 31 in class. Only fair intelligence, but a steady worker. Most cheerful and willing. Will be a reliable W. Air Gunner."
From Nova Scotia, he was attached to RAF Ferry Command as of July 1, 1942. George was with No. 113 South Atlantic Wing, RAF, Nassau, Bahamas, when he was recommended for a commission on July 14, 1943. He made many overseas trips before he went missing on November 12, 1944.
George was at station hospitals: August 13-15, 1942, October 1-15, 1943, and then again July 2 - 6, 1944.
On November 12, 1944, Mosquito KB504, while on a ferrying/positioning flight out of RCAF Goose Bay heading to USAAF Bluie West One, in Greenland, was lost enroute to Montreal. Crew: Capt. Thomas Franklin CAMPBELL Jr. (US Civil. pilot) RAF TC and P/O (J/29634) George Daniel BOYD (WOAG) RCAF.
In a letter from No. 45 (Atlantic Transport) Group, RAF dated November 13, 1944: "F/O Boyd was the wireless operator on Mosquito aircraft KB.504 which departed from Gander at 11.18 hours GMT on 12th November 1944 en route to the United Kingdom via Greenland. Normal radio contact was maintained with the aircraft until 12.34 hours GMT and at 12.46 hours an SOS from an unidentified aircraft was received at Gander. In view of subsequent events, it has been decided that this SOS emanated from KB.504. At 12.31 hours GT, the stations at Goose and Gander secured a D/F fix which positioned the aircraft at 54 degrees 25 minutes North, and 51 degrees, 20 minutes West. A WTE taken on SOS message would put KB.504 on the same track. Air sea rescue was instituted, but so far there has been no trace of either the aircraft of its occupants. The pilot of the machine was a civilian employed by No. 45 Group. A telegram was sent to the next of kin of F/O Boyd, the mother, Mrs. Austin Boyd…and a letter was also sent to her today." Air Vice Marshall W. R. Cotton
In March 1945, Mrs. Boyd had received information that possibly George had become a prisoner of war. Senior Personnel Officer, E. S. McQuillan of No. 45 Group RAF replied that "in view of the locality in which the aircraft was flying at the time, I am afraid I cannot hold out any hope that the rumour has any foundation in fact."
In Late October 1955, Mrs. Boyd received a letter informing her that since her son had no known grave, his name would appear on the Ottawa Memorial.