George Alexander Garden Baxter J10635
January 5, 1923 - October 12, 1942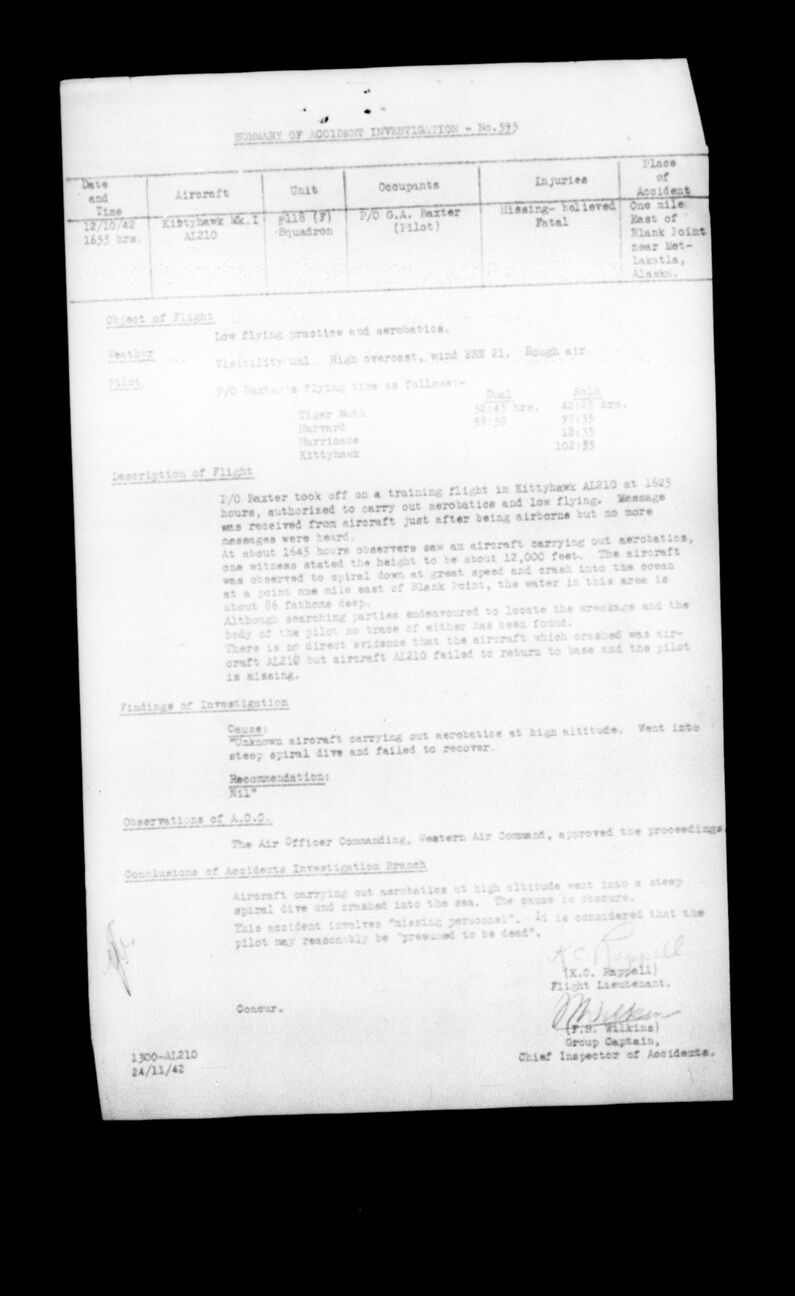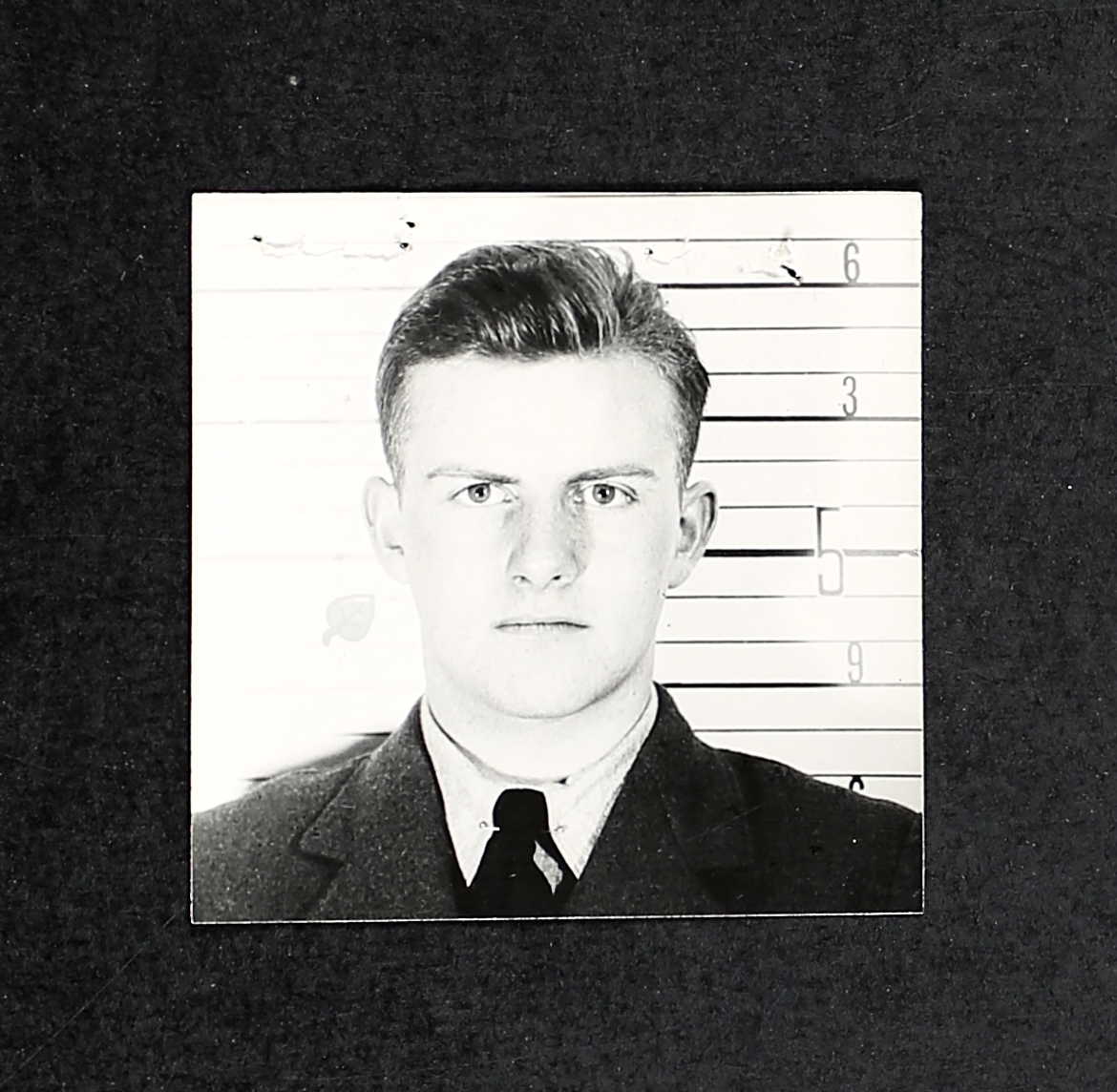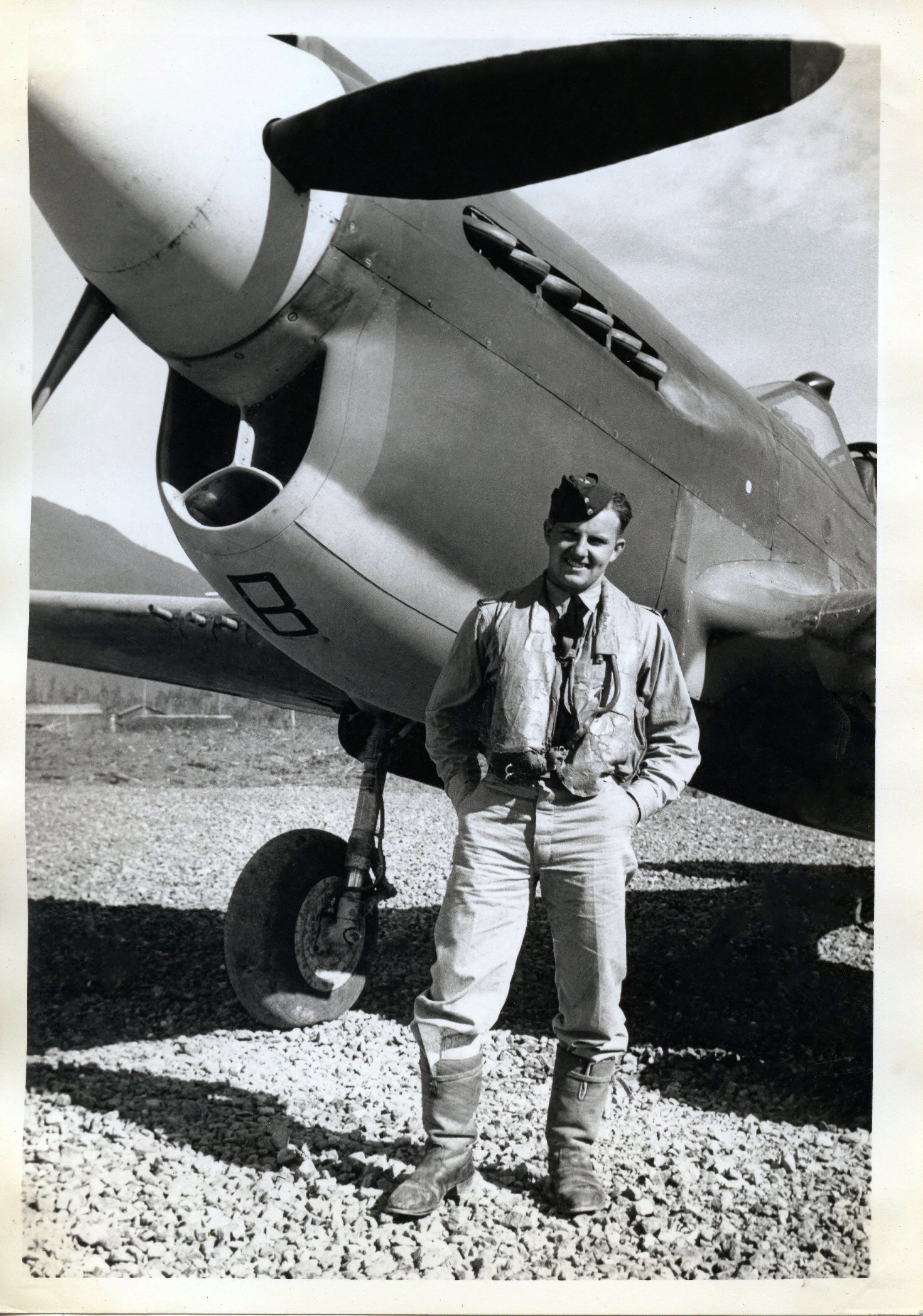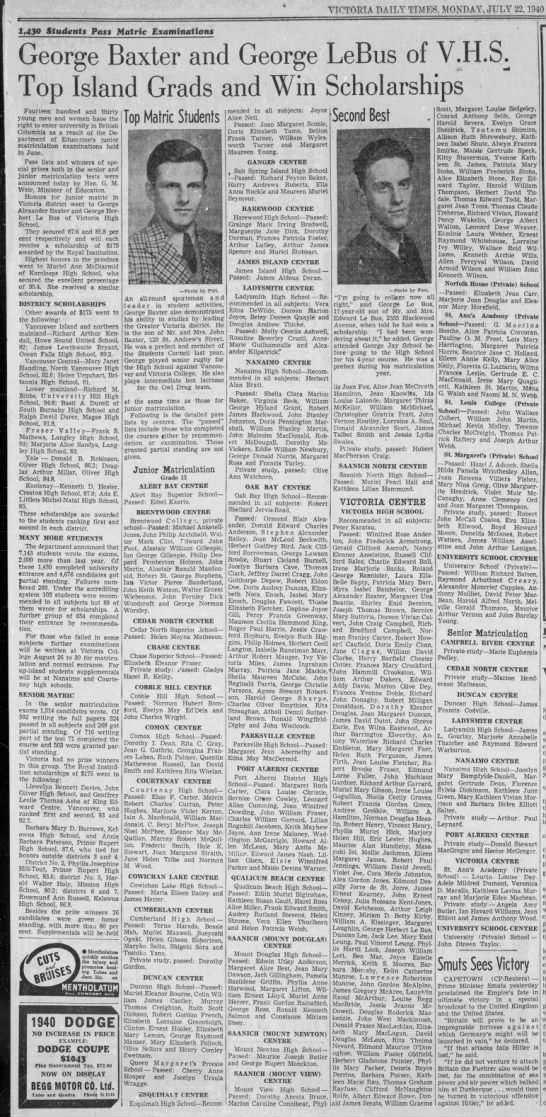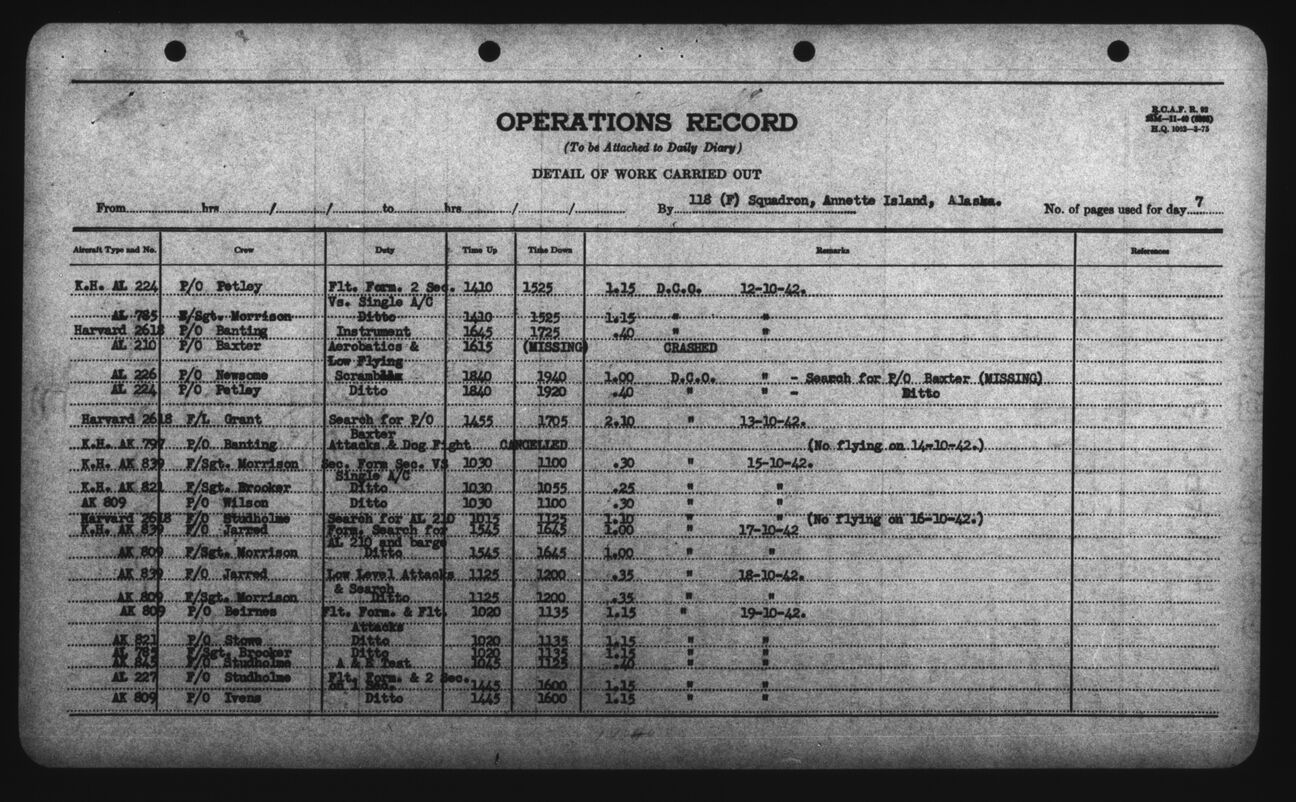 Gifted student from Victoria, BC became pilot with RCAF, hoping to study aeronautical engineering after the war. Flying Kittyhawk AL210 during a training flight, he was lost near Gravina Island, Alaska.
George Alexander Garden Baxter was the son of John Baxter (1883-1949), alderman/mayor's secretary, and Helen (nee Garden) Baxter (1883-1923), and step-son of Hilda Lawrence (nee Wood) Baxter (1900-1991), alderman, of Victoria, British Columbia. He had two sisters, Mrs. Nan Lawrence Stewart and Mrs. Ruth Cooper, in BC. The family was Anglican.
George was the top student in junior matriculation in the Victoria School District, making the papers in July 1940, with an overall average of 87.6%. He won the Royal Institution Scholarship.
George attended Victoria College (UBC) for one year. He had four years metal and machine shop, as well. He spoke English but could read French, too. When he enlisted with the RCAF in May 1941, he indicated he was unemployed at the time. He planned to continue to study aeronautical engineering at the California Institute of Technology in Pasadena. George had three hours as a passenger in a plane. "A very find type of lad. Far above average mentally and is suitable calibre for officer rating. Should turn out well."
He said he used to get seasick as a child, with some motion sickness after a long car trip.
His hobbies included radio and chemistry. "I play rugby extensively in the winter, lacrosse extensively in the summer." He won a photo contest in August 1941. During the summer, he worked with the Government of BC as a shipping clerk and then for the Hudson's Bay Company, as a clerk and salesman.
On his medical examination: "Muscular, athletic. Alert. Direct. Appendectomy scar (1940); circular scar left index finger." He stood 5'6" tall and weighed 143 pounds. He had blue eyes and brown hair. "Wants pilot. Prefers night fighter. Feels he can see better in dark than most people. Youthful, quick, intelligent, composed. Has never driven a car. Good type."
George had $103 at the Imperial Bank of Commerce and a life insurance policy. "Nothing payable if death on active service. Premiums refunded." His father was the sole beneficiary to his estate.
George started his journey through the BCATP at No. 2 Manning Depot, May 23, 1941. He then was sent to No. 34 SFTS in Medicine Hat, Alberta June 21 to August 7, 1941. From there, he was sent to No. 2 ITS, Regina, Saskatchewan until August 25, 1941. "92%. A very fine type of airman who is keen, alert, and aggressive. He has plenty of initiative and good leadership qualities. Stood 4th in his class and is recommended for a commission."
He was then at No. 2 EFTS, Fort William, Ontario. "A good hard-working type. With more instrument time, will be a valuable man. Final test: 72.5%. Instrument flying: 69.4%." In Ground training: "1st in class of 25. Above average. Very highly recommended. 90%."
Then he was sent to No. 2 SFTS Uplands, Ontario. "This pupil has proved to be a considerably above average pilot. Airmanship very solid. Displayed good leadership ability. Link trainer ability above average. 80%." In Ground training: "Very intelligent, good background, clean cut, excellent student. Commission material. Capable of doing any job and doing it well." Overall, George was above average. "Recommended for Fighter Pilot. Takes his work very seriously. Always punctual. Keen interest in flight activity. Pleasant personality. Wants to be a fighter pilot."
March 11, 1942 at Uplands, George's vision was being assessed and he was to be put forward to a Medical Board. DECREASE IN VISUAL ACUITY DURING PERIOD OF SIX MONTHS – MYPOIA between August 1941 and March 1942. "Dr. Neilson confirmed these findings. The visual acuity in the left eye had decreased. This airman has completed his flying training and has encountered no difficulty at all with his flying. He is being medically boarded to category A1HBH [fit for full flying and ground dueis in Canada] to be rechecked in a period of three months time, in order to determine whether or not the visual acuity in the left is becoming progressively less. The fundi of both eyes are normal." George commented. "I am feeling fine. I have noticed that after reading for awhile, my left eye became tired."
George received his Wings on March 3, 1942.
George was sent to No. 118 (F) Squadron, Dartmouth, Nova Scotia, March 15, 1942.
George was at the station hospital from February 22 to March 5,1942.
By June 1942, this squadron was at Annette Island, Alaska.
While on a coastal sweep flying Kittyhawk Mk 1 AL210 on October 12, 1942, at approximately 1655 hours, George was lost one mile east, Dall Head, missing near Gravina Island on October 12, 1942. Other location noted: one mile east of Blank Point, near Metlakatla, Alaska.
COURT OF INQUIRY: Eleven witnesses were called on October 16, 1942 at the RCAF Station Annette Island, Alaska, continuing to the next day.
OBJECT OF FLIGHT: Low flying practice and aerobatics. Visibility: Unlimited. High overcast, rough air.
DESCRIPTION OF FLIGHT: Pilot Officer Baxter took off on a training flight at 1625 hours, authorized to carry out aerobatics and low flying. Message was received from aircraft just after being airborne but no more messages were heard. About 1643 hours, observers saw an aircraft carrying out aerobatics, one witness stated the height to be about 12,000 feet. The aircraft was observed to spiral down at great speed and crash into the ocean at one mile east of Blank Point, the water in this area is about 86 fathoms deep. Although searching parties endeavoured to locate the wreckage and the body of the pilot, no trace of either has been found. There is no direct evidence that the aircraft which crashed was aircraft AL210 but aircraft AL210 failed to return to have to base and the pilot is missing.
CAUSE: Unknown aircraft carrying out aerobatics at high altitude. Went into steep spiral dive and failed to recover.
FIRST WITNESS: Alfred Joseph Haley, Private First Class, Battery G, 244th Coast Artillery: "while I was on duty at Warburton island on the evening of October 12th 1942 at approximately 1645 hours, I heard an aircraft flying overhead. I watched the aircraft through a pair of binoculars and appeared to be at the height of about 12,000 feet. It was carrying out aerobatics and I saw it make a steep turn to the right and dived at an angle of about 45 degrees. When it reached approximately 5 or 6000 feet, the aircraft went into a spiral dive, turning to the right, and finally crashed into the sea 6 miles northwest of the island and one mile off the coast of Blank Point. This was at 1655 hours. After the crash, I endeavoured to get out to the scene of the accident, but the sea was too rough for the type of boat available. I then proceeded to the village of Metlakatla and notified the military authorities at approximately 1830 hours."
SECOND WITNESS: Alfred Fagerlie, fisherman residing at Dahl Bay. "I was working on my property on Monday, October 12th, 1942. It was around 5:00 PM when I heard the sound of an airplane. It sounded as though the plane was power diving. On the third dive, all sound ceased. I could not get out to the scene due to a gale blowing on the sea. I could not get out to report the matter for the same reason. I since have walked along the shore and gone out to the entrance of Seal Cove but could see nothing."
THIRD WITNESS: John B. Swegle, fisherman at Ketchikan, Alaska. "On Monday October 12th 1942 at around 5:00 PM, I was on my boat at seal Cove. I heard the sound of an airplane. I went out on deck and saw the plane at about 800 feet diving into the ocean period the motor had a clear sound to it. He was going at a tremendous speed, in almost vertical dive and his wings were going from side to side but he kept on going down. I did not see the actual crash, as the trees at the side of the cove blocked my view, but I heard the crash; I could not get out to the scene as the sea was rough; or to report, for the same reason."
FOURTH WITNESS: Flying Officer A. M. Studholme, J7904. He authorized P/O Baxter for a training flight to consist of aerobatics and low flying for one hour. Time of take-off was approximately 1625 hours. "At approximately 1700 hours, and unidentified aircraft was reported by AWS over Pierce Island. operation scrambled blue section to investigate. This unidentified aircraft was presumably our own AL 210. Blue section was unable to find any aircraft over Pierce Island. By this time, Kitty Hawk AAL 210 is definitely overdue, and blue section was ordered to search for our own aircraft. Red section was scrambled to assist in the search. A third section, Yellow, returning from a reconnaissance trip from Juneau, was approaching the base and was ordered to assist in the search. Around 1930 hours, I received a report that an aircraft had crashed into the sea in the vicinity of Dahl Head. All airborne aircraft were ordered to search the surrounding area and continued to do so until darkness set in. The aircraft AL 210 did not return to base. No word has been received of its whereabouts. Therefore, I am in the opinion that Pilot Officer Baxter in a L210 was involved in the accident witnessed by First Class Private Kayley of the US army and Mr. John Swegle."
FIFTH and SIXTH and SEVENTH WITNESSES: Aeroengine mechanic and airframe mechanics declared the aircraft serviceable.
EIGHTH WITNESS: LAC W. J. Summerville, WO, Ground, 115 BR Squadron, Annette Island, Alaska stated that he received a test call from Parsnip 26, the Squadron call sign of Kittyhawk AL210, with P/O Baxter as pilot. "Are you receiving me? Over." "Receiving you loud and clear – are you receiving me? Over." "Receiving you loud and clear – listen out." Parsnip 25: "Listening out." At 1627 hours, the following call was received, "Hullo Garton. Parsnip 26 calling. Am now airborne." "Parsnip 26 from Garton, message received and understood. Listening out." There were no more calls.
NINTH WITNESS: Pilot Officer H, Steirman, J13847, WAG, Annette Island, Alaska. He set out in the RCAF crash boat, Fulmar, to search the vicinity of the reported crash on October 15th and 17, 1942. "I was unable to go out prior to the above dates due to bad weather and high seas. On both occasions, the area of the accident was thoroughly searched, but no sign of the aircraft or wreckage was seen. The water at which the accident took place is charted at 86 fathoms."
TENTH WITNESS: F/L F. B. Curry, C993, Flight Commander A Flight, Annette Island, Alaska stated that at 1930 hours on the 12th of October 1942, "Captain Donnelly of the USAC and I proceeded to the location of the reported crash in US crash boat J30. By this time, it was quite dark and due to heavy seas and a strong wind, it was impossible to carry out a proper search. No wreckage was found and at approximately 2100 hours, the boat struck a log, damaging the port screw and bending both shafts. Due to this damage, we were forced to put in at Metlakatla at 2145 hours. We returned to the Station by motor transport." [NOTE: Curry was killed in Alaska on March 26, 1943. His remains were cremated in Alaska. His name is on the Cremation Memorial in Beechwood Cemetery, Ottawa, Ontario. HIS DETAILED STORY CAN BE FOUND IN QUIETUS: LAST FLIGHT by ANNE GAFIUK, through the BOMBER COMMAND MUSEUM OF CANADA.]
ELEVENTH WITNESS: F/L V. G. Stavrakova, C3236, aeronautical engineer, Annette Island, Alaska, joined Curry in the search. "We searched the area around the scene of the crash to approximately eight miles down wind but found nothing. There was a high sea and it was very dark. After searching for about five hours, we returned to base at 0200 hours 13-10-42."
CONCLUSIONS: Aircraft carrying out aerobatics at high altitude went into a steep spiral dive and crashed into the sea. The cause is obscure. This accident involves missing personnel. It is considered that the pilot may reasonably be presumed to be dead.