Geoffrey Frank Rowe Apps J20673
September 15, 1920 - February 19, 1945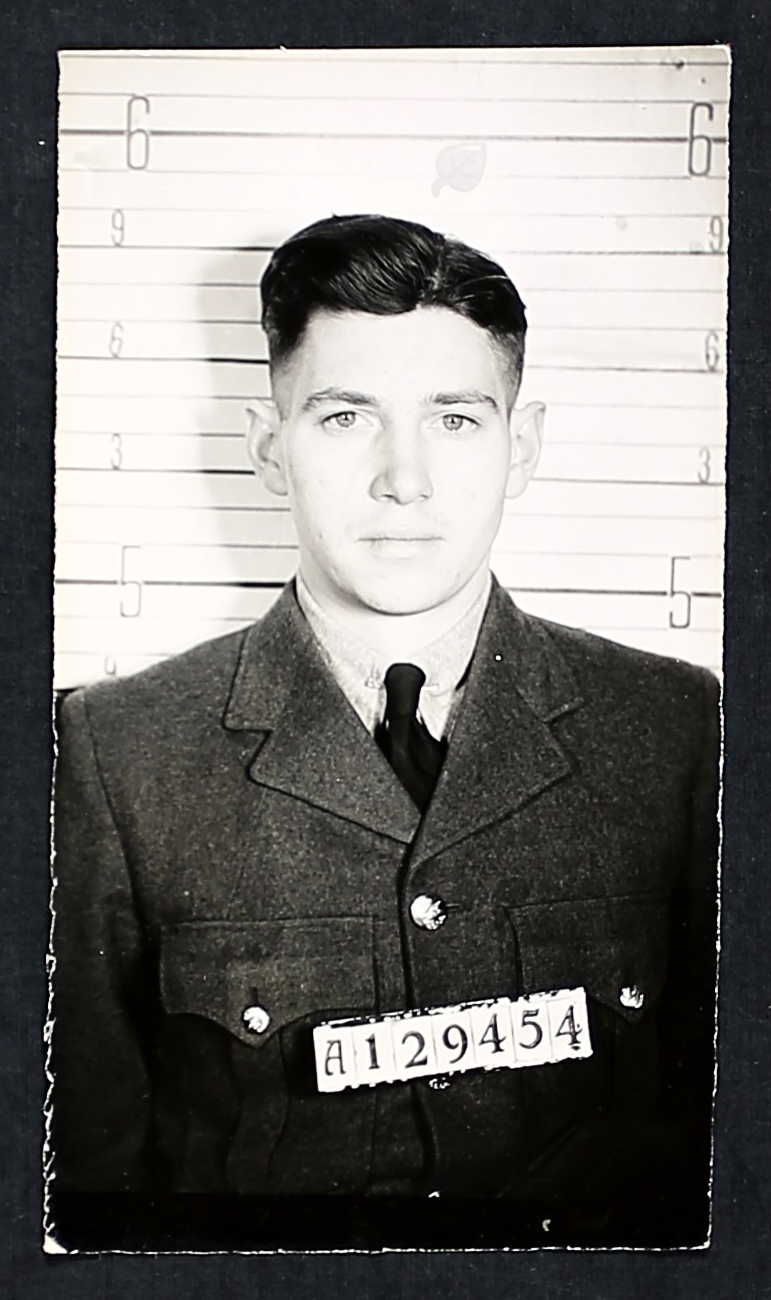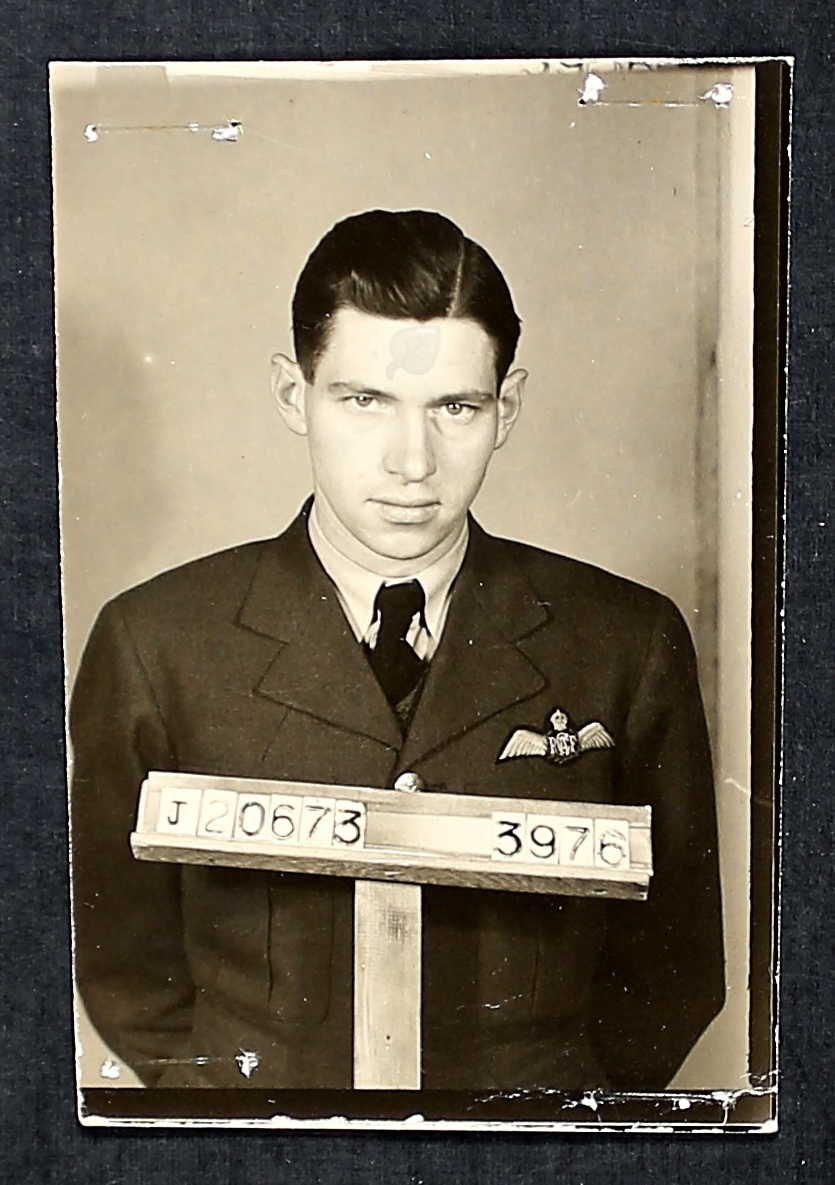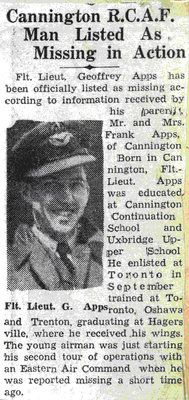 Bank teller from Cannington, Ontario became Pilot. Lost at sea in Liberator 3715 with crew on an anti-submarine patrol.
Geoffrey Frank Rowe Apps was the son of Frank Apps (1890-1971), bread salesman, and Violet Ethel (nee Rowe) Apps (1892-1955) of Cannington, Ontario. He had one younger sister, Jean Elizabeth Apps. The family attended the United Church.
Geoffrey had been a bank teller/ledger keeper prior to his enlistment with the RCAF. He had $1,817.48 in his account at the Canadian Bank of Commerce, plus two War Savings Certificates worth $10 in his safety deposit box. He also had $2,300 worth of Victory Loan Bonds as well as $1,000 in life insurance, his father the beneficiary. "This trust account that is here, I, his mother started it in 1925 for the purpose of saving money to educate Geoffrey. Up to the time he started work in the bank in 1940, there was $400 in the bank, none of that was put there by Geoffrey. From then on it was both of us putting money in for the same purpose. Will this be taken into consideration if there are succession duties to be paid? The safety deposit box in the bank here: Geoffrey, his father, and mother had keys to it." Geoffrey bequeathed his entire estate to his mother when he filled out his will at No. 1 Manning Depot, Toronto, October 20, 1941.
He played hockey, baseball, softball, and basketball, plus did some track in school. He had high school French. He stood 5' 8 ¾" tall, weighing 143 pounds. He had blue eyes and brown hair. One small "fleshy" mole was noted as an identification mark. He had had Scarlet Fever.
From No. 1 MD, he was sent to RCAF Stn, Trenton on November 11, 1941, then to KTS, Trenton, January 4, 1942. He returned to Toronto to No. 6 ITS, January 5, 1942 until March 14, 1942, then to No. 20 EFTS Oshawa, Ontario until he was sent to No. 16 SFTS, Hagersville, Ontario where he remained until November 20, 1942. He was then sent to No. 31 GRS, Charlottetown, PEI, then to No. 31 O.T.U. Debert, Nova Scotia until May 1, 1943. He was then in Halifax at Y Depot the next day. By May 14, 1943, he was at No. 119 Squadron, Mont Joli, Quebec until December 1, 1943, then to Sydney, NS until April 20, 1944. Then he was posted to No. 11 Squadron. (He was in Washington, DC for two days in September 1944.)
At No. 6 ITS: "89%. 2nd in class of 85. Steady serious type. Excellent educational background. Self-reliant and determined. Service spirit rated high. Second aircrew recommendation: Air Observer."
At No. 20 EFTS: "Airmanship weak due to carelessness. Inclined to be mechanical and flies too much on instruments. Requires close supervision. Inclined to be slightly nervous and does not make the best use of solo time."
At No. 15 SFTS: "An above average pupil throughout course. Link 79%. A keen and interested student. Should make good progress."
Geoffrey was awarded his Pilot's Flying Badge on November 6, 1942.
In February 1943: Average pupil. Has been slow to learn, but should improve with experience. No experience of navigation over open sea. Keen and attentive. Average in every way. Weak in ship recce." Other comments: "This officer has worked well and has shown keenness. He is somewhat slow to learn and has been hampered by this. Ship recognition is weak and he requires further practical experience."
In April 1943: "Standard of ground work above average. A good average pilot who should have no difficulty in becoming above average. Has the makings of a very good officer, Although very young, did well all around on his course."
Geoffrey found himself in hospital three times: June 8, 1942 for eleven days, then January 26, 1943, and then January 4, 1944 for three days, when he was hit in the right eye by a hockey stick during practice. He suffered a laceration of the skin near his right eye requiring two stitches.
On February 19/20, 1945, Liberator 3715 used by No. 11 (BR) Squadron at Dartmouth, Nova Scotia was lost at sea while on an anti-submarine sweep.
Members of the crew were: • F/L Geoffrey Apps, Pilot, Cannington, ON • F/L Deryck Hogan, 2nd Pilot, Rockingham, NS • F/L E. C. Ireland, Navigator, Edmonton, AB • F/O D. Murphy, WOAG, Sydney, NS • WO1 H. L. Teasdale, WOAG, Edmonton, Alberta • F/S W. R. Grant, WOAG, Saskatoon, SK • F/S D. A. MacLellan, Flight Engineer, Antigonish, NS
A search began on February 20 and ended on February 22, 1945 involving five Liberators. Two Hudson aircraft were sent out as were two Venturas. One of the Venturas sighted a nose wheel, an empty dinghy, sonobuoys, and other debris floating in the area near Sable island. A number of Cansos also took part in the search. On February 21, two sleeping bags were found washed up on the beach at Sable Island, plus a bomb bay gas tank and two empty dinghies.
The full Court of Inquiry can be found on Microfiche T12347, starting at image 3080.