Frederick William McConkey J13153
April 22, 102 - February 14, 1943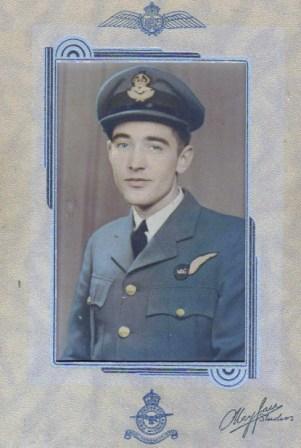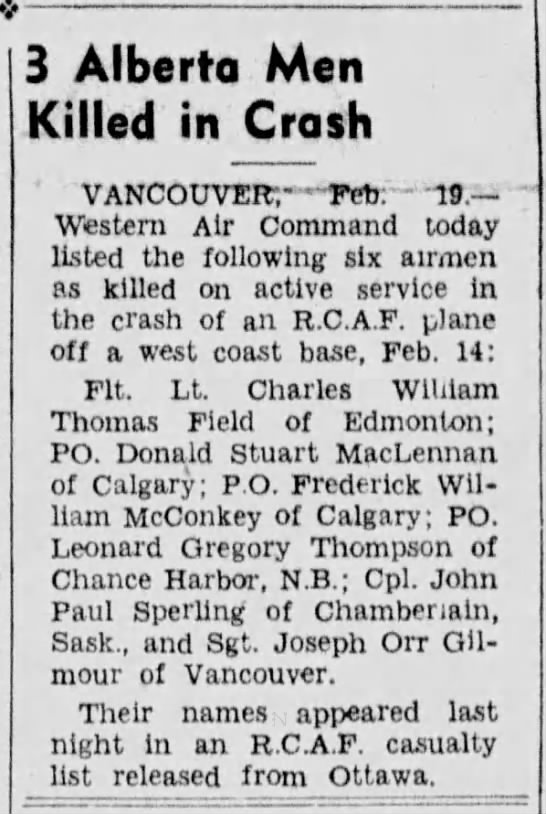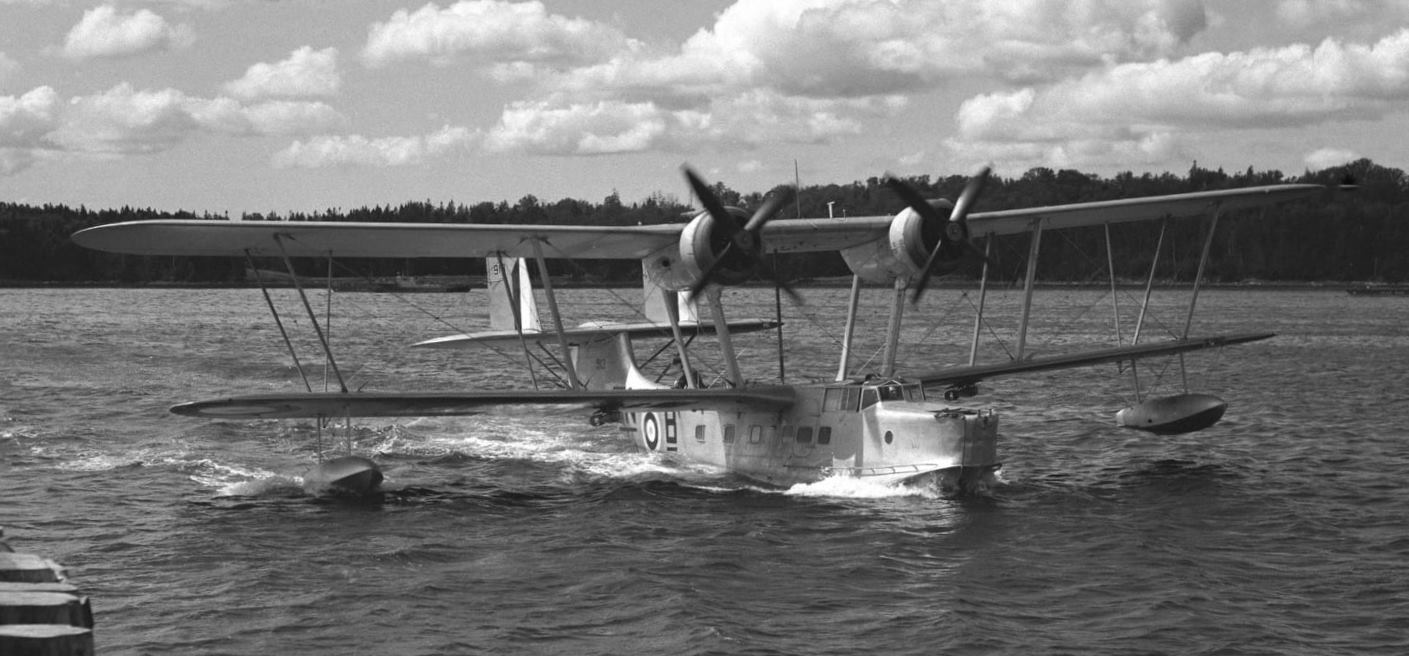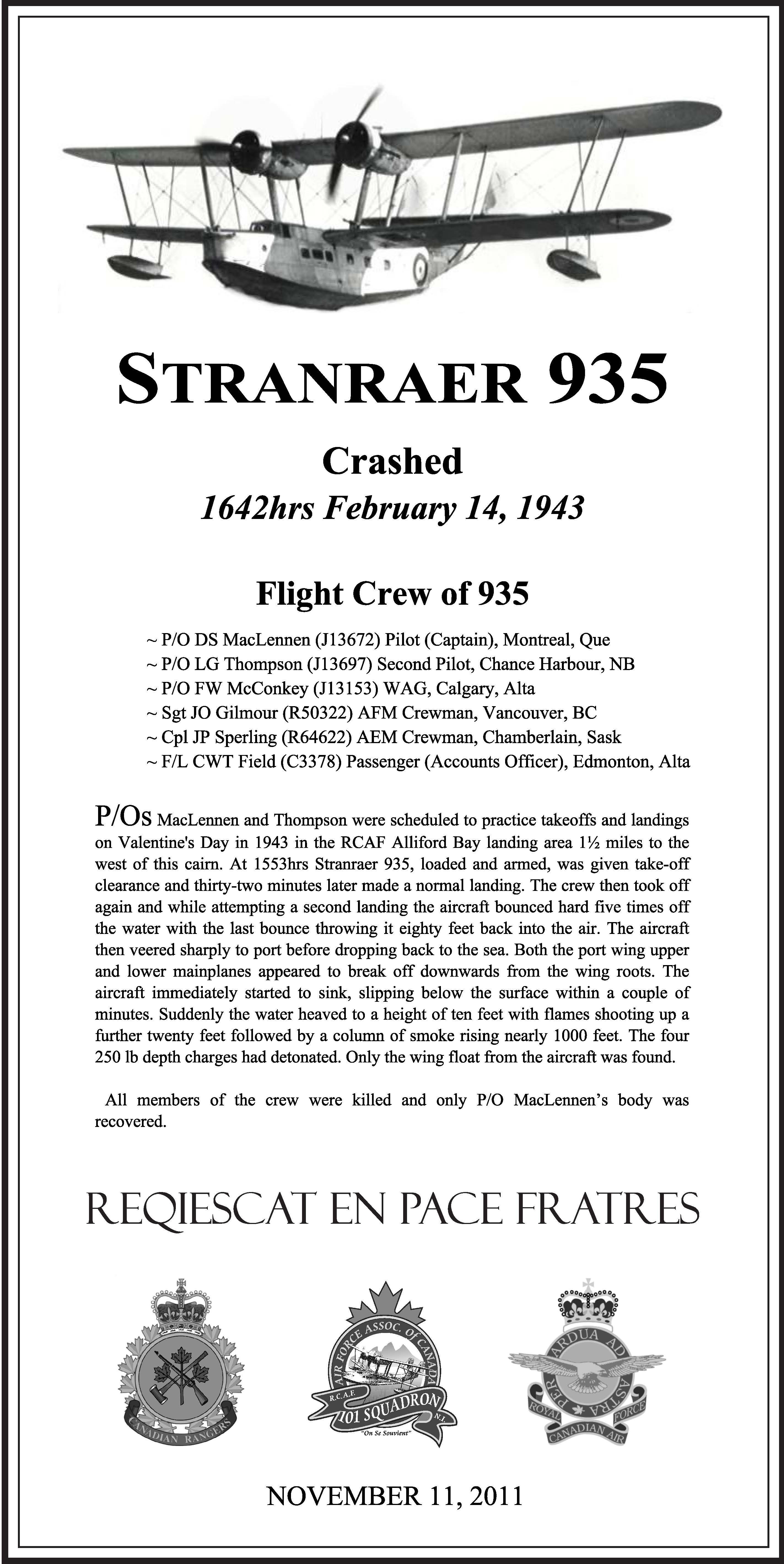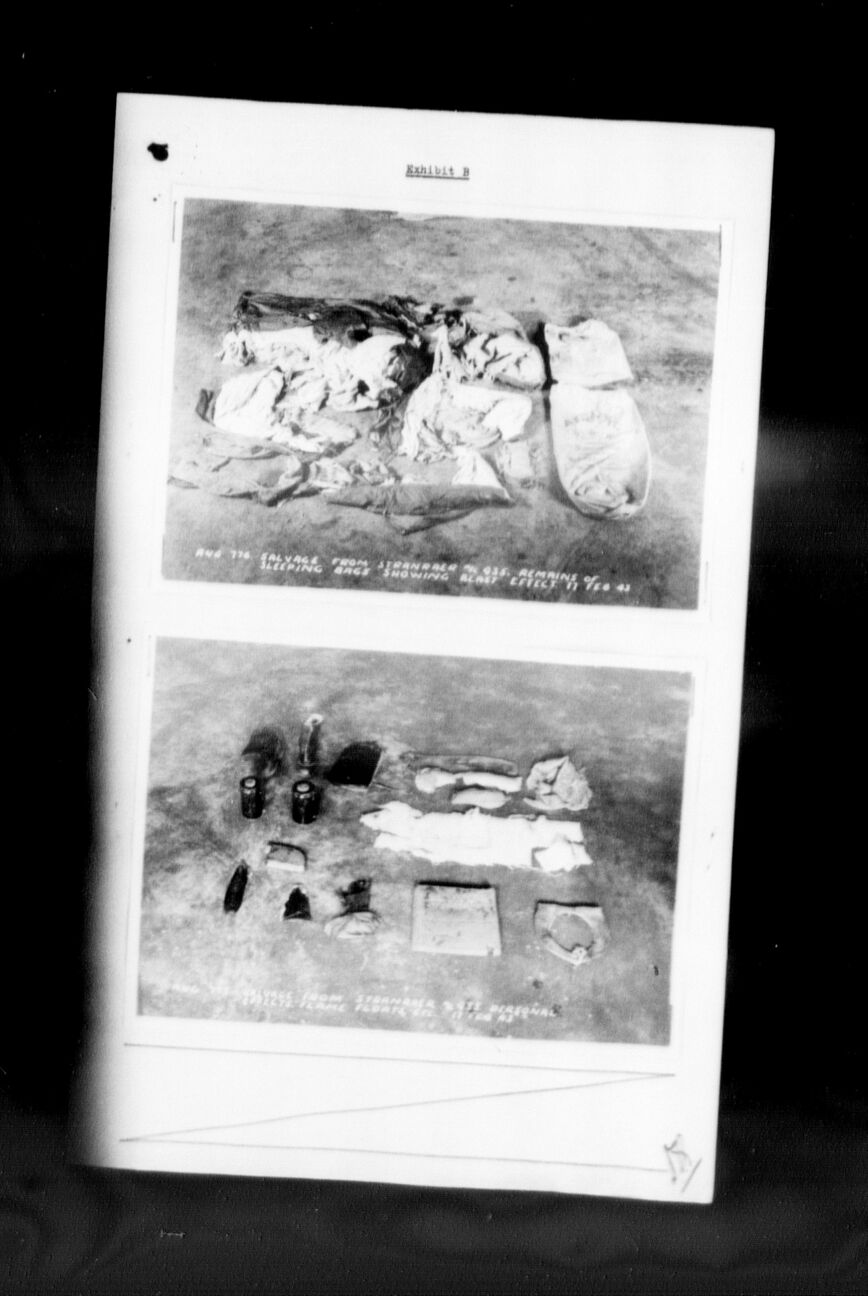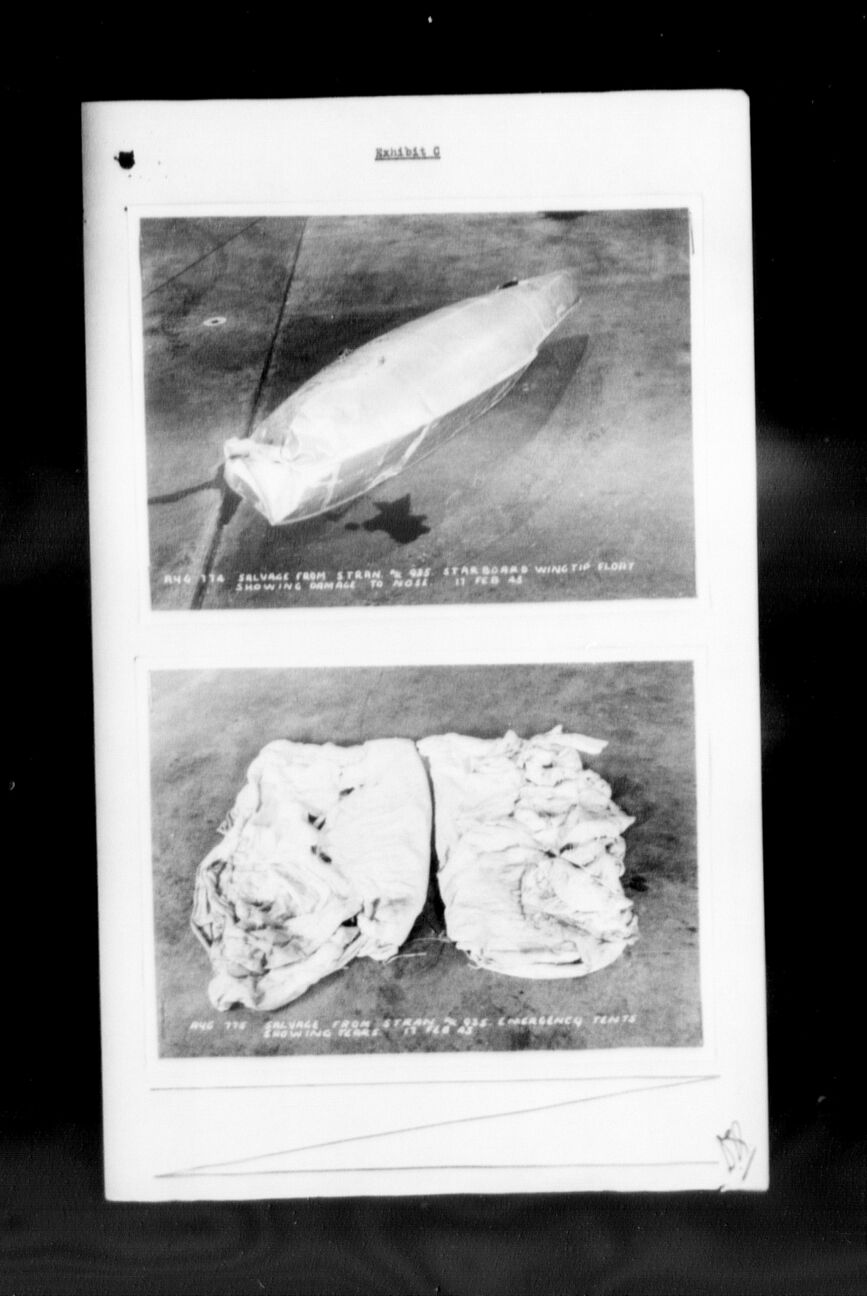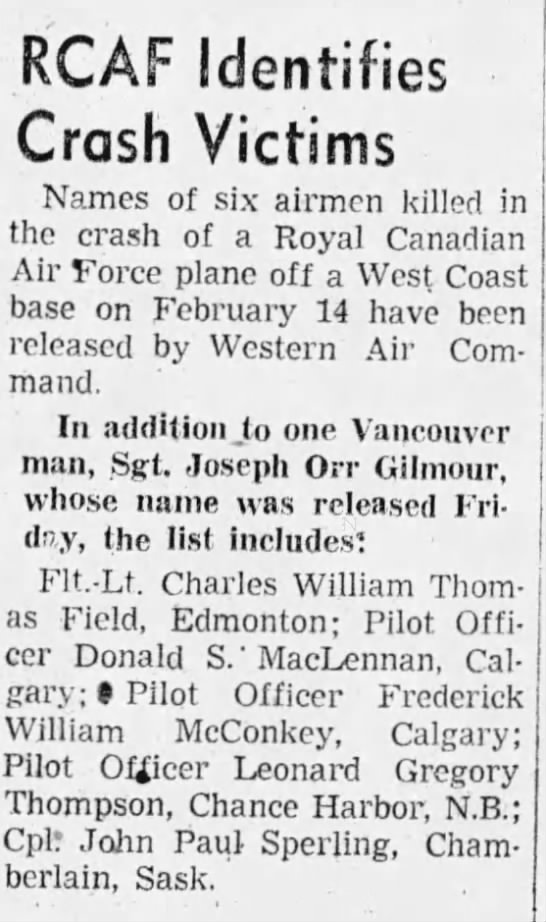 CPR yard worker joined RCAF and became a WOAG. Aboard Stanraer 935, he was lost near Alliford Bay, BC.
Frederick William 'Bill' McConkey was the son of Thomas Baden Powell McConkey (1900-1954) and Mary Cochrane (nee Wallace) McConkey (1901-1977) of Calgary, Alberta. He had three sisters, Louise, Dorothy Mitchell (1921-1984), and Eva Greene (1923-2015). The family was Baptist.
Both father and son worked for the Canadian Pacific Railway. Bill, with a Grade X education, was a yardman for three years. Mr. McConkey enlisted with the RCN (V13367) and Bill enlisted with the RCAF in June 1941. Mr. McConkey was a petty officer aboard the HMCS Arvida, a Flower-class corvette which served in the Battle of the Atlantic as a convoy escort.
Bill did not smoke, drinking alcohol occasionally. His physique was wiry. He stood 5'10" all and weighed 128 pounds. Bill had green eyes and dark hair. Hobbies: fishing; sports: swimming, hockey, baseball. "Slender type. Clear eye. Not nervous. Pleasant. Very keen to get in. Should be good material for air gunner."
His journey through the BCATP started at No. 2 Manning Depot, Brandon, Manitoba August 17 to September 14, 1941. He was then sent to No. 12 SFTS Brandon until being sent to No. 3 Wireless School, Winnipeg, Manitoba November 24, 1941. He was then sent to NO. 8 B&G School, Lethbridge, Alberta July 5, 1942.
In July 1942, his night visual acuity was below average. August 22, 1942: "Conduct and character: Very good. Qualifications: Superior. Satisfactory knowledge of armament training. Alert, aggressive, straight forward and ambitious." October 13-November 3, 1941, he was at the station hospital and again from August 8-15, 1942.
Bill was posted to No. 6 Squadron, Alliford Bay, BC August 27, 1942. On February 14, 1943, Stranraer 935 was scheduled for a training mission between Maude and Lina Islands in the Skidegate Channel, Haida Gwaii, BC.
Aboard RCAF Stranraer 935: Pilot P/O D. S. MacLennan, J13673, Montreal, Quebec; Second Pilot, P/O L. G. Thompson, J13697, Chance Harbour, NB; WAG P/O F. W. McConkey, Calgary, AB; AFM Sgt. J. O. Gilmour, R50322, Vancouver, BC; AEM Cpl J. P. Sperling, Chamberlain, SK; and Station Accounts Officer F/L Charles William Thomas Field, Edmonton.
All crew were killed. P/O MacLennan's body was the only body recovered (April 26, 1943).
Both pilots were scheduled to practice take offs and landing. "At 1553 hours, Stranraer 935, loaded and armed, was given take-off clearance and thirty-two minutes later, made a normal landing. The crew then took off again and while attempting a second landing, the aircraft bounced hard five times off the water with the last bounce throwing it eighty feet back into the air. The aircraft then veered sharply to port before dropping back to the sea. Both the port wing upper and lower mainplanes appeared to break off downwards from the wing roots. The aircraft immediately started to sink, slipping below the surface within a couple of minutes. Suddenly, the water heaved to a height of ten feet with flames shooting up a further twenty feet followed by a column of smoke rising nearly 1000 feet. The four 250-pound depth charges had detonated. Only the wing float from the aircraft was found."
Pilot error was the cause of the accident. "Insufficient experience on part of the pilots in that they failed to correct sufficiently after the initial bounce." The Court of Inquiry commented that dummy depth charges during that type of exercise be used instead of live depth charges. "It is appreciated that with very few operational aircraft available, it is desirable to have as many as possible ready for instant action in the event of enemy activity. However, armed aircraft in the hands of partly trained crews have proved very costly, and whenever operational conditions permit, live depth charges should be removed when practice flights of a local nature are being made by other than qualified captains." Other comments: "Obscure. Probable misuse of controls trying to correct for the bounce. Gustiness in the channel' other pilots up at the same time report that the air was turbulent. Similar accidents might be avoided if pilots were instructed in how to control the bounce once a bad landing has been made."
In late October 1955, Mrs. McConkey received a letter informing her that since Bill had no known grave, his name would appear on the Ottawa Memorial. A ceremony to remember the crew of Stranraer 935 took place on November 19, 2011 in Alliford Bay. Please see link below for photos and more information.
The full Court of Inquiry can be found on microfiche T12341, starting at image 1364.
LINKS: