Frederick Bennett Keys J24798
February 28, 1921 - April 22, 1943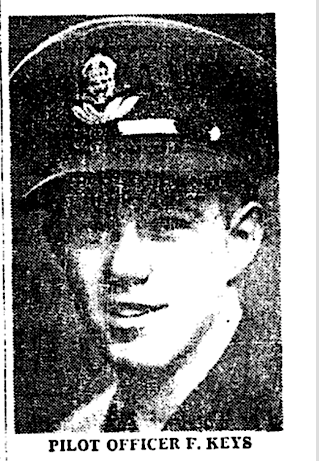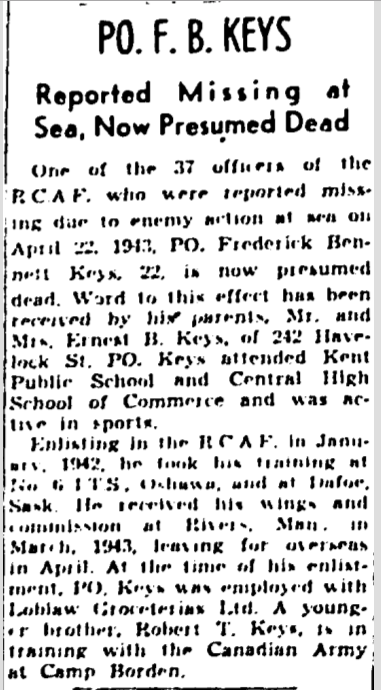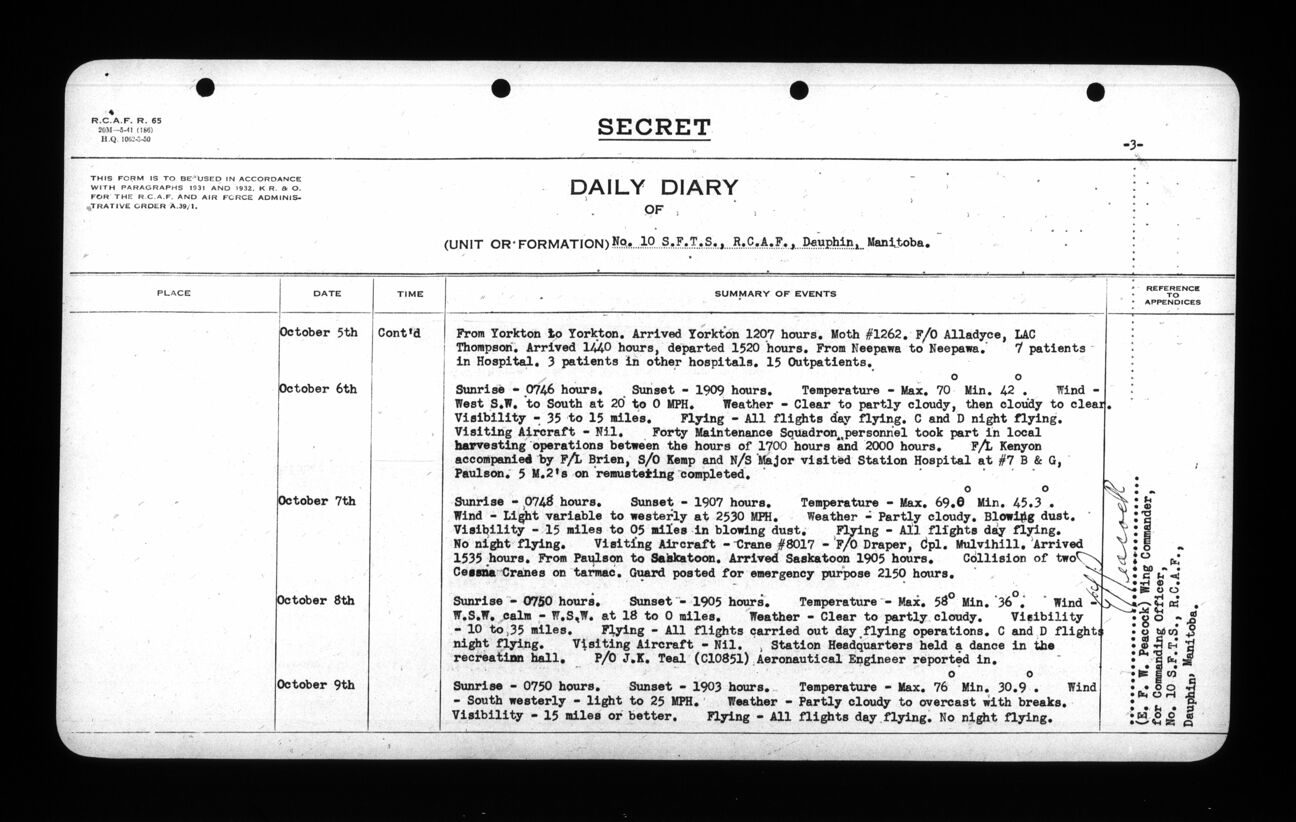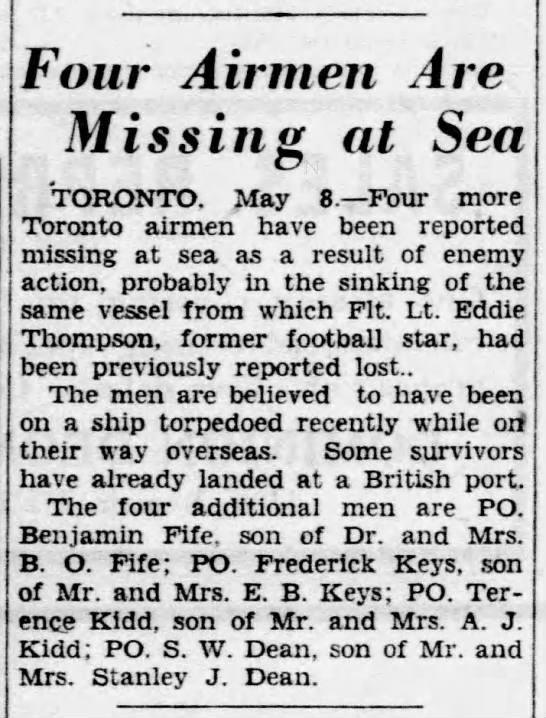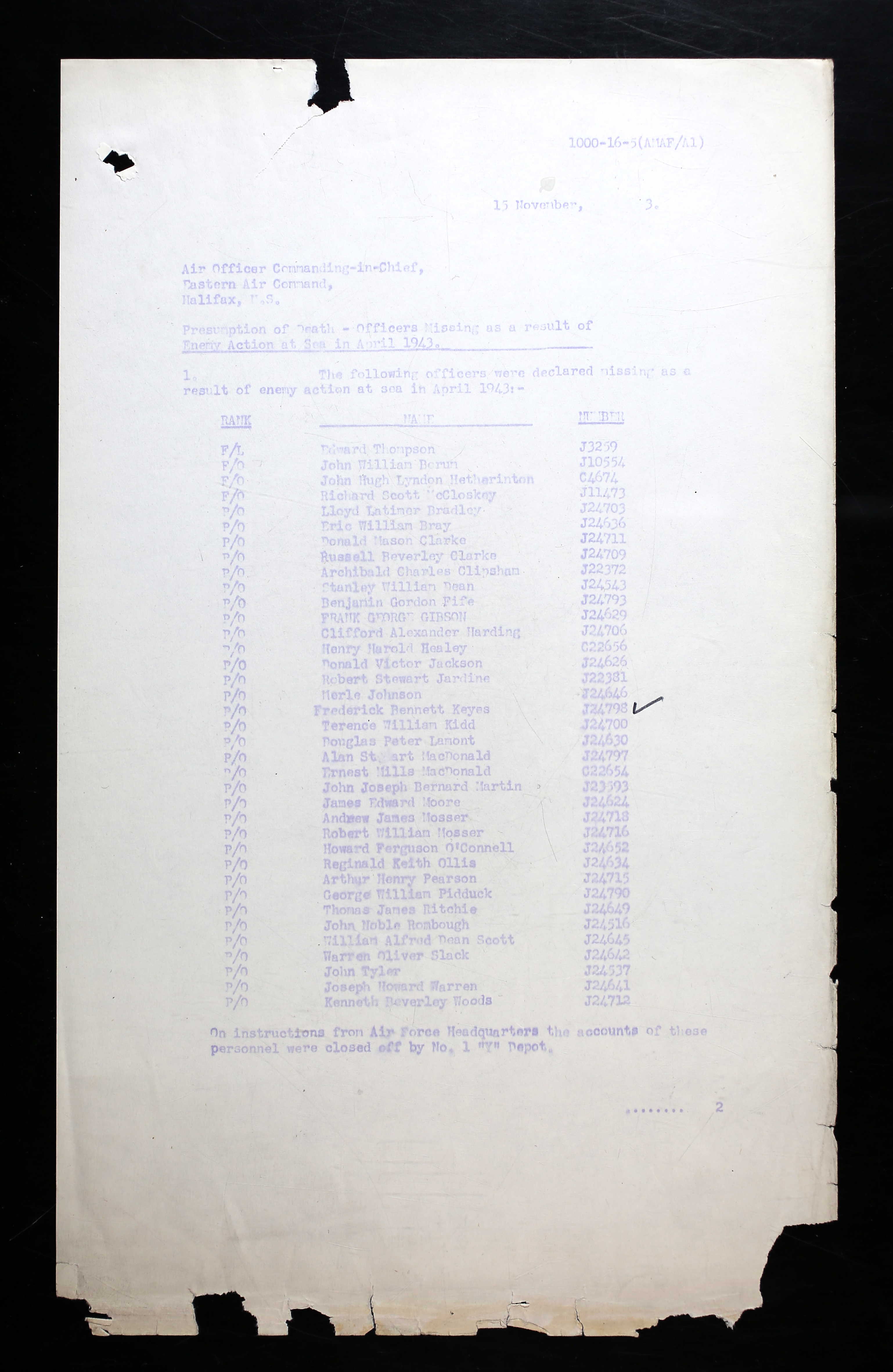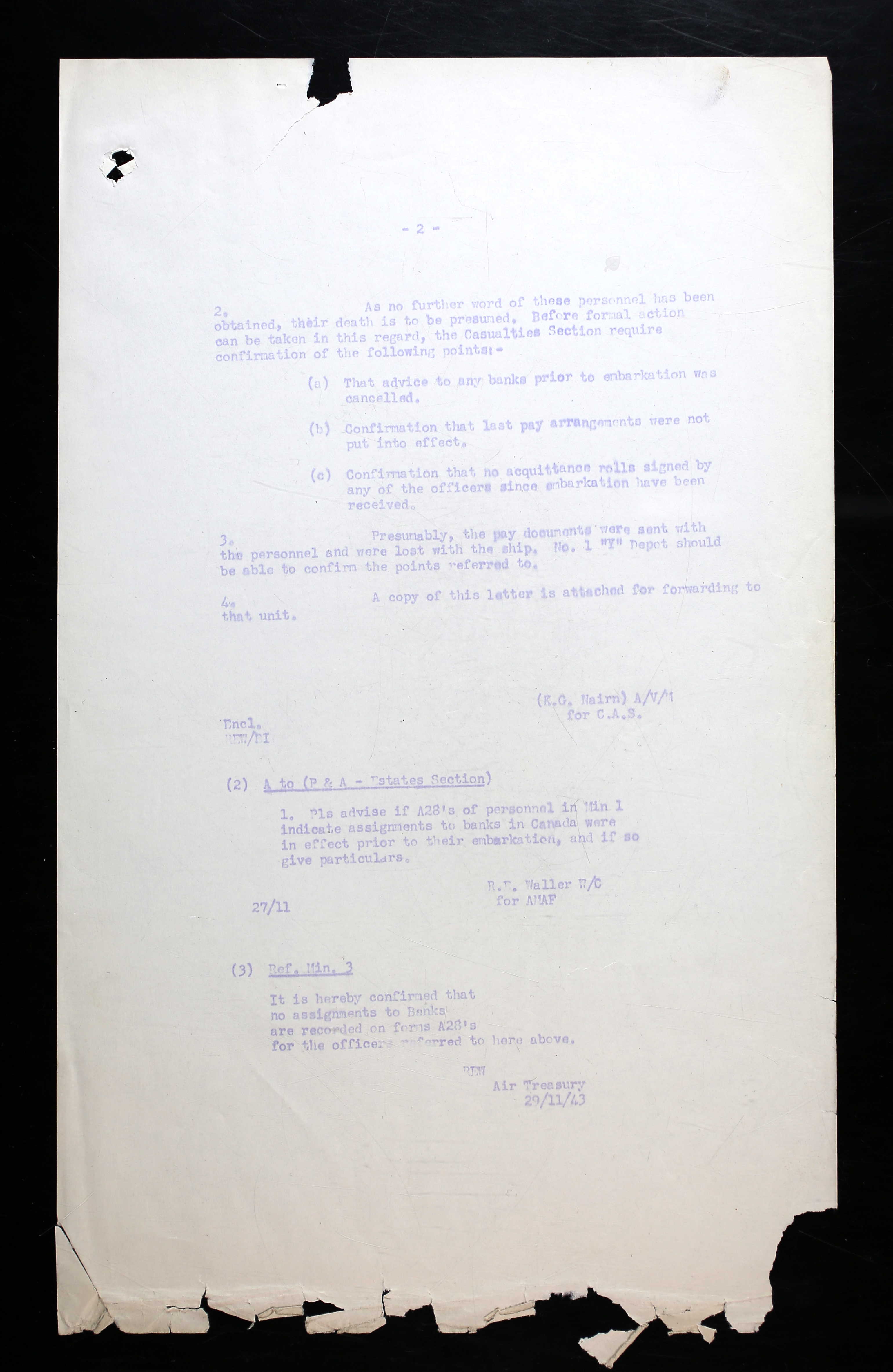 Butcher washed out in pilot training due to negligence in collision, became air bomber.
Frederick Bennett Keys was the son of Earnest Bennett Keys, manager, and his wife, Hilda Bertha (nee Tweedy) Keys, of Toronto, Ontario. He had one brother, Robert Tweedy Keys (1924-2010), enlisted in the army at Camp Borden. The family attended the United Church.
When he was 14, he fractured his left wrist and healed well. He had measles, mumps, whooping cough and the chicken pox. He had a burn scar across dorsum of his left foot.
Fred attended Central High School of Commerce, Toronto, with the equivalent of junior matriculation. He worked as a butcher at Loblaw's prior to his enlistment with the RCAF in Toronto, November 26, 1941. He had worked as a clerk for Ideal Bread Co. from 1938 to 1941, but left due to being dissatisfied with the position.
He enjoyed hockey, riding, rugby, gymnastics, and track, making the senior teams. He liked music. He smoked eight cigarettes a day and indicated he did not drink alcohol. "Good, stocky. Mentality: high standard." He was right handed. He had brown eyes and hair, with a medium complexion. He stood 5'6" tall and weighed 144 pounds. " Average type, medium athletic build, clean and neatly dressed, fair appearance, alert, quiet, intelligent, industrious, dependable, thorough, conscientious, reflects good home life. Should respond well to RCAF training. Suitable for commissioned rank with training." He was accepted into the RCAF December 19, 1941.
Frederick took out $4000 in life insurance.
Fred started his journey through the BCATP, starting at No. 1 Manning Depot, Toronto, January 12, 1942 for four weeks. He then was sent to No. 1 Bomb and Gunnery School, Jarvis, Ontario February 15 until April 11, 1942. From there, he went to No. 6 ITS, Toronto until July 4, 1942, then to No. 20 EFTS, Oshawa from July 5 to August 29, 1942.
June 16, 1942: "Good physique, youthful, sincere, steady, fair educational background, good average ability, which together with work will overcome any obstacles in ground school. Wants pilot. Night vision: below average."
He was sent to Dauphin, Manitoba to No. 10 SFTS from August 30 to October 28, 1942. In early October, Fred was confined to barracks for seven days, as well as held in detention for 48 hours. Offence: "Taxying [Cessna Crane] Aircraft 7893 in a negligent manner at night resulting in a collision with [Cessna Crane] Aircraft 8072 resulting in damages to the extent of $9,220.00." [Incident occurred on October 7th.] Cessna 7893 was severely damaged by the post crash fire and it was sent to No. 8 Repair Depot on August 10, 1943 for scrapping.
Fred was then sent to KTS (Composite Training School), Trenton, until November 20, 1942. This station was often a destination for those who washed out of their training.
He then found himself at No. 5 Bomb and Gunnery School, Dafoe, Saskatchewan from November 21, 1942 until February 6, 1942. He traveled to No. 1 CNS, Rivers, Manitoba and was there until April 3, 1943.
On March 19, 1943, Fred received his Air Bomber's Badge and his commission.
By April 4, 1943, Fred was at Y Depot, Halifax, and awaiting transport overseas. Some time later, he, with 36 other RCAF airmen, boarded the Amerika. On April 22, while on its way from Halifax, Nova Scotia to Liverpool, it was torpedoed as the ship was heading to Britain. It was a straggler in convoy HX-234. Thirty-seven men, all officers in the RCAF, were presumed missing as a result of enemy action at sea including Fred. Their ship was sunk by U-306, south of Cape Farewell, off Greenland.
Forty-two crew members and seven gunners were also amongst those who were lost. The master, Christian Nielsen, 29 crewmembers, eight gunners, and sixteen passengers (RCAF airmen) were picked up by the HMS Asphodel, and landed at Greenock. General cargo, including metal, flour, meat and 200 bags of mail were also lost.
Mr. and Mrs. Keys received a letter in June 1943 from F/L W. R. Gunn, RCAF Casualties Officer for Chief of the Air Staff. "Since my letter of May 6th, no additional news has been received. Attached is a list of the names and next-of-kin of sixteen Royal Canadian Air Force officers who embarked on the same ship as your son and following enemy action at sea were safely landed in the United Kingdom. The following official statement was made in the House of Commons....'I have been in receipt of communications from a number of members of this house and from people outside with reference to rumours regarding the recent loss of a number of members of the RCAF by the sinking of a ship in the north Atlantic and I desire to make the following statement on the facts. The vessel in question was a ship of British registry of 8,862 tons, designed for peace-time carriage of both passengers and freight, and having a speed of fifteen knots. She carried a crew of 86 and the passenger accommodation consisted of 12 two-berth rooms with bath and 29 other berths, providing cabin accommodations for 53 passengers. She was fitted with lifeboat capacity for 231 and travelled in naval convoy. Under the recently revised regulations agreed to by the United States authorities, the joint United Kingdom and United States shipping board, the Admiralty, the Air Ministry and the Canadian authorities, a vessel of this description travelling in convoy is permitted to embark as crew and passengers a maximum of 75% of the lifeboat capacity. The lifeboat capacity as stated above was 231, 75% of which is 173. Personnel on board consisted of the crew of 86, and RCAF personnel numbering 53, a total of 139, well within the prescribed limits. Because of the superior type of available passenger accommodation, the speed of the ship and the provision of naval convoy, the offer of the entire available space to the RCAF was immediately accepted. Rumours to the effect that this was a slow freighter not suitable for passenger accommodation are, of course, not in accord with the facts. Every precaution was taken to safeguard the lives of these gallant young men. It should be pointed out that on account of the serious shipping shortage every available berth on such ships must be used, and had the space not been taken up by the RCAF officers of the other arms of the services would have been placed on Board. It should also be stated again that the submarine is still the enemy's most powerful weapon and that the Battle of the Atlantic is not yet won. Any ocean trip today in any part of the world is fraught with danger and I think I may safely say that our record in transporting our soldiers and airmen to the United Kingdom is one of while we may all be proud. No one deplores more than I do the loss of 37 of the finest of our young men who gave their lives for their country as surely as if they had done so in actual combat with the enemy, and I extend my deepest sympathy to their loved ones in their bereavement.' If further information becomes available, you are to be reassured it will be communicated to you at once. May I again extend to you my sincere sympathy in this time of great anxiety."
In early January 1944, Fred's mother received another letter from S/L W. R. Gunn that Fred would now be presumed dead for official purposes.
In October 1955, Mr. and Mrs. Keys received the letter from W/C W. R. Gunn informing her that Fred's name would appear on the Ottawa Memorial, as Fred had no known grave, expressing sympathy on the loss of her gallant son.