Frank Simpkins J7211
September 11, 1909 - October 15, 1941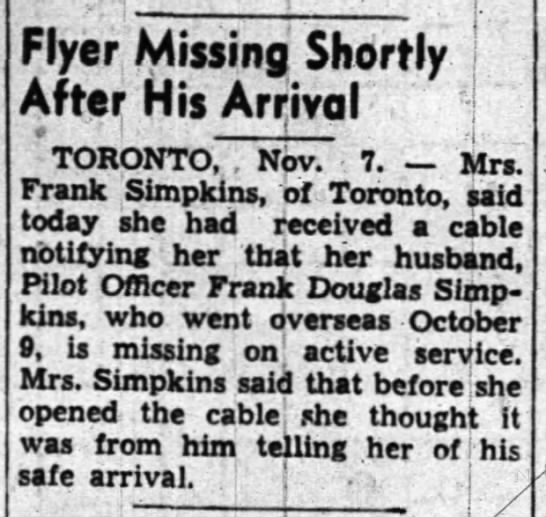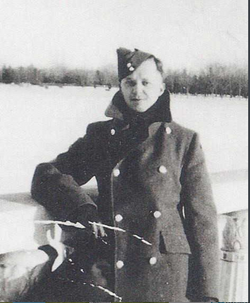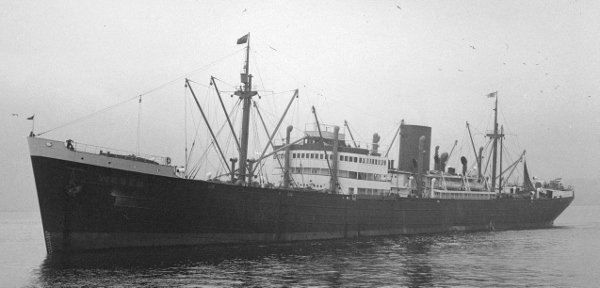 Married with children, accounting clerk became above average Air Observer.
Frank Douglas Simpkins was the son of Frank Simpkins (1877-1950) of Toronto, Ontario and Anne Jane (nee Cox) Simpkins (1876-1931). His mother died of stomach cancer. He had four sisters: Ethel (1909-1998), Winnie (b. 1911), Evelyn (1916-2010), and Gladys (1919-1996). Their brother, Roland, died of malaria in March 1933. They attended the United Church.
Frank enlisted in Toronto, Ontario on November 20, 1940. He was employed for fifteen years as a clerk/accountant for Fraser Dingman & Co., and investment dealer. He planned to return to the company after the war, but wanted to continue to fly. "Delicate looking and underweight, but good appearance, capable, confident, pleasant manner. Self-reliant. Past the age limit for Pilot but is suitable material for Observer. Married with two children." Also noted: "Has been employed since leaving school in 1925 as order clerk and accountant and is well recommended by his employer, Fraser Dingman & Co."
Frank indicated he had been knocked out once with no ill effects, had pneumonia at ages 3 and 10, and was seasick twice. He also had the typical childhood diseases of measles, mumps, and chicken pox.
He liked to play basketball and did so extensively from 1930 to 1938. He occasionally swam. He said he could speak French, as he studied it for four years, but "it needs brushing up." Frank smoked a pipe and indicated he did not consume alcohol. He liked to collect stamps.
His physique was noted as wiry. He had a scar on his left thumb and index finger, plus a vaccination scar on his left arm. "Slight hypermetropia," or long sightedness. Frank stood 5'9" tall, and weighed 124 pounds. He had brown eyes and dark brown hair. Varicose veins were noted on the back of both of his legs.
Frank married Kathleen Slack on September 12, 1936 in Toronto. They had two children, Douglas Barry, born July 15, 1937, and Sandra Lynne, born December 7, 1939. They lived at 275 Wright Avenue, Toronto. She also lived at 859 Queen Street East.
From February 21 to March 26, 1941, Frank was at No. 2 Initial Training School in Regina, Saskatchewan. He passed with an 84.7%. He was 20th in his class. "Determined, cool, reliable, honours accountancy diploma. Moderately active in sports. Possibly inclined to rate own ability high."
He then was sent to No. 3 Air Observers' School, also in Regina, until June 23, 1941. He passed with an 84.7% and was first in his class out of 42. "Good work throughout. Logs exceptionally good." He was also noted as being "quick, neat, accurate and conscientious." He was suitable for commission. "Steady, capable, reliable, co-operative."
In Mossbank, Saskatchewan, at No. 2 B&G School, he took Armament Training from June 23 to August 4, 1941 and passed with a 72.5%. He was 9th in his class out of 38. He was awarded his Observer's Badge. He was above average as a bomb aimer, and below average as an air gunner. "Very conscientious and has his work well in hand."
He was then sent to Advanced Air Observers Training at No. 1 ANS in Rivers, Manitoba from August 4 to September 1, 1941, He was 16th in his class and passed with an 80%. "Above average on all exercises. A very good student. No trouble to learn. The above plotting mark does not indicate this man's ability. Above average in all work."
Frank received his commission on September 1, 1941.
Frank was at No 31 O. T. U., Debert, Nova Scotia, RAF Observer's School by September 17, 1941, then in Halifax, a week later, awaiting transport overseas.
Frank's sister, Ethel, was to be the executrix of his will, should he die; Kathleen was the sole beneficiary to his estate.
From uboat.net: At 21.54 hours on 15 Oct 1941 the unescorted Vancouver Island (Master Eric Lacey Roper) was spotted by U-558, which was searching convoy SC-48 west of Ireland. Due to her high speed of about 15 knots the U-boat immediately went on full speed to get into a favorable attack position and fired a spread of three torpedoes from about 2000 meters at 22.49 hours, hitting the ship with two of them after 144 seconds. The vessel was hit in the fore part and amidships and stopped but did not sink. Because Krech wanted to continue the search for convoy he fired two coups de grâce from more than 1000 meters at 23.08 and 23.17 hours, hitting the ship fore and aft and causing her to sink fast by the stern. The Germans had observed how the crew abandoned ship in lifeboats after the first hits, but HMS Dianthus (K 95) (LtCdr C.E. Bridgman, RNR) sent to her assistance from the dispersed convoy ON-24 did not find any survivors. On 31 October, a lifeboat with the bodies of two officers from the ship was found by a British warship in 56°08N/20°45W. The master, 64 crew members, eight gunners and 32 passengers were lost.