Frank Gibson J24629
May 18, 1911 - April 22, 1943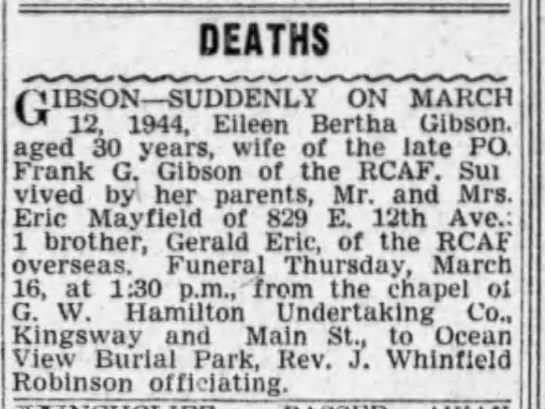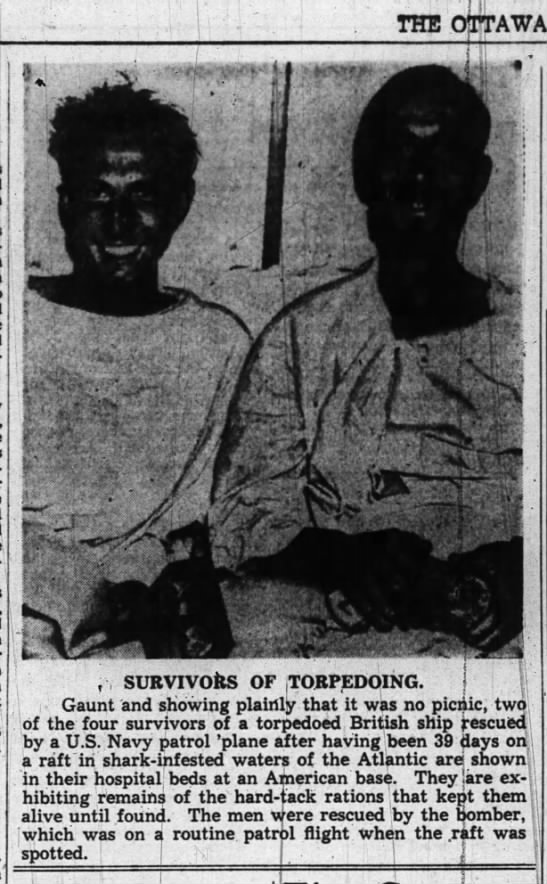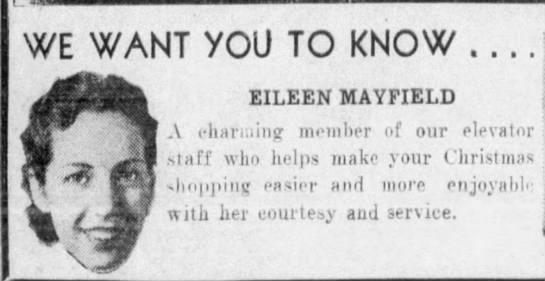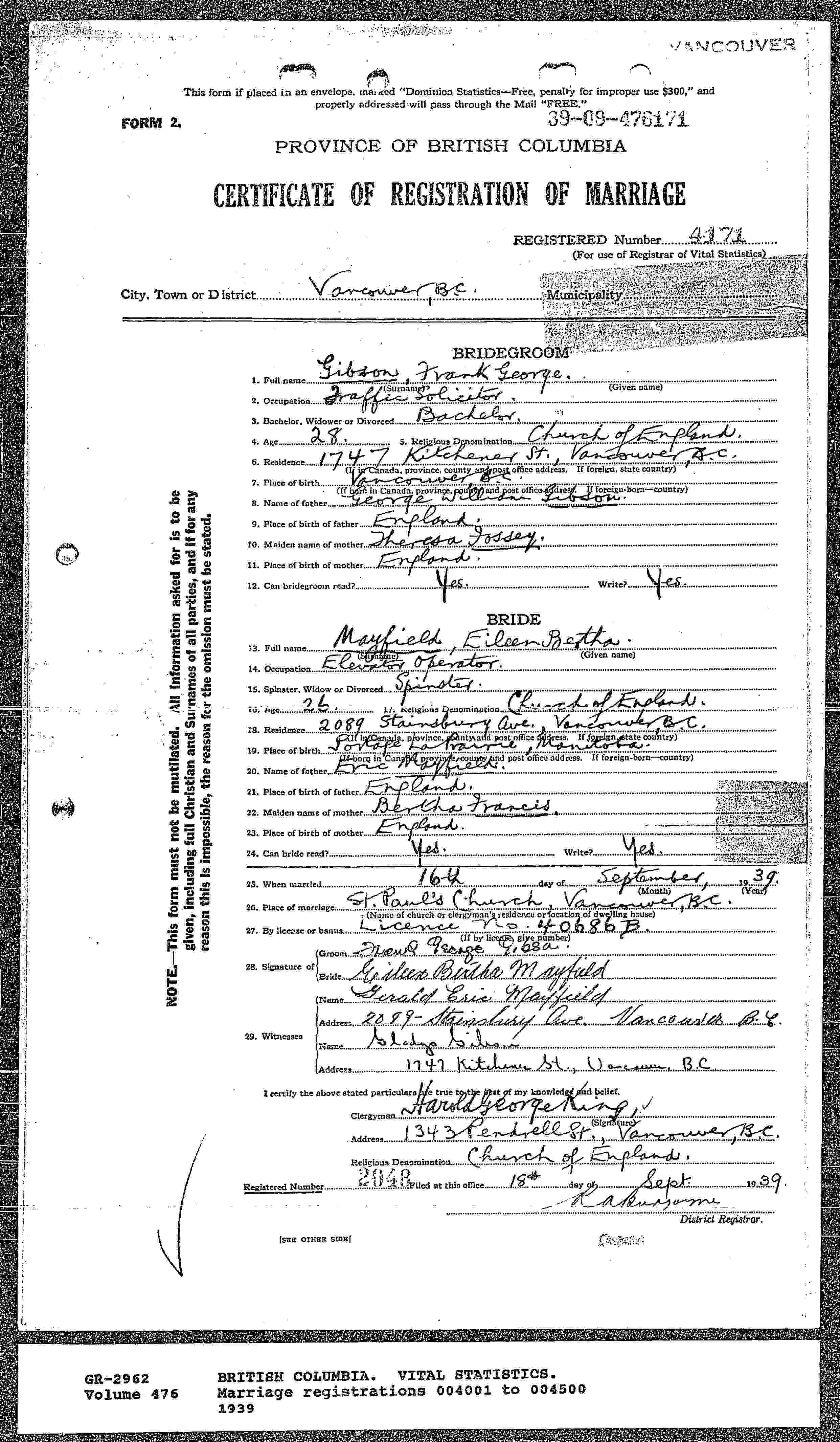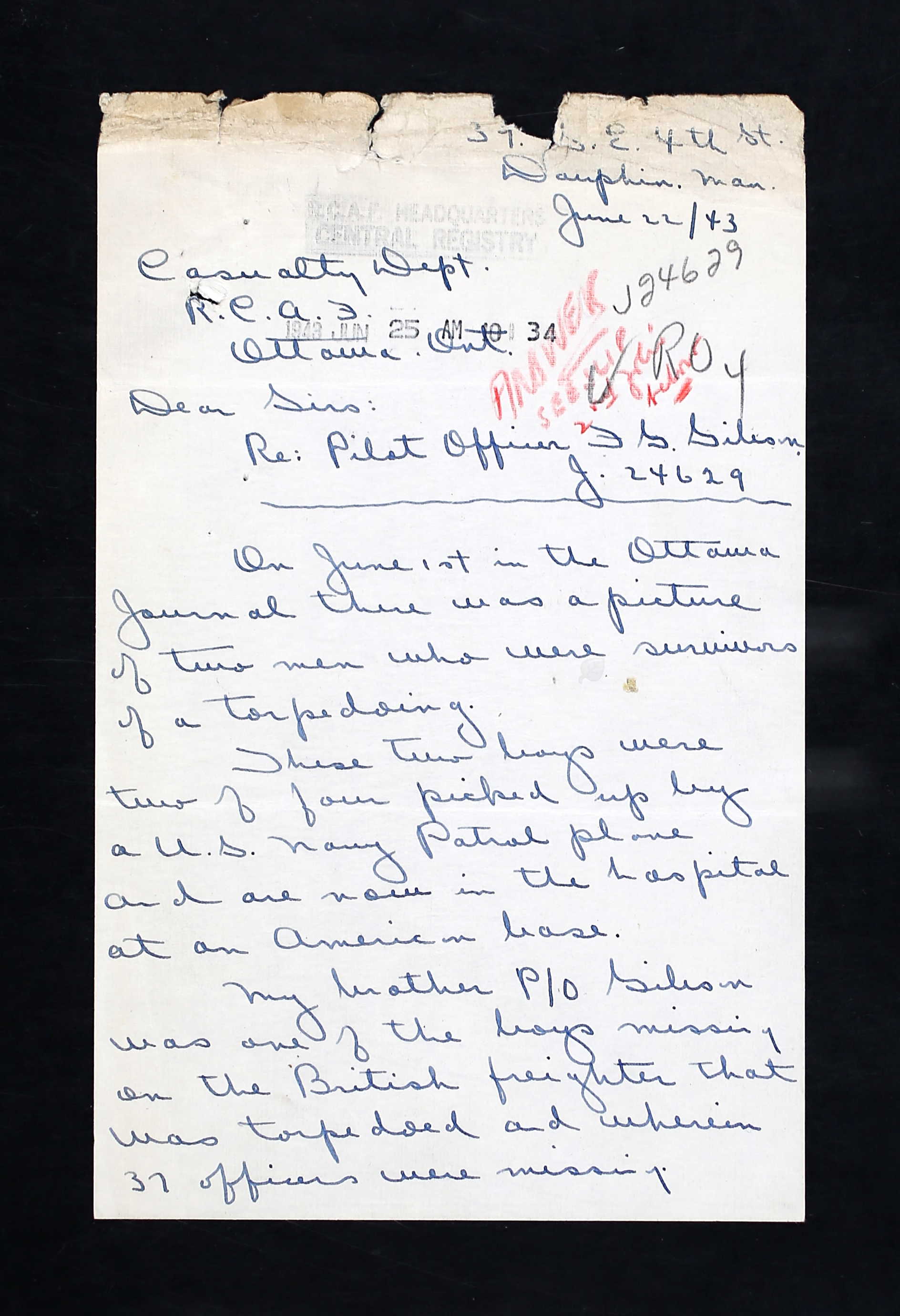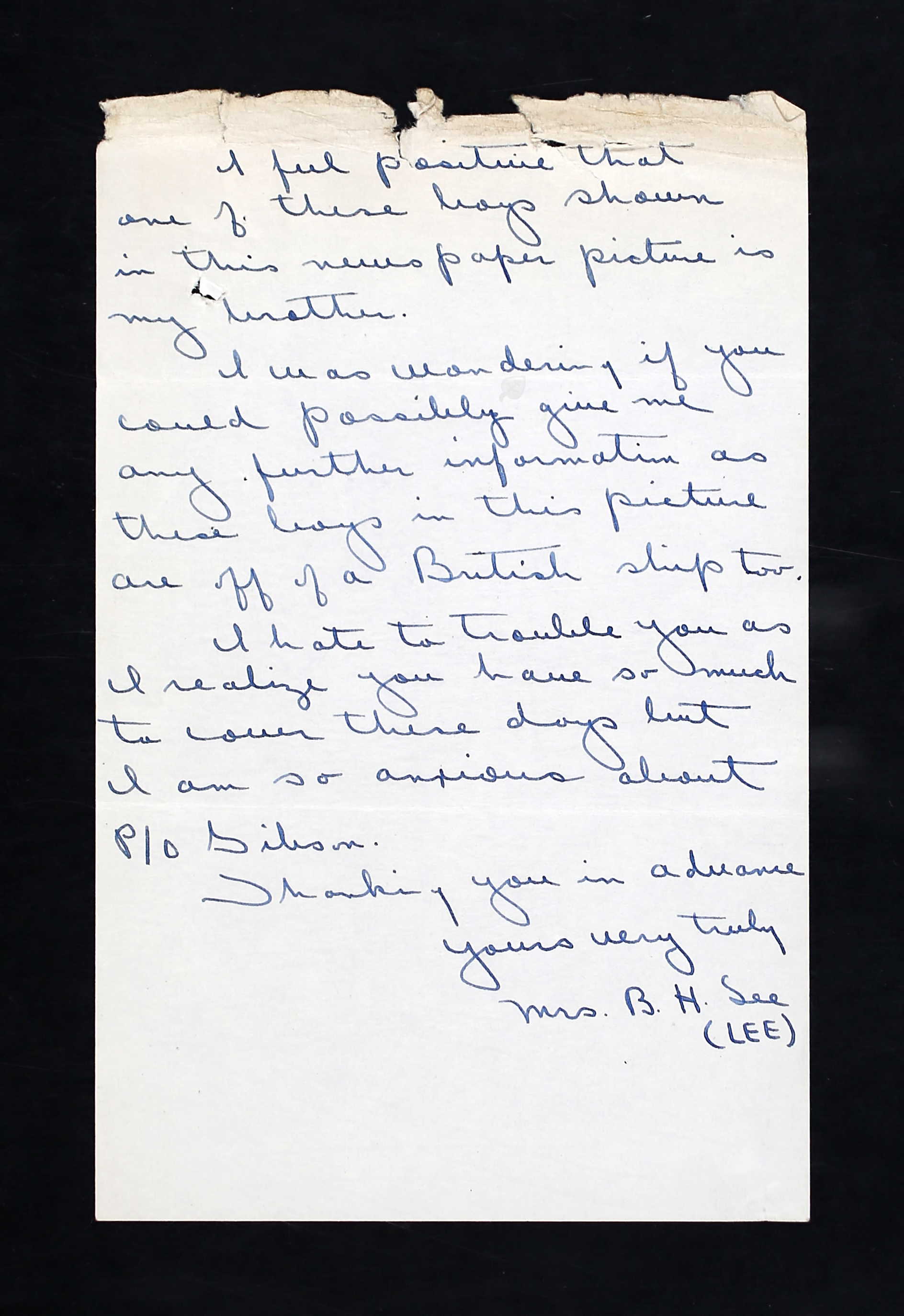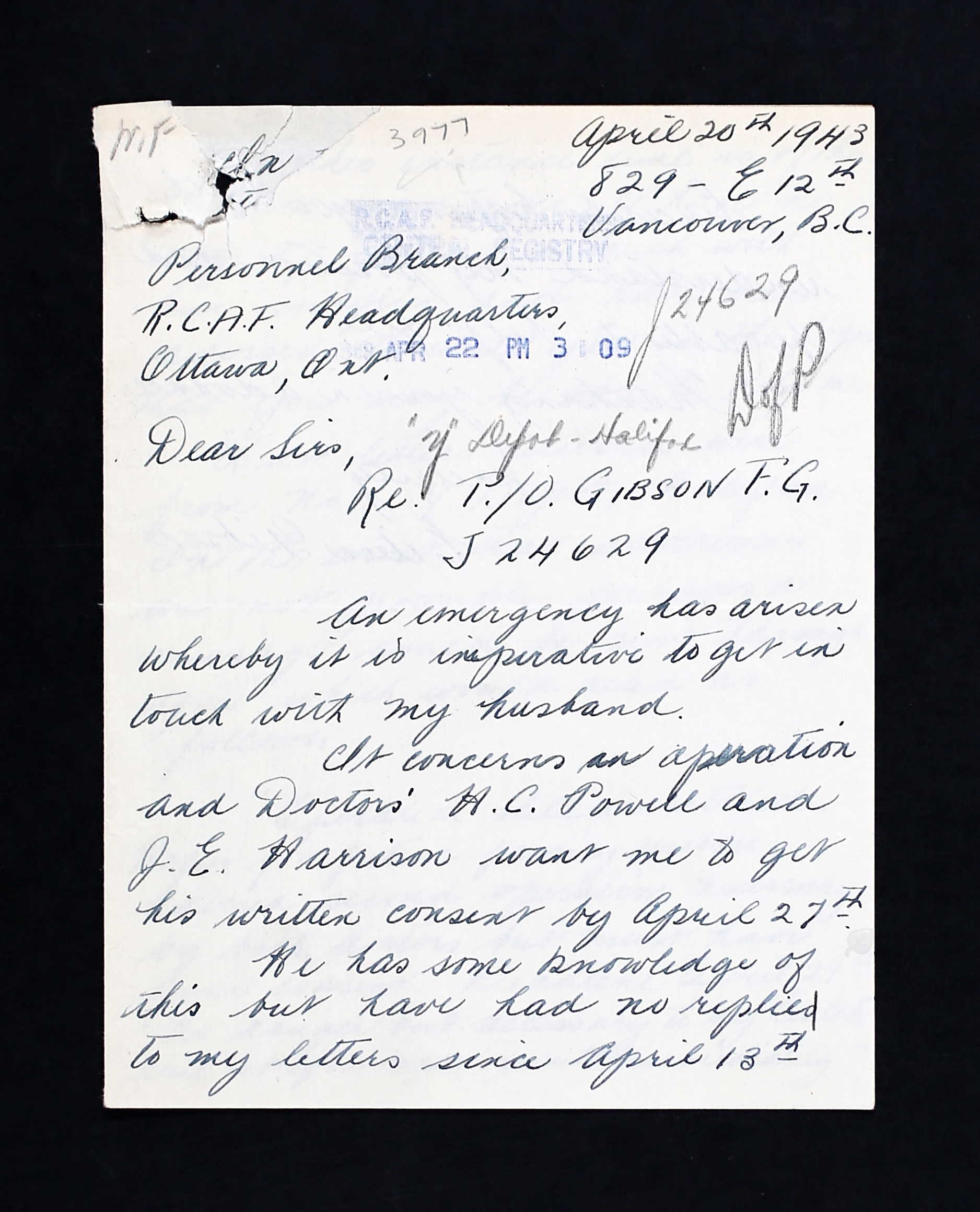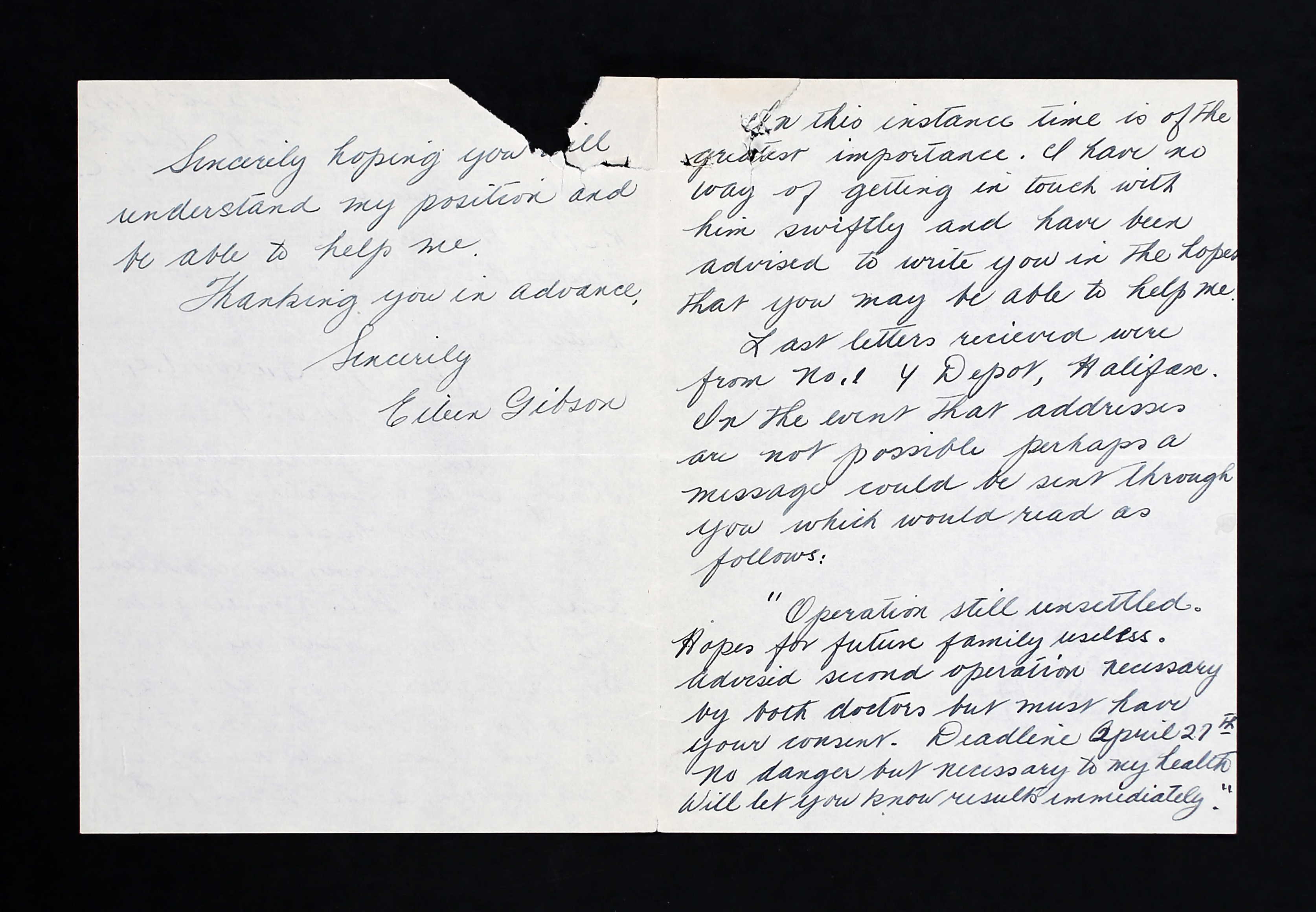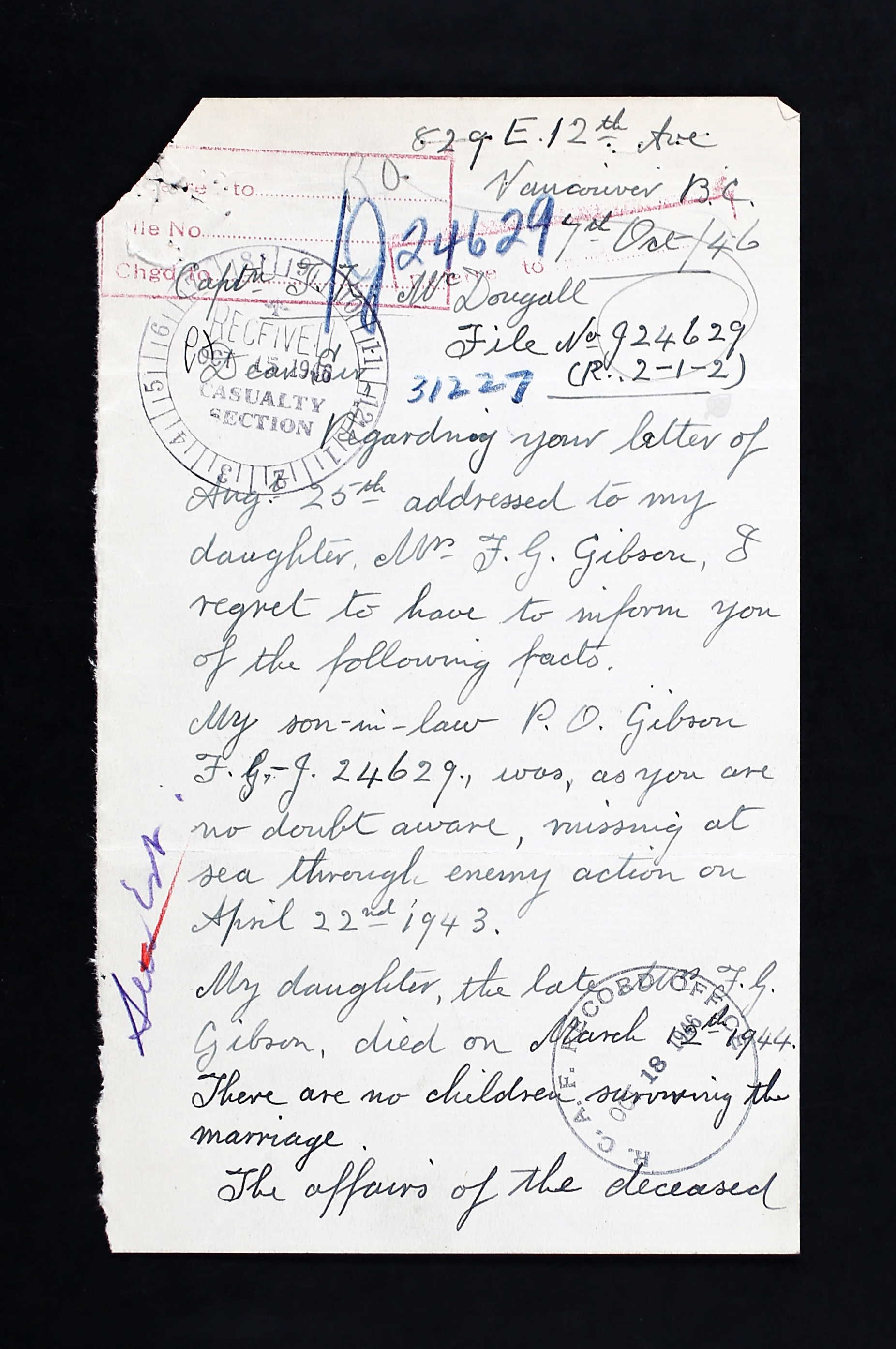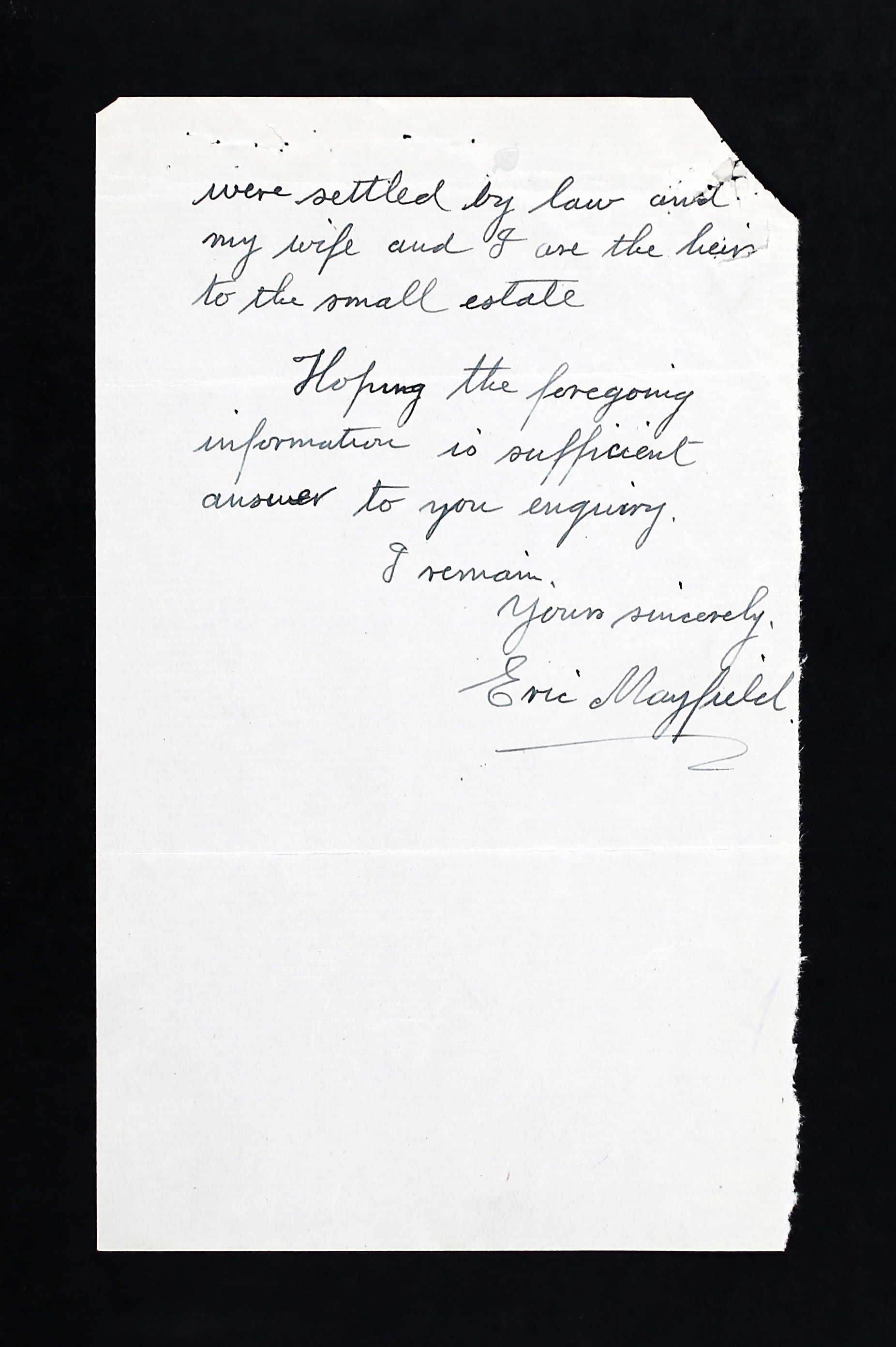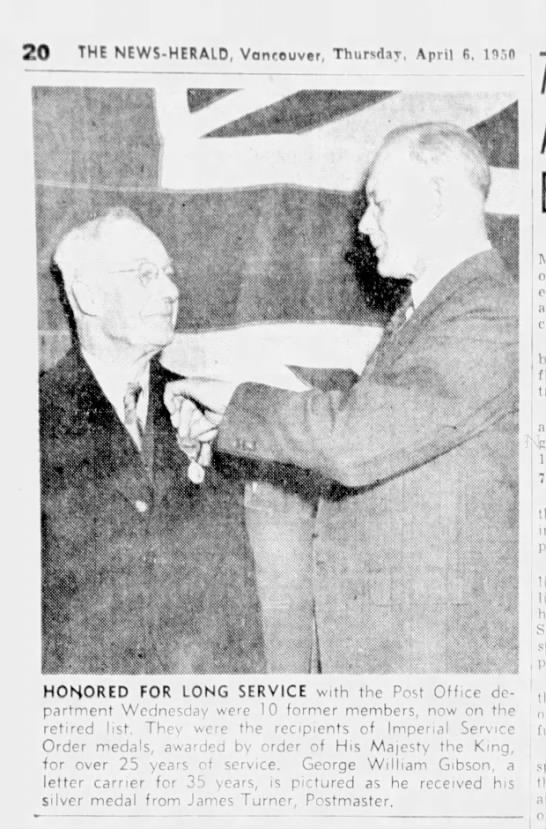 Manager wanted pilot, became air bomber. Photo in paper spurs sister to write to RCAF. Wife dies eleven months later.
Frank George Gibson, born in Vancouver, BC, was the son of George William Gibson, letter carrier, and his wife, Teresa (nee Fossey) Gibson. Frank had two sisters, Mrs. Margery Wells, Ottawa, Ontario, and Mrs. Gladys Lee, Dauphin, Manitoba. The family was Anglican.
Frank attended Grade IX of the Commercial Department of Britannia High School, 1926-1927. He left in March 1927 to take a position with Marshall Wells. He then took night courses in bookkeeping.
On September 16, 1939, Frank married Eileen Bertha Mayfield in Vancouver. She was an elevator operator at The Hudson's Bay Company in downtown Vancouver. They planned to make their home at Deep Cove, BC after the war.
Frank, had a Grade IX education supplemented with night school, was employed as a customs clerk for eight years, then a manager for International Forwarding Company for five years, when he enlisted with the RCAF in Vancouver April 4, 1942.
Frank stood 5'10 ¾" tall, weighed 139 pounds, had a wiry physique, brown eyes and dark brown hair. He also wore a brown trimmed moustache. He had a scar on the right side of his lower lip, plus a dusting of freckles across the back of his shoulders. He enjoyed rugby, football, and tennis. Swimming and music (piano) were also noted as something he enjoyed. He smoked 15 cigarettes per day and socially drank alcohol.
"Excellent aircrew type. Keen. Alert. Underweight, fit. Age 31. Has a good deal of experience as a transportation manager with BC international freight company lower than average schooling, made up a good deal since then. Physical OK. Temperament mature; is married, wife has high blood pressure. Steady, wants to fly. Emotional stability good, was upset and worried by the 40 and mem test period anxious to succeed. Choice pilot or bomber."
Frank was sent to No. 3 Manning Depot in Edmonton, Alberta on April 8, 1942, then sent to No. 8 B&G School in Lethbridge, Alberta from May 26, 1942 until July 4, 1942, waiting until a spot opened up for him to start his training as a pilot.
On July 5, 1942, Frank was sent to No. 2 ITS, Regina, Saskatchewan. "He is a good organizer, cheerful, and has a good sense of humour. He indicates leadership qualities and with a little more experience, he might be considered suitable for commission. He is quite ambitious and promotes good will among his fellow men. He has plenty of initiative." He was 63rd out of 101 in class, with a 79.2%.
By October 11, 1942, he was at No. 3 EFTS, Fort William, Ontario, but was washed out by November 15, 1942. "Failed course of instruction. Unsatisfactory flying progress." Other comments: "This chap has apparently put a lot of effort into flying but lacks the necessary air sense and co-ordination to make a good pilot. Deportment good. Recommend Air Bomber. Energetic in Ground Instruction School, an excellent type of student, but not gifted, or too long absent from study. Results therefore about average standing."
"This student's flying progress has been slow since the start of his training. His first instructor indicated that he was weak and erratic, careless and forgetful, at the same time overconfident. On his progress test by his flight commander, it was found that he held off bank on all gliding turns, his judgment was only fair on forced landings, and his landings were poor. It was decided to carry him for another three hours dual. At the end of this., he was still below average and was handed to the supervisory staff for a progress test. On this test, his flying was mechanical, held off bank on gliding turns, and rough on spin recovery. He had made no progress since his 20 hour test and it was thought that he would never make a successful service pilot, therefore his training was ceased. Although keen and enthusiastic, he showed only average ability." F/O W. C. Cameron.
On November 18, 1942: "Pending maths for Air Bomber. Good type. Mature, well-motivated. Keen to do a good job. Would like to carry on as Navigator after finishing Air Bomber Course. Recommend commission."
He was sent to Trenton to KTS (Composite Training School), until the RCAF figured out where Frank could continue training. Options: Air Navigator or Air Bomber.
From December 7, 1942 to February 5, 1943, Frank was at No. 7 B&G School in Paulson, Manitoba. He was being trained as an air bomber. He had a 75.8%.
Then he was sent to No. 7 AOS, Portage la Prairie, Manitoba. On March 19, he was late getting back to the base and he was written up on the General Conduct Sheet. "Certified no entry." This was the same day he received his commission and his Air Observer's Badge. He had a 77.7%.
By April 14, 1943, Frank was at Y Depot, Halifax, awaiting transport overseas.
Sometime later, he, with 36 other RCAF airmen, boarded the Amerika. On April 22, while on its way from Halifax, Nova Scotia to Liverpool, it was torpedoed as the ship was heading to Britain. It was a straggler in convoy HX-234. Thirty-seven men, all officers in the RCAF, were presumed missing as a result of enemy action at sea including Frank. Their ship was sunk by U-306, south of Cape Farewell, off Greenland.
Forty-two crew members and seven gunners were also amongst those who were lost. The master, Christian Nielsen, 29 crewmembers, eight gunners, and sixteen passengers (RCAF airmen) were picked up by the HMS Asphodel, and landed at Greenock. General cargo, including metal, flour, meat and 200 bags of mail were also lost.
On April 20, 1943, Eileen Gibson wrote to the Personnel Branch of the RCAF in Ottawa: "An emergency has arisen whereby it is imperative to get in touch with my husband. It concerns an operation and Doctors H. C. Powell and J. E. Harrison want me to get his written consent by April 27th. He has some knowledge of this but have had no reply to my letters since April 13th. In this instance, time is of the greatest importance. I have no way of getting in touch with him swiftly and have been advised to write you in the hopes that you may be able to help me. Last letters received were from No. 1 Y Depot, Halifax. In the event that addresses are not possible, perhaps a message could be sent through you which would read as follows: Operation still unsettled. Hopes for future family useless. Advised second operation necessary by both doctors but must have your consent. Deadline April 27. No danger but necessary to my health. Will let you know results immediately. Sincerely hoping you will understand my position and be able to help me." The letter was received April 23, 1943, one day after the Amerika was torpedoed.
On June 22, 1943, Frank's sister, Gladys Lee, wrote to the RCAF, Casualty Department in Ottawa. "On June 1 in the Ottawa Journal, there was a picture of two men who were survivors of a torpedoing. The two boys were two of four picked up by a US Navy Patrol plane and now are in hospital in at an American base. My brother, P/O Gibson was one of the boys missing on the British freighter that was torpedoed and where in 27 offices were missing. I feel positive that one of these boys shown in this newspaper picture is my brother. I was wondering if you could possibly give me any further information as these boys in this picture are off a British ship, too. I hate to trouble you as I realize you have so much to cover these days, but I am so anxious about P/O Gibson."
Eileen received a letter dated June 25, 1943 from F/L W. R. Gunn, RCAF Casualties Officer for Chief of the Air Staff. "Since my letter of May 6th, no additional news has been received. Attached is a list of the names and next-of-kin of sixteen Royal Canadian Air Force officers who embarked on the same ship as your son and following enemy action at sea were safely landed in the United Kingdom. The following official statement was made in the House of Commons....'I have been in receipt of communications from a number of members of this house and from people outside with reference to rumours regarding the recent loss of a number of members of the RCAF by the sinking of a ship in the north Atlantic and I desire to make the following statement on the facts. The vessel in question was a ship of British registry of 8,862 tons, designed for peace-time carriage of both passengers and freight, and having a speed of fifteen knots. She carried a crew of 86 and the passenger accommodation consisted of 12 two-berth rooms with bath and 29 other berths, providing cabin accommodations for 53 passengers. She was fitted with lifeboat capacity for 231 and travelled in naval convoy. Under the recently revised regulations agreed to by the United States authorities, the joint United Kingdom and United States shipping board, the Admiralty, the Air Ministry and the Canadian authorities, a vessel of this description travelling in convoy is permitted to embark as crew and passengers a maximum of 75% of the lifeboat capacity. The lifeboat capacity as stated above was 231, 75% of which is 173. Personnel on board consisted of the crew of 86, and RCAF personnel numbering 53, a total of 139, well within the prescribed limits. Because of the superior type of available passenger accommodation, the speed of the ship and the provision of naval convoy, the offer of the entire available space to the RCAF was immediately accepted. Rumours to the effect that this was a slow freighter not suitable for passenger accommodation are, of course, not in accord with the facts. Every precaution was taken to safeguard the lives of these gallant young men. It should be pointed out that on account of the serious shipping shortage every available berth on such ships must be used, and had the space not been taken up by the RCAF officers of the other arms of the services would have been placed on Board. It should also be stated again that the submarine is still the enemy's most powerful weapon and that the Battle of the Atlantic is not yet won. Any ocean trip today in any part of the world is fraught with danger and I think I may safely say that our record in transporting our soldiers and airmen to the United Kingdom is one of while we may all be proud. No one deplores more than I do the loss of 37 of the finest of our young men who gave their lives for their country as surely as if they had done so in actual combat with the enemy, and I extend my deepest sympathy to their loved ones in their bereavement.' If further information becomes available, you are to be reassured it will be communicated to you at once. May I again extend to you my sincere sympathy in this time of great anxiety."
In mid-January 1944, Eileen received a letter from Air Marshall Robert Leckie telling her that that Frank would now be presumed dead for official purposes. "It is most lamentable that a promising career should be thus terminated and I would like you to know that his loss is greatly deplored by all those with whom your husband was serving."
Frank took out a $5,000 Special Select Ordinary Life Insurance policy, but the policy lapsed. The company made a special exception and paying amount of premiums, according to Eileen. She wrote on the Estates form, February 25, 1944: "Property at Deep Cove, municipality of North Vancouver, BC lots 9 and 10, of lot numbered 4 in Block No. 5 in the subdivision of Sistrict lot numbered 626, Group 1, New Westminster, District plan No. 5581. Lots assessed at $150 each. These lots were jointly held in the names of Frank George Gibson and Eileen B. Gibson. I would like to have the ownership transferred to my own name in order that it may be sold. The deed is on deposit at the Municipal Court House."
On March 12, 1944, Eileen died suddenly. Her obituary appeared in the Vancouver Sun. She was buried in Ocean View Burial Park, Burnaby, BC.
Eric Mayfield, Eileen's father, wrote to the Casualty Section of the RCAF on October 7, 1946. "Regarding your letter of August 25th addressed to my daughter, Mrs. F. G. Gibson, I regret to have to inform you of the following facts. My son-in-law P/O Gibson was, as you are no doubt aware, missing at sea through enemy action on April 22, 1943. My daughter, the late Mrs. Gibson, died on March 12, 1944. There are no children surviving the marriage. The affairs of the deceased were settled by law and my wife and I are the heir to the small estate. Hoping the foregoing information is sufficient answer to your enquiry."
By August 1947, Frank's estate was settled.
In October 1955, a letter addressed to Frank's mother, who had moved back to England, arrived from W/C W. R. Gunn informing her that Frank's name would appear on the Ottawa Memorial, as Frank had no known grave, expressing sympathy on the loss of her gallant son.