Francis 'Frank' William Joseph Lynam J29323
August 24, 1915 - November 14, 1944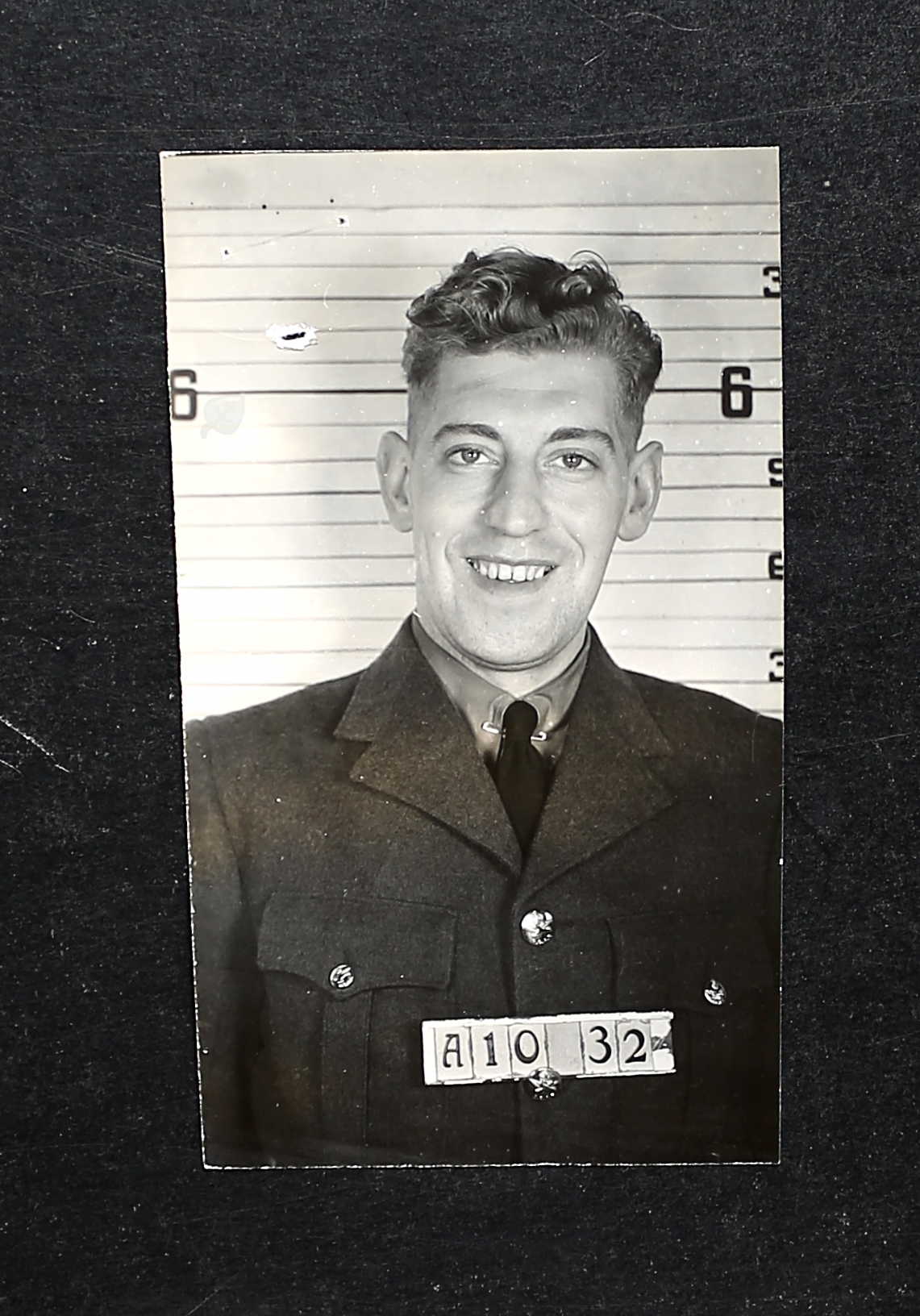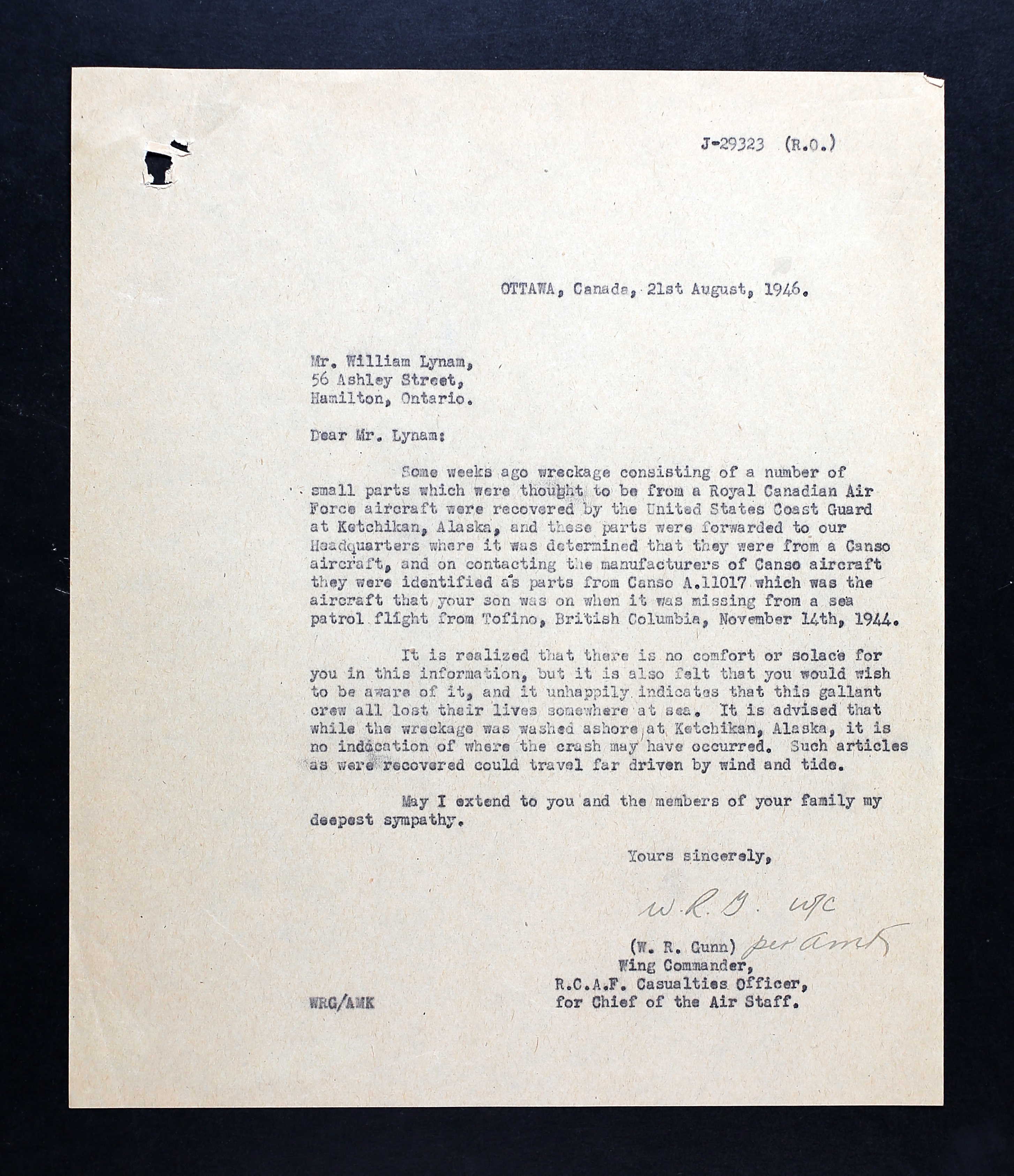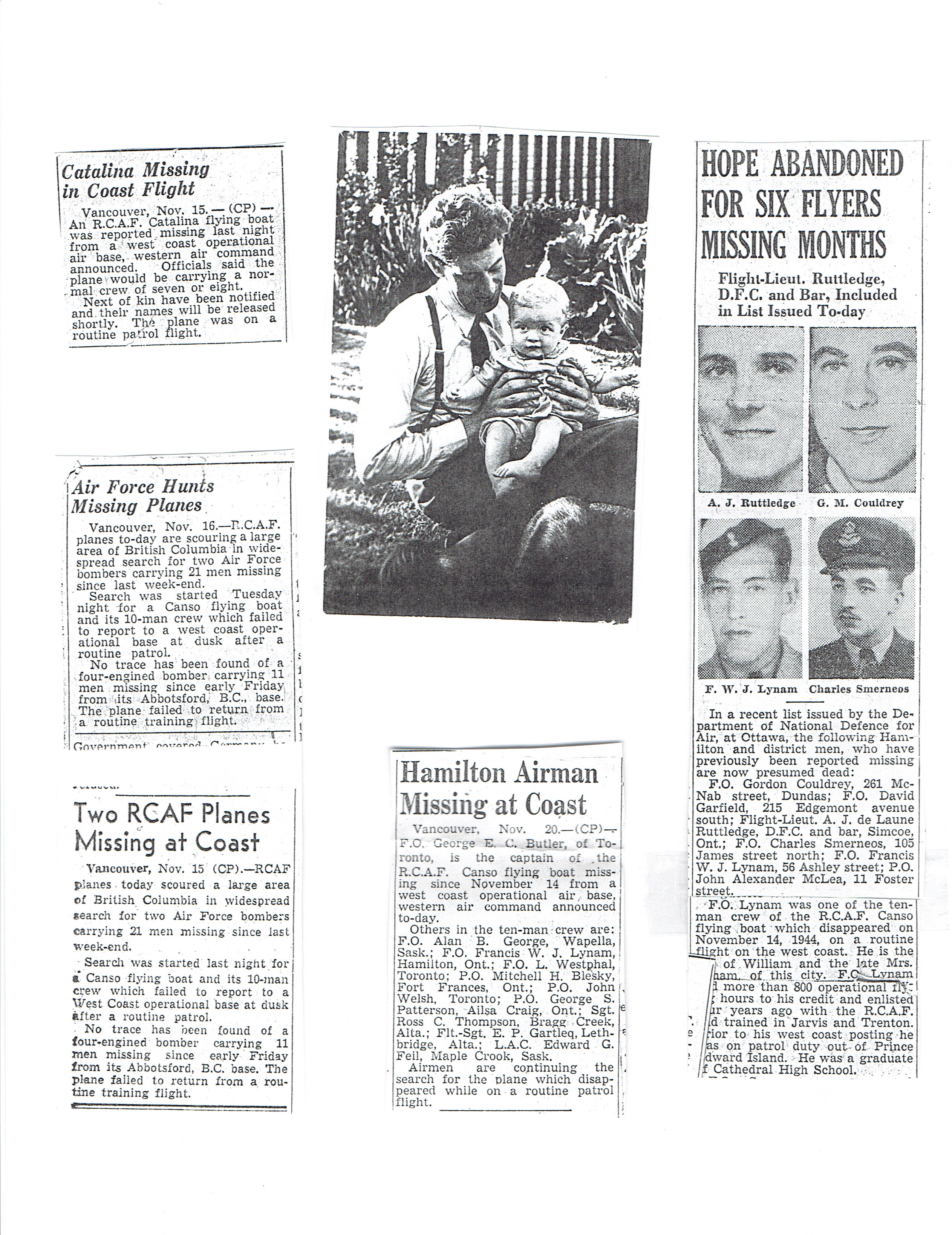 Production clerk from Hamilton, Ontario became navigator. While on a patrol flight aboard Canso 11017, he and nine others were lost.
Francis 'Frank' William Joseph Lynam was the son of William Lynam and Frances (nee Dunne) Lynam of Hamilton, Ontario. His mother had passed away of lung cancer in March 1929. He had three brothers, Chris, Vincent, and Gerald. Gerald was also in the RCAF, stationed in England by 1944. The family was Roman Catholic.
He had his senior matriculation and was a production clerk for Ottis Fenson [later Otis Elevator by 1949] in Hamilton, Ontario, prior to enlistment in February 1942. He enjoyed basketball, plus rugby and badminton, He smoked 10 cigarettes per day and occasionally drank alcohol. His physique was noted as sedentary, his mentality: alert. He stood 6' 1 ¼" tall and weighed 172 pounds. A deformity on the right anterior chest was noted, as was an appendectomy scar. On his attestation papers, he signed, "F. Joseph Lynam."
Frank listed chemistry as a hobby.
"A good candidate. Soft condition due to sedentary occupation. Believe best suited for observer." Other comments: "Excellent physique. Above average mentality. Calm, relaxed, steady. Wants pilot. Good type."
Frank partially supported his family with $50/month. He had a bank account with $173.45 in Hamilton, plus $195 in War Savings Certificates, $600 in Victory Loan Bonds, plus $600 in other bonds. He also had a life insurance policy worth $1000.
Frank started his journey through the BCATP on March 27, 1942 at No. 1 Manning Depot, Toronto, Ontario. He was then sent to Mountain View, Ontario until July 4, 1942.
No. 6 ITS, Toronto was Frank's next stop, from July 5 until September 26, 1942.
Then he was sent to No. 12 EFTS, Goderich, Ontario until October 27, 1942, when he was sent to Trenton for remustering.
He was in Jarvis, Ontario at No. 1 B&G School January 10, 1943 until April 3, 1943. From there he was at No 10 AOS, Chatham, New Brunswick from April 3, until August 20, 1943. Here he received his navigator's badge. He was at No. 1 GRS, Summerside, PEI August 21, 1943.
From there, Frank was sent across the country to No. 3 O.T.U., Patricia Bay, BC October 16, 1943 until January 7, 1944. He was posted to No. 4 Squadron, Tofino, BC January 9, 1944.
In late November 1944, Mr. Lynam received a letter. "Your son was a member of a crew which left the Station on Tuesday morning, November 14, on a regular patrol. A message received from their aircraft indicated that everything appeared to be proceeding normally. After a period of silence, an intensive and widespread search was instituted the same day….both day and night, but so far without success. Please be assured that everything humanly possible is being done to find your son, and his fellow airmen are working themselves without stint both in time and energy to that end."
In August 1946, Mr. Lynam received a letter from Wing Commander Gunn. "Some weeks ago, wreckage consisting of a number of small parts which were thought to be from a RCAF aircraft were recovered by the US Coast Guard at Ketchikan, Alaska, and these parts were forwarded to our Headquarters where it was determined that they were from a Canso aircraft, and on contacting the manufacturers of Canso aircraft, they were identified as parts from Canso A 11017 which was the aircraft that your son was on when it went missing from a sea patrol flight from Tofino, British Columbia, November 14, 1944….there is no indication where the crash may have occurred. Such articles as were recovered could travel far driven by wind and tide."
In late October 1955, Mr. Lynam received a letter from W/C Gunn informing him that since Francis had no known grave, his name would appear on the Ottawa Memorial.