Francis Brooke Pickard Gregory J7025
September 18, 1919 - December 29, 1944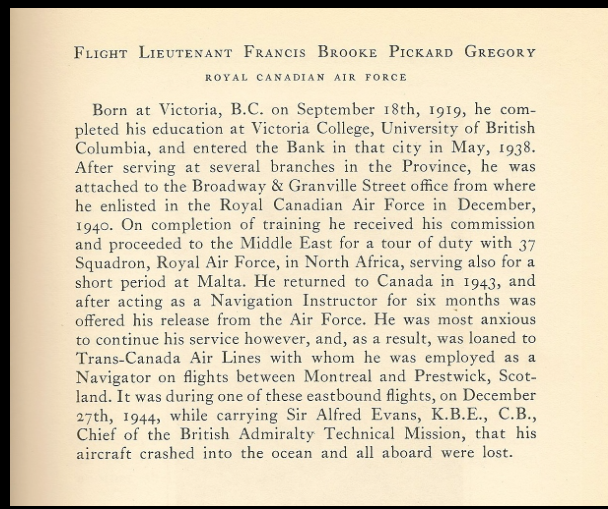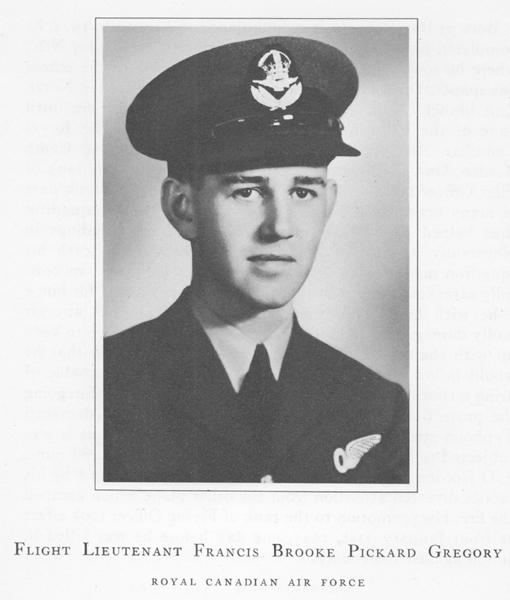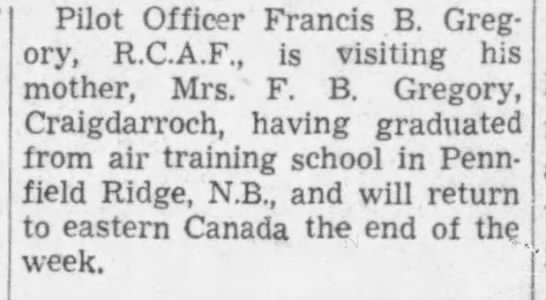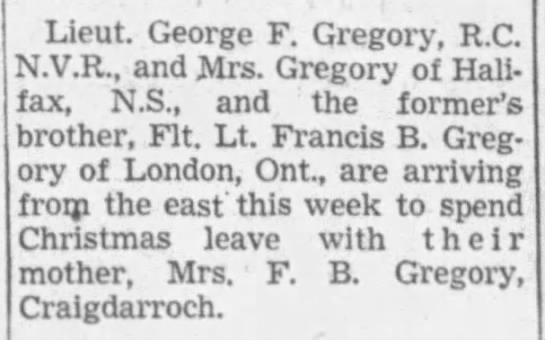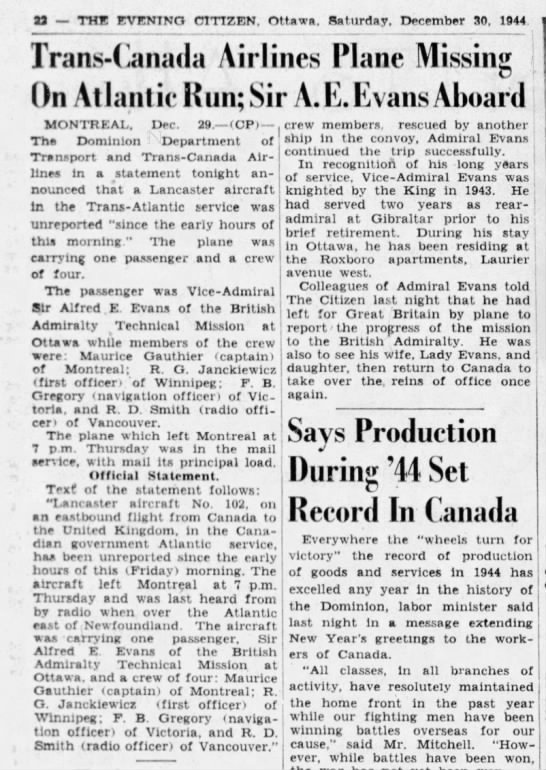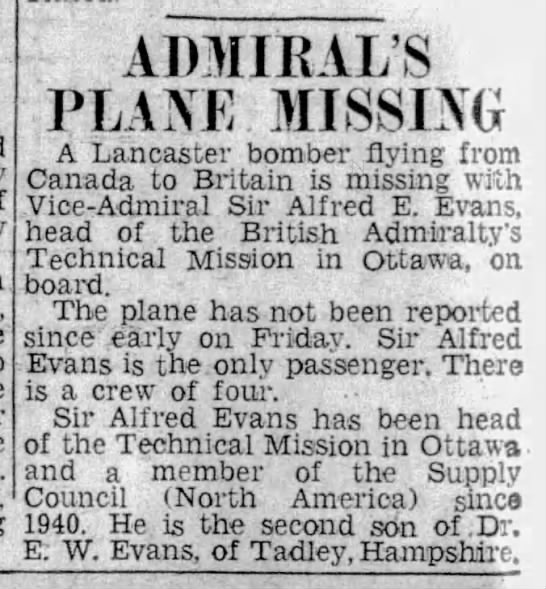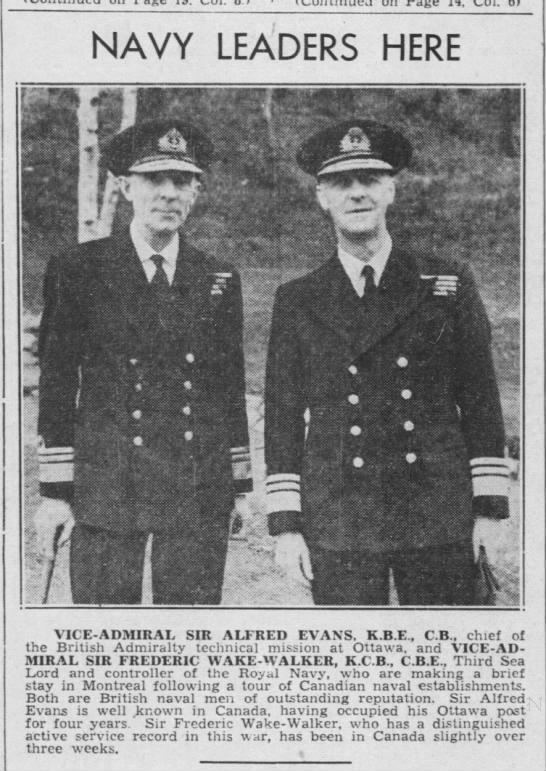 Bank clerk from Victoria became Air Observer; served one tour in the Middle East; returned to Canada and hoped to train as a pilot. Became an instructor, then was taken on strength with TCA. Aboard a flight carrying mail, he and crew, plus one passenger were lost 600 miles east of Newfoundland.
Francis Brooke Pickard Gregory was the son of Francis Brooke Gregory (d. 1936 of cancer), Justice, Supreme Court of BC, and Hannah Pickard (nee Thompson) Gregory (1877-1947), and the brother of George Frederick Thompson Gregory of Victoria, British Columbia, at 1048 Craigdarroch Road. (Their home is now the Craigdarroch Care Home.) The family attended the United Church.
Francis had attended Queen's University and took banking courses, plus was at UBC from 1936-1938 studying Commerce. He was a clerk at the Bank of Montreal prior to his enlistment in the RCAF. He worked in branches in Victoria, Kelowna and then Vancouver. Francis had previous military experience with D Coy. 2nd Battalion, RMR, NPAM, August to November 1940, infantry, while in Kelowna. As a boy, he was in the Boy Scouts and did school drill.
He liked to swim, play badminton and golf, listing a hobby as photography. "Very pleasant chap. Well-groomed and mannered. Above average. Not much leader experience but suitable in all ways for Air Crew." He wanted pilot. Francis stood 5'10 ½" tall and weighed 155 pounds in July 1940, had brown eyes and brown hair. A small scar was noted on his right hand. He was accepted into the RCAF December 17, 1940. He smoked 12 cigarettes a day and did not drink alcohol. "Well built."
He had $4,500 in Victory Loan Bonds and almost $1000 in life insurance, plus shares in Bell Telephone, BC Sugar, and BC Telephone, plus Kerr Addison shares, as well, worth over $3,300.00.
At No. 2 ITS, from February 9 to March 9, 1941: 13th out of 153. Very good material. Moderately active in sports. Father former supreme court judge."
At No. 4 AOS, From March 17 - June 9, 1941: "15th in a class of 36, air training. 19th out of 36 in ground training. Overall: 14th out of 36. Keen and reliable."
At No. 1 B&G School, from June 9 to July 21, 1941: "Above average as a bomb aimer. Average as an air gunner. A very aggressive type, not easily swayed from his purpose. Has every confidence in his ability to do a job. Will make a good observer and officer."
At No. 2 ANS, from July 21 to August 19, 1941: "Average air navigator. Ground training: an above average student. A hard working and enthusiastic observer. Recommended as an instructor." He was 12th out of 32 in his class with 76.3%. "A good responsible leader who will make a good officer observer. Above average." Francis earned his Air Observer's Badge on July 19, 1941.
Francis served in the Middle East. He was with RAF, Gibraltar, February 4, 1942, then Almaza, March 3, 1942. He was with 37 Squadron by April 22, 1942, returning to Canada March 26, 1943.
On March 25, 1943, Francis wrote a letter to the Officer Commanding, RCAF Repatriation Pool. "I have the honor to apply for remustering from Observer to Pilot. My reasons are as follows: 1. If, in February 1941, No. 1 ITS had not been quarantined and as a result unable to supply the Eastern Training Schools, I believe I would have been sent to No. 2 ITS, not to No. 4 AOS, but to EFTS. 2. Although I have been repatriated from the UK to be an instructor, I believe I would be of more value to the Service as a Pilot-Navigator, especially as I have had no courses in instructing whatsoever and no courses in Navigation since O.T.U. 3. I did all my operational flying in the Middle East and therefore do not feel that I have the necessary basic knowledge of European flying conditions (which differ greatly from those in the M.E.), aids to navigation and the latest secret instruments etc. to fulfill the job of an instructor. 4. I am very keen to learn to fly."
On April 1, 1943, Francis wrote a letter to the Adjutant of the Repatriation Pool, Rockcliffe, Ottawa. "I found it was more advantageous to travel home via CPR instead of CNR so I changed my warrant to read CPR. Hope this was alright. My warrant number was C94941 and was made out for Ottawa to Victoria and return, dated March 27, 1943."
May 3 to 28, 1943: "No. 1 CNS. Fair knowledge of subject matter. Interested in instructional work. Should develop into good instructor. Operational experience. Good type of officer."
June 6, 1943: "This officer is filling position on establishment of F/L and is eligible for promotion. Operational experience overseas." September 21, 1943: "Operational experience in Middle East. Seems really interested in training." January 31, 1944: "A capable and intelligent officer." No. 4 AOS, London, Ontario. He was court martialed in November 1943 at this location; details unknown.
June 19, 1944: "Has done a tour of operations. Is a qualified Observer. Above average in ability." June 27, 1944: "Posting from No. 2 ANS to AFHQ Admin. Has done a tour of operations as a navigator. Has acted as officer in charge of school in a capable manner." No. 2 ANS. "Has been capable Mess Secretary and was in charge of West School from the date of its being opened up early in May 1944. A promising officer." No. 2 ANS.
A Mrs. J. Friesen of Edmonton, Alberta wrote asking if she could obtain the personal address for Francis. She requested any information as to his present location. In May 1942, she had his address as 37 Squadron RAF, Middle East.
On December 22, 1944, Francis signed a new will and testament, held at the Royal Trust Co. in Victoria, BC.
On December 29, 1944, as a result of a flying accident, CREW: *Captain R. Maurice Gauthier, Montreal, QC; *Navigation Officer F.B. Gregory, Victoria, BC, *First Officer, R. G. Janckiewicz, Winnipeg, Manitoba, *Radio Officer R. D. Smith, Vancouver, BC. PASSENGER: Sir Alfred Englefield Evans, Vice Admiral were lost. They had departed Dorval, Quebec for Prestwick, Scotland. Last contact was made at 0649 when SOS was received by 84 SP Goose, serving with TCA. The flight was on an east bound flight from Canada to the United Kingdom, leaving Montreal and was last heard by radio when over the Atlantic, east of Newfoundland. Gauthier (1908-1944) had been a bush pilot and was on his fifth flight overseas, in the employ of Trans-Canada Airlines since 1940. He was the only French-Canadian captain pilot with the TCA at that time.
In some records, the airplane is Wildcat IV FN192. Others: Avro 691 Lancastrian Fin 102 CF-CMU. The plane was on a mail delivery and brought along Sir Alfred Evans as a passenger; the plane crashed into the sea off the Azores during a nighttime east bound Atlantic crossing, according to RAF Commands Forum. Other information: plane departed Montreal (Dorval) on December 28, 1944 at 1900 hours. Aircraft: Victory Aircraft Lancastrian XPP, a converted Lancaster BX (KB703).
In late October 1955, a letter was addressed to Mrs. Gregory, who had passed away in 1947, informing her that since Francis had no known grave, his name would appear on the Ottawa Memorial.
Francis's brother, George, who served with the Royal Canadian Navy Volunteer Reserve, where he was wounded in battle with an enemy U-boat, later earned the DSC, became a lawyer, an MLA in British Columbia (1953-1960), and then was appointed to the Supreme Court of British Columbia (1964). He died in April 1973 while battling illness for two years.
LINKS: