Floyd Joseph Tibbett R72040
September 10, 1919 - June 3, 1941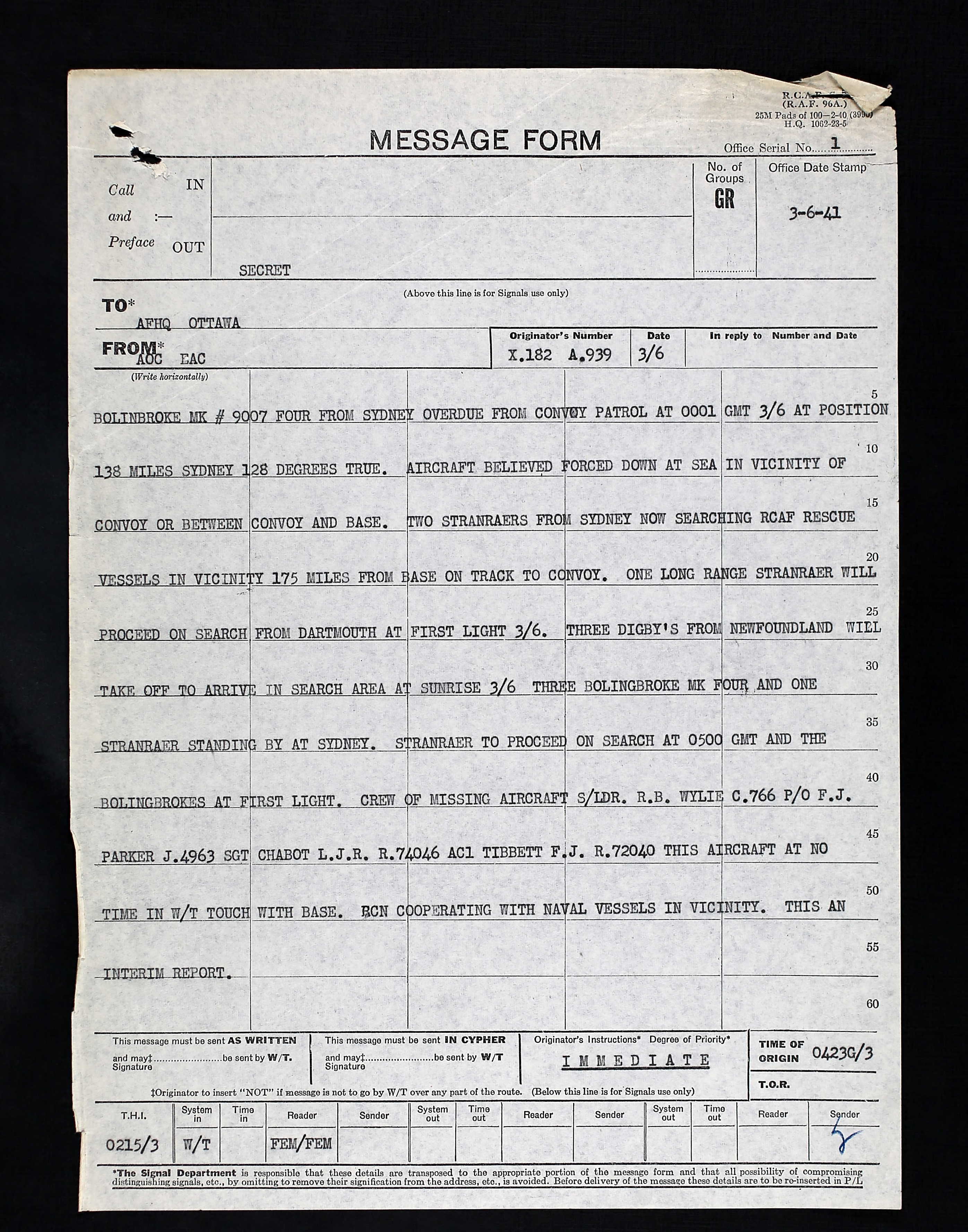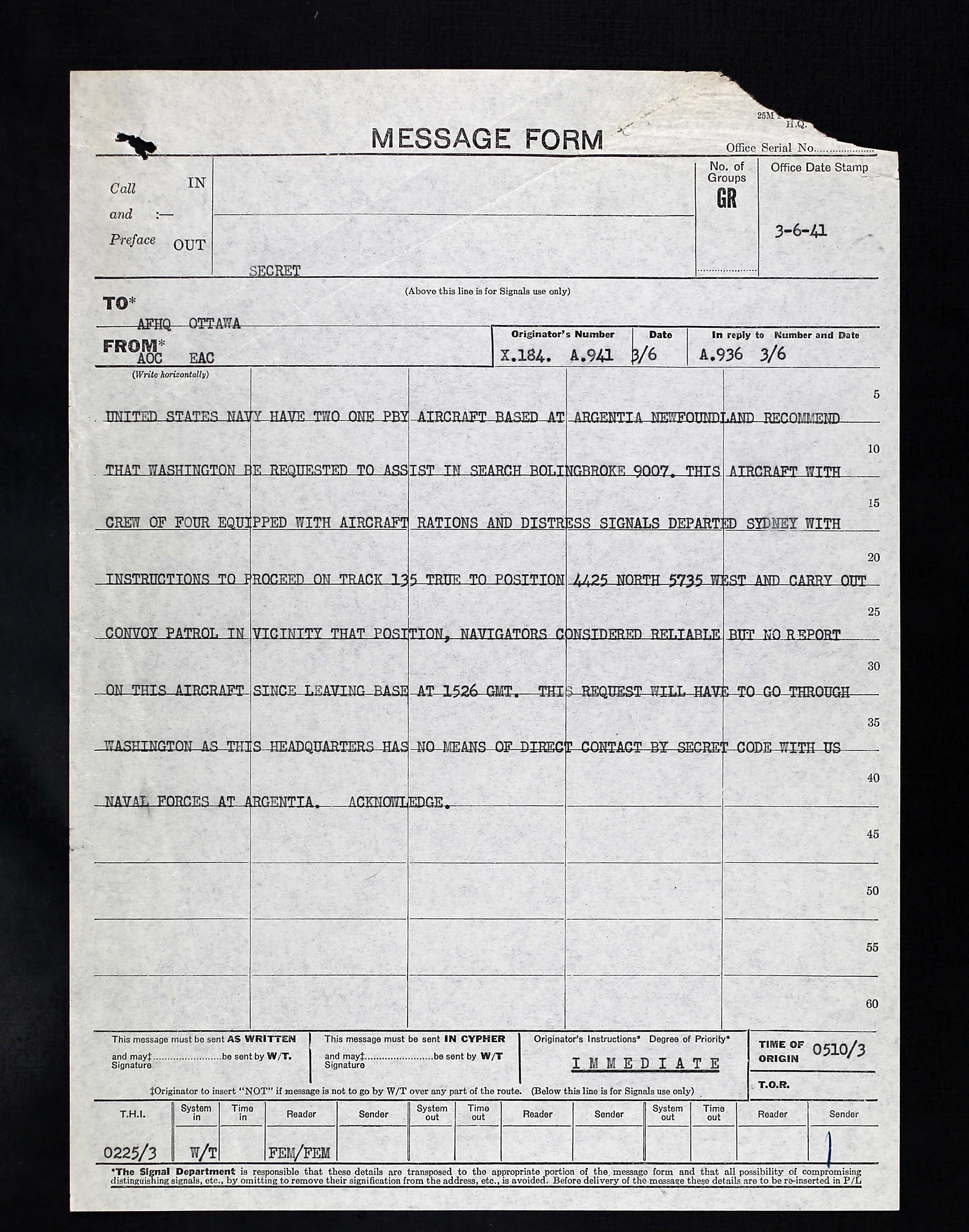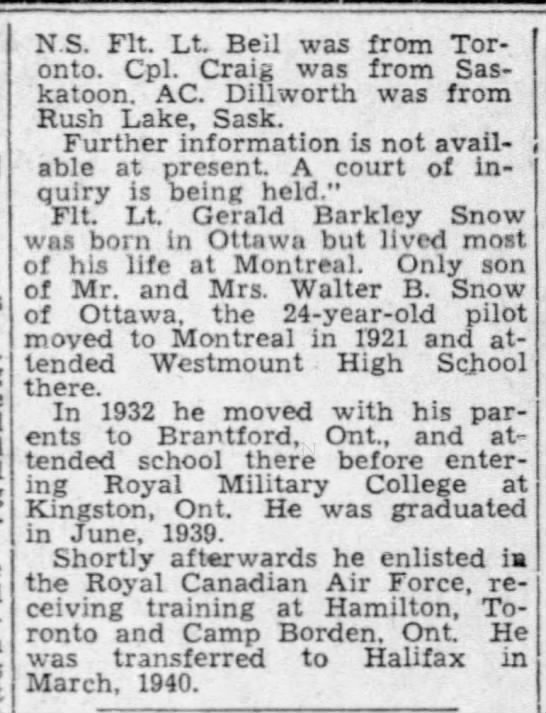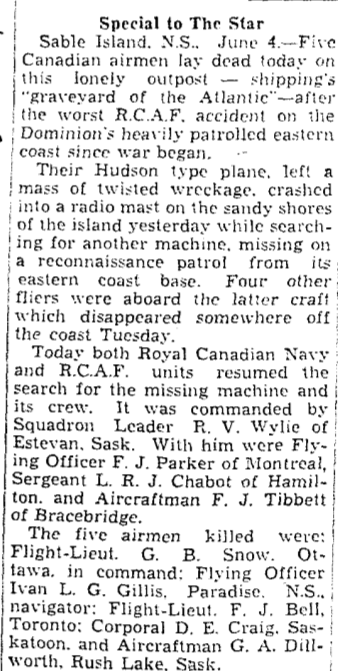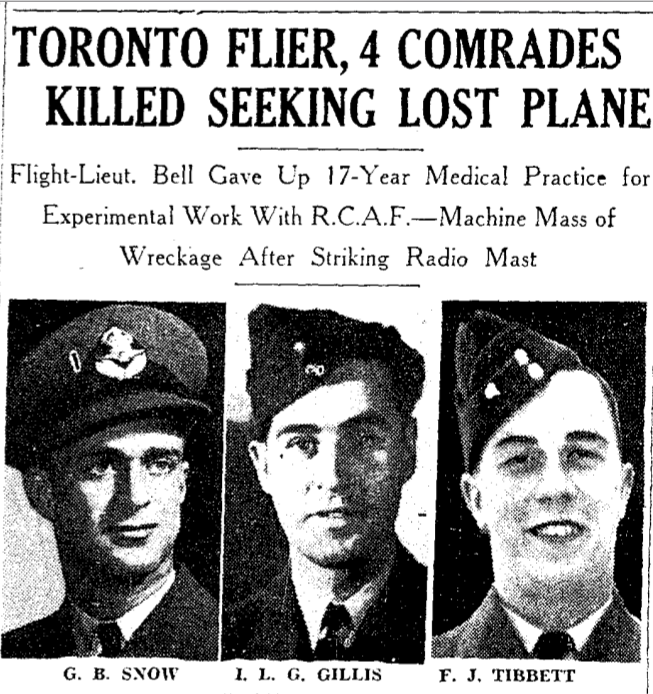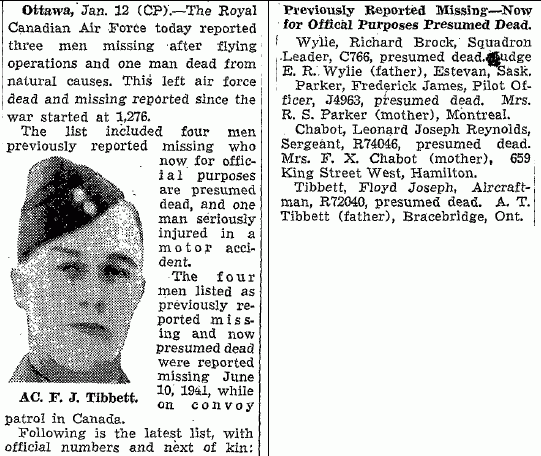 Truck driver became wireless operator. Aboard Bolingbroke 9007, he and three crew were missing during convoy escort patrol over the Atlantic.
Floyd Joseph Tibbett was the son of Albert Thomas Tibbett, carter, and Gertrude Christina (nee Wettlaufer) Tibbett of Bracebridge, Ontario. His mother died in February 1939 of diabetes and cerebral haemorrhage before he enlisted. Floyd had one brother, Milton Albert Tibbitt, and three sisters, Gertrude May Tibbitt, Violet Catherine Taplin, and Lila Ellen Hines; another sister, Hilda Gladys, died in August 1930 at birth.
Floyd was a truck driver for Lakeshore Transport, prior to enlistment with the RCAF mid-1940. "I have built short wave receivers for the past six years and am very adaptable to this type of work." Floyd had taken a Marconi Radio School course September 1938 to April 1939. He enjoyed skating and skiing extensively, tennis and softball, moderately. He had a boil scar on the calf of his right leg. He weighed 164 pounds, standing 5' 9 ½" tall. "Athletic physique, slightly obese." He had grey eyes, brown hair, with a medium complexion. He had upper and lower dental plates. He smoked 15 cigarettes per day and one quart of beer a week.
Floyd had $21.47 in his Bank of Nova Scotia account.
Floyd was at No. 2 Manning Dept, then was sent to No. 2 Wireless School, Calgary, Alberta by September 23, 1940 where he was tested at 18 words per minutes sending and receiving. He was then sent to No. 1 Wireless School, Montreal. He remained here until April 28, 1941. His marks ranged from 58% in theory to 87% in signalling. "Above average. Pass 75.4%."He was at the St. Anne's Military Hospital from January 21 to 28, 1941, then again April 3 - 6, 1941. He forfeited six days' pay December 28, 1940, with 168 hours detention, as he was absent without leave.
Floyd was then sent to No. 8 BR Squadron, North Sydney, Nova Scotia April 29, 1941.
Bolingbroke 9007, 8 BR Squadron's crew was AIR GUNNER Sgt. Leonard Joseph Reynold Chabot. R74076, NAVIGATOR Pilot Officer Frederick James Parker, J4963, W/T OPERATOR LAC I Floyd Joseph Tibbett, R72040, and PILOT Squadron Leader Richard Brock Wylie, C766. "SECRET: Bolingbroke 9007 from Sydney overdue from convoy patrol at 0001 3/6 at position 138 miles Sydney 128 degrees true. Aircraft believed forced down at sea in vicinity of convoy or between convoy and base. Two Stranraers from Sydney now searching RCAF rescue vessels in vicinity 175 miles from base on track to convoy. One long range Stranraer will proceed on search from Dartmouth at first light 3/6. Three Digbys from Newfoundland will take off to arrive in search area at sunrise 3/6. Three Bolingbroke Mk Four and one Stranraer standing by at Sydney. Stranraer to proceed on search at 0500 and the Bolingbrokes at first light…this aircraft at no time in w/t touch with base. RCN cooperating with naval vessels in vicinity. This an interim report." Another: "United States Navy have two one PBY aircraft based at Argentia, Newfoundland. Recommend that Washington be requested to assist in search Bolingbroke 9007. This aircraft with crew of four equipped with aircraft rations and distress signals departed Sydney with instructions to proceed on track 135 true to position 4225 north 5735 west and carry out convoy patrol in vicinity of that position, navigators considered reliable, but no report on this aircraft since leaving base at 1526. This request will have to go through Washington as this HQ has no means of direct contact by secret code with US Naval forces at Argentia." On June 5, 1941, S.L Wray of the RCAF was informed that one US Patrol Seaplane was proceeding from Norfolk to Argentia to assist with the search.
In a newspaper article, Ottawa Journal, June 7, 1941, it stated that a second plane with five airmen went in search of the missing party and they, too, crashed and lost their lives." Nothing was noted in the microfiche. However, the Toronto Star also reported that a Hudson aircraft, while searching for "another machine, crashed into a radio mast on the sandy shores" of Sable Island, Nova Scotia. Five men were killed.
A full court of inquiry was held. [Bolingbroke 9007. Microfiche T-12353 Image 4310]. Fourteen witnesses were called. Flying experience on Bolingbroke (and other aircraft) of Wylie was noted as was Parker's. On Bolingbroke: Wylie had 2.10 hours dual and navigation and 128.20 hours solo on Bolingbroke aircraft. Parker: 28.20 dual and navigation.
The first witness, F.L Robert Idris Thomas, C1571, Deputy Controller stated: "I was on duty in charge of the Control Room at said Station on 1-6-41 and sent instructions to OC No. 8 (BR) Squadron at said station and to OC, No. 8 (BR) Squadron, North Sydney Detachment to carry out outer anti-submarine patrols on 2-6-41 for convoys leaving Sydney 1-6-41. This was the first operational work carried out in 1941 by No. 8 (BR) Squadron. Pursuant to said instructions on 2-6-41 at about 1100 hours, S/L Wylie, OC No. 8 (BR) Squadron informed me that he was making one of the outer anti-submarine patrols for his Squadron with P/O Parker as navigator in Bolingbroke 9007. Both S/L Wylie and P/O Parker attended at said Control Room shortly after 1100 hours on said date for instructions and information with reference to said patrol and informed me they would take off at 1230 hours. Said patrol was said to be for seven hours and I was advised by phone from Station aerodrome Control Tower that Bolingbroke 9007 had taken off at 1226 hours on 2-6-41. At about 1930 hours on said date, I enquired from Station W/T operator if any communication had been received from said aircraft and he told me none had come in. At 2015 hours on 2-6-41, I sent signal to Eastern Air Command Controller, Halifax, advising that said aircraft was overdue. Bolingbroke 9006 returned to said Station at 2050 hours on 2-6-41 from outer anti-submarine patrol over area which Bolingbroke 9007 was to patrol. Having received authority from EAC, a search by aircraft from this station was commenced at 2220 hours on 2-6-41 for said missing aircraft and continued intensively for two weeks. This search covered area to be patrolled by missing aircraft and a large area in every direction therefrom, but to date, no information or communication of any kind has been received at Station Control Room to indicate what happened to said Bolingbroke 9007. Over 200 hours flying time was put in by aircraft directed from this station in said search and RCAF Marine Craft and a Navy destroyer were also instructed to look for said missing aircraft or wreckage of same, and remain in the area during the search, but I am informed no trace of said aircraft has been found to date. I consider P/O Parker a good navigator and he completed four legs of an outer anti-submarine patrol on 1-6-41 satisfactorily."
The second witness, ACI John Charles Kinsley, R68306, aero engine mechanic, stated that he saw all four men climb into Bolingbroke 9007. "There were no other persons in said aircraft and it took off with said four occupants at 1230 hours on said date from Sydney Aerodrome."
The third witness, AC1 Donald Garnet Stone, R58333, Wireless Operator, Ground stated that "the names of the operators are put in a list on a board in the Wireless Section, and as each one in turn takes a patrol, his name is moved to the foot of the list. On 2-6-41, I took the 0800 hour patrol and the next name of the list was AC1 Tibbett, F. J., who went out on the 1230 hour patrol in Bolingbroke 9007. Cpl. Wilson was in charge of the W/T Section in 8 (BR) Squadron at that time, but he was posted away about two weeks ago."
The fourth witness, Lloyd Alvin Hillgartner, Met Officer testified to the the weather conditions. "Ceiling unlimited, broken sky, visibility 14 miles, 2/10 cumulous at estimated height of 4000 feet, 7/10 cirro stratus cumulus at over 10,000 feet, wind velocity about 2 miles per hour south west…weather forecast issued for 0600 to 1400 hours on 2-6-41 for area patrolled by Bolingbroke 9007 was ceiling unlimited, 5-12 miles visibility reduced to 1-5 miles by fog patches and smoke haze at times and forecast for period 1400-2200 hours on said date, little change from previous period."
The fifth witness, AC1 Vivian Gilmour Steen, R53257, Wireless Operator Ground stated that he was a wireless operator on Bolingbroke 9007 at 0430 hours , 2-6-41 and returned at 0910 hours. "F/L Gilmour was pilot and P/O Robb was navigator on this flight, and Sgt. Huggan, air gunner. This was an outer anti-submarine patrol and we passed over convoy. During this flight, the W/T equipment on this aircraft worked satisfactorily and I intercepted and received a large number of messages. This aircraft was not fitted for directional finding. Intercommunication between myself and the pilot or navigator was carried on by written message which was pinned to a cord which operated over pulleys. Several messages were passed between myself and said pilot by this means without difficulty….several weeks ago, on a test flight in a Bolingbroke, I maintained constant communication with Sydney Station up to a point of about 150 miles distant, which was outer limit of flight. At this outer limit, I was advised by signal that my signals were barely readable. Wireless reception was average on this flight…in an emergency, it would take the pilot or navigator to pass along a message to me over a minute, but my attention could be attracted by pilot or navigator shouting, but I don't think I could hear his exact message."
The sixth witness, F/O Jim Sutcliffe Nutt, C1073, pilot of Bolingbroke 9008, which was patrolling an area near where Bolingbroke 9007 was to have been, stated that such a flight would take seven hours and a Bolingbroke could remain in the air on patrol with a war load and full gas tanks for a maximum of twelve hours. He commented on the very heavy haze and visibility being limited when he landed at 1930 hours on 2-6-41.
The seventh witness, F/L Charles Albert Willis, C836 stated that he was the captain of Bolingbroke 9006 on 2-6-41. "I was to relieve Bolingbroke 9007 of which the Captain and Pilot was S/L Wylie. I reached the convoy on which I was to maintain outer A/S patrol at 1844 hours. At about 1830 hours, I encountered a layer of fog….the fog thinned out a bit in spots, but not sufficient to take any drift readings. A short distance in front of the convoy when I reached it, there was a solid fog bank. I had difficulty in verifying the number of ships in the convoy on account of the fog and I set course for base at Sydney at 1920 hours and landed at 2040 hours. There was a slight haze on landing but visibility was good. I did not see Bolingbroke 9007 on this patrol nor did I see any signals from ships re: same." He estimated a Bolingbroke could stay in the air with a war load and full fuel tanks for 10 hours. "The sea was calm with no appreciable swell."
The eighth witness, F/O Stephen James Balke, C3348, signals officer stated that accumulators used for W/T were removed from Bolingbrokes after flights on which minus manifold boost pressure was unsed to have been found in discharged condition. "This has happened when W/T on said aircraft was used for reception only, and memos have been forwarded to me…since said date, modification has been made to satisfactorily keep said accumulators charged while installed in said aircraft in flight…no range tests on this frequency have ever been made in this squadron…due to restrictions of W/T silence…under ideal conditions, the range on another frequency could be 200 miles….AC1 Tibbett was instructed on the ground and in the air, and acted alone as W/T operator in Bolingbrokes on several flights previous to 2-6-41."
The ninth witness, Cpl. Francis Raymond Quenett, electrician, stated that an accumulator would stand up to between 5 and 7 hours depending upon the amount of transmitting and other connected loads.
The tenth witness, F/O John Gilchrist, engineer officer, stated that there had been some engine failures at Sydney recently on Bolingbrokes equipped with Bristol Mercury XV engines. "On 3-6-41, there were engine failures on Bolingbrokes 9003 and 9006…sparking plugs were removed and other installed on all Mercury XV engines. These were checked every 15 hours running time. There had been airframe failures on Bolingbrokes at Sydney including 9007, the gusset plates on the starboard side of the aircraft. It was cracked but had ben replaced a few days prior to 2-6-41…the fuse panels of these aircraft developed defects which resulted in flight instruments operating unsatisfactorily, consisting of breakage in fuse holder lugs, chafing of cable insulation due to improper anchorage, these defects occurring as a result of excessive vibration and faulty design which would not permit absorption of the resultant movement. These aircraft were declared unserviceable and EAC advised and temporary repairs on approval or EAC were carried out to make the aircraft serviceable….the system of intercommunication between the W/T operator and pilot, a string was run over 2 pulleys with paper clip attached to string and written messages were fastened by said clip and pulled between pilot and W/T operator."
The eleventh witness, P/O Peter Franklin Robb, J5118, navigator with F/L Gilmour on Bolingbroke 9007 stated, "We took off at 0430 hours. We carried out an outer-anti-submarine patrol and returned to base at Sydney at 0910 hours. During this flying, to my knowledge, this aircraft functioned normally in every respect."
The twelfth witness, F/L Lawson Hunter Randall, C834, captain and pilot of Stranraer 919, "at 1330 hours on said date was on an outer anti-submarine patrol at head of convoy….I was relieved on this patrol at this time by Bolingbroke 9007. We exchanged signals and I set course for base at North Sydney. The weather at this time and place was good ceiling, visibility about 5 miles cut down horizontally by haze and deteriorating as fog was coming up. There was no indication that there was anything wrong with Bolingbroke 9007 at this time and place. On the same date at about 2230 hours, I took off in Stranraer 923 from North Sydney to search for missing Bolingbroke 9007. I proceeded along the track of said convoy, intercepted it and went about 10 miles beyond and conducted a search in that area but found no trace of said missing aircraft. The time elapse in said flight was about five hours."
The thirteenth witness WO2 George Henry Saunders, No. 1967, stated that he was in charge of W/T maintenance. "Since the W/T equipment on Bolingbroke 9007 functioned satisfactorily on the morning flight of said aircraft on 2-6-41, there would be no necessity fora ground tests of said equipment prior o the flight of said aircraft at 1230 hours on said date; so far as I know there was no such ground test made. "The estimated range to be on this date about 250 miles, but under good conditions, this range would probably be increased to 350 miles. The generator system has been modified to charge at a higher rate at low speed thus keeping accumulator better charged. AC1 Tibbett was a competent operator and thoroughly capable of efficiently operating the W/T equipment. In an emergency, on 2-6-41, considering that position would have to be calculated and written on a message slip and passed to W/T operator, I would estimate at least four minutes would be required. I do not consider this message could be received shouted even if both engines were off."
The fourteenth witness, F/O Harry Nicholson, C2954, station signals officer stated that he was on duty on 2-6-41. "In fact, watch is kept continuously on this frequency. There is no record of any message being received from Bolingbroke 9007 on 2-6-41. From 2110 to 2136 hours, several messages were sent to this aircraft instructing it to break wireless silence, but no answer was received. No communications were received from any aircraft on E&R frequency on 2-6-41. In fact, owing to the restrictions of W/T silence, on this frequency, messages were very rarely sent by aircraft. This Station is now equipped with Adcock D. F. equipment which is sufficient, but owing to a shortage of W/T operators, it cannot be operated."
FINDINGS OF THE COURT: That Bolingbroke 9007 took off from RCAF Station Sydney, NS on an outer anti-submarine patrol for convoy at 1230 hours on 2-6-41 and did not return, is missing, and it is reasonable to suppose that it is lost. That the occupants of Bolingbroke 9007 were on Active Service on duty. That it is reasonable to suppose that they are dead. The cause of the accident is unknown.
It was further discussed in memos the defective spark plugs and the W/T equipment, and the failure of gusset plates, engine failure under full take of boost plus nine pounds, as well as the fuse panel. Also the pulley system of intercommunication was noted and deemed satisfactory, except in an emergency.
In December 1941: "Within the bounds of wireless security, it is considered that radio installations on long-range aircraft should be checked before departure."
In late October 1955, Mr. Tibbett received a letter informing him that since Floyd had no known grave, his son's name would appear on the Ottawa Memorial.