Everard Thomas Cox J14459
December 29, 1917 - August 23, 1942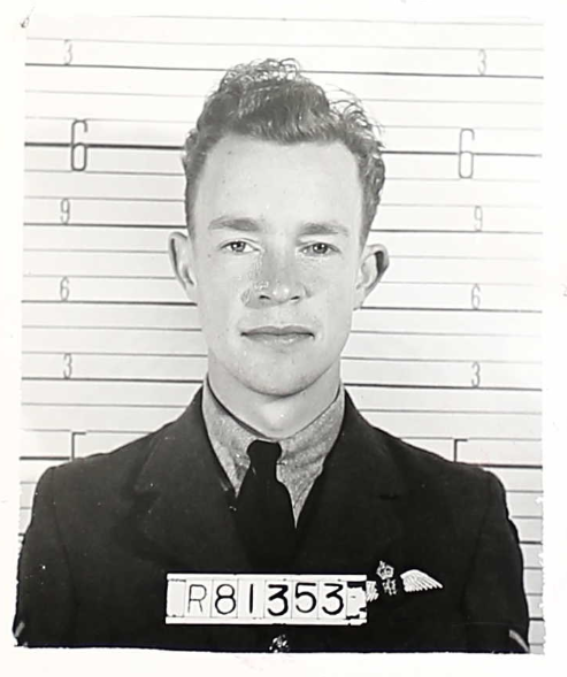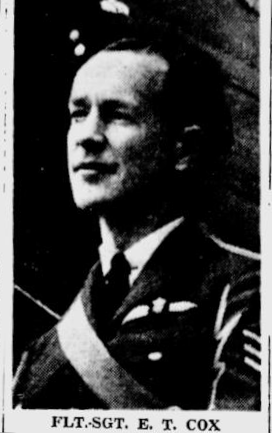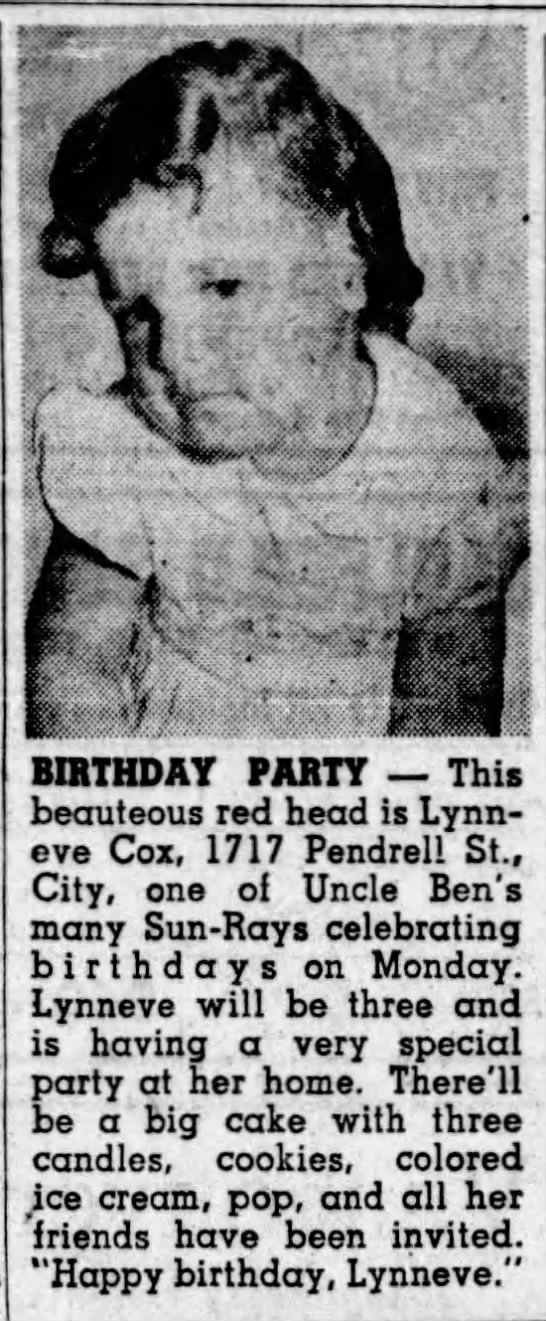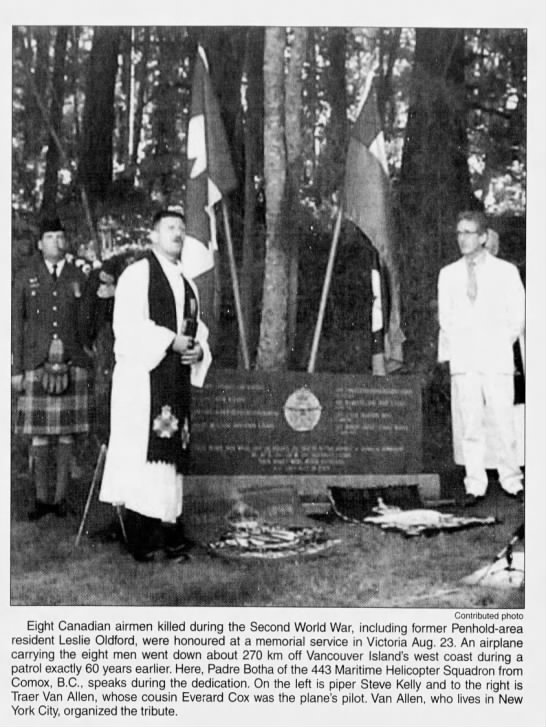 He was a salesman who joined the RCAF and became a pilot on the west coast. He died four days before the birth of his daughter.
Everard Thomas Cox, born in Carstairs, Alberta, was the only child of Ruth Hazel (nee Trace) Drysdale and James Cox, farmer. The family attended the United Church. (Mr. Cox died in 1918 and his widow remarried.)
Everard attended school in Vancouver, graduating from King Edward High School in 1936. He worked for Arctic Ice Cream, assistant manufacturer, leaving that position because of a 'poor future' for Adam and Co. (stockbrokers) as a board boy. He felt his future was poor in that position as well, so left to work at Milne & Middleton Ltd as a travelling salesman, dealing in wholesale dry goods until his enlistment in June 1940. "Canadian. A shade on the effeminate side in manner but showed interest in manly activities. If medically fit, should be satisfactory as pilot. Manners and appearance OK for commissioned pilot."
Everard had previous military experience being with the 68th Battery, RCA, NPAM, 1934-1937. He enjoyed skiing, tennis, swimming, and riding. He considered flying a hobby sport and trade. He had a ¾" inch scar on his left index finger, stood 6' tall and weighed 151 points. He had blue eyes, brown hair, and a fair complexion. Comments: "Should make a splendid officer." In October 1940, he had an operation on varicose veins on his left side and made a good recovery.
He started his journey through the BCATP at No. 2 Manning Depot, Brandon, Manitoba. He did his ITS at Regina. ("Good material; alert, energetic; confident. Active in sports."). Then he was posted to No. 8 EFTS at Vancouver where he was average. ("Conduct excellent, works hard and and very keen on flying. Above average in ground subjects, lacks sense of responsibility.")
Next he was sent to No. 3 SFTS at Calgary ("Steady ability who has shown good ability throughout. Rough on controls." In ground school: Obtained 81.26%. Very satisfactory effort." Wind speed and direction finding, he was below average as well as stragth runs over as pilot, related to armament air exercises. Formation flying and navigation ability: average, as was night flying. He was above average in determination and initiative, as well as his ability to maintain speed, course, and height. "Pleasing personality, cheerful talkative manner. Self-assured and eager." He was at No. 6 O.T.U. at Patricia Bay August 21 to December 5, 1941. He was sent taken on strength with Western Air Command November 1941, sent to Alliford Bay after his time at Patricia Bay, then to Coal Harbour December 27, 1941.
At No. 13 O.T.U., Patricia Bay, "average (ground subjects). Attitude good…average flying boat pilot."
Just after he earned his Pilot's Flying Badge, he married Frances Bertha Silverberg on August 20, 1941 in Calgary. They had one daughter, Lynneve Ruth Cox, born August 27, 1942.
Everard had experience teaching the Link Trainer from February to April 1942 at Coal Harbour.
Mrs. Drysdale, Everard's mother, was the beneficiary of his $1,500 life insurance policy. Mrs. S. Warburton was the beneficiary to his $1,200 life insurance policy.
From Aviation Safety Network: "At 1750 on August 23, 1942, Supermarine Stranraer 951 of 120 (BR) Squadron RCAF, with a crew of eight was on a routine combat patrol out of Coal Harbour, Vancouver Naval Air Station Base when it suffered engine failure and was forced to ditch. An SOS was received at 18.18 hours to say that it was sinking. A search located the aircraft but due to high sea conditions, rescue was impossible. Later searches failed to locate the aircraft or crew and they were lost without further trace."
Crew: • F/S Everard Thomas Cox (Captain) Vancouver, BC • F/S Lawrence Alfred Bernard Horn, (2nd Pilot) Regina Sask • Sgt Robert Bruce Stuart, (Observer) Vancouver, BC • F/S Mervyn Cram, (WAG) Renfrew, Ont. • Sgt Adolph Willard Anderson, (WAG) Selkirk, Man (under training) • Sgt Kenneth Earl Hope, (AFM) Vancouver, BC • Sgt Leslie Oldford, (AEM) Penhold, Alta • Sgt Charles Franklin Beeching, (AEM) Regina, Sask
In late October 1955, Frances who had remarried by 1947, received a letter from W/C Gunn RCAF Casualties Officer for Chief of the Air Staff informing her that since Everard had no known grave, his name would appear on the Ottawa Memorial.
LINKS: