Eric Douglas Todd J24069
July 5, 191 - May 21, 1943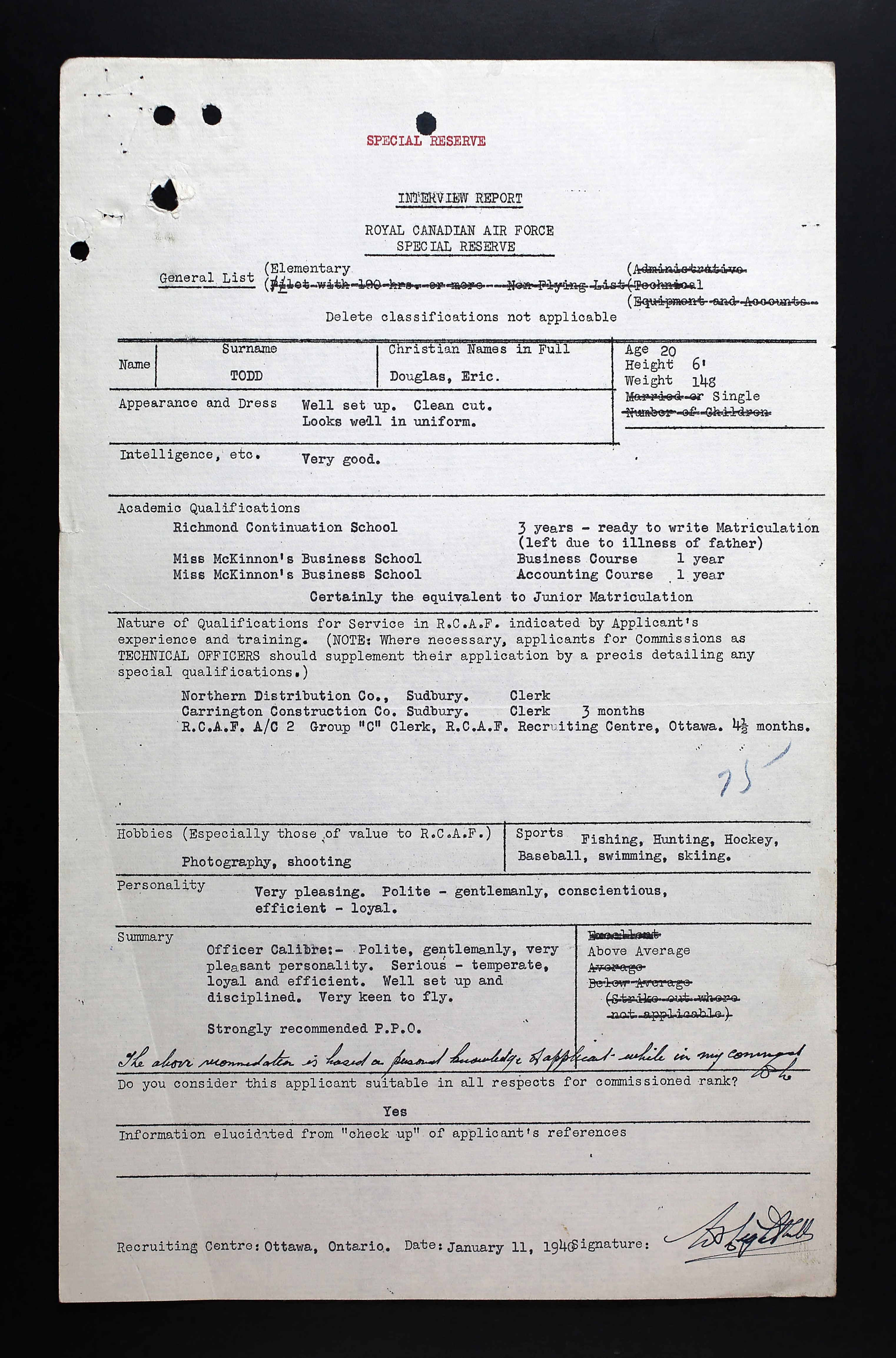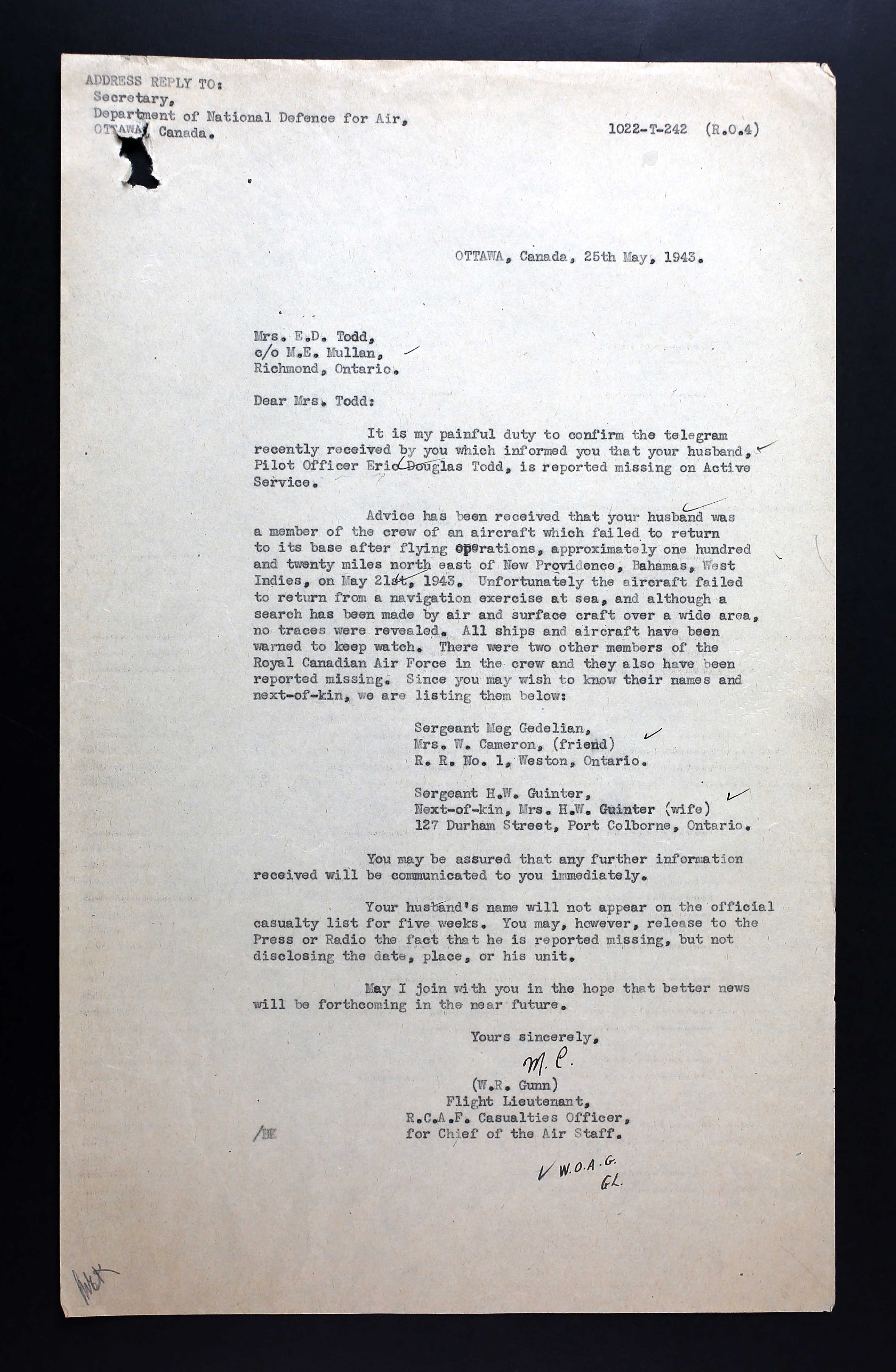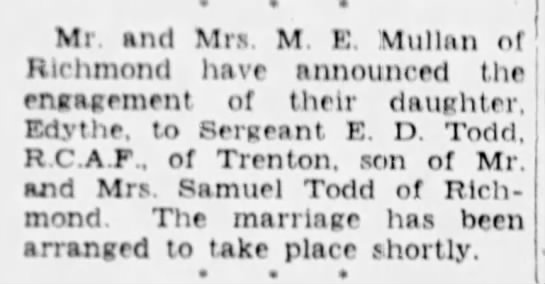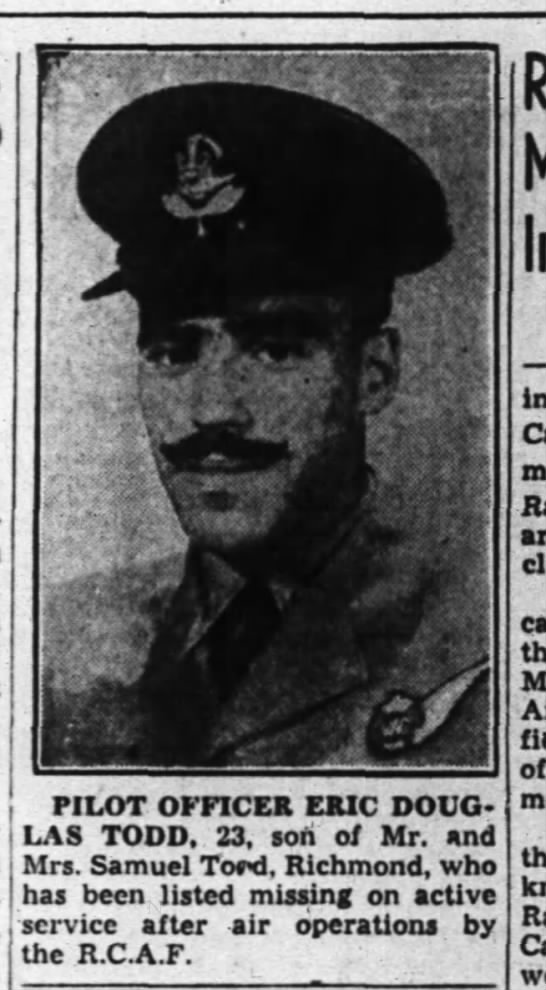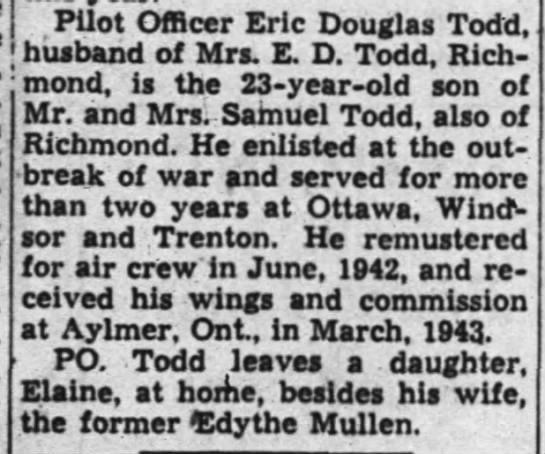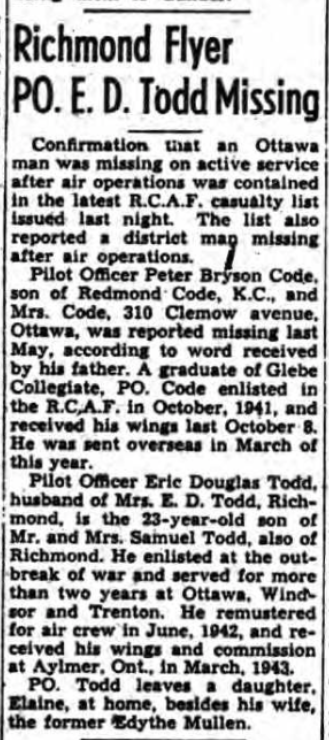 Office clerk joined RCAF first as a clerk in September 1939, then remustered to aircrew in 1942, becoming WOAG. Aboard Mitchell FR365, he and six others were lost 120 miles northeast of New Providence, Bahamas.
Eric Douglas Todd was the son of Samuel Bonner Todd, farmer, and Elizabeth Anne (nee Johnston) Todd of Richmond, Ontario. He had one brother, Donald Todd, and one sister, Lois Todd. The family attended the United Church.
Signing his name as Douglas Eric Todd, he was farming, then took a seven-month business course and worked in short-term office employment prior to when he enlisted at No. 1 A/C Depot, Ottawa Ontario on September 7, 1939. He stood 5' 10 ¾" tall and weighed 138 pounds. He had brown eyes and dark brown hair, fair physique and average mentality. A small birth mark was noted on his left shoulder, anterior. He liked hunting, fishing, canoeing, swimming, skiing, snowshoeing, softball, skating, hockey and football. His hobbies included model building, photography, and target shooting. He worked as a clerk for the RCAF in Ottawa and Windsor from September 7, 1939 to April 4, 1940, when he remustered to air crew. "Very eager to fly." Douglas was struck off strength at Trenton on October 19, 1940. In his files, it shows he was a clerk, administration, effective October 1, 1941, possibly until June 18, 1942. His character was assessed as very good and his trade proficiency was superior. "Tall, slender, neat, clean, smart personality in uniform; pleasant personality; confident, sincere, organized, quick, disciplined, engages in skating and swimming, has hunted small and large game extensively, raised on farm, stable, keen, aggressive, courageous, above average material." He was recommended for WO (AG). He did not smoke and very occasionally drank alcohol.
Douglas married Marion Edythe Mullen June 16, 1941, At St. John's Church, Richmond, Ontario. They had a daughter, Edythe Elaine, born April 11, 1942.
He was at KTS, Trenton until June 20, 1942 and sent to No. 1 Wireless School, Montreal, Quebec June 21 until July 3 1942. He was then sent to No. 4 Wireless School in Guelph, Ontario until January 22, 1943. He earned 84.2% and was 11th out of 94 in his class. From December 29, 1942 to January 4 1943, he was at No. 4 Wireless School Station Hospital.
Douglas was then sent to No. 1 B&G School, Jarvis, Ontario, January 23, 1943 until March 8, 1943, where he became a WAG. He was first in his class out 24 in air training/gunnery and 2nd in his class overall. "A fine student in all phases of work. Provided sound leadership in class. Sincere and of exemplary conduct. An outstanding student and leader." In early March 1943, he embarked for the Bahamas. He had been appointed to a commission February 22, 1943.
In a letter dated May 25, 1943, Marion Todd read, "it is my painful duty to confirm the telegram recently received by you which informed you that your husband, pilot officer Eric Douglas Todd, is reported missing on active service. Advice has been received that your husband was a member of the crew of an aircraft which failed to return to its base after flying operations, approximately 120 miles northeast of New Providence, Bahamas, West Indies, on May 21st 1943. Unfortunately, the aircraft failed to return from a navigation exercise at sea, and although a search have been made by air and surface craft over a wide area, no traces were revealed. All ships and aircraft have been warned to keep watch. There were two other members of the Royal Canadian Air Force in the crew and they have also been reported missing. Since you may wish to know their names and next of kin we are listing them below: Sgt Meg Gedelian…Weston, Ontario and Sgt. H. W. Guinter…Port Colborne, Ontario… you may be assured that any further information received will be communicated to you immediately. Your husband's name will not appear on the official casualty list for five weeks. You may, however, released to the press or radio the fact that he is reported missing, but not disclosing the date, place, or his unit. May I join with you in the hope that better news will be forthcoming in the near future."
Crew aboard Mitchell FR365: F/S Thomas William Vincent Atkins-Tallentire, 1256272, RAF, F/O Alastair Grant Cleary, 421022, RNZAF, Sgt. Ernest William Durrant, 1146794, RAF, Sgt. Meg Gedelian, R144402, RCAF, Sgt. Howard Watson Guinter, R66016, RCAF, F/O John Ewart Thomas, 107956, RAF, P/O Eric Douglas Todd, J24069, RCAF. All are commemorated on the Ottawa Memorial.
See Gedelian and Guinter's pages for more documents.
Marion remarried and became Mrs. Cowley/Cowles, residing in Gatchell, Ontario by 1950 and in Minnow Lake, Ontario, by 1956.