Eric Bray J24636
December 6, 1911 - April 22, 1943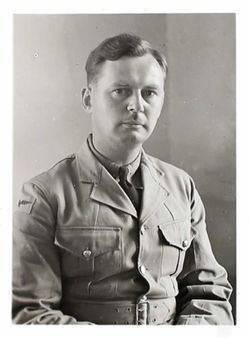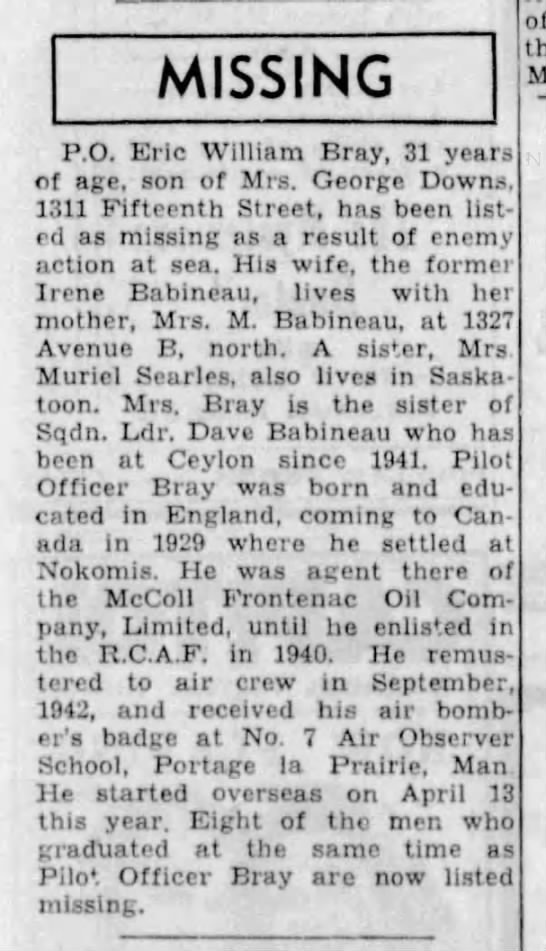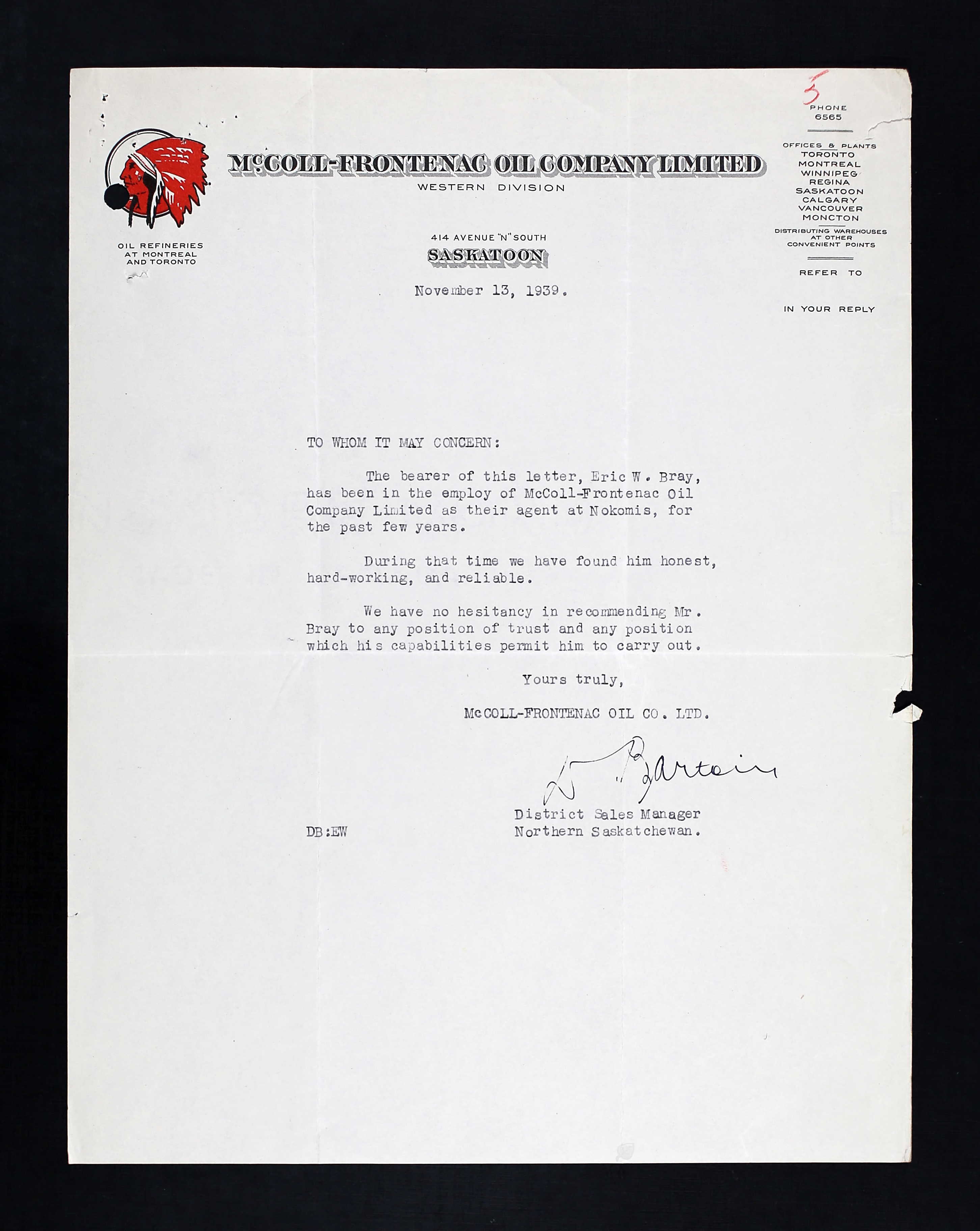 Oil Agent, then Equipment Assistant, remusters to Air Observer
William Bray was born at Potters Bar, London, England. His parents were William Charles Bray and his wife, Marian (nee Firth) Bray. Eric's father had passed away in 1921 due to heart failure. His mother remarried and was Mrs. George Edward Downs, of Saskatoon, Saskatchewan. He had one sister, Mrs. Muriel Searles, Saskatoon. The family was Anglican.

family had immigrated to Canada in April 1929. He had his equivalent of a Canadian Grade XI education from Bedfordshire, England.

Eric married Irene Mary Babineau on May 1, 1937 in Saskatoon. They had no children.

He and Irene lived in Nokomis, Saskatchewan. Eric enlisted with the RCAF on April 8, 1940 at Saskatoon, Saskatchewan. He had been working for McColl & Frontenac Oil Co. Ltd. in Regina as one of their oil agents. He was responsible for taking care of stock and records. Irene moved to Saskatoon.

Eric stood 5'11" tall, weighed 165 pounds, had a fair complexion, blue eyes, and brown hair. His teeth needed attention. "Good appearance and personality. Desirable type." He had some debt to Dr. Renick, Nokomis and to the hospital there. He noted that arrangements had been made to take care of his bills.

Eric started through the BCATP at No. 1 Manning Depot, Toronto, then to No. 1 ITS, St. Thomas, Ontario late in April 1940. He was sent across the country to Vancouver, No. 6 BR Squadron June 10, 1940, then to Coal Harbour, September 9, 1940. By May 28, 1942, he was at No. 3. Repair Depot in Vancouver, where he asked to be remustered. (He was an equipment assistant. Eric gave $30 a month of his pay his mother because her second husband had deserted her.)

He noted that he liked to build models, played tennis and badminton, plus rugby and cricket extensively. He smoked 15 cigarettes a day and drank alcohol moderately. On his medical examination, a mole on his left buttock was noted. He was alert and had a sedentary physique. "Older type, remustered equipment Sgt. Seems well motivated to fly. Stable, mature and alert. Average Pilot and Observer material." F/L S. A. Carlen, October 12, 1942

"CT satisfactory. Failed SKT Mathematics. Passed Reading and Science. Seems very good type of eager aircrew material. Mature. Married. With further instruction in Maths, should be acceptable. Has had some flying as a passenger. Has heart set on flying. Should be acceptable with further study. Father professional soldier. Deportment good. Would prove valuable aircrew material."

He was sent to No. 1 ITS, Edmonton September 12, 1942. He was then sent to No. 7 B&G School, Paulson, Manitoba, December 5, 1942.

No. 7 B&G School, Paulson, Manitoba, December 7, 1942 to February 5, 1943: "Fair knowledge of theory but practical results a bit erratic. An average type of air gunner in all results. 75.4%. A bit slow to learn, but is the steady, reliable type."

No. 7 Air Observer School, Portage la Prairie, Manitoba, February 8, 1943 to March 19, 1943: "Logs are neat and comprehensive. Reliable. A conscientious careful worker. Has thorough knowledge of his work. An average air bomber. Excellent appearance and good sense of responsibility. Recommended for a commission in the field. 19th out of 24 in class. 74.5%"

Eric earned his Air Observer's Badge on March 19, 1943 and was sent to Halifax to await transport overseas April 4, 1943.

On April 22, 1943, Eric Bray was aboard the Amerika, British Motor merchant ship. It was on its way from Halifax, Nova Scotia to Liverpool. It was torpedoed as the ship was heading to Britain. It was a straggler in convoy HX-234. Thirty-seven men, all officers in the RCAF, were presumed missing as a result of enemy action at sea; sixteen were landed at a British port after their ship was sunk by U-306, south of Cape Farewell, off Greenland. Forty-two crew members and seven gunners were also amongst those who were lost. The master, Christian Nielsen, 29 crewmembers, eight gunners, and sixteen passengers were picked up by the HMS Asphodel, and landed at Greenock. General cargo, including metal, flour, meat and 200 bags of mail were also lost.

By 1950, Irene had remarried and moved to Lethbridge, Alberta. She was Mrs. Surbey when she and her mother-in-law received letters from W/C Gunn telling them that Eric's name would appear on the Ottawa Memorial because Eric had no known grave..