Elwood Wallace McFall R54117
March 11, 1916 - September 21, 1941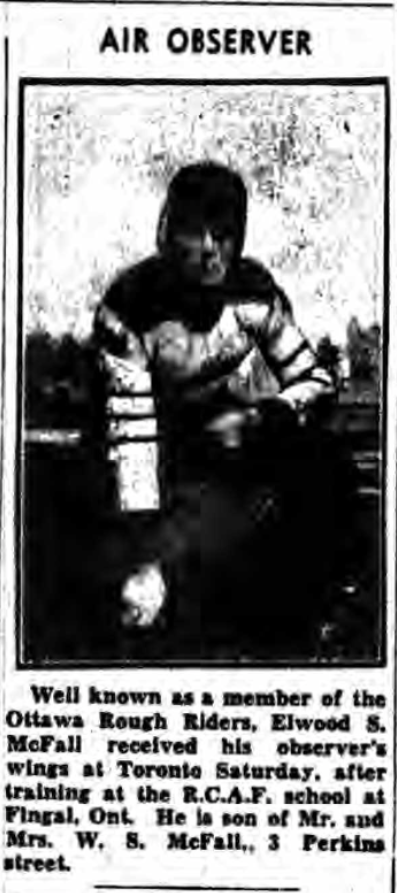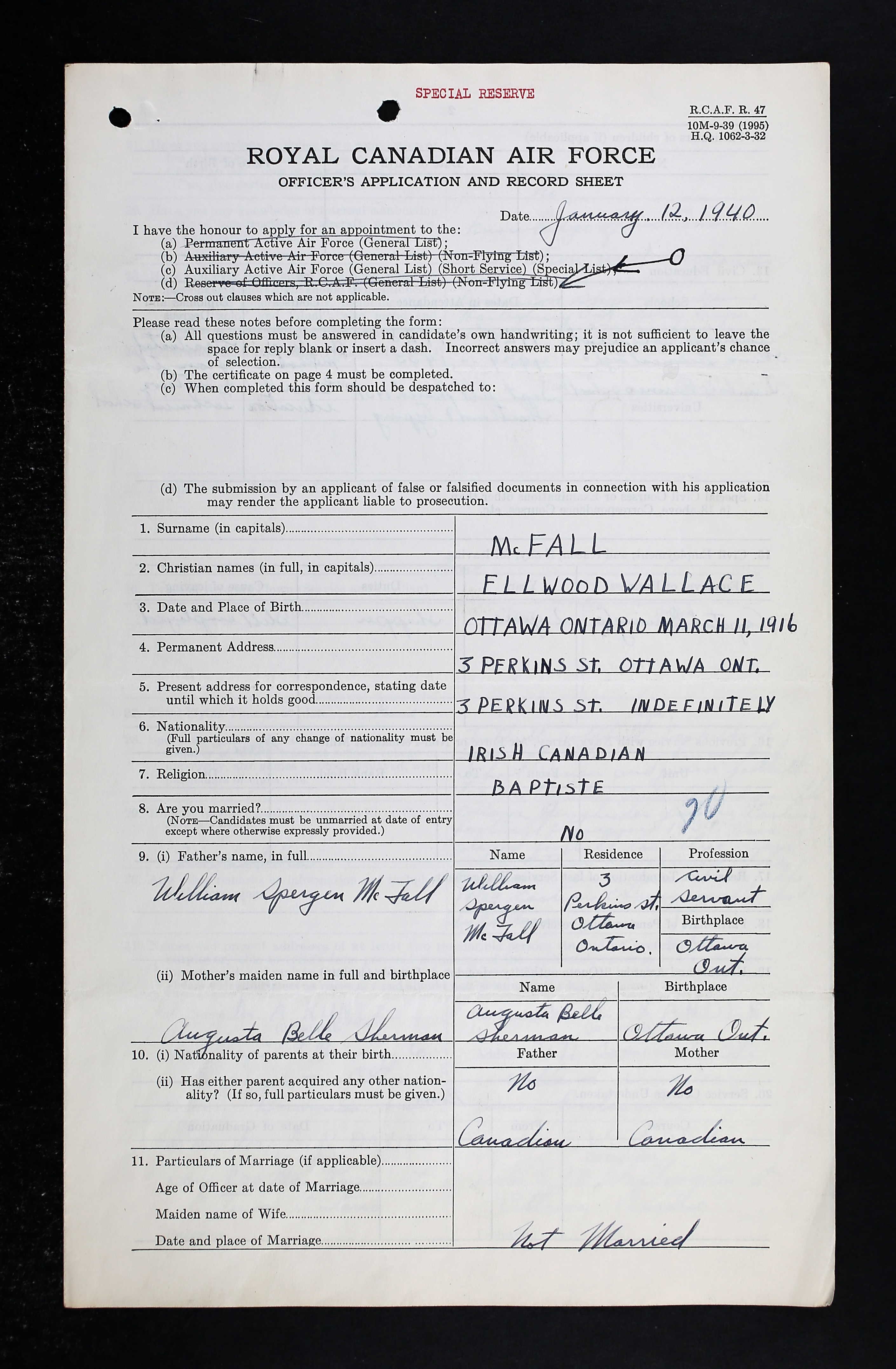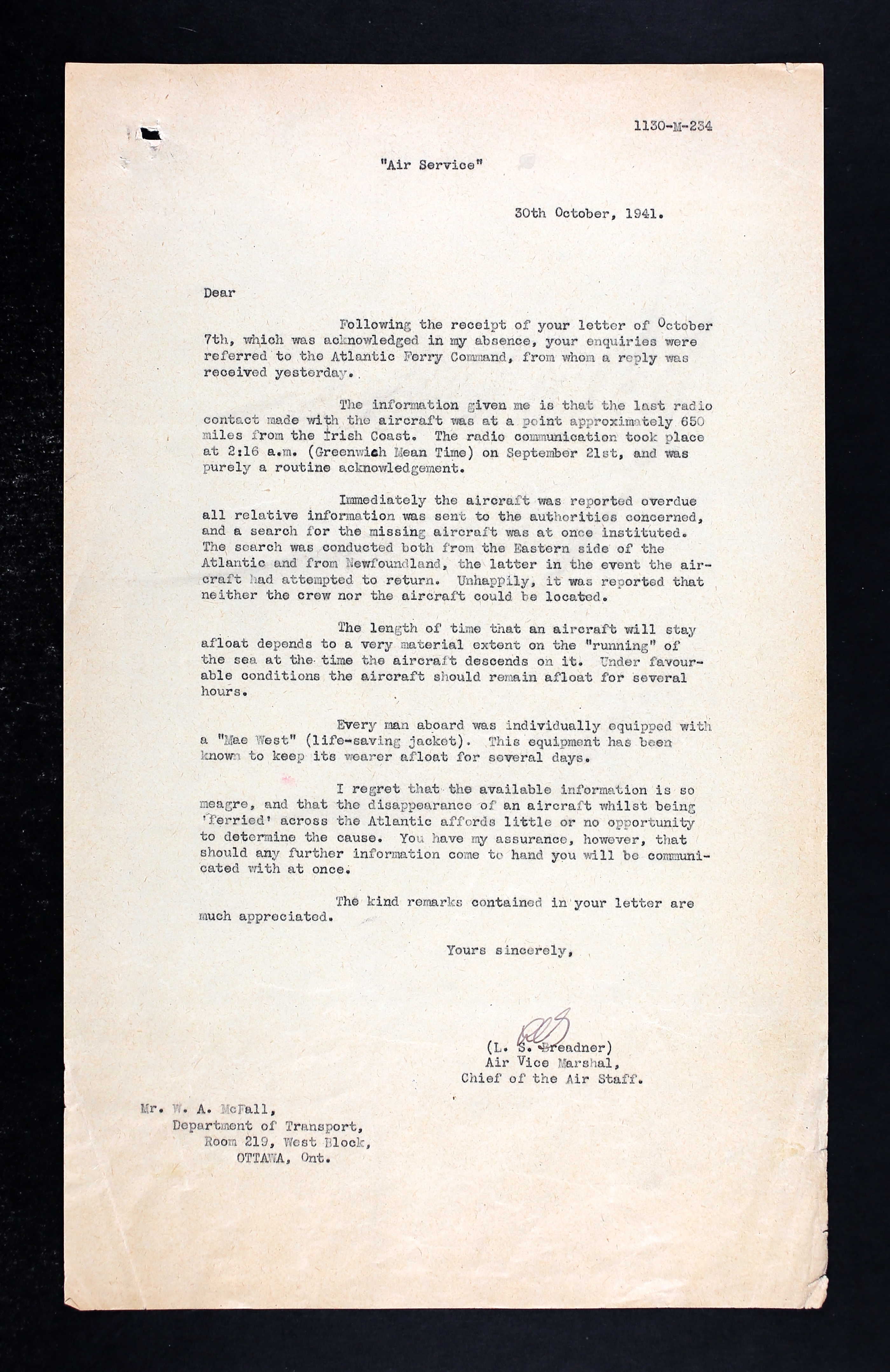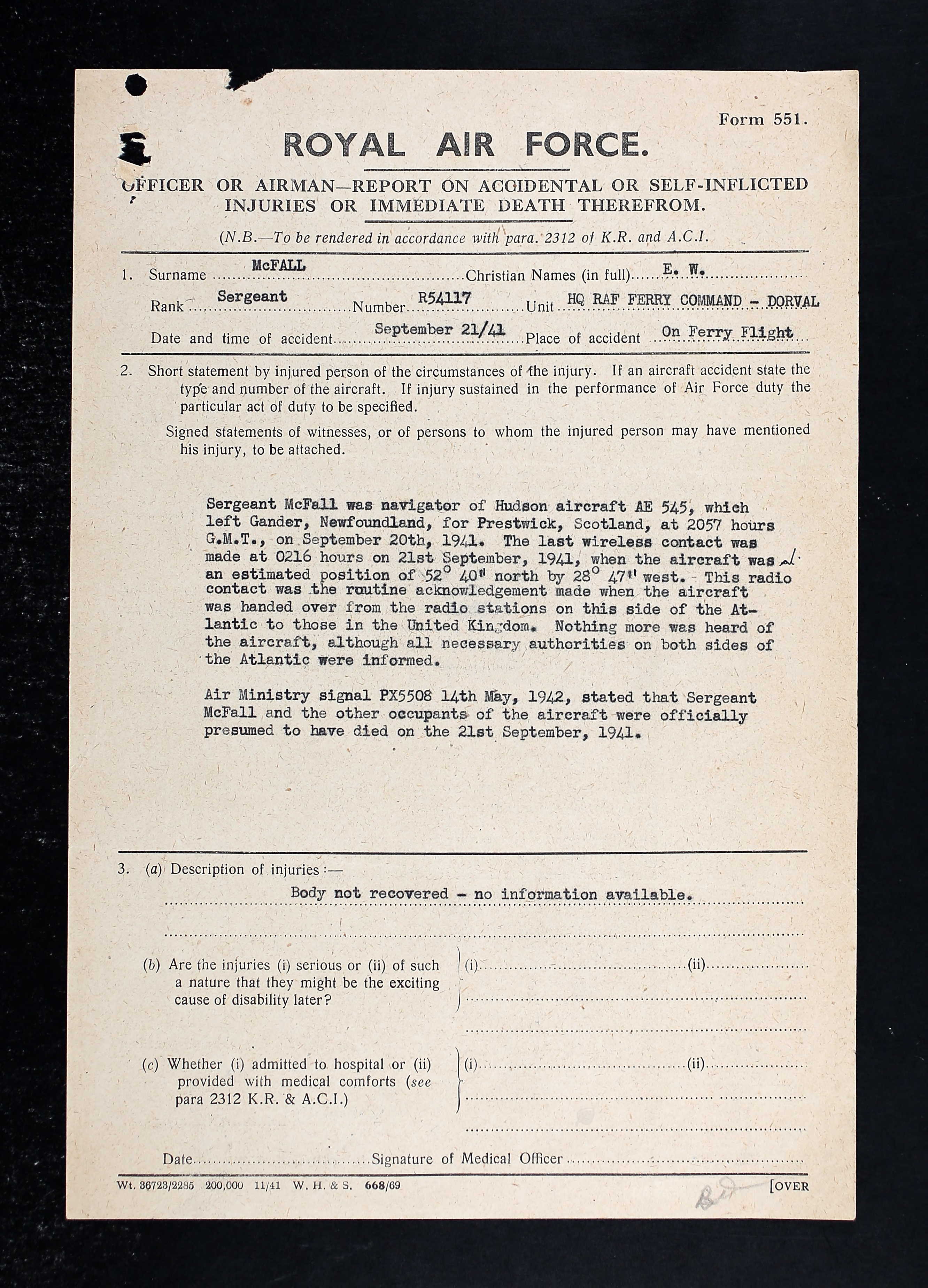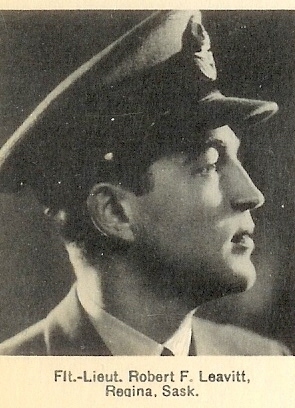 Football player for Ottawa Rough Riders, then shipping clerk joined RCAF, hoping to be pilot. His training was discontinued, and he became a navigator. During his first ferry flight, he and crew were last heard from 650 miles off the Irish Coast.
Elwood Wallace McFall was the son of William Spergen McFall (1892-1964), civil servant, and Augusta Belle (nee Sherman) McFall (1895-1957) of Ottawa. He had three brothers: Alvin Ross McFall (1914-1981), Clayton, William, and one sister, Barbara Whyte. Alvin was with the RCE, London, England, Clayton and William were both with the RCAF. Clayton remained in the RCAF after the war, attached to No. 1 Fighter Squadron. The family was Baptist. Another form indicated he was Anglican.
He had attended technical school and was a shipper prior to enlisting in the RCAF in January 1940, and at that time, there were 'no vacancies.' He had been with Cadets for three years. He was well-known for his athletic ability in football, basketball, softball, and rugby, playing with the Ottawa Rough Riders. "Captain of Ottawa Technical High School Senior and Junior football teams. Regular outside wing with Ottawa Roughrider [sic] juniors. Eastern football champions 1934. Have played football last three years with Ottawa Roughriders [sic] of the Big Four. Am a member of the 1939 Eastern Championship football team." In 1937, he fractured his lower left leg and had a good recovery. A scar on the bridge of his nose and left cheek were noted. He stood 5'6 ½" tall and weighed 143 pounds. He indicated he did not smoke, nor consume alcohol. "Good type, small but rugged. Temporarily unit due to nasal septum deviation." By February 6, 1940, the nasal septum was repaired. On his interview sheet dated February 12, 1940: "Unimpressive. Not officer calibre. Fairly neatly dressed. Well set up. Ruddy faced. Dull. Ottawa Technical School High School four years, graduated. Might do as NCO pilot, however, would probably be slow to learn. Below average."
"Applied for Commission as Pilot Officer January 23, 1940. As this application for pilot has already lost me much time and money (nose operation and tonsils removed), I would like to be considered especially for pilot." On his interview sheet, dated May 23, 1940: "Good family, excellent recommendations. Normally bright, athletic and keen. Splendid type. Good looking. Alert both physically and mentally. Officer calibre. Should make first rate pilot." He was accepted into the RCAF July 1, 1940.
Elwood married Audrey Jean Deevey (1915-1997) on May 4, 1940. She remarried in April 1945.
At No. 1 ITS, Toronto, July 22 to September 14, 1940, Elwood was 123 out of 193 in the pilots' class. He earned 80%. "Fine material for pilot or gunner. Seems specially qualified for single-seater fighter. Fine athletic record. Should 'go places.'" He was sent to No. 4 EFTS, Windsor Mills, Quebec, October 7 to November 23, 1940. He was 18th out of 21 in his class in Ground Training with 67.2%. "Conduct good." Flying training: Failed. "Below average." He was granted leave from January 15 – 18, 1941.
C.T. Medical Summary dated January 1, 1941: "Forced landings bad throughout training. Persevering, with courage. Flying ability below average. Slow thinker and reactor. No medical findings worthy of note. Admits slowness in learning, but feels he could have done better with a different instructor (yelled at him too much) and he came to neglect what he was told."
On January 9, 1941, a memo was written about LAC Elwood McFall regarding failing his 54-hour test after three attempts. [See document above.] He was described as 'pugnacious' with an 'outstanding history of ability in ruby.' Two factors contributed to his failing: difficulty with fine coordination and his general attitude and failure to get along with his instructor. Lt. H. R. Brillinger recommended that Elwood remuster as a Wireless Air Gunner.
Elwood was sent to No. 5 AOS, Winnipeg, Manitoba, February 3 to April 28, 1941. "Makes good use of his time in the air. Works very hard (ground training). Goes out of his way to learn more. Average Air Navigator. Above Average Air Observer. Unsuitable for commissioned rank. Good NCO material. Athletic." He was 22 out of 42 in his class.
He was then sent to No. 4 BGS, Fingal, Ontario from April 28 to June 6, 1941. "Unsuitable for commissioned rank. Worked hard throughout course. Had trouble with some subjects but stays at them until clarified. With more experience, should become quite efficient."
Elwood was then sent to No. 1 ANS, Rivers, Manitoba, from June 9 to July 7, 1941. "Not particularly brilliant but good worker. Ground training: just scraped through. Seemed to find the work very difficult. But should be a reliable observer." He was 63rd out of 111 in his class. "Below average." He was sent to Halifax July 9 1941, then to Debert, and No. 31 O.T.U., August 1, 1941. Two weeks later, he was in Montreal and assigned to Ferry Command by September 20, 1941.
Aboard Hudson AE545, Elwood, on his first ferry flight, September 21, 1941, and crew were flying the aircraft from Montreal to Prestwick, Scotland, stopping in Gander, Newfoundland. After taking off from Gander, they were never heard from again, crashing into the Atlantic Ocean. "The last radio contact made with the aircraft was at a point approximately 650 miles from the Irish Coast. The radio communication took place at 2:16 am (Greenwich Mean Time) on September 21 and was purely a routine acknowledgement." A search was made without success. Mr. McFall received a letter informing him that "every man aboard was individually equipped with a Mae West (lifesaving jacket). This equipment has been known to keep its wearer afloat for several days…the disappearance of an aircraft whilst being 'ferried' across the Atlantic affords little or no opportunity to determine the cause."
Crew aboard Hudson AE545: F/L Robert Frederick Leavitt, 24438, RAF, Regina, Saskatchewan, Navigator Sgt Elwood Wallace McFall, F54117, RCAF, Ottawa, Ontario, and civilian Radio Operator, Robert Desmond Anderson, Benjamin River, NB.
Robert Leavitt's name appears on the Runnymede Memorial. He earned the DFC, serving for the RAF. Robert Anderson's name appears on his family's headstone in Port Elgin, New Brunswick and in the United Kingdom Book of Remembrance.
Audrey, Elwood's widow, received a letter in late October 1955, informing her that since her husband had no known grave, his name would appear on the Ottawa Memorial.
LINKS: