Edward George Charles Walker R110680
December 23, 1903 - October 14, 1942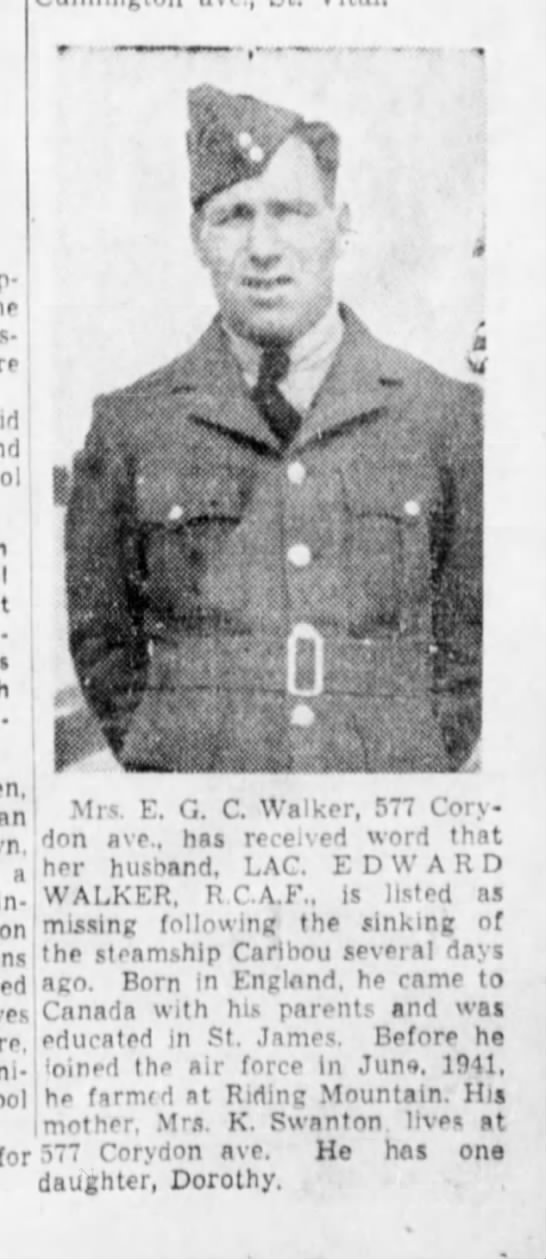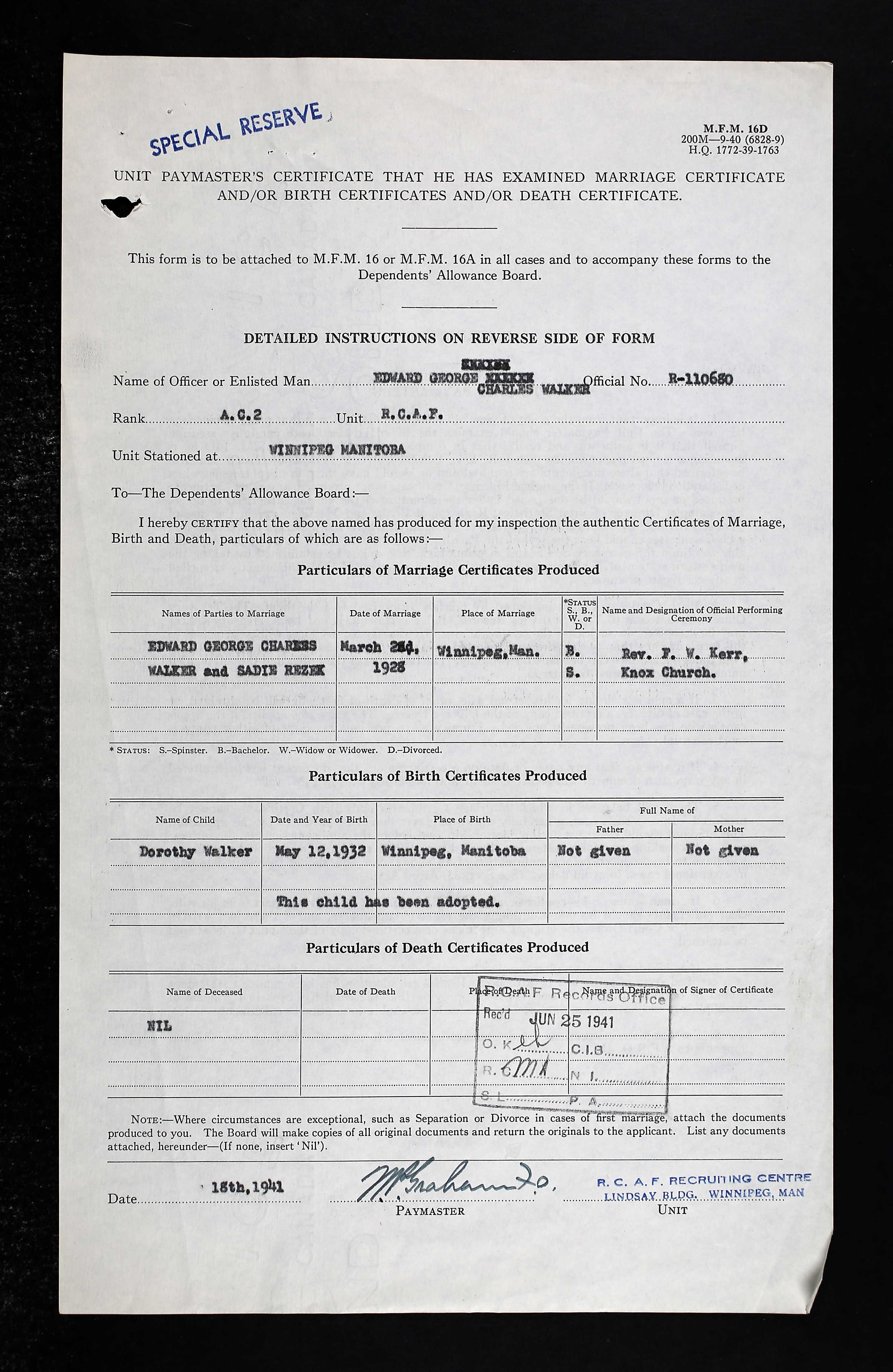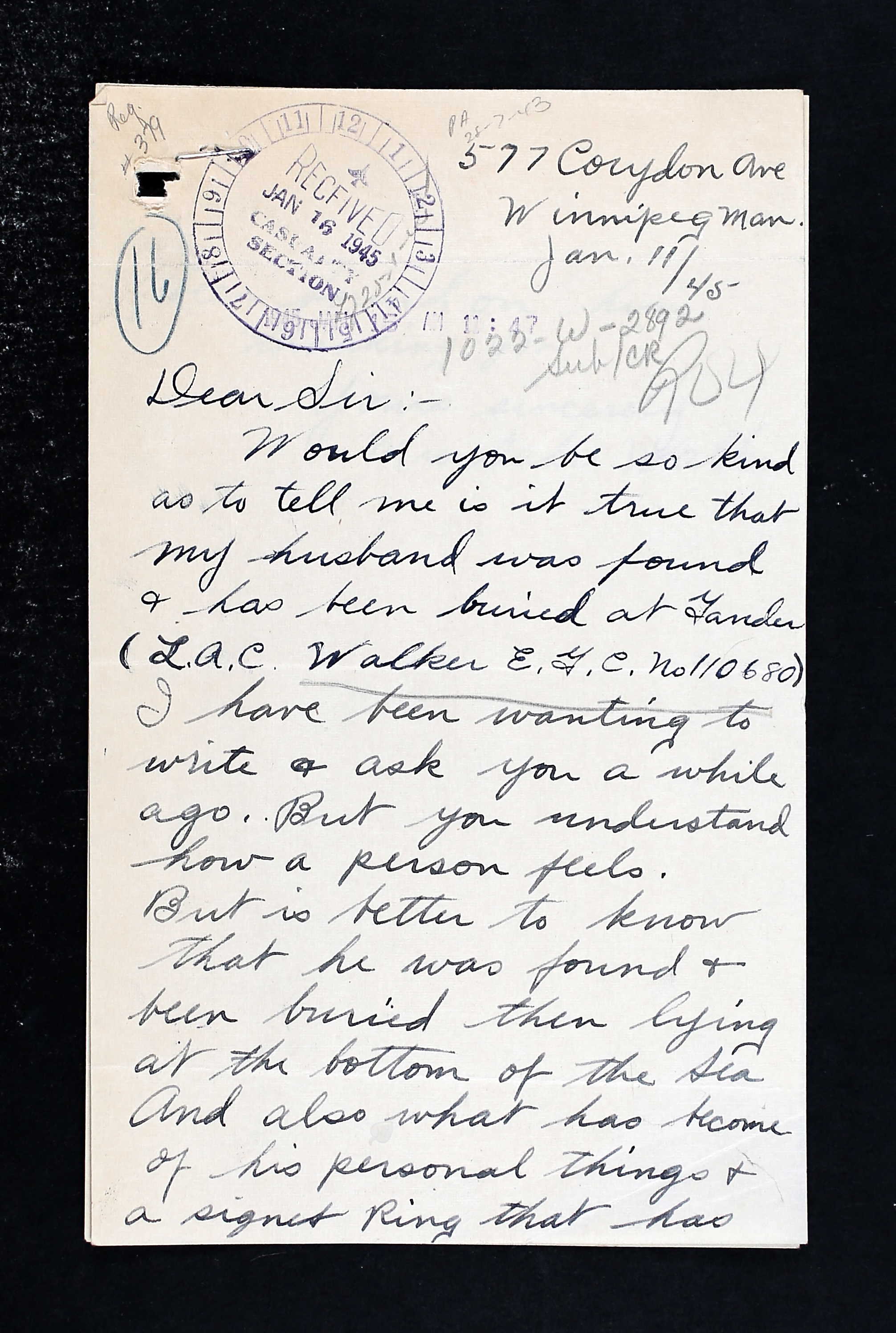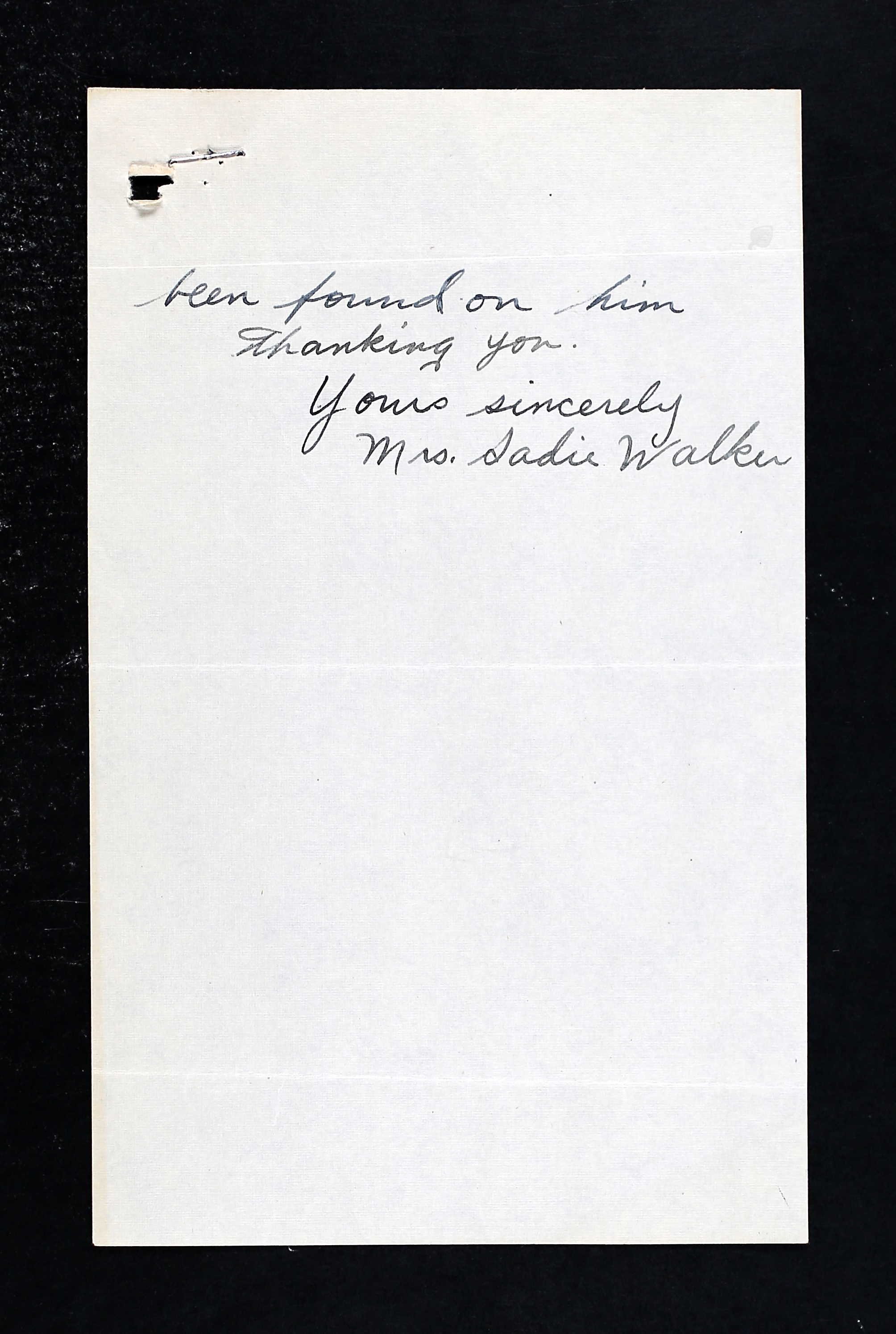 Brick layer and farmer from Manitoba joined RCAF for guard duty, aboard SS Caribou when it was torpedoed.
Edward George Charles Walker, born in Barking Essex, near London, England was the son of George Charles Walker (d. 1929) and Kate (nee Wilkin) Swanton (remarried) of Fort Rouge, Manitoba, a district of Winnipeg. He had one brother, Henry Charles, and one sister, Doris Eleanor. Doris lived with her mother by 1943. The family was Anglican.
On March 28, 1928, Edward married Sadie Rose Rezek (1906-1986) at Knox Church. She resided in Winnipeg, Manitoba and was the sole beneficiary of his estate. They adopted their daughter, Dorothy Evelyn Walker, born May 12, 1932. It was expected that Edward would reside in Winnipeg at the end of the war.
Edward was farming at the time of his enlistment. His mother resided at the farm in Riding Mountain, where he had also lived for four years, and Edward provided her sole support. Edward had farmed for six years and did brick work for 17 years.
He liked hockey and baseball. He applied to the RCAF for guard duty/general purpose in June 1941. He stood 5'2 ½" tall and weighed 130 pounds. His eyes were grey/blue and he had black hair with a medium complexion. He had his appendix removed in 1933 "ten days ill, complete cure." He had issues with his dental health including pyorrhoea (gum disease).
Edward, 38 years old, was sent to No. 2 Manning Depot, Brandon, Manitoba on June 18 until July 31, 1941. He was then sent to CTS, Trenton, Ontario in early August 1941 for three weeks, then posted to RCAF Detachment, North Sydney late August 1941, then posted to RCAF Station, at Newfoundland Airport (Gander) until September 9, 1941.
On January 12, 1942, he was in the station hospital, then returned January 14, 1942. He was in Newfoundland at this time. He was on 35 days sick leave from April 7, 1942 to May 11, 1942.
Edward was aboard the SS Caribou. He had been granted an indefinite leave about this time.
The night of October 14, 1942 was very dark with no moon. Sixty kilometres off the coast of Newfoundland, German U-boat U-106 torpedoed the SS Caribou on her starboard side. On board were 73 civilians including eleven children, 118 military personnel, and a crew of 46. The passengers were thrown from their bunks, several lifeboats and rafts were destroyed or could not be launched, as the ship sunk quickly, reports stating three minutes. Many passengers were forced to jump overboard. Over 135 people perished. Fifteen of the crew survived, many of them local men from the Channel/Port aux Basque area.
Two of the survivors who had suffered from shock and exposure due to the sinking of the SS Caribou, Aircraftmen Frank Earl Burton, 19, and Frederick Anthon Langley, 23, both airframe mechanics posted to Botwood, Newfoundland, perished in the fire at the Knights of Columbus hostel in St. John's, Newfoundland, December 12, 1942. Ninety-nine people were killed, with 80 of them military personnel. Critically wounded: 109.
On January 11, 1945, Sadie wrote a letter to the Estates Branch, Ottawa. "Would you be so kind as to tell me is it true that my husband was found and has been buried at Gander? I have been wanting to write and ask you a while ago. But you understand how a person feels. But is better to know that he was found and been buried then (sic) lying at the bottom of the sea. And also, what has become of his personal things & a signet Ring that has been found on him. Thanking you."
In January 1948, a memorial was erected at Port-aux-Basques, Newfoundland, in memory of those who died in the torpedoing of the S. S. Caribou.
In late October 1955, Sadie received a letter informing her that since Edward's name would appear on the Ottawa Memorial as he has no known grave.
For additional information, please click on the links below.
LINKS: