Edward David Simon R77437
November 2, 1922 - October 15, 1941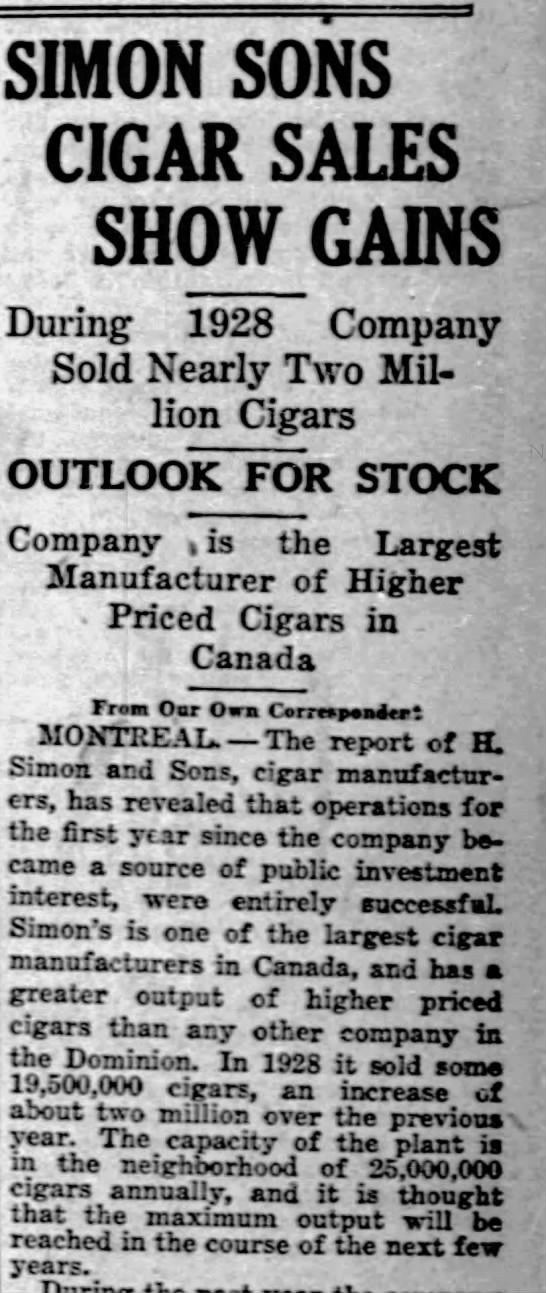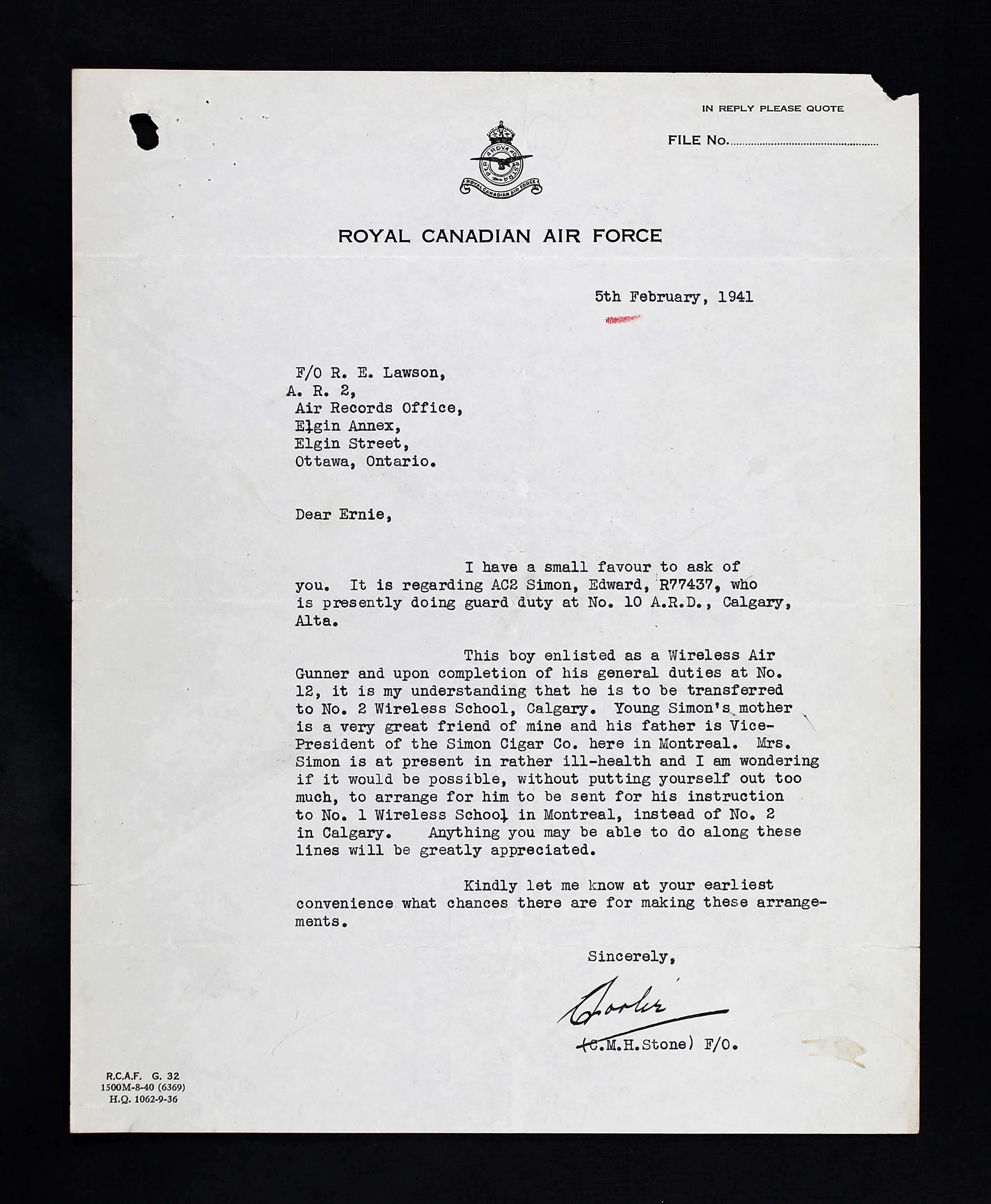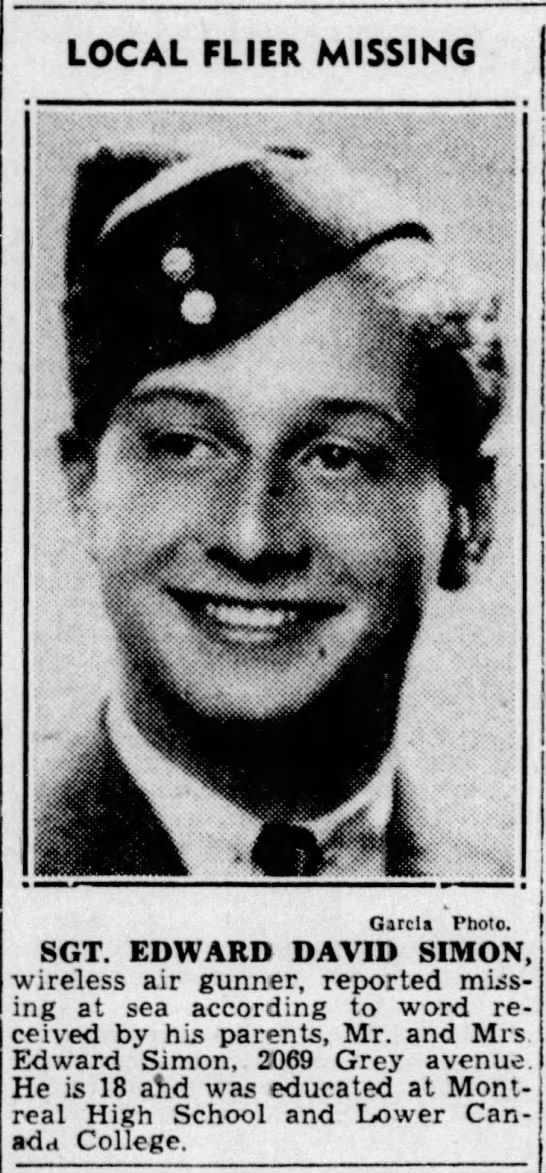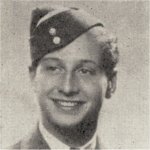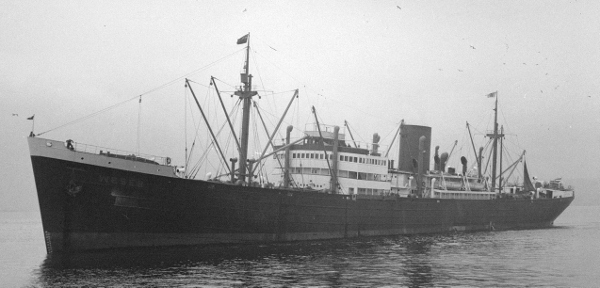 Student became Wireless Air Gunner. Mother wished he trained in Montreal to be close to home.
Edward David Simon was born in Queens, New York, USA, to Edward Simon, Esq., vice president of H. Simon and Sons, a cigar company, and his wife Edna (nee Sadler) Simon, of 151 Rockland Road, Montreal, Quebec. Later they lived at 2069 Gray Avenue. The family was Jewish.
He enlisted in Montreal on November 26, 1940 requesting to be a wireless operator and or air gunner. At the time, he was a student, having attended Argyle School, Montreal High, O'Sullivan's Business School, and Lower Canada College, all In Montreal. He indicated that he had a job waiting for him after the war was over, but did not state where.
Edward liked photography and model airplanes. He played hockey, skied, hurdle jockey, and boxed occasionally. "Clean, well set up, alert, good intelligence. Good nerves, Seems to have the attributes for aircrew." Edward stood 5' 8 ½" tall and weighed 132 pounds. He had brown eyes and dark brown hair.
Edward started through the BCATP at No. 2 Manning Depot, Brandon, Manitoba on November 26, 1940 until January 2, 1941. From there he went to No. 10 RD, Calgary.
On February 5, 1941, a letter from F/O C. M. H. Stone wrote to F/O R. Ernie Lawson, at the Air Records Office in Ottawa. "I have a small favor to ask of you. It is regarding AC2 Simon, Edward, R77437, who is presently doing guard duty at No. 10 ARD, Calgary, Alberta. This boy in listed as a wireless air gunner and upon completion of his general duties at number 12, it is my understanding that he is to be transferred to No. 2 wireless school, Calgary. Young Simon's mother is a very great friend of mine and his father is vice president of the Simon cigar company here in Montreal. Mrs Simon is at present in rather ill health, and I am wondering if it would be possible, without putting yourself out too much, to arrange for him to be sent for his instruction to No. 1 wireless school in Montreal, instead of No 2 in Calgary. Anything you may be able to do along these lines will be greatly appreciated. Kindly let me know at your earliest convenience what chances there are for making these arrangements."
The letter had no sway; Edward was at No.2 Wireless School, Course No. 12 from March 3 to July 20, 1941. He was 56th out of 209 in his class with a 73.7%. He was authorized to wear a Wireless Operator Badge.
He was not selected for commission at No. 4 Bomb and Gunnery School, Fingal, Ontario, where he attended from July 21 to August 18, 1941. He was "a fair shot, but otherwise nothing outstanding." He was 23rd out of 33 in his class in ground school and overall, was 17th out of 33, with a 72.4%. He was authorized to wear an Air Gunner's Badge.
By August 20, 1941, Edward was in Halifax awaiting transport overseas.
On December 15, 1941, Mr. Simon received a letter from F/O I. D. Corcoran, RCAF Casualties Officer. "I regret to inform you that advice has been received from the RCAF Casualties Officer Overseas that the S. S. Vancouver Island, the ship on which your son, Sergeant Edward David Simon, was proceeding Overseas must not be considered lost. The details of the sinking of the S. S. Vancouver Island…are as follows: 'On October 15, 1941, advice was received that the S. S. Vancouver Island had been torpedoed in the Atlantic, about 690 miles west of Northern Ireland and two of His Majesty's ships were sent immediately to search for survivors. This search was carried out until November 24th, but proved to be in vain, as no survivors were found.' May I express my sincere sympathy to you and Mrs. Simon at this time of great anxiety."
From uboat.net: At 21.54 hours on 15 Oct 1941 the unescorted Vancouver Island (Master Eric Lacey Roper) was spotted by U-558, which was searching convoy SC-48west of Ireland. Due to her high speed of about 15 knots the U-boat immediately went on full speed to get into a favorable attack position and fired a spread of three torpedoes from about 2000 meters at 22.49 hours, hitting the ship with two of them after 144 seconds. The vessel was hit in the fore part and amidships and stopped but did not sink. Because Krech wanted to continue the search for convoy he fired two coups de grâce from more than 1000 meters at 23.08 and 23.17 hours, hitting the ship fore and aft and causing her to sink fast by the stern. The Germans had observed how the crew abandoned ship in lifeboats after the first hits, but HMS Dianthus (K 95) (LtCdr C.E. Bridgman, RNR) sent to her assistance from the dispersed convoy ON-24 did not find any survivors. On 31 October, a lifeboat with the bodies of two officers from the ship was found by a British warship in 56°08N/20°45W. The master, 64 crew members, eight gunners and 32 passengers were lost.
In October 1955, Mr. Simon received a letter from W/C W. R. Gunn informing him that since Edward had no known grave, his name would appear on the Ottawa Memorial.