Edward Russ Hodge J10248
June 6, 1922 - October 14, 1942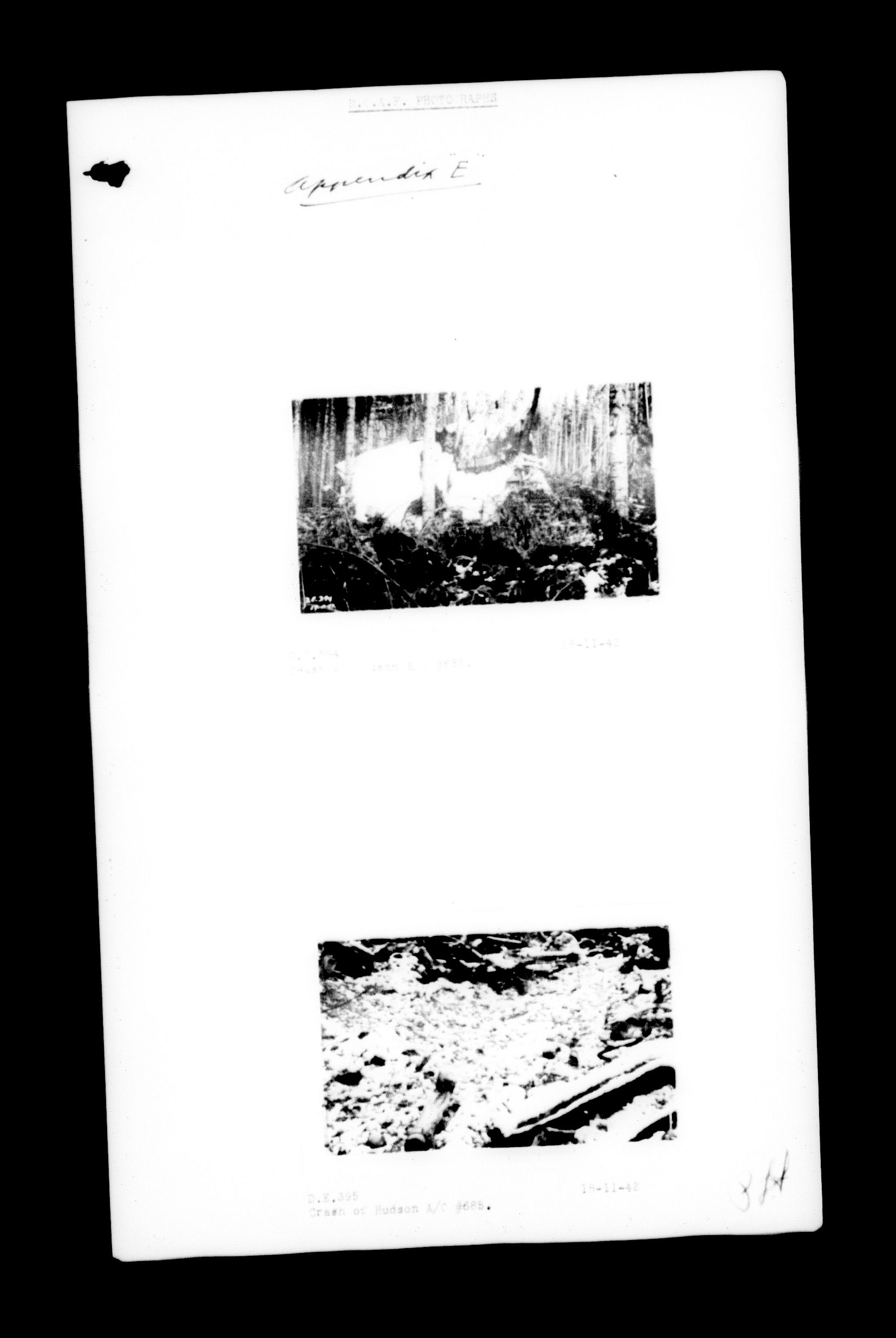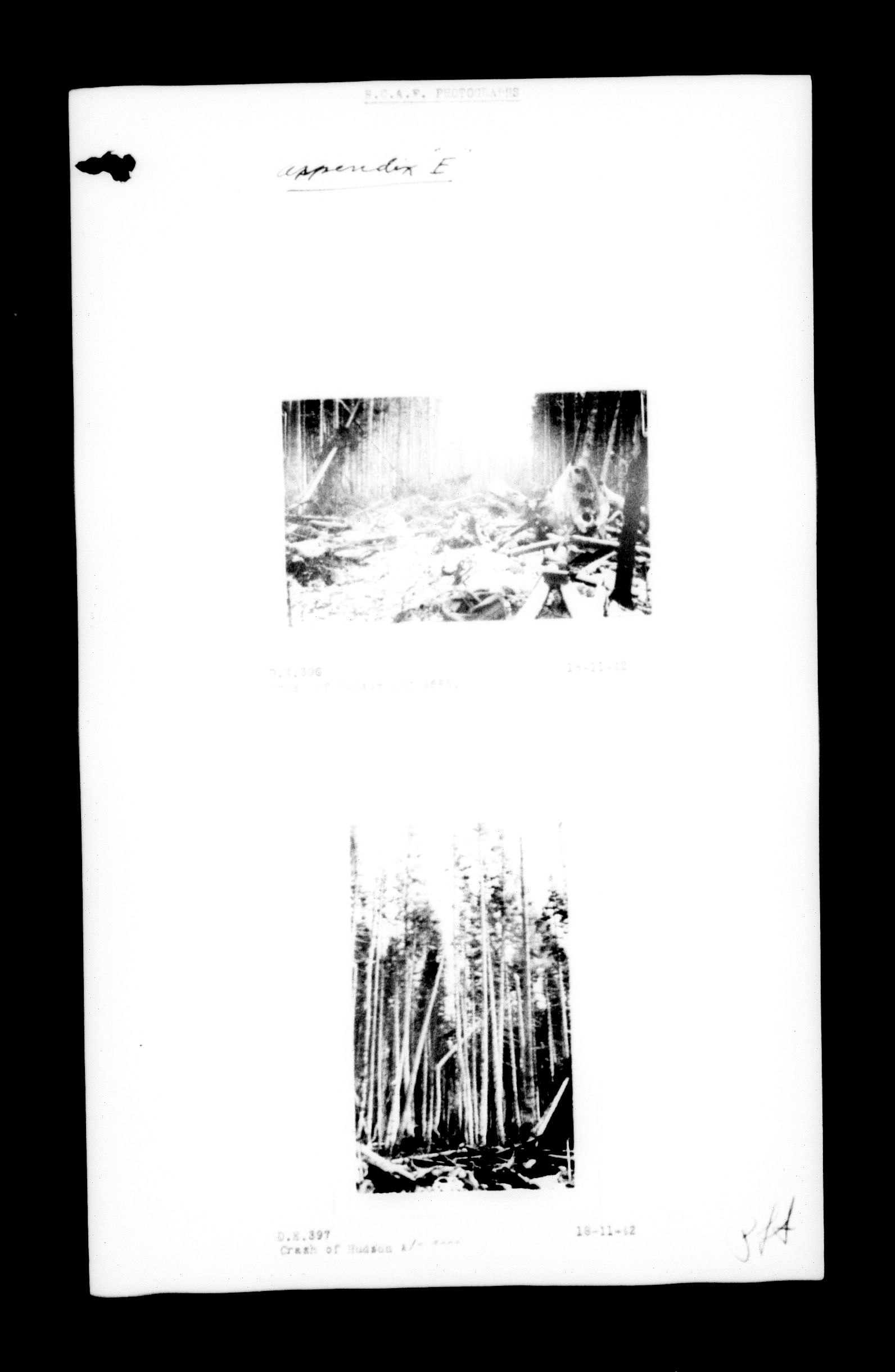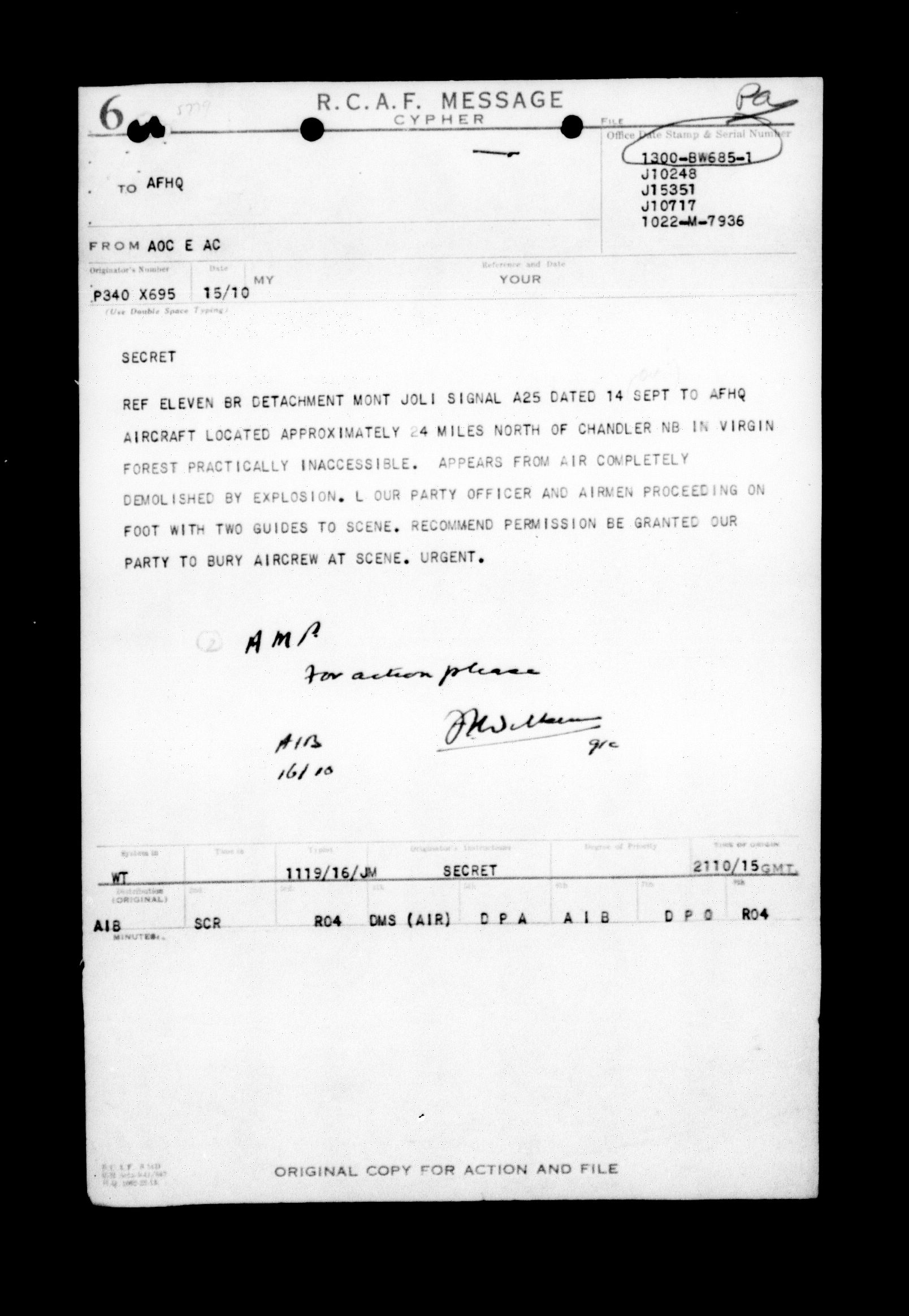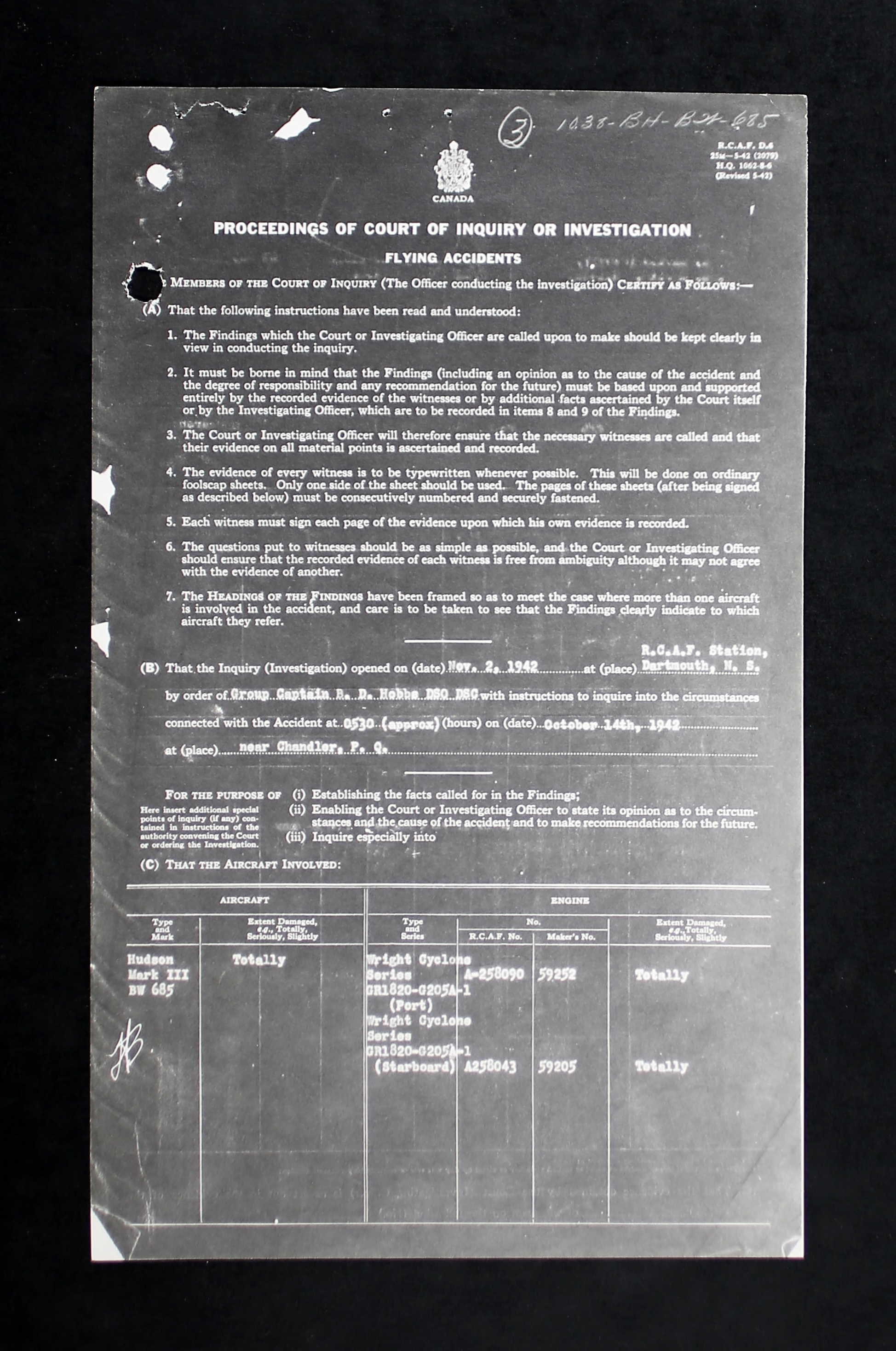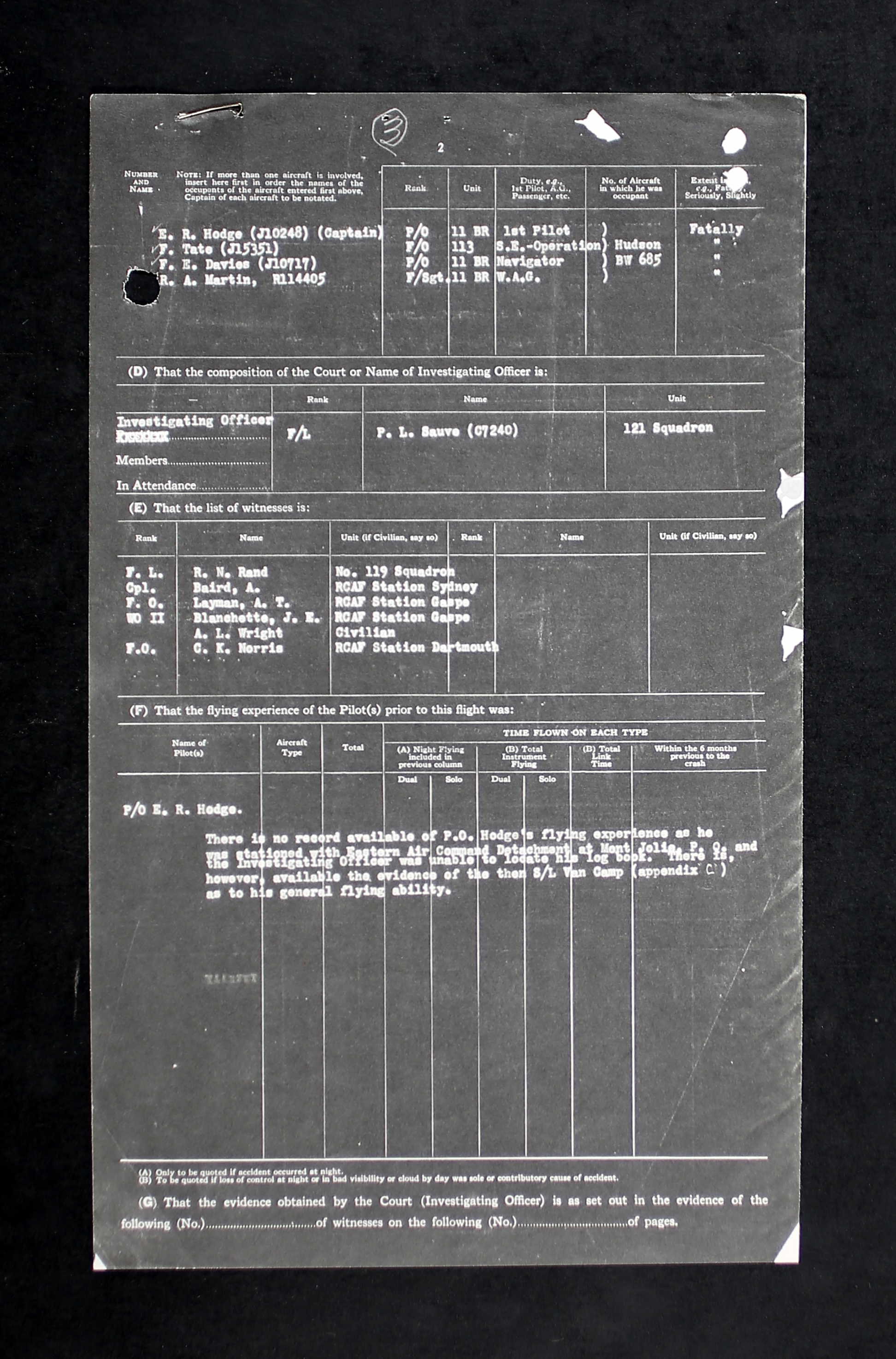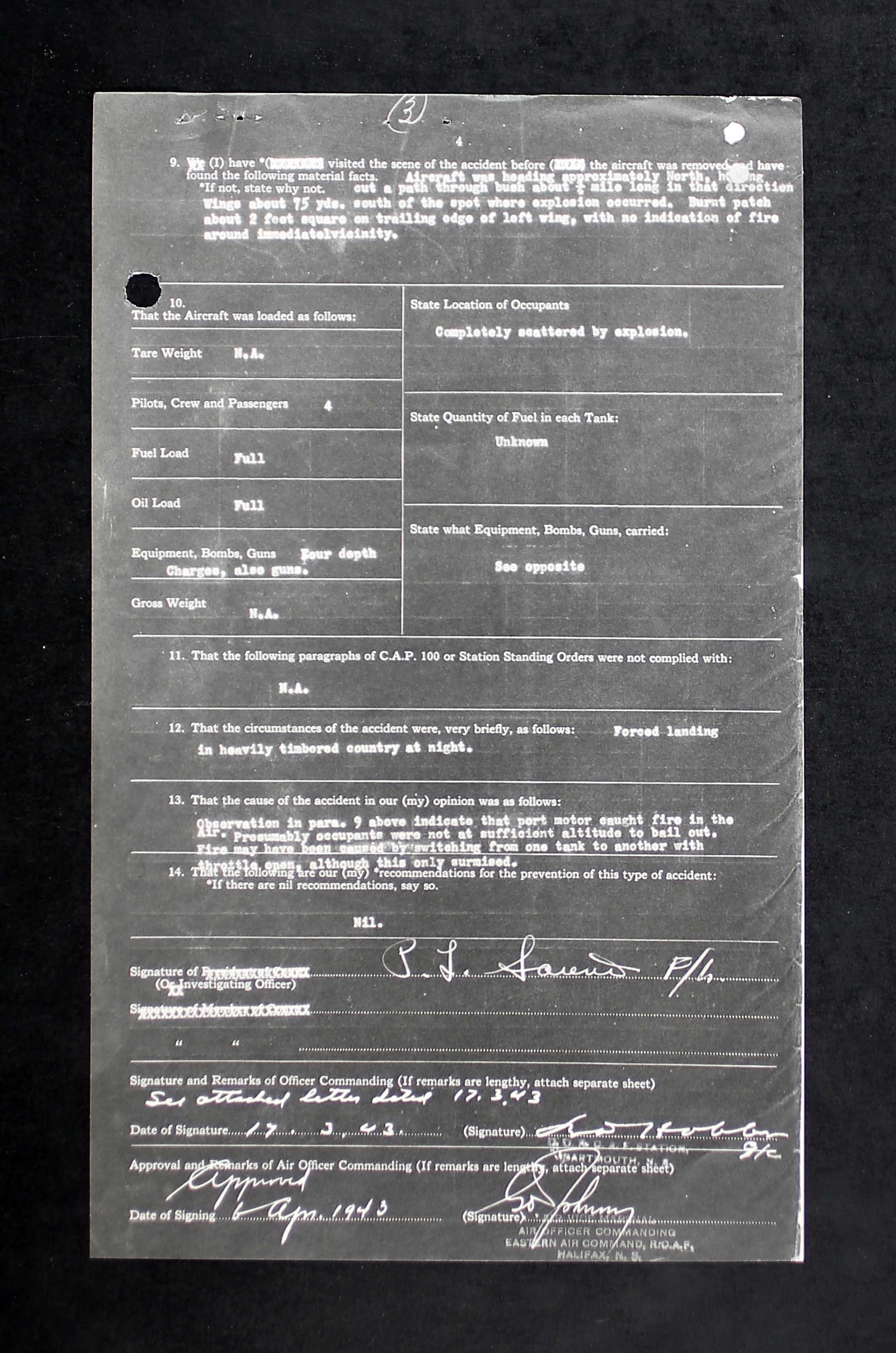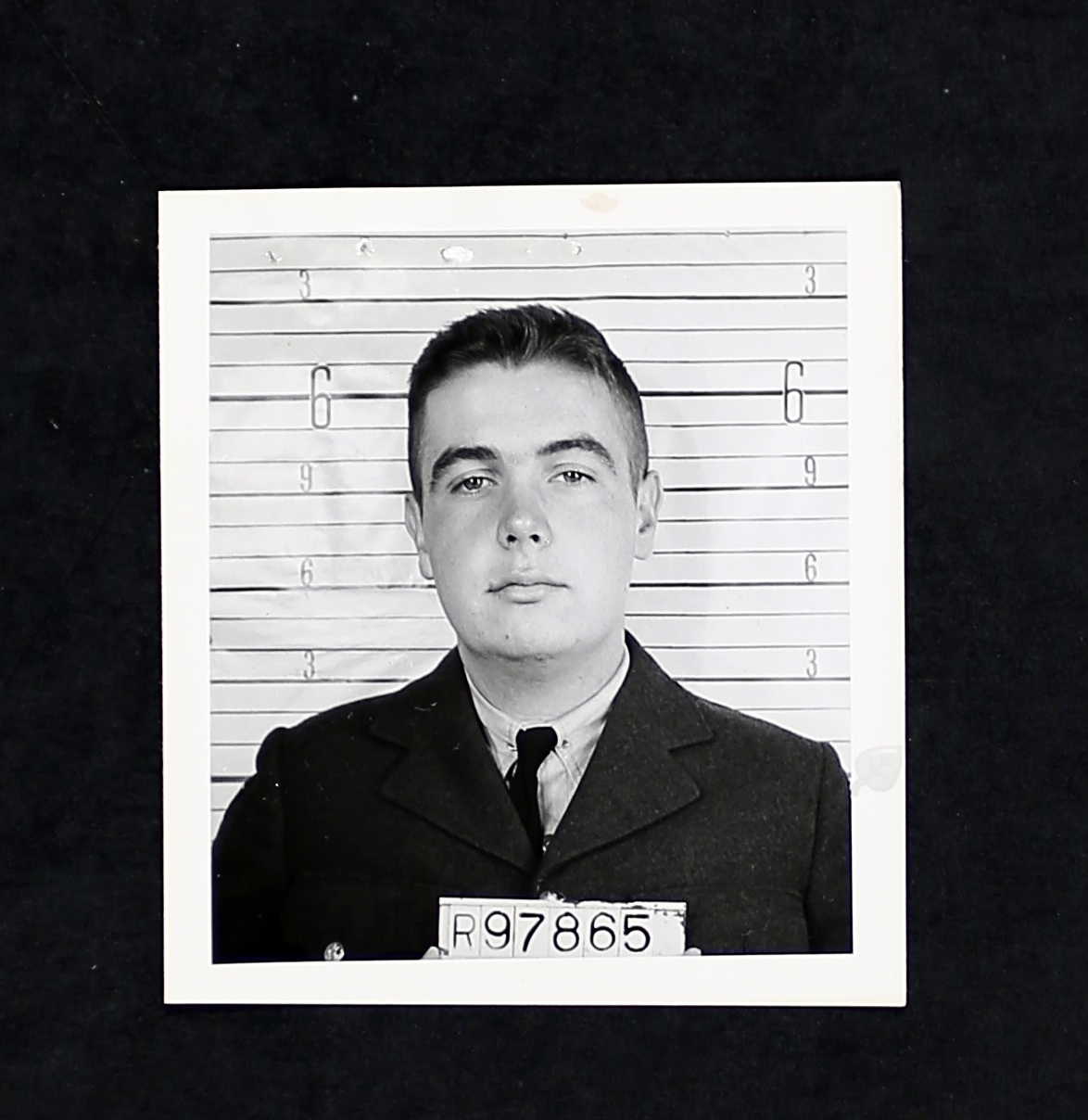 Waiter joined RCAF and became pilot. Aboard Hudson 685, during a night convoy protective patrol flight, he and crew were lost over 'virgin forest' after the plane exploded after hitting treetops and crash landed. Huge effort to access crash site. Hodge's body was never found.
Edward 'Teddy' Russ Hodge was born in Los Angeles, California, son of Leslie Russ Hodge, carpenter and salesman, and Gladys H. Hodge (1892-1981) of Vancouver, British Columbia, stepson of Archibald Sturrock, Victoria, BC, later of Burnaby, BC. Gladys had been "one of Vancouver's foremost women radio commentators and was known to many women throughout this province as 'Sue' of 'Sue's Notebook' on CJOR." The Hodge's divorced, and Mr. Hodge moved back to England. Ted and his mother did not know his whereabout for eleven years, as of 1943. Ted had one younger sister, Lorna Beatrice Hodge (1925-2002). A brother, Ivan R. Hodge, died in infancy in September 1927. The family lived in BC for five years and prior, Alberta from 1932-1937. Ted attended the United Church.
Ted enlisted with the RCAF on April 4, 1941, in Vancouver, BC. He stood 6' tall and weighed 196 pounds. The medical examiner indicated Ted was sedentary and obese. "Wants pilot, tense, jittery, high strung. Not aggressive, is a pleasant straightforward lad, but will need to relax if he is to succeed." In August 1941, he was down to 189 pounds. Ted had blue eyes and black hair. Prior, he had been a waiter at the White Spot from June 1940 to February 1941. He liked to swim, play basketball and tennis, plus occasionally played football, baseball, and boxed. Sports and stamps were noted as his hobbies. "A nice clean looking and gentlemanly lad. Well mannered. Very keen to be in the RCAF as pilot. Quick and smart." After the war, he wanted to go into radio announcing, following in his mother's footsteps.
He started his journey through the BCATP at No. 2 Manning Depot, Brandon, Manitoba on May 26, 1941. "Good on all subjects. 70%. A good capable and willing airman." Ted was then sent to No. 2 ITS, Regina, Saskatchewan. He was at the station hospital from August 11 - 14, 1941. He was 86th out of 124 in his class, with 86%. "This is a likeable chap with few opportunities in the past. He is dependable and should develop. He applied himself well in his course and has the ability to make good."
Then he was at No. 8 EFTS, Vancouver (Sea Island), BC September 11, 1941. "No outstanding faults." He earned 72% on his 20-hour test and 65% on his final test, plus 63% on his instrument flying test. Ground training: "Good disposition, dependable, responsible." Ted was 13th out of 29 in his class with 73.9%.
On November 8, 1941, he was at No. 15 SFTS, Claresholm, Alberta until March 7, 1942. "Slow start. Tries very hard. Learnt the hard way. Link average. GROUND TRAINING: Above average student." Armament: Wind Speed and Direction Finding: Below Average. Straight runs overs as pilot: Average. He was 15th out of 57 in his class. Navigational ability was above average. "Low average ability. Slow in reaction. General flying rather sloppy. Average type. Very courteous. But lacking in self-confidence."
While at No. 13 O.T.U., taking a Bomber Reconnaissance Course starting March 20, 1942, at Patricia Bay, BC, Ted's character was assessed as very good and his qualifications as a pilot was superior. He passed. "Average." Hudson training: "Passed, High Average. An average T. E. student (day). Has a tendency to over-control, with more experience should make a satisfactory BR pilot. Average ground school student." June 1, 1942.
Ted was then sent across the country to Eastern Air Command in Halifax June 1, 1942, then to Yarmouth on June 22, 1942, then to 11 BR Squadron, Dartmouth by August 12, 1942. "A very keen and capable pilot. Is recommended for retention in the service." S/L Van Camp, No. 11 Squadron, Dartmouth, September 25, 1942. On October 5, 1942, S/L Van Camp wrote the same comments. He had a total of 194:10 flying hours on Tiger Moth, Avro Anson, and Cessna Crane.
Crew aboard Hudson 685, October 14, 1942 on a night protection convoy patrol: FIRST PILOT (CAPTAIN) Pilot Officer Edward Russ Hodge, J10248, SE OPERATION F/O John Chapple Tate, J15351, NAVIGATOR Frederick Eugene Davies, J10717, and WAG Flight Sergeant Roy Alfred Martin, R114405. Tate was with 113 Squadron, the other three crew were from 11 BR Squadron.
COURT OF INQUIRY: Hudson 685, Microfiche C-5936, image 1858 [WARNING: Contains gruesome descriptions of discoveries at the crash site.]
The Court of Inquiry was held at RCAF Station Dartmouth, Nova Scotia on November 2, 1942. Six witnesses were called. The experience of P/O Hodge: "There is no record available of P/O Hodge's flying experience as he was stationed with Eastern Air Detachment at Mont Joli, PQ and the investigating officer was unable to locate his logbook. There is, however, available evidence of the then S/L Van Camp as to his general flying ability."
The first witness, F/L R. N. Rand (C904), 119 Squadron, RCAF Station, Sydney, NS, employed as Flight Commander stated, "On 13th October 1942, I was employed as Officer Commanding Nos. 11 and 113 Detachments at Mont Joli, Quebec and at 1930 hours, upon receipt of instructions from the Operations Officer Mont Joli, I authorized Pilot Officer Hodge and crew to provide night protection for a convoy in Hudson BW685, take-off approximately 2200 hours. At his own request, F/O Tate, SE Specialist of No. 113 Squadron, Yarmouth, was permitted to substitute for one of the regular Wireless Air Gunners of P/O Hodge's crew to provide more experienced handling of the Special Equipment during this operation. Weather conditions were satisfactory for the period of the flight, but navigation conditions appeared unfavourable because of the coastal black out and a heavy overcast. Consequently, the Inner Anti-Submarine Patrol was cancelled, and instructions issued to P/O Hodge to carry out a protective patrol to a depth of 40 miles ahead and astern of the convoy and 30 miles north of convoy track. The personnel of this crew were fully qualified to carry out this operation and as a result of approximately one month's experience operating out of Mont Joli, were fully acquainted with the hazards of the Lower St. Lawrence area."
The second witness, Cpl Alex Baird, R66781, air frame mechanic stated that he saw the crew board Hudson 685 for a six-hour patrol.
The third witness, F/O A. T. Layman, was part of the rescue party arriving on the scene on October 25, 1942. "I found that the treetops had been smashed for some distance and that the plane had been flying on a bearing of 330 degrees. The engines of the plane were found thrown some little distance from the fuselage and the wings came to rest behind. All parts were completely wrecked, but the paint on the wings was still unscorched. Just to the right of the smashed fuselage is a crater of approximately 10 feet wide by 4 feet deep, with another slightly smaller adjacent. Small pieces of metal were found at considerable distance from the crash. There were small pieces of parachute material all around. The fuselage was a mess of crumpled metal. It was painted in white and the wings had the RCAF identification markings. Three bodies were found, the nearest about 50 feet from the fuselage, entirely devoid of clothing, except boots. It was lying on its back, the body was undamaged and without any hair. It was a dark brown colour, the fingers of both hands burned to the bones. Back of the body against the ground was white with a few small burns. On removing this body, a red identity disc bearing the name -- Airman R. A. Martin, R144405, was found where the body had been lying. Two or three yards further from the wreck was a portion of a second body. This was entirely black, consisted of head with the top blown off without skull. The arms were also missing and the entire body below the ribs. It was necessary to remove the lungs and some entrails before the body could be shifted. The third body, another fifteen years away was in a very similar condition, except that a little black hair was found on the back of the head, and it was possible to remove what was left of this man. These last two bodies were just recognizable as human beings."
The fourth witness, WO2 J. E. Blanchette (8171A) was part of the search party. "We reached the scene of the crash at approximately 1245 EDT 25-10-42. The first body was found at approximately 30 feet from an explosion. Body was badly burned. After I turned it over, I searched under and found an identity disc bearing the name Airman R. A. Martin, R144405, RCAF. After reading the number, I handed it over to F/O Layman….the second body was unrecognizable." He confirmed Layman's testimony regarding the third body. "I searched the second and third body but could not find anything. After leaving the bodies, I went to see the crashed plane. I looked at the treetops and I saw they were broken for a distance of about 300-400 feet, the direction coming from south to north. The wings of the plane were stripped from the fuselage completely. One motor was at about 60 feet further left from the explosion and the other one was about 50 feet right. Two machine guns were torn and unserviceable. Under one wing, I found a pair of flying boots, with the name "BRUNTON, N." written on the inside of the boots. The left rubber boot was broken on top. After looking further, I found a life-belt, commonly called 'Mae West' and a few papers which were sent to F/O Belanger of Dartmouth (to do what we could with the bodes, if possible to take them out). I handed over these notes to F/O Layman. All of the parts were completely wrecked; no possible chance to find number of the plane. The fuselage was all wrecked except the wings and the motors, which were burned. We went back to camp and started to take out the bodies at approximately 0900 hours 26-10-42, the distance being seven miles, and the coroner was waiting for us at the camp to take the bodies to Chandler."
The sixth witness, F/O C. K. Morris (C10342), medical officer, RCAF Station, Dartmouth, NS flew with S/L Brewster on October 20, 1942, to Chandler, Quebec for the purpose of identifying the remains of the crew of Hudson 685. "We were able from their dental charts, to identify the remains of F/O Tate, Sgt. Martin, and P/O Davies, but unable to find any trace of the remains of P/O Hodge. The injuries to the other personnel were as follows: F/O Tate: multiple lacerations of both legs, tongue protruding, hair on head burned off; Sgt. Martin: severe burning of body, recognizable as such, tongue protruding from mouth; P/O Davies: upper half of skull missing. Lower two thirds of thorax, abdomen, and both legs missing. Both arms badly mutilated. All of the above three personnel must have been almost instantly killed."
S/L W. C. Van Camp, Officer Commander, No. 11 Squadron, Dartmouth, NS stated in a memo, "In my opinion, P/O Hodge was one of the best pilots we had in spite of having less time on Hudson aircraft than some of the other captains. I personally checked him out on his arrival in the Squadron and his ability was beyond criticism. His reputation as a pilot among the other pilots was very good, better than average possibly. He was a very steady type in his flying and at no time have I known or heard of him flying in such a manner than would warrant the slightest censure. His conduct as an officer was equally beyond reproach."
On April 6, 1943, AVM G. C. Johnson, EAC stated that "it seems impossible at this late date to re-open the matter and find out anything more" about the accident to Hudson 685. "It is noted that F/L Sauve was chosen to make this investigation because he speaks French, but according to the proceedings only one of the six witnesses was French and he was a WO2 of the RCAF, it seems reasonable to suppose that he could make himself understood in English. It is noted that F/L Sauve was inexperienced in this type of work and after reading the proceedings, there is not difficulty in believing this; but as the accident occurred on the 14th October 1942, and the proceedings were forwarded to this Command on 17 March 1943, it is though that there was plenty of time for the Investigation Officer to obtain all necessary help from more experienced officers on the Station and for the proceedings to be thoroughly revised. It is considered that the choice of F/L Sauve as Investigating Officer was not a successful one and that although the investigation is shown as having been ordered by the Station Commander at Dartmouth, that Station seems to have taken remarkably little interest in the investigation or taken any steps to wind it up satisfactorily. Although F/L Sauve may have been detailed for other duties at the time of this investigation, it is not clear why the proceedings could not have been submitted until five months after the accident."
Investigation Officer, F/L P.L. Sauve (C7240), 121 Squadron, Dartmouth, NS, reported: On November 2, 1942, I received instructions from Commanding Officer, RCAF Station Dartmouth, NS, though the Asst. Adjutant, to proceed by rail to Mont Joli, Quebec and Gaspe, Quebec and Chandler, Quebec to investigate accident to Hudson aircraft 685, which occurred on October 14, 1942 approximately twenty miles NE of Chandler, Quebec. I left Halifax by rail November 3, 1942 at 1030 and arrived at Mont Joli, Quebec 2330 same day. I reported to RCAF Station, Mont Joli, the following morning at 1100 (Nov 4) and obtained a statement from Mr. A. E. Wright of the Department of Transport Meteorological Branch regarding weather conditions on the day of the accident. I also obtained a statement from R66781, Cpl. Baird, AFM of the EAC detachment at Mont Joli, who saw the crew enter Hudson 685 at 0315 hours 14-10-42 and saw same aircraft take-off to proceed on a seven-hour patrol." He gave details of the authorized flight. "The aircraft in question was given the usual daily inspection by Corporal Dunville, now at Sydney, NS with 119 Squadron…I left Mont Joli by rail November 5, 1942 at 1100 hours arriving at Gaspe 2300 hours same day. The following morning (Nov 6) I reported to RCAF Station Gaspe, Quebec at 1130 hours. I obtained statement from F/O A. T. Layman and WO2 J. E. Blanchette who were the first ones to appear at the scene of the accident 25-10-42. I also obtained the weather report for that vicinity for the date of the crash from Mr. G. G. Cameron, on the Dept. of Transport Met Branch. I proceeded then by motor transport to Chandler, arriving at Chandler at 2300 and stayed at Hotel Langlois. I was accompanied by WO2 Blanchette and LAC Cheveire, of the MT Section, RCAF Station, Gaspe. On November 7, I left Chandler with WO2 Blanchette and LAC Cheveire at 0800 hours to proceed to the scene of the accident, arriving there at 1400 hours. Scene of the accident: Heavily wooded area, with a clearing approximately three quarters of a mile north of the crash. The aircraft was heading approximately north, as it had cut a path through the bush in that direction for about one quarter of a mile. There were no parts of any kind which could be salvage for use as aircraft spare parts except the tail wheel and tire, which are still there. The rest of the aircraft is just twisted and burned metal. The metal could be used for scrap, but it would not be worth the cost of salvage. I brought back a metal plate taken off one of the motors. Both wings were located about 75 yards South of the spot where the explosion occurred. They are badly wrecked and twisted and there is a burnt patch about two feet square on the trailing edge of the left wing. There is nothing left to the fuselage except a very small portion of the tail end and tail surface, which is all battered. The engines were blown about 50 feet ahead of the fuselage and were both badly burnt. The left engine was destroyed to a greater extent than the right, being split into an partly melted away. The propellers are twisted and burned so badly that they could be salvaged only as scrap metal. Neither of the propellers was found to be in a feathered position. The flaps were in the 'up' position when the aircraft struck. There is a crater in the ground approximately 4 feet deep and 10 feet wide at the point where the explosion occurred. There is still a loaded depth charge on the ground just at the edge of the crater. I returned to Chandler with my party arriving there at 2200 hours. On November 8th, 1942, I stayed in Chandler and interviewed Sergeant Charboneau of the RCMP also Mr. Ayer and Mr. Sutton, civilians, but was unable to obtain any relevant information outside of the fact that they had heard an explosion and saw a glare in the sky towards the scene of the accident. I left for Dartmouth by train leaving Chandler at 1300 hours November 9th, 1942."
"SUMMARY: "P/O Hodge and crew of three were in Hudson 685. Instructions were issued to the pilot to carry out a protective patrol to a depth of 40 miles ahead and astern of the convoy and 30 miles north of the convoy track. Flight duration to be seven hours. This aircraft and crew failed to return to base. There was no evident in the proceedings as to the progress of the flight, but on the 25th of October, the wreckage of the aircraft and bodies of three of the occupants were located near Chandler, Quebec in a heavily timbered area. No trace of the remains of the pilot were found. I found that the treetops have been smashed for some distance." CIRCUMSTANCES: Forced landing in heavily timbered country at night. CAUSE: Observations indicate that port motor caught fire in the air. Presumably, occupants were not at sufficient altitude to bail out. Fire may have been caused by switching from one tank to another with throttle open, although this is only surmised. CONCLUSIONS: Aircraft authorized for convoy protective duty crashed and exploded in wooded territory about 150 miles from base, reasons obscure. This accident occurred on 14 October 1942. The wreckage was found on the 25th of October. The investigation was poorly carried out, and the proceedings lack much necessary evidence. It is considered that the pilot, P/O Hodge, who is missing, may reasonably be presumed dead."
In early December 1942, F/O P. J. Van Elslande, No. 11 Squadron, Dartmouth, NS stated in a letter, "The last time I was up in Hudson 685 was on the morning of the 13th of October 1942 doing a night sweep from 0001 hours to 0600 hours. There was no change in the ordinary attitude of this aircraft. Ever since the time the gun turret has been added, it was known to have a tendency to yaw and thus become very unstable. Nothing more was wrong with the aircraft itself that morning. However, I might add that our radio transmitter was unserviceable for a period of about one hour and a half, when my operator, F/Sgt Kirkwood, succeeded in rendering it serviceable again."
The RCMP had a file connected to this crash. "PLANE CRASH IN VICINITY OF PELLEGRIN, Quebec, ASSISTANCE TO RCAF, Gaspe Base, Quebec."
"Referring to the above noted, this will advise that on the 14th instance at approximately 8:30 AM, a telephone call was received at this office from one Paul Arsenault, a clerk employed by the Gaspesia Sulphite Co. at Main Depot, which is situated approximately 4 miles from Pellegrin and 24 miles from Chandler informing that between 5:00 and 5:30 AM of the same date, two violent explosions had been heard by the men in the lumber camp. Mr. Arsenault added that the said explosions had occurred at different intervals, probably 15 minutes and as far as known from the sound of the explosions it appeared as if the location was in the vicinity of Grand Riviere, a small town situated at approximately 10 miles from Chandler. Thereupon inquiries were made immediately by telephone to controls of Grande Riviere, Newport, Rameau, Val d'Espeir, Breche A Manon, and Percé, with a view to learn if the said explosions were due to detonations of dynamite used on some road construction or other project, however the writer was informed that as far as known, the explosions had not been heard at any of the first mentioned places, also that nobody had been using dynamite in the vicinity. Shortly after the queries had been made, another telephone call was received from Arsenault informing this time that just two or three minutes before the first explosion occurred, the sound of an aircraft had been heard, which appeared to be flying very low and going in the direction of Grande Riviere, south east. Arsenault added that one P. Dube of Pellegrin had heard the plane and the explosions had also observed large flames of fire. The RCAF Gaspe Station was called immediately by telephone and upon inquiring whether one of their aircraft was overdue or not, the reply was negative. The officer who answered the call was then asked if he could get in touch with Mont Joli RCAF Station with a view to learn if one of their aircraft had been in the vicinity and if same was overdue. The officer answered that he was not sure whether he could reach Mont Joli station or not on account of static and poor reception, however he informed that he would try and advise this office accordingly. Shortly afterward, this man informed the writer that he was unable to reach Mont Joli RCAF Station. Therefore, the undersigned called Mont Joli RCAF Station by telephone and gave all particulars already on hand. Mont Joli advised that one of their aircraft, a twin motor bearing number 685 was overdue and thus in view of the information received, they were sending planes immediately to search in the vicinity of Pellegrin. in turn, the writer informed that members of this detachment would proceed at once to Pellegrin and would endeavour to obtain all possible information with a view to locate the aircraft. Gaspe RCAF Station was again provided with a request that in the event of a successful sighting from the air, we should be advised immediately by telephone at the Gaspesia Sulphite Co. Main Depot.
"Due to the fact that PC 8242 was not available at the time, Sergeant CHAPADOS, having proceeded to Gaspe with same on some important duty, it was necessary to hire a private motor vehicle in order to reach Pellegrin and Constable SPENARD in company of the writer proceeded to the Main Depot and hired vehicle, arriving approximately at 11 AM. Further inquiries made at that point and also at Pellegrin confirmed the report from Mr. Arsenault as mentioned earlier, in addition it was learned from several persons that from the sound of the motors, the plane was believed to have taken a north-easterly direction from Pellegrin. As the plane's direction in the first report to Mont Joli had been given a southeast of Pellegrin the latest report which was undoubtedly the correct one was immediately transmitted to the Gaspe RCAF Station. At that time, four planes from both RCAF stations had already begun the search from the air and were systematically covering all the area in the vicinity of Main Depot and Pellegrin. It must be pointed out that the area where the flames were observed and in which the direction of the plane was believed to have flown, is thickly covered with woods, crossed by streams and rivers, without any roads or even trails whatsoever. It was considered obviously futile to begin a search of the area on foot before the plane had been located from the air and for this reason no action was taken until receipt of additional information from the Gaspe Station. The missing plane was located from the air at approximately 2:30 PM and the writer was advised accordingly at 3:00 PM by Flying Officer Layman of the RCAF Gaspe base who had been sent in charge of a searching party for the missing plane. The party arrived at Main Dept at approximately 5:30 PM and F/O Layman informed that the plane had crashed at a point 17 1/2 miles north northwest of Chandler and approximately 6 miles from the end of Main Depot Rd. The plane was reported to be a total wreck.
"October 15, 1942: "Due to the late hour and darkness, the party did not proceed with the search until early morning of the next day. The searching party comprised 11 men…F/O Layman gave the direction of the scene of plane crash to the guides and the whole party with supplies and provisions for two days proceeded on foot through dense woods in a straight direction to the plane wreck. An RCAF plane from Gaspe was spotted by the searching party at approximately 11:30 AM whilst camped for lunch near a small stream. This plane was evidently trying to guide the party to the scene of the wreck. However due to the density of the woods and a very long climb on the side of a mountain, the party made little progress during the first day of the search and bivouacked at approximately 5:00 PM near a small stream without having reached the location of the plane wreck. All the men on the party worked very hard all day and were loaded heavily with packsacks and had to cut through thick growth of bushes all along the trail. With the exception of the guide, a first-class woodsman, all the group were quite tired. Weather was fine. Approximate mileage covered with six miles.
"October 16, 1942: "The party broke camp early in the morning and continued the search in a given direction toward the wrecked plane location as pinpointed on the map at approximately 11 AM… the party stopped for lunch and thereafter the search was carried on in different directions without however any success and party returned to camp, arriving at approximately 3:30 PM. Thereat, signals with smoke were made to an aircraft flying overhead which, shortly after sighting our party, dropped a message in the centre of our camp. This message was addressed to F/O Layman and instructed the party to proceed in a northeast direction from our camp for a distance of approximately 2 miles in order to reach the crash. In view of the late hour and the fact that provisions were now getting low, F/O Layman decided that it would not be advisable to continue the search during the day and before resuming same he was of the opinion that the party should return to the Main Depot for more food. The party camped for the night at the same encampment. All the men were disappointed at failure to locate the wreck and were tired. Weather was fine approximately mileage covered 5 miles.
"October 17, 1942: "The searching party broke camp in the early morning traveled light, left blankets, etc. at the place of encampment and reached Main Depot at approximately 1130 AM. Sgt. Chapados, Const. Spenard and the writer in company with F/O Layman proceeded from Main Depot to Chandler per PC 8242 and remained overnight at that point. F/O Layman obtained further information from his HQ and made all possible arrangements with a view to continue the search successfully on the next date.
"October 18, 1942: "F/O Layman, Sgt. Chapados, Constable Spenard and the writer patrolled in early morning per PC 8242 to Main Depot and from there proceeded on foot with searching party to place of encampment. This time the party consisted of 16 men of whom five were good woodsmen. A small party which traveled light went ahead of the others and reached place of previous encampment before the main party. The first party resumed searching operations at once and with the invaluable aid of an aircraft flying overhead, they were guided directly to scene of crash and reached same at approximately 1245 PM. The second party arrived at the scene at 2:00 PM. The plane had crashed hard on fir trees and evidently the shock had caused some explosions which blew parts of the plane and the occupants over a wide area. One whole body completely burned was found at approximately 15 feet from the engine of the plane. The torso of another body also badly burned was found at the foot of a tree approximately 30 feet from the engine and the torso of a third body also badly burned was found at the foot of a tree at approximately 100 feet from the engine. F/O Layman and members of the party searched the area extensively and very carefully for any signs of another body, without success. The information on hand was that there were four occupants on the plane. One identification disc only was found near the complete body. The plane was a complete wreck and no parts whatever were good for salvage. Party returned to camp for the night and arrangements were made to bring bodies out the next day. Weather: rained all night, traveled approximately 5 miles.
"October 19, 1942: "Party broke camp early and divided into two groups, one to bring bodies out, the other to widen the trail… it was very difficult to travel due to the wet ground and snowfall since early morning for everyone concerned, especially for those carrying complete body wrapped up and tied to a pallet. Party finally reached Main Depot at approximately 4 PM wet and nearly exhausted. F/O Layman made arrangements with the coroner and undertaker… the personnel of this detachment in cooperation with F/O Layman proceeded to Chandler per PC 8242."
October 14, 1942: A "SECRET" memo stated, "Aircraft located approximately 24 miles north of Chandler in virgin forest practically inaccessible. Appears from air completely demolished by explosion. Our party officer and airmen proceeding on foot with two guides to scene. Recommend permission be granted our party to bury aircrew at scene. URGENT."
October 16, 1942: "Coroner must be brought into scene of crash for fatalities occur in Quebec in compliance with Quebec laws. Contact Attorney General of Quebec if necessary. No precedent exists for bodies of RCAF personnel have been interred at localities of crash even where bodies are charred or mangled beyond recognition or where they are badly burnt. Bodies to be brought out. Provisions of AFAO A 8/4 to apply with respect to funerals for RCAF personnel and A8/3 with respect to RAF personnel are to be carried out."
April 21, 1943: "This investigation is of no value whatever. It was carried out in a half-hearted manner with nobody taking very much interest and then the proceedings were not forwarded to this Headquarters for five months after the accident occurred so that no action could be then taken to arrive at a reasonable cause for the accident." G/C F. S. Wilkins
April 22, 1943: "May it be advised what disciplinary action, if any, has been taken to deal with the apparent slackness in carrying out this investigation." AVM R. Leckie
April 28, 1943: "It is felt that this officer was amiss in not following up on this particular case. The former SASO at EAC advises that the wreckage of this aircraft was first located from the air by the late S/L S. L. Small on the morning following the accident. At the time, S/L Small stated that, in his opinion, the accident might well have been the result of an error in navigation and that it appeared that the aircraft flew in level flight into gently rising ground. S/L Small also stated that there was a considerable smoke haze at the time and under these conditions, coupled with the dim-out, the crew might have flown inland without realizing it. It is to be remembered also, that there were no radio aids to navigation available in the area at the time and the conditions were not satisfactory for astro-navigation. Although considerable improvement in radio aids will be available this year with the installation of radio ranges at Mingan and Mont Joli, and the installation of ASV beacons at Gaspe, Chatham, and Mont Joli, it is felt that still further aids will be required for this year's operations, and you are requested to submit recommendations with regard to additional ASV beacons in the area." AVM A. T. N. Cowley
May 6, 1943: "…it is pointed out that the Flying Accident Investigation Officer was not in EAC at the time of this accident but since he did arrive, a complete record of flying accidents, Courts, investigations, D14's have been maintained by him as an excellent source of information for the entire headquarters. It is further pointed out that this Officer is maintaining a constant supervision in an effort to speed up the investigations, and those conducted by the FAIO are usually completed within a few days of the accident." W/C R. O Shaw
May 8, 1943: "It is regretted that this investigation was badly handled as it undoubtedly was, and every effort will be made to see that such does not occur again. It so happened that this accident occurred just at the time that the Senior Air Staff Officer at this HQ was being changed and very shortly before a change in the Air Officer Commanding and it seems that during these changes, this investigation was lost track of. With reference to the last sentence…it is submitted that the Flying Accidents Investigation Officer cannot be blamed for not following up this investigation for at the time the accident occurred, he had not yet been posted to this Command." G/C A. P. Campbell
May 11, 1943: "Your remarks concerning supervision of the investigation of accidents in EAC have been noted. However, it is requested that your recommendation and proposals with regard to additional radio aids in the Gaspe area be submitted at an early date in order to expedite any assistance this HQ can provide." G/C M. Costello
REPORT OF DEATH OF UNITED STATES CITIZEN IN MILITARY SERVICE: "Date of death: 14th October 1942. Twenty-four miles north of Chandler, New Brunswick [Chandler is in Quebec] Previously reported missing 14th October 1942, now presumed dead for official purposes. Aircraft located in virgin forest practically inaccessible, appears from air completely demolished by explosion. Disposition of remains: Not applicable. Disposition of effects: Personal effect will ultimately be forwarded to the deceased's unit to the Administrator of Estates, National Defence Headquarters, who will forward them to the beneficiary or next of kin as applicable. Previous profession or occupation: Waiter. Next of kin: Mr. L. R. Hodge (Father) 32 Armfield Road, Enfield, Middlesex, England. Notification sent to Mr. L. R. Hodge and (Mother) Mrs. Archibald Sturrock (remarried), 2619 Cavendish Street, Victoria, BC." [The Canadian Pension Commission and the RCAF Official Casualty Notification both noted Chandler as being in New Brunswick, as well.]
John C. Tate, son of George and Gertrude L. Tate of Paris, Ontario, and husband of Mary Kathleen Tate of Brantford, Ontario, is buried in the Paris (St. James) Anglican Cemetery, Ontario. Frederick Eugene Davies, son of Jene Alvin Davies and Donna F. Davies of Edmonton, was buried at the Fort Massey Cemetery in Halifax, Nova Scotia. Roy Alfred Martin, son of Frederick E. Martin and Carrie A. Martin of St. Catharines, Ontario, was buried at the Victoria Lawn Cemetery, St. Catharines, Ontario.
Edward 'Ted' Hodge was listed in the RCAF's 583rd casualty list issued May 24, 1943.
In late October 1955, Mrs. Sturrock received a letter informing her that since Ted had no known grave, his name would appear on the Ottawa Memorial.