Edward Michael Brennan R66124
April 9, 1921 - October 15, 1941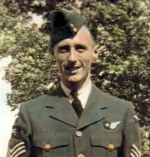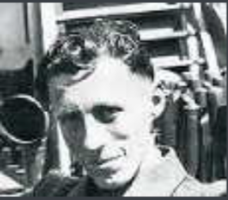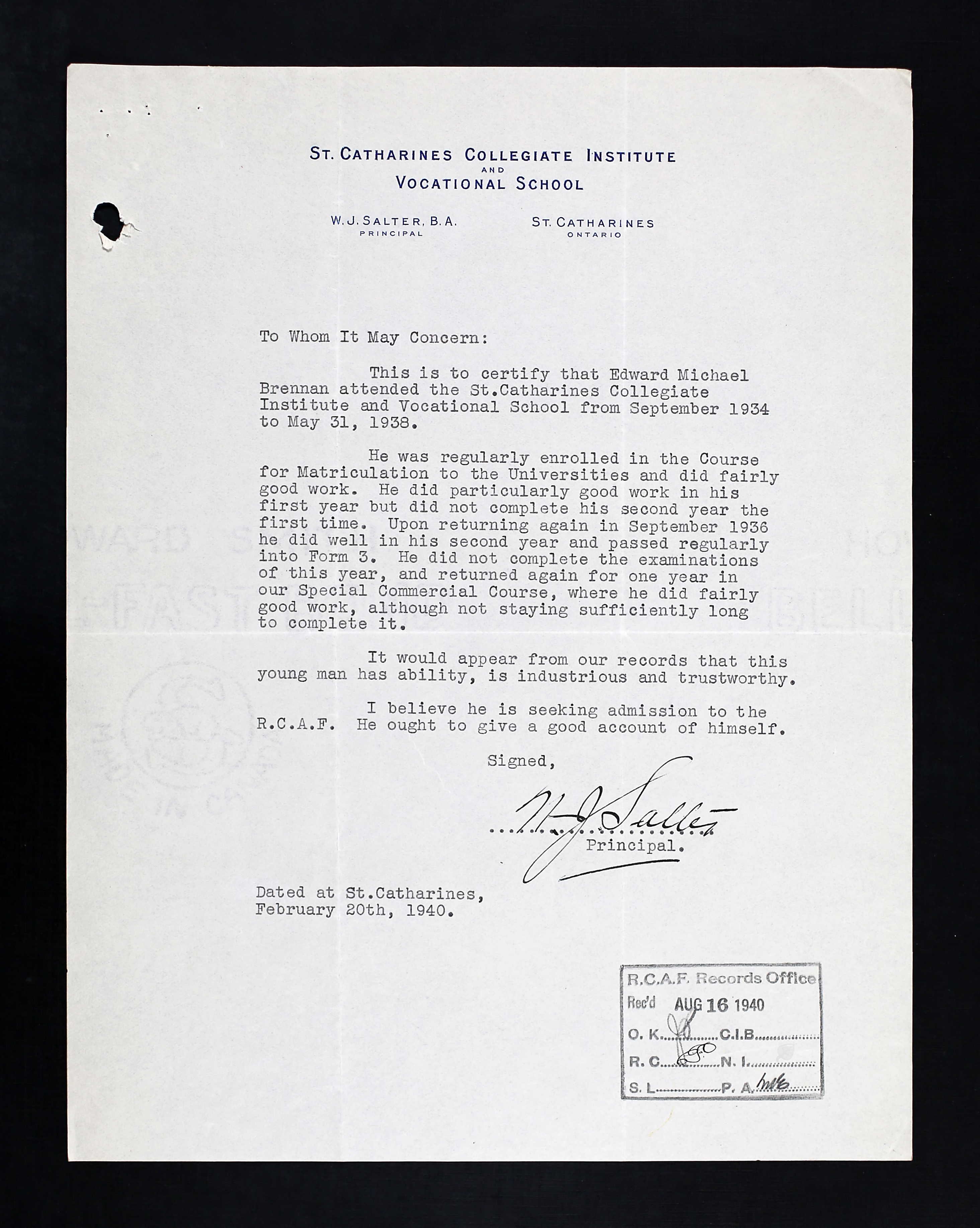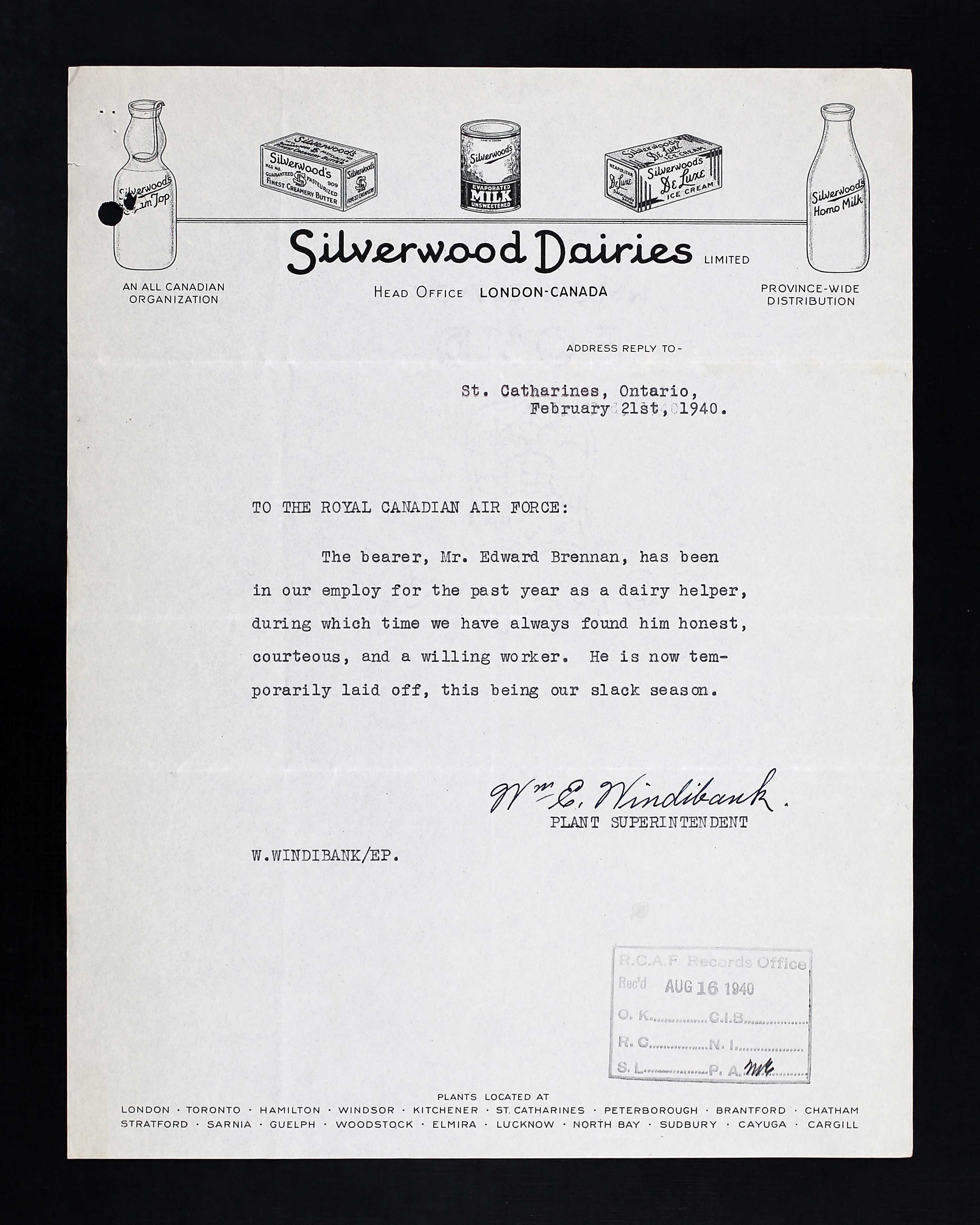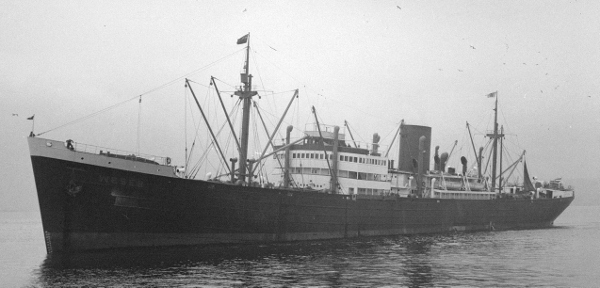 Office clerk for General Motors wanted pilot, became Wireless Air Gunner
Edward Michael Brennan was the son of Frederick Hugh Brennan and Mary Josephine (nee Sullivan) Brennan of 152 Ontario Street, St. Catharines, Ontario. He had three younger sisters: Mary Elizabeth, Eleanor Margaret, and Ann Therese. Mrs. Brennan died on April 8, 1938, post-operative complications at the age of 42. The family was Roman Catholic.
Edward enlisted in Niagara Falls, Ontario on August 12, 1940, preferring pilot over all trades. He had a wiry physique and 'standard' mentality. A vaccination mark on his left arm was noted. He was considered fit, but his weight was borderline. He had had the typical childhood diseases. The examiner noted that Edward was 'always well.' He stood 5'10" tall and weighed 133 ¼ pounds. He had blue eyes and brown hair, with a medium complexion.
He had four years of high school and one year night school (machine shop/industrial). During the summers between 1936 to 1940, he worked at Silverwoods Dairies, then worked as a delivery boy and clerk for Bissonette Joy & Co. (men's clothing store) until finding employment as an office clerk at General Motors Corp. St. Catharines, Ontario for one year. He hoped to return to his position there after the war. If not, he wanted to look into laboratory work.
He smoked between 10 and 15 cigarettes per day and indicated he did not consume alcohol. He liked to play tennis, badminton, basketball and enjoyed swimming.
On his interview sheet it was noted, "From good stock. Well thought of by former employer. Should make book NCO pilot."
Edward began his journey through the BCATP on August 12, 1940 when he was taken on strength at No. 2 Manning Depot, Brandon, Manitoba. On September 23, 1940, he was sent to Patricia Bay, BC for one month, then sent to No. 2 ITS, Regina where he remained until November 27, 1940.
He then went to No. 3 EFTS, London, Ontario until January 7, 1941. His flying training ceased and Edward was sent to No. 1 Manning Depot, Toronto, January 8 until February 3, 1941.
Edward found himself at No. 1 Wireless School, Montreal, Québec February 3, 1941. He was 49th out of 89 in class with a 70.5%.
Then he was sent to No. 6 B&G School, Mountain View, Ontario. "He will be a satisfactory Air Gunner." Edward was 37th in a class of 59, with a 7034%. "He has worked hard throughout the course proving to be keen and zealous." He was awarded the Air Gunner's Badge on August 18, 1941.
On August 20, 1941, he was in Halifax awaiting transport overseas.
On October 15, 1941, Edward was noted as missing. "Vessel torpedoed ("Vancouver Island" believed sunk." Edward was presumed dead on March 24, 1943.
From uboat.net: At 21.54 hours on 15 Oct 1941 the unescorted Vancouver Island (Master Eric Lacey Roper) was spotted by U-558, which was searching convoy SC-48 west of Ireland. Due to her high speed of about 15 knots the U-boat immediately went on full speed to get into a favorable attack position and fired a spread of three torpedoes from about 2000 meters at 22.49 hours, hitting the ship with two of them after 144 seconds. The vessel was hit in the fore part and amidships and stopped but did not sink. Because Krech wanted to continue the search for convoy he fired two coups de grâce from more than 1000 meters at 23.08 and 23.17 hours, hitting the ship fore and aft and causing her to sink fast by the stern. The Germans had observed how the crew abandoned ship in lifeboats after the first hits, but HMS Dianthus (K 95) (LtCdr C.E. Bridgman, RNR) sent to her assistance from the dispersed convoy ON-24 did not find any survivors. On 31 October, a lifeboat with the bodies of two officers from the ship was found by a British warship in 56°08N/20°45W. The master, 64 crew members, eight gunners and 32 passengers were lost, of which Edward was one.