Edward Price Badmington R105821
May 21, 1911 - October 10, 1942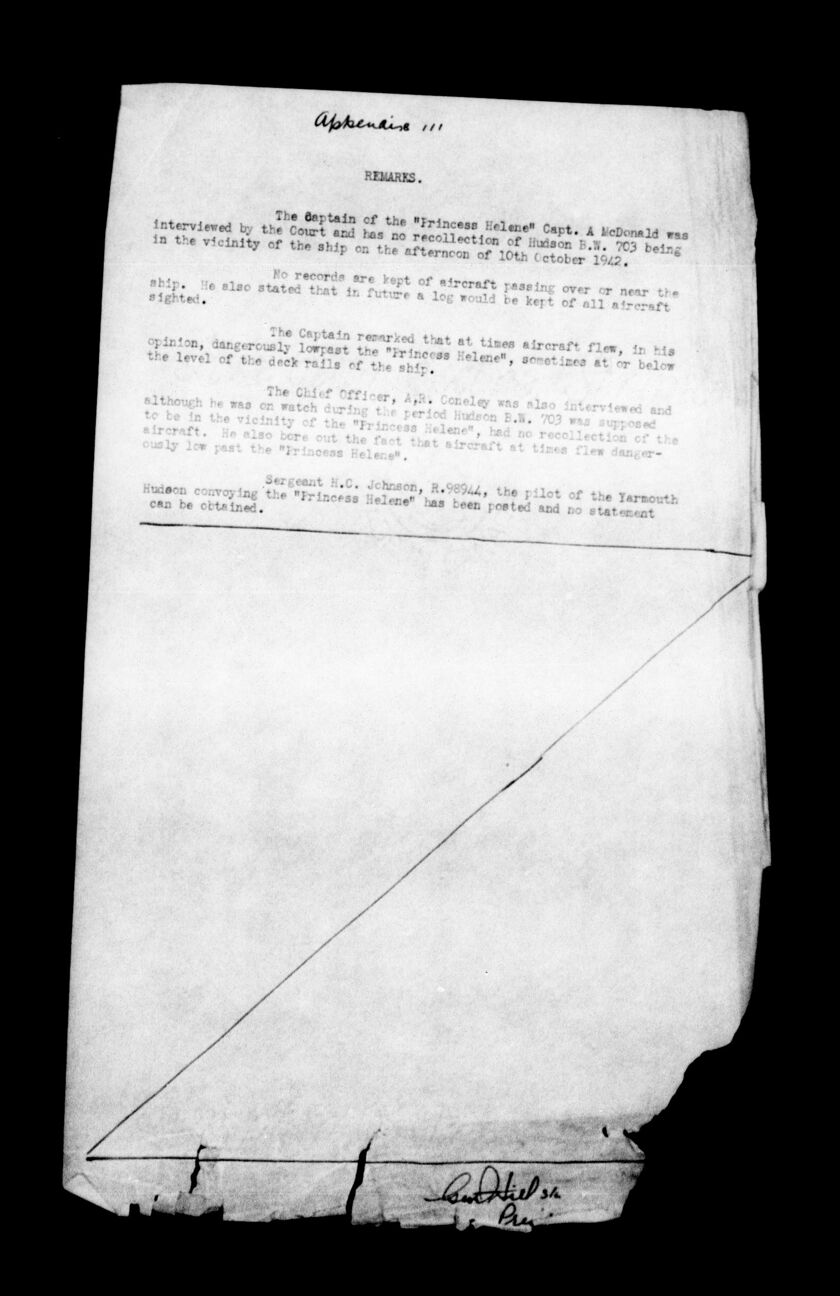 Carpenter wanted pilot and became Wireless Air Gunner. Perished aboard Hudson BW703 with three others: J. J. Elder, M. W. Finn, and E. Edmond.
Born in Tredegar, Monmouthshire (Now County of Monmouth), Edward Price Badmington was the son of Edward Badmington (died 12 January 1915 in a coal mine accident) and Mary Jane (nee Price) Badmington, birthplace Mantybwch, England. He had three brothers: David Stanley, Clifford Austin, and Robert. Clifford lived in Edmonton, as did Edward. The rest of the family resided in England. Edward had lived in Alberta for fourteen years. Edward attended the Congregational Church.
Edward, known as Ted, noted that one of his brothers was an office clerk, another was in the Canadian Army and the third worked in a munitions factory. He was second of four sons.
Ted enjoyed skating and swimming and walked extensively. He smoked 10 cigarettes a day and rarely drank alcohol. His physique was noted as wiry. He stood 5' 5 ½" tall and weighed 127 pounds. He had grey green eyes and brown hair. "Somewhat tense. Average pilot material."
He made his mother his sole beneficiary of his estate as of June 16th, 1941. His brother, David, was the executor.
He left school at age 16 having a Grade XI education. He was working as a truck body carpenter. Other jobs he had were: farm worker, farmer, and fox rancher. He earned between $30 and $45 per month, plus board. Three days prior to enlisting, he had been hit on his ring finger by a hammer and had fractured his terminal phalanx, and was wearing a splint. "I always read articles on aviation whenever I came across them. Before entering RCAF, I had about 30 minutes as passenger in a plane. I felt I should join some Force and the Air Force appealed to me. I read about an hour a day." He also wrote, "I think I can get very interested in radio."
On his interview sheet: "Owing to appearing before an officer and in from the country, shows up as nervous. Good qualities show up beneath the surface. Recommended as Pilot or Observer."
Ted enlisted in Penhold, Alberta at No. 2A Manning Depot on June 6, 1941, then was posted to guard duty at No. 8 BGS July 16 until August 20, 1941, when he was sent to Edmonton's No. 4 ITS. "Dependable, a plodder. Very moderate activity in sports. Lacks initiative."
From there, he was sent to No. 16 EFTS, in Edmonton. He was in hospital August 29 to September 1, 1941, then again September 12, 1941. "Very heavy on controls. Rough with engine. Little air sense. Fails to show any improvement in flying. Swerves on take-offs."
His flight training ceased on November 18, 1941. The medical officer reported, "Slow thinker, nervous, lacks initiative. Conduct excellent." Lack of air sense, take-offs and landings and nervousness were noted as reasons for discontinuing his training, as well as "flying is purely mechanical. All round flying unsatisfactory. Good average ability in ground subjects. Conduct good." "Earnest, dependable, rather slow mentally and physically. Wishes to become wireless air gunner." He had good marks in signals at ITS and EFTS. "Likes Morse."
He was then sent to KTS, Trenton, Ontario November 19, 1941 then to No. 3 Wireless School, Winnipeg, Manitoba December 19, 1941 until July 4, 1942. "87.9%, 5th in class of 88."
Paulson, Manitoba was his next stop in his training from July 5 to August 28, 1942 to No. 7 B&G School where he received his Air Gunner's Badge on August 3, 1942. "Quiet, average, co-operative, hard working. 28th out of 29 in class."
Ted was sent to No. 36 O.T.U. Greenwood, Nova Scotia.
On October 10, 1942, Hudson 703 went missing. Aboard were Sgt. David Edmond, 656814, Pilot, Sgt. John Jardine Elder, 1315473, Observer, Sgt. M. W. Finn, R117269 Air Gunner, and Sgt. Edward Price Badmington, Air Gunner, R105821. Finn and Badmington were in the rear of the plane, as Edmond and Elder were in the front.
Elder was a member of the RAF and was 30 years old. He was the son of Andrew and Margaret Elder, husband of Agnes Porteous Elder, Basingstoke, Hampshire, England.
Edmond was a member of the RAF. He was the son of William Allan Edmond and Eliza Jane Edmond, the husband of Marion Edmond of Musselburgh, Midlothian, Scotland.
A Court of Inquiry was struck on October 15, 1942 looking into a cause of the accident aboard Hudson Mk III BW703 that went missing on October 10, 1942 from RAF Greenwood, Nova Scotia. Eleven witnesses were called.
Description of Flight: at approximately 1500 hours, Sergeant Edmund and crew took off on navigation exercise No. 5. This exercise should have last approximately 3 hours. The aircraft did not return to the base. Overdue action was taken but no trace of aircraft could be found. From the evidence it appears this aircraft had been air taxied just prior in the flight in question by Flight Lieutenant Negus, RAF 33574, staff pilot. Both aircraft and W/T equipment were found to be in order. The evidence of the fitters and rigors of the ground crew is to the effect aircraft was quite serviceable. It appears that Sergeant Johnson 113 Squadron Yarmouth was engaged on a similar duty as Sergeant Edmond. At 1530 hours he saw an aircraft which he recognized from its markings as coming from Greenwood. This aircraft stayed with the SS Princess Helene until approximately 1730 hours. When about 15 miles from Saint John, New Brunswick, it turned, headed east, slowly losing height. Sergeant Johnson noticed nothing unusual in behavior of aircraft. This pilot states it was possible to see across the Bay of Fundy at this point. Wireless contact was maintained with this aircraft until approximately 1747 hours. From this time on wireless contact was not re-established despite continuing calls from ground station. It further appears from the evidence that the entire crew were satisfactory students. A search was organized for dawn of October 11th, 1942 by 3 Ansons.
Findings: That the aircraft Hudson BW703 is missing through causes unknown and that the crew are missing, presumed dead.
Squadron Leader John Arthur Coltart, RAF 37669 stated, "My instructions to Sergeant Edmond and crew were that they were to take off at 1850 hours and to proceed to Digby, Nova Scotia and wait until the SS Princess Elin left harbor. They were then to convoy the vessel until it reached Saint John, New Brunswick. In the event of the sailing being delayed, they were to stay with the vessel until such time as would assure them being back at the base by 2130 hours. They were told to keep within sight of the vessel and to fly at an altitude of 1000 feet, messages were to be sent to base every half our giving their position."
F/Sgt Reginald Worth, RAF 968254 commented, "I have flown with Sergeant Edmond on navigational exercises once on October 8th 1942. Yes we did some low flying about 1/4 of an hour carrying out an air to see firing practice. I had no complaints apart to the objection to flying so low over the water whilst carrying out steep turns and firing from the turret at the same time. I never reported the pilot as being dangerous. My opinion of Sergeant Elder, navigator, is to be of average plus." Another witness, F/L Aldridge, stated that Sergeant Edmund was proficient in single engine flying. He was quite good in his ability on instrument flying. And his assessment would be average. When asked if he was inclined to take undo risks, Aldridge said, "No, rather the reverse."
The Captain of the Princess Helene commented that he had no recollection of Hudson BW703 being in its vicinity. The Chief Officer was also interviewed and he, too, had no recollection of the aircraft, but pointed out that aircraft at times flew dangerously low past the ship.
MEMO: October 12, 1942: The crew were fully briefed before take-off and were given definite instructions that, whatever the position of the Princess Helene, they were to land at base no later than 1830 hours. Aircraft overdue procedure was take and a continuous search of a large area including the Bay of Fundy and an area SW of the Bay was kept up from first light to last light on October 11, 1942, but nothing was seen. It is thus presumed that the aircraft must have crashed somewhere on sea or land leaving no traces that have yet been discovered.
A letter dated February 23, 1943, from Mrs. N. Claydon, Toronto, requested information about Edward. "Having had not word or a reply to my last letter sent before Xmas…I would be very grateful for any information regarding him. His last letter to me was posted from Greenwood, Kings County, Nova Scotia. Hoping you can oblige."
In October 1955, a letter was written to Mrs. Badmington informing her that since Edward had no known grave, his name would appear on the Ottawa Memorial.