Earl Clifford Ireland J20873
October 21, 1919 - February 19, 1945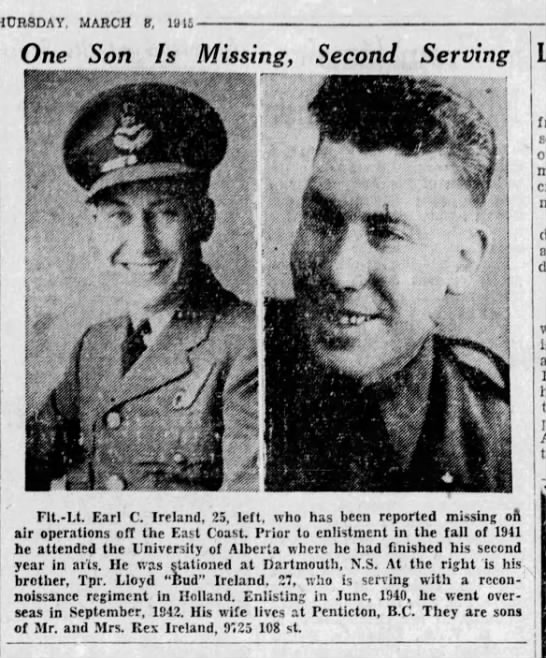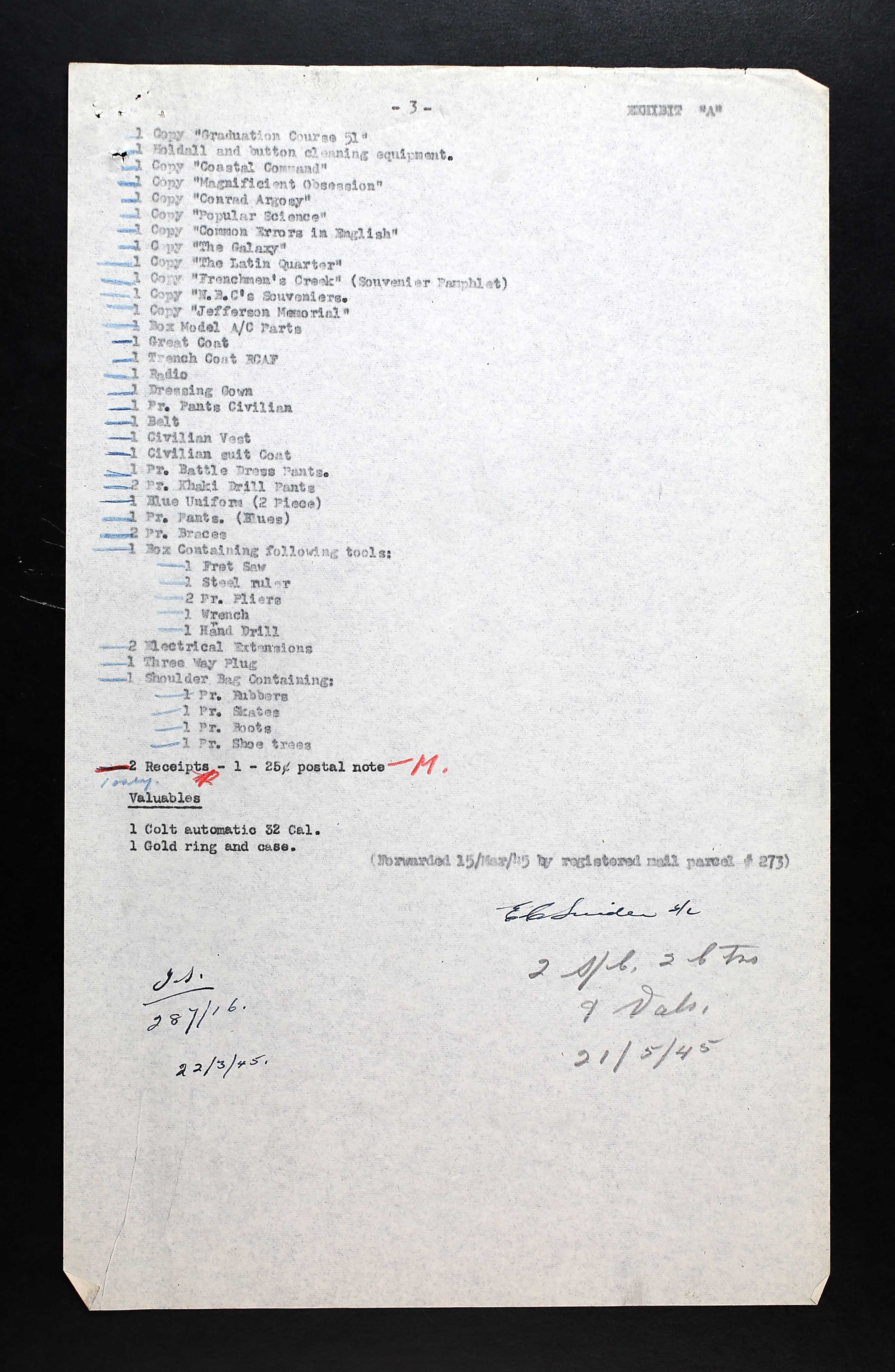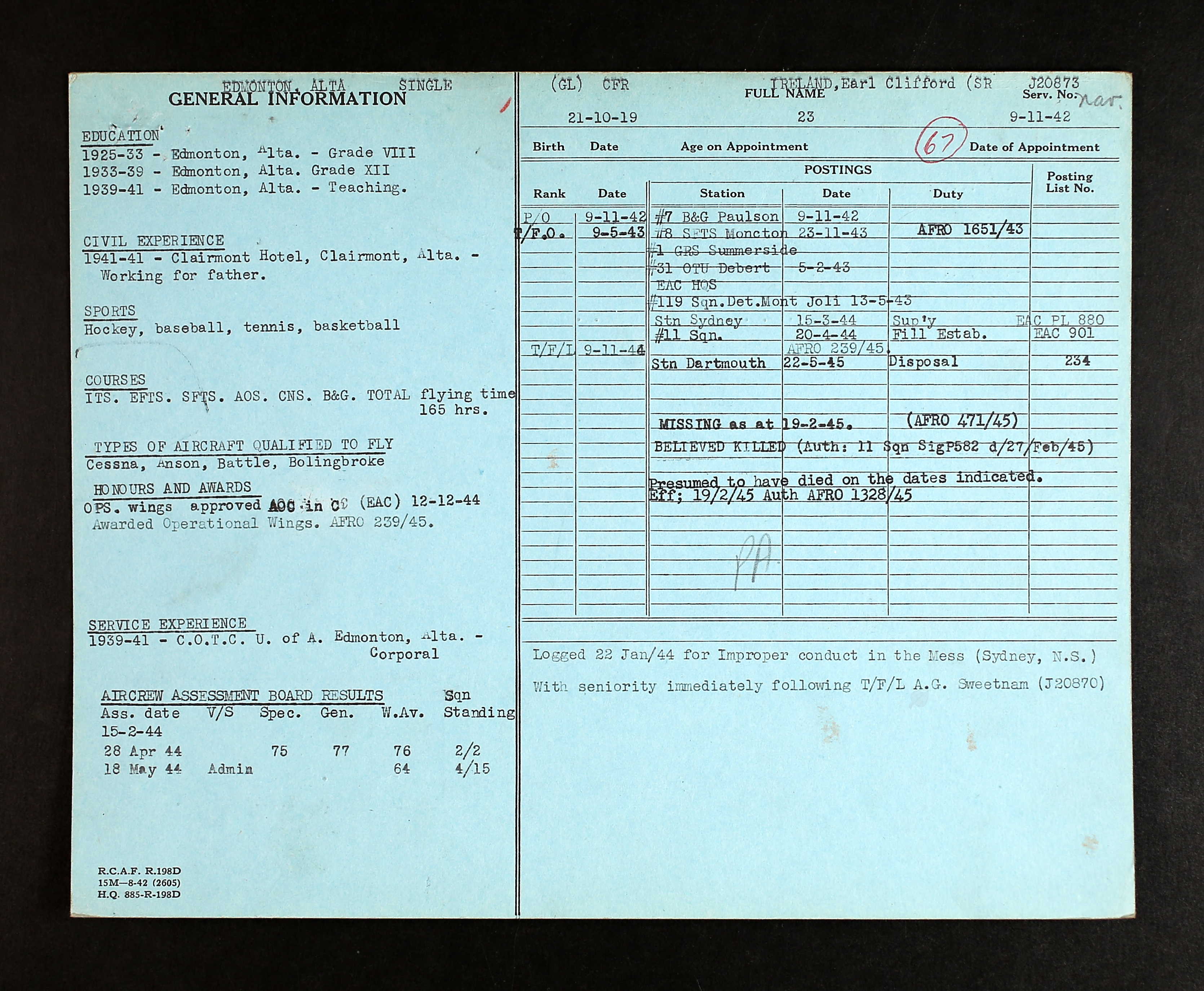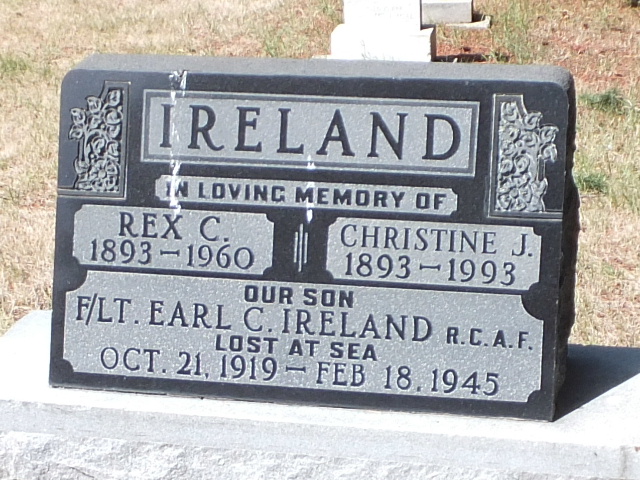 University of Alberta engineering student became navigator. Served one tour and on his second tour aboard Liberator 3715, was lost at sea.
Clifford Ireland, born in Beaverlodge, Alberta, was the son of Reginald 'Rex' Coleman Ireland (1893-1960), livestock dealer and hotel proprietor, and Christina Jane (nee Roadhouse) Ireland (1893-1993) of Edmonton. He had two brothers, Reginald John Ireland, who became the executor of Earl's estate, and Lloyd 'Bud' Ireland, who had served in the Canadian Army during WWII. The family attended the United Church.
In October 1941, Earl enlisted with the RCAF. He had two years at the U of A towards a B. Sc. in Arts (engineering) and had training in the COTC. He was a hotel clerk at the Clairmont Hotel in Clairmont, Alberta, prior to his enlistment, working for his father. He took part in inter-faculty athletics at the U of C in hockey and tennis. Earl was seen as an above average candidate. He had also taught between 1939-1941. Earl indicated he could read in French. Earl intended to return to university and pursue employment in mining engineering.
Earl stood 5'9 ½" tall, weighing 162 pounds. He had blue eyes, dark brown hair, and a medium complexion. He had a scar on the palm of his left hand at base of his first finger. His tonsils were removed in 1939. Photography and model building were noted as hobbies.
Earl had purchased a $2000 Seventh Victory Loan 3% Bond, to be paid by six monthly pay assignments of $33.60 for the months of November 1944 to April 1945, delivered to his mother in Edmonton.
Prior to heading to ITS, he was at No. 3 MD, Edmonton, then was sent to No. 10 SFTS, Dauphin, Manitoba. In late January 1942, he was admitted to hospital for two days. He was in the hospital again February 20, 1942 until March 20, 1942 in Saskatoon.
Leading Aircraftman E. C. Ireland attended No. 7 ITS, Saskatoon, from March 30 to May 22, 1942. "Very good material. Stood first in his Flight. Should be A1 Observer material. 90.3%."
He was at No. 6 AOS, Prince Albert, Saskatchewan May 24 to September 12, 1942.
Then he was sent to No. 1 Central Navigation School, Course 51 until September 29, 1942. "Good navigator; has shown a very great improvement. A very good bomb-aimer; competent and level-headed; a practical man. Average ability but very persistent." He was 6th in his class of 21 scoring 81.5%.
He was sent to No. 7 B&G School. "Airbombing results a little erratic, but some scores very good. Good knowledge of theory. Gunnery scores below average. Needs practice. Very keen, but somewhat erratic. Good type." Earl was 11th out of 21 in his class with 79.8%.
He was a navigator instructor at No. 8 SFTS in Moncton, NB from November 9, 1942 until January 8, 1943.
From January 11 to February 4, 1943, he was at No. 1 General Reconnaissance School in Summerside, PEI. "A good navigator, though log-keeping needs improving. Average. Thorough worker, business-like and confident. This officer should make a good, long range G. R. Navigator."
From February 8 to April 15, 1943, P/O Ireland was at No. 31 O.T.U., Debert, NS. "Standard of groundwork above average. A good average air navigator and an average bomb aimer. A keen competent officer, who should prove very useful with more experience."
From May 14, 1943 to April 21, 1944, P/O Ireland was at No. 119 Squadron, Mont Joli, Quebec, then at Chatham, NB and Sydney, NS. He was then with 11 Squadron, Torbay, Newfoundland from April 21 to July 4, 1944. They moved to Dartmouth, NS.
On February 19/20, 1945, Liberator 3715 used by No. 11 (BR) Squadron at Dartmouth, Nova Scotia was lost at sea.
Members of the crew were: • F/L Geoffrey Apps, Pilot, Cannington, ON • F/L Deryck Hogan, 2nd Pilot, Rockingham, NS • F/L E. C. Ireland, Navigator, Edmonton, AB • F/O D. Murphy, WOAG, Sydney, NS • WO1 H. L. Teasdale, WOAG, Edmonton, Alberta • F/S W. R. Grant, WOAG, Saskatoon, SK • F/S D. A. MacLellan, Flight Engineer, Antigonish, NS
The search began on February 20 and ended on February 22, 1945 involving five Liberators. Two Hudson aircraft were sent out as were two Venturas. One of the Venturas sighted a nose wheel, an empty dinghy, sonobuoys, and other debris floating in the area near Sable island. A number of Cansos also took part in the search. On February 21, two sleeping bags were found washed up on the beach at Sable Island, plus a bomb bay gas tank and two empty dinghies.
F/L Ireland completed a tour of operations, and his mother was forwarded his Operational Wings and accompanying certificate in late May 1945. "Unfortunately, the award was not made prior to his being reported a casualty."
In October, 1945, Mrs. Ireland wrote to the Director of Estates, "I have your letter of Sept. 8th stating you have on file my son Earl's will as Earl had real estate here it will be necessary for me to have it to obtain a grant of probate. So would you be good to have it forwarded? When Earl's personal effects were received here, a few things I knew he had were missing. He had a good ladies' diamond ring. Earl told me about it when he was home last. The ring was insured and the insurance papers were with his personal papers and no papers at all were sent home. Earl also had a very good camera. He had it home with him on his last leave and I know he wouldn't sell it. I was wondering if his roommate would know if Earl had loaned it or was having it repaired some place. Earl had two identification bracelets, one gold and one silver; he only wore one. Then he had a gold chain with a little gold knife on the end which a friend of mine gave him. He had it home with him on his last leave. Is there any chance of finding where these articles are, especially the ring, personal papers and camera." Earl had a small acreage valued at $800.00.
On a paper within Earl's files, a Colt automatic and one gold ring with a platinum insert in a case were noted on March 20, 1945.
In October 1955, Mrs. Ireland received a letter from W/C W. R. Gunn, informing her that since Earl had no known grave, his name would appear on the Ottawa Memorial.