Dow Lester Mitchell R99220
May 18, 1920 - October 14, 1942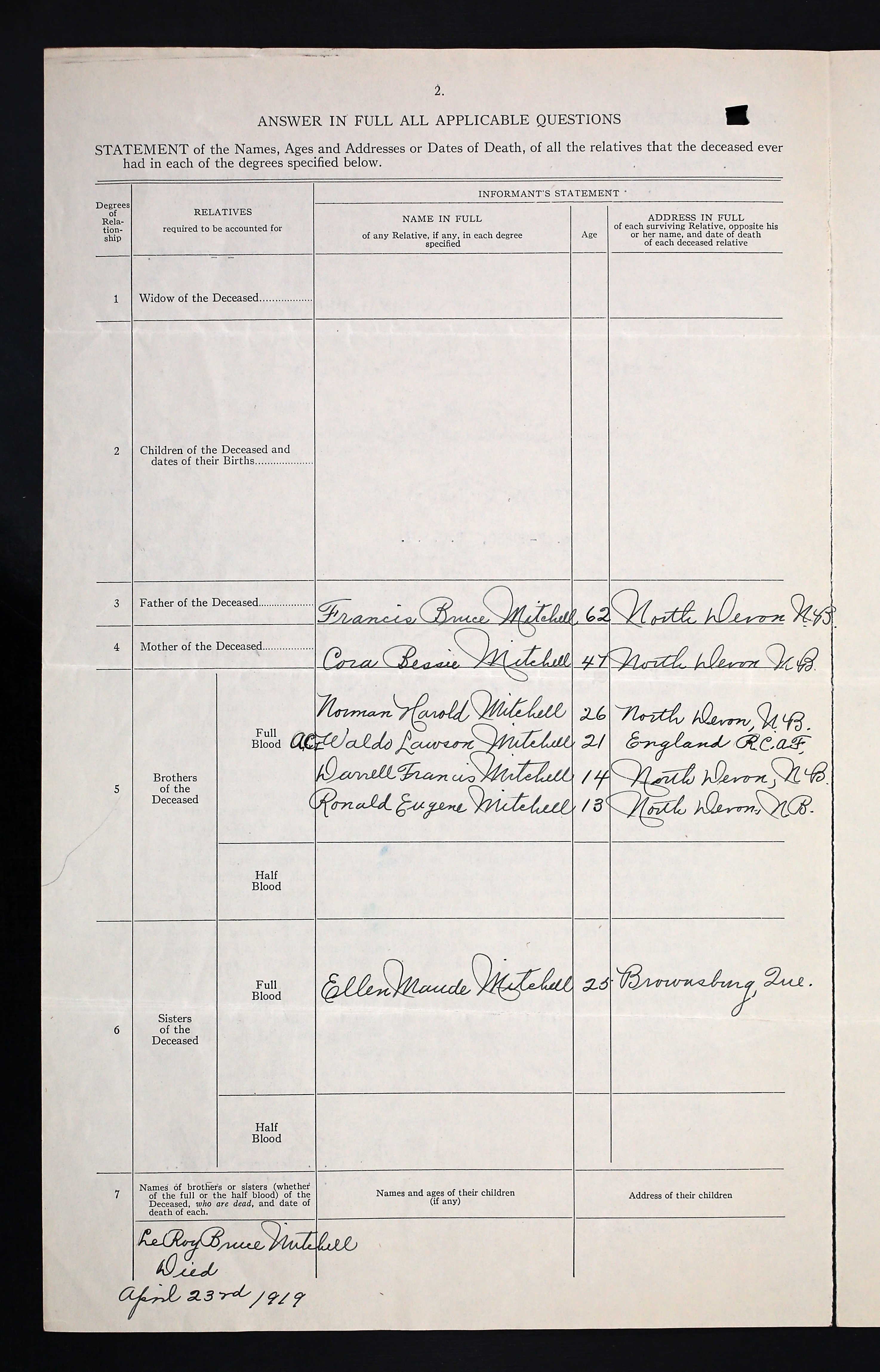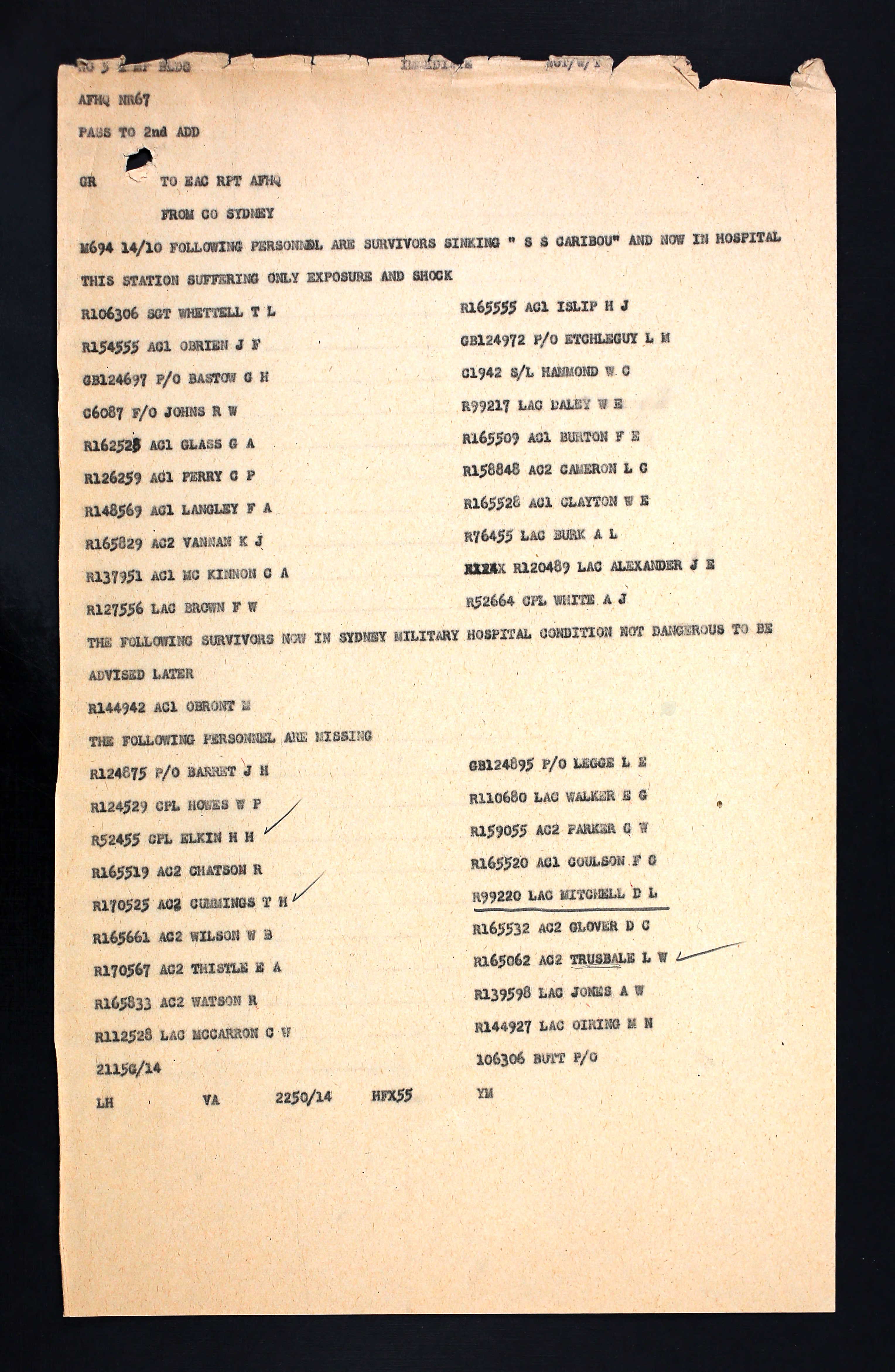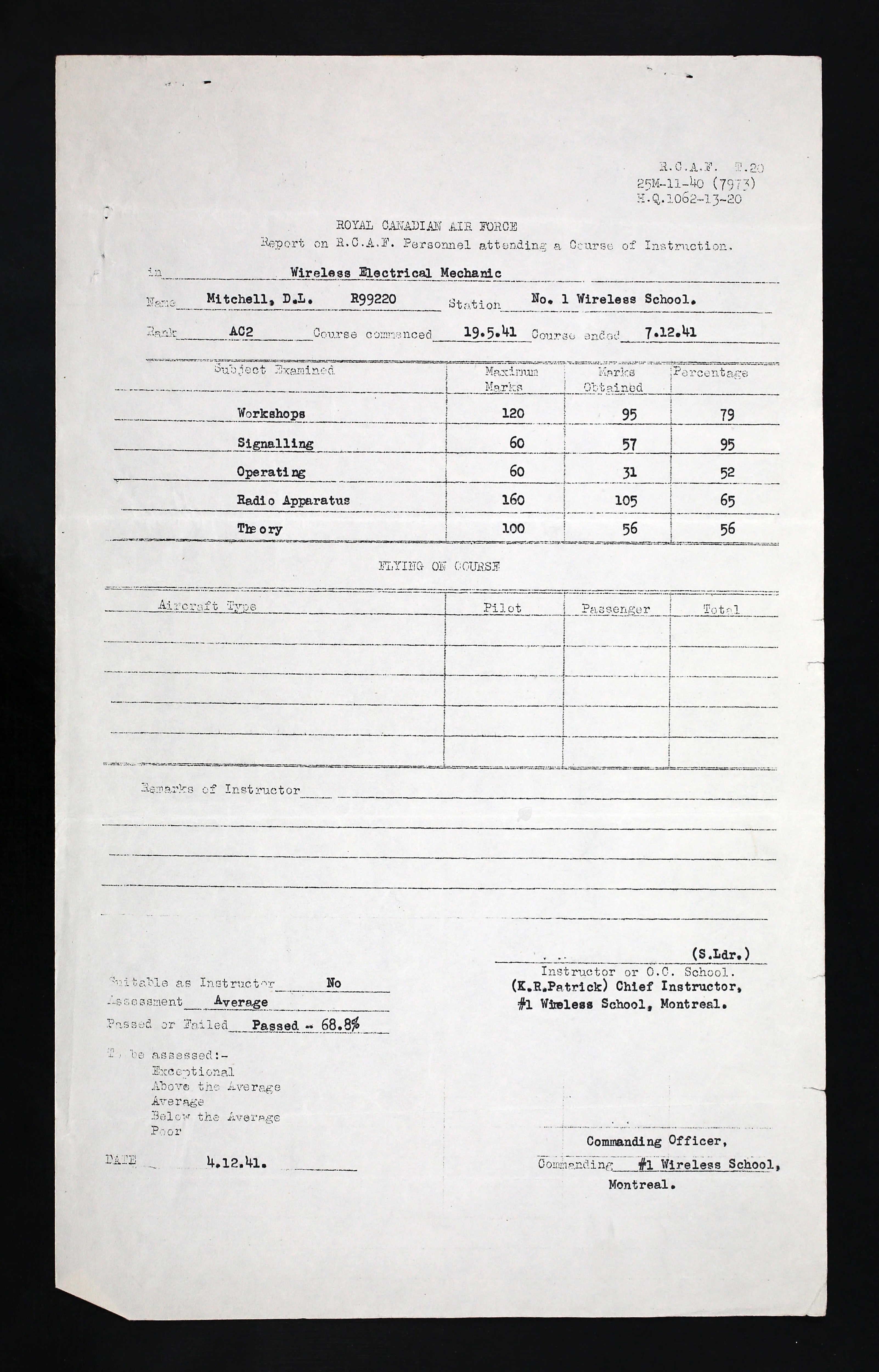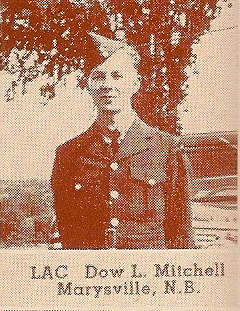 Young farmer enjoyed radio work; joined RCAF and became wireless electrical mechanic. Posted to Botwood, Newfoundland, he perished aboard the SS Caribou.
Dow Lester Mitchell, born in Marysville, New Brunswick, was the son of Francis 'Bruce' Mitchell (1881-1949), baker, and Cora 'Bessie' (nee Briggs) Mitchell (1895-1974) of North Devon, NB. He had four brothers, Norman (1916-1983), Waldo (1921-2008), Darrell (b. 1928), and Ronald (1929-2005), and one sister, Ellen (1918-2006). Another sibling, LeRoy, died April 1919. Waldo was overseas with the RCAF during the war. The family was Reformed Baptist.
Lester had been a student at a wireless course prior to enlistment in May 1941 at Moncton, NB. He had graduated from the Technical Course in June 1939, Fredericton High School. He also worked on a farm for four summers with an uncle. After the war, he wanted to pursue radio work.
He enjoyed woodworking and wanted to be a wireless operator with the RCAF. Lester stood 5'8" tall and weighed 131 pounds. He had hazel eyes and brown hair with a fair complexion. "Mouth healthy. Teeth fit." He had had the typical childhood diseases as well as pneumonia when he was five years old.
He was sent to No. 1 Manning Depot, Toronto, Ontario from May 13-23, 1941. He was then sent to No. 1 Wireless School, Montreal May 24 until December 8, 1941. Lester was on sick leave from October 16 to 19th, 1941. His strongest subject was signalling. (See documents.)
He was then sent to No. 2 ANS, Pennfield Ridge, NB until May 25, 1942. He took his annual leave of 14 days January 18 to 31, 1942. Between February 14-15, 1942, he was AWL, was admonished and forfeited one day's pay.
He then went to No. 1 CNS, Rivers, Manitoba until October 6, 1942.
He had a twenty-year endowment through Metropolitan Life Insurance for $135, with his mother as beneficiary.
Lester was en route from Halifax to Newfoundland, aboard the SS Caribou. He was on his way to RCAF Botwood.
The night of October 14, 1942 was very dark with no moon. Sixty kilometres off the coast of Newfoundland, the SS Caribou on her starboard side was torpedoed by German U-boat U-106. On board were 73 civilians including eleven children, 118 military personnel, and a crew of 46. The passengers were thrown from their bunks, several lifeboats and rafts were destroyed or could not be launched, as the ship sunk quickly, reports stating three minutes. Many passengers were forced to jump overboard. Over 135 people perished. Fifteen of the crew survived, many of them local men from the Channel/Port aux Basque area.
A letter dated October 16th, 1942 was mailed to Mr. Mitchell, informing him that the telegram he and Mrs. Mitchell recently received was to confirm that Lester was missing on Active Service, aboard a ship that was lost at sea due to enemy action. They were requested, in the interest of national security, that they withhold this information until an official announcement was made through the press.
Two of the survivors who had suffered from shock and exposure due to the sinking of the SS Caribou, Aircraftmen Frank Earl Burton, 19, and Frederick Anthon Langley, 23, both airframe mechanics posted to Botwood, Newfoundland, perished in the fire at the Knights of Columbus hostel in St. John's, Newfoundland, December 12, 1942. Ninety-nine people were killed, with 80 of them military personnel. Critically wounded: 109.
A letter dated March 26, 1945 was written by Mrs. Mitchell. "In reply to letter I received regarding Service Gratuity of the late LAC D. L. Mitchell, R99220, I would like to state my reason for thinking I am eligible for same. I think we need and should receive some compensation or pension from one, whom we depended on so much, as he had helped us so much until the time of his death; since then we find it almost impossible to get along without him; as his father is subject to bronchial asthma and is unable to work so much of the time. He did not assign any pay to me, but sent the money home instead, until the day he was home for a few hours enroute to Newfoundland, then he told me he was going to assign part of his pay to me, as soon as he reached Newfoundland and that he would sent me the money $147 to pay a doctor bill, for me not to worry about that, but very unfortunately, he never reached Newfoundland. I think as I was named his sole beneficiary in his will, I should receive his Service Gratuity as he would be entitled to it same, as any other service man. Hoping to hear from you at an early date. I am yours respectfully…"
In January 1948, a memorial was erected at Port-aux-Basques, Newfoundland, in memory of those who died in the torpedoing of the S. S. Caribou.
Lester's mother received a letter dated October 24, 1955 from W/C Gunn informing her that her son's name would appear on the Ottawa Memorial as he has no known grave.
For additional information, please click on the links below.
LINKS: