Douglas Leslie Stapleton R103264
December 27, 1921 - April 19, 1942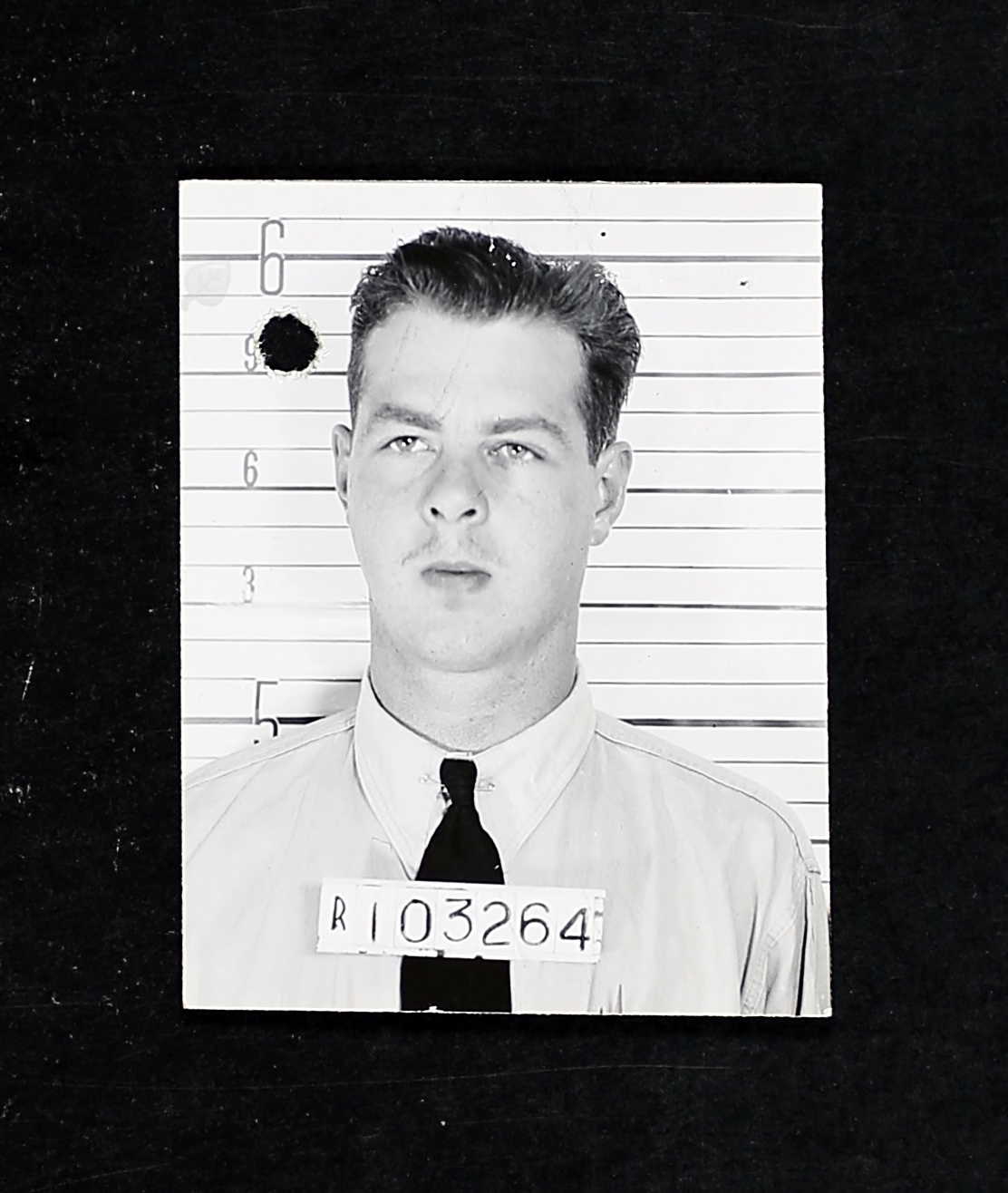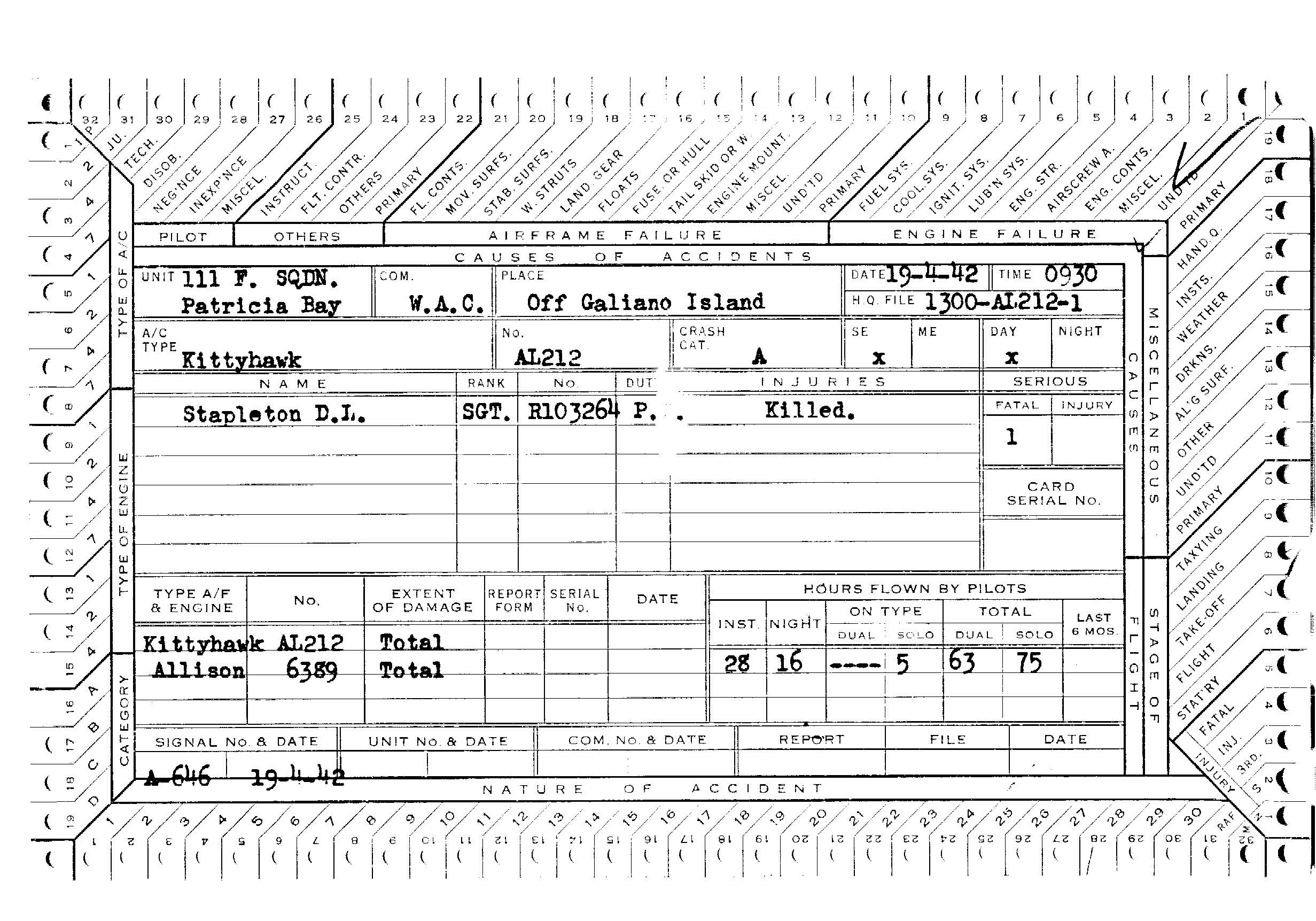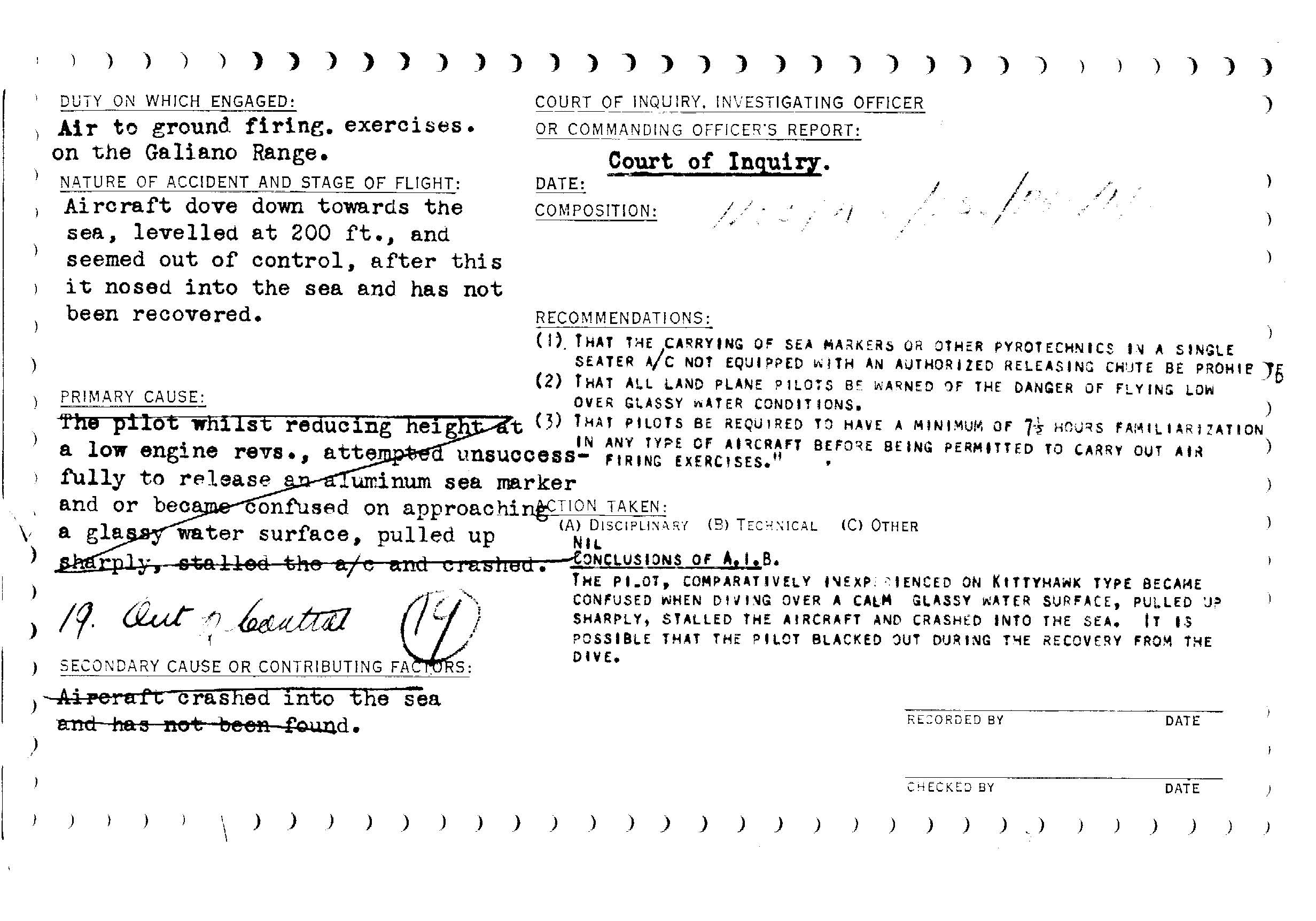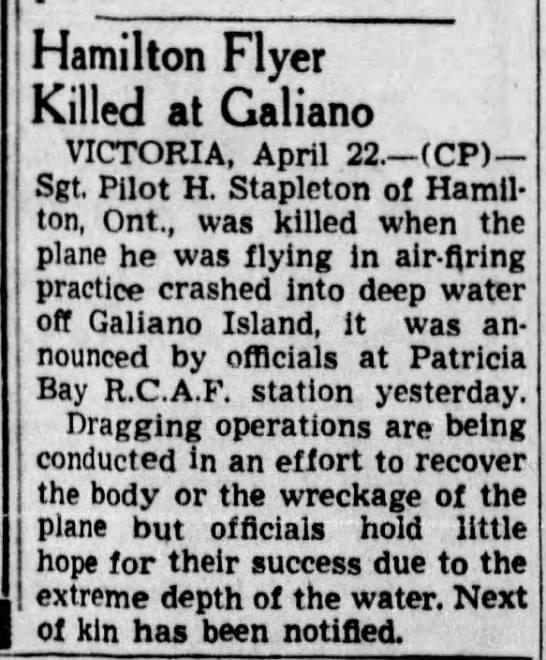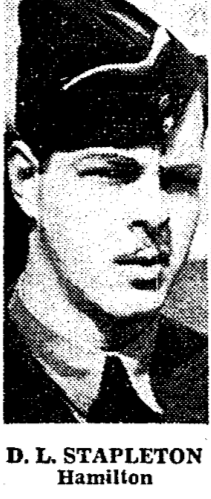 Labourer, then lab assistant joined RCAF and became pilot. Flying Kittyhawk 1090 out of Patricia Bay, he lost control of the aircraft and crashed into deep water near Galiano Island.
Douglas Leslie Stapleton, born in Welland, Ontario, was the son of Frank Leslie Stapleton (1895-1957), railway engineer, and Mary Etta (nee Clement) Stapleton (1902-1991) of Hamilton, Ontario. He had two younger brothers, John Elwood Stapleton and Lloyd Andrew Stapleton, and a little sister, Jean Marilyn Stapleton. The family was Baptist.
From RCAF 111 (F) Squadron website put together by Bill Eull: "(R103264) He was born in Welland, Ontario and grew up in Hamilton, Ontario. When he was 18 years old, he joined the RCAF. He knew he wanted to be a flier. After basic introduction to military life, he was sent to #10 Elementary Flying Training School at Mt. Hope, Ontario. He succeeded well enough to go forward to #14 Service Flying Training School at Aylmer, Ontario. He got his Wings on March 3. 1942 and was promoted to Sergeant. He was sent to 115 Squadron which, in early 1942, was stationed in Patricia Bay, British Columbia. It is not known why he was transferred to 111 Squadron, also at Patricia Bay, on April 14, 1942. But since he was just out of SFTS, he would have been tasked with learning how to fly the fighter aircraft, Curtiss P-40 Kittyhawk. It is possible that he was placed with 111 Squadron to get up to speed with the Kittyhawk so he could return to his placement with 115 Squadron, but 115 Squadron was a bomber squadron flying Bolingbrokes at that time. It is more likely that he had wanted to fly fighters and requested a reassignment. Whatever the plan, he was killed five days after he arrived at 111 Squadron. He was flying a P-40 (AL212) on a training exercise and crashed into the sea off Galliano Island near Patricia Bay. His body was never recovered. There is, of course, no known grave, although, according to his younger sister, Jean Johnston, his name has been added to the family gravestone in Hamilton, Ontario." See link below for more photographs.
See the link to BCAM for additional information.
Douglas was the pilot of Kittyhawk 1090 out of 111 (F) Squadron, Patricia Bay, BC. He lost control of the aircraft off the coast of Galiano Island, BC and crashed into the sea. From the crash card: "Air to ground firing exercises on the Galiano Range. Aircraft dove down towards the sea, levelled at 200 feet and seemed out of control, after this it nosed into the sea and has not been recovered. The pilot whilst reducing height at a low engine revs, attempted fully to release an aluminum sea marker and/or became confused on approaching a glassy water surface, pulled up sharply, stalled the a/c and crashed. RECOMMENDATIONS: That the carrying of sea markers or other pyrotechnics in a single seater a/c not equipped with an authorized releasing chute be prohibited. That all land plane pilots be warned of the danger of flying low over glassy water conditions. That pilots be required to have a minimum of 7 ½ hours familiarization in any type of aircraft before being permitted to carry out air-firing exercises. CONCLUSIONS OF AIB: The pilot, comparatively inexperienced on Kittyhawk type became confused when diving over a calm glassy water surface, pulled up sharply, stalled the aircraft and crashed into the sea. It is possibly that the pilot blacked out during the recovery from the dive."
LINKS: