Douglas Oliver Bevan R113156
November 3, 1913 - December 5, 1942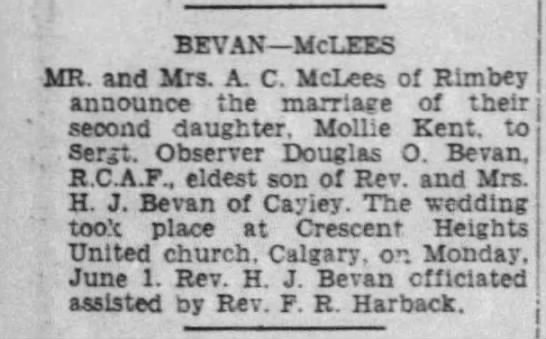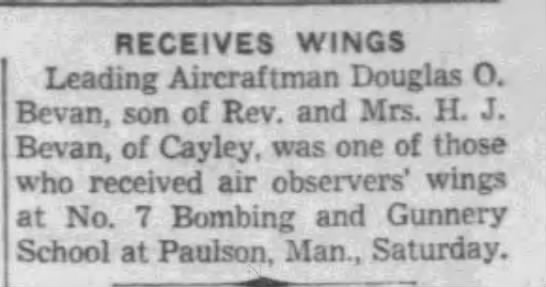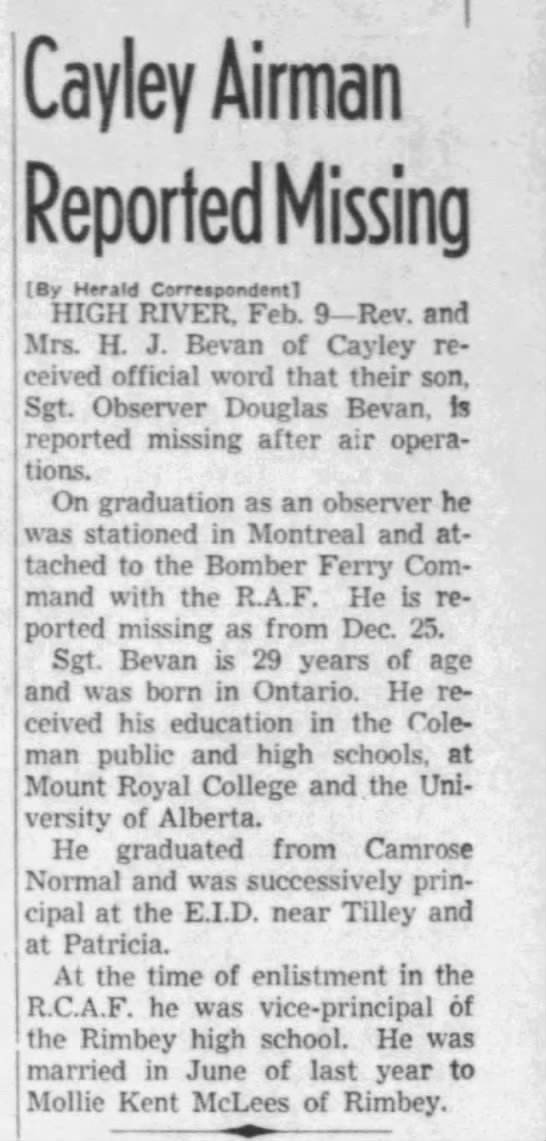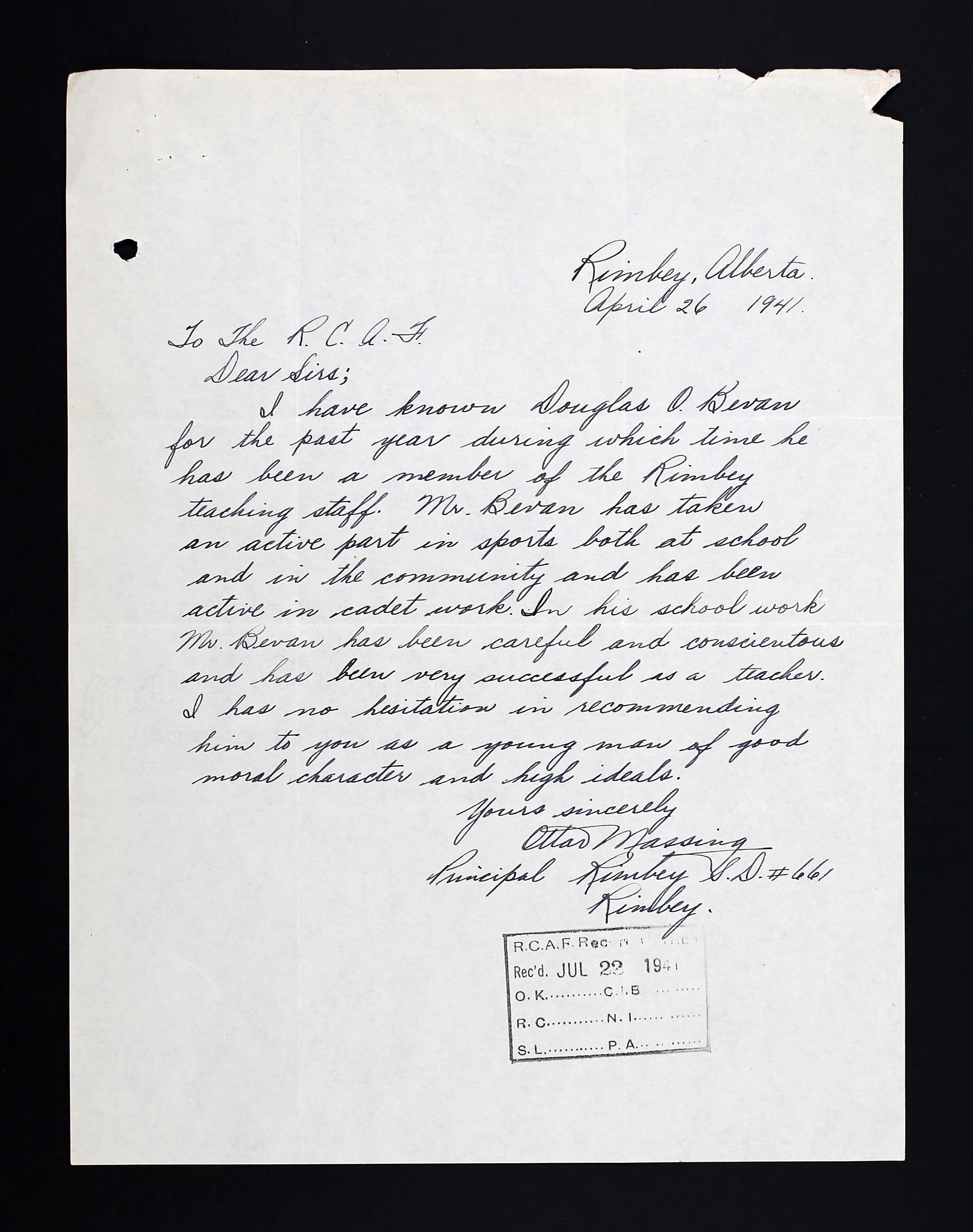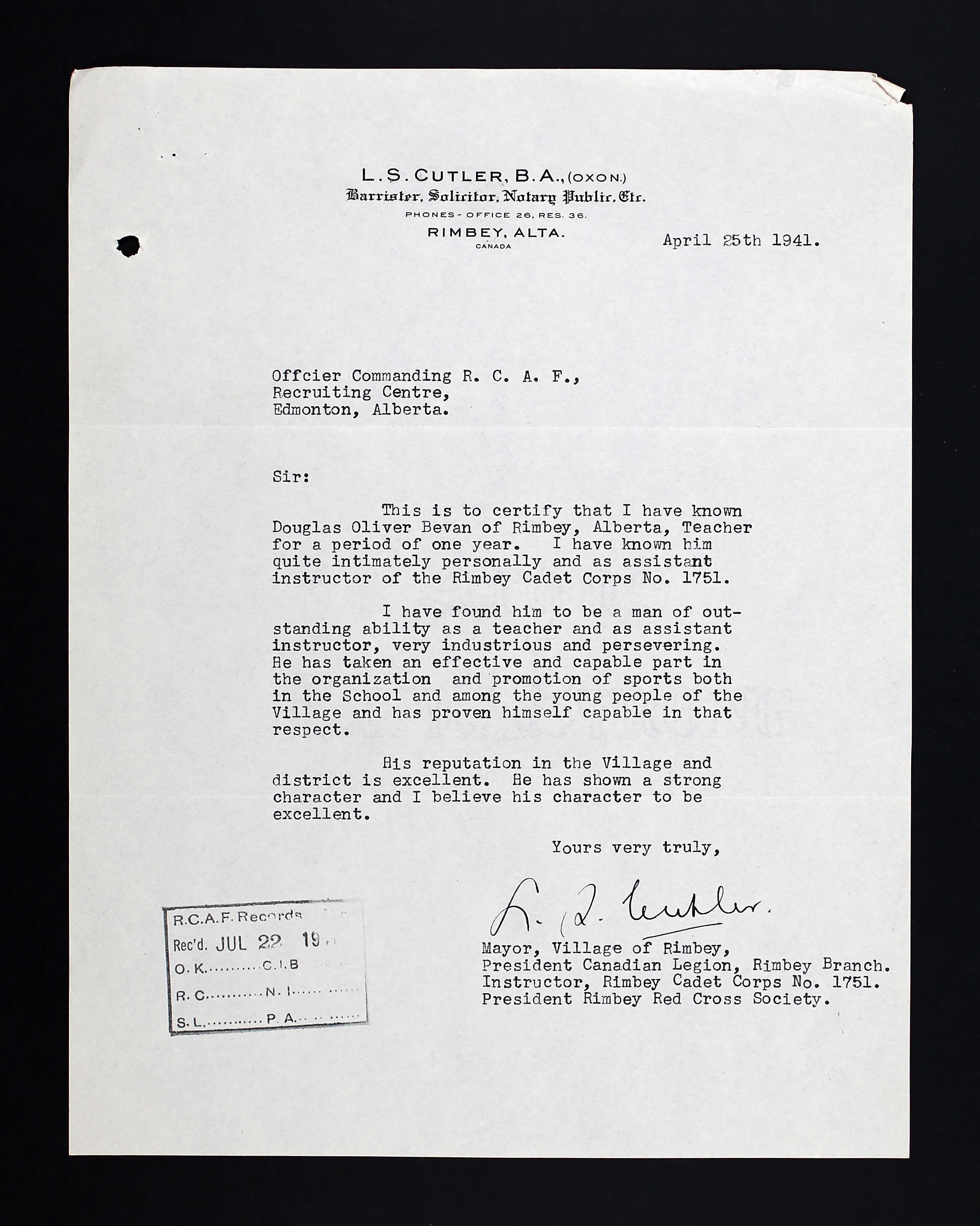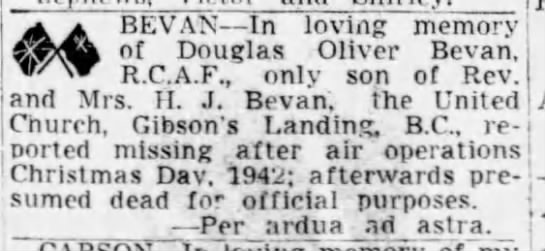 Teacher from Rimbey, Alberta became navigator, then member of the RAF Ferry Command. Aboard Catalina FP266, died on Christmas Day 1942 during a Ferry Flight between Canada and the UK.
Douglas Oliver Bevan, born in Coburg, Ontario, was the son of Reverend Harry James Bevan (1887-1965) and Helen Page (nee Bonthron) Bevan (1887-1962), Cayley, Alberta, later of British Columbia. The family attended the United Church.
Douglas attended Mount Royal College, Calgary, in the 1930s. [At Mount Royal University, the "Flight Sergeant Douglas Oliver Bevan Military Memorial Bursary" is awarded to a full-time student who will be enrolled in the first, second, third or fourth year of any program in the upcoming fall semester. Preference is given to current or former members of the Canadian Military.]
Douglas had previous military experience with the 61st Fd. Bty. RCA, Edmonton, Alberta as a Gunner, August 1936 until August 1937. He was discharged because he moved.
On his attestation papers, from April 1940, he indicated his English was "good," his French was "mediocre."
In April 1941, on his interview sheet, Douglas was assessed. "Teacher by profession for five years. Alert, keen, and desires to be of service. Upright type. Direct in approach and is recommended as Pilot for Air Crew."
He had been a motor mechanic in 1933 for two years, then began to teach school through to 1941, his last position at the high school in Rimbey, Alberta. He had 2 ½ years towards a B.A. from the University of Alberta. He felt his knowledge of mechanical work and processes, plus his instruction of local cadets would be useful to the RCAF. He felt he had a "good aptitude on small amount of unofficial dual instruction – one or two hours." Douglas had been a passenger in an airplane for 12 hours.
Sports he engaged in included hockey, tennis, basketball, golf, softball, rugby, football, and swimming.
Douglas, at the age of 27, stood 6' 1 ½"tall and weighed 180 pounds. He had hazel eyes and brown hair, with a fair complexion.
Douglas married Marie 'Mollie' Kent McLees (1913-1999) of Rimbey, Alberta, in Calgary, Alberta on June 1, 1942. Reverend Bevan officiated at the Crescent Heights United Church. Mollie later moved to Montreal, Quebec. They had no children.
Douglas started his journey through the BCATP at No. 2A Penhold, Alberta July 15, 1941. He was then sent to No. 15 SFTS Claresholm, Alberta until August 20, 1941.
Edmonton and No. 4 ITS was his next destination from August 21 to September 24, 1941. "Visual Link 73%. Good solid type, clean cut appearance. Keen, ambitious, should do a good job. Average activity in sports. Father served in infantry overseas last war." He was 29th out of 120, with an 86%.
Douglas was sent then to High River, Alberta, and No. 5 EFTS from August 25, to November 6, 1941.
He washed out from his flying training and was sent to KTS, Trenton, Ontario for about a month before being sent to No. 5 AOS, Winnipeg from December 6, 1941 until March 14, 1942. "Navigation: Learns slowly and sometimes lacks confidence in the air but will improved with experience. Armament: Confident and readily adaptable. Understands requirements. General: Cheerful and philosophical under difficulties. 69.3%. 19th out of 24 in class."
Paulson, Manitoba and No. 7 B&G School was his next stop from March 14 to April 25, 1942. He earned his A/O Badge on April 25, 1942. "Bombing: Some poor bombing exercises. Tends to become excited if conditions are adverse. Gunnery: Good ability as Firer; competent in handling guns. General: Learns slowly and becomes disconcerted easily. Does only what he is told. 74.2%. 15th out of 22 in class."
At Rivers, Manitoba and No. 1 Air Navigation School, Douglas was sent for further training. "Quite slow in air. Not too accurate. Fairly clever on ground. Should improve considerably. 63.8%. 24th out of 24 in class."
Douglas was sent to No. 31 O. T. U., Debert, June 10, 1942 then attached to RAF Ferry Command as of July 1, 1942.
Douglas made many trips through the summer and fall, into the winter of 1942. He was in the station medical quarters from September 23 to September 30, 1942.
Aboard Catalina Ib FP266, on an operational delivery flight, from Canada to the UK was reported missing after its last contact with base at 0400 hours GMT on 25 December 1942. No passengers were carried on the aircraft which did not reach its destination. In 1949 it was recorded that the missing crew members had lost their lives at sea.
Crew: *Benson Hutches Pierce (American Civilian), Pilot *Sgt. Roy Harding RAF, Pilot *Sgt. Douglas Oliver Bevan RCAF, Navigator *Sgt. George Edward James Craven RAAF, Radio Officer *James Hamilton Auld (Canadian Civilian), Radio Officer, WAG *Sgt. Reginald Edwin Thompson RAF, Flight Engineer
In mid-October, 1944, Mollie received a letter informing her that Douglas would be promoted to the rank of Flight Sergeant.
By July 1947, Mollie was married to Harry William Jeynes. They later lived in Victoria, BC. Harry (1900-1991) was a member of the Order of the British Empire noted in the Edmonton Journal April 28, 1944, serving with the Canadian Army 1939-1945.
LINKS: