Donald Gordon Porter J16357
July 11, 1922 - October 7, 1943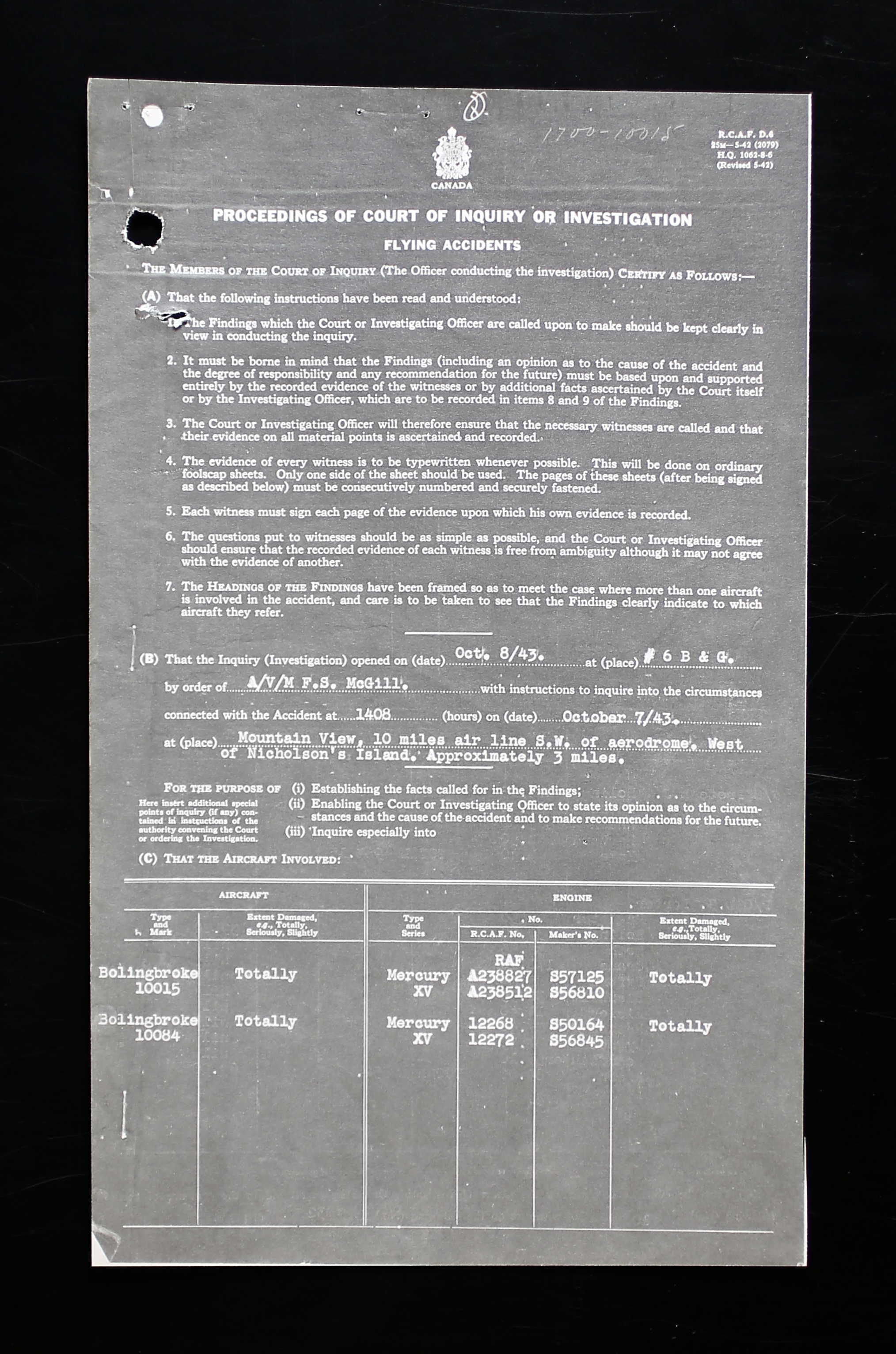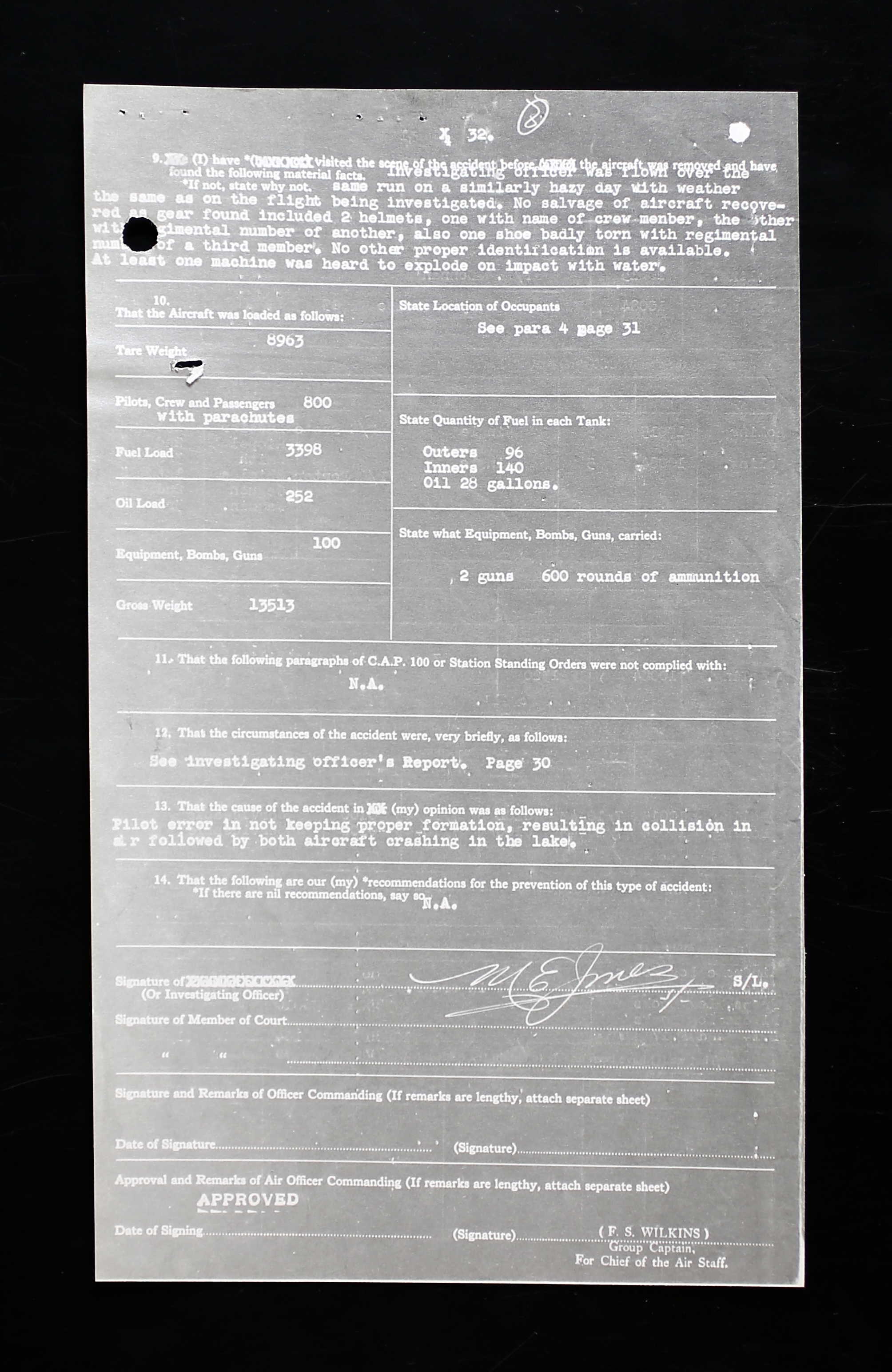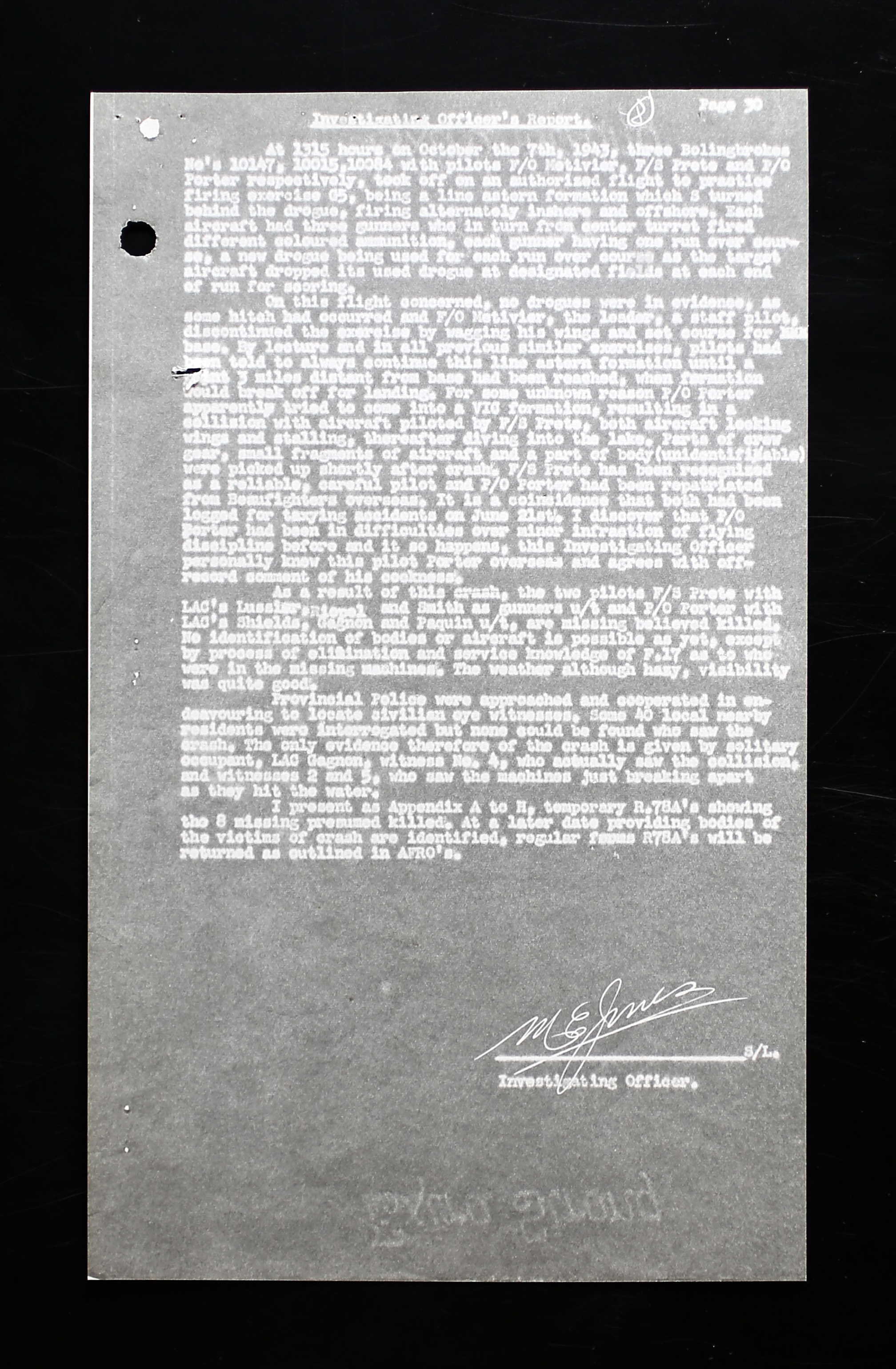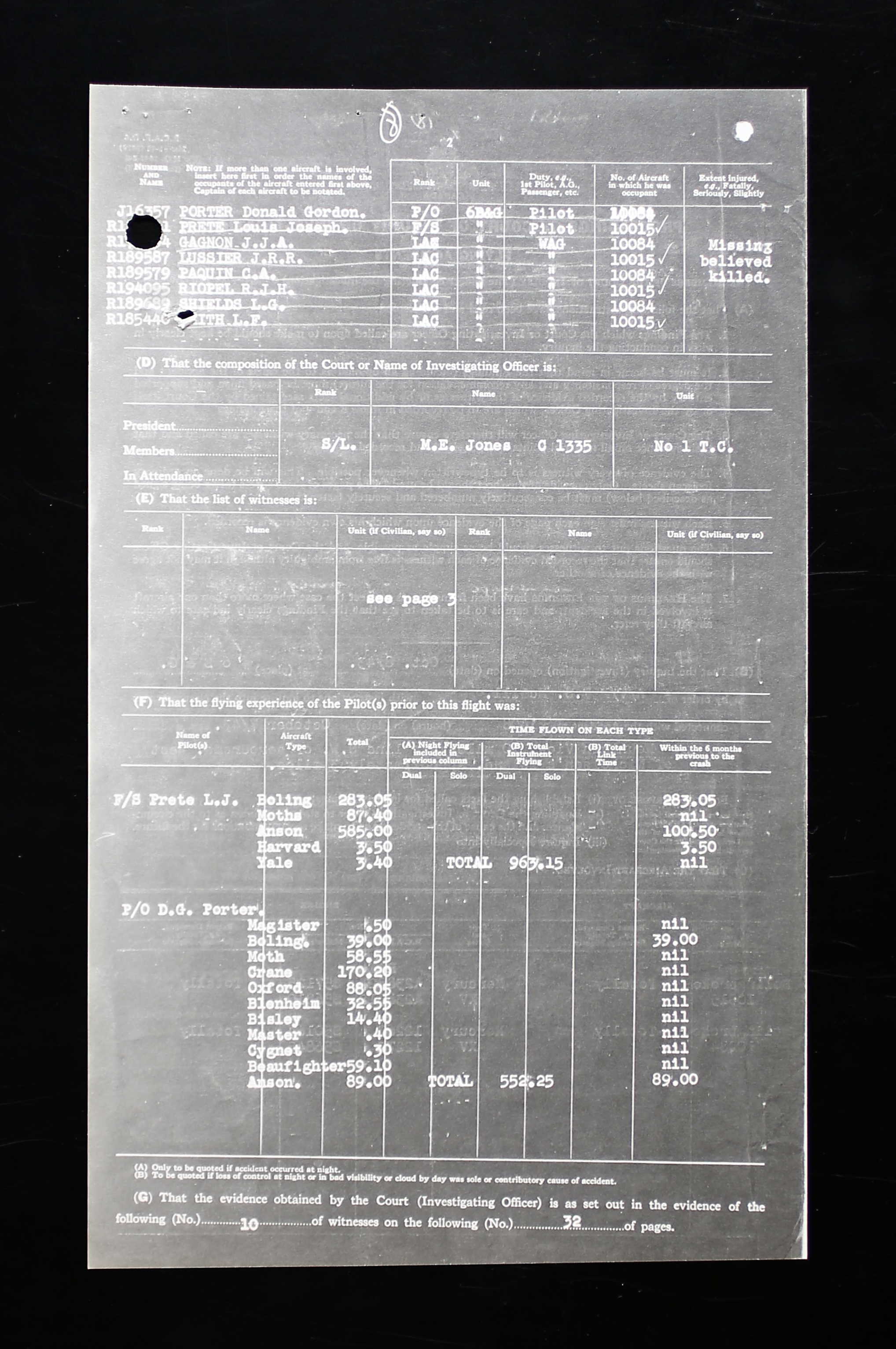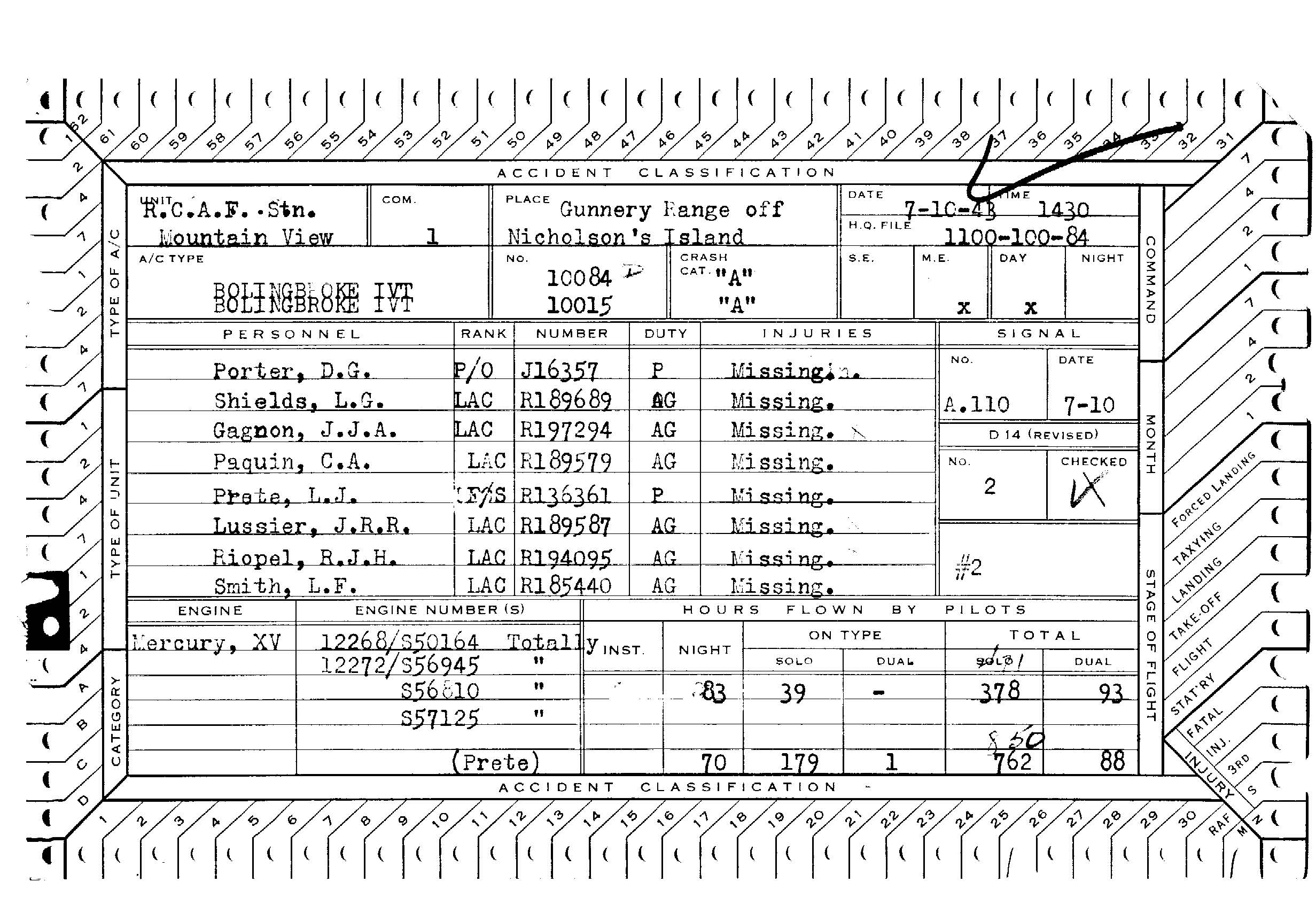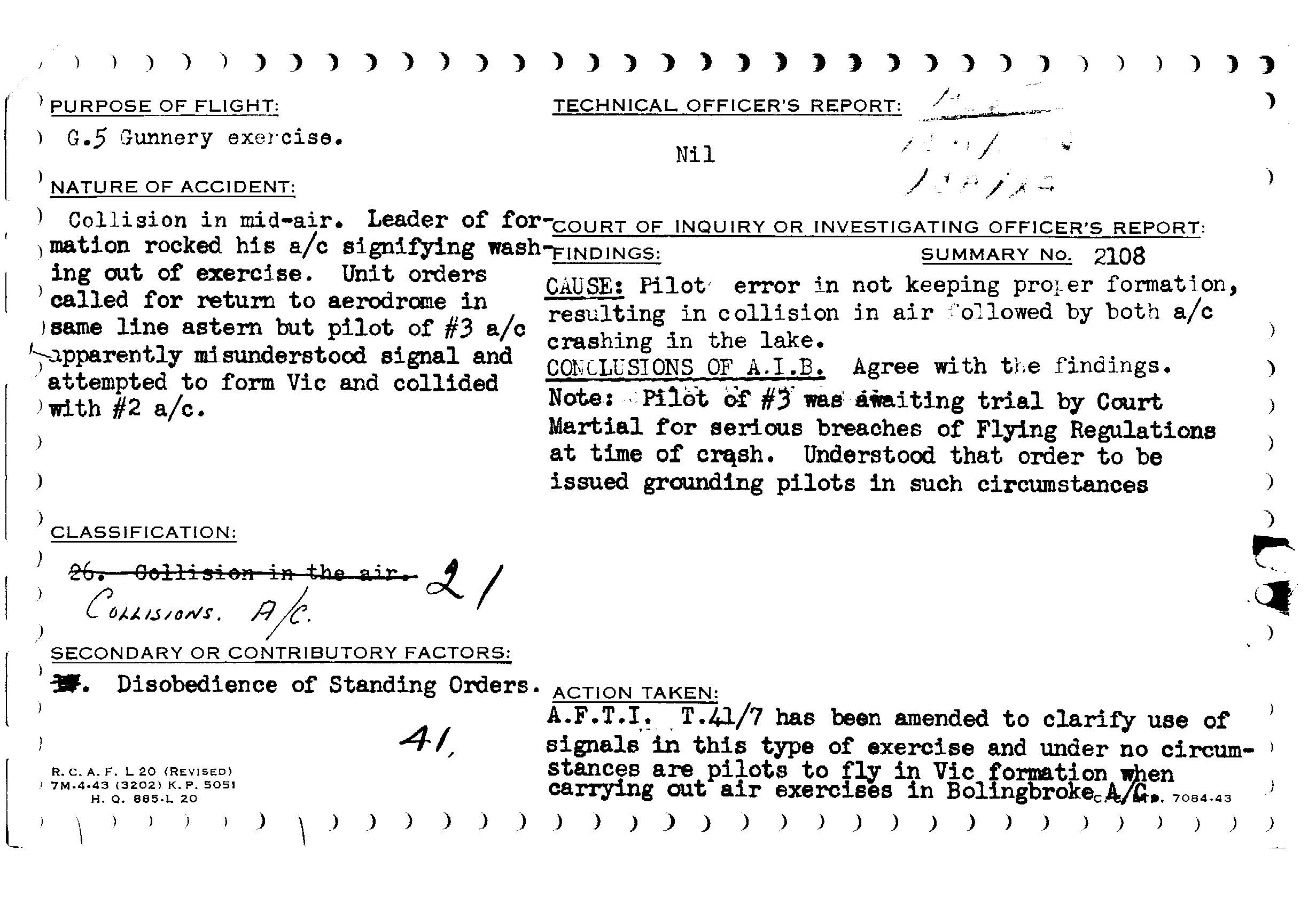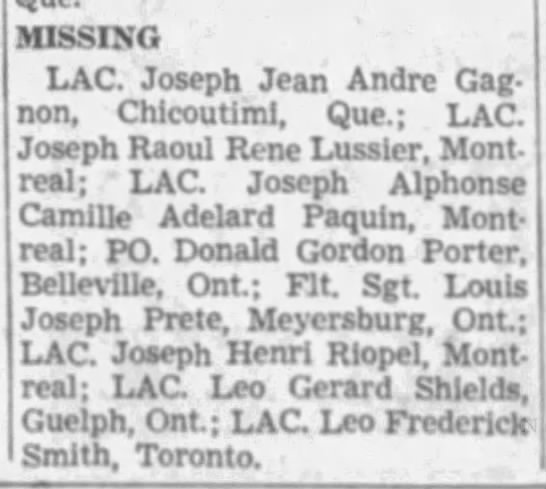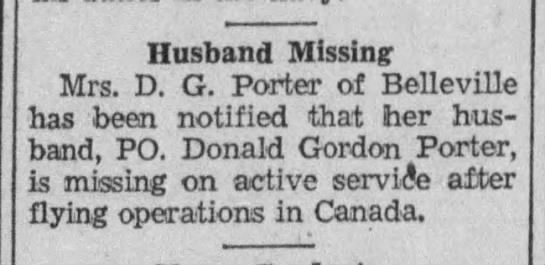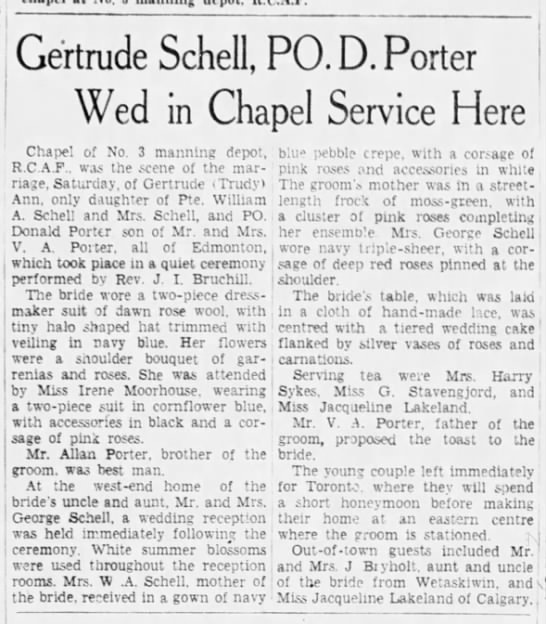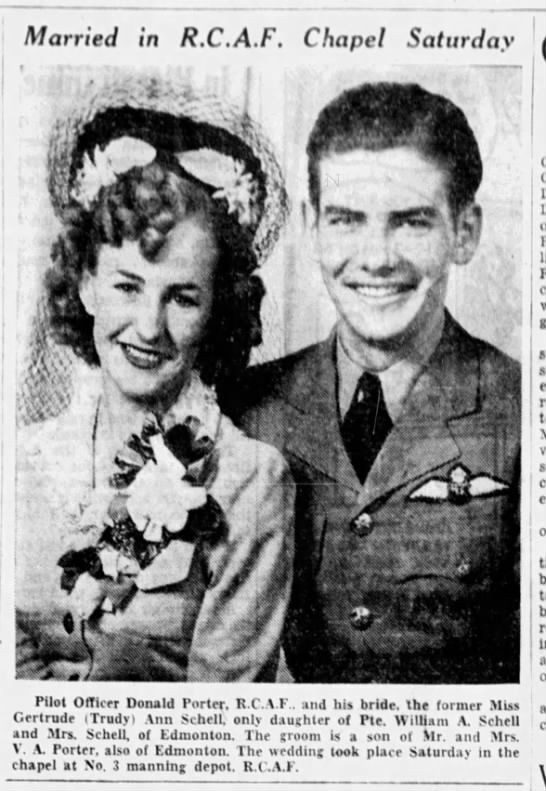 Aircraft mechanic at Edmonton Airport joined RCAF and became pilot, sent overseas. Shortly afterward, he suffered sinusitis and was unhappily repatriated back to Canada. As a staff pilot at No. 6 B&G School, Mountain View, aboard Bolingbroke 10084, it collided with Bolingbroke 10015. All eight men aboard both planes were killed
Donald Gordon Porter was the son of Sarah (nee Moore) Porter (1884-1973) and Vernon Arthur Porter, manager of International Harvester Company Ltd., Edmonton, Alberta. He had five brothers: Ralph, whereabouts unknown, Ray, Harvey, RCAF, Allan, and Harold. Don had two sisters, Jeanne Porter, and Verna Rennie. A third sister, Louise, died May 5, 1935. The family attended the Church of England.
Don had been working as an aircraft mechanic for McKenzie Air Services at the Edmonton Airport. He liked photography, hunting, shooting, golfing hockey and swimming, extensively. "Desirous of getting into active service IMMEDIATELY. Available tomorrow." He wrote this on April 17, 1941. He had glowing reference letters. Don had an appendectomy six weeks prior and was in hospital for six days. On his interview sheet: "A very bright boy, from one of the best Edmonton families. While he only has Grade X, he has brains. Is exceptionally keen to fly and vitally interested in aviation. Good shot, courteous, good sportsman, other qualities will offset lack of matriculation." He was recommended for pilot, fighter type and a commission. Don hoped to remain in aviation as a pilot after the war.
He was accepted into the RCAF on June 4, 1941. Don stood 5'10 ¼" tall and weighed 145 pounds. He had green eyes and black hair when he was at No. 2 Manning Depot, Brandon, Manitoba, June 24, 1941.
At No. 2 ITS, Regina, Saskatchewan, from July 27 to August 27, 1941: 16th out of 87 in class. 87%. This airman is young, but is bright and full-out to do a job. He is dependable, applies himself well and shows good initiative…with experience might be considered suitable for a commission." Don was at Station Hospital from August 13-15, 1941.
Don was posted to No. 15 EFTS, Regina, from September 13 to November 7, 1941. "Carefree, dashing type of pilot. Good, all-round service pilot material. Smooth safe flyer." Don earned 75%. "Bright, very good student. A real fighter pilot."
His next stop was No. 11 SFTS, Yorkton, Saskatchewan, November 10, 1941 to February 27, 1942. "An average pilot with no marked weaknesses. Young and enthusiastic but a little careless at times. Above average ability. Has worked well throughout course. Quite satisfactory."
Don was sent to Halifax Marcy 1, 1942, then overseas, first to RAF Trainees' Pool, March 19, 1942, then to No. 3 PRC March 29, 1942. He was sent to 54 O.T.U. and then to RAF Station Brize Norton.
On December 18, 1942, he was at No. 1 Central Medical Board, London for bilateral sinusitis, left. Don began to exhibit symptoms in October 1942. "Commenced suddenly when descending from 24,000 to 4,000 feet while suffering from cold. Since then he has been subject to pounding pain above the left eye which makes his vision blurred. On 26-11-42, he was examined by Civilian Specialist at an EMS Hospital. He has since had treatment and is now referred to this Board to assess his flying category… the board considers this NCO to be suffering from chronic sinusitis which limits his category to non-operational flying at an altitude of not more than 3000 feet. As he is unlikely to be fit for operational flying for at least six months and as the ENT specialist considers that benefit might result if he were returned to Canada, temporary repatriation is recommended. He is fit to travel as an ordinary passenger."
A letter dated January 17, 1943: "I have the honor Sir to forward to you my application for repatriation to Canada. I have been boarded by #1 Central Medical Board in London, and they have lowered my category to A3HPH, as I have a bad case of sinus trouble. They have also dropped me out of the operational flying category and put a limit of 3000 feet in all future flying ma do. Due to these restrictions, they recommend me as fit for Canada. I have tried by all means I know to be allowed to fly operational in other countries, but with no success. The doctor said I must get to a drier climate if I ever want to get rid of my sinus, and therefore, must go home. So I will be very grateful Sir if you would consider my case with favour, as back home I would pass on to future pilots what knowledge I obtained from flying in this country."
He wrote another letter in February 1943: "As you are a liaison officer, I wondered if you could tell me just how to contact the Canadian Medical Board over here, or where it is. I was in to see you once before when I was a Sergeant. I had just been boarded by No. 1 CMB and was going to be repatriated. They put a ceiling of 3000 feet on me and took me off OPS. I've been flying a lot in the past few weeks and a way higher than 3000 feet. My sinus has not bothered me. I do not want to go home, and I want to get back on OPS. I've had an offer to join 184 Squadron if I get back operational, and they are doing tank busting on Hurricanes, which I would like very much. I see no reason for my not being operational now, for as I just said, my sinus does not bother me anymore. So, if you would be so kind Sir as to tell me how I can find this Canadian Medical Board. I would appreciate it very much. I simply must get back operational, and I am determined to go to any measure to obtain it. If you cannot help me, thanks a lot for trying anyway, and if you can, could you please let me have the information right away?"
Don was repatriated to Canada and sent to Rockcliffe, Ontario, March 28, 1943. He was at the Ottawa Civil Hospital May 2 – 6, 1943.
A memo date June 4, 1943: "This officer states that he is desirous of being employed on Ferry Pilot duties or alternately on Staff Pilot duties at a Bombing and Gunnery School in the vicinity of Toronto ON. Pilot Officer Porter states that he has not flown since February 26, 1943, with the exception of a test flight at No. 1 Refresher Squadron approximately two weeks ago for the purpose of checking his medical condition and reaction. However, he feels quite confident that he can accept immediate employment as a staff or ferry pilot without first undergoing a flying refresher course." A side note: "Recommended employment on staff pilot duties, Mountain View as suggested. Not enough experience for employment with the Ferry Squadron." Don's flying hours were noted on this memo. [See document above.]
Don married Gertrude 'Trudy' Ann Schell of Edmonton July 31, 1943, shortly before he was transferred to the No. 6 B&G School, Mountain View, Ontario. Together, they had a daughter, Donna Louise Porter, born June 5, 1944. In the summer of 1945, she remarried, and later resided in Calgary with her second husband, Albert Verne Street.
June 21, 1943: "Reprimand for error in judgment in taxing accident." On September 1, 1943: "Gradually building up interest in his work in Bombing Fight. Fine type of officer material. Retention recommended." On September 17, 1943, a memo: "August 20, 1943, P/O D. G. Porter placed under open arrest this station. Charged with violation of station standing order and flying instructions."
On October 7, 1943, two Bolingbroke aircraft, 10084 and 10015 from No. 6 B&G School, Mountain View, Ontario, collided. All men were killed. LAC Joseph Alphonse Camille Adelard Paquin, Air Gunner; F/O Donald Gordon Porter, Pilot; P/O Louis Joseph Prete, Pilot; Sgt. Joseph Jean Andre Gagnon, Air Gunner; Sgt Joseph Raoul Rene Lussier, WAG, LAC Joseph Henri Rosaire Riopel, Air Gunner; LAC Leo Gerard Shields, Air Gunner, LAC Leo Smith, all RCAF. See CASPIR link below for photos and more details. [Bolingbroke 10115 had been in an earlier accident on December 19, 1942 when a refueling truck backed and stopped in path of aircraft, which in turn, taxied into the back of the tender.]
From the Court of Inquiry: "Three Bolingbroke aircraft (10147, 10015, and 10084) with pilots F/O Metivier, F/S Prete, and P/O Porter, respectively, took off on an authorized flight to practice firing exercise G5, being a line astern formation, which S turned behind the drogue, firing alternately inshore and offshore. Each aircraft had three gunners who in turn from centre turret fired different coloured ammunition, each gunner having one run over course, a new drogue being used for each run over course as the target aircraft dropped its used drogue at designated fields at each and of run for scoring. On this flight concerned, no drogues were in evidence, as some hitch had occurred and F/O Metivier, the leader, a staff pilot, discontinued the exercise by wagging his wings and set course for the base. By lecture and in all previous similar exercises, pilots had been told to always continue this line astern formation until about 3 miles distant from base had been reached, when formation could break off for landing. For some unknown reason, P/O Porter apparently tried to come into a VIC formation, resulting in collision with aircraft piloted by F/S Prete, both aircraft locking wings and stalling, therefore diving into the lake. Parts of crew gear, small fragments of aircraft and a part of body (unidentifiable), were picked up shortly after crash. F/S Prete has been recognized as a reliable, careful pilot, and P/O Porter had been repatriated from Beaufighters overseas. It is a coincidence that both had been logged for taxiing accidents on June the 21st. I discovered that P/O Porter had been in difficulties over minor infractions of flying discipline before and it so happens, this investigating officer personally knew this pilot Porter overseas and agrees with off record comment of his cockiness. As a result of this crash, the two pilots, Prete and Porter, with their crew are missing believed killed. No identification of bodies or aircraft is possible as yet, except by process of elimination and service knowledge of F.17 as to who were in the missing machines. The weather although hazy, visibility was quite good. Provincial police were approached and cooperated in endeavoring to locate civilian eyewitnesses. Some 40 local nearby residents were interrogated but none could be found who saw the crash. The only evidence therefore of the crash is given by sole occupant, LAC Gagnon, witness number four who actually saw the collision and witnesses 2 and 5 who saw the machines just breaking apart as they hit the water."
"Investigation Officer was flown over the same run on a similarly hazy day with weather the same as on the flight being investigated. No salvage of aircraft recovered as gear found included two helmets, one with name of crew member, the other with regimental number of another, also one shoe badly torn with regimental number of a third member. No other proper identification is available. At least one machine was heard to explode on impact with the water. CAUSE: Pilot effort in not keeping proper formation, resulting in collision in air followed by both aircraft crashing in the lake."
On May 3, 1944, Mr. Porter, Don's father, wrote a letter to the Administrator of Estates in Ottawa. "Reports that we received were to the effect that two planes crashed in eight boys went down in Lake Ontario. We later received a report that five of the bodies had been recovered but that the bodies of the two pilots and one student were still missing. We believe it is a generally known fact that the officers of this station definitely know that all of the boys were lost. Recently his young wife received a letter indicating that he is considered missing and wanting to know if she had received any further word from him, to me a ridiculous thing in the face of the general knowledge of the officers at the station period since there has been no accounting for his personal effects, I wrote to the Officer Commanding at Mountain View and have just received a reply stating that, since our son for the present time and for official purposes is listed as missing and has not yet been presumed dead, his personal belongings are frozen by that department. They also suggest that we contact the administrator of estates for any further information. It is not a matter of the value of these personal belongings but a matter of getting the situation cleaned up. We are attaching a list of the belongings as submitted to us from this station. It would seem reasonable and right that since there would seem to be definite knowledge that the boys were last in the lake, a letter such that as written to his wife is unreasonable and uncalled for as well as embarrassing. As a parent I am hopeful that this matter can be cleaned up in a satisfactory manner an at an early date."
In late October 1955, Trudy received a letter informing her that her first husband had no known grave, and his name would appear on the Ottawa Memorial. Paquin and Prete's names also are on the Ottawa Memorial.
LINKS: