Donald Cameron Glover R165532
August 10, 1916 - October 14, 1942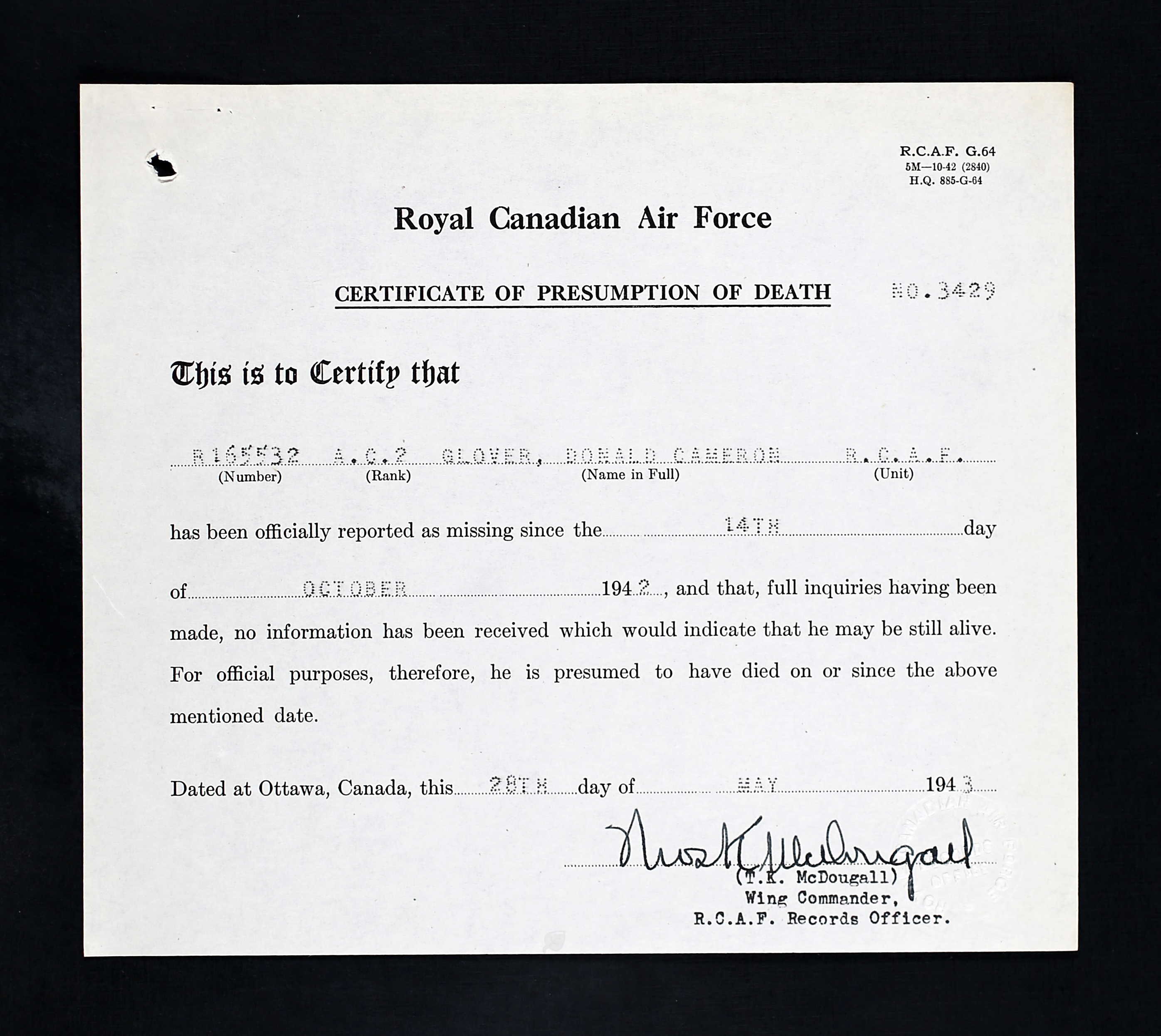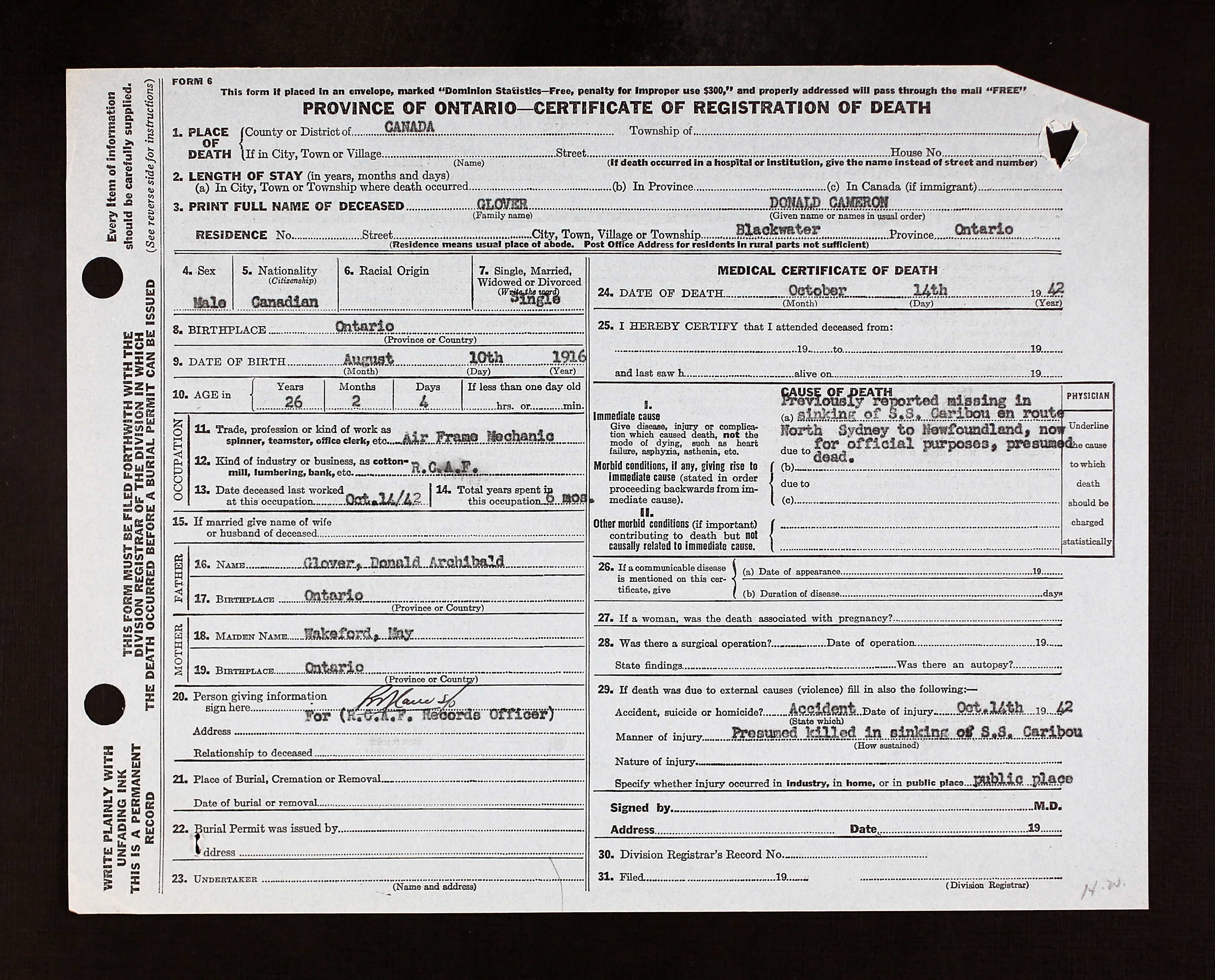 Farmer became airframe mechanic perished when SS Caribou was torpedoed.
Donald Cameron Glover, born in Blackwater, Ontario, was the son of Donald Archibald Glover, (1874-1952) farmer, and Fanny May (nee Wakeford) Glover (1888-1984). He had one brother, John Allen Glover (1914-1992), who was at No. 4 Wireless School, Guelph. He also had one sister, Mrs. Iva Rynard, of Sunderland, Ontario. By July 1943, Mrs. Glover still resided in Blackwater, but Mr. Glover had moved to Oshawa. The family attended the United Church.
He was known as Cameron.
Cameron was a trainee at the Galt Aircraft School in Galt, Ontario, when he enlisted with the RCAF in November 1941. He indicated he liked to skate moderately. He wanted to be an airframe mechanic. He was accepted into the RCAF by April 25, 1942.
Prior to attending Galt Aircraft School, he helped his father on the farm. He had a Grade X education from the school in Sunderland, Ontario.
He stood 5' 9 ½" tall and weighed 135 pounds. He had brown eyes and fair hair. A small scar on his left index finger was noted on his medical forms.
His father was the beneficiary to a $2000 life insurance policy. Cameron sent his mother $15/month.
Cameron was sent to No. 1 Manning Depot, Toronto and was in the station hospital from May 6-8, 1942. He finished MD June 5, 1942, then was sent to TTS St. Thomas, Ontario. He was then posted to RCAF Station, Torbay, Newfoundland October 8, 1942 as an airframe mechanic.
The night of October 14, 1942 was very dark with no moon. Sixty kilometres off the coast of Newfoundland, the SS Caribou on her starboard side was torpedoed by German U-boat U-106. On board were 73 civilians (eleven children, 118 military personnel) and a crew of 46. The passengers were thrown from their bunks, several lifeboats and rafts were destroyed or could not be launched, as the ship sunk quickly, reports stating only three minutes. Many passengers were forced to jump overboard. Over 135 people perished. Fifteen of the crew survived, many of them local men from the Channel/Port aux Basque area.
On April 20, 1943, Mr. Glover wrote to the Secretary, Department of National Defense for Air in Ottawa asking for more information about his son, requesting a telegram.
In late May 1943, Mr. Glover received a letter from Air Marshall Breadner informing him and his wife that their son was now presumed to have died on October 14, 1942.
In January 1948, a memorial was erected at Port-aux-Basques, Newfoundland, in memory of those who died in the torpedoing of the S. S. Caribou.
In late October 1955, Mr. Glover received another letter, this time from W/C Gunn, informing him that since Donald Cameron Glover had no known grave, his name would appear on the Ottawa Memorial. Sine Mr. Glover passed away in 1952, it is unknown if the family received the letter.
For additional information, please click on the links below.
Two of the survivors who had suffered from shock and exposure due to the sinking of the SS Caribou, Aircraftmen Frank Earl Burton, 19, and Frederick Anthon Langley, 23, both airframe mechanics, perished in the fire at the Knights of Columbus hostel in St. John's, Newfoundland, December 12, 1942. Ninety-nine people were killed, with 80 of them military personnel. Critically wounded: 109. They had both trained with Fred, and posted to Botwood, Newfoundland.
Raymond Chatson and Fred Coulson were also classmates.
LINKS: