Donald Eugene Engemoen R103709
December 11, 1922 - May 23, 1942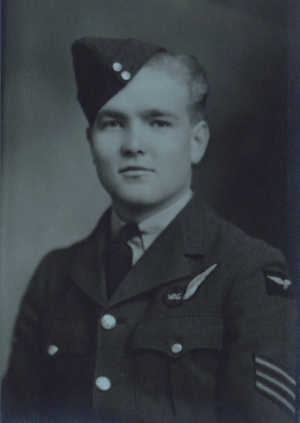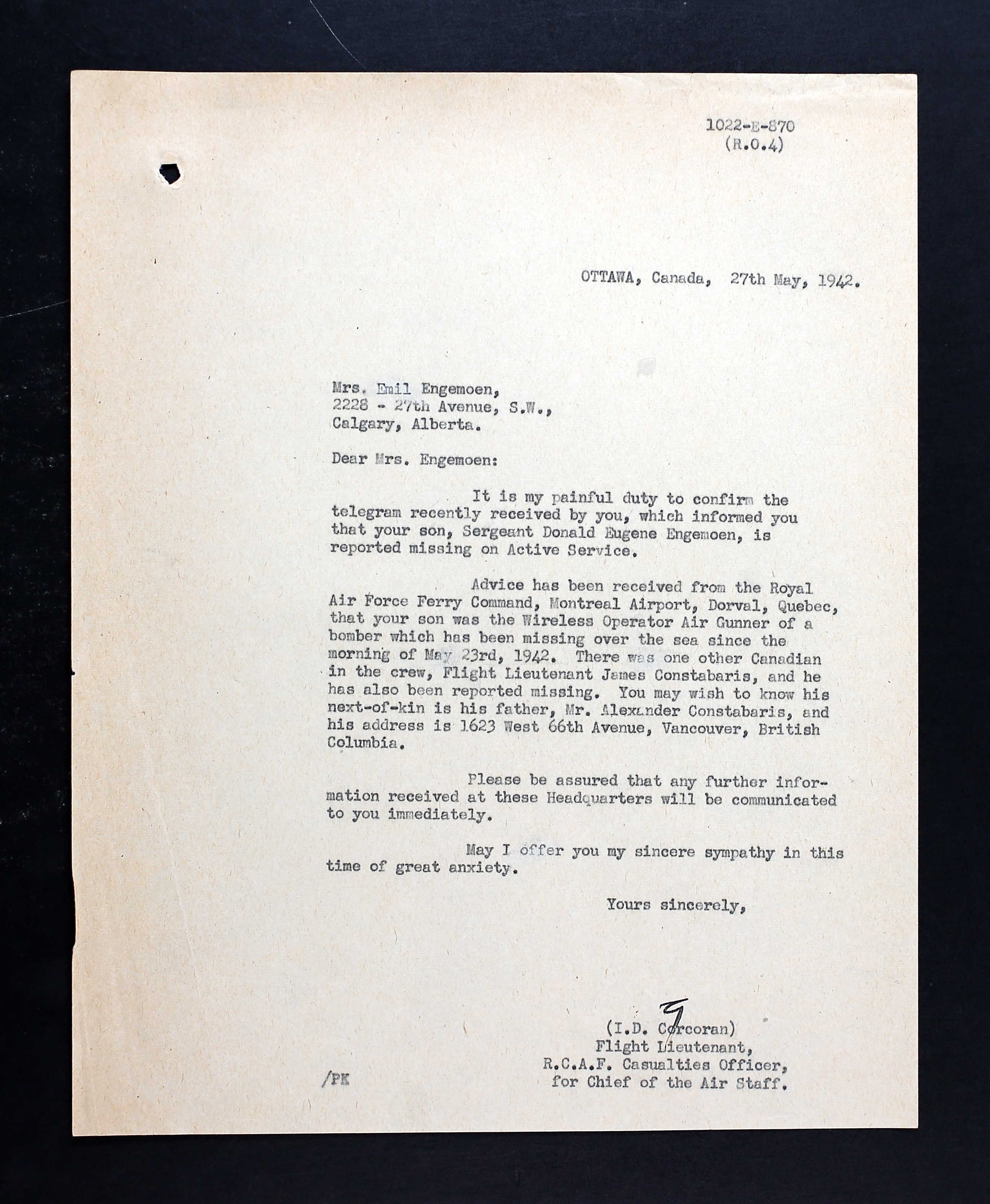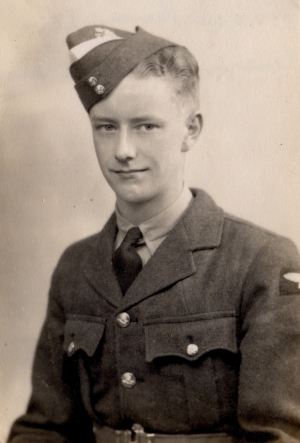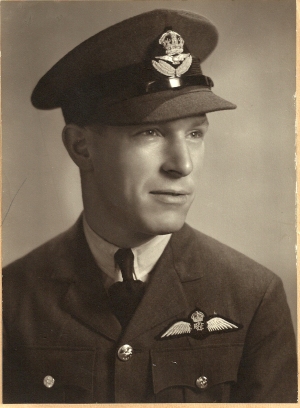 Farm hand joined RCAF as WOAG. With RAF Ferry Command, on his first overseas trip, he and two others were lost aboard Hudson FH233 off the coast of Ireland.
Donald Eugene Engemoen, born in Lethbridge, Alberta, was the son of Emil Engemoen (1889-1931) and Mabel Celesta (nee Hadford) Engemoen, (1896-1944), of Calgary, Alberta. He had sisters, Betty Jean (nee Engemoen) Spieker and Mildred Engemoen. They attended the United Church.
Don had a Grade XI education and was a farm labourer before he enlisted with the RCAF in May 1941. He liked hockey, basketball, and softball. His hobbies included motor mechanics. "Nice quiet lad, somewhat nervous, but will overcome with training. Is alert, thoughtful, sturdy. Will be a good worker. Recommended WOAG." He had first year First Aid. He stood 5'9 ½" tall and weighed 145 pounds. He had blue eyes and fair hair. He smoked moderately and drank alcohol occasionally. Nail biting was noted on his medical examination. He had an athletic build and a standard mentality.
He was sent to No. 1 Manning Depot, Toronto on May 16 until June 9, 1941. He was then sent to No. 1 SFTS Camp Borden until August 3, 1941. At No. 4 Wireless School, Guelph, Ontario, from August 4 to December 19, 1941, Don was 45th out of 69 in his class with 74.6%. He earned his Wireless Operator's Badge. At No. 9 B&G School, Mont Joli, Quebec, from January 19 to February 16, 1942, overall, he was 11th out of 16 in his class with 75.10%. "His air firing results were quite good and he should be above average as an Air Gunner. His work in class was quite satisfactory and he appears to be a good average type." Here he forfeited two days' pay in February. Don was attached to RAF Ferry Command in early May 1942.
At 11:30 am May 23, 1942, Donald was the WOAG aboard Hudson FH 233 of 44 Group, Ferry Command, being delivered to Britain when it crashed into the sea in Donegal Bay, off the coast of County Sligo, Ireland. This was his first trip on a bomber being ferried overseas.
The crew: Flt.Lt. James Constabaris, Pilot, RCAF, P.O. Kenneth Busbridge Dyer, Co-Pilot / Navigator, RAF, and Sergeant Donald Eugene Engemoen, Wireless Operator / Air Gunner, RCAF.
For more information, please refer to the links below.
On May 27, 1942, a letter was written to Mrs. Engemoen. "Advice has been received from the RAF Ferry Command, Montreal Airport, Dorval, Quebec, that your son was a WOAG of a bomber which has been missing over the sea since the morning of May 23, 1942. There was one other Canadian in the crew, F/L James Constabaris, and he has also been reported missing. [from Vancouver, BC]."
In late October 1955, another letter arrived informing Mrs. Engemoen that since Don had no known grave, his name would appear on the Ottawa Memorial. [P/O Kenneth Busbridge Dyer is also on the Ottawa Memorial as his body was never recovered. F/L James Constabaris is buried at The Irvinestown Church of Ireland Churchyard, Northern Ireland. His body washed ashore at Drumbannon, Killbegs, County Donegal, May 30, 1942.]
LINKS: