Deryck Hogan J9122
December 29, 1919 - February 19, 1945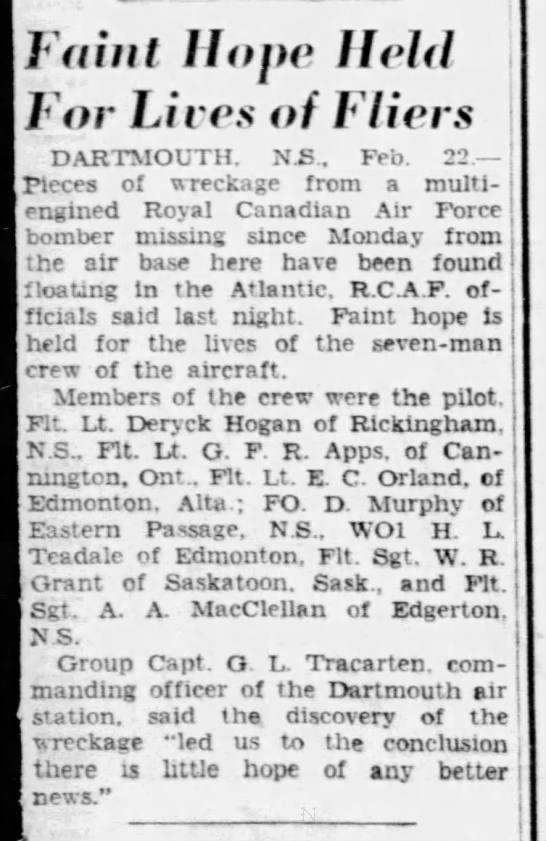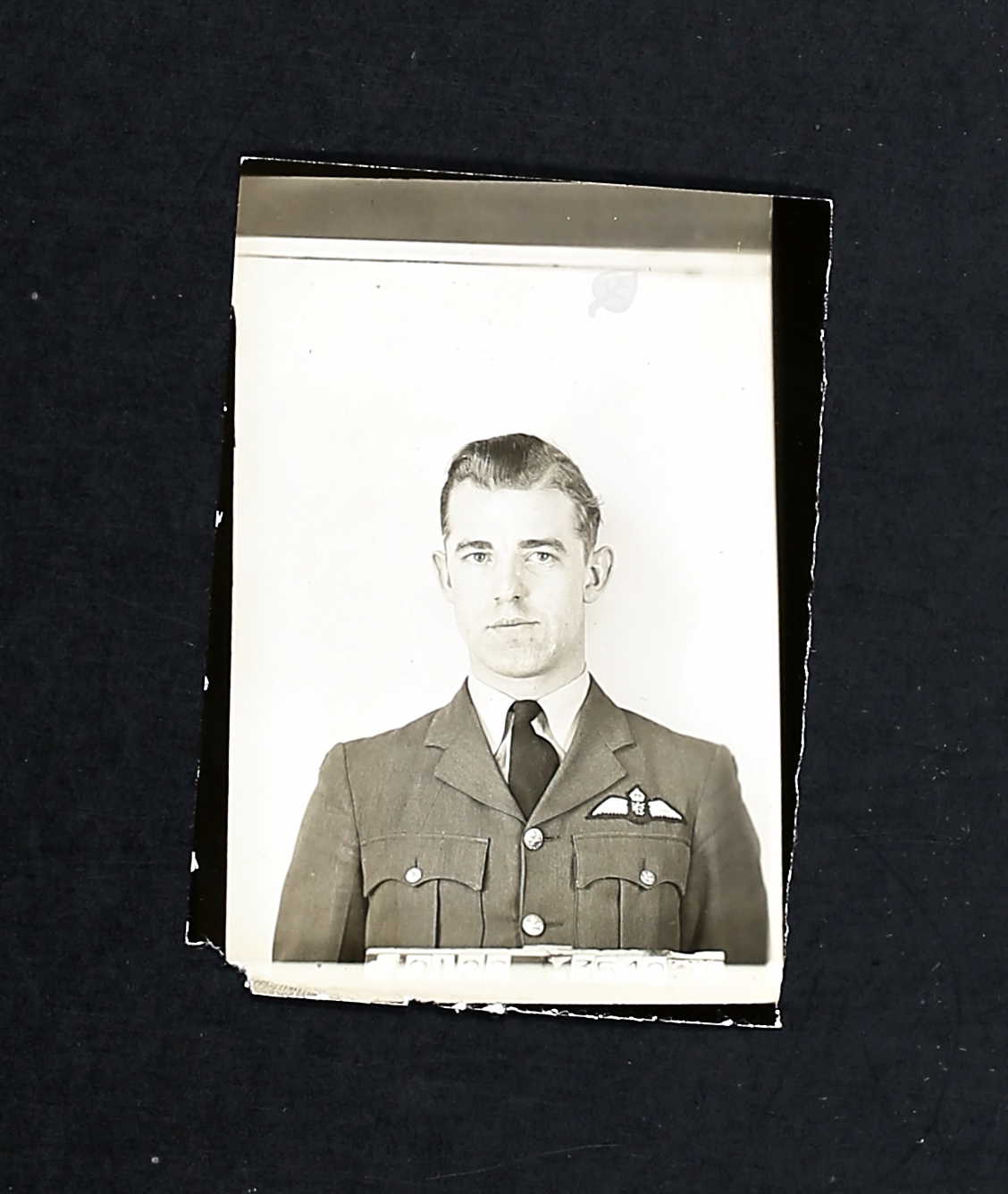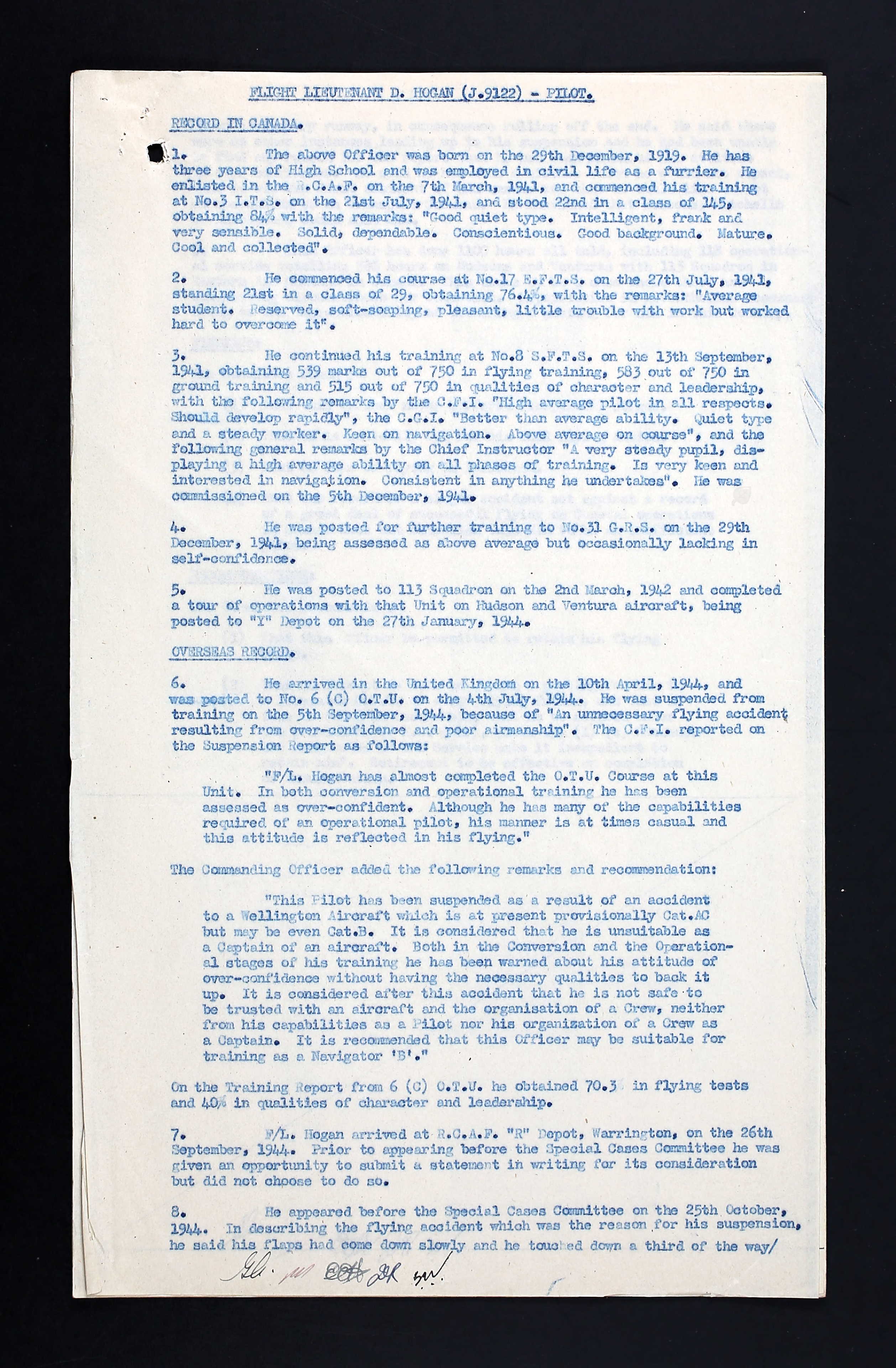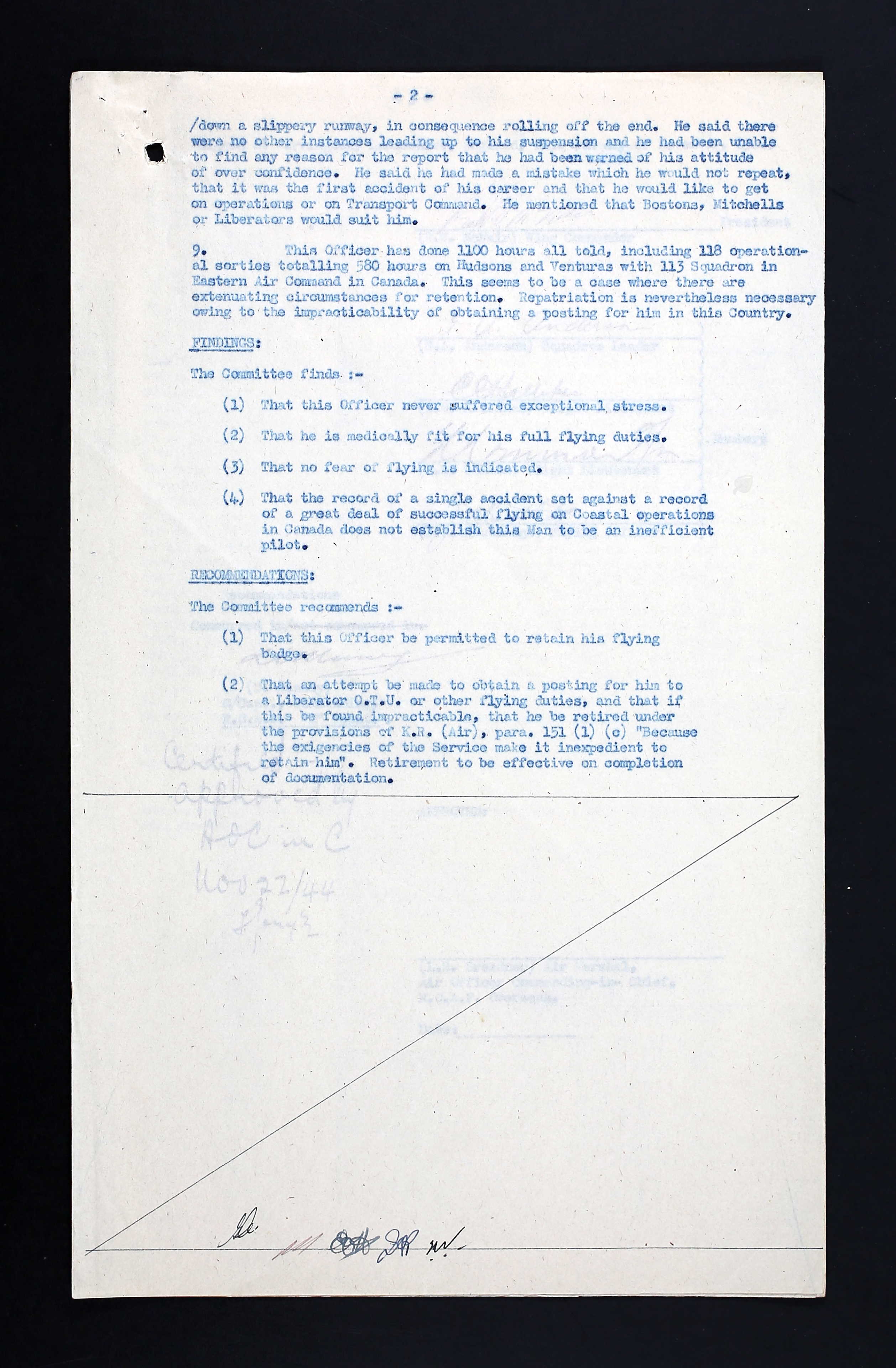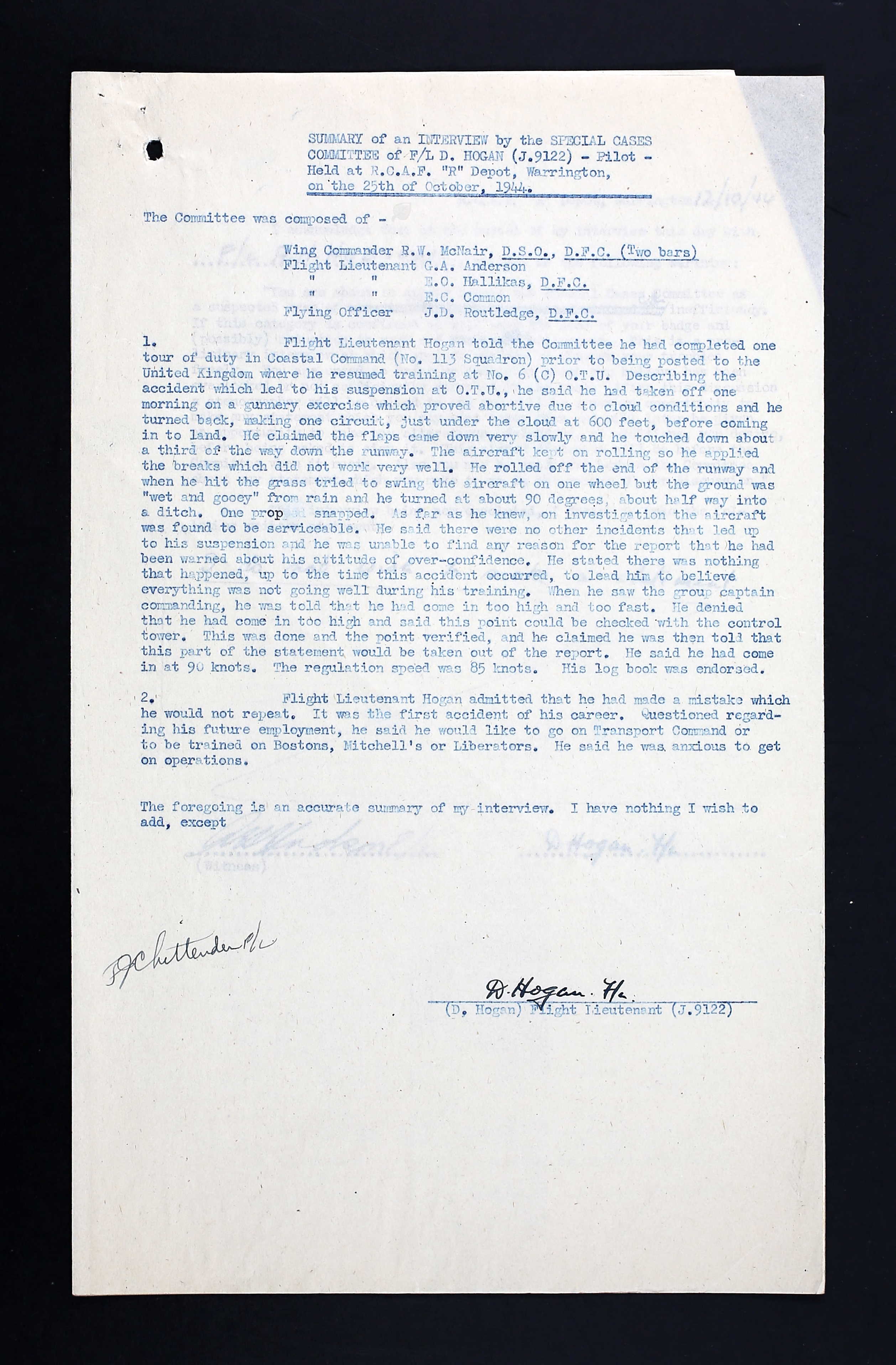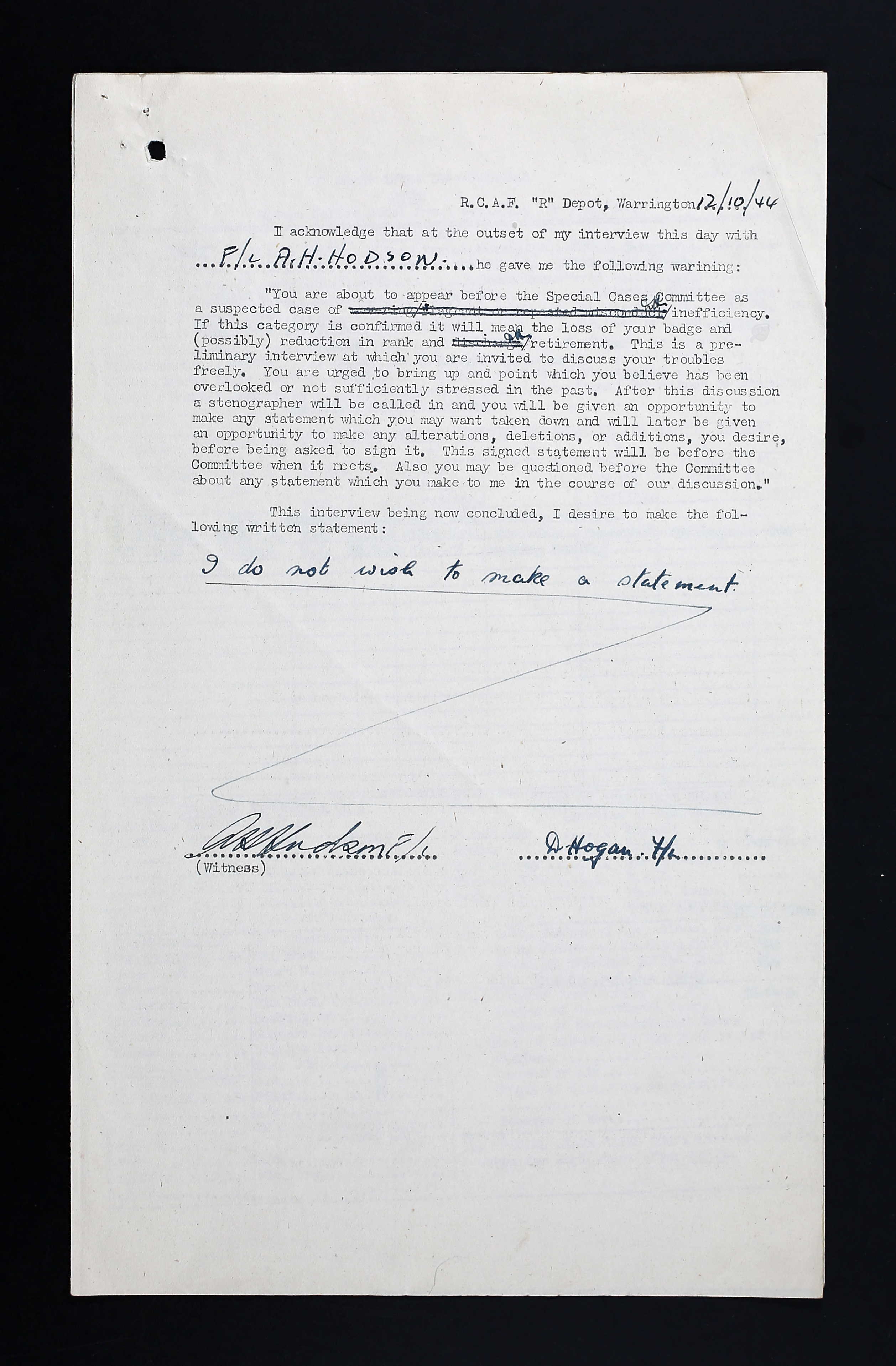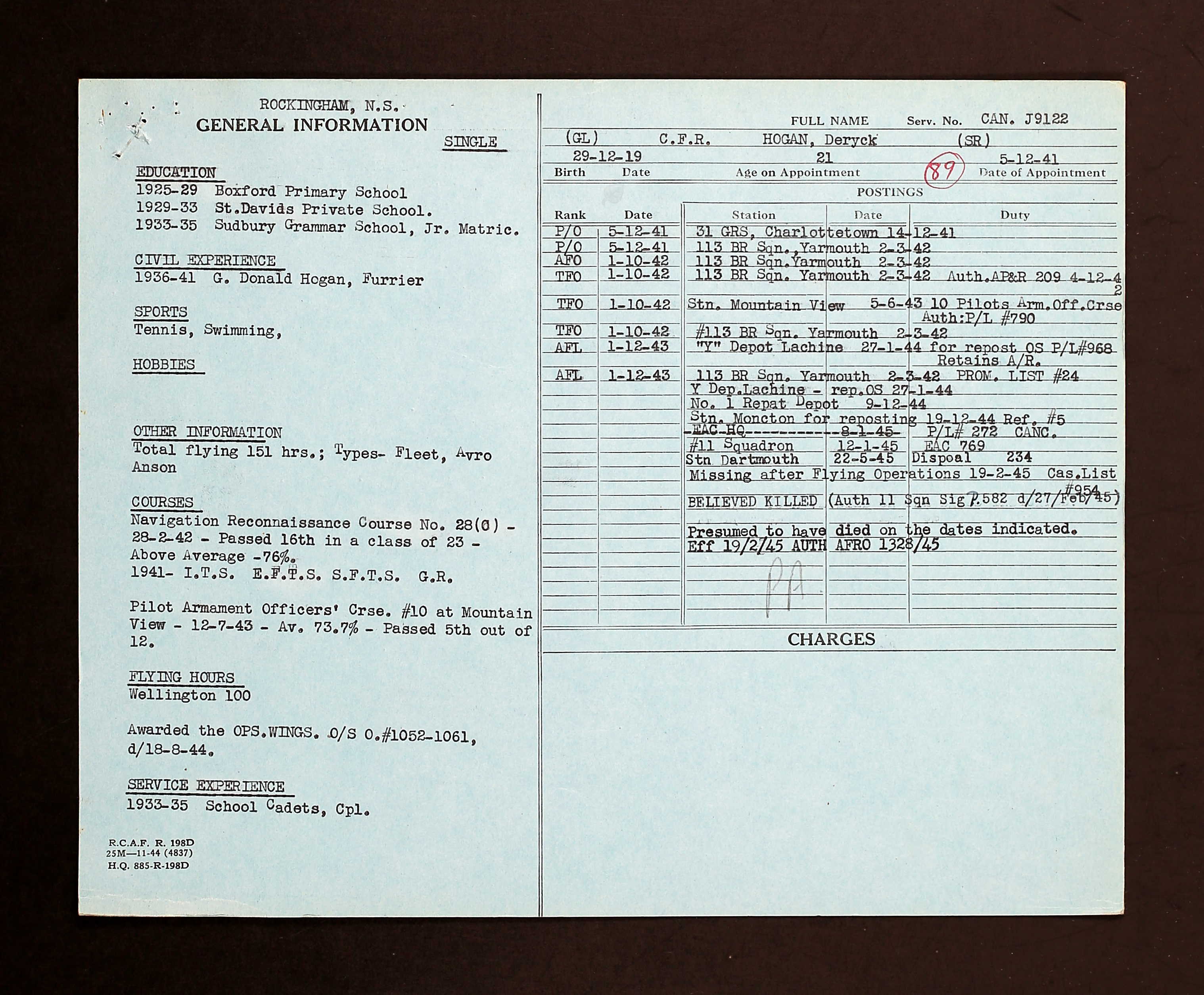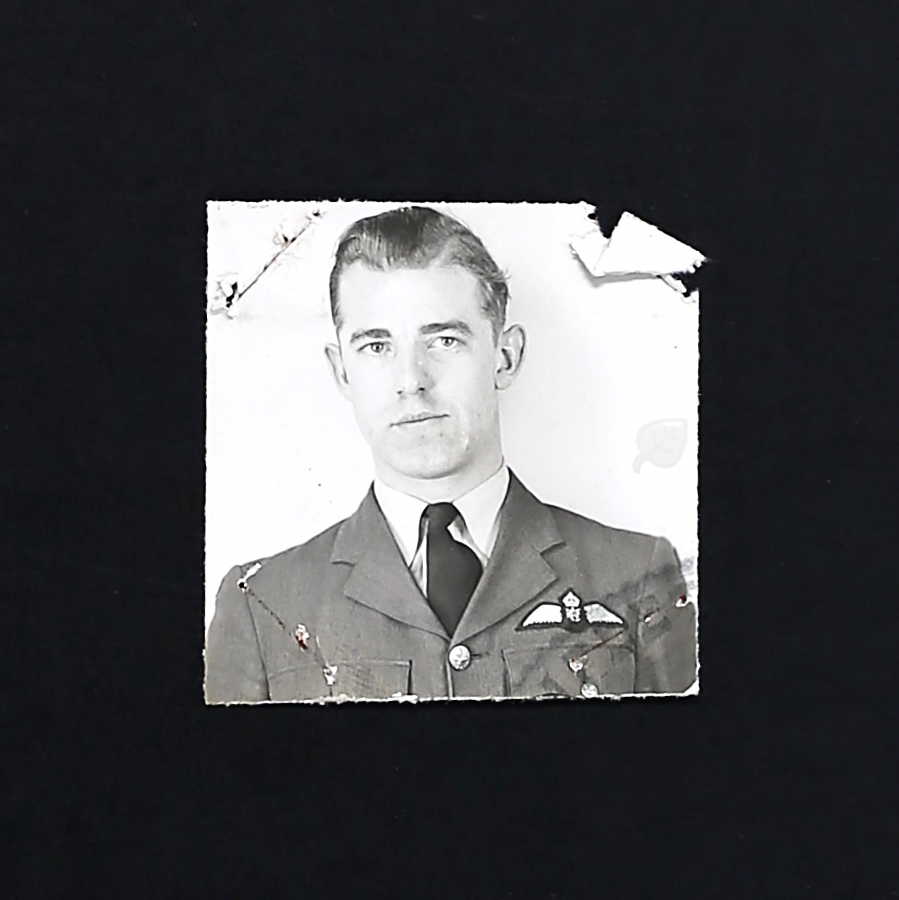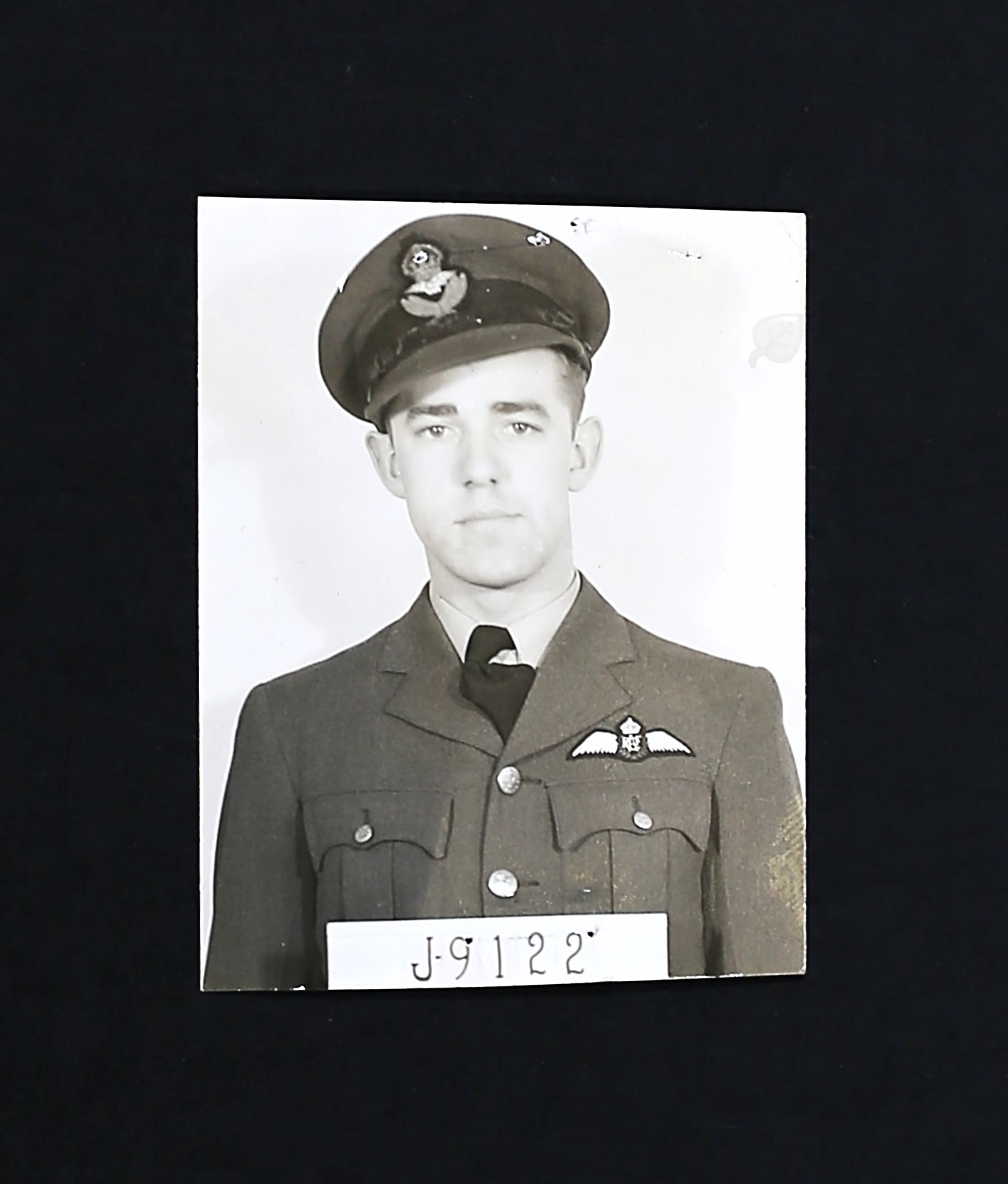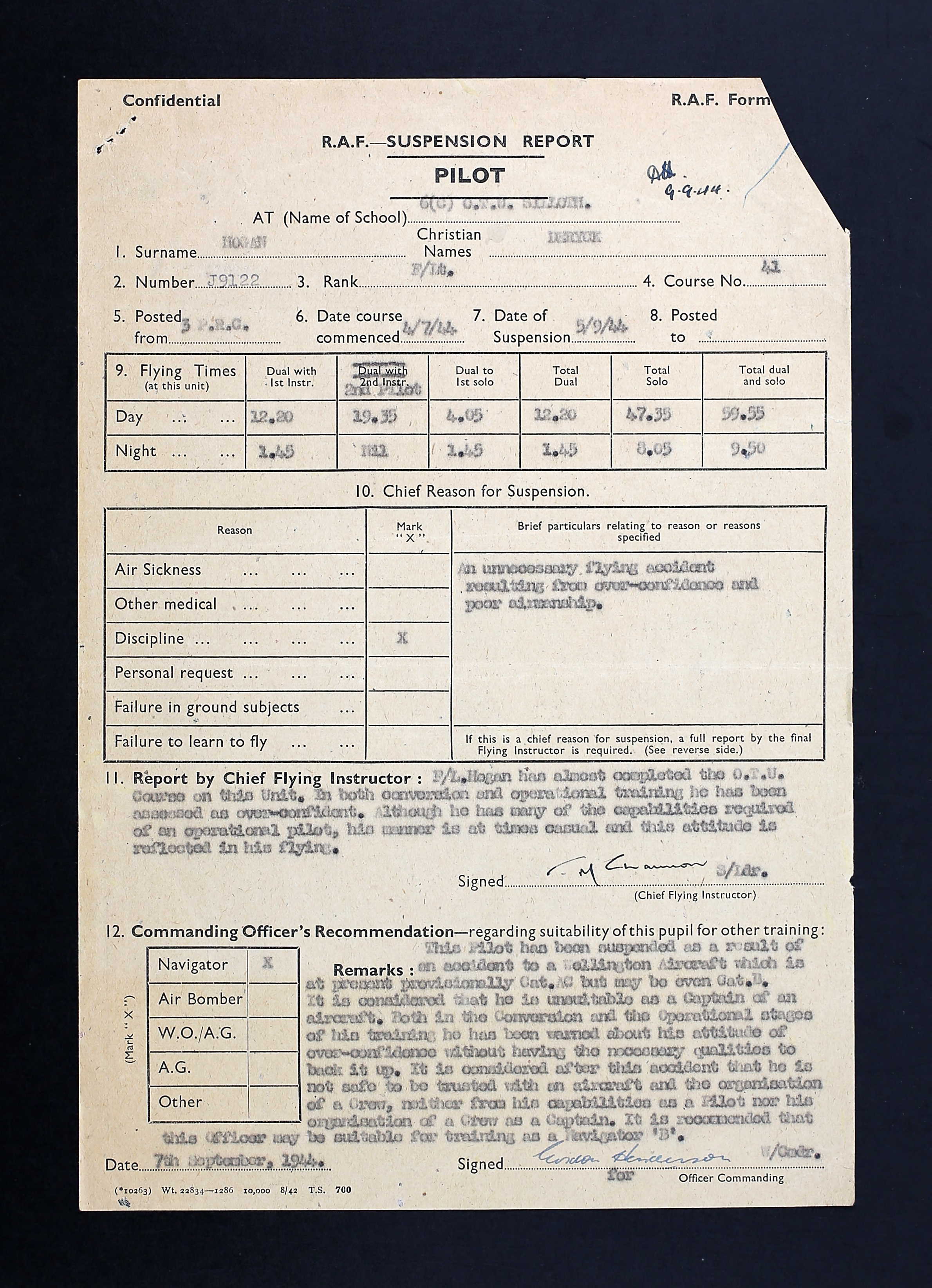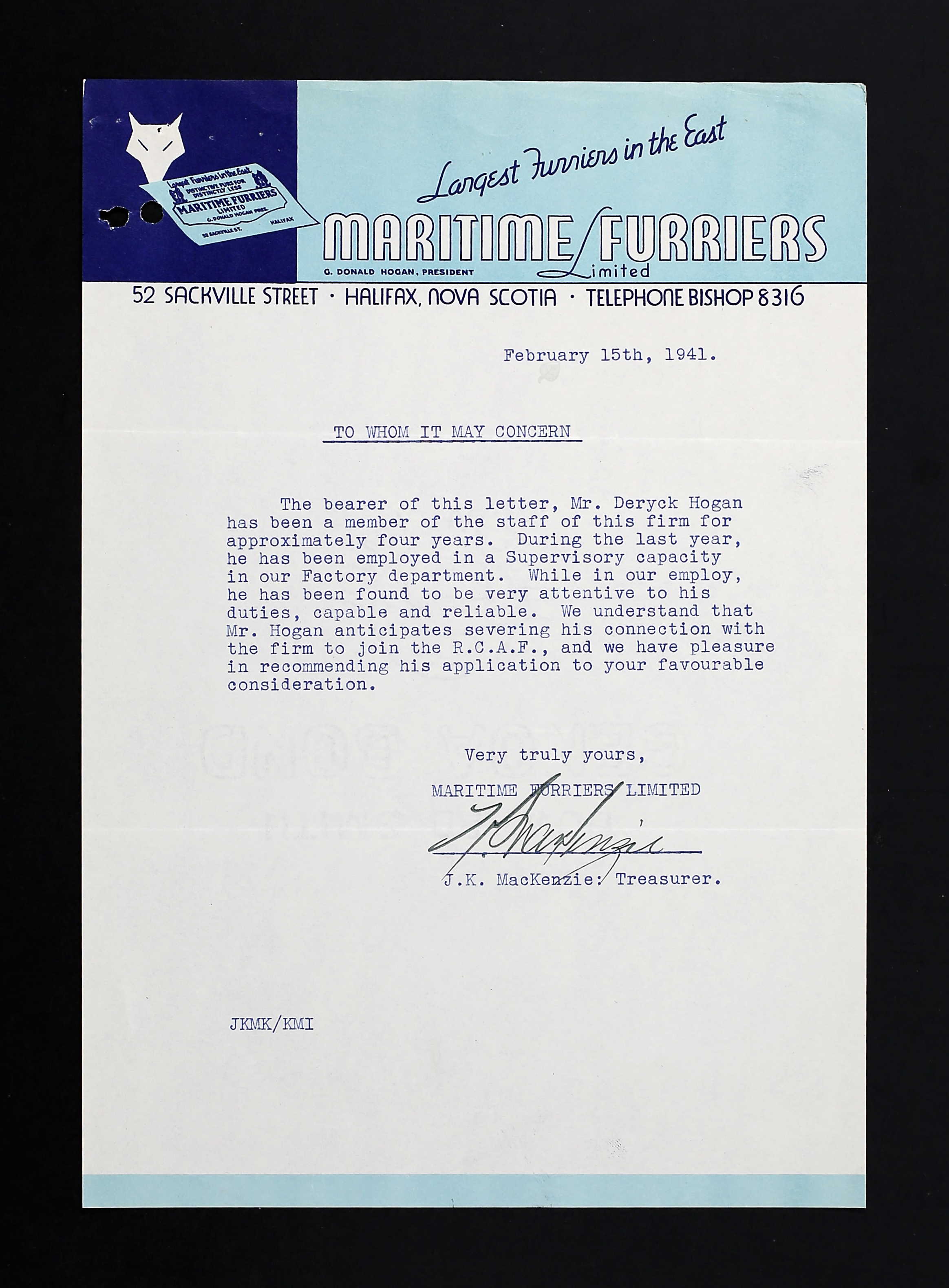 Furrier salesman joined RCAF and became pilot. Completed one tour with Eastern Air Command, sent overseas, but due to accident during training, sent back to Canada. Second pilot aboard Liberator 3715 lost at sea.
Deryck Hogan, born in Littlehampton, England, was the son of Charles Hogan, retired civil engineer, and Jean (nee Fulton) Hogan. Mr. Hogan remained in England. Mrs. Hogan and many of her children moved to Halifax area. Deryck, the youngest, was about seventeen when he immigrated to Canada with his mother. He had six brothers (Charles, George, Terence, Lionel, Arthur, Geoffrey) and two sisters (Helen Brown and Mrs. T. L. MacDonald); one brother, John, died of pneumonia at 8 years of age and one of his surviving brothers was being treated for tuberculosis. The family was Anglican.
his RCAF Interview Report, March 24 1941, Deryck stood 5'9" tall and weighed 159 pounds. He had three years of high school, two years as a patrol leader with the Boy Scouts and cadets for two years. General sports in season and stamp and butterfly collecting were noted. "Has worked past five years with Maritimes Furriers in Halifax (G. Donald Hogan, brother) in factory and as salesman. Should prove successful as Air Crew Pilot or Observer."
smoked ten cigarettes a day and was an occasional drinker. "Never to excess." He had moderate varicose veins on his right lower leg and a scar on his left leg, near his knee. He had hazel eyes, light brown hair and a fair complexion. "Pulse rapid due to nervousness. Does well on breath hold and expiratory and 40 mm test. Shows good cooperation and determination." He was noted as having a good average intelligence and was stable and well-adjusted.
had $2,197.64 ($33,321 in 2021) in a bank account in Halifax and $20 in War Savings Certificates, plus $50 in Victory Loan Bonds, his mother beneficiary. A $1000 life insurance policy was also left to his mother.
March 1941, Deryck had the German Measles and was in isolation for six days.
Deryck was sent to Toronto to No. 1 Manning Depot in March 1941 until May 4, 1941, when he was sent to TTS, St. Thomas, Ontario. He then went to No. 3 ITS, Victoriaville, Quebec from June 21 to July 25, 1941. He then went to No. 16 EFTS, Stanley, NS, then to No. 8 SFTS Moncton, NB. He was in Charlottetown, then Halifax and Yarmouth through the early part of 1943, taken on strength to RCAF Sydney by May 1943, then to Y Depot, Lachine, Quebec where he was sent overseas to England for further training for another tour.
June 17, 1942: "This officer has qualified as first pilot - day - on Hudson aircraft and throughout his training he has concentrated on his work to good advantage. His department in conduct has been very satisfactory. Retention recommended." 113 (BR) Squadron.
On the course 'Pilot Armament Officers', Course No. 10, July 24, 1943, Deryck earned 73.7% and was 5th out of 12 in the class, rated average. "Showed interest and facility in absorbing instruction. Has a quiet manner but also a keen retentive mind. Because of the broad scope and general nature of the course to make an accurate quantitative assessment difficult this T.20 is not truly indicative of this Officer's ability." Tennis and swimming were earlier noted as sports he enjoyed.
On October 25, 1944, in England, the proceedings of a Committee of Officers (Special Cases Committee) assembled at RCAF "R" Depot for the purpose of "the consideration and necessary action with respect to retirement and deprivation of the flying badge of an officer pursuant to a Policy and Procedure approved by the Minister" in the case of F/L D. Hogan, J9122, Pilot. (The hearing was completed by November 4, 1944.)
RECORD IN CANADA:
1. The above officer was born on 29th December, 1919. He has three years of high school and was employed in civil life as a furrier. He enlisted in the RCAF on the 7th of March 1941, and commenced his training at No. 3 ITS on July 21st 1941 and stood 22nd in a class of 145, obtaining 84% with the remarks: "Good quiet type. Intelligent, frank and very sensible. Solid, dependable. Conscientious. Good background. Mature. Cool and collected." 2. He commenced his course at #17 EFTS on the 27th of July 1941 standing 21st in a class of 29, obtaining 76.4% with the remarks: "Average student. Reserved, soft-soaping, pleasant, little trouble with work but worked hard to overcome it." 3. He continued his training at #8 SFTS on the 13th of September 1941, 583 out of 750 in ground training and 515 out of 750 in qualities of character and leadership, with the following remarks: "High average pilot in all respects. Should develop rapidly. Better than average ability. Quiet type and a steady worker. Keen on navigation. Above average on course. A very steady pupil, displaying a high average ability on all phases of training; is very keen and interested in navigation. Consistent in anything he undertakes." He had been commissioned on the 5th of December 1941. 4. He was posted for further training to No. 31 GRS on the 29th of December 1941 being assessed as above average but occasionally lacking in self-confidence. 5. He was posted No. 113 squadron on March 2nd 1942 and completed a tour of operations with that unit on Hudson and Ventura aircraft, being posted to Y Depot on January 27th 1944.
OVERSEAS RECORD:
6.He arrived in the United Kingdom on April 10th, 1944 and was posted to No. 6 (C) O.T.U. on July 4th 1944. He was suspended from training on September 5th, 1944 because of "an unnecessary flying accident resulting from overconfidence and poor airmanship." the CFI reported on the suspension report as follows: "Flight Lieutenant Hogan has almost completed the OTU course at this unit. In both conversion an operational training he has been assessed as overconfident. Although he has many of the capabilities required of an operational pilot, his manner is at times casual and this attitude is reflected in his flying." The Commanding Officer added the following remarks and recommendation: "This pilot has been suspended as a result of an accident to a Wellington aircraft which is at presently provisionally category AC but may even be category B. It is considered that he is unsuitable as a captain of an aircraft. Both in the conversion and the operational stages of his training, he has been warned about his attitude of overconfidence without having the necessary qualities to back it up. It is considered after this accident that he is not safe to be trusted with an aircraft and the organization of a crew, neither from his capabilities as a pilot, nor his organization of a crew as a captain. It is recommended that this officer may be suitable for training as a navigator 'B'." On the training report, he obtained 70.3% in flying tests and 40% in qualities of character and leadership. 7. Flight Lieutenant Hogan arrived at RCAF R Depot, Warrington, on September 26, 1944. Prior to appearing before the special cases committee, he was given an opportunity submit a statement in writing for its consideration but did not choose to do so. 8. He appeared before the special cases committee on October 25th, 1944. Describing the flying accident which was the reason for his suspension, he said his flaps had come down slowly and he touched down a third of the way down a slippery runway, in consequence rolling off the end. He said there were no other instances leading up to his suspension and he had been unable to find any reason for the report that he had been warned of his attitude of overconfidence. He said he had made a mistake which he would not repeat and that it was the first accident of his career and that he would like to get an operations or on transport command. He mentioned that Bostons, Mitchells, or Liberators would suit him. 9. This officer has done 1100 hours all told, including 118 operational sorties totaling 580 hours on Hudsons and Venturas with 113 Squadron in Eastern Air Command in Canada. This seems to be a case where there are extenuating circumstances for retention. Repatriation is nevertheless necessary owing to the impracticality of obtaining a posting for him in this country.
FINDINGS: the committee finds: 1. That this officer never suffered exceptional stress. 2. That he is medically fit for his full flying duties. 3. That no fear of flying is indicated. 4. That the record of a single accident set against a record of a great deal of successful flying on coastal operations in Canada does not establish this man to be an inefficient pilot.
RECOMMENDATIONS: The committee recommends: 1. That this officer be permitted to retain his flying badge. 2. That an attempt be made to obtain a posting for him to a Liberator O.T.U. or other flying duties and if that this is found impracticable, that he be retired under the provisions because of the exigencies of the service make it inexpedient to retain him. Retirement to be effective on completion of documentation.
SUMMARY of INTERVIEW: "Flight Lieutenant Hogan told the committee he had completed one tour of duty in Coastal Command [No. 113 squadron] prior to being posted to the United Kingdom where he resumed training at No.6 O.T.U. Describing the accident which led to his suspension, he said he had taken off one morning on a gunnery exercise which proved abortive due to the cloud conditions and he turned back, making one circuit, just under cloud at 600 feet, before coming into land. He claimed the flaps came down very slowly and he touched down about a third of the way down the runway. The aircraft kept on rolling so he applied the brakes which did not work very well. He rolled off the end of the runway and when he hit the grass, tried to swing the aircraft on one wheel but the ground was 'wet and gooey' from rain and he turned at about 90 degrees about halfway into a ditch. One prop snapped. As far as he knew, on investigation, the aircraft was found to be serviceable. He said there were no other incidents that led up to his suspension and he was unable to find any reason for the report that he had been warned about his attitude of overconfidence. He stated there was nothing that happened up to the time of this accident occured to lead him to believe everything was not going well during his training period when he saw the Group Captain commanding, he was told that he had come in too high and too fast. He denied that he had come into high and said this point could be checked with the control tower. This was done in the point verified, and he claimed he was then told that this part of the statement would be taken out of the report. He said he had come in at 90 knots. The regulation speed was 85 knots. His logbook was endorsed. Flight Lieutenant Hogan admitted that he had made a mistake which he would not repeat. It was the first accident of his career. Question regarding his future employment, he said he would like to go on transport command or be trained on Bostons, Mitchells, or Liberators. He said he was anxious to get on operations."
Deryck was sent back to Canada December 8, 1944 arriving at Lachine on December 19, 1944. He was sent to Moncton, then No. 11 Squadron Dartmouth by January 13, 1945.
On February 19/20, 1945, Liberator 3715 used by No. 11 (BR) Squadron at Dartmouth, Nova Scotia was lost at sea while on an anti-submarine sweep.
Members of the crew were: • F/L Geoffrey Apps, Pilot, Cannington, ON • F/L Deryck Hogan, 2nd Pilot, Rockingham, NS • F/L E. C. Ireland, Navigator, Edmonton, AB • F/O D. Murphy, WOAG, Sydney, NS • WO1 H. L. Teasdale, WOAG, Edmonton, Alberta • F/S W. R. Grant, WOAG, Saskatoon, SK • F/S D. A. MacLellan, Flight Engineer, Antigonish, NS
The search began on February 20 and ended on February 22, 1945 involving five Liberators. Two Hudson aircraft were sent out as were two Venturas. One of the Venturas sighted a nose wheel, an empty dinghy, sonobuoys, and other debris floating in the area near Sable island. A number of Cansos also took part in the search. On February 21, two sleeping bags were found washed up on the beach at Sable Island, plus a bomb bay gas tank and two empty dinghies.
Mrs. Hogan filled in the Estates Branch form. "You will notice that my husband, Charles Hogan, is living at Boxford, Colchester (Suffolk) England. We lived in England for 17 years (the youngest part of the family and I) when the boys left school and came out to Halifax, Canada to work for the Maritime Furriers. They begged to come also and make a home for them. In 1936, I came with my youngest son, Deryck, and have remained here as I am a Canadian. My husband refused to come, but there is no legal separation. I get no financial support whatever from him and have not since being in Canada."
In October 1955, Mrs. Hogan received a letter from W/C Gunn informing her that since her son had no known grave, his name would appear on the Ottawa Memorial.