David Alexander Rennie P2258
December 30, 1914 - September 14, 1939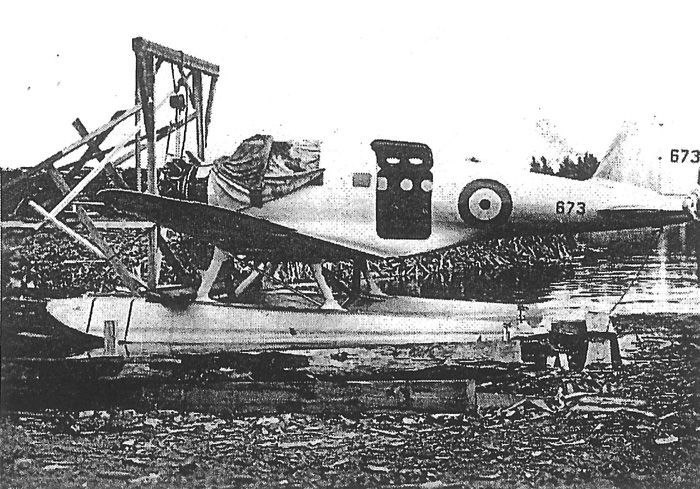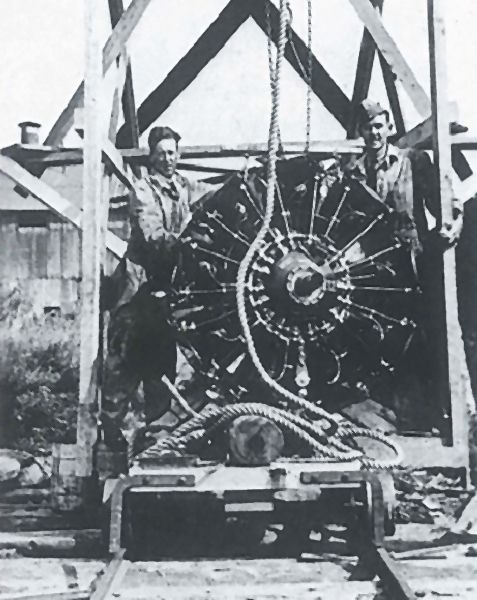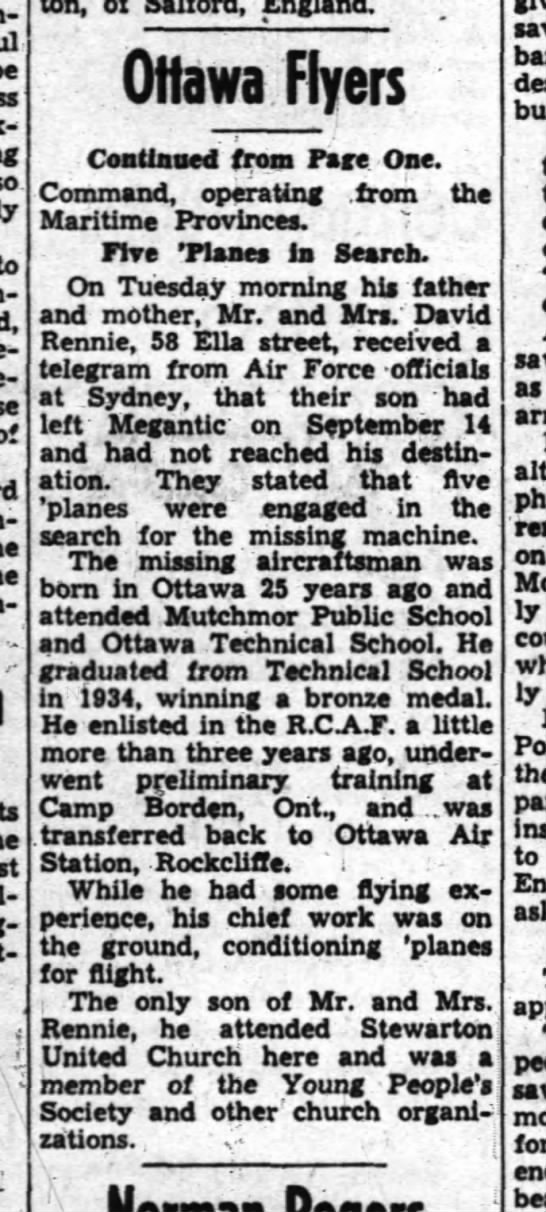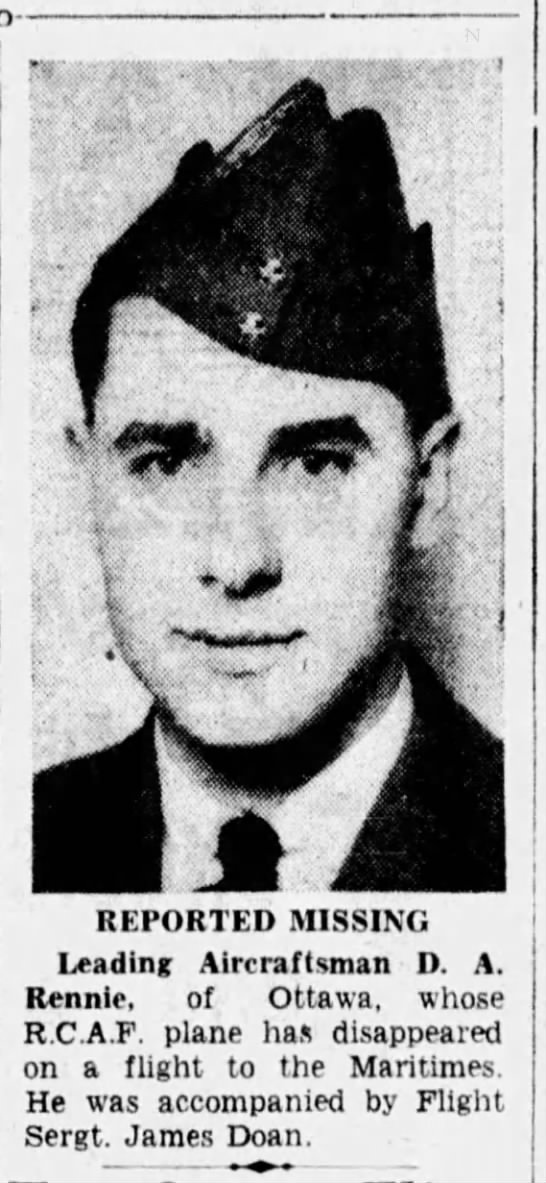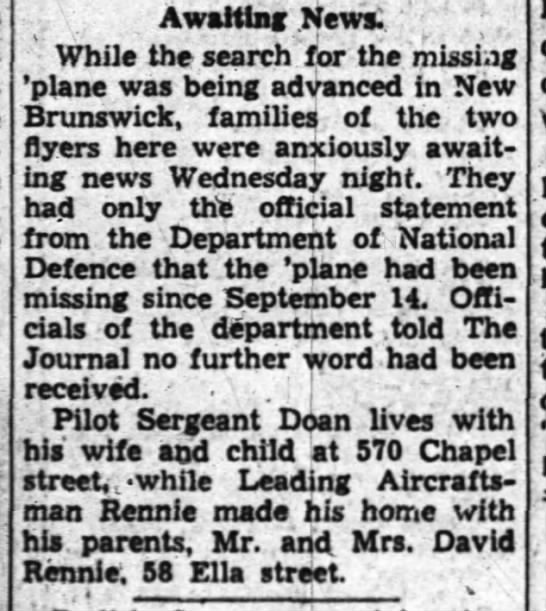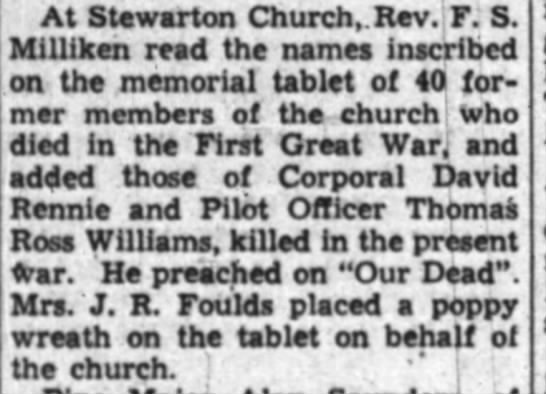 Service station attendant joined RCAF in 1936 and became a fitter (aero engine). Aboard Delta 673, he and his pilot were lost over New Brunswick, the wreckage discovered nineteen years later.
David Alexander Rennie was the son of David Rennie (d. 1956), RCMP policeman, and Isabella Rennie (d. October 1965), Ottawa, Ontario. David had a sister, Isobel Bateson (d. 2019).
He stood 6'1" and weighed 156 pounds, had hazel eyes and dark brown hair. David was colour blind. He was a messenger and service station attendance prior to his enlistment with the RCAF in October 1936, where he wanted to be a fitter (aero engine). "Average. Tries hard. A good worker. Bugler and dramatics." May 16, 1938, Camp Borden, Ontario. David had a general interest in all forms of entertainment and participated in plays, plus collected stamps.
In June 1940, a memorial was held for David at the Stewarton United Church. His name appears on the Ottawa Memorial.
En route from Megantic, Quebec to Sydney, Nova Scotia to take up wartime duties, a Delta reconnaissance aircraft disappeared. The aircraft was last spotted over Edmunston, NB and Plaster Rock.
A helicopter from J. D. Irving Ltd. spotted the aircraft on July 9, 1958 near Beaverbrook Lake. Part of the aircraft are at the Canadian Aviation and Space Museum in Ottawa. A plaque was unveiled on September 14, 2019 near Plaster Rock, NB eighty years after the crash. A watch belonging to Rennie and other articles which could not be identified were found. "The articles found would indicate that it was very unlikely that" either men "left their aircraft or survived the initial impact as survival equipment and medical supplies were found intact."
Doan and Rennie were the first two casualties of the RCAF during WWII. They are remembered on the Ottawa Memorial. Ted Doan is also remember on Vera's headstone in Alliston Union Cemetery, Alliston, Simcoe County, Ontario. A memorial was held in Rennie's honour at his church in Ottawa in November 1940.
For more information, please click on the links below.
LINKS: