David McGillivray Knowles J8822
September 6, 1919 - September 25, 1941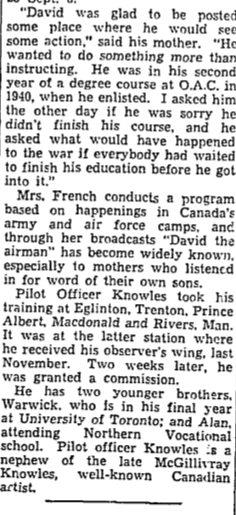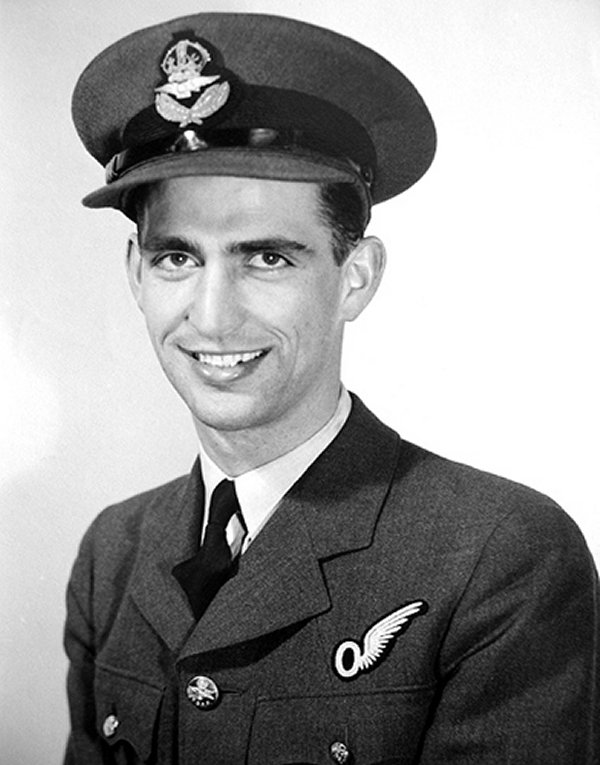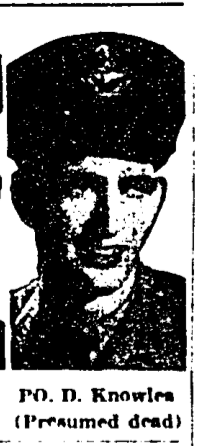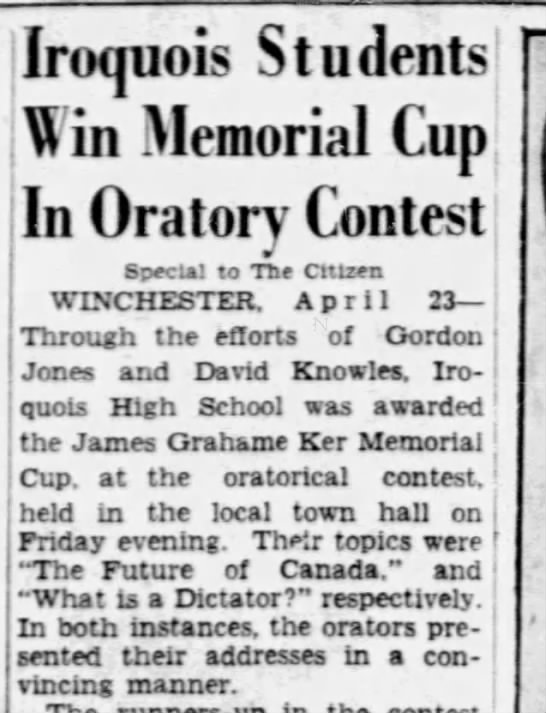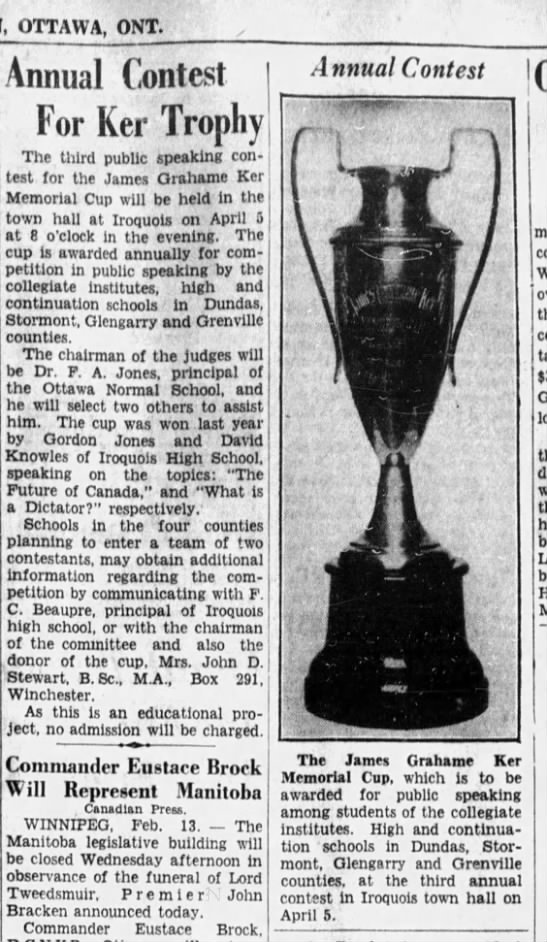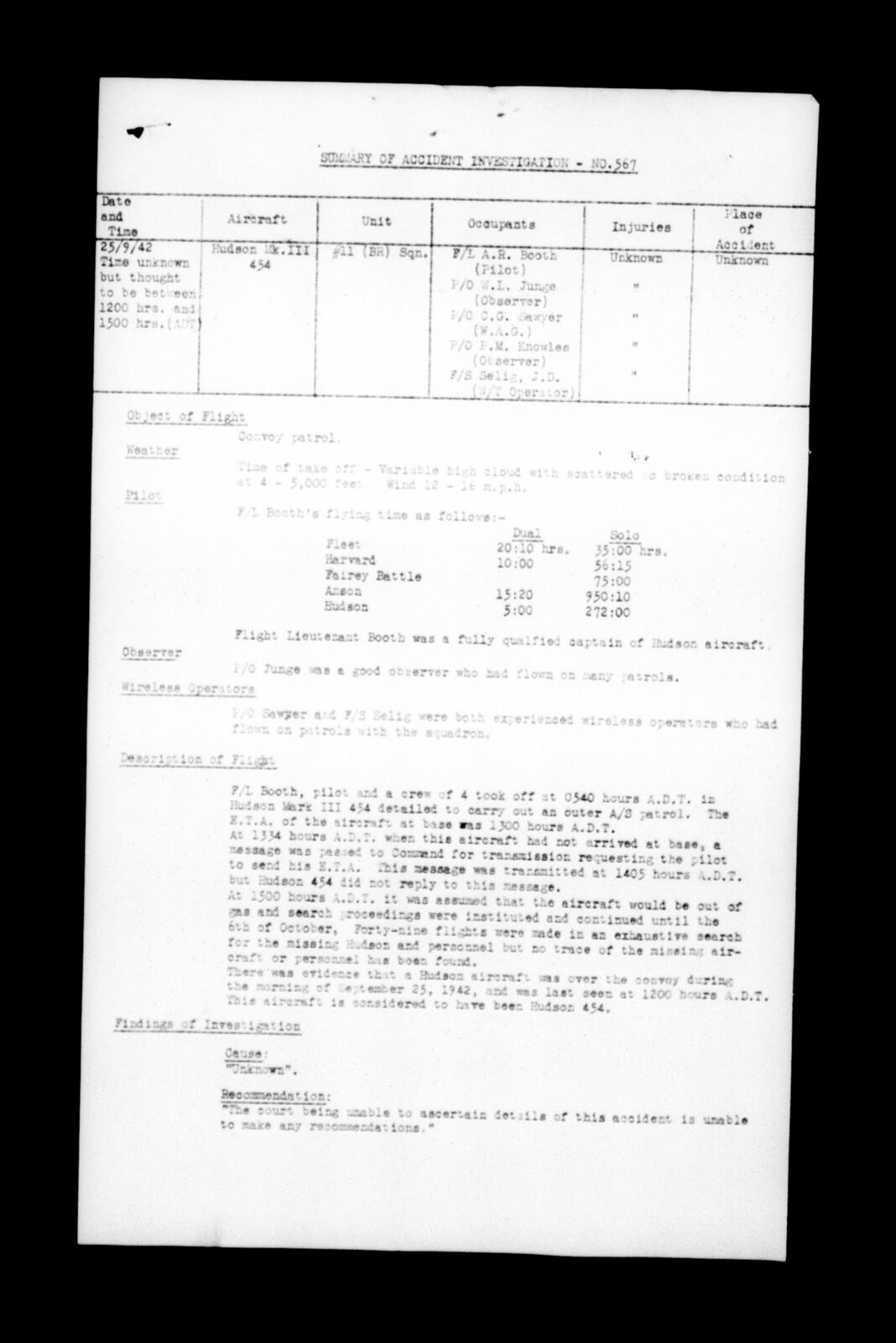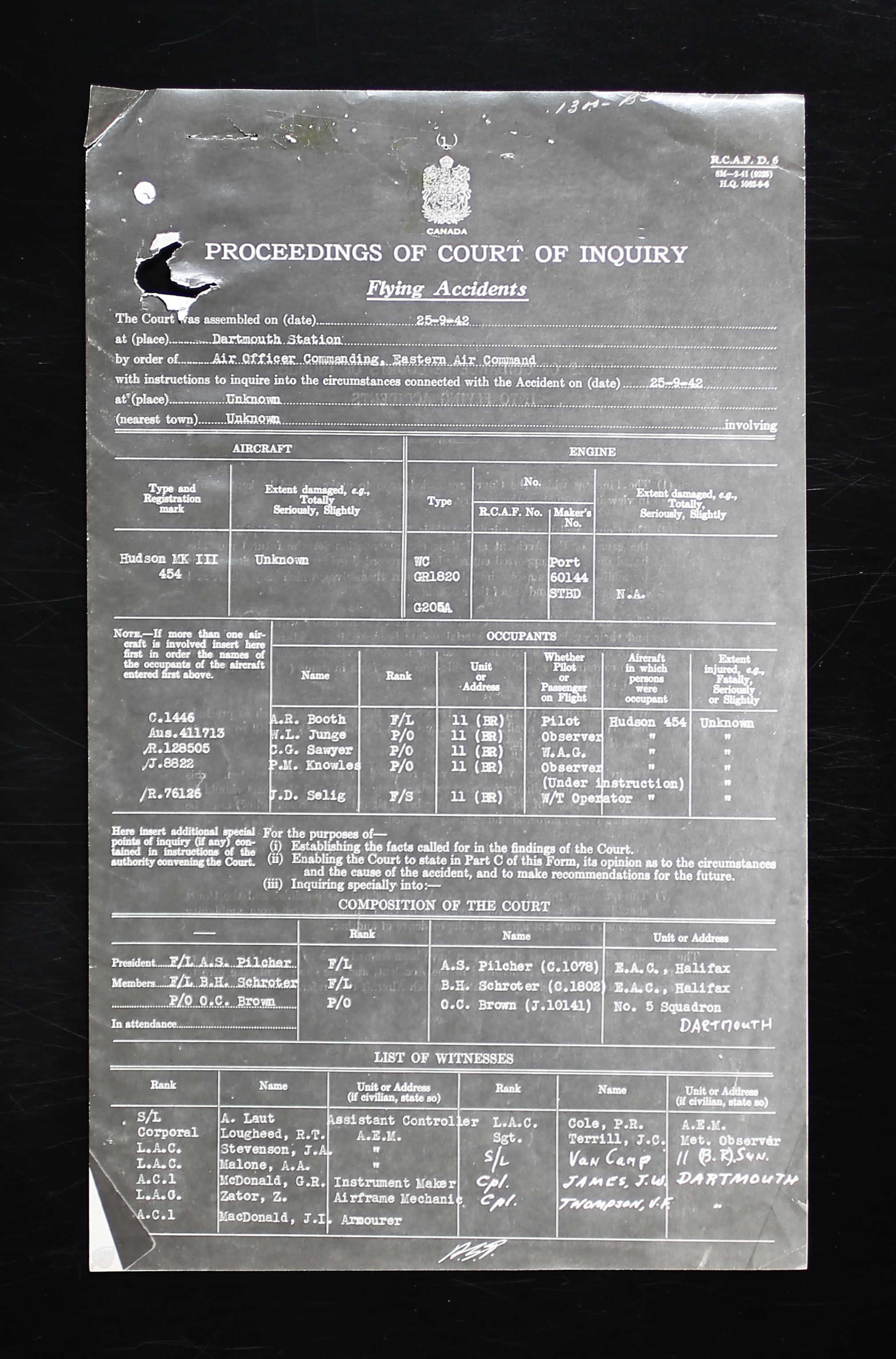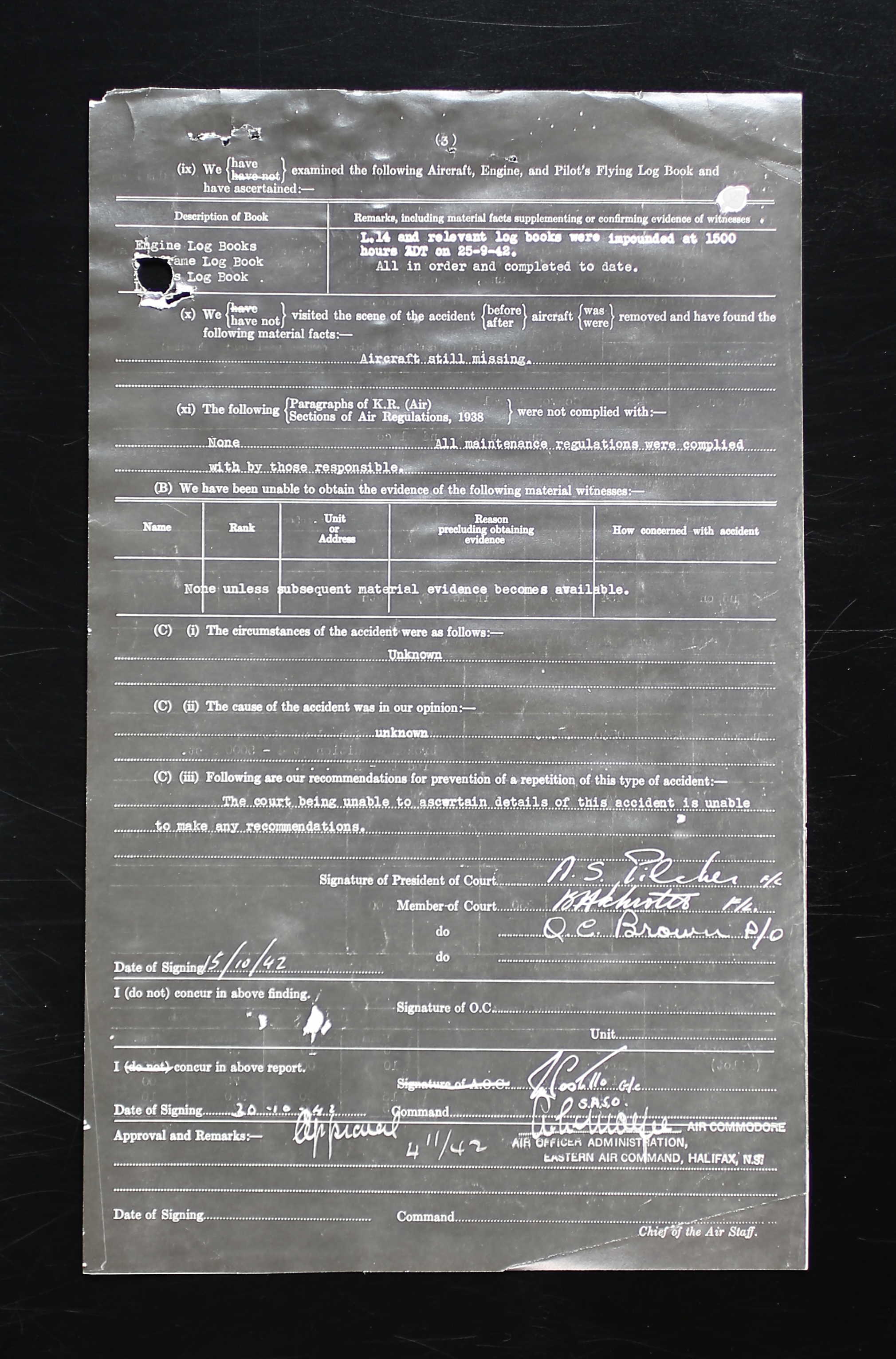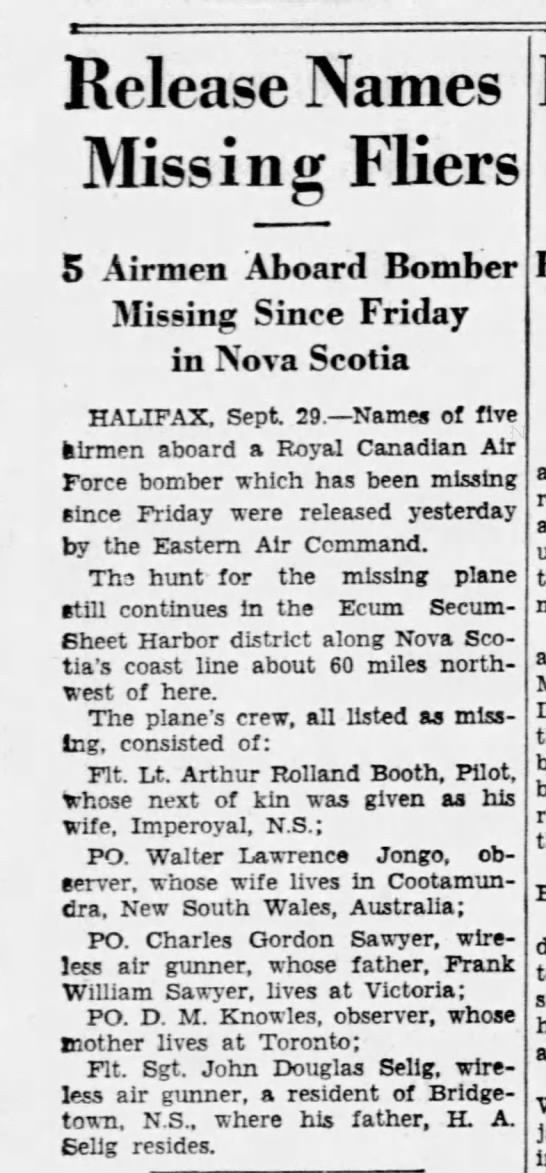 Agricultural student wanted pilot; became observer. Was instructor at No. 4 AOS before being posted to No. 11 BR Squadron, Dartmouth. Lost aboard Hudson BW454 with crew of five on anti-submarine patrol.
David McGillivray Knowles was the son of Maida Doris (nee Parlow) Knowles-French (1891-1977) and Arthur Raymond Knowles (1885-1927), manufacturer. David had two brothers, John Warwick Knowles (1920-2001) and Alan Kenning Knowles (1924-2002). The family attended the United Church.
David attended Iroquois High School and in April 1939, he and another student were awarded the James Grahame Ker Memorial Cup at an oratorical contest. He was part of the school's cadets from 1935-36. He was also at COTC at OAC in Guelph, Ontario for two months, instructing before he enlisted with the RCAF.
He indicated he liked to play rugby, tennis, badminton, softball, and swam. His hobbies included photography, public speaking, hunting, and fishing. He said he had high school French. He stood 5' 8 ½" tall and weighed 133 pounds. He had hazel eyes, black hair, and a dark complexion. He had a small scar 2" below on his right elbow, posterior.
"High strung, quick moving, impulsive, good effort, lots of pep and energy, fit underweight man; wants to be a fighter pilot. Should do alright." Other observations: "Clean intelligent type."
David, an agricultural student at Guelph College since 1940, started his journey through the BCATP in Toronto at No. 1 Manning Depot, November 11, 1940 until December 22, 1940, when he was sent to Trenton. He was at Riverdale, in isolation, December 16, 1940.
From February to March 1941, David was at ITS, in Toronto from February 21 to March 29, 1941. He was 25th out of 77 with 88%. "This airman sincere but nervous and anxious; lacks self assurance and dash."
From March 29, 1941 to May 16, 1941, extended, he was at No. 12 EFTS, Goderich, Ontario. "Ability as a pilot: poor. After 12:35 hours instruction, this student is still unable to fly solo. His take offs and landings are not consistent, and his judgment is very poor, depending upon his instructor to tell him what to do at all times." Ground training: "Ability average. Conduct good. Take off, erratic. Holding aircraft too low. Slipping and skidding on turns. Judgment very poor depending entirely on instructor for corrections. Landings very inconsistent. Recommend flying training discontinued."
David returned to No. 1 Manning Depot before being sent to No. 6 AOS, Prince Albert, Saskatchewan, June 7, 1941. "An excellent student of above average ability. 82.5%. 8th out of 40 in class."
David was in Course 26 at No. 3 BGS, Macdonald, from September 1 to October 13, 1941. "Satisfactory." He was 13th in the class of 34 with a 73.1%.
He was then sent to No. 1 ANS, Rivers, Manitoba, from October 13 to November 10, 1941. "Satisfactory in air and ground training. Above average ability and should make a good instructor, has two years university background." He earned his Air Observer's Badge on October 11, 1941.
David was at No. 4 AOS, London, Ontario December 6, 1941 until September 19, 1942. On December 16, 1941: "This officer seems to very backward with very little initiative. This may be on account of his only being on this station a very short time and not having any previous experience as an officer." While at London, he was at the station hospital June 4 -5, 1942. June 6, 1942: "He was posted to this station as Navigation Instructor, which position he has filled since his arrival. He is a keen, conscientious officer, doing a good job. His character is excellent."
He was then sent to Eastern Air Command, then attached to 11 Squadron at Dartmouth, Nova Scotia.
According to an article in the Ottawa Journal dated September 29, 1942, "The hunt for the missing plane still continues along Nova Scotia coastline about 60 miles northwest of Halifax. The plane's crew, all listed as missing, consisted of F/L Arthur Rolland Booth, pilot, whose next of kin was given as his wife, Imperoyal, NS. P/O Walter Lawrence Junge, observer, whose wife lives in Cootamundra, NSW, Australia. P/O Charles Gordon Sawyer, WAG, whose father, Frank William Sawyer, lives at Victoria; P/O David McGillvray Knowles, observer, whose mother lives at Toronto; F/Sgt John Douglas Selig, WAG, a resident of Bridgetown NS, where his father, H.A. Selig, resides."
In the Court of Inquiry, found in reel C-5936, image 1075, Arthur Booth had experience flying Fleet, Harvard, Fairey Battle, Anson and Hudson aircraft. He was a fully qualified captain of Hudson aircraft. The observer, F/O Junge was a good observer who had flown on many patrols. Twelve witnesses were called.
DESCRIPTION OF FLIGHT: "F/L Booth, pilot and crew of 4 took off at 0340 hours ADT in Hudson Mark III 454 detailed to carry out an outer A/S patrol. The ETA of the aircraft at the base was 1300 hours ADT. At 1334 hours ADT when the aircraft had not arrived at base, a message was passed to Command for transmission requesting the pilot to send his ETA. This message was transmitted at 1405 hours ADT but Hudson 454 did not reply to this message. At 1500 hours ADT, it was assumed that the aircraft could be out of gas and search proceedings were instituted and continued until the 6th of October. Forty-nine flights were made in an exhaustive search for the missing Hudson and personnel but not trace of the missing aircraft or personnel has been found. There was evidence that a Hudson aircraft was over the convoy during the morning of September 25, 1942 and was last seen at 1200 hours ADT. This aircraft is considered to have been Hudson 454.
The first witness, S/L Albin Laut, C861, assistant controller, Dartmouth, indicated that the captain of the convoy escort reported a Hudson aircraft intermittently throughout the morning. It was last seen at 1200 ADT. This must have been Hudson 454 as the relief aircraft did not take off base until 1230 ADT.
The fourth witness, LAC Arnold Avery Malone, R104172, indicated he assisted with the refuelling of the aircraft before It was put up for the night. "I was on the wings and saw that the gas tanks were full."
The sixth witness, LAC Zado Zator, R85069, airframe mechanic said that he checked the guages in the aircraft and "with a flashlight, I checked the tanks with the help of another man on the wing."
The eighth witness, LAC Perry Ralph Cole, R119683, AEM, said that he spoke with F/L Booth. "I was standing near Hudson 454 when F/L Booth came out to the aircraft at 0520 hours. I followed him into the cockpit of the aircraft. I saw him start up the engines and then he signed the L.1 and the crew list which I now submit as evidence. He asked me if the aircraft was ready to go. He said the aircraft was serviceable last night and should be already to go now. I saw five people in the aircraft. I did not know all of them by sight, but there were four officers in the aircraft and one flight sergeant as Wireless Operator. I knew F/L Booth and his Australian Observer, P/O Junge."
The tenth witness, S/L William Charles VanCamp, C873, Officer Commanding detailed F/L Booth and his crew to carry out an outer A/S patrol. "F/L Booth was a fully qualified captain of Hudson aircraft both by day and night. P/O Junge was a good observer who had flown on many patrols with 11 (BR). P/O Knowles, another observer, was under instruction having recently joined the Squadron. Both P/O Sawyer and F/S Selig were experienced wireless operators who had flown on patrols with the Squadron."
INVESTIGATION: Cause: Unknown. RECOMMENDATION: The court being unable to ascertain details of this accident is unable to make any recommendations.
FINDINGS: That Hudson 454 took off from RCAF Station, Dartmouth, NS on an outer anti-submarine patrol for a convoy at 0540 hours ADT on the 25th September 1942 and did not return, is missing and it is reasonable to suppose that it is lost.
CONCLUSION: Hudson, with an experienced pilot and crew, failed to return from an anti-submarine patrol. Considered lost at sea. Cause unknown.
A memo from the RCMP dated November 23, 1942: "It will be observed that inquiries have continued by our Sherbrooke and Sheet Harbour Detachments in an effort to secure information concerning the location of the forced landing of this aircraft, but without success, and in view of the length of time which has now elapsed since this airplane was first reported as missing, I am now considering my file as closed as there appears that little further can be done."
In June 1943, David's mother indicated that David had $500 in Victory Load Bonds, plus $11,000 in life insurance. "The $10,000 policy is now worth only $201.18 they tell me because he died in an aeroplane. The $1000 policy is now worth only $154 and 3% interest. Would it be possible for you to send my son's personal belongings to his younger brother, also in the air force, could make use of many of his things, and will be leaving Toronto within three weeks."