Daniel Joseph Murphy J22857
November 5, 1920 - February 19, 1945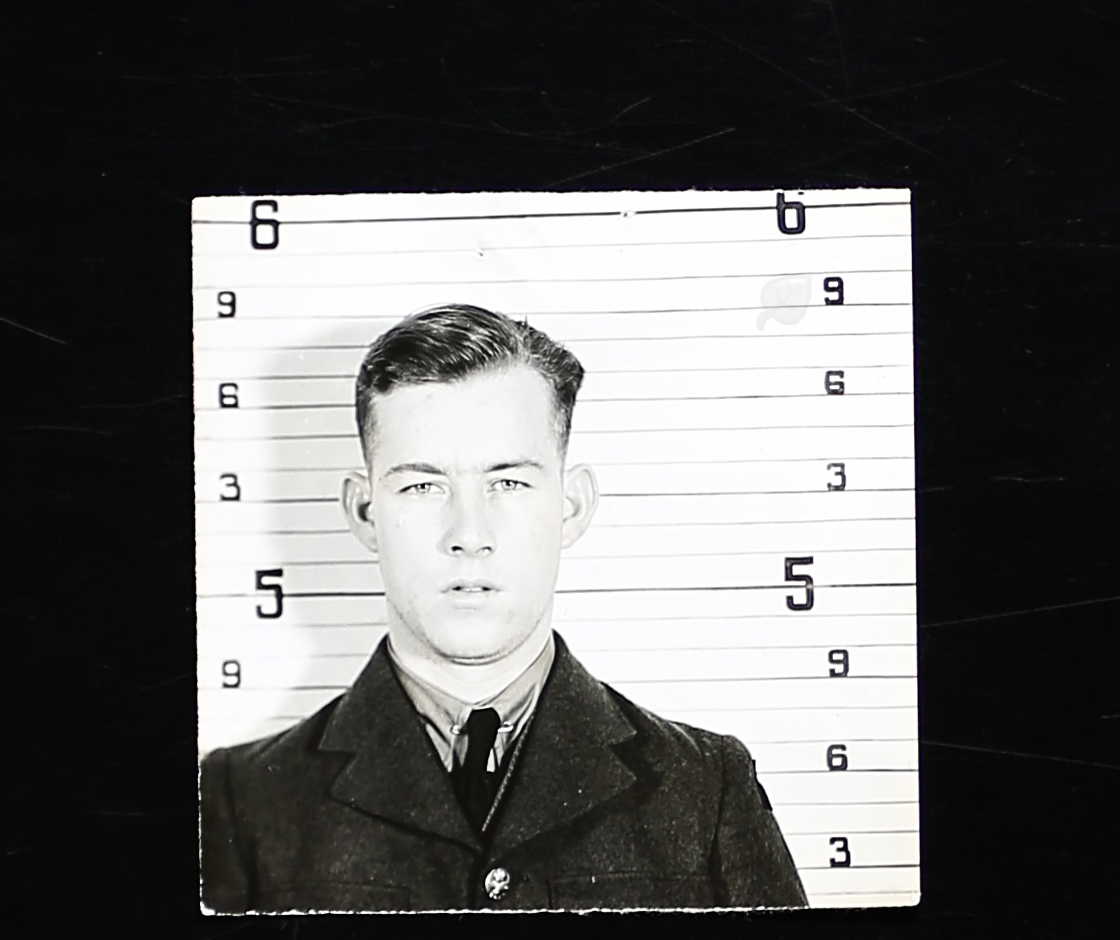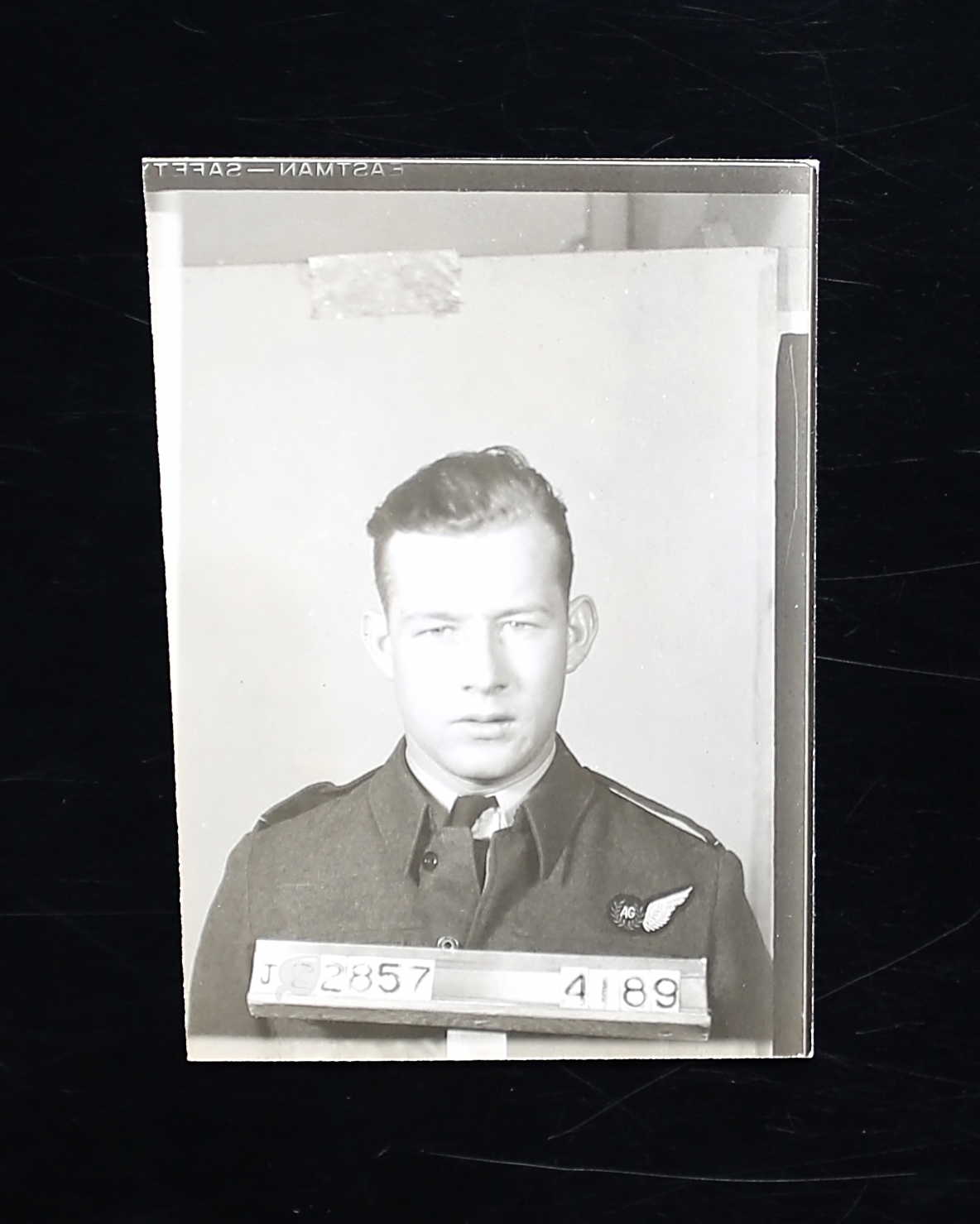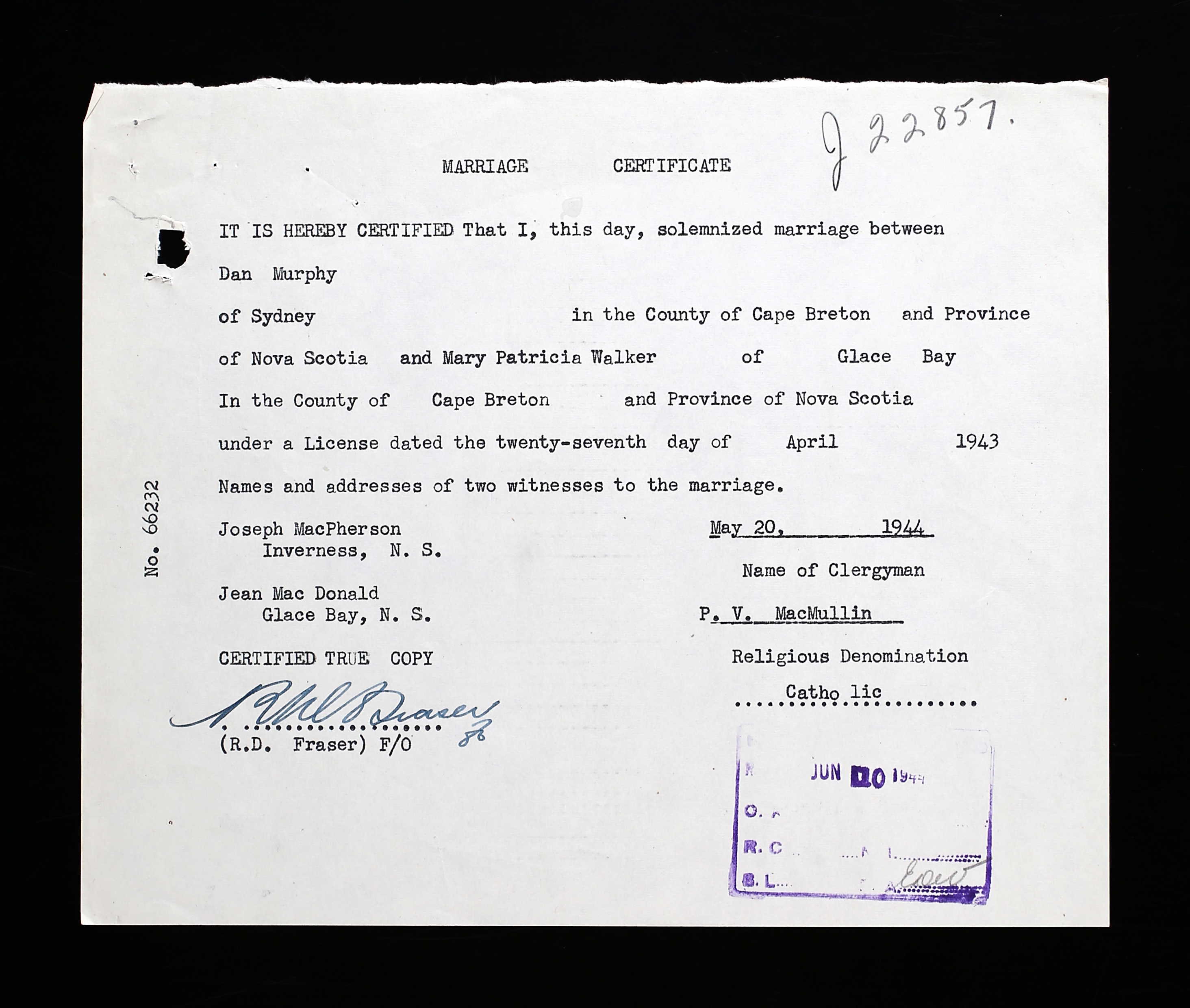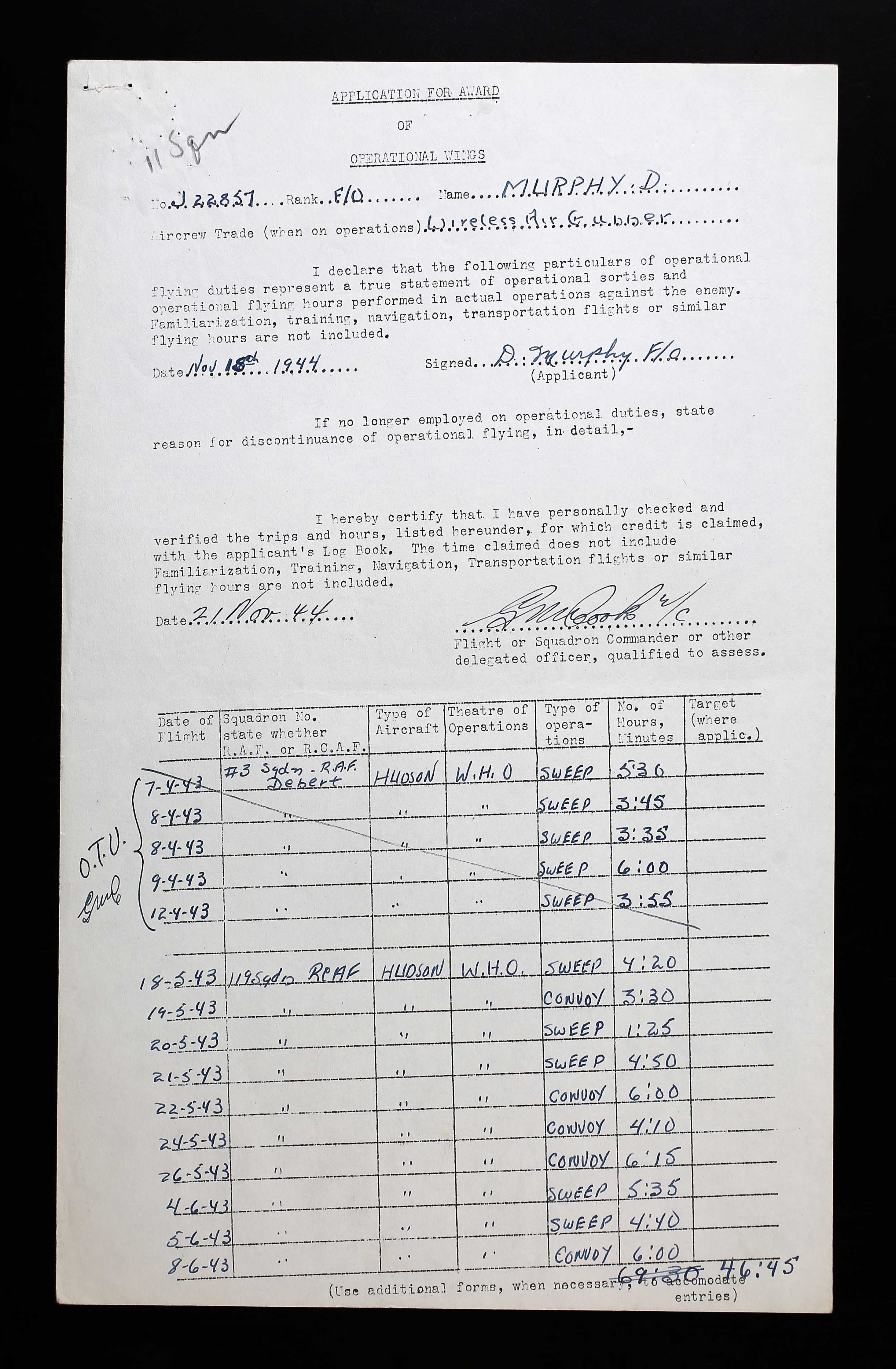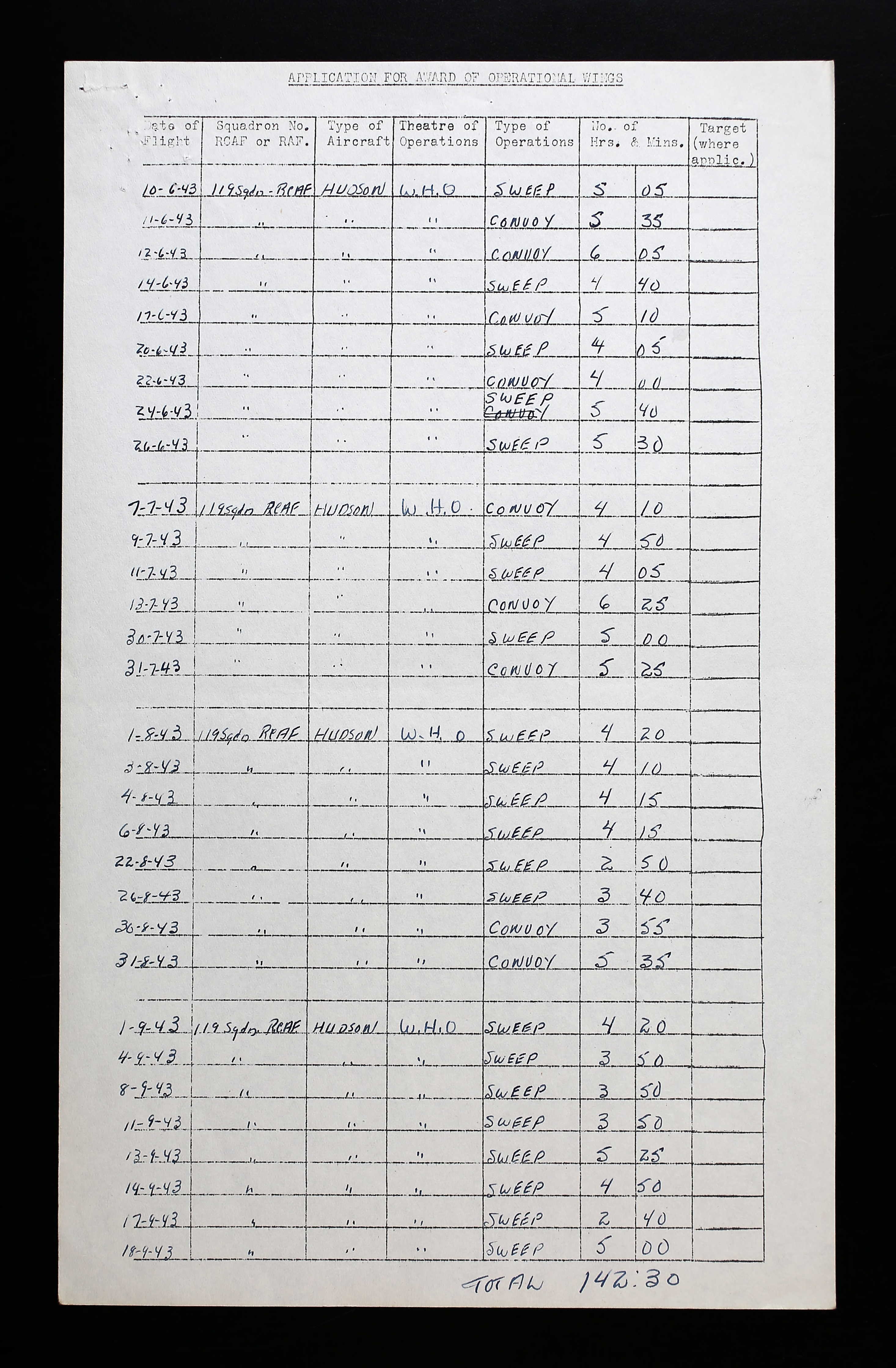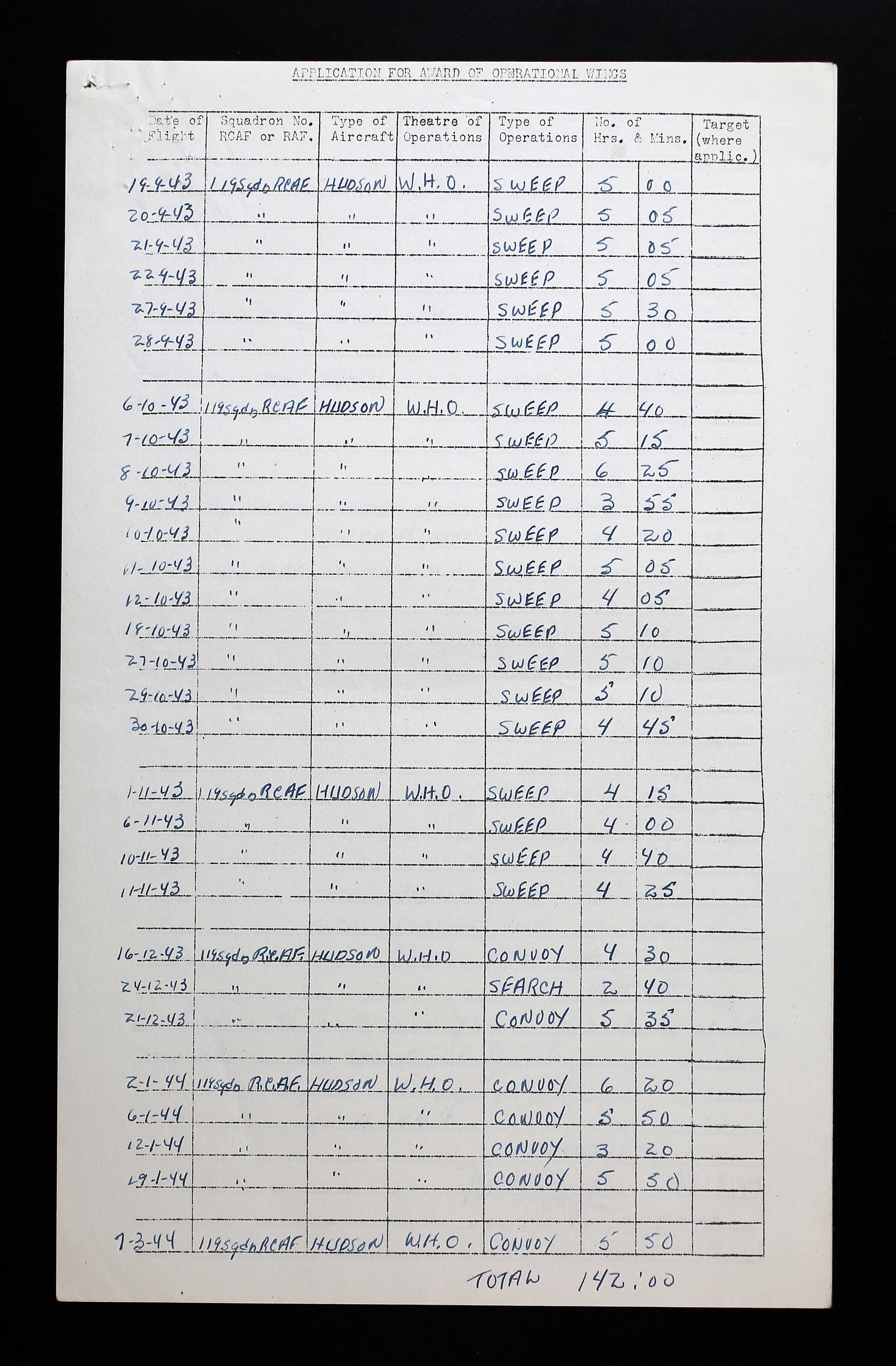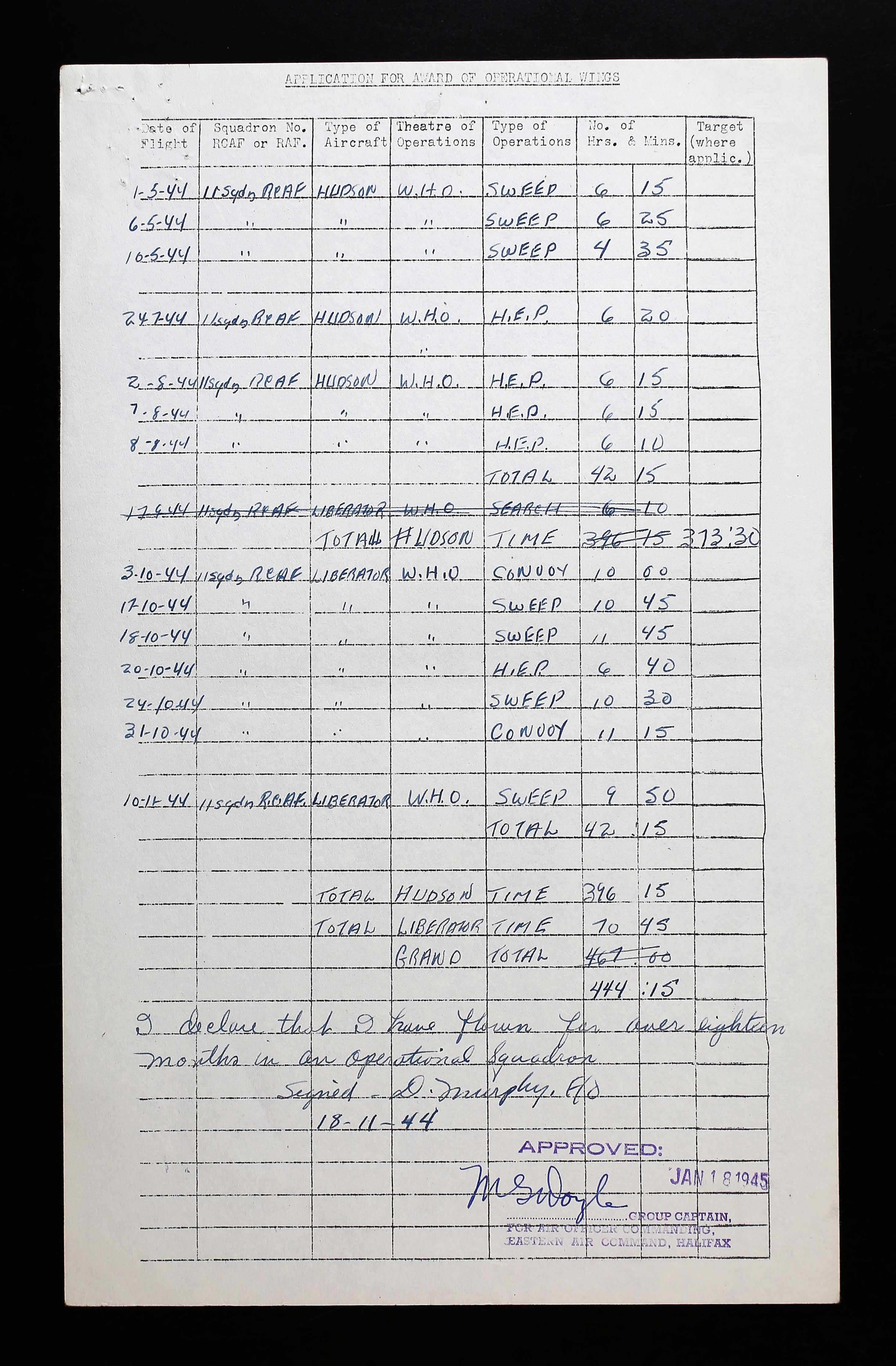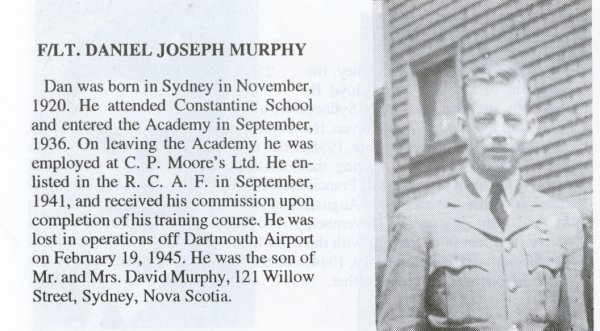 Hardware store clerk from NS becomes WAG aboard Liberator 3715 lost at sea.
Joseph Murphy was the son of David Murphy, steelworker, and Rose (nee Somers) Murphy, of Sydney, Nova Scotia. He had three brothers, James, Peter, and David. James was overseas and Peter had recently returned and was at Debert, Nova Scotia. He also had three sisters, Theresa, Ellen (died June 1935) and Mary (died December 1940). Another brother named Peter died in April 1915, according to the files. His mother, Rose, was also deceased. The family was Roman Catholic.
Dan left school at age 17 in 1937 and worked in retail as a hardware store clerk working for C. P. Moore. He was assured of his job after the war was over. He liked hockey, golf, and softball. He also liked to read.
He enlisted with the RCAF in October 1941. Dan stood 5'8" tall and weighed 147 pounds. He had blue eyes and light brown hair, with a fair complexion. "Sincere, alert, steady. Good aircrew material." He was seen as above average.
Dan started his journey through the BCATP on October 16, 1941 at No. 16 Recruiting Centre, Halifax, NS, then was sent to No. 1 Manning Depot, Toronto January 17, 1942. He then went to No. 1 ED, Toronto the next day until he went to No. 1 Wireless School, Montreal, May 24, 1942. From there he went to No. 4 Bomb and Gunnery School, Fingal, Ontario until January 22, 1943 and was posted to Eastern Air Command as a Wireless Air Gunner, earning his badge on January 11, 1943.
At No. 1 WS: 83.9%, 11th out of 36 in his class. At No. 4 BSG: "A very good student. Has plenty of initiative." He was 7th out of 19 in his class with an 80% for Air Gunnery; he was 4th out of 19 in his final assessment. "Recommended for commission."
He was taken on strength at No. 119 Squadron, Mont Joli, Quebec, was sent to Virginia Beach, USA July 1943. He returned to No. 119 Squadron at Mont Joli then was transferred with the Squadron to Sydney, NS December 2, 1943 until April 20, 1944, when he was sent to No. 11 Squadron, Torbay, Newfoundland. In September 1944, he was in Washington, DC. Daniel was then posted to Dartmouth.
In April 1943 at No. 31 O.T.U., Debert, NS: "Standard of ground work above average. Below average as an air operator and an average air gunner. Did not show sufficient interest in his work as an air operator. This officer did not exert himself sufficiently during the course."
Dan married Mary Patricia Walker on May 20, 1944 in Glace Bay, NS. They had a daughter, Danette Marie Murphy, born on April 17, 1945. They resided in Glace Bay, Nova Scotia. Mary was the beneficiary of $600 worth of Victory Loan Bonds; his father was the beneficiary of a Mutual Life $1000 life insurance policy.
Within Dan's files, a listing of his ops was included. He was aboard Hudsons and Liberators, doing sweeps and convoy duty. He had completed one tour of operations, but his certificate was not given prior to him being reported as a casualty.
On February 19/20, 1945, Liberator 3715 used by No. 11 (BR) Squadron at Dartmouth, Nova Scotia was lost at sea.
Members of the crew were: • F/L Geoffrey Apps, Pilot, Cannington, ON • F/L Deryck Hogan, 2nd Pilot, Rockingham, NS • F/L Earl C. Ireland, Navigator, Edmonton, AB • F/O Daniel J. Murphy, WOAG, Sydney, NS • WO1 H. L. Teasdale, WOAG, Edmonton, Alberta • F/S W. R. Grant, WOAG, Saskatoon, SK • F/S D. A. MacLellan, Flight Engineer, Antigonish, NS
The search began on February 20 and ended on February 22, 1945 involving five Liberators. Two Hudson aircraft were sent out as were two Venturas. One of the Venturas sighted a nose wheel, an empty dinghy, sonobuoys, and other debris floating in the area near Sable island. A number of Cansos also took part in the search. On February 21, two sleeping bags were found washed up on the beach at Sable Island, plus a bomb bay gas tank and two empty dinghies.
In July 1945, Mary received a letter informing her that Daniel was, for official purposes presumed dead. In October 1955, Mr. Murphy was sent a letter informing him that since Daniel had no known grave, his name would appear on the Ottawa Memorial.