Colin Gartrell Child J21733
January 8, 1919 - September 6, 1942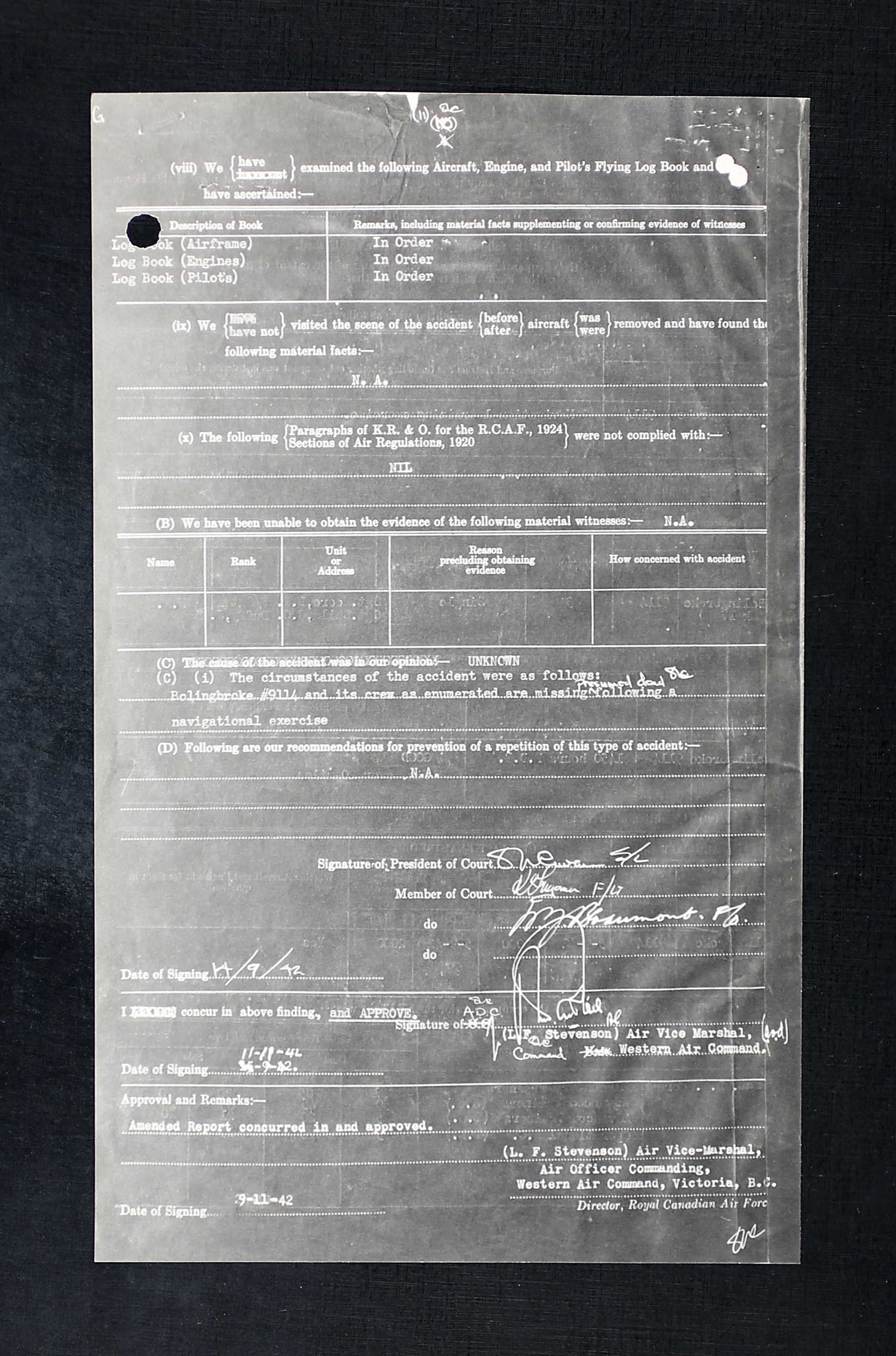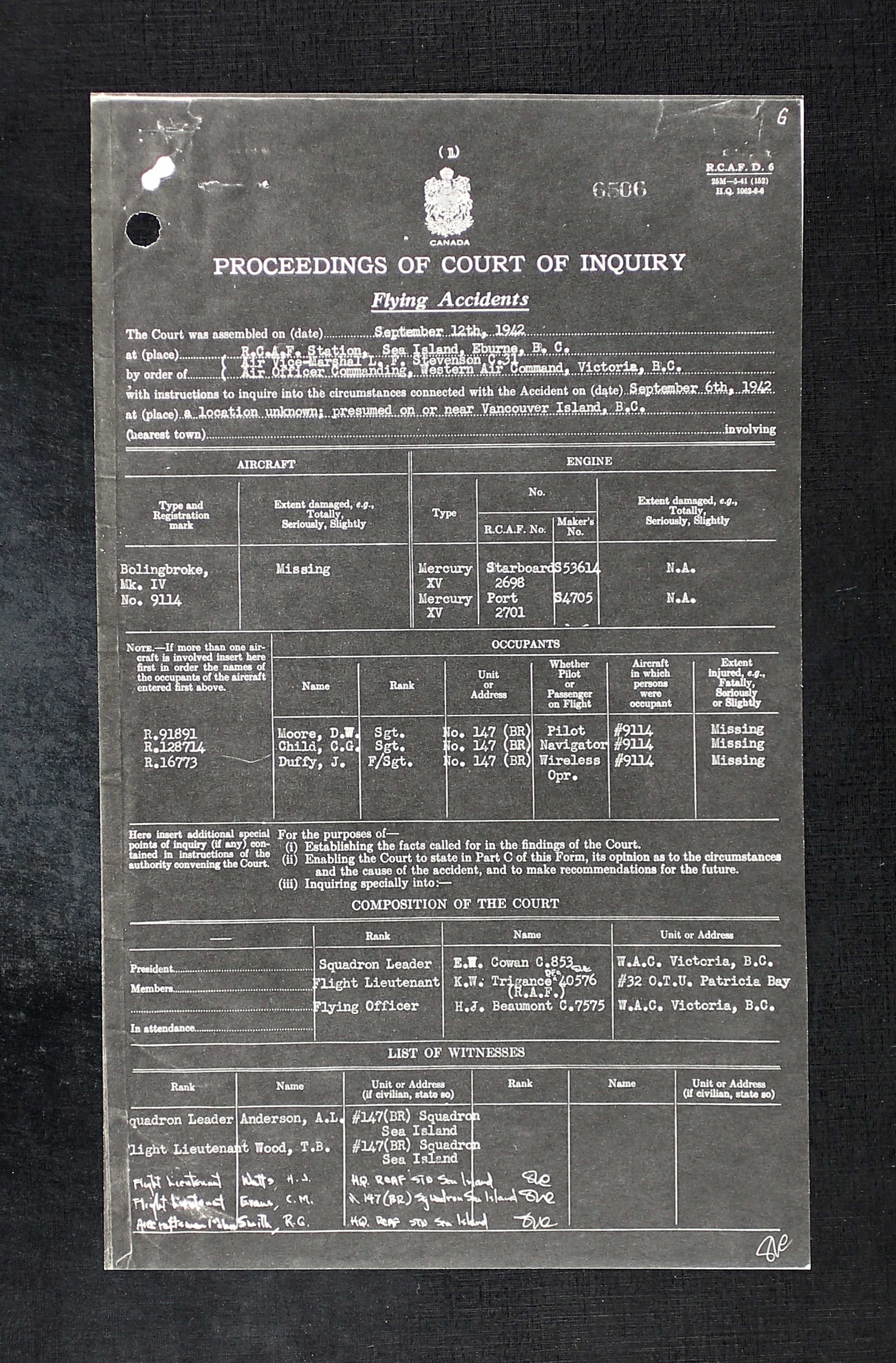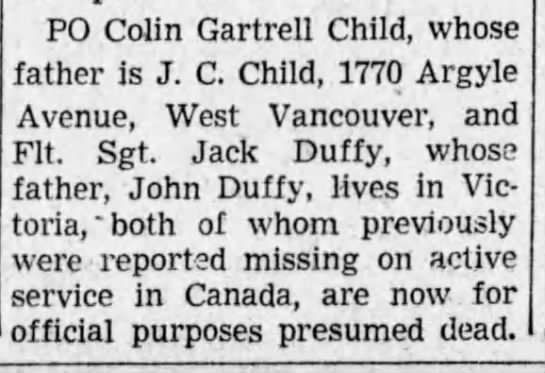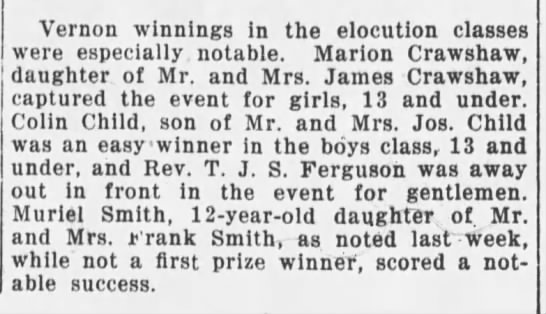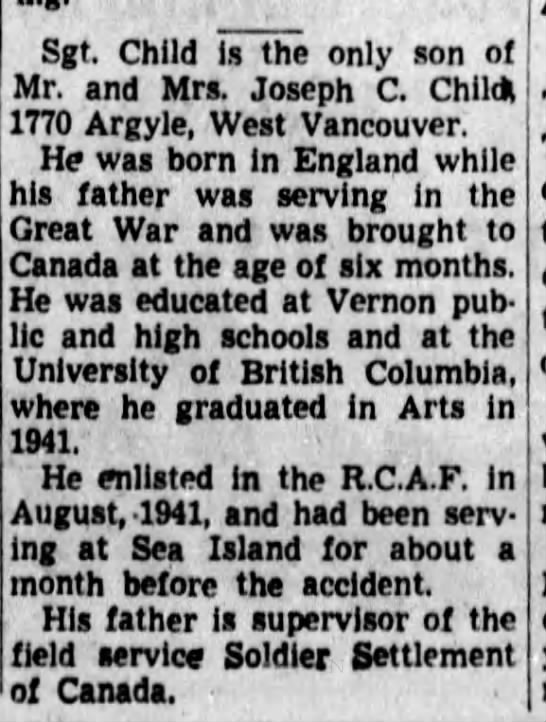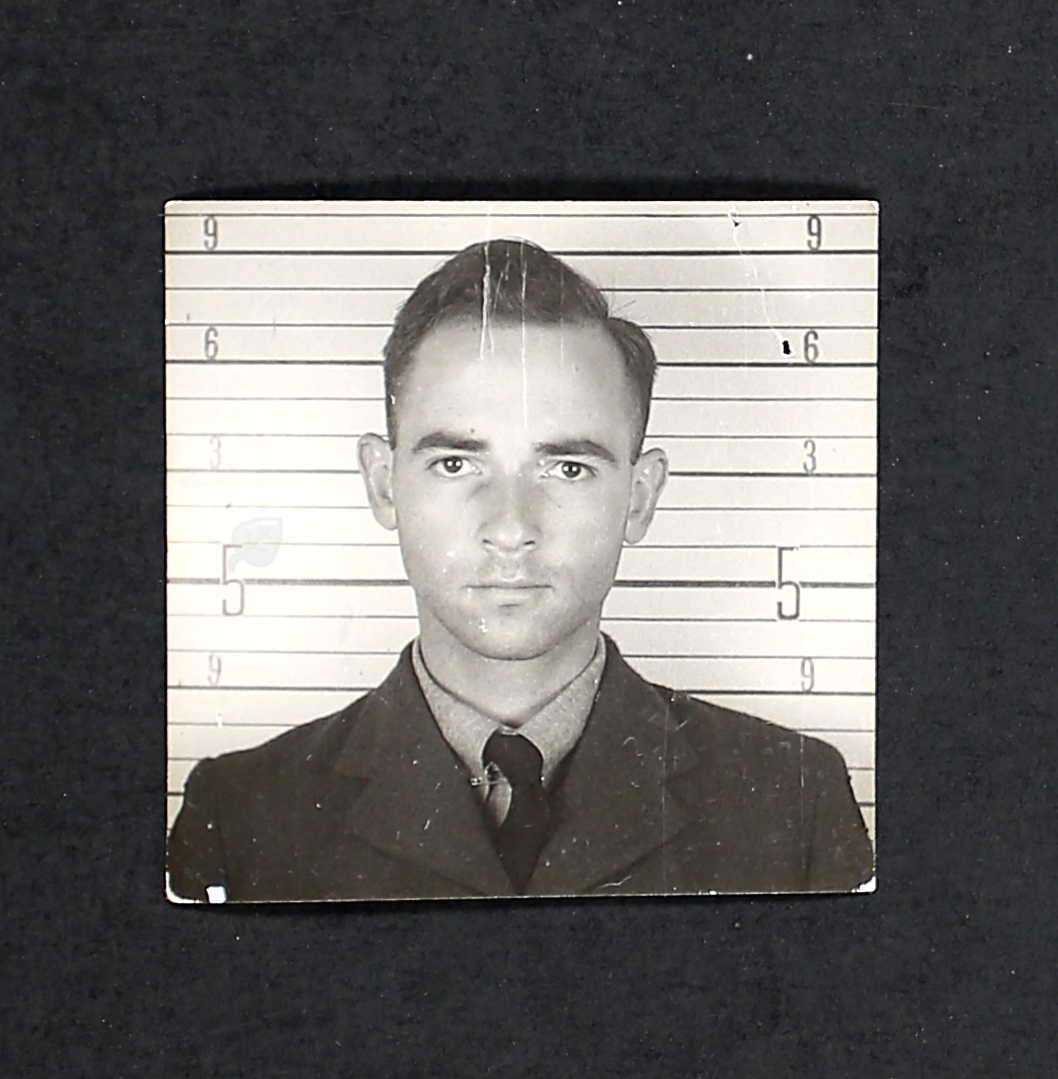 A university student joined RCAF as observer. Aboard Bolingbroke 9114, he and three other crew were lost during a cross-country navigation exercise from Sea Island to Vancouver Island.
Colin Gartrell Child, born in Barrow-in-Furness, England, was the only child of Joseph Colin Child, Chief Supervisor of the Field Service, Soldier Settlement of Canada (1888-1949), and Bertha Margaret (nee Gartrell) Child (1889-1959), of Vancouver, British Columbia. Mr. Child was a scout in the 29th Vancouver Battalion, later with the RAF. The family, having moved to British Columbia when Colin was six months old, living in Vernon, then West Vancouver, attended the Anglican Church.
Colin attended the University of British Columbia (1938-1941, Arts and Science, where he learned some French and was a member of the COTC, qualified as 2nd Lieut. "I am naturally keen on flying. Over a year ago, I enquired at the RCAF Recruiting Station but the waiting list for pilots was so long that I decided to finish my course at UBC and took the Officer's Training Course while doing so." He resided with his parents in West Vancouver when he enlisted with the RCAF in September 1941. His hobbies included photography, target shooting, pheasant and duck shooting, motor boating, and car driving. He was a Scout and Cub instructor. He enjoyed a variety of sports including swimming, basketball, sailing, rowing, skating, hockey, skiing, badminton and ping pong. "Have spent my summer vacations in forestry and mining camps and on biological and entomological surveys. Know the bush well." After the war, he wanted to go into teaching.
Colin began his journey through the BCATP at No. 1 Manning Depot, Toronto, September 2, 1941. He was then sent to No. 1 SFTS, Camp Borden from October 11 to November 23 1941.
At No. 1 ITS, Toronto, from November 24, 1941 to January 22, 1942: "23rd out of 30 in class. 79%. Intelligent, serious type. Energetic and would accept responsibilities. Clean cut. Good service spirit. Nav. Supp 156 due to time lost on Christmas holidays. This subject was completed for the first time on this course and there was a shortage of instructors and equipment."
At No. 1 AOS School, Malton, Ontario, Course 44 from February 16 to May 24, 1942: "Ground and air work good. Will do a good job. Good man both on ground and in the air. Does the required work but has a questioning attitude." Colin earned a 76% and was 12th in his class of 24. He was sent to No. 1 B&G School, Jarvis, Ontario, until July 4, 1942: "Fair in bombing and in gunnery. Not overly energetic. Not very good sense of responsibility." He was 12th out of 29 in his lass with 68.7%. His next stop: No. 1 ANS, Couse 44, July 20 to August 21, 1942. On August 15, 1942, Colin was confined to barracks for three days, Rivers, Manitoba for being found improperly dressed in the town. "Air work fair. Can do a good job of navigating though he needs an occasional check. Ground work fair. Not a hard worker." He was 12th out of 24 in chis class with 70%. "Has an independent streak but can do good work." Colin was awarded his Air Observer's Badge on August 21, 1942.
Colin returned to the West Coast and Western Air Command, Victoria August 27, 1942, then was taken on strength with No. 147 Squadron, Sea Island, BC on August 29, 1942.
While on a cross country flight navigational training flight over the southern tip of Vancouver Island, Bolingbroke 9114 failed to return, departing Sea Island at 1450 hours. The last message heard was at 1510 hours. Aboard were Observer Sgt Colin Gartrell Child, R128714, WOAG, Flight Sergeant Jack Duffy, R76773 and Pilot, Sergeant David Wayne Moore, R91891. A Court of Inquiry was struck on September 12, 1942. [Microfiche T-12353, Image 5121].
The first witness, S/L Alton Lester Anderson, C1309, Officer Commanding No. 147 BR Squadron, Sea Island stated: "At approximately 1800 hours on 6 September 1942, I received a telephone call informing me that Bolingbroke 9114 had failed to return from a cross-country flight originating at Sea Island, thence to Cape Flattery, 207 degrees magnetic, distance of 92 miles; thence to Tofino, 295 degrees magnetic, distance of 61 miles; thence to Sea Island, 59 degrees magnetic, distance of 112 miles…this flight normally takes one hour, 45 minutes. At approximately 1900 hours, I took off in Bolingbroke 9052 with P/O R. A. Dalton, in an effort to search as much of the area as possible before darkness. I was forced to turn back from Cape Flattery owing to rain, low clouds, and darkness. Further details of the search for this aircraft up until time of the sitting of this court have been organized and ordered by the Controller, WAC. Subsequently, the entire Vancouver Island has been searched up to Latitude 50 degrees North. Approximately 80 hours of searching has been done by this squadron which has been severely hampered by poor visibility due to smoke and no trace of the missing aircraft has been located. In my opinion, the pilot was a very even-tempered man, self-contained, and a competent pilot. The weather on the day of the cross country was considered suitable for flying over the greater portion of Vancouver Island. Small patches of fog were reported over the western edge of the island and all pilots had been duly cautioned not to fly through adverse weather but to return to base, turning back if necessary over the route they have previously followed. Rapidly deteriorating weather had come in very fast from the northwest and by darkness had covered the entire island…no trace of the aircraft could found found, nor had anyone seen the missing aircraft during its flight prior to its disappearance, after examining all the pilots and observers concerned with the search."
"OBSERVATIONS: The aircraft was serviceable, complete with equipment, including dinghy, and captained by a competent pilot. The area where the aircraft was scheduled to fly in has subsequently been searched. FINDINGS AND RECOMMENDATIONS: A search has been undertaken for this aircraft without success, hence inability on the part of the Court to submit findings and recommendations." CONCLUSIONS OF ACCIDENT INVESTIGATION BRANCH: "The pilot, comparatively inexperienced on operational aircraft with a crew of two failed to return from a cross country flight, half of the course being over water. CAUSE: Unknown. No trace has been found of the missing aircraft and three occupants after 14 days. It is considered that the occupants may reasonably be presumed to be dead."
In January 1942, category C damage while at Yarmouth, NS was noted, probably due to storage. Bolingbroke 9114 then was at No 4 Repair Depot, Scoudouc, NB and issued from storage on June 1, 1942 to No. 119 BR Squadron, Sydney, NS. Then to WAC, July 20, 1942 for use by No, 147 BR Squadron which formed at RCAF Station, Sea Island, July 1942. Noted: October 6, 1942: struck off, reduced to spares and produce./p>
On August 9, 1943, Mrs. Child wrote to the Administrator of Estates: "We received nearly all of our son's personal effects, but one bundle of letters was missing, and we had promised to send them back to his friend, Nancy. Will you please tell us why there were not with his other belongings?" She received a reply on August 25, 1943. "We are indeed sorry to learn that a bundle of letters which you were expecting to receive were not included in the effects. It is regretted that the Officer who has been looking after your son's file is presently on furlough. He will, however, reply to your enquiry immediately upon his return."
Colin has $97 in his bank account and $1000 in life insurance.
Besides having his name on the Ottawa Memorial, at the University of British Columbia, Colin is remembered along with other students who went to war and did not return.