Clyde Burton Rourke R90074
January 2, 1921 - December 13, 1941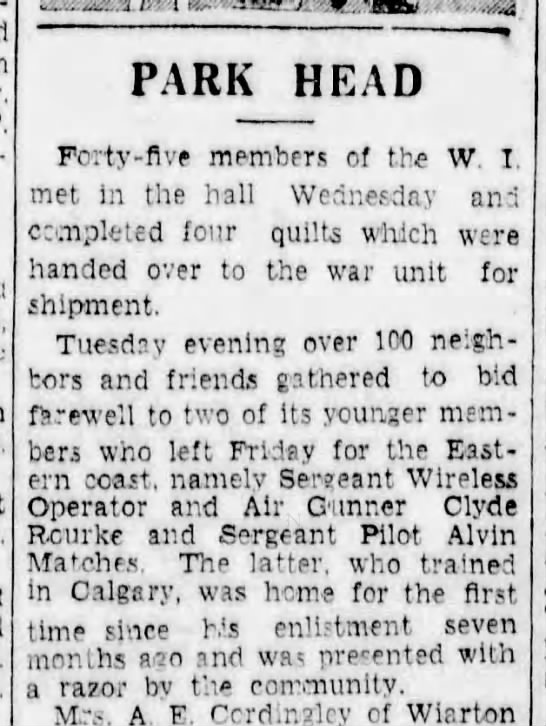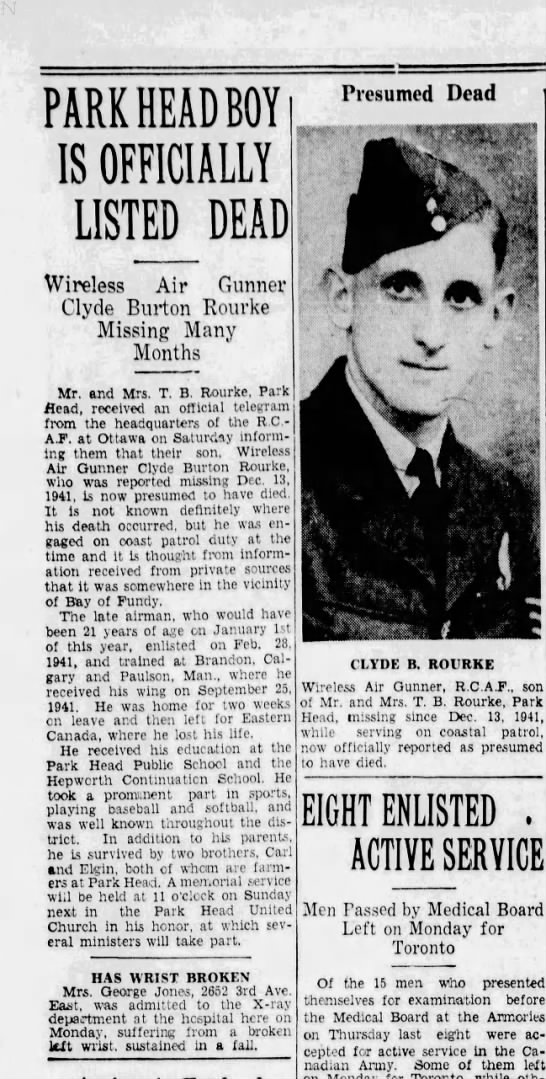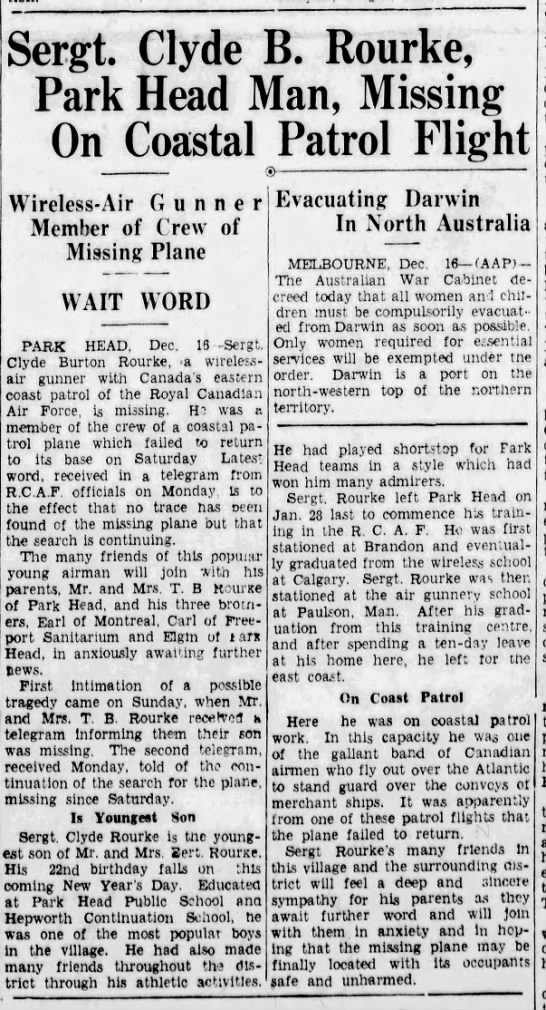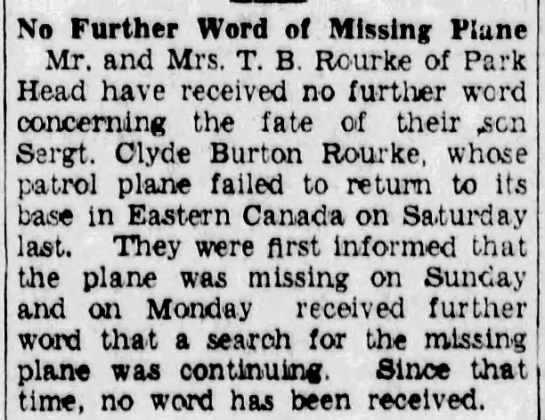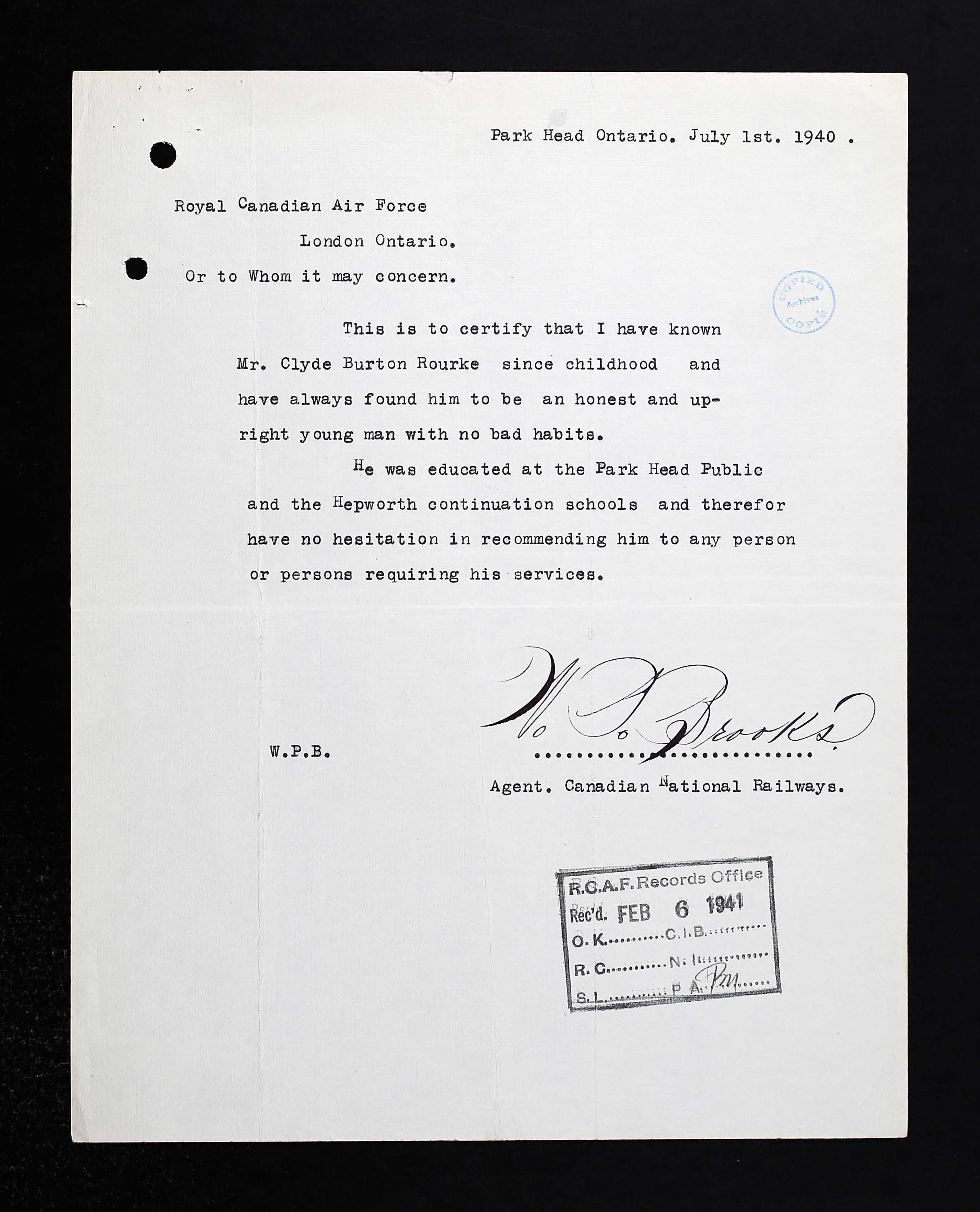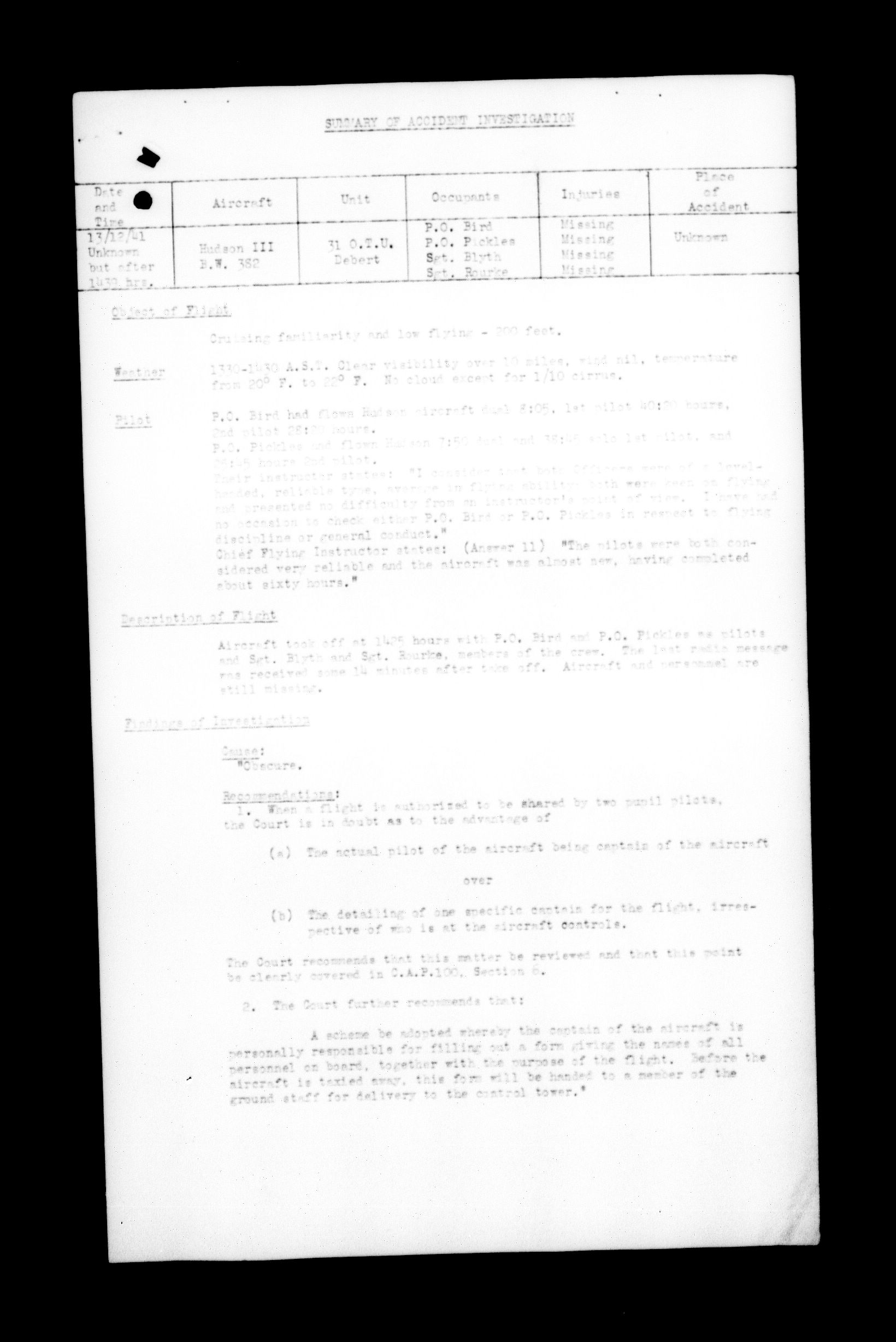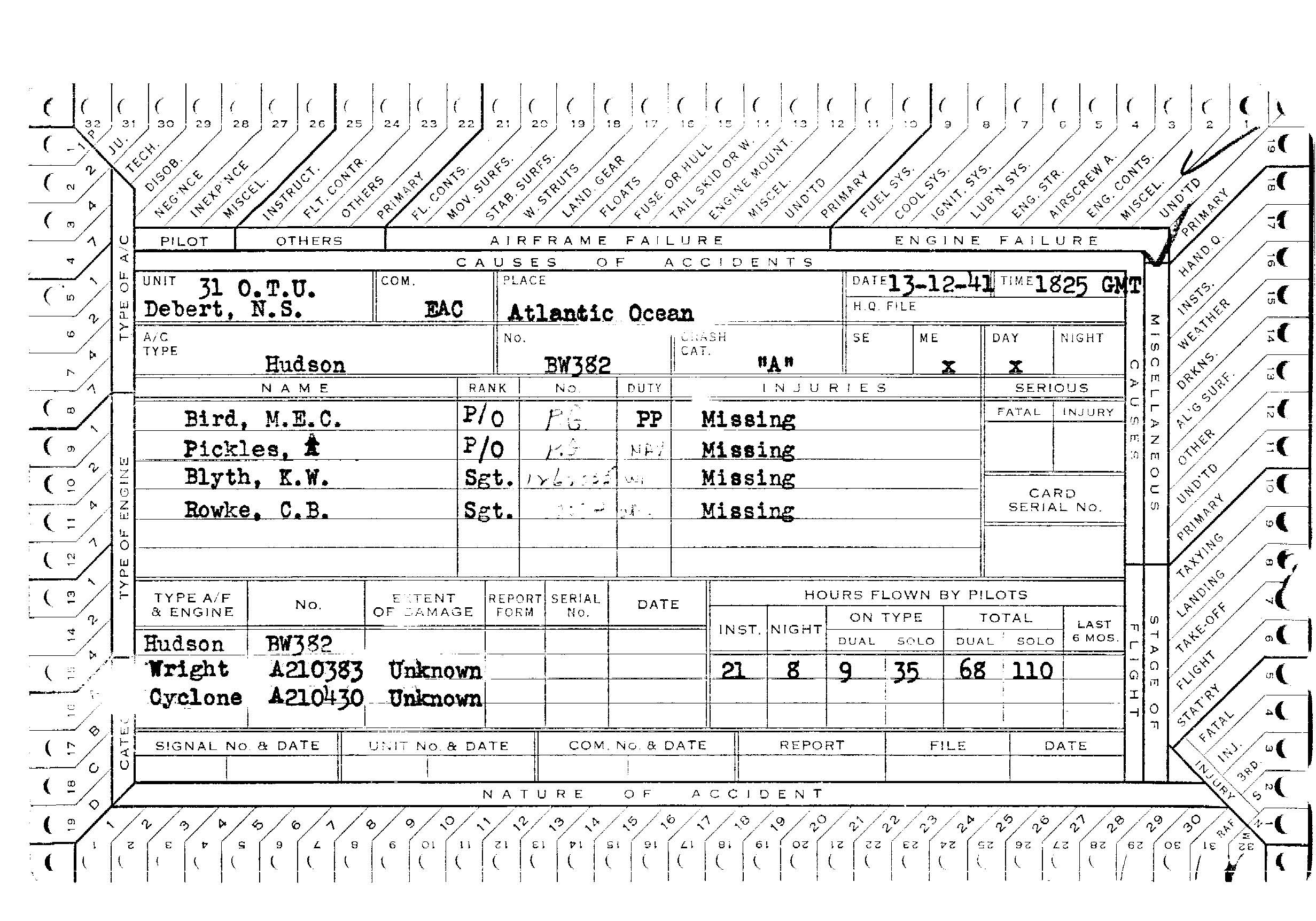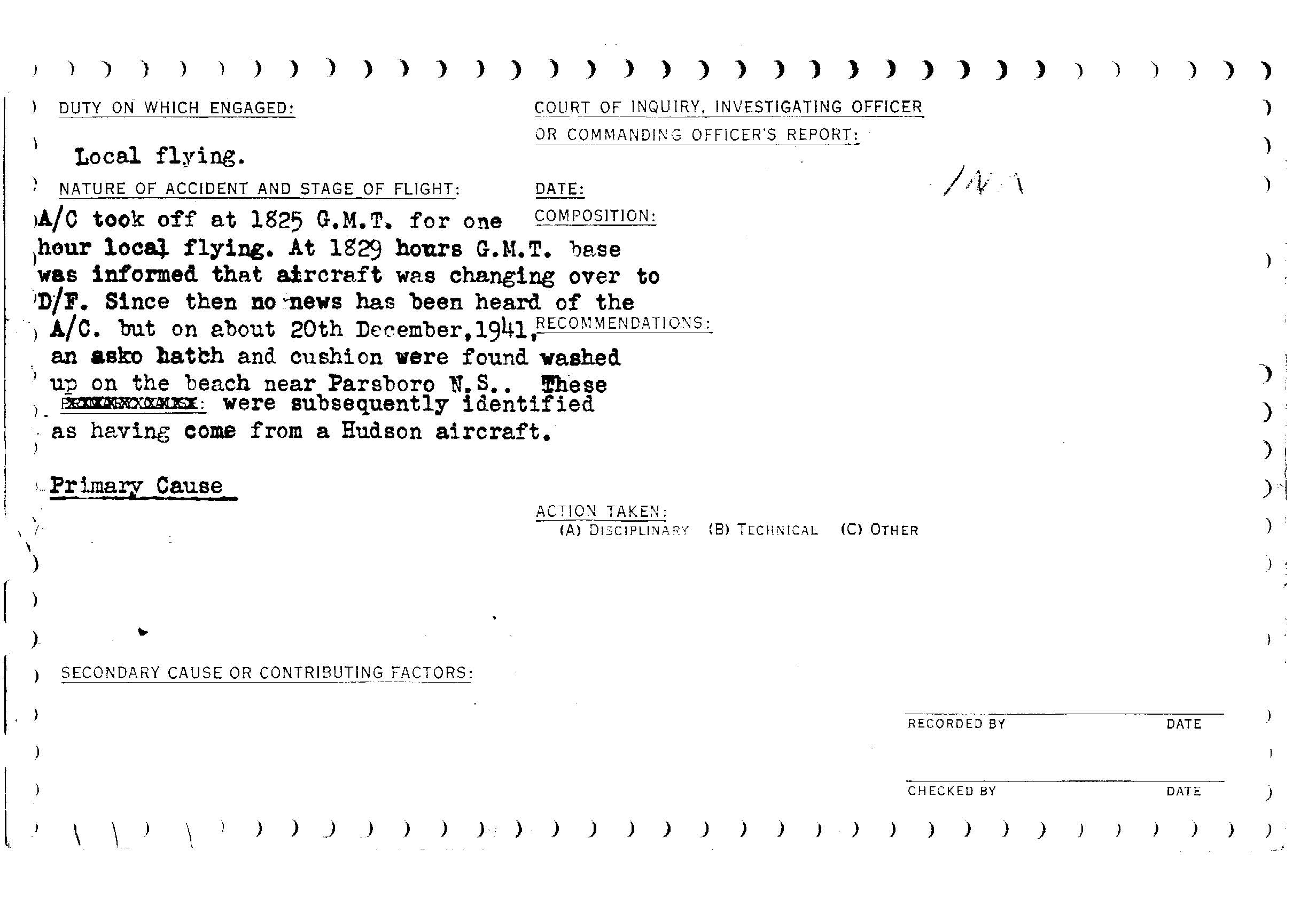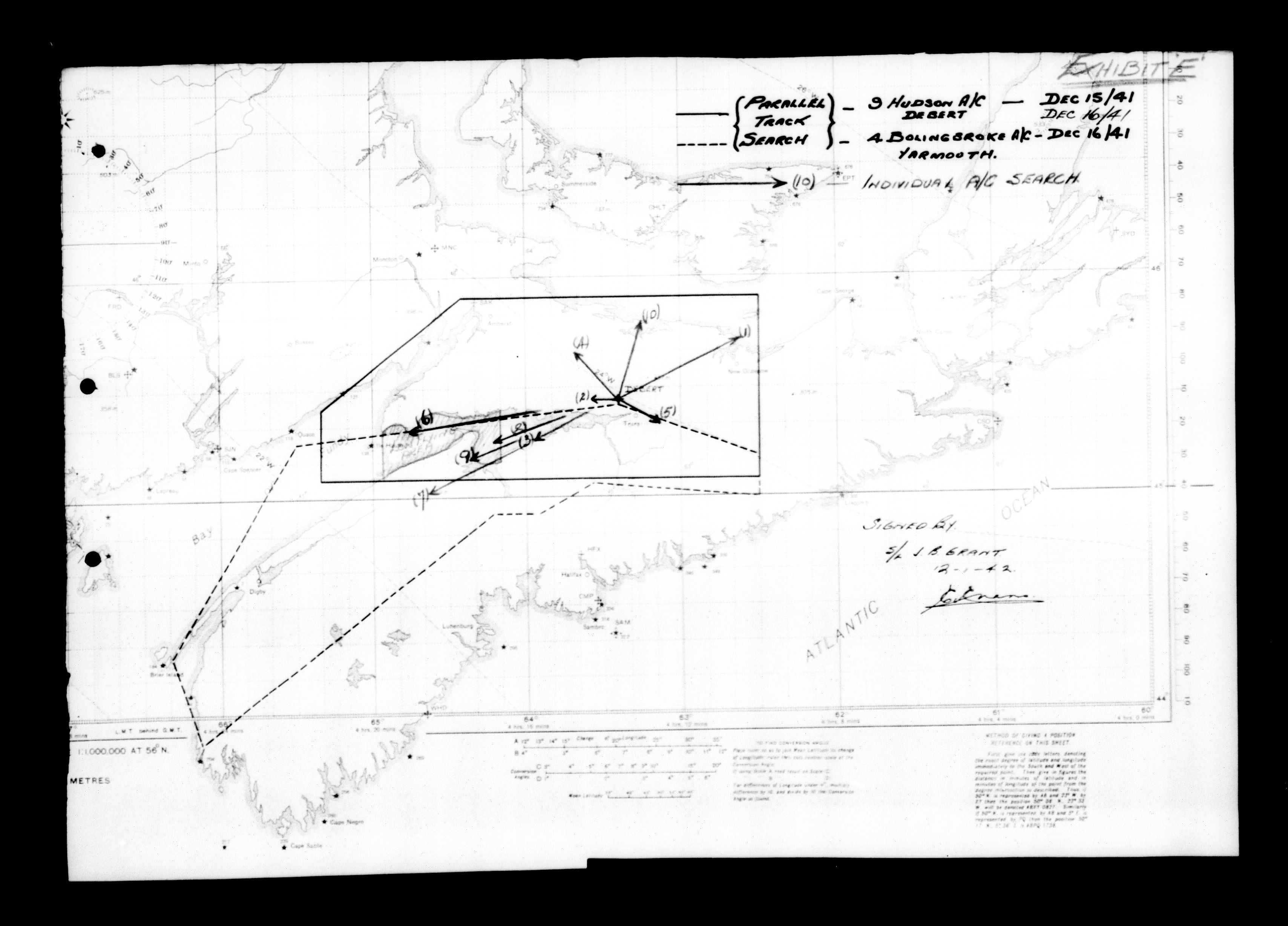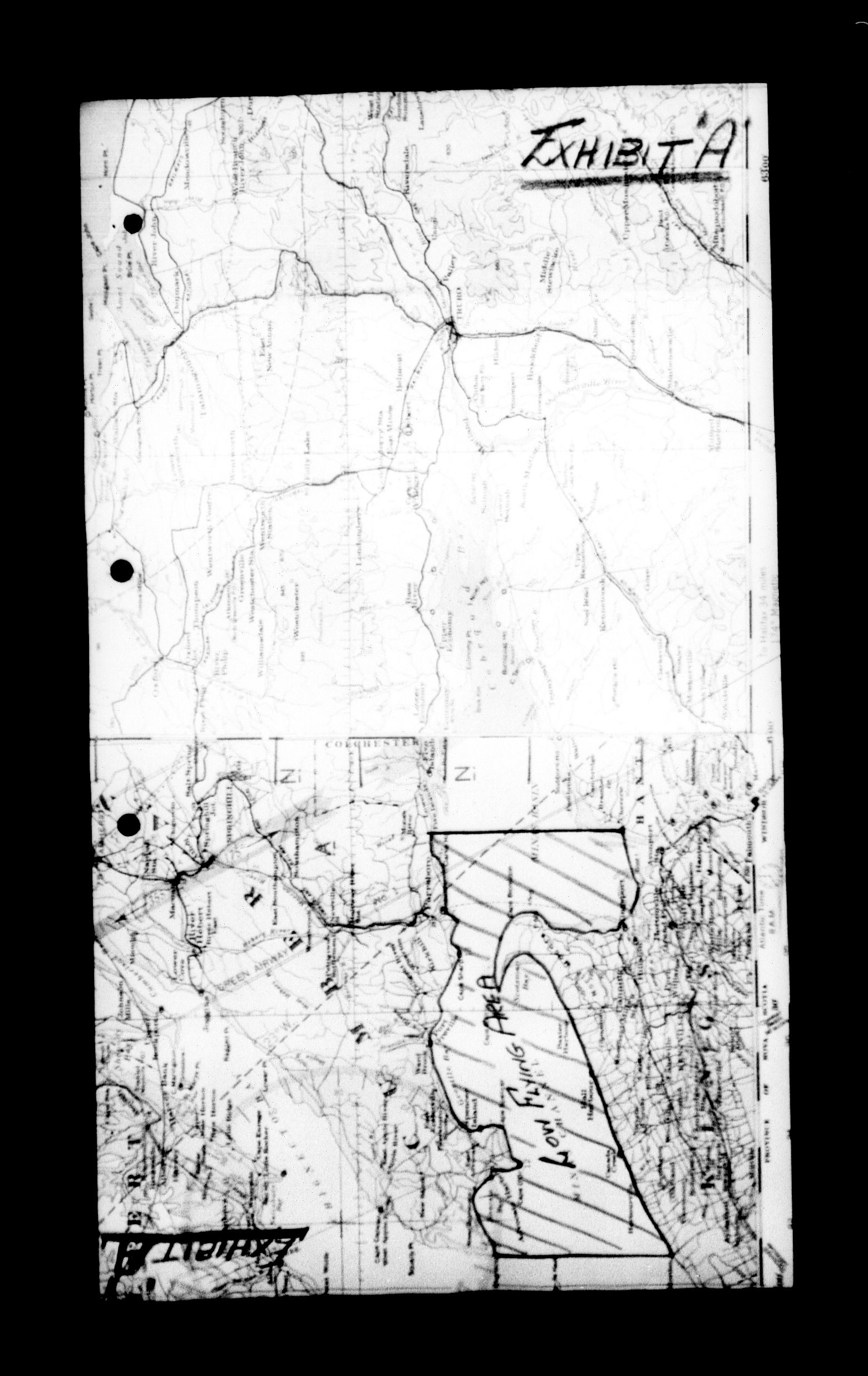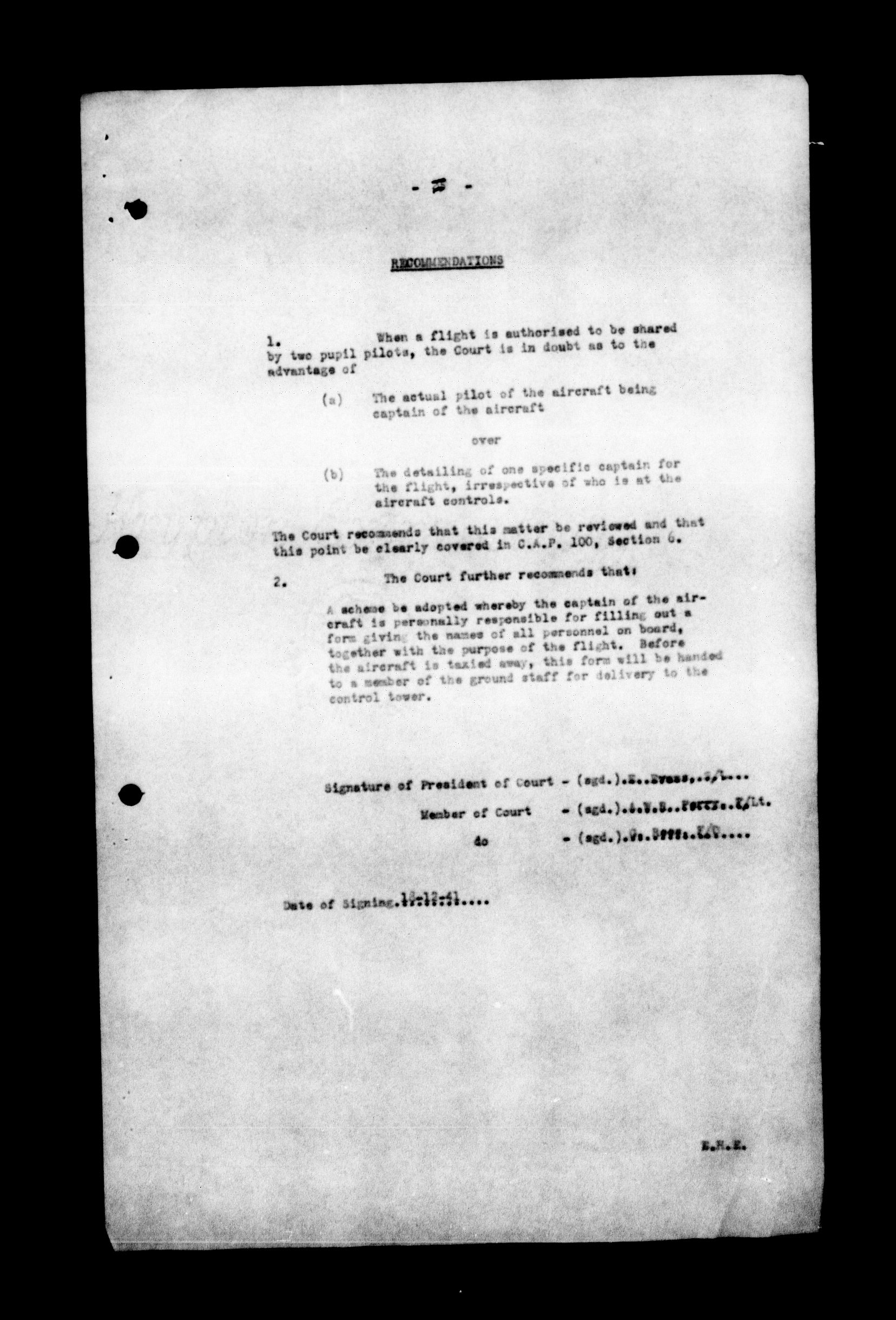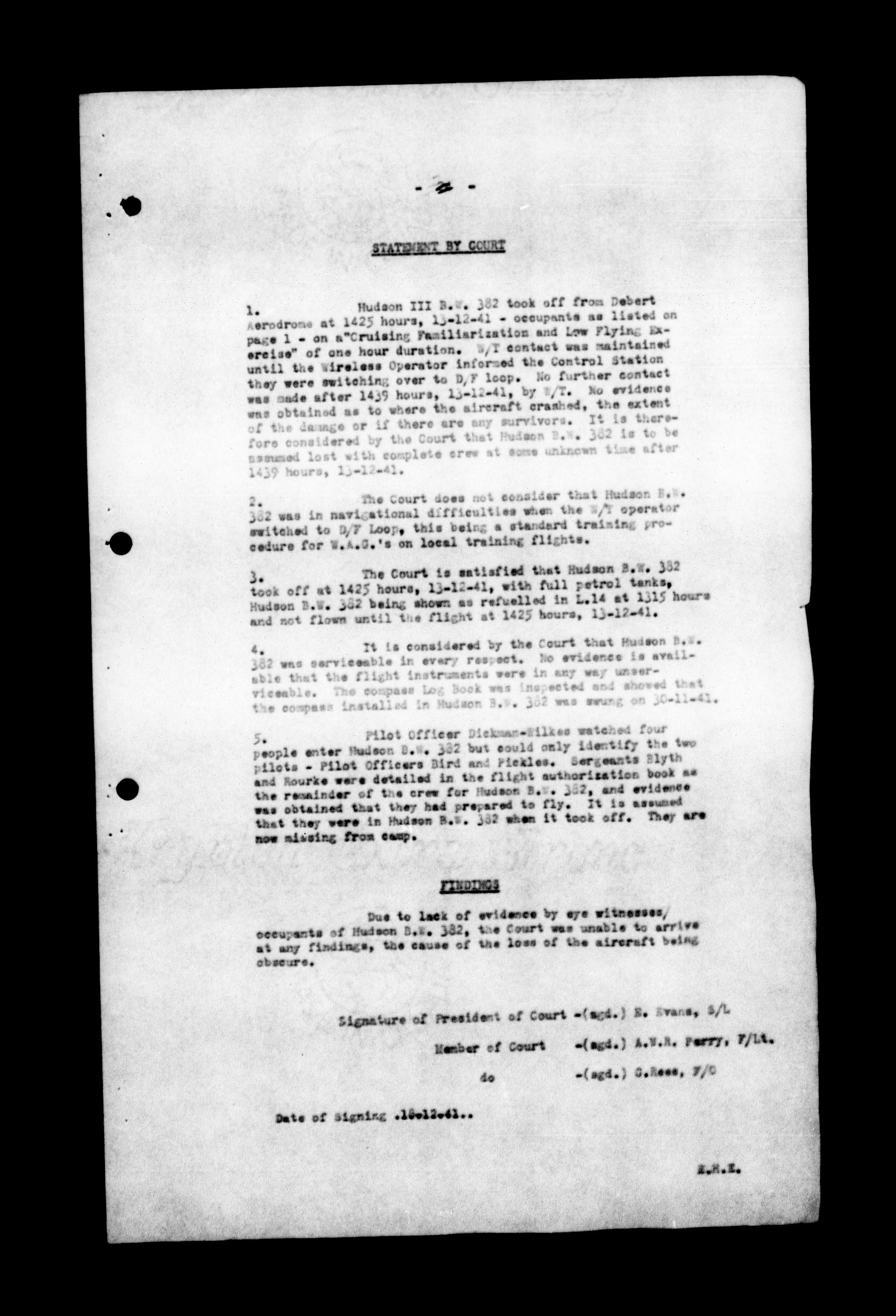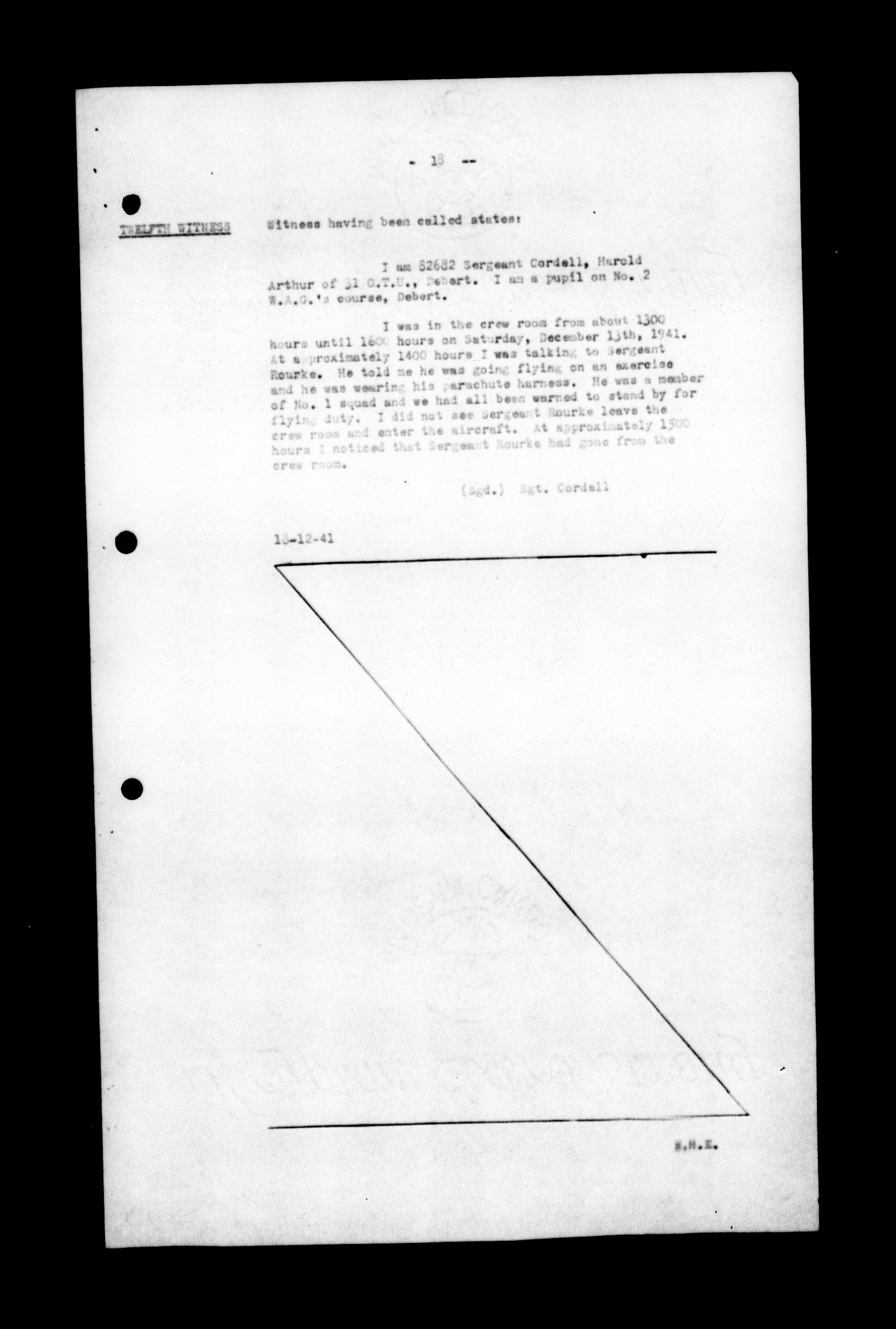 Service station attendant turned factory worker joined RCAF and became WAG. Aboard Hudson BW382 from No 31 O.T.U., along with three others, RAF, were lost.
Clyde Burton Rourke was the youngest son of Thomas Burton Rourke (1886-1959), service station and grocery store owner, and Mary Ellen (nee Smith) Rourke (1885-1970), of Park Head, Ontario. He had three brothers, Earl, Carl, and Elgin. The family attended the United Church. Clyde noted his birth year was 1920 in some places and 1921 in others.
Clyde enjoyed playing hockey, baseball, softball, and football. He liked to hunt, swim, and do mechanical work. "Clean, sincere chap, but lacking in personality and aggressiveness. Just ordinary type, intellectual, but immature. Would develop under training. Good material for aircrew." Clyde was recommended for an air gunner in July 1940. He stood 5'9" tall and weighed 150 pounds. He had been working at a factory and as a service station attendant; his parents listed him as a farmer on the Estates form. He smoked 3-4 cigarettes a day and did not drink alcohol. A brown mole was noted. The RCAF accepted Clyde on January 28, 1941. He hoped to remain in the RCAF after the war.
Clyde's first posting was to No. 2 Manning Depot, Brandon, Manitoba on January 39, 1941, before being sent to No. 3 EFTS, Calgary, Alberta, for about three weeks.
Clyde went to No. 2 Wireless School, Calgary, Course 14 from March 31 to August 17, 1941. He was 77th out of 228 in his class with 66.5%. He was passed onto No. 7 B&G School, Paulson, Manitoba, until September 15, 1941. He was 21st out of 30 in his class with 69%. He was considered unsuitable for commissioned rank. "Have knowledge, rather nervous but keen and dependable. Average." Clyde earned his Air Gunner's badge on September 15, 1941. Clyde traveled to Debert, Nova Scotia and was taken on strength with No. 31 O.T.U. on September 29, 1941.
On December 13, 1941, aboard Hudson BW382, out of No. 31 O.T.U., Debert, Nova Scotia, were four crewmembers: WAG Clyde Burton Rourke, P/O Maurice Edward Bird (RAF), Pilot, and P/O Kenneth Whinray Blyth (RAF), and P/O Amos Pickles (RAF), Navigator. The aircraft failed to return from a one-hour local flying exercise. Wreckage washed up on the beach at Cape Pleasant on December 24, 1941.
The Court of Inquiry was held December 17 and 18, 1941 and January 12 and 20, 1942 and can be found on microfiche C5936, starting at image 379. Sixteen witnesses were called.
"WEATHER: Clear visibility over ten miles, wind nil, temperature 20F to 2F. No cloud except for 1/10 cirrus. PURPOSE OF FLIGHT: Cruising familiarity and low flying, 200 feet."
The first witness, F/O M. Negus, 33574 RAF, stated that he had never flown with either Pickles or Bird. He asked them both if they were familiar with the local low flying area before authorizing the flight and both officers replied that they were. The second witness, F/L B. A. Coventry, 39224, RAF, stated that due to "local congestion of aircraft doing circuits and bumps at 1400 hours, I had altered the program by canceling the dual check for P/O's Bird and Pickles and sending them off to do 'low flying practice and cruising familiarity.' As soon as F/O Negus landed in Hudson 384 with Sgt Hovers and P/O Dickman-Wilkes, I sent these two officers off in Hudson 384 to carry out a similar exercise. Hudson BW 384 took off at 1415 hours and Hudson BW 382 with P/O's Bird and Pickles took off at 1425 hours, the duration of both flights to be one hour as stated in the Flight Authorization Book. All pilots initialed as understanding the orders given. On returning from an air test later in the afternoon, I was informed that Hudson BW382 had not returned. Overdue action was taken by Chief Flying Instructor at approximately 1700 hours. Instructions given: 'They were to become familiar with cruising characteristics of the Mark III Hudson and to carry out low flying in the low flying area. The minimum height being 200 feet.' I showed them the low flying area marked on a map." Both Bird and Pickles had received dual and previously flown that type of aircraft. "When pupils fly together, the time is divided between the two of them as captain of the aircraft. Whoever is shown in the authorization book first is captain for the first half of the flight. In this case it was Pilot Officer Bird for the first half, Pilot Officer Pickles for the second half. I do not consider that they may have gone into difficulties while changing seats unless they attempted to do this at a low altitude, say below 500 feet. It is normal practice for pilots to switch seats from co-pilot to pilot and vice versa while in flight." Coventry was recalled and stated: "When two pupils are sent on an exercise together, to share the flying period allotted, they automatically change over halfway through. No specific instructions to change over were given to Pilot Officers Bird and Pickles on this day, as they had previously been on many exercises involving a changeover and therefore it was taken for granted that they understood this was to happen. They were passed to Operational Training Flight on November 22nd, 1941. Here, pupils are not allotted to individual instructors, but are given check dual and/or instruction by any one of the four instructors in this flight. Only the dual given and instrument flying is shown as dual in the flying records, and that dual incorporating an automatic check dual. All other flights that a pupil makes with an instructor, the pupil is credited with second pilot time. The one hour and 5-minute dual for Pilot Officer Bird on Hudson III aircraft consisted of instrument flying dual. Prior to going solo on Hudson III aircraft, P/O's Bird and Pickles were sent on a cross country flight to Kingston in Hudson III AM 383 on November 22nd, 1941, and returned on November 24th, 1941 with Pilot Officer Howard, acting as instructor and captain of the aircraft. On return from this flight, both pupils were passed by Pilot Officer Howard's qualified for solo on Hudson III aircraft. From information available in flying records, P/O Bird received 10 hours 30 minutes check instruction as second pilot, and P/O Pickles 9 hours 40 minutes check as a second pilot, since they both went solo on Hudson aircraft. These times included the cross-country flight to Kingston and return." The fourth witness, W/C Robert Bradley, 32186 RAF Chief Flying Instructor, stated that when he was informed that Hudson BW382 was missing, he "immediately took the necessary action for overdue procedure. I instructed S/L Kearney to inform the RCMP and S/L Grant to work out a parallel search. Early on Sunday morning, four Ansons took off, but the search was abandoned owing to bad weather. Another search was carried out the following day and a third on December 16th, 1941. In addition, the Ansons made a number of trips to investigate vague news received from civilian sources as a result of the broadcast. For the more certain information was investigated by road. No trace of the missing aircraft has been found. All rumors and reports of an aircraft in distress have been investigated. The search was abandoned officially on December 16th, 1941, on instructions from Eastern Air Command." W/C Bradley could offer no explanation regarding the disappearance of Hudson BW382. "It was a beautiful day. That pilots were both considered very reliable, and the aircraft was almost new, having completed about 60 hours." The fifth witness, S/L W. H. Kearney, instructor at No. 31 O.T.U., Debert: "being one of the senior officers present, I assisted in control of search organization and procedure in cooperation with Squadron Leader Grant. The low flying area and surrounding country has been searched by air. All reports and rumors of an aircraft and difficulty or having crashed had been investigated by personnel of this station. The civilian population were requested by a radio broadcast during Saturday evening and Sunday, December 14th, 1941, to report any information concerning a crashed aeroplane or an aeroplane in difficulty in flight to RAF station, Debert. To date, for example, 1000 hours December 18th, 1941, reports and rumors which involve in general the whole of the Maritime Provinces have been investigated without results. To date search by air has been fruitless." The seventh witness, P/O Trefor Evans, 86151 RAF, Training Wing Signals Officer, in charge of Wireless Training at No. 31 O.T.U. stated that he did not give any specific instructions to the Wireless Operator. "This was not a W/T or navigation exercise and specific instructions beyond normal existing instructions were not necessary." The eighth witness, F/L Stanley Reginald Hinks, Flying Instructor stated: "Since posting to No. 31 O.T.U. on Course No. 2, Pilot Officers Bird and Pickles have been my pupils. I considered that both officers were of a level-headed, reliable type, average and flying ability; both were keen on flying and presented no difficulty from an instructor's point of view. I have had no occasion to check either Pilot Officer Bird or Pilot Officer Pickles in respect to flying discipline or general conduct. I gave both pilots dual on low flying and low flying procedure." The ninth witness P/O J. G. Morris, pupil on Course No. 2 (Pilots) stated that on "Saturday, December 13th, 1941, along with Pilot Officer Wilson, I made a flight in Hudson BW382. We took off at 12:30 and landed at 1340. I hereby certify that to the best of my knowledge the engines, airframe, and instruments, including flight instruments of Hudson BW382 were serviceable. The aircraft behaved in the normal manner in flight and there was no indication of mechanical defects or failures." The eleventh witness, Sgt. Harold Oliver Thomasson, 1006783 RAF, Observer, pupil stated, "I was speaking to Sergeant Blyth around 1400 hours on Saturday, December 13th, 1941, in the crew room whilst awaiting flying. Sargent Blyth told me he was waiting to fly and was ready dressed in flying boots and tunic. He was evidently keen on the flying he was going to do. I left the crew room before he did and therefore did not see him go out and enter the aircraft." The twelfth witness, Sgt. Harold Arthur Cordell, 82682 RAF, pupil stated, "I was in the crew room from about 1300 hours until 1600 hours on Saturday, December 13th, 1941. At approximately 1400 hours, I was talking to Sergeant Rourke. He told me he was going flying on an exercise, and he was wearing his parachute harness. He was a member of #1 Squad and we had all been warned to standby for flying duty. I did not see Sergeant Rourke leave the crew room and enter the aircraft. At approximately 1500 hours, I noticed that Sergeant Rourke had gone from the crew room."
On December 19, 1941, a Mr. Walton, employee of the HMC Dockyard, Halifax, received a letter from his son, Harold: "Oh, yes, there was a Royal Canadian Air Force Bomber left Debert yesterday at 7.29 PM and we saw her about a quarter to three. Her motors were working bad and as near as we could see, she crashed somewhere between Saddle Island and Amet Island [in Northumberland Strait] and they were asking tonight over the radio if anybody saw her, so we are going to have a look in the morning down around Malagash Point as we don't have to go to work until 3 o'clock tomorrow."
A small door was retrieved by the RCMP and analyzed. It was determined that since no other Hudson aircraft had previously crashed in the area, it was reasonable to presume that the door was from the missing Hudson. The sixteenth witness, S/L R. Dickinson, 35159 RAF, Station Engineer Officer at RAF Debert stated: "On the 13th of January, 1942, I examined a door which had been handed us by the Royal Canadian Mounted Police, Kentville. Although it cannot definitely be said that this door is a part of Hudson 382, I can definitely identify it as part of a Hudson aircraft."
STATEMENT BY COURT: "Hudson III BW382 took off from Debert Aerodrome at 1425 hours, 13-12-41 – occupants as listed on page 1, on a cruising familiarization and low flying exercise of one hour duration. W/T contact was maintained until the Wireless Operator informed the Control Station they were switching over to D/F loop. No further contact was made after 1439 hours, 13-12-41 by W/T. No evidence was obtained as to where the aircraft crashed, the extent of the damage or if there are any survivors. It is therefore considered by the court that Hudson BW 382 is to be assumed lost with complete crew at some unknown time after 1439 hours 13-12-41. The Court does not consider that Hudson BW 382 was in navigational difficulties when the W/T operator switched to D/F loop, this being a standard training procedure for WAGs on local training flights. The Court is satisfied that the plane took off at 1425 hours 13-12-41 with full petrol tamks... it is considered by the Court that Hudson BW382 was serviceable in every respect.... Pilot Officer Dickman-Wilkes watched four people enter Hudson BW382 but could only identify the two pilots... Blyth and Rourke were detailed in the Flight Authorization Book as the remainder of the crew… evidence was obtained that they had prepared to fly. It is assumed that they were in Hudson BW382 when it took off. They are now missing from camp. FINDINGS: Due to lack of evidence by eyewitnesses/occupants of Hudson BW382, the Court was unable to arrive at any findings, the cause of the loss of the aircraft being obscure."
In a letter dated February 6, 1942, "The recommendation of the Court will not be acted on. In the event that an exercise calls for a change of captains during a flight, two authorizations should be filled out for the flight and acknowledged by the two proposed captains. Insofar as filling out the names of the personnel on board the aircraft, it is considered that this should be shown, as it was in this case, on the authorization sheet. While the cause of the accident is obscure, it does appear highly probably that this aircraft stalled or slipped in during a turn in the low flying area. For this reason, some attention is paid to the fact that these two pupil pilots were supposed to be going up for dual check on this exercise, which dual check was cancelled, and they were, instead sent solo. From the evidence of the 8th witness…it seems that the two pupils had had dual on low flying and low flying procedures but there is no evidence as to how much dual on these exercises had been given them. It is, therefore, requested that a further report be obtained from the unit concerned covering this point."
Clyde is remembered with his crew on the Ottawa Memorial as well as at the Hillcrest Cemetery, Tara, Bruce County, Ontario on his family's headstone. "Lost off the East Coast, Canada, Dec. 13, 1941."
LINKS: