Clarence James Sherlock R87823
June 30, 1906 - July 24, 1943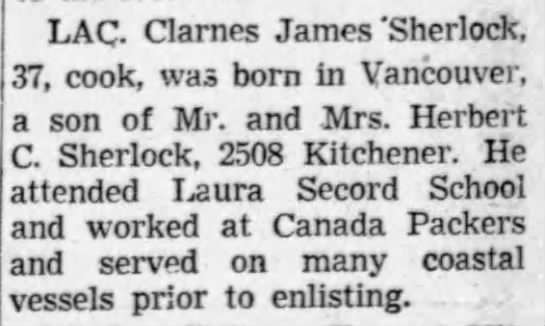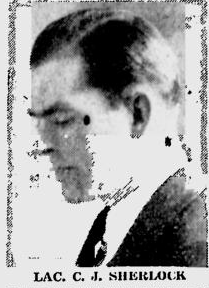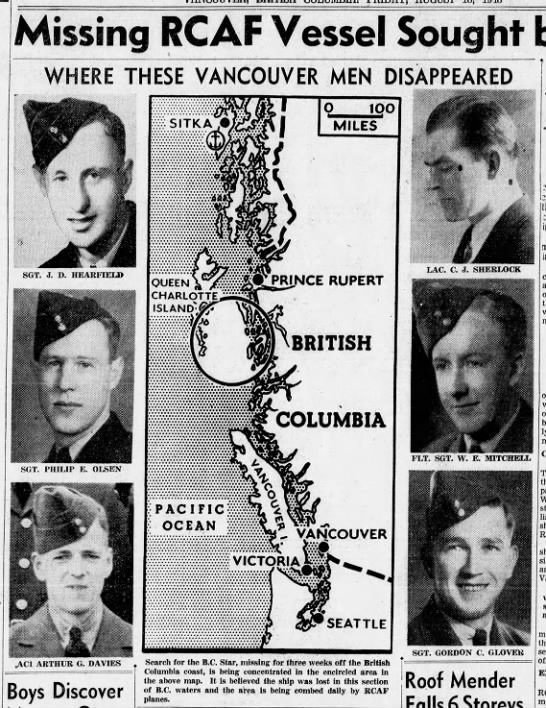 Butcher and cook joined RCAF and struggled with military life.
Clarence James Sherlock was the son of Herbert Sherlock (1878-1958), steam engineer, and Elizabeth Louise (nee Johnson) Sherlock (1883-1973), Vancouver, British Columbia. He had two brothers, John Clifford and Herbert (aka Bert) Edward (1905-1996) and one sister, Mrs. Sylvia E. King. (1910-1988). His brother, John, aka Jack, was at the Navy dockyard in Esquimalt, BC in 1944. The family was Methodist.
Clarence attended Laura Secord and Lord Selkirk schools in Vancouver. It appears he had a Grade VII education.
Clarence had been a meat cutter prior to enlistment with the RCAF in January 1941. He also had experience as a cook. His employers included Burns & Co. (1929-1940), Canada Packers (January to December 1940) as a meat cutter, and ABC Pack Co. and Nelson Bros, as a cook.
He indicated he engaged in gymnastics moderately but had no special qualifications of hobbies useful to the RCAF. He wanted to be a butcher and cook for the RCAF. Clarence passed his tests at Jericho Station but needed further refresher course. He was a willing type and had a good general appearance.
Clarence wore glasses since 1935. The medical examiner noted: "Good power; good flexion right hand, not disabling. Good result appendectomy (1933). 5' 8 ¼" 156 pounds, hazel eyes, dark brown hair, medium complexion. Acceptable mouth."
His parents lived at separate addresses in 1941 when Clarence filled out his attestation papers, about an hour's walk away from each other. Clarence had been residing with his mother at 2508 Kitchener Street.
After being accepted into the RCAF, Clarence traveled to Toronto to No. 1 Manning Depot for two weeks, and then St. Thomas, Ontario by February 8, 1941. At St. Thomas, he took cooks' training at the technical training school. He then was transferred to No. 11 SFTS, Yorkton, Saskatchewan from March 21, 1941 to January 24, 1942, when he arrived at No. 3 Bomb and Gunnery School, MacDonald, Manitoba.
Clarence provided his mother with $30 a month due to his parents' separation. His mother was the sole beneficiary to his estate.
Clarence's General Conduct Sheet: "No. 11 SFTS, October 16, 1941, Yorkton, Saskatchewan: While on active service: drunk. Admonished." Still at the same station on November 13, 1941: "Charged with drunkenness. $5.00 fine, 10 days confined to barracks with seven days' drill."
At No. 3 Bomb and Gunnery School, MacDonald, Manitoba: "Absented himself without leave, absent for 16 hours, 45 minutes. Confined to barracks three days." A month later at No. 3 B&G: "Was absent without leave three days, eleven hours and 45 minutes. Forfeiture of four days' pay." In May 1942: "Absent without leave two days, 14 hours, 15 minutes. Awarded 72 hours' detention."
The RCAF transferred Clarence to the west coast of Canada to Patricia Bay, BC, on Vancouver Island. He was at the station hospital from June 15 – 21, 1942. On July 1, 1942: "Appeared in a public place without clothing." He was confined to barracks for 14 days. Clarence was again in hospital from September 5 – 9, 1942. On September 11, 1942, while still at Pat Bay: "Absent without leave for five days and 20 hours." He was given 168 hours' detention and forfeited six days' pay.
He was then attached to Western Air Command, Marine Section 1942. He was sent to Alliford Bay, BC, from October 21 to December 8, 1942, when he was posted aboard the BC Star as cook December 9, 1942.
Clarence was then up at Prince Rupert, BC. His troubles did not end there. On January 4, 1943: "First charge: created a disturbance in the Rex Bowling Alleys, received 14 days' detention. Second charge: after being warned, did continue to use obscene language in the presence of a lady."
On July 24, 1943, the BC Star sunk. Life rafts were the only wreckage found. Theories as to the cause of the sinking of the BC Star included the ship was overloaded, it was torpedoed by a Japanese submarine, or it hit a mine. Please see links below for more information.
In March 1944, Mr. Sherlock received a letter from S/L W. R. Gunn informing him that Clarence was now for official purposes, presumed to have died on active service on July 24, 1943.
In October 1955, Mrs. Sherlock received a letter from W/C Gunn telling her that since Clarence had no known grave, his name would appear on the Ottawa Memorial.
LINKS: